We may earn income from links in this post. Please read this Disclosure for details.
An inside look at booking a convent stay in Rome, Italy. These unique guest rooms are a great option for a budget food, wine or sightseeing vacation in the Eternal City.
Discover how you can have the best convent, monastery or religious guest house experience in Rome with this up-to-date travel guide.
With its ancient monuments, leafy parks and famous museums, Rome is one of the most iconic cities in Europe.
And its more than 900 churches are among the city's most beautiful treasures.
From the Pantheon (Rome's oldest church) to the world's largest Basilica (St. Peter's) they shape the skyline, landscape and culture of the city.
But did you know that you can actually stay overnight in a convent or monastery in Rome? I tried it and loved it.
Low cost, charming and filled with character, they're definitely one of the most unique places to stay in Rome. But they might not be for everyone.
Here's what to consider if you're thinking of staying in a monastery or convent in Rome.
1. What Exactly is a Convent Stay?
One of main differences between a hotel and a convent stay in Rome is that convent accommodation is usually owned and/or operated by a Religious Order or Diocese.
Monasteries, convents and Diocese guest houses have been renting bed and breakfast style lodging to travellers for thousands of years.
They have offered respite for weary pilgrims, caring for their physical, emotional and spiritual needs.
In modern times, Rome's religious orders continue to offer hospitality for pilgrims but they also offer convent rooms to tourists.
Convent stays are available throughout Italy from the canals of Venice to the seaside towns of Puglia.
You can reserve a room in a convent by mail, email or through online booking agencies such as Monastery Stays. Established in 2006, they offer over 500 authentic monastery and convent stays throughout Italy.
2. You Don't Need to Be Catholic to Stay in a Convent or Monastery
One of the biggest misconceptions about convent stays is that you need to be Catholic to stay there.
Just as you don't need to be Catholic to participate in Italy's religious festivals such as the Tavola di San Giuseppe – Tables of St. Joseph in Puglia, you don't need to be Catholic or even Christian to stay in a convent in Rome.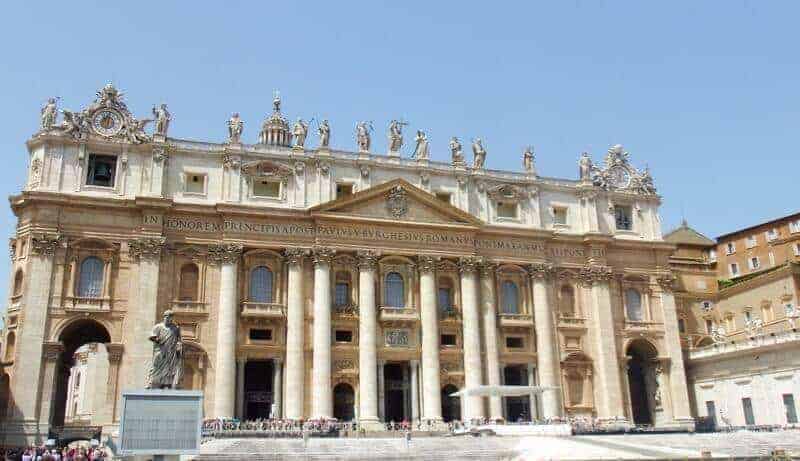 Of the more than 100 monastery, convent and Diocese guest houses in Rome, most are open to all travellers regardless of religious beliefs.
However, if you are Catholic, there is the added advantage of being able to attend daily Mass onsite.
3. Location, Location, Location
Another advantage of a convent stay in Rome is the location. Over the years, I stayed near the Spanish Steps, across from Villa Borghese Park and in the midst of glamorous Via Veneto.
And while it's exciting to be part of the crowds and energy swirling around the Eternal City's main attractions if you're on a whirlwind 3-day visit to Rome, it's equally rewarding take a break from Rome's touristic areas and stay in more local neighbourhoods.
Each rione or neighbourhood has its own unique character.
My first convent stay in Rome was at Casa Maria Immacolata near the Vatican.
Set on the west bank of the Tiber River, the upscale Prati neighbourhood is filled with restaurants, bars, boutiques and markets including the Mercato Trionfale, one of Rome's oldest food markets.
Considered among the best neighbourhoods to stay in Rome, you'll mingle with people sipping their morning cappuccinos, browsing flea market stalls or enjoying an Aperol spritz or Campari aperitivo at Happy Hour.
Another of my recent convent stays in Rome was at Casa di Santa Francesca Romana a Ponte Rotto in Trastevere, steps to Ponte Sisto and Tiber Island, the city's only island and one of Rome's hidden gems.
This bohemian neighbourhood is known for its traditional trattorias and is considered one of the best places to eat in Rome.
When I checked in, I was surprised to discover Da Enzo Trattoria, one of my favourite places to eat in Rome, was across the street.
So if you stuff yourself with fried artichokes and cacio e pepe, you're just steps away from being able to sleep off your food coma!
Eat and drink like a local in Trastevere! Get an exclusive 15% Discount on a food walking tour of Trastevere with Eating Europe with our exclusive promo code for A Taste for Travel subscribers!
4. Expect a No-Frills but Comfortable Room
In addition to being able to immerse yourself in the atmosphere of a great neighbourhood in Rome, staying in a convent is an opportunity to save money.
Not only can you walk almost everywhere (unlike a budget hotel on the outskirts of Rome), but your lodging will will be spotlessly clean, safe and comfortable. All lodgings offered by Monastery Stays have rooms with en-suite or exclusive-use private bathrooms.
Monastic life doesn't mean wearing a hair-shirt. You'll have all the comforts of modern life such as Wifi, elevators, air conditioning and comfortable linens changed daily.
Nuns and monks hire outside help to assist them in the operation of the guest accommodation.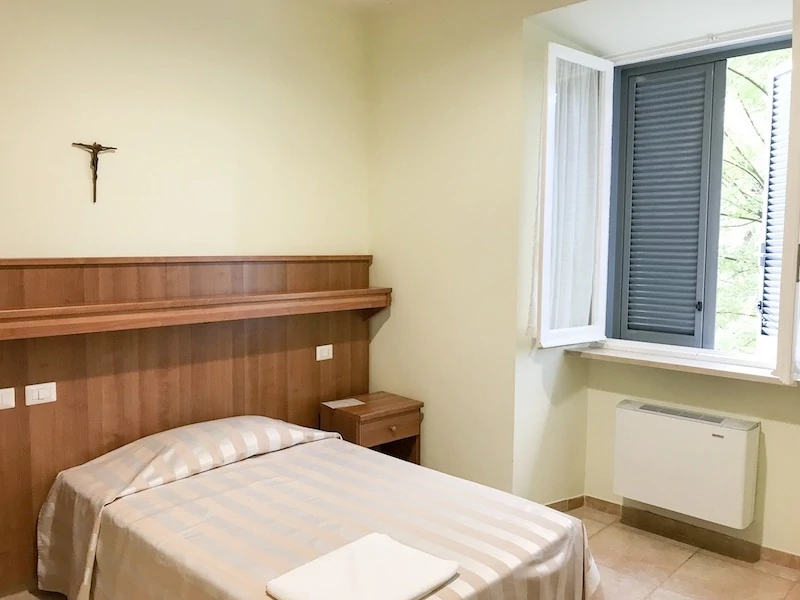 Yet, amenities are limited. Don't expect room service, bathrobes and slippers, coffee makers or other luxury amenities you'll find in the posh castle hotels of Ireland and other parts of Europe.
During my convent stay at Casa Maria Immacolata, I enjoyed WiFi working at lightning speed, generous closet space and a bathroom that featured a heated towel rack, toilet, bidet, medicine cabinet and shower. The room was cleaned daily and the supply of fresh towels was more than sufficient.
If not for the crucifix on the wall, it could have doubled as a minimalist boutique hotel!
5. Be Respectful of the Religious Setting
For centuries, a world of religious life has been taking place behind the walls of Rome's convents and monasteries.
Many have cloisters–enclosed garden courtyards–surrounded by covered walkways where monks and nuns could withdraw from society to devote themselves to prayer and contemplation.
Today, this religious life of prayer, daily Mass, holy duties and community service continues. As a lodger you become a part of this community and its unique rhythm.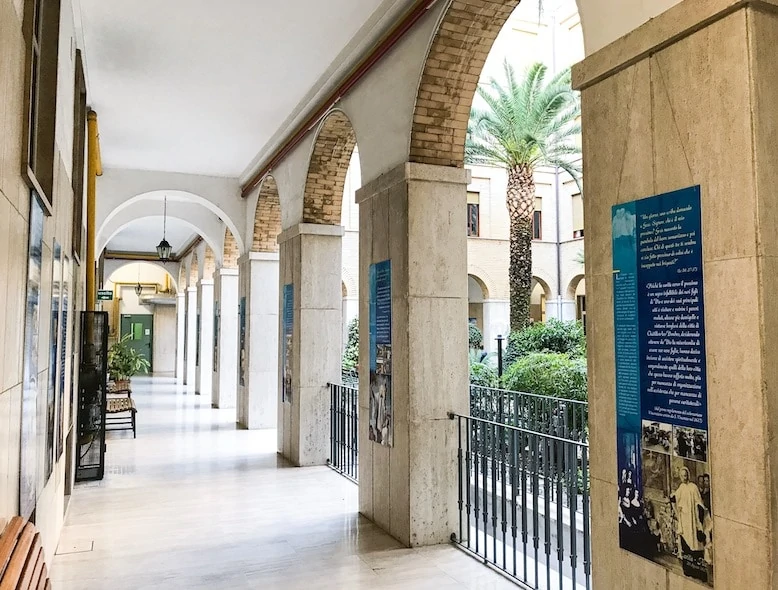 So, it's important to be respectful of the setting. Hold off on filming your next TikTok video or blasting music if it will be disruptive.
While there aren't any dress code restrictions, use common sense. You don't want to show up at breakfast in a bathrobe or sequinned Daisy Duke shorts when the room is full of sisters in habits.
A light, breathable maxi dress that covers your knees and a shawl to cover your shoulders are good things to add to your Italy packing list if you plan to visit the Vatican where there is a dress code.
However, it's important to note that convents aren't somber places. At Casa Maria Immacolata, there was a fair bit of breakfast hilarity among the visiting nuns as they tried to communicate in various international languages.
6. Be Sure to Consider Check-in and Check-out Times
Another factor to consider when deciding between a budget hotel and convent stay, is that check- out times can be earlier in convent than in hotels. Check out times can be as early as 8:00 am at a convent while many hotels allow for 11:00 am checkout or later.
However, most convent stays will allow you to hang out in one of the common areas and catch up on email even after you've checked out. Or, store your luggage and go exploring.
However, if you're lusty newlyweds on a honeymoon or a family with teens who love to sleep in, early check-outs might not be your best choice.
Planning a honeymoon in Italy? Our Guide to Romantic Positano is packed with insider travel tips for couples.
7. Pay Attention to Curfews
Another misconception about convent stays is that they all have curfews. That's not the case. Although one of my convent stays in Rome had an 11:00 pm curfew, the other had no curfew at all.
Even if there's a curfew, the central location of most convents means it's easy to get around. I'd booked a 3.5 hour Rome Evening Wine and Food Stroll with Eating Europe that began at 6:30 pm so was a bit worried I might not make it back in time for curfew.
However, the convent's central location made it easy to get back via transit, taxi or by foot.
When booking your convent stay, be sure to inquire about possible curfews if you plan to go out in the evenings. If you're on a girls-gone-wild getaway with lots of late nights, a convent stay might not be for you.
Read our picks for the Top Things to Do in Rome at Night
8. Convent Stay in Rome vs a Budget Hotel
Although it's a best-kept secret of many travellers to Rome that staying at a monastery or convent is an affordable way to visit the Eternal City, be sure to consider the costs before booking. Nightly rates vary greatly between convents in Rome.
The first of my convent stays in Rome (Casa Maria Immacolata) was 62.50 EUR per night. My second convent stay in Rome (Casa di Santa Francesca Romana a Ponte Rotto was almost double that at 110.24 EURO per night.
Check prices and availability of Casa di Santa Francesca Romana a Ponte Rotto on Booking.com.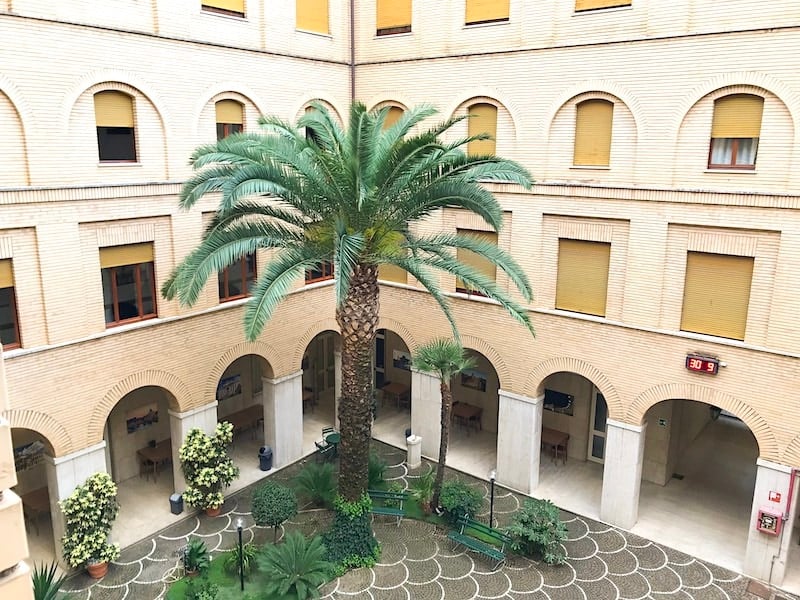 So, if your main priority is to get a cheap hotel in Rome and you don't mind sharing a bathroom, do some calculations to determine whether it's actually cheaper to stay in a budget hotel.
In some cases, if you just need a quick overnight stay for a layover, you might be better off staying in the outskirts of Rome or in a budget hotel near Termini Station.
9. Convents are Safe Options for Solo Travellers
Not surprisingly, staying in a convent is very safe and secure. It's one of our top picks for vacation ideas for solo travellers!
At Casa Maria Immacolata guests are buzzed into the front door which is screened via camera at the reception desk. An elevator allowed access to the guest room.
Another advantage of many convent stays in Rome is that they're located in neighbourhoods filled with restaurants, shops, cafes and bars. This means there are always people walking about – no deserted streets to worry about.
If you're a solo female traveler, you'll feel very safe staying in convent accommodation in Rome. They're one of the best places to stay in Rome for convenience, safety and budget.
10. Breakfast is Traditional Italian
Although you're sure to have some of the most memorable meals of your lifetime while visiting Italy, breakfast will likely not be one of them.
Unlike hearty British or American breakfast, in Italy the morning often begins with just fresh-baked pastry and a cappuccino or espresso macchiato.
But the coffee is so perfectly prepared and the cornettos so airy and flaky you may soon forget all about English breakfasts.
A traditional Italian breakfast is included at most convent accommodations. At Casa Maria Immacolata, a continental buffet breakfast was available in a room off the main floor courtyard.
Each guest had an assigned table with their name on it. The other guests were a mix of tourists and visiting nuns from other parts of the world. On my final day, I was touched to receive a blessing with my breakfast.
The buffet breakfast at Casa di Santa Francesca Romana was more elaborate. It included sausages, boiled eggs and an assortment of fancy pastries.
To wrap up, if you love architecture, history and being away from the crowds, you'll enjoy the beauty, pace and unique features of a monastery or convent stay in Rome. It may very well turn out to be one of the most memorable experiences of your visit to the Eternal City.
Travel Guide to Rome Convent Accommodation
Location of Two Convents in Rome Near Vatican and Trastevere
How to Get to Your Convent Accommodation
While it's convenient to take the Leonardo Express Airport Train to Termini Station (13 EUR) and then take the Metro (1.50 EUR) to your convent stay in central Rome, I opted to take a taxi from Fiumicino Airport directly to the Casa Maria Immacolata.
Airport authorities have set a fixed fare of 48 EUR between Fiumicino Airport and the Rome city centre (defined as locations within the Aurelian Walls). Uber X or UberPool aren't available in Rome and Uber Black can be more expensive than a taxi.
I was enroute from Salento, Puglia to Spain (and laden down with a heavy suitcase full of food souvenirs ) so it was worth it to me to pay the extra cost for the convenience of door to door service.
How to Book a Convent or Monastery Stay in Rome
Although it's possible to book directly with some convents, it can be challenging to book by email if you don't speak Italian or know someone who does. If you do it yourself, your confirmation may not arrive, you might not communicate your room requirements correctly or you might misunderstand arrival instructions.
I booked via Monastery Stays, an online booking agency that acts as a bilingual liaison between the convent and you. Prices shown on their website include the Convent Room Rate and the Monastery Stays Booking Fee.
They collect their fee and a deposit for the convent in advance. There are no extras except for the small Rome City Visitor Charge payable at the convent. The balance for the guest room is also payable at the convent in cash, Visa or Mastercard.
The comprehensive Fact Sheet, Letter of Introduction and GPS/Address coordinates was especially handy. It's important to note that unlike hotels which might have large signage or be well known, convents generally have small placards on the wall and not be that well known to taxi drivers.
Plus, many streets in Trastavere are pedestrian only, one-way or very narrow which can make them difficult to identify and navigate.
You can also book this convent stay on Booking.com.
Check prices and availability of Casa di Santa Francesca Romana a Ponte Rotto on Booking.com.
Details on Casa Maria Immacolata
Address: Via Ezio 28
Monastery Stays Rate for Single Room (including breakfast): 62.50 EUR a night
I loved the location and amenities at this convent stay. Here are some of the highlights.
The location was excellent near the Vatican in the heart of the Prati neighbourhood. The convent's rooftop terrace and my room offered stunning views of Chiesa di San Gioacchino church.
My guest room had windows that opened as well as AC.
The building, although it features a courtyard, cobblestones and archways is new construction. This means superior air quality, ventilation and modern infrastructure.
Details on Casa di Santa Francesca Romana
Address: Via dei Vascellari, 61
Monastery Stays Rate for Single Room (including breakfast): 110.24 EUR a night
Here are some highlights of this convent stay.
It's located on a charming but tiny pedestrian street in Trastevere near Tiberina Island and the Jewish Quarter of Rome.
This medieval building was once the home of the noble Ponziani family. St. Francesca Romana lived here for 40 years while performing many miracles and charitable acts in the Trastevere area. She died on March 9, 1440.
The rooms, while clean and tidy, are much smaller and older than those of Casa Maria Immacolata.
There's no curfew and the front desk reception, with English-speaking staff, is open 24 hours.
It's not a working convent and feels much like a hotel.
Be sure to take directions to Casa di Santa Francesca Romana. It's not easy to find without detailed instructions.
While there don't miss the nearby Santa Cecilia in Trastevere, a 9th-century church dedicated to Roman martyr, Saint Cecilia. Inside the church is Stefano Maderno's masterpiece "The Martyrdom of Santa Cecilia". The white marble sculpture depicts the saint's body in such a lifelike way, it's impossible not to be moved when viewing it.
Save to Pinterest!
Dividing her time between Canada, Guatemala and Mexico (or the nearest tropical beach), Michele Peterson is the founder of A Taste for Travel. Her award-winning travel and food writing has appeared in Lonely Planet's cookbook Mexico: From the Source, National Geographic Traveler, Fodor's and 100+ other publications.
Read more about Michele Peterson.