We may earn income from affiliate advertising links in this post. Please read our Disclosure Statement for details.
The countdown is on for Day of the Dead in Mexico! This collection of easy and delicious Day of the Dead food recipes is sure to inspire you to host your own Día de Los Muertos party for family and friends.
Taking place on November 1 and 2nd each year, Day of the Dead is a special time in Mexico. It's a celebration of life honouring deceased loved ones and features altars decorated with flowers, candles, sugar skulls and popular foods. It also features other amazing Día de Los Muertos traditions such as processions, face-painting and music.
To help you plan your own Day of the Dead celebration, we've gathered the very best entertaining ideas in one handy guide. Just click on the titles to go directly to the recipes and start planning!
First up for any Día de Los Muertos party is a festive drink. A classic margarita is a popular Day of the Dead cocktail as it features tequila and lime in sweet and tart perfection. It's sure to be a crowd pleaser!
Another drink that's perfect for Día de Los Muertos is the Marigold Muerte cocktail. It features fresh citrus flavours that complement the bright flavour of the marigold flower and is an especially bewitching drink recipe to try for Day of the Dead.
For a classic and refreshing Mexican drink that's also very popular for Día de Los Muertos, you can't go wrong with a chilled glass of horchata. Traditional and wonderfully milky, it's made with rice and almonds and lightly sweetened with sugar. The sweet scents of cinnamon and vanilla make horchata especially magical.
Another festive Day of the Dead drink is this pretty cocktail that features all the ingredients of a Moscow Mule — lime, vodka, and ginger beer — but has an extra twist. It's got cilantro and lime!
This is definitely one of the easiest Day of the Dead food recipes to make. It literally takes just five minutes! Enjoy guacamole as a topping for enchiladas or tacos or enjoy it on its own as an appetizer. Guacamole is a must for any Día de Los Muertos party menu.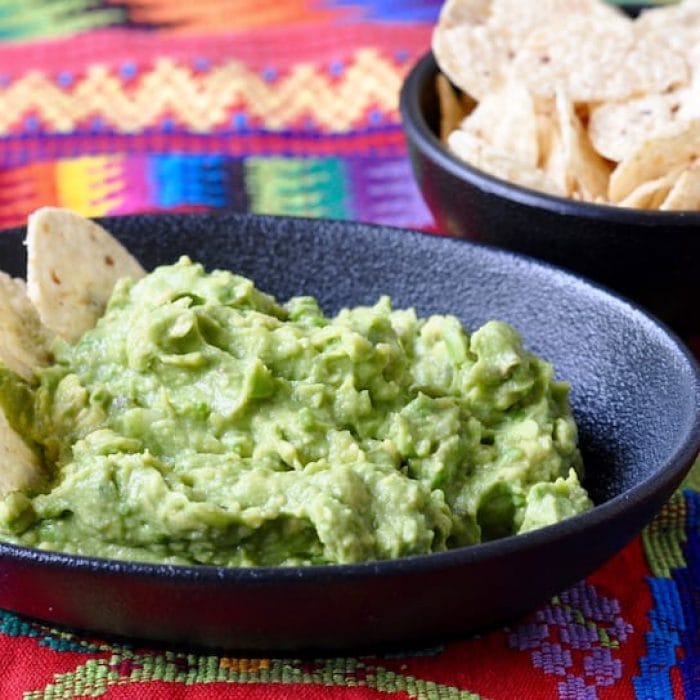 For a tropical twist to traditional pico de gallo, give this mango salsa a try! This refreshing and sweet mango pico de gallo is the perfect (and easiest) nacho dip or topping for tacos. It also adds a boost of bright colour to your Day of the Dead buffet table.
This easy recipe for salsa verde or green tomatillo salsa has a fabulous fresh flavour that's perfect for dipping tortilla chips or fresh veggies at your Day of the Dead party.
Another popular Day of the Dead appetizer is a queso (cheese) dip. This Dairy-Free Queso Dip is thick and creamy with a hint of spicy chilis and lots of smokey flavour. You can devour it as a straight-up chip dip or pour it over your favourite nachos. And thanks to the cashews and nutritional yeast, you'd never guess this 'cheesy' dip is vegan!
Casual yet elegant as a starter, Mexican Corn Salad contains all the flavours of street stall corn on the cob. Sweet corn is roasted in the husk and then tossed with rich, creamy butter, freshly squeezed lime juice, diced jalapeño chiles and topped with freshly grated Parmesan cheese. Watch it disappear!
Hearty main dishes that feed a crowd are a must for any Day of the Dead party. This delicious Authentic Mexican Pozole is a winner as it's a traditional Día de Los Muertos recipe featuring pork and hominy in a delicious red sauce. This wonderful Mexican family recipe has been passed down through generations and is super popular for guests of all ages.
While this chicken pozole recipe is a classic Day of the Dead food recipe, it's also a keeper you can enjoy year-round! Unlike other labour-intensive recipes, this authentic chicken pozole recipe is actually made in a slow cooker for the ultimate in entertaining convenience.
Featuring just four main ingredients, this recipe for slow cooker chipotle carnitas is a classic "dump and start" slow cooker Mexican pulled pork recipe. Serve your slow cooker chipotle carnitas alongside warm tortillas for easy-to-eat tacos.
For throwing a stress-free Day of the Dead party, this grilling recipe for Carne Asada couldn't be easier. It features a carne asada marinade which adds wonderful flavour. Then, after a quick grill, the delicious skirt steak is ready for your guests' enjoyment.
This easy recipe for white chicken enchiladas will be a hit at your Day of the Dead party thanks to its creamy sauce, flavourful shredded chicken filling and baked cheesy topping! A dollop of sour cream and some salsa makes it irresistible.
Another popular main dish, these Easy Beef Burritos are perfect for getting food on the table fast. They can be enjoyed as soon as they're made or individually frozen for quick and easy entertaining.
Featuring black beans and chicken in a satisfyingly rich, red sauce, these chicken enchiladas are the perfect dish for entertaining any time. They're also the ideal Day of the Dead main course as they can be made in advance and heated up to crispy perfection just before serving. Delicious!
This dish is a savoury blend of pinto beans, bacon, spices, cilantro, and yes, a little beer! Make these pressure cooker Drunken Beans (Frijoles Borrachos) from dry pinto beans in about an hour and a half.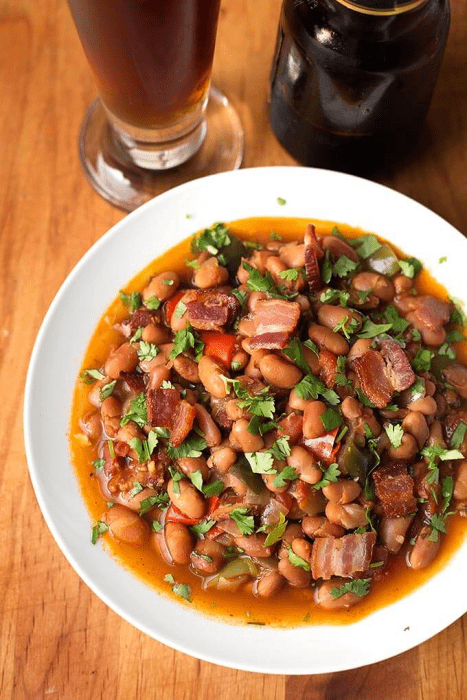 This Mexican Air Fryer Corn On the Cob is juicy and cooked to tender charred perfection in just 10 mins. Don't have an air fryer? You can also make this corn charred on the grill!
This Day of the Dead food recipe for chicken fajitas uses an instant pot for the ultimate in convenience. Making Chicken Fajitas in the Instant Pot takes no time at all and is a healthy entertaining option that everyone will appreciate!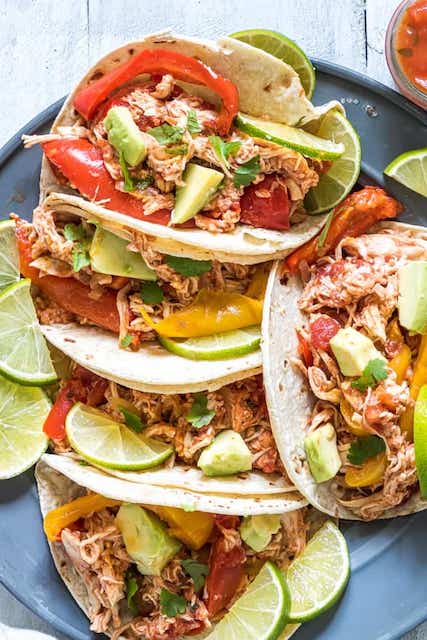 No Day of the Dead party would be complete without dessert and this traditional Mexican corn cake is moist and dense with a pudding like texture. It also happens to be gluten-free and vegan! Baked in a bundt pan, with fresh corn, and topped with a light glaze, this treat will be gone in a flash!
The simplicity of these Mexican Wedding Cookies makes them irresistible to everyone – right out of the oven. They're fresh, lightly crunchy and ready to pop in your mouth.
Another popular Day of the Dead dessert is flan. This version of traditional Mexican flan with caramel syrup is low carb and delicious. The rich custard is baked with caramelized sweetener at the bottom of the baking dish for the ultimate dessert treat.
You can't go wrong with cookies for dessert! This recipe for pabassinas — iced raisin-nut cookies with anise and orange flavours — are a sweet part of many Dia de los Muertos celebrations for a good reason. They are absolutely delicious and pretty too!
One of the most popular foods for Day of the Dead is festive cookies. The swirls of colourful dots on these Dia de los Muertos Sugar Cookies are inspired by the festive, cut-paper banners that decorate the holiday alters in Mexico. You can even wrap some up for guests to take home as party favours!
When planning a Day of the Dead theme party, creating a festive atmosphere makes all the difference. There are so many fun colours, centerpieces and decorations you can create to pull it all together. Papel picado banners (lacy paper cut-outs), sugar skulls and fresh or paper marigold flowers are traditional Día de Muertos decorations.

26. Other Day of the Dead Food Recipes, Ideas and Decorations
In addition to your Day of the Dead food recipes, other amazing Día de Los Muertos traditions to consider for your party include drinks, costumes and music. Here are some ideas:
Crystal Skull Vodka
In Mexico, one of the most popular decorative traditions for Day of the Dead is the calavera a representation of the human skull in sugar. Families display sugar skulls on their loved ones' ofrendas and throughout their homes. You can also see calaveras displayed in public spaces such as markets and plazas in Mexico.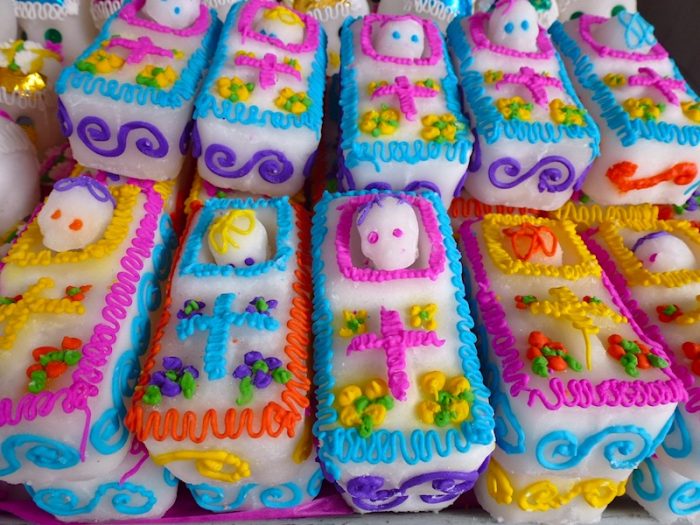 With its shimmering rainbow finish and skull-shaped bottle, Crystal Skull Vodka (founded by actor Dan Aykroyd) does double-duty as a Day of the Dead calavera table decoration. Just add a mixer or try one of the fun Crystal Cocktail recipes here and you're good to go!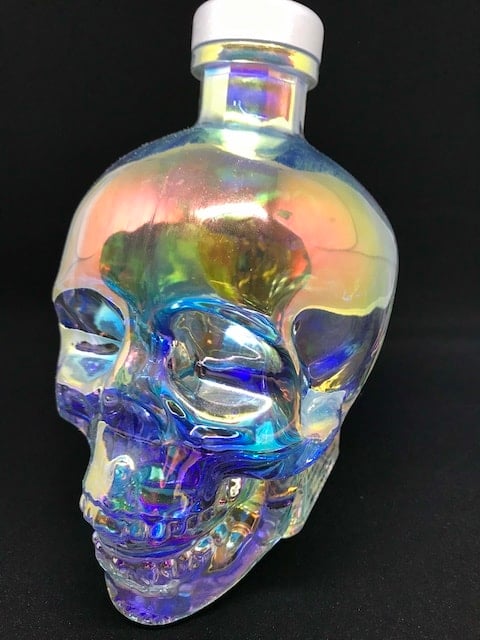 Pan de Muerto – Mexican Bread of the Dead
One of the most important foods for Day of the Dead is pan de muerto. This sweet bread, fragrant with anise and orange, is popular throughout Mexico in the days leading up to Day of the Dead and is also an important part of home altars. Serve pan de muerto with hot chocolate sprinkled with cinnamon or with steaming café de olla (coffee served in an earthenware clay urn).
Pan de muerto lasts for several days without refrigeration so, in my opinion, is much easier to buy than make it yourself. But if you do decide you'd like to make some at home, then here is a good recipe for Pan de Muerto to try.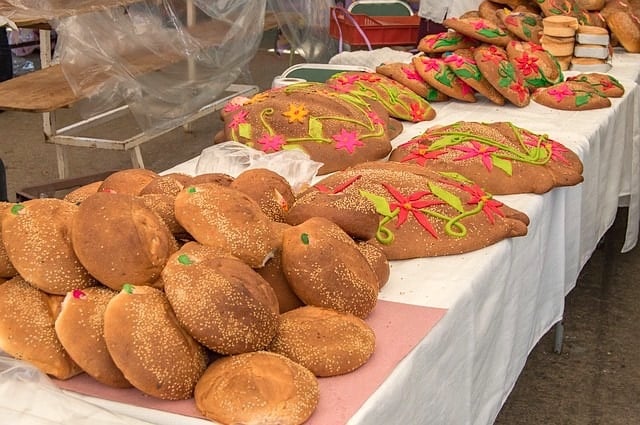 Mariachi Music
Music adds life to any party and a Day of the Dead party calls for mariachi music. When I was in Oaxaca City for Dia de Muertos, I was surprised to see groups of musicians playing lively music right in the cemeteries and beside the gravestones.
Families who were participating in all-night gravesite vigils would order songs from the roving musicians and even sing along with certain well-known tunes. Get our Playlist of the Best Mariachi Songs for a handpicked selection of tunes perfect for dancing as well as traditional songs for Day of the Dead.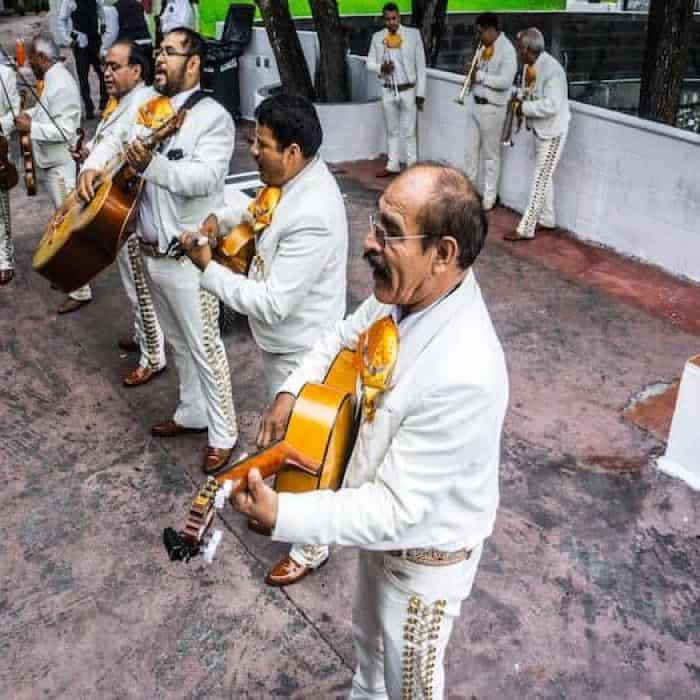 Face-painting for Day of the Dead
Another popular tradition for Día de Los Muertos is face-painting. By far, the most popular motif is the calavera or human skull. You can see some samples of face paint from Mexico in our post on the Unforgettable Faces of Day of the Dead in Mexico for some inspiration.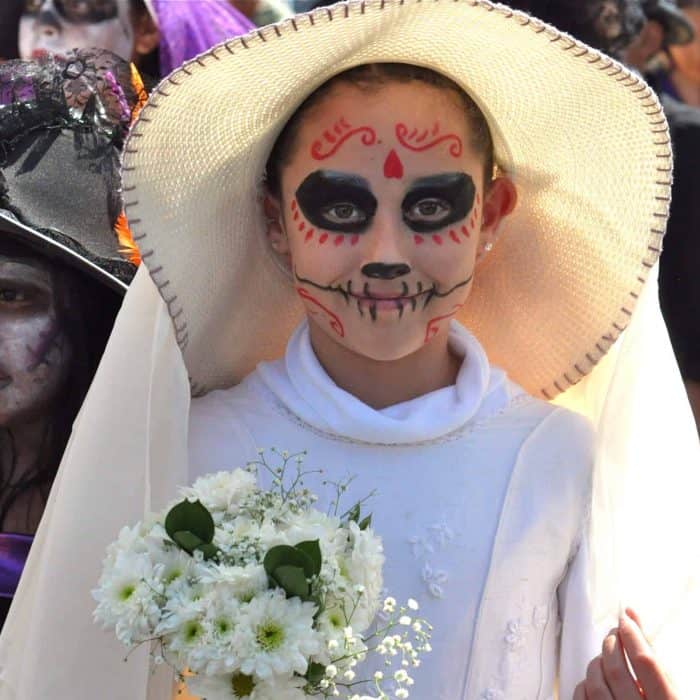 Save to Pinterest!
(Note: This is a collection of recipes from other fantastic food bloggers. All photography has been provided courtesy of the recipe owner.)