We may earn income from links in this post. Please read this Disclosure for details.
The countdown is on for Day of the Dead in Mexico! This collection of delicious Day of the Dead food recipes is sure to inspire you to host your own Día de Los Muertos gathering for family and friends.
Taking place on November 1 and 2nd each year, Day of the Dead is a special time in Mexico and is rich with important cultural traditions. Most of all, it's a celebration of life honouring deceased loved ones.
It features altars decorated with flowers, candles, sugar skulls, pan de muerto bread and other traditional Day of the Dead food and drink.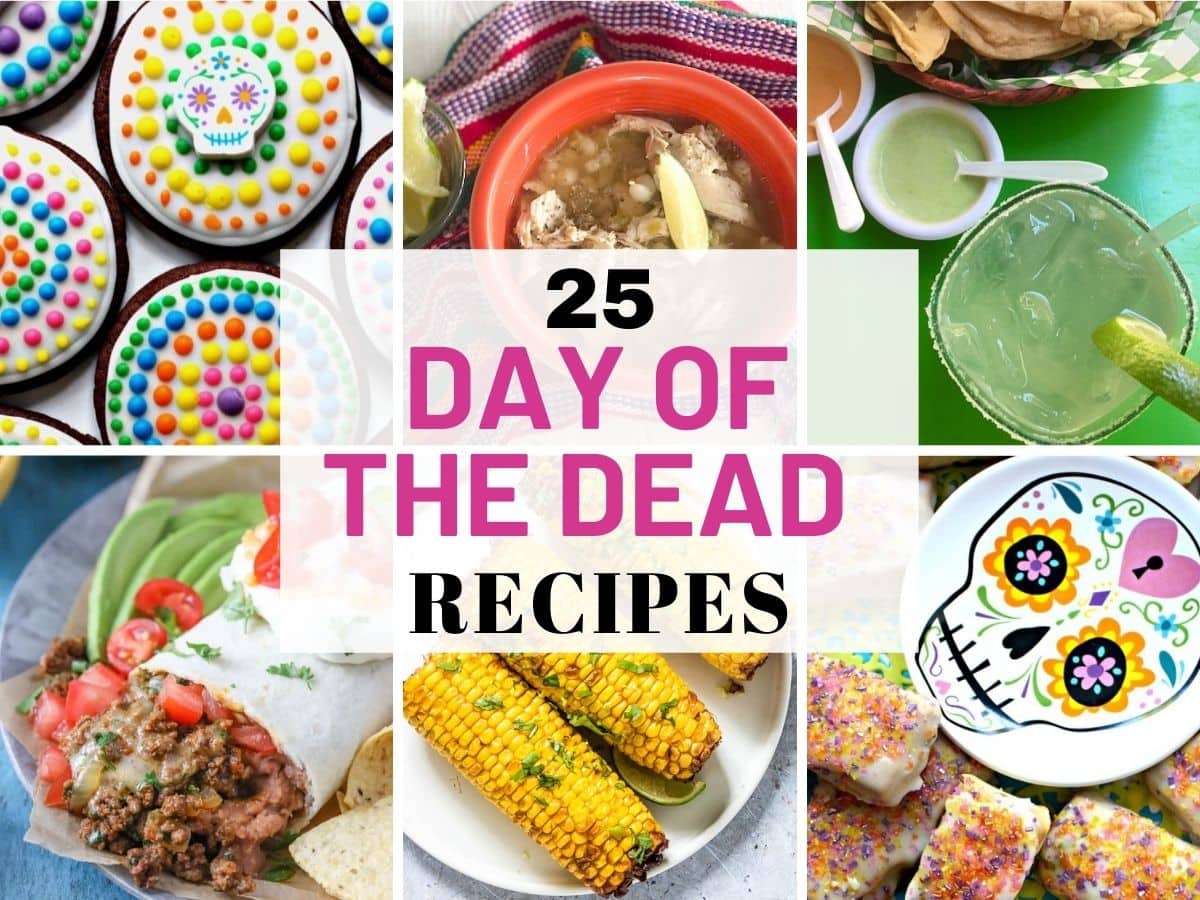 25 Best Day of the Dead Recipes
To help you plan your own Day of the Dead celebration, we've gathered the very best food ideas in one handy guide.
This collection of easy and delicious Day of the Dead food recipes is sure to inspire you to host your own Día de Los Muertos party for family and friends.
In Mexico, Day of the Dead also features other
amazing Día de Los Muertos traditions
such as processions, face-painting and music.
In addition to your Day of the Dead food recipes, here are some traditions to consider for your Day of the Dead party:
Other Day of the Dead Traditions
Decorations
When planning a Day of the Dead theme party, creating a festive atmosphere makes all the difference. There are so many fun colours, centerpieces and decorations you can create to pull it all together.
Popular ideas for Día de Los Muertos Party Decorations include elements such as Papel picado banners (lacy paper cut-outs), sugar skulls and fresh or paper marigold flowers and other traditional Día de Muertos decorations.

Sugar Skulls
In Mexico, one of the most popular decorative traditions for Day of the Dead is the calavera a representation of the human skull in sugar.
Families display sugar skulls on their loved ones' ofrendas and throughout their homes. You can also see calaveras displayed in public spaces such as markets and plazas in Mexico.
Skull Tableware and Decor
With its shimmering rainbow finish and skull-shaped bottle, Crystal Skull Vodka (founded by actor Dan Aykroyd) does double-duty as a Day of the Dead calavera table decoration.
Just add a mixer or try one of the fun Crystal Cocktail recipes here and you're good to go!
Pan de Muerto
One of the most important foods for Day of the Dead is pan de muerto. This sweet bread, fragrant with anise and orange, is popular throughout Mexico in the days leading up to Day of the Dead and is also an important part of home altars. Serve pan de muerto with hot chocolate sprinkled with cinnamon or with steaming café de olla (coffee served in an earthenware clay urn).
Pan de muerto lasts for several days without refrigeration so, in my opinion, is much easier to buy than make it yourself.
Day of the Dead Music
Music adds life to any party and a Day of the Dead party calls for mariachi music. When I was in Oaxaca City for Dia de Muertos, I was surprised to see groups of musicians playing lively music right in the cemeteries and beside the gravestones.
Families who were participating in all-night gravesite vigils would order songs from the roving musicians and even sing along with certain well-known tunes.
Get our Playlist of the Best Mariachi Songs for the top traditional songs for Day of the Dead.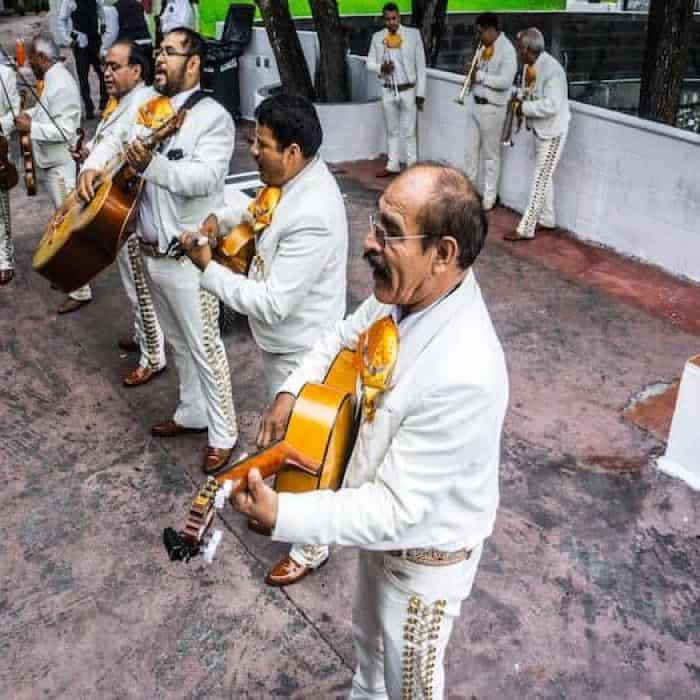 Day of the Dead Face Paint
Another popular tradition for Día de Los Muertos is face-painting. By far, the most popular motif is the calavera or human skull.
You can see some samples of face paint from Mexico in our post on the Unforgettable Faces of Day of the Dead in Mexico for some inspiration.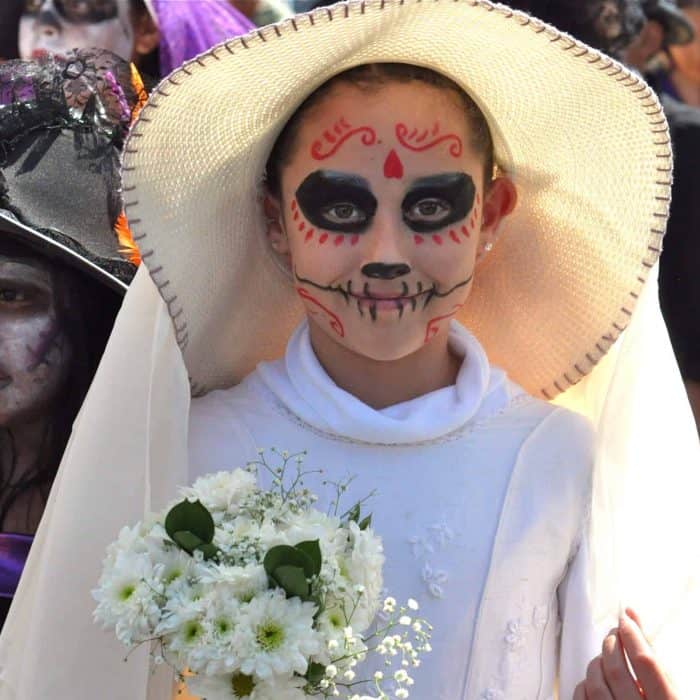 Save to Pinterest!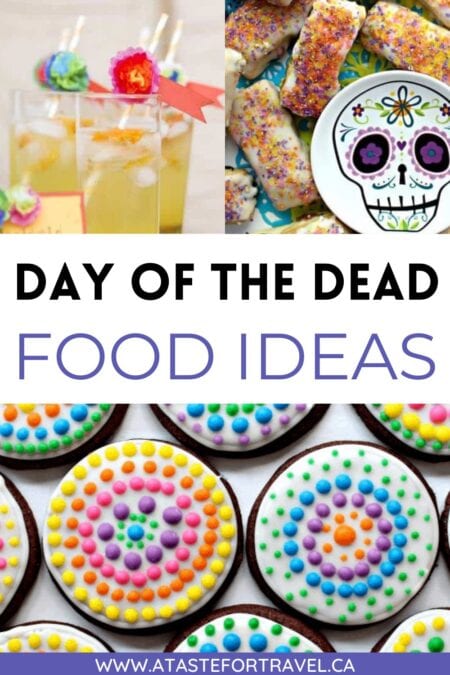 (Note: This is a collection of recipes from other fantastic food bloggers. All photography has been provided courtesy of the recipe owner.)
Dividing her time between Canada, Guatemala and Mexico (or the nearest tropical beach), Michele Peterson is the founder of A Taste for Travel. Her award-winning travel and food writing has appeared in Lonely Planet's cookbook Mexico: From the Source, National Geographic Traveler, Fodor's and 100+ other publications.
Read more about Michele Peterson.