We may earn income from links in this post. Please read this Disclosure for details.
It's Day of the Dead and I'm weaving my way through the Panteon Antiguo (Old Cemetery) of Santa Cruz Xoxocotlán, first ducking under a stone cross and then leaping across a gravestone.
I can't help but be reminded of the scene in the movie "Entrapment" where Catherine Zeta-Jones slithers her way under a web of laser security beams to steal a prized art object.
Except I'm not wearing a cat suit and I'm fairly certain Zeta-Jones didn't have a glass of aged mezcal in her hand.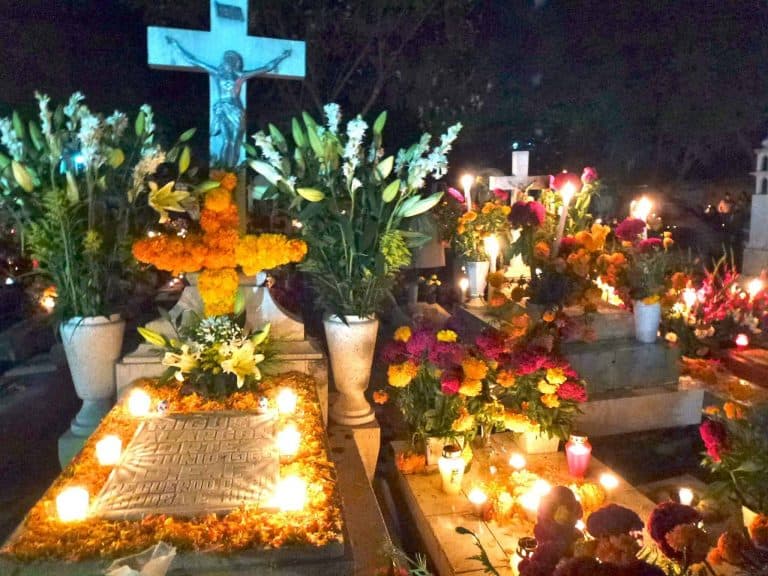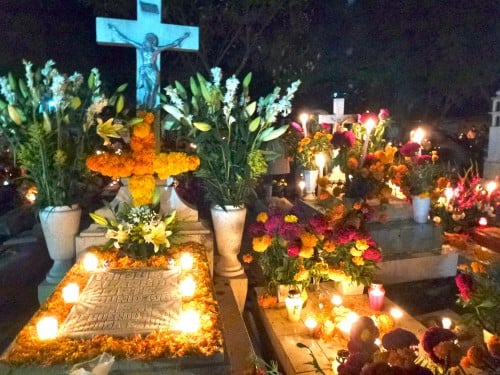 Day of the Dead in Oaxaca City
But navigating Panteon Antiguo during Day of the Dead is no easy matter. Located 5 kilometres outside Oaxaca City, it's wrapped around an abandoned 17th century chapel and, beginning each October 31st, is packed with truck-loads of marigolds, vases of teetering gladiolas and thousands of flickering candles. Smoky copal incense fills the air.
My main concern, beyond falling into a dark hole, is to avoid committing a transgression. I'm surrounded by hundreds of people sitting vigil at family gravesites.
They have decorated altars– in three levels representing heaven, purgatory and hell– with special pan de muerto , candles, flowers, photos, cigarettes and other tribute to the deceased in order to welcome the spirits back to earth.
According to Zapotec tradition, nothing on the altar can be touched until November 2nd unless you want to anger the visiting spirits. So the last thing I want to do is knock anything over.
"Oh my god, I almost fell on a group of mourners,"' whispers the woman behind me.
"Follow me, " I say, pointing my flashlight under an archway of marigolds. I can see a clear path between a pair of urns and decide to go for it.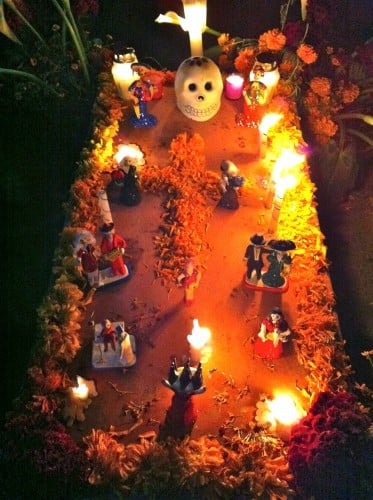 Traditions at Panteon Antiguo (Old Cemetery) of Santa Cruz Xoxocotlán
Finally, I reach safety in a secluded corner of the graveyard. Here, although many graves are decorated, a few — such as one for a woman named Soledad who passed away at age 24 — are just black stumps in the ground.
"Maybe her family is coming later," suggests someone in our group. Given she passed away half a century ago it seems unlikely. We all look a bit glum at prospect of her grave being lonely on a night so rich with family tradition.
"Take some of these candles and place them on her grave, " says Suzanne Barbezat our guide who, along with her Mexico-born husband, is the owner of Discover Oaxaca tours. She has come prepared with a bag of candles, candies and a bottle of mescal – all customary offerings for Day of the Dead.
We light candle votives and place them on the gravestone, illuminating her name carved in the worn stone. A family of mourners nearby waves in encouragement. I say a silent prayer, our groups splits up and then moves through the cemetery, laying marigolds and lighting candles on empty gravestones and paying our respects as we go.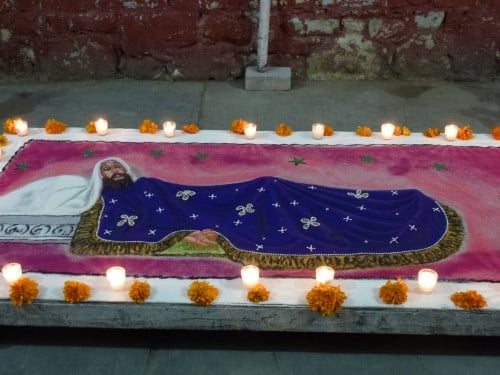 Day of the Dead at Xoxocotlán's New Cemetery
Later, passing a display of tapetes ( sand carpets) we visit Xoxocotlán's new cemetery which features concrete pathways, raised crypts protected by decorative fencing and, at the entrance, a large stage featuring a full-scale production of Catrina, starring no less than Alejandra Robles, one of Oaxaca's top performers.
Roving troubadors stroll through the cemetery singing mournful songs from their playlist of Day of the Dead mariachi songs.
The Las Vegas style show is broadcast on a large overhead screen and simulcast throughout the graveyard. Although it's much easier to navigate through the new cemetery, the vibe is more festival than contemplative.
As I walk through the new cemetery, I realize that much as I enjoy the polished atmosphere, if I was a ghostly spirit returning to the world of the living on Day of the Dead, I'd probably choose the slightly dilapidated Panteon Antiguo (Old Cemetery) as my destination.
Travel Planner
Tours: There are several Day of the Dead tours available from Oaxaca City as well as Mexico City. Most depart at 8:00 pm and return around 11:30 pm and include transportation, pan de muerto, marigolds and mezcal. You can purchase traditional Day of the Dead food during the itinerary.
They begin on October 31 and continue nightly until Nov. 2nd. Check at the Tourist Information booth beside the Cathedral in the zocolo. You can make a reservation the same day.
Another option is to join a small group tour such as Discover Oaxaca where the smaller group size allows you to experience the gravesites in a more intimate way. The large tour buses stick to a predetermined schedule so there is not much time to linger. Book in advance.
Cost: Expect to pay 200-300 pesos per person to participate in a large group tour. The cost begins at $35 USD per person on a small group tour. Minimum number of participants is required.
Where to Stay in Oaxaca City: One of my first choices for a budget-friendly, eco-hotel is Las Mariposas, a bed and breakfast in central Oaxaca City. This centrally-located B & B offers studio apartments and is a great spot to escape for a few weeks, take cooking lessons, study Spanish and take in some films, the art or action in the zocolo. It is very near the popular language school Academia Vinigúlaza.
The markets (held different days of the week in various towns in the valleys) offer the opportunity to explore unexcavated Zapotec pyramids or sample local specialties such as Oaxacan cheese, empanadas and BBQ goat.
Great places to eat nearby Las Mariposas include the garden patio at Marco Polo Restaurant, 806 Pino Suarez, for brunch or a seafood lunch or La Olla, for authentic Oaxacan food.
Request a room at the back of Las Mariposas expansive gardens and you'll have a quiet patio, wireless internet and often a fridge. Las Mariposas website
I've also been very happy at the Hotel Casa de la Tia Tere, a pricier option than Las Mariposas, but it's more luxurious, closer to the center of town, and includes a full and substantial breakfast as well as a swimming pool.
The room I stayed in did not have a kitchen, which for me is important during a long stay.
Dividing her time between Canada, Guatemala and Mexico (or the nearest tropical beach), Michele Peterson is the founder of A Taste for Travel. Her award-winning travel and food writing has appeared in Lonely Planet's cookbook Mexico: From the Source, National Geographic Traveler, Fodor's and 100+ other publications.
Read more about Michele Peterson.