We may earn income from links in this post. Please read this Disclosure for details.
If you have a flight delay or a long layover at Toronto Lester B. Pearson Airport (YYZ), there's another option for things to do besides hanging out in the pricey food court or airport lounge.
You can go work out at Goodlife Fitness! It's located right in Terminal 1 so you don't even need to leave the airport.
If you're in Toronto for an overnight, check out our pick of the Top Things to Do in Toronto.
Goodlife Fitness Centres is the largest health club company in Canada and boasts over 300 locations across the country. The GoodLife Fitness Club at Toronto Pearson is the first-of-its-kind fitness club in an airport in Canada.
Here's what to expect: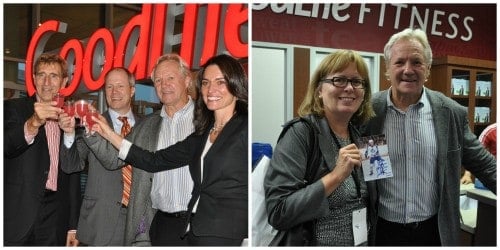 Location of GoodLife Pearson in Toronto Airport (YYZ)
Located in Terminal 1 in the Arrivals Area ( near Gate F), the custom-designed GoodLife Fitness facility was created in partnership with the Greater Toronto Airports Authority (GTAA) and opened to the public on October 16, 2013.
It offers a stylish work-out experience that will appeal to travellers on layover ( or those who have a flight delay), Pearson employees or frequent flyers like me who want to get active.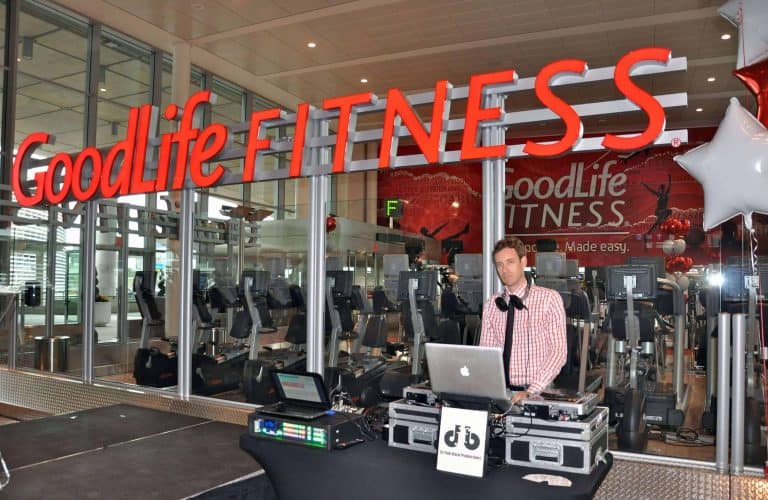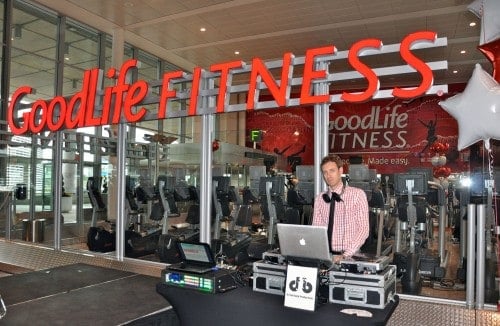 How to Get from Terminal 3 to Terminal 1
If you're travelling via Terminal 3 it's still possible to get to Terminal 1, enjoy the fitness facilities and return back to Terminal 1. Just hop on the free, accessible Terminal Link train takes passengers between Viscount station and the terminals, 24 hours a day.
This is the same train used to access the Sheraton Gateway Hotel, the ALT Hotel and the Viscount Station and Value Park Garage and Lot. So it's worth considering as an option no matter which terminal you're arriving or departing from. There are also connections to the city ( UP Express).
Equipment at GoodLife Toronto Pearson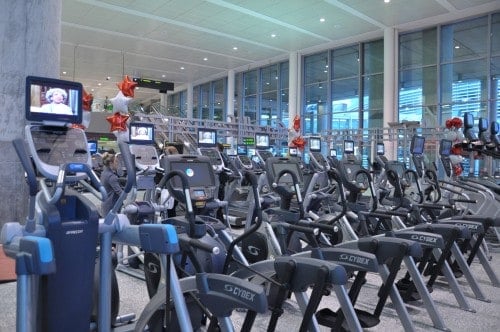 The first thing to know is that this isn't a stuffy gym stuck away in a dark basement like an afterthought. It's bright, airy and actually feels like a spa. The equipment is new and sparkling clean.
State-of-the-art cardiovascular equipment with personal viewing monitors
Free weights and strength training equipment
Stretching area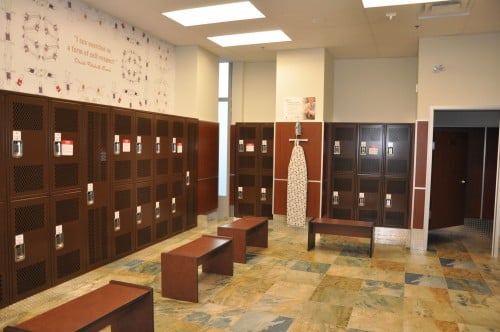 Modern change rooms and showers with soap, conditioner, lotion and hair dryers. There's even an ironing board so you can come out looking extra polished.
Towel service.
Massage chairs ( free) offer a view of a departures board so you don't need to worry about missing your flight.
You can even rent Reebok workout gear (including shoes) for $20. You get to keep the socks.
Hours of operation are 7 days a week 5:00 am to 10:00 pm.
Daily Guest Pass to GoodLife Fitness Toronto Pearson
You don't need to have a membership to use the GoodLife Fitness Club at Toronto Pearson. This gym actually has a Day Pass program. The fee of $24.60 includes access to all the facilities (subject to change without notice).
In sum, for about the same price as a beer and a sandwich at Toronto Pearson, the new GoodLife Toronto Pearson club offers a healthy airport alternative for travellers looking to stay active.
See you on the treadmill!

Details on GoodLife Fitness Toronto Pearson
Toronto Pearson Airport (YYZ): Get details on the Terminal train, maps, picking up and drop off, ride sharing and more at the official Toronto Pearson website.
Day Pass Cost: $24.60 (TBA) Closed until further notice due to COVID-19.
Location: Goodlife Pearson Airport Terminal 1, Arrivals Level (Main floor), Gate F
Phone: 905 671-3721
GoodLife Fitness Membership: If you're considering a membership, it's possible to get a 3-day pass to check out the facilities. Just ask at the check-in desk at the entrance to the gym. You'll need to complete a short form and meet with a membership representative but I've done it (and been a member) and there is no pressure or hard sell at all.
Dividing her time between Canada, Guatemala and Mexico (or the nearest tropical beach), Michele Peterson is the founder of A Taste for Travel. Her award-winning travel and food writing has appeared in Lonely Planet's cookbook Mexico: From the Source, National Geographic Traveler, Fodor's and 100+ other publications.
Read more about Michele Peterson.