We may earn income from links in this post. Please read this Disclosure for details.
If you're trying to decide where to go in Europe, then Santa Maria di Leuca in Puglia, Italy should be at the top of your bucket list.
With its white-washed buildings, sunny skies, delicious regional cuisine and sapphire-blue Adriatic and Ionian coastlines, this city at the tip of the Salento peninsula of Italy's "heel of the boot" is popular among Italians but still under-the-radar for most international visitors.
It also offers excellent value.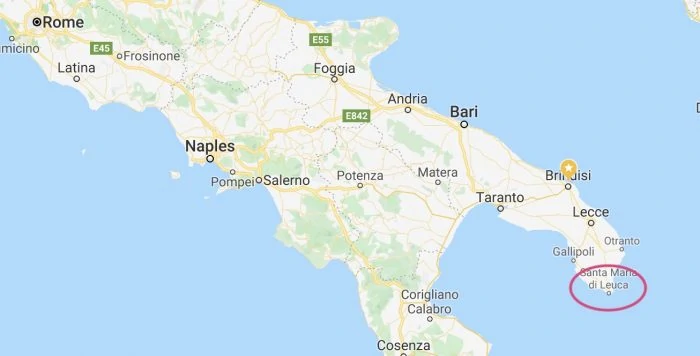 Within the region of Capo di Leuca (the entire tip of the peninsula) the nine municipalities — Morciano di Leuca, Castrignano del Capo, Gagliano del Capo, Alessano, Tiggiano, Salve, Corsano, Patu, Santa Maria di Leuca — offer a wealth of history, architecture, cuisine and attractions.
To learn about visiting Lecce and the east coast of Puglia, read 12 Reasons You'll Love Minervino di Lecce.

To learn about visiting Gallipoli and the west coast of Puglia, read our Guide to Gallipoli and Western Salento
You'll need to rent a car (I like to use Discover Cars) if you plan to do any exploring.
There's very little traffic on the roads in this region of Puglia, so it's very easy to drive from town to town.
Here's a complete guide to the best things to do in Santa Maria di Leuca and Capo di Leuca and why you should definitely visit at least once in your lifetime.
1. Cruise by Boat through the Legendary Sea Caves of Salento's Coast
Centuries of visitors from pilgrims to traders to pirates and invaders have shaped the history and culture of Capo di Leuca, so there's no better place to begin your explorations than on a boat excursion of the Ionian and Adriatic coastlines.
Listen to the roar of waves in the Devil's Grotto, peek into Lovers Grotto and explore other sea caves and secret beaches during a boat tour with Captain Davide Degiorgi.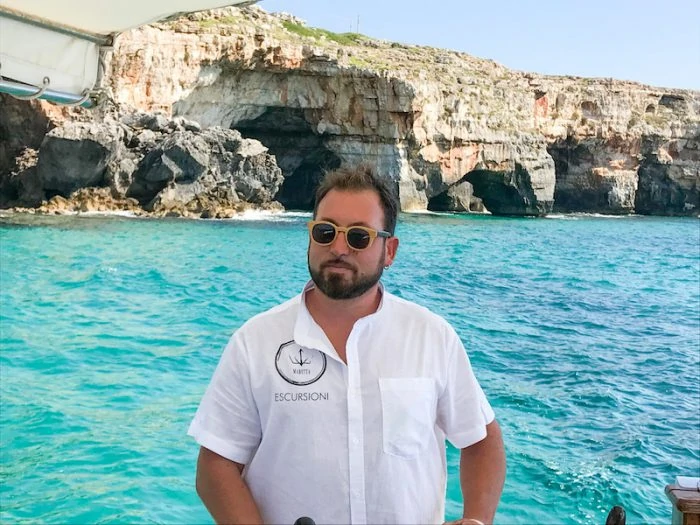 Departing from the Santa Maria di Leuca marina, the cruise meanders along the coastline allowing you to enjoy the fresh sea air, view the sea caves or jump in for a swim in the velvety blue waters.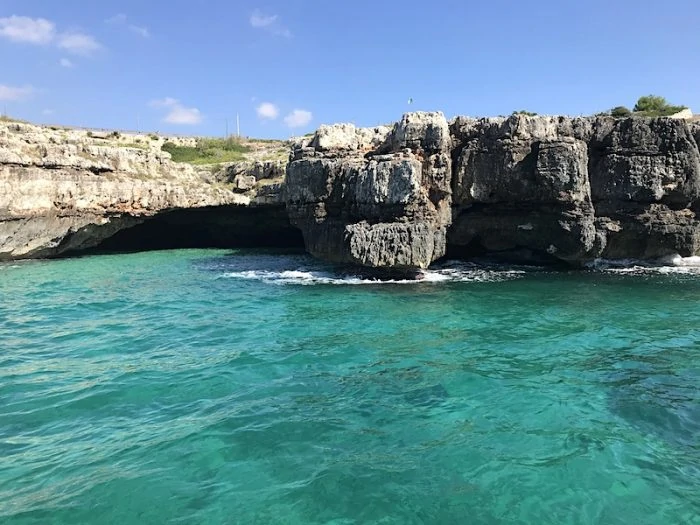 Foodies will also appreciate the Aperitivo Salentino, a delicious spread of regional appetizers served aboard. Other options for a memorable boat cruise include line fishing, trawling and casting fishing excursions, a romantic moonlight cruise or a private party with live music.
To book, contact Captain Davide Degiorgi on the Escursioni Maretta – Torre Vado Salento Facebook page or by phone 327-93-38 330.
If you have only an hour or two, it's still possible to take a look at the caves and enjoy some snorkeling in a Small Group Tour of the Caves of Santa Maria di Leuca.
Led by a local guide, this cruise departs from the marina and features a cruise along the coastline as well as a stop for snorkeling and swimming in the clear turquoise waters. Snorkel equipment is provided.
Check rates and availability of a Small Group Tour of the Caves of Santa Maria di Leuca on Viator.com.
2. Eat Your Weight in Fresh Seafood at Ristorante Rizieri in Santa Maria di Leuca
With its jaunty striped awning and throngs of local patrons, it's impossible to miss this mecca for seafood lovers near the waterfront in Santa Maria di Leuca.
Popular among locals families who pack the tables every weekend, it's THE place to go for fresh seafood plucked fresh from the surrounding sea.
Choose from specialties such as sea urchins, dentex and black grouper (two of the most delicious fish in the Mediterranean) with potatoes, pepata di cozze (mussels), insalata di mare (seafood salad), carpaccio di pesce spada and classics such as spaghetti alle vongole (spaghetti with clams) and pasta ai gamberoni, house-made with the local pink prawns. The pure di fave e ciccorie is one of the best you'll find in Salento.
Prices are affordable (most primi piatti are 10-12 Euros) so be sure to add Ristorante Rizieri to your must-try list. It's a block from the waterfront in Santa Maria di Leuca on Via Cristoforo Colombo.
3. Enjoy Incredible Lighting, Dance and Fireworks at a Religious Festival
After you've eaten your fill of delicious pasta, sipped some fine susumaniello regional wine, one of the most unforgettable things to do in Capo di Leuca is attend a traditional religious festival.
The two top fall festivals are celebrations in honour of Santi Medici in Gagliano del Capo on September 26th and the Festival of St. Michael the Archangel in Patu and Castrignano del Capo on September 29th.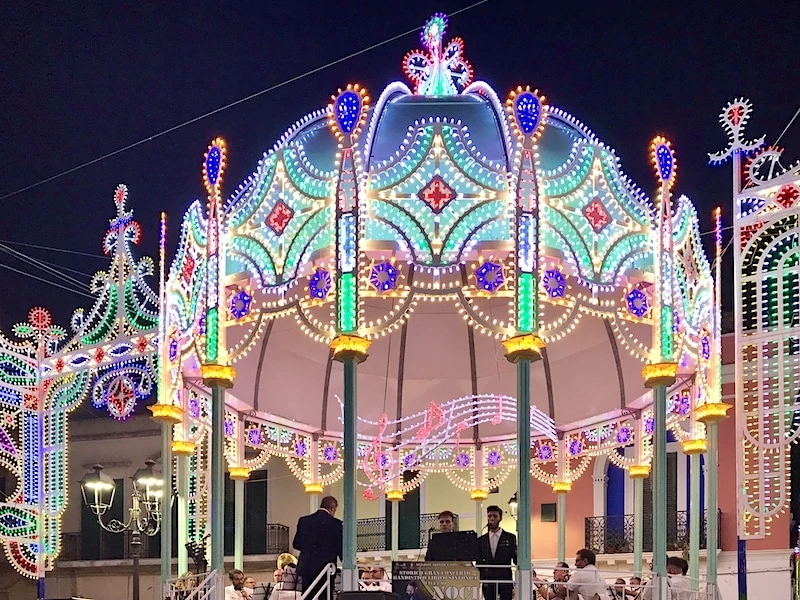 In addition to Salento's famous lighting and fireworks displays, one of the first things you'll notice while attending these feast day celebrations, is that everyone — all ages and abilities — participates in the traditional folk dance known as the pizzica.
Unlike in other countries where you might be tempted to stay on the sidelines because you don't know the steps, in Capo di Leuca you just join the crowd and follow along without feeling embarrassed.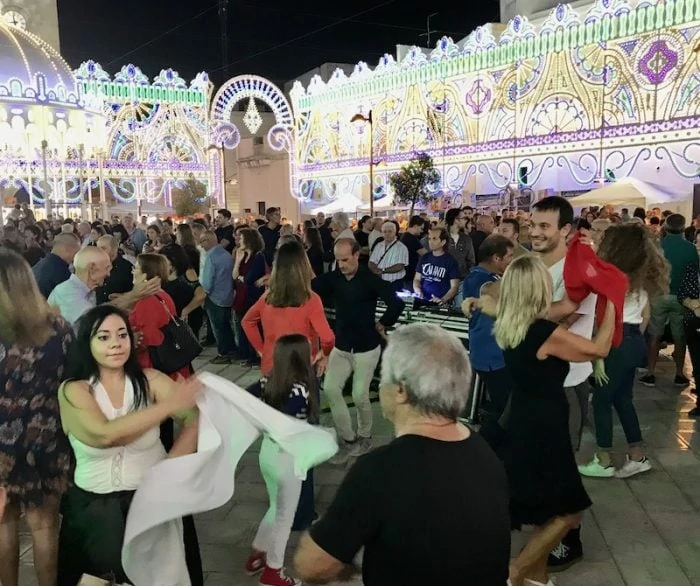 The pizzica (which means bite) is the Salentine version of the tarantella, a fast-paced dance that has a long history in Italy. It apparently originated as a way for women to rid themselves of the venom of the bite of a tarantula spider if bitten while working in the agricultural fields.
It's often performed by couples to the accompaniment of accordion, tambourine and vocals. So, if you have a bandana to wave while dancing you'll fit right in with the crowd.
Check out this travel video of what it's like to attend a festival in the Salento region of Puglia, Italy. Editing done by VeedYou.com
4. Marvel at Torre Vado and other Ancient Coastal Watchtowers
Originally used for sighting and defence purposes, 171 watchtowers once dotted the coast of the Salento region of Puglia. Situated on promontories or rocky hills, these magnificent structures communicated with signals by smoke and fire (as well as bells, horns and cannons) to warn inland villages of impending attacks.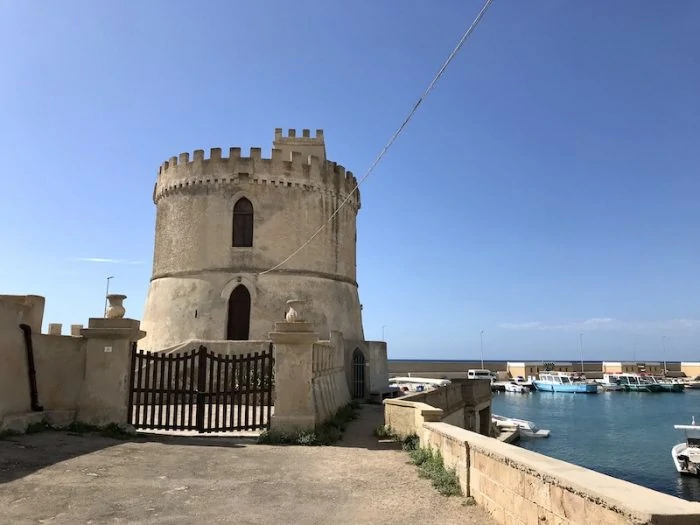 Invaders such as Saracens, Turks, Venetians, Genoans, English and others sought the riches of Salento's fertile plains such as olive oil, wheat and other valuable goods.
While many of the watchtowers have fallen into disrepair, others such as Torre Vado, the defensive watchtower for Morciano di Leuca situated on the Ionian sea, have been restored, standing like mighty sentinels at strategic points along the coast.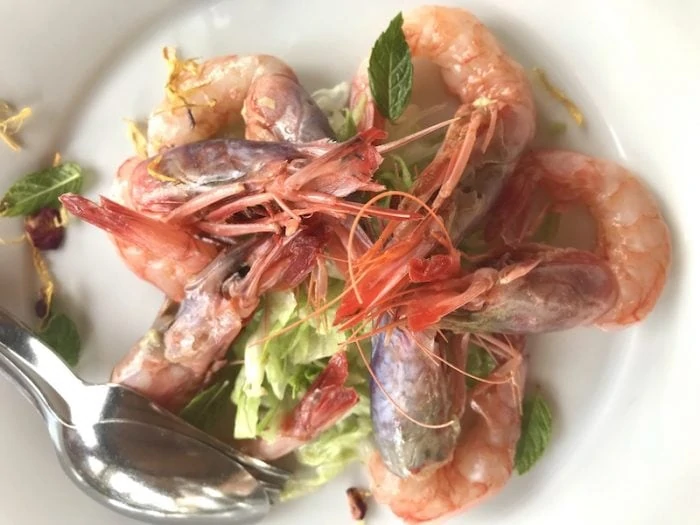 For a leisurely lunch with a view and fine regional cuisine near Torre Vado, be sure to stop at nearby Hotel La Colinetta. The menu at its Le Scalelle restaurant features enticing dishes such as frittura di paranza (fritters of calamari, octopus and shrimp), risotto dei pescatori and pasta with scampi.
Finish with the artisanal spumone in flavours such as fig and mandarin or rum.
5. Bask on Beautiful Beaches of the Maldives of Salento
But the fine dining and historic watchtower aren't the only attractions of Torre Vado. Unlike the eastern coast of Salento which is formed of grottos and inlets, the western coastline of Capo di Leuca is dotted with beautiful sandy beaches, sand dunes, restaurants and lido (beach) clubs.
So, it's well worth planning to spend a few days at the seaside enjoying the clear, blue waters of the Ionian sea and its soft golden sand.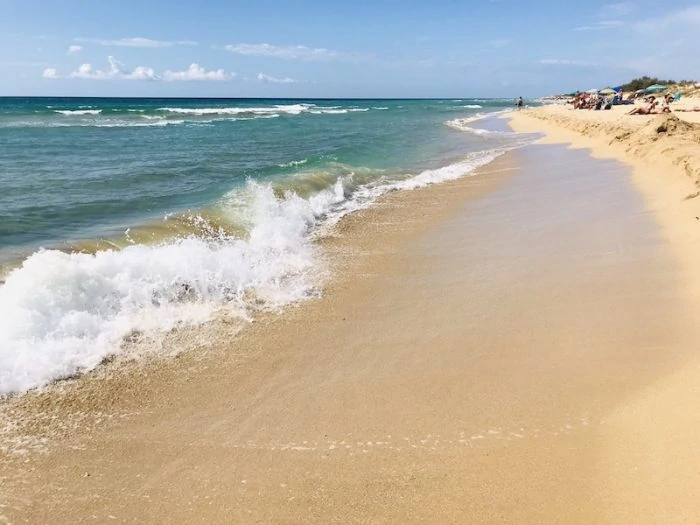 In fact, there are so many beautiful beaches on the Ionian coast, the region around the seaside village of Pescoluse, tucked between Torre Vado and Torre Pali, has become known as the "Maldives of Salento" due to its sapphire blue waters.
Kayaking along this coastline is another fun thing to do in Santa Maria di Leuca. During a Sea Kayak Tour and Course for Beginners you'll paddle your way along the Ionian coast led by a certified instructor from the Italian Canoe and Kayak Federation.
It's worth renting a car to take a road trip and explore the entire coastline along SS 274, a 45 kilometre highway connecting historic Gallipoli in the north with Santa Maria di Leuca in the south.
Read our Travel Guide to Gallipoli and other neighbouring towns for tips on the best restaurants, historic attractions and parks in western Salento, Puglia as you head north.
Check rates and availability of a Sea Kayak Tour and Course for Beginners on Viator.com.
6. Meet the King of Mortadella
Although Bologna might be the birthplace of mortadella, the celebrated luncheon meat is transformed into something magical in the Capo di Leuca region.
Not to be confused with the indestructible baloney sandwich meat you may have been served as a kid in North America, the real mortadella de Bologna is a work of culinary art developed over more than 500 centuries.
The technique of making quality mortadella in Italy begins with finely-ground pork flecked with chunks of pork fat, salt, pepper, coriander, anise, wine and pieces of pistachio. The mixture is then stuffed inside a beef or pork casing, cooked and cooled until firm.
Although it's delicious to eat mortadella served in cubes or a papery thin slices, you haven't really lived until you try a sandwich made by the maestro of mortadella, Chef Giuseppe Alessio.
Dubbed the "King of Mortadella" by Academy award-winning actress Helen Mirren who lives near Tiggiano, Chef Alessio presides over the deli counter at the Punta Risparmio Supermercato ( Il Mio) where he crafts his now-famous sandwiches made to order.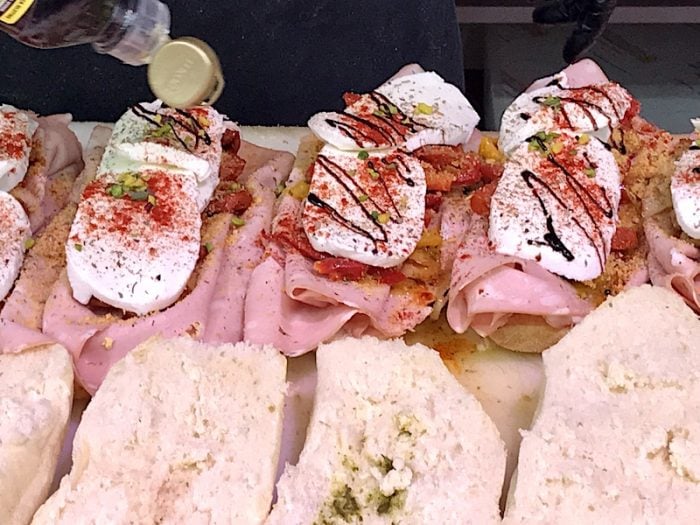 Watching him make one of his creations will change forever the way you look at mortadella sandwiches. He begins by slicing a crusty bun lengthwise, then layers it with paper-thin slices of mortadella.
Then, depending on the customer's preference he adds olive paste with artichoke, eggplant with tomato, red pepper spread, rapini pesto or marinated strips of red pepper.
He then tops each creation with mozzarella, Italian spices, vincotto and a sprinkle of bread crumbs toasted in olive oil. This is one sandwich you'll want to try – unforgettable!
7. Marvel at Beautiful Santa Maria di Leuca del Belvedere – Little Leuca
Spend any time at all in the Capo di Leuca region and you'll drive past the incredibly beautiful St. Maria di Leuca del Belvedere church, also known as Little Leuca of Barbarano del Capo.
Constructed between 1685 and 1709, the neoclassical structure with a watchtower was built as a stopover for pilgrims headed to the Sanctuary of the Madonna di Leuca at De Finibus Terrae on the tip of the peninsula, where St. Peter stopped enroute to Italy.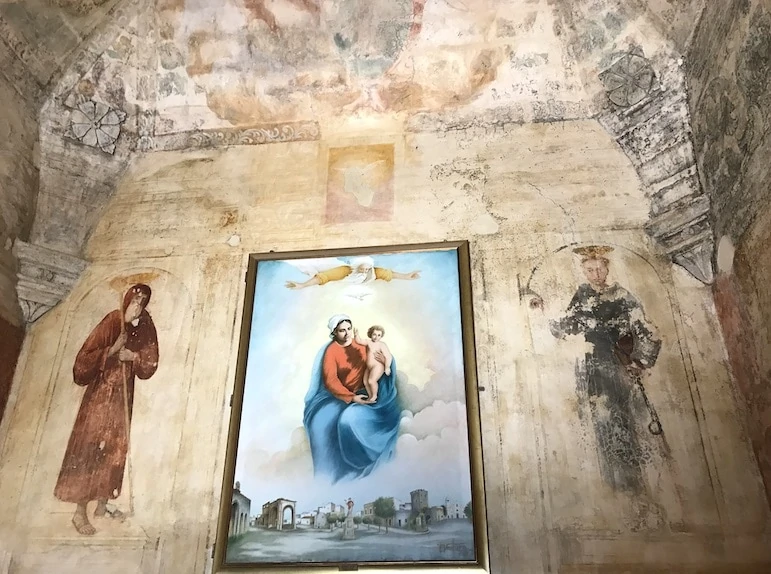 One of the most fascinating features of the St. Maria di Leuca del Belvedere church is its underground quarters where pilgrims slept. A fresh water supply and well made this an important stop on the pilgrims way.
The church also contains remarkable frescoes of St. Lazarus, St. Francis of Paola, St. Gennaro and other Greek and Latin saints.
St. Maria di Leuca del Belvedere church is located at Strada Provinciale 190, 47, Barbarano del Capo, Morciano di Leuca.
Get more information on the Pro Loco Torre Vado Facebook page.
8. Walk in the Footsteps of the Faithful on an Ancient Pilgrim Route
After you've visited Santa Maria di Leuca del Belvedere church you can experience a taste of the life of a pilgrim by walking the trail that forms part of the Via Francigena, an ancient trekking route from France to Rome and ports of embarkation for the Holy Land in Puglia.
It also forms part of the Via Leucadense, a route from Lecce in the north to Leuca in the south. It's just one of several walking trails in Salento and is the ultimate slow travel experience.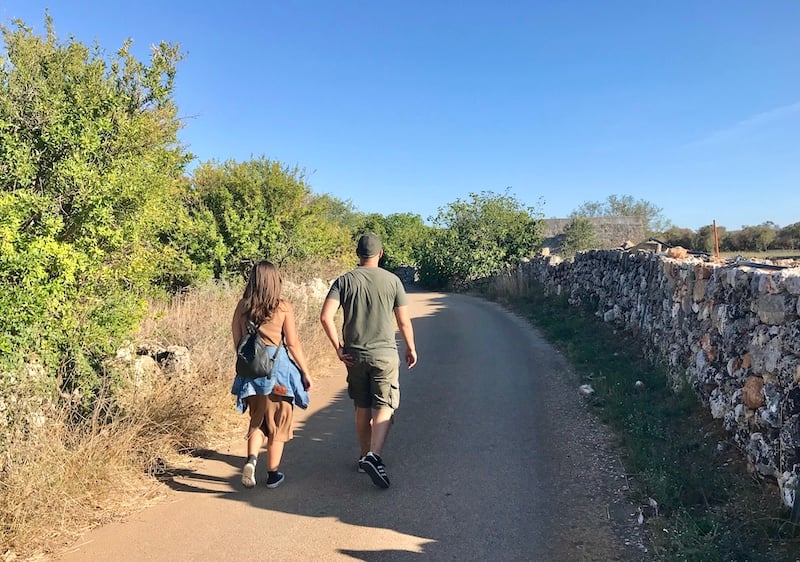 Along the way you'll pass fortified manor homes, walled footpaths, caves, funeral monuments and traces of history dating to the Messapians, a tribal group that inhabited Salento in the late sixth century BC.
You can also take cycling tours along the ancient pathways with baggage transfer service between the points leading to the spiritual heart of Puglia, the Basilica Santuario di Santa Maria de Finibus Terrae in Santa Maria di Leuca, on the southernmost tip of Salento.
One of the most unique (and economical!) experiences in Italy is staying in a convent or monastery. Read about what it's like to stay in a convent in Rome
9. Indulge in Pastries at Pasticceria de Vito Di Costa Anna Maria in Alessano
With all your hiking and outdoor exercise, you'll be able to indulge guilt-free in the many regional sweets and treats in the Capo di Leuca area. One spot to stop is Pasticceria de Vito Di Costa Anna Maria in Alessano. This family-owned gelateria and pasticceria has been operating in the same location for several decades.
It's an ideal place to get out of the sun and enjoy artisanal chocolates and pralines, the regional specialty pasticciotti, fruit tortes, gelato or spumoni along with a coffee or espressino. Prices are very economical – it's just one Euro for a coffee.
Pasticceria de Vito Di Costa Anna Maria is located at Piazzetta Portanova, 31, 73031 Alessano LE, Italy
10. Sleep in a Palace (Without Going Broke)
While there are many places in the world where it's possible to sleep in a real palace or castle, you often have to pay hundreds of Euros a night for the privilege.
But in Morciano di Leuca, an inland village with a history dating back to Magna Grecia, you can stay at Palazzo Laura for just 40 to 50 Euros a night.
You won't be sleeping in the dungeon either. A superior room at Palazzo Laura comes equipped with AC, wifi, fine European linens and its very own outdoor terrace with views of the village.
Built in the 19th century, this atmospheric villa features its own peaceful gardens. Plus, breakfast is included!
The location of Palazzo Laura is ideal for exploring Morciano di Leuca. It's literally steps to the church of St. John the Almoner.
Built in 1576 by the architect Giovanni Maria Tarantino on top of a Byzantine building, the building is an excellent example of a fortified church constructed to withstand invasions by Turkish raiders.
The fresco of St. Michael within the interior is especially impressive.
For a luxury boutique hotel option if you're on a road trip through Salento, it's also worth staying Palazzo Ducale Venturi in Minervino di Lecce near the Adriatic coast of Salento. Check out our article on 12 Reasons to Visit Minervino di Lecce.
Note: If you book a stay at Palazzo Laura in September you'll get 10% off the rates. Crazy good value!
Check prices and availability at Palazzo Laura in Morciano di Leuca on Booking.com.
11. Support Sustainable Living at Celacanto Eco-Centre
For a unique look at community activism in Salento, be sure to stop by the sustainable living centre operated by the Coppula Tisa Association.
This community of local residents, business owners and volunteers promotes active citizenship, environmental stewardship and responsible tourism.
Their hub for community engagement is the Celacanto Centre overlooking the Adriatic Sea in Marina Serra di Tricase.
One way to support their activities is by attending their market held on Thursdays at 6:30 pm.
The marketplace is a showcase for seasonal vegetables from Peppe gardens, local cheese from the Sciacuddhri farm, craft beer from Cape Brewery, liqueurs featuring wild Salento herbs and extra virgin organic olive oil from the Olio Merico company in Miggiano.
At Celacanto, the cuisine is organic, much of it foraged from the onsite garden where purslane, dandelion, mustard greens and more grow freely.
Try this recipe for Purslane Salad with Pomegranate, Fig, Walnut and Quince from the chefs at Celacanto.
For those who want to become more involved in sustainable living, it's even possible to participate in voluntourism by tending the onsite gardens in exchange for a hostel room at the Celacanto Centre.
12. Watch the Illumination Show at Cascata Monumentale di Leuca
One of the most famous attractions in Leuca is the monumental man-made waterfall or cascata monumentale di Leuca built by Mussolini to commemorate the completion of the longest aqueduct in Europe.
Open every day for viewing, the waterfall is flanked by a set of stairs on each side leading from the promontory with the lighthouse and Basilica down to the sea port.
The cascata monumentale itself is a remarkable piece of engineering which, while impressive by day for its spectacular views of the port of Leuca from the top, is even more spectacular when illuminated.
Each Friday night at sunset, the water arrives via the aqueduct to the end of the peninsula, is blessed in the Basilica and plunges to the sea in an impressive one-hour long display of cascading waters.
The fountain and waterfall are illuminated in the colours of the Italian flag and the display is often accompanied by dramatic music during special events.
13. Hike a Cliffside Trail and Cool Off with a Swim at Ciolo Bridge
While exploring the Capo di Leuca region, be sure to make a stop at Ciolo Bridge, a fjord near Gagliano del Capo where it's possible to swim in the protected, crystal blue water.
For those looking for some active outdoor adventure, it's possible to hike the Sentiero Cipolliane, a rocky seaside trail that leads to ancient grottos carved into the stone.
14. Shop for Regional Pottery at La Bottega
For culinary travellers, one of the best souvenirs to buy in Puglia (in addition to the fine regional olive oil) is a piece of ceramic pottery featuring the famous rooster motif of Salento.
Your best bet is to choose a soup and pasta bowl set, mug or a platter in one of the cheerful regional designs. They're all handmade and hand-painted so are perfect gifts or additions to your dinnerware collections at home.
A fine shop with excellent quality and prices is La Bottega Ceramics, home to a busy workshop and showroom in Lucugano. Call in advance if you'd like to visit the workshop. Telephone 0833.784249.
15. Dine on Michelin-Star-Quality Cuisine at Il Tempo Nuevo Restaurant
While there are many destination restaurants in the Salento Region of Puglia, a growing number of food fans are making a trip specifically to dine at Il Tempo Nuovo, the restaurant within Castello di Ugento.
Belonging to the d'Amore family since 1643 and set on one of the highest points in the village of Ugento, the 17th castle has been carefully restored and reinvented as a luxury boutique hotel, state-of-the-art Puglia Culinary Centre and fine-dining restaurant.
The atmospheric restaurant features a vaulted dining room with a glass floor set above a Norman-era tower unearthed during the renovations. Il Tempo Nuevo is led by Executive Chef Tommaso Sanguedolce whose elegant touch gives a contemporary twist to traditional Puglian dishes.
Menu highlights include regional ingredients such as red shrimp from Gallipoli, cime di rapa baresi (turnip tops from Bari) and Canestrato cheese and red onions from Acquaviva delle Fonti.
For an in-depth look at the food products of the Salento Region, it's also possible to take an agritourism food tour in Ugento. This food tasting and orientation takes place at the La Fattoria di Nonno PIPPI in the countryside.
Hotels and More Things to do in Capo di Leuca, Puglia
From exploring the Baroque art of the Chiesa di San Nicola Magno in Salve to strolling the historic promenade in Santa Maria di Leuca, there are so many more things to do in Capo di Leuca, it would take a lifetime to experience them all.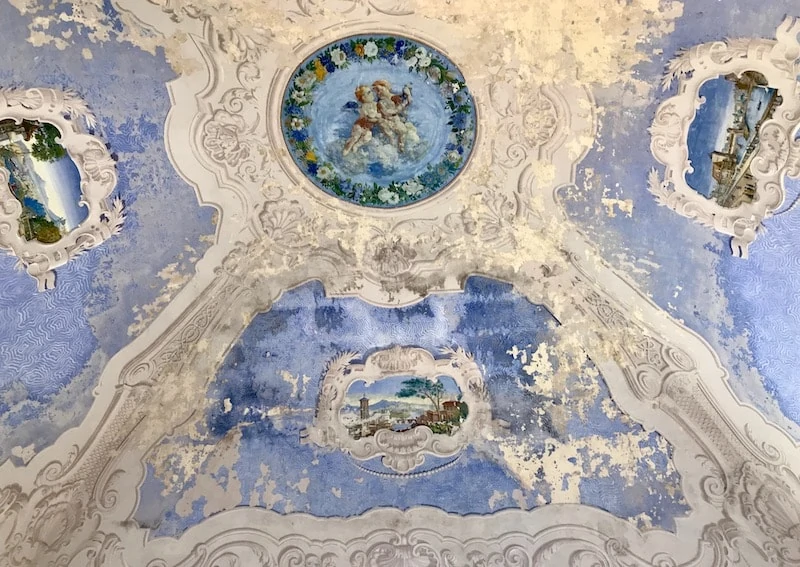 So, it's savvy to plan to spend at least a week in this region of Puglia. Here are my favourite hotels, B&Bs and places to stay:
B & B in Santa Maria di Leuca
If you're looking for a B & B with a view of the Ionian, B&B Santa Maria di Leuca has an excellent location and comes highly recommended.
Check prices and availability at B&B Santa Maria di Leuca on Booking.com.
Luxury Palazzo Daniele Hotel and Villa
With their frescoed walls, open air courtyards and leafy gardens, an Italian palazzo is an unforgettable place to stay in southern Puglia.
One of my favourites is Palazzo Daniele a 9-room luxury boutique hotel located in Gagliano del Capo. Built in 1861 and set among ancient olive groves, this dreamy stay features ornate frescoes, mosaic flooring and a contemporary art collection as well as acclaimed dining.
Ultra-romantic, it's a top choice for couples.
Check rates and availability of Palazzo Daniele on Booking.com.
Palazzo Ducale Venturi Luxury Boutique Hotel & Spa
Soak up some Salento history at Palazzo Ducale Venturi, a 16th century fortified palace that has been restored as a luxury boutique hotel and spa.
The burnished walls with soaring ceilings, exposed stone and restored frescoes provide an atmospheric backdrop for exploring the attractions.
The outdoor swimming pool and terrace surrounded by lemon trees make this an especially lovely place to stay in southern Puglia.
Check rates and availability of Palazzo Ducale Venturi on Booking.com.
Getting To Santa Maria di Leuca from Rome
Read our Guide to the Termini Neighbourhood of Rome for details on where to stay and what to do in the Termini neighbourhood of Rome. It's the best place to stay for fast rail connections to Fiumicino Airport or by train to Puglia.
From Rome's Fiumicino Airport take a short connecting flight to the modern Brindisi International Airport (BDS) via Alitalia. Or travel by train in five hours from Rome's Termini Station.
If you're flying into Rome from North America, you'll likely arrive at Leonardo da Vinci Fiumicino Airport in the early morning. This means you'll most likely have a long layover.
It's worth considering purchasing access to the Plaza Premium Lounge so you can rest before your connecting flight to Brindisi Airport.
Another option is to head to the section near Gate E12 where there are some comfortable chairs. You can put your feet up and even take a nap without paying a lounge fee.
Getting from Brindisi Airport to Santa Maria di Leuca
Get maps, tourism information and more at the official Puglia (Apulia) Tourism Website.
There is also a tourist information booth (with English-speaking staff) at Brindisi International Airport so be sure to make a stop upon arrival.
Renting a Car in Puglia
It's a 1.5 hour drive from Brindisi Airport to Santa Maria di Leuca (and nearby towns). I usually book my car rentals at Discovercars.com.
This online portal compares car rental deals from many companies so generally offers the best deals.
Check for the best car rental rates at Discovercars.com
Private Transfer from Brindisi to Santa Maria di Leuca
Upon arrival in Brindisi, for the ultimate in comfort and convenience, book a Private Transfer from Brindisi Airport (BDS) to Santa Maria di Leuca.
You'll travel in an air-conditioned vehicle with a driver who will meet you at the airport and transfer you and your group directly to your hotel in Santa Maria di Leuca. This is an especially good option if you're on a family vacation in Puglia.
Check rates and availability of a Private Transfer from Brindisi Airport to Santa Maria di Leuca on Viator.com.
If you sign up for the A Taste for Travel newsletter, you'll get my next articles showcasing the attractions in the Puglia region with more experiences to add to your bucket list.
You'll also receive some regional recipes so you can enjoy a taste of Salento at home!
More Places We Love to Visit in Italy
Save to Pinterest!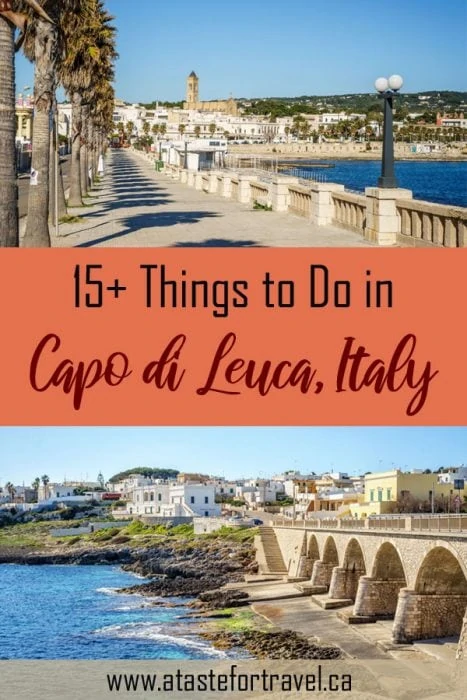 Dividing her time between Canada, Guatemala and Mexico (or the nearest tropical beach), Michele Peterson is the founder of A Taste for Travel. Her award-winning travel and food writing has appeared in Lonely Planet's cookbook Mexico: From the Source, National Geographic Traveler, Fodor's and 100+ other publications.
Read more about Michele Peterson.