We may earn income from links in this post. Please read this Disclosure for details.
If you love food and want to experience some of Italy's best regional cuisine and wines, you should definitely include a Florence food tour as part of your itinerary.
After all, a visit to Italy isn't complete without sampling Tuscan cheese, sipping Chianti, munching on cantucci (also known as biscotti) and exploring delicious regional dishes.
Florence is Famous for its Food
With its location in the fertile heart of Italy, Tuscany is an incredible destination for foodies. Its markets brim with the fresh produce and meats that form the backbone of Tuscany's hearty cuisine.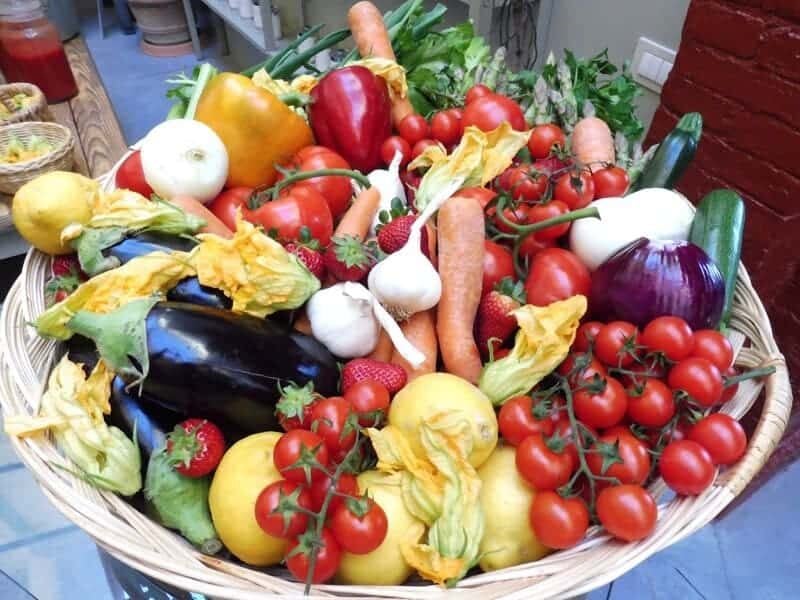 And Florence makes the perfect base to dive into the region's flavours. It's actually one of my favourite place to visit in Italy when it comes to food!
I've taken cooking classes in the Tuscan countryside, scoured the streets of Florence scouting out the best Florentine steak and broken many a suitcase toting home bottles of its precious olive oil.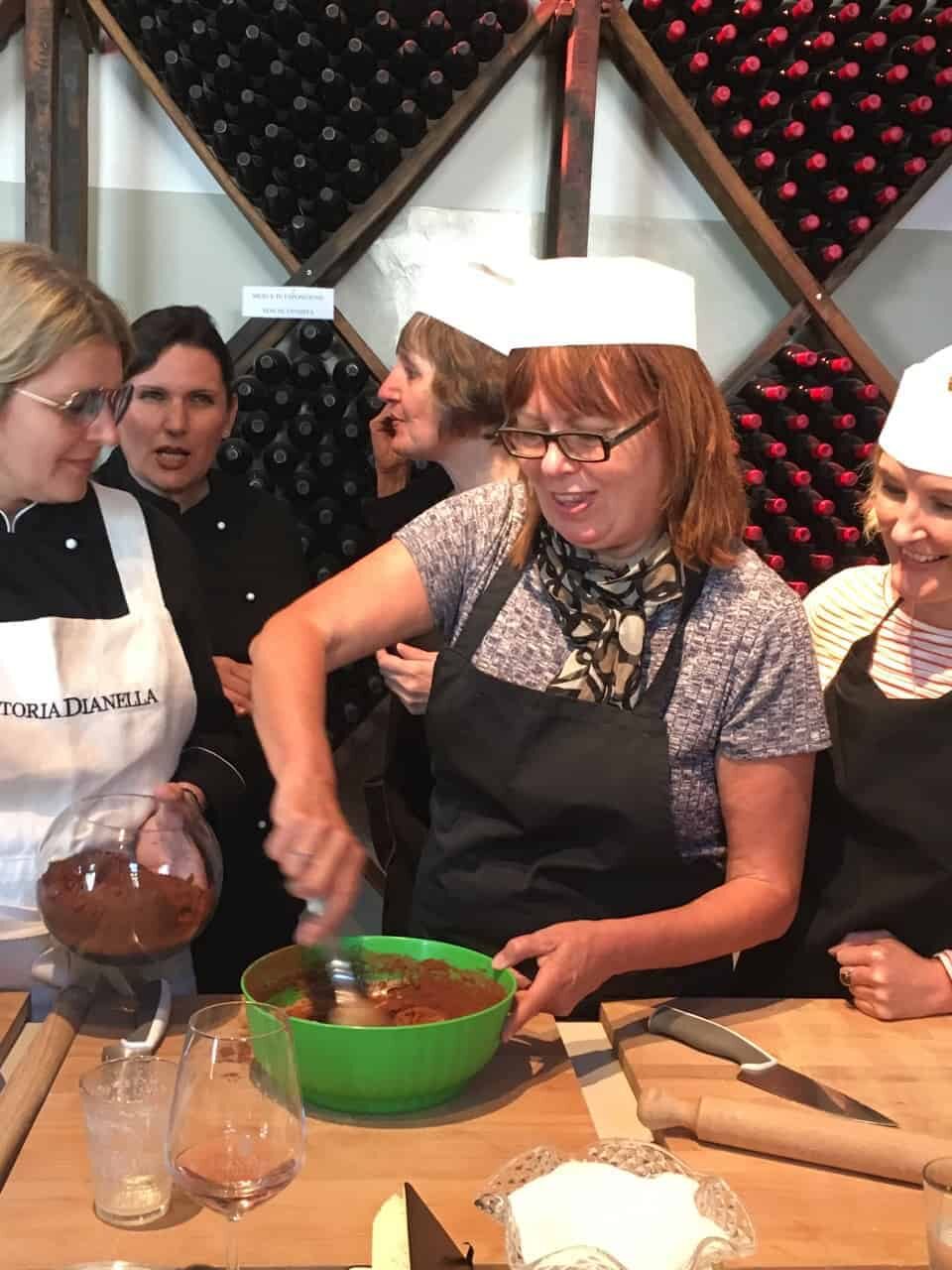 So once you've seen Michelangelo's David at the Accademia Gallery (this is my fave Skip-the-Line Tour of the Accademia) and marvelled at masterpieces in the famous Uffizi Gallery (loved this Guided Uffizi Tour), it'll be time to experience Florence like a local.
This means exploring its food scene.
Top Reasons to Take a Food Tour in Florence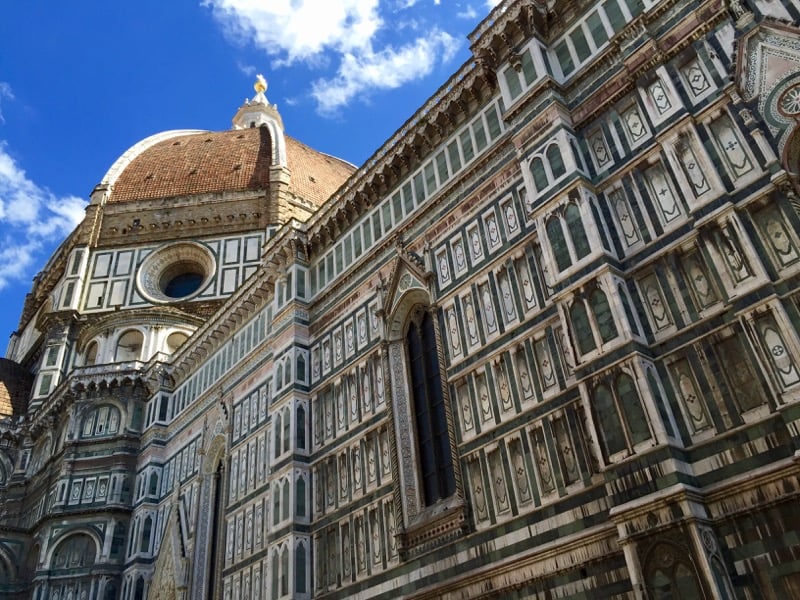 Is a food tour worth the money? Sipping unique wines, browsing markets and chatting with producers and shop owners during a food tour offers a tasty immersion into Florence's culture, history and local life.
It's an experience you can't create on your own.
You'll also get to sample the most famous dishes of Florence. Top must-try dishes to sample in Florence include bistecca alla Fiorentina, panzanella (the renowned summer salad with sun-ripened vegetables and chunks of bread) and lampredotto (cow stomach).
A food tour means you'll soak up some history while sightseeing and dining! It's the best of both worlds!
Even if you're only in Florence for one day, it's possible to hop on a food tour, sample the best Florentine regional specialities and street food (swap it for a sit-down lunch) and still have loads of time to explore the city's main attractions.
Here are my picks of the best food tours in Florence to add to your Tuscan itinerary.
1. Discover the Other Side of Florence in a Tour of Oltrarno
During the Other Side of Florence Food Tour, you'll begin your food walking tour near the Carraia Bridge over the Arno River, exploring Oltrarno a bohemian neighbourhood with a rich artisanal heritage and contemporary, hip vibe that's away from the tour bus groups.
So, unless you're visiting Florence in winter, this food tour is the best way to avoid the crowds and queues in the main tourist area.
You'll experience Florence like a local while enjoying food and wine tastings at eight different stops.
Sample Tuscan cheeses such as pecorino made with milk from local farms, using centuries-old techniques and processes handed down over the centuries.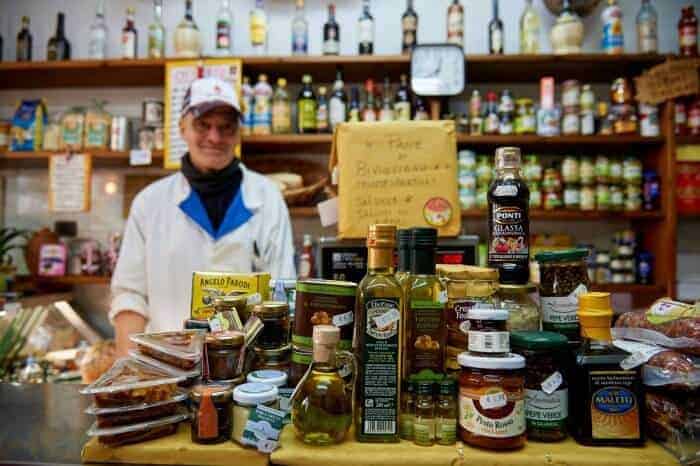 Other treats include finocchiona, a fennel-spiced salami and Italian cantucci (cookies). You'll also enjoy a tutoured tasting Chianti, produced in the Chianti region of central Tuscany.
All of the Eating Europe tour guides are locals who know and love food. They also know many of the families who have been producing the ingredients for and preparing these regional dishes for generations so you get to hear the stories behind the food you'll be tasting.
Unlike other walking tours where wine might not be included, Eating Europe's food tours are all-inclusive which means you don't pay extra for wine and spirits featured in their tours.
2. Explore Florence on a Sunset Food Tour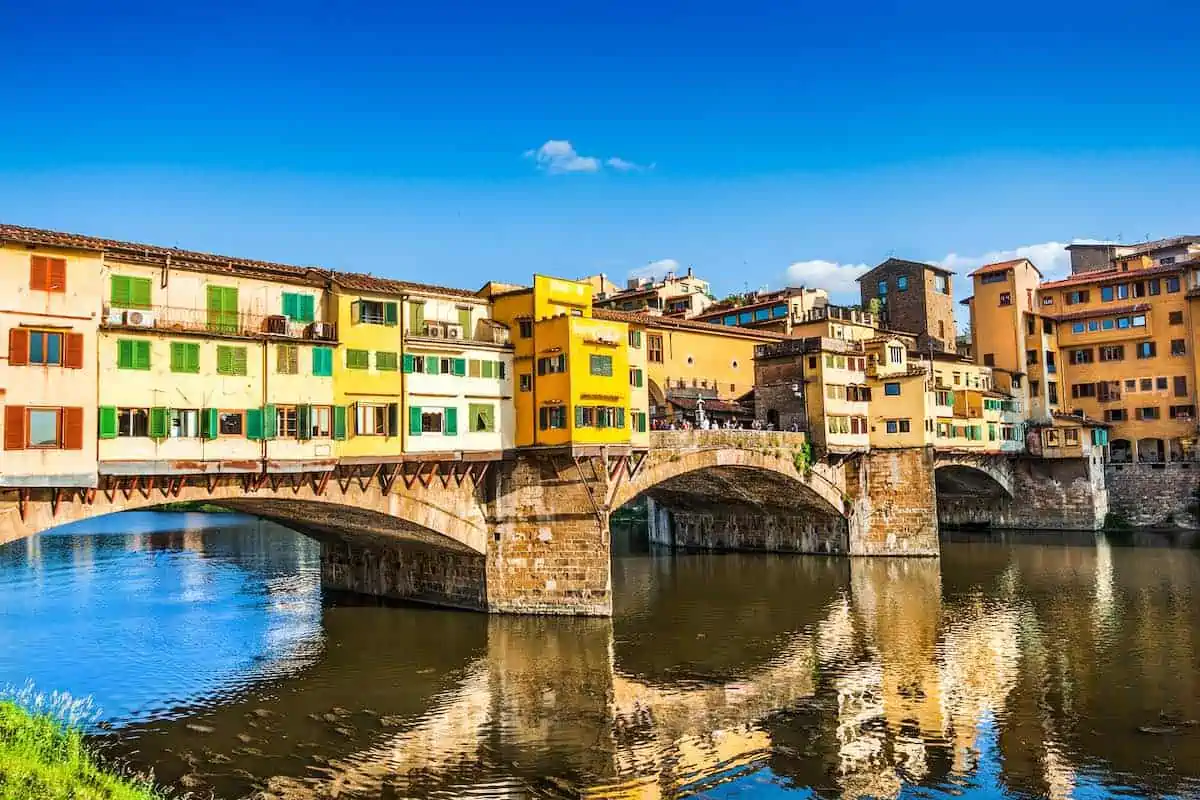 Florence is absolutely magical when the sun begins to set and the crowds disappear. Sunset is the best time to see famous attractions such as the Ponte Vecchio, the medieval stone bridge over the river Arno.
So, if you're looking for top things to see and do in Florence in the evening you might be interested in Eating Europe's Florence Sunset Food Tour.
This 3.5 hour food tour begins at sunset and features the best restaurants and wine bars in Florence. You'll also learn how to make a Negroni, Florence's most famous cocktail and nibble on artisanal truffle cheese and cured local meats.
An especially memorable experience is watching a demonstration of how to cook the famous Florentine steak, the Bistecca alla Fiorentina.
Another classic food experience in Florence is sipping vin santo along with biscotti. This is also included in the Florence Sunset Tour at no extra cost.
If you're a solo traveller, a culinary walking tour is one of the best ways to experience Florence if you want to explore the city and don't want to eat or hang out in bars alone.
RELATED: Get more travel ideas for 5 Great Vacation Ideas and Trips for Solo Travel
3. Take a Tour of San Lorenzo Market with a Wine Tasting
Exploring a food market is one of the best ways to get to know a city, and it's even better if you have a local expert to show you all the best places to eat.
This Florence Tour of San Lorenzo Market will let you taste your way around San Lorenzo Market, Florence's most famous indoor and outdoor market.
Your guide knows all the vendors at San Lorenzo, and they'll introduce you to the families who keep Tuscan food history alive through their fabulous produce. You'll enjoy locally produced olive oils, artisanal cheeses, Tuscan cured meats, fresh cantucci biscuits, and much more.
Once you've finished grazing your way through the food market, you'll head to one of Florence's most historic wine shops. There, you'll round off your day with a private wine tasting and specially selected food pairings.
Adding a food walking tour to your Florence itinerary is the ideal way to soak up some local Tuscan flavour in a short period of time.
Check prices and availability of a Florence San Lorenzo Market Tour and Wine Tasting on Viator.com.
4. Discover Tuscan Wines on a Private Wine Tasting Tour with Secret Food Tours
Think Tuscan wines are all about Chianti? Tuscany is actually the third highest producer of DOC and DOCG wines in Italy after Sicily and Puglia. You'll get a taste of the wide range of Italian wines produced in the Tuscany region on this private walking tour offered by Secret Food Tours .
You'll stroll through Florence's historic zone learning about its rich heritage while visiting three enotecas (wine bars) to sample six different wines. Your day will finish with a sunset 'Secret Sip' in one of Florence's medieval squares.
If you've ever worried that a wine tour might be a little intimidating, this tour will be ideal for you. It's designed to provide a relaxing atmosphere where you can enjoy delicious wines without needing an -in-depth understanding of wine terminology.
Light snacks will be provided alongside the wines. You can also upgrade your tour to include a selection of local Tuscan cheeses and cured meats.
5. Get Cooking with an Authentic Florence Home-Cooking Class
This 4.5 hour Florence Home Cooking Class begins with shopping for ingredients in the tiny shops and markets of the bohemian neighbourhood of Oltrarno.
Then, you'll have a hands-on cooking class in a local chef's historic home.
During the class you'll learn how to make various types of pasta, you'll sample appetizers, sip wine and then craft your own panna cotta dessert.
Your foodie experience will wrap up with a leisurely Tuscan lunch with your group.
It's an especially handy tour if you're staying in one of the family friendly hotels in Florence as you can just walk to join the experience.
Like all other Eating Italy tours, this Florence cooking class is all-inclusive which means you don't pay extra for the wines enjoyed with lunch.
6. Get Out of Town on a Tuscan Wine and Food Tour Day Trip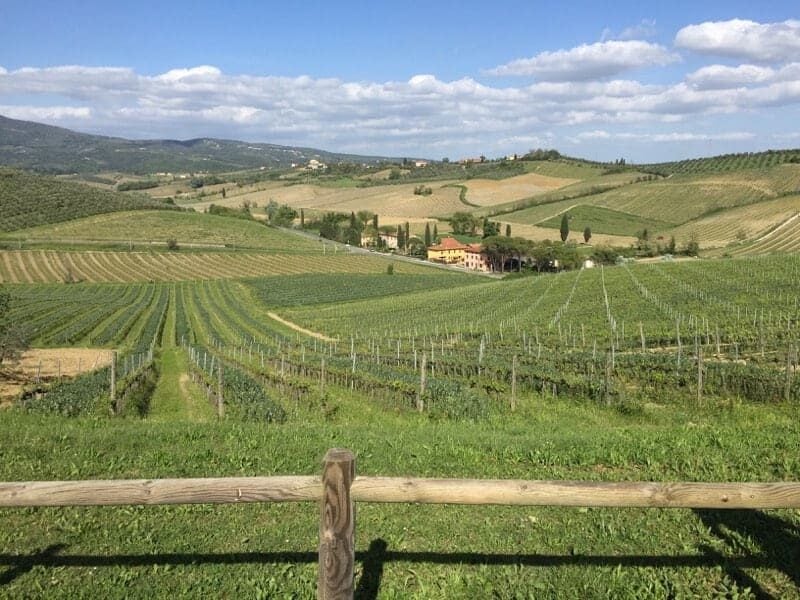 If you have time for a day trip from Florence, a full-day Tuscan Food Tour with a local expert is a great way to explore the region including Siena, San Gimignano and Pisa.
You'll spend the morning exploring the medieval city of Siena, including the gothic cathedral, il Duomo di Siena, which is even more impressive than Florence's Duomo.
Then, in the afternoon, you'll visit the hillside town of San Gimignano, a UNESCO World Heritage Site famous for its tower-houses.
But the highlight of your tour is a hearty lunch at an organic wine estate. You'll enjoy homemade pasta, prosciutto, and salami, together with local cheeses, fresh-baked biscotti and, of course, generous pours of the estate's wines.
You'll have a chance to stock up on Tuscan wines including Chianti, Merlot, and sparkling Spumante Brut in the farm shop before you head on your way. And don't forget to take photos of the stunning views from the winery!
Check prices and availability of a Full-Day Tuscan Wine Tour on Viator.com.
7. Go Truffle Hunting in Tuscany (with Lunch)
Truffles are one of the world's most expensive ingredients because they are hard to find, difficult to grow, and delicious! So, going truffle hunting in Italy is a great way to learn about this luxurious regional specialty.
On this Tuscan food tour, you'll explore a Tuscan oak forest near San Miniato with a professional truffle hunter. They'll teach you all you need to know about white and black truffles while their clever dogs set to work sniffing out truffles.
At the end of your Tuscany truffle hunting experience, you'll visit a local winery to taste an array of regional wines including Chianti and Super Tuscan wine. Your 2-course lunch will feature white truffles in the classic dish tagliolini al tartufo.
Check prices and availability of a Truffle Hunting Tour with Lunch on Viator.com.
8. Delve into Italian Olive Oil with a VIP Olive Oil Tasting
Italian olive oil is considered among the best in the world in terms of flavour and quality. While the Puglia region produces the majority of the country's olive oil, the oil of Tuscany is prized for its depth of flavour, slight bitterness and fragrant fruity notes.
The best way to learn about the subtle nuances of Tuscan olive oil is to take an excursion to the olive groves of Fattoria di Maiano, just 20 minutes away from Florence by car. Here, more than 20,000 olive trees line the hills of Fiesole, overlooking Florence.
You'll need to rent a car to get to Fattoria di Maiano.
Check for the best car rental rates at Discovercars.com
In this four-hour Tuscany food tour, you'll begin with a guided tour of the villa's verdant gardens. These were opened by Queen Victoria and once played host to renowned artists like Michelangelo, Boccaccio, and da Vinci.
Once you have explored the villa's gardens, orchards, and farm, you'll visit the Mill to see how Fattoria di Maiano creates its organic, extra-virgin olive oil. There'll also be an opportunity to taste the oils, accompanied by other Tuscan delights like prosciutto, Pecorino cheese, and a glass of local red wine.
9. Learn How to Make Pizza and Gelato in a Hands-on Cooking Class
While pasta is most often on the menu of cooking classes in Florence, an equally popular foodie experience is to learn to master the art of making pizza. This day trip features a Tuscan Pizza and Gelato Cooking Class in a historic Tuscan farmhouse.
Not only will you learn how to make pizza in a fun hands-on cooking class hosted by a professional Italian chef but you'll enjoy the fruits of your labours in a 3-course feast accompanied by regional wine and beer.
This Florence day trip even includes transportation which means you don't have to rent a car.
Check prices and availability of a Tuscan Pizza and Gelato Cooking Class on Viator.com.
Save Money on Tours with an Exclusive 15% Eating Europe Discount Code
Eating Europe has generously offered a 15% Eating Europe Food Tours Discount Code for subscribers to A Taste for Travel.
You can use the 15% discount on any of the Eating Italy Florence Tours. Use your 15% discount code (atastefortravel) here:
If you're in Rome, you can easily add a food tour in Florence on a day trip from Rome.
FAQs
What Food Tours in Florence are good for avoiding crowds?
The best food tour for avoiding crowds in Florence is the 'Other Side of Florence Tour' offered by Eating Europe as it focuses on the Oltrarno neighbourhood across the Arno River. Another good option is to take a Florence Sunset Tour as most of the day-tripping tourists will have left the city centre by early evening. Or, take a wine tasting or olive oil food tour in the Tuscan countryside.
What is the most famous food in Florence?
Without a doubt, the most famous food in Florence is bistecca alla fiorentina. This special cut of meat is a specialty of Tuscany and features a porterhouse steak, from the ancient Tuscan breed of Chianina cattle, grilled over hot coals.
Is a food tour worth the money?
Sipping unique wines, browsing markets and chatting with producers and shop owners during a food tour offers a tasty immersion into a city's culture, history and local life. Food tours offer opportunities to experience a destination in ways you usually can't arrange on your own.
Save to Pinterest!
This post was originally published in 2017 but was updated with new research in 2023.
Dividing her time between Canada, Guatemala and Mexico (or the nearest tropical beach), Michele Peterson is the founder of A Taste for Travel. Her award-winning travel and food writing has appeared in Lonely Planet's cookbook Mexico: From the Source, National Geographic Traveler, Fodor's and 100+ other publications.
Read more about Michele Peterson.