We may earn income from links in this post. Please read this Disclosure for details.
Looking for the best food tours in Rome? If you really want to soak up the atmosphere of Rome, you need to get away from the touristy areas and eat like a local.
I've taken several food tours in Rome and my favourites were the walking tours I took with Eating Europe. They also happen to be among the top-rated Roman food tours!
And while I enjoyed them all, they're quite different from each other. Here's how to choose the best food tour for you!
In this post, I'll provide reviews of three walking tours:
You'll also get instructions on how to get a special 15% discount promo code. You can use the promo code on these three food tours plus all Eating Europe tours in Italy.
Are Food Tours in Rome Worth It?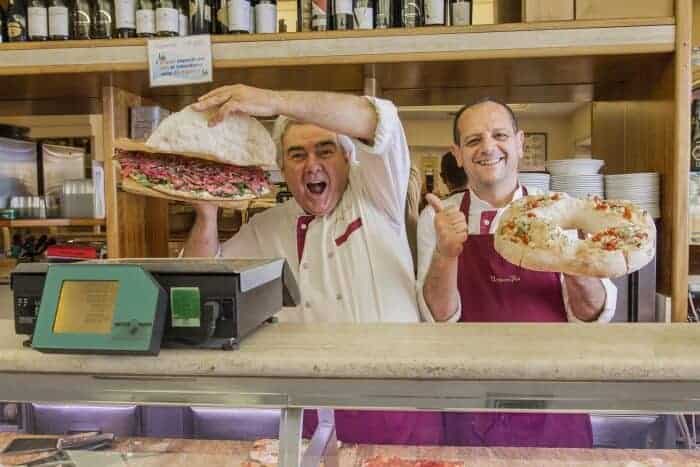 Why should you take a Rome food walking tour?
While you definitely don't want to miss visiting Rome's top attractions such as the Colosseum, the Trevi Fountain, Spanish Steps and other bucket-list sights (be sure to read 3 Mistakes You Don't Want to Make in Rome), to really get a taste of Roman culture, you need to take a food tour.
The best food tours combine history and cuisine into one memorable and tasty experience.
They also offer insights into what it's like to live in Rome, how locals shop for food, where they enjoy their morning coffee, the best pizza in Rome and where they celebrate the art of the aperitivo at the end of the day.
A guided food tour also offers insights into the ingredients themselves. Sure you could pop into a cheese shop in Rome on your own.
But if you don't speak Italian or have an in-depth knowledge of Italian food, you'll just be looking at ingredients without any understanding of how they're sourced, used in Roman cuisine or enjoyed in Roman culture.
The best food tours in Rome should offer access to experiences you're not able to get on your own. You can sample special dishes not listed on the menu, get insights not available in guidebooks, introductions to producers and shopkeepers as well as insider access to unique experiences. They're also an excellent thing to do when visiting Rome in winter.
Are they worth the money? You'll enjoy so much to eat on the Eating Europe food tours you can actually skip lunch or dinner, so that will save you money.
Plus, unlike some other food tours in Rome, Eating Europe's tours are all-inclusive which means you don't pay extra for the wine, beer, cocktails or spirits included as part of the tour.
If you sign up for the A Taste for Travel newsletter, you'll get access to special subscriber discounts, including a 15% discount on all Eating Europe food tours. It's the best of both worlds!
1. Review of the Taste of Testaccio Food Tour in Rome
Here are the details about the Taste of Testaccio, offered by Eating Europe Food Tours and Eating Italy. This 4-hour tour is one of our favourite food walking tours in Italy.
The Taste of Testaccio food tour by Eating Italy Food Tours features a 4-hour walking tour through one of Rome's oldest and most interesting neighbourhoods. It features nine stops and 12 food tastings.
Along the way you'll see and experience the cultural, historic and archeological highlights of the Testaccio neighbourhood, known for its real, authentic, working class Roman vibe.
It takes participants away from the crowds and off the beaten path into the relatively under-the-radar, working class neighbourhood of Testaccio in southeast Rome.
Wrapped by the Tiber River and home to the Aventine Hill, the most southern of ancient Rome's seven hills, it was once home to the vegetable gardens of Popolo Romano (Meadows of the People).
It was also the site of Europe's largest slaughterhouse (now closed and converted into a cultural space).
Testaccio is actually built around the Monte dei Cocci, a hill created of discarded ancient Roman amphorae or terracotta jars. Caves have been carved into the hill's slopes, many of which have been converted into atmospheric bars, nightclubs and cafes.
During the Taste of Testaccio tour you'll get to enjoy a full lunch — featuring Rome's most famous pastas and wine–inside the cool interior of one of the cave restaurants.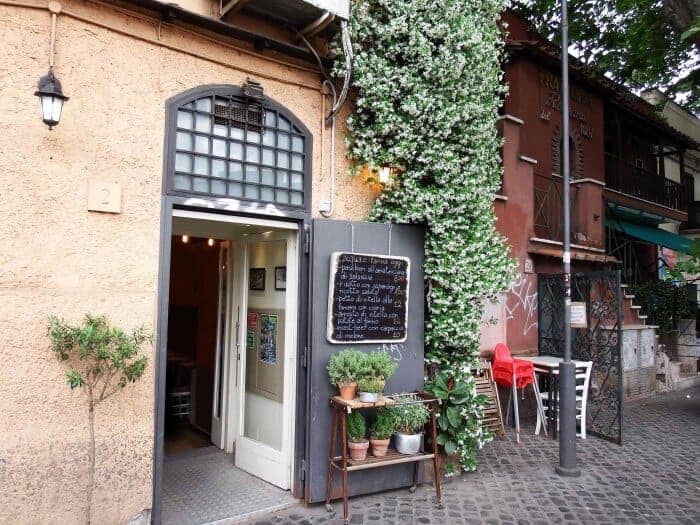 The experience began with espresso and cornetti (sweet pastry) at Barberini cafe/bar, then we dove into the taste sensations within several slices of Rome's top-rated pizza, followed by the opportunity to create our own bruschetta in the Testaccio Market.
We also sampled cheese in the "Prada" of cheese shops, lunched in an ancient cave made of amphora pottery and learned the secrets to identifying real gelato.
Along the way, we met the owners of family-run businesses and Italian restaurants, lots of food producers and passionate chefs.
The concept of this wonderful experience was to wander Rome like a local and get a feel for living in Italy through their rich culture and by sampling some great Italian cuisine, at least for a few hours!
Not only were we completely inspired by the stories of the people we met (one couple even offered tips on the secrets to a long-lasting marriage) but we were stuffed with gourmet food.
And it was enough for a full meal. We walked all the way back to the Spanish Steps and didn't eat for the rest of the day. Well, not counting gelato!
Later that week, we followed our guide's suggestions (and the Eating Italy Food Tour recommendations on their handout) for great Rome restaurants.
We were happy we'd planned ahead and purchased an Italian sim card as it would have been very easy to get lost without data to access a map.
We weren't disappointed and enjoyed some of our best meals in Italy!
🌟 Pro Tip: On every food tour, it's smart to bring a package of sanitizing hand wipes to mop up spills and clean your hands.
2. Review of the Twilight Trastevere Eating Italy Food Tour in Rome
I enjoyed my Taste of Testaccio tour so much, the next time I was in Rome, I signed up for the Twilight Trastevere. It was equally enjoyable and I was travelling solo so was looking for something to do in the evening. It fit the bill perfectly.
Highlights of this walking tour of Rome's most bohemian neighbourhood included tasting wine in the Spirito di Vino's wine cellar, an underground grotto that's 150 years older than the Colosseum.
Another memorable stop during the Twilight Trastevere tour was Da Enzo al 29. This award-winning restaurant is well known for its excellent regional cuisine (and its long line-ups) but as part of the Eating Italy gang we breezed right in.
🌟 Insider's Tip: Check out our review of this Convent Hotel in Trastevere and you'll be staying just down the street from Da Enzo!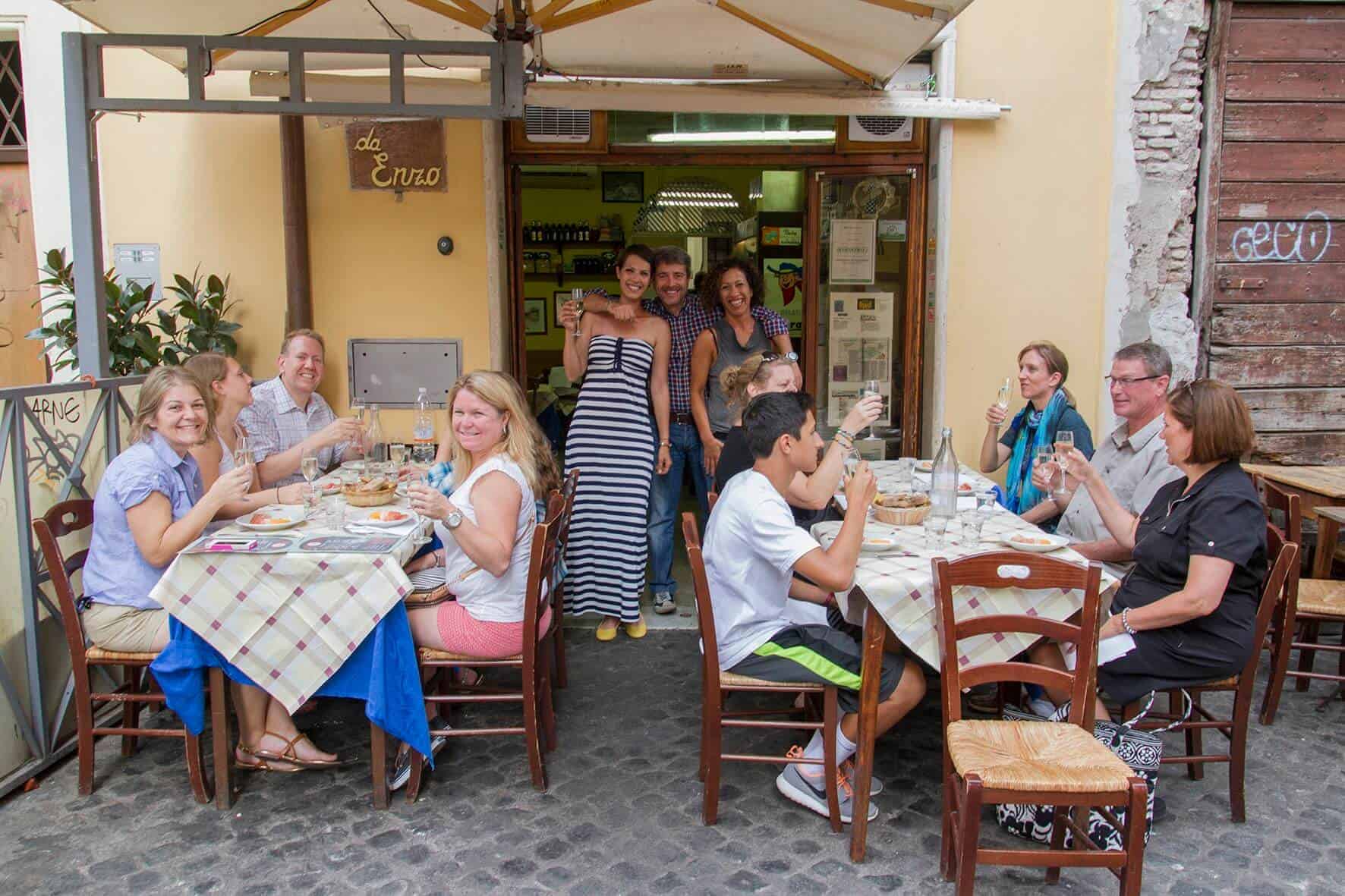 Our tasting at Da Enzo was carciofo alla giudia, artichokes served Jewish style, a crispy fried globe artichoke, a dish traditionally served to celebrate the end of the Yom Kipper fast, but popular in the historic heart of Rome.
Carciofo alla giudia also got a boost in popularity after vaulting to worldwide fame after being featured in the memoir "Eat, Pray Love" by Elizabeth Gilbert in the chapter featuring Italian food.
Fried twice in oil, sprinkled with sea salt and served upside down like giant inverted sunflowers, the version of this classic artichoke dish we enjoyed during our Eating Italy Tour was quite possibly the best thing I'd eaten all month.
Our group demolished them in record time.
As we meandered our way through the laneways of Trastevere, we sampled a range of delicious food.
We tried cookies at a family-run bakery, dived into bowls of cacio e pepe pasta served family-style and generally ate our way through this historic and bohemian neighbourhood.
3. Review of the Eating Europe Food & Wine Stroll
This adults-only walking tour features the perfect marriage of wine, cuisine and history.
Led by ultra personable Master Sommelier, Marco Lori, this Eating Europe Food & Wine Stroll begins at the Fontana delle Tartarughe (Turtle Fountain) one of the most beautiful fountains in Rome.
Tip: Check out our Quick Guide to Important Wine Terminology before any trip to Italy!
The walking tour meanders its way through the Jewish Quarter and the winding streets of Trastavere. Along the way, you'll gain gain insights into the early history of Rome.
You'll even get a peek into the courtyard of Palazzo Mattei where Caravaggio lived in 1601.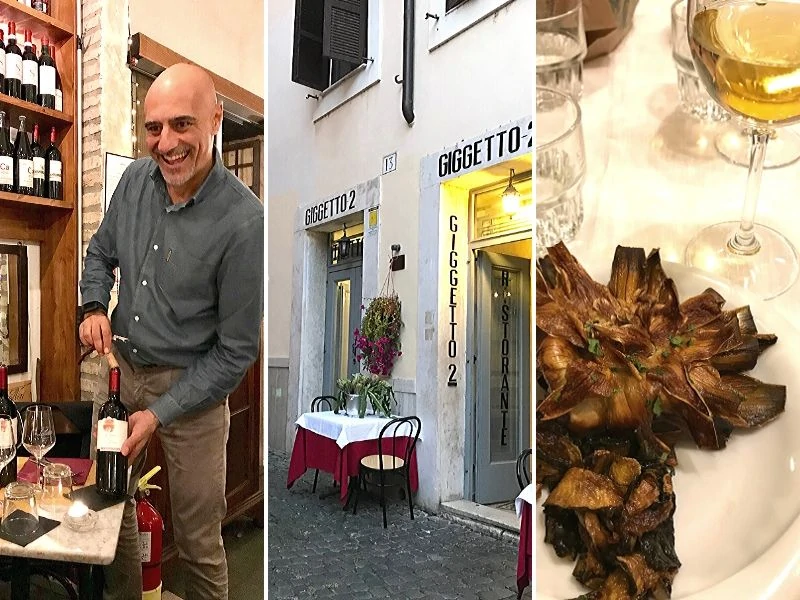 It's especially magical to see Rome as the sun sets and its monumental buildings illuminate. The crowds are gone and it's possible to soak up the unique Roman atmosphere and really feel history come alive.
At each of the stops on the 3.5 hour stroll, participants enjoy wine pairings from appetizers to dessert.
For those travelling solo, it's one of the best things to do in Rome at night as you'll enjoy a progressive dinner with new dining companions.
Differences Between the Testaccio and Trastevere Tours in Rome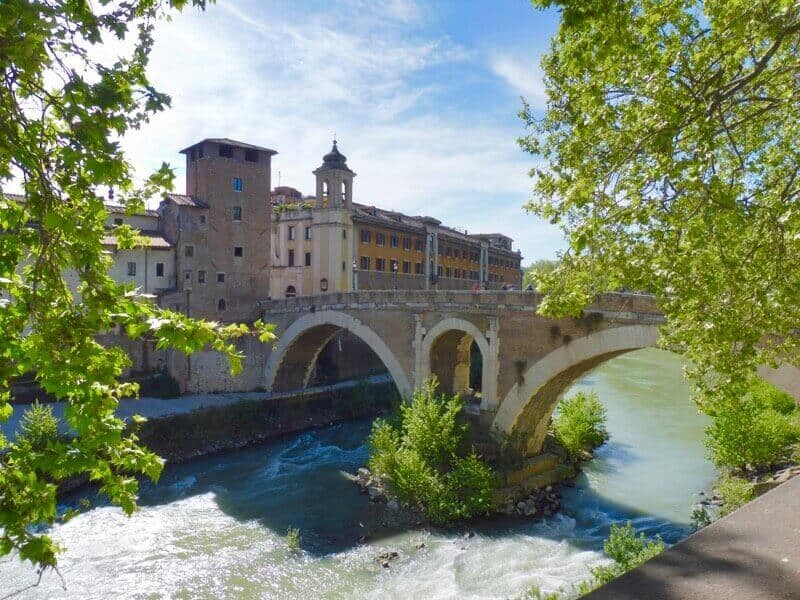 The main difference between these food tours in Rome is that the Taste of Testaccio tour features more specialty food shops, while the Twilight Trastevere food tour focuses on restaurants, wine shops and eateries.
There is more food served on the Taste of Testaccio and Twilight Trastavere Tours than on the Food & Wine Stroll.
Another important difference is that Trastevere is a trendy neighbourhood filled with young people out bar-hopping while Testaccio is more of a working-class neighbourhood with fewer trendy spots.
If you're interested in exploring a food market in Rome, then opt to see Testaccio Market. It's still very much a working market that caters to locals and is not at all touristy.
Love attractions? There are slightly more sights and monuments in Testaccio. The walking tour includes the Monte dei Cocci made of amphora, the Pyramid of Cestius and a walk through the atmospheric Cimitero degli Inglesi (Englishmen's Cemetery) home to the graves of the English romantic poets John Keats and Percy Bysshe Shelley.
The culinary experiences you'll enjoy on the Trastevere Tour are more upscale than those on the Testaccio Tour.
The Trastevere neighbourhood is easier to explore independently. It's closer to the heart of Rome but it's also easier to get lost in due to the winding streets many of which are poorly marked. Having a local guide for your first visit really helps to get oriented.
At €79 Euros vs €99 Euros, the Taste of Testaccio Tour costs slightly less than the Twilight Trastevere Tour.
If you love food and you're looking for the best food tours in Rome, you'll be happy with any of these Eating Europe culinary walking tours.
However, it you have time for only one tour, and are more interested in sightseeing and food markets, I recommend you take the Taste of Testaccio tour and then explore Trastevere independently.
How do you get the 15% discount code? There are two easy steps.
1. Subscribe to the A Taste for Travel newsletter. It's totally free and as per our Privacy Policy your email will never be shared.
With your email confirmation, you'll receive a link to a special Subscribers Resources Page with discounts on Eating Europe and other food tours. You'll also receive our free monthly newsletter.
I suspect you'll be hooked after your first tour with Eating Europe. So for the other days you're in the Eternal City, why not try these other Eating Italy Tours in Rome? You can use your subscriber discount code for 15% off on any of these tours as well!
Italian Wine & Food Pairing Class
Rome Evening Wine & Food Stroll
Rome Sunday Food Tour or the Vatican Area Tour for Foodies
How to Get a Discount Code for Food Tours in Rest of Europe
Although taking a food tour in Rome or a cooking class in Florence is a top thing to do on a trip to Italy, there are lots of great food tours available throughout Europe.
A culinary walking tour is sure to be a highlight of visiting Amsterdam, London, Paris or Prague.
Check out our blog post (with in-depth reviews) on the Best London Food Tours!
More Fantastic Food and Gastronomy Experiences
Dividing her time between Canada, Guatemala and Mexico (or the nearest tropical beach), Michele Peterson is the founder of A Taste for Travel. Her award-winning travel and food writing has appeared in Lonely Planet's cookbook Mexico: From the Source, National Geographic Traveler, Fodor's and 100+ other publications.
Read more about Michele Peterson.