We may earn income from links in this post. Please read this Disclosure for details.
Much like other great European cities, Rome comes alive at night. Between 6 and 9 pm, Romans enjoy the art of the aperitivo, relaxing with friends over drinks and small bites of food.
A special golden glow bathes the city's architecture and, as the evening progresses, lights illuminate Rome's historic attractions, making the Eternal City even more beautiful than it is by day.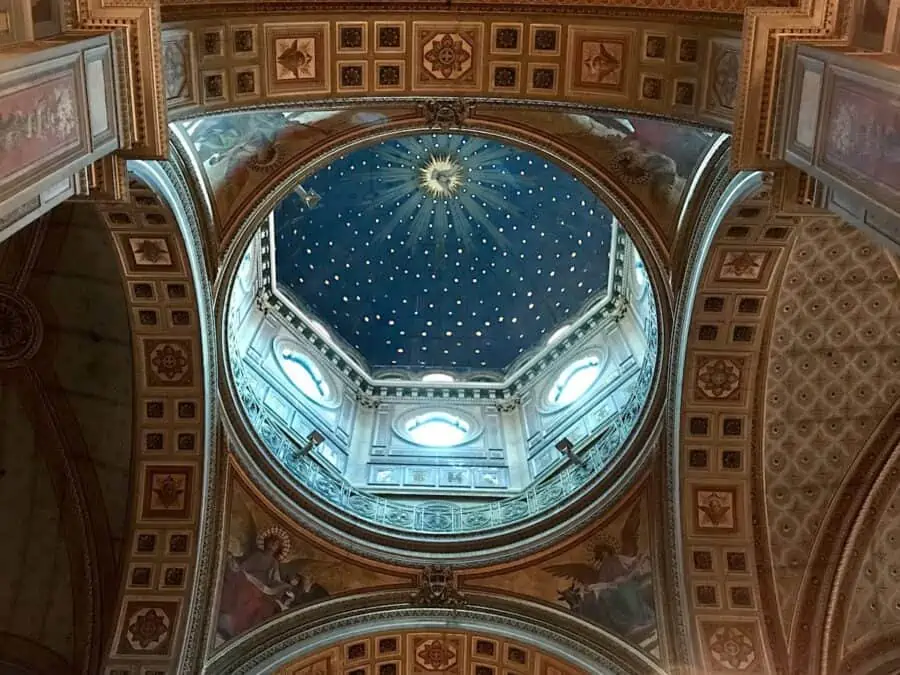 Whenever I go to Puglia or Florence via Rome–Fiumicino International Airport, I try to layover a few extra days so I can spend an evening in Rome enjoying its food, attractions and magical atmosphere.
Whether you're looking for fun things to do with friends, family or romantic activities for couples, here are my picks (along with some top tips from local experts) of the absolute best things to do in Rome at night:
Contents: What to Do in Rome at Night
1. Learn about Italian Wines on a Food and Wine Tour in Rome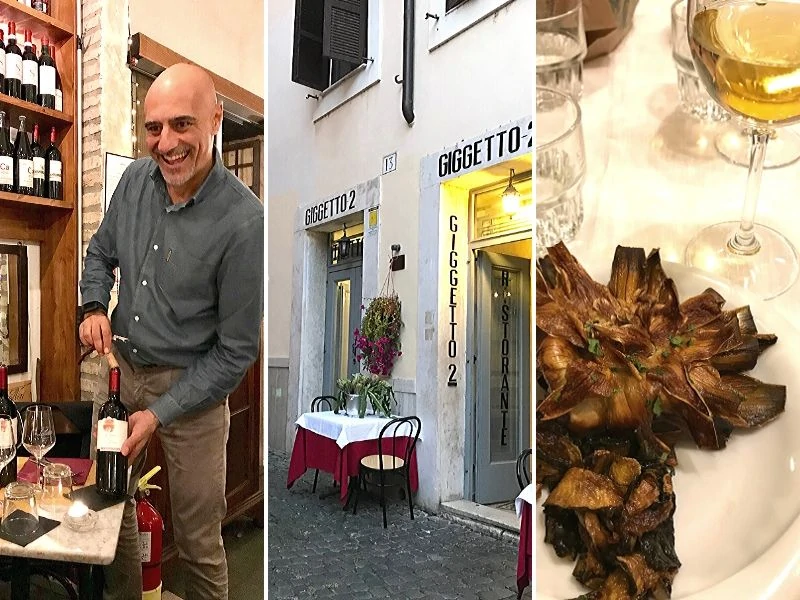 Ideal for everyone from honeymooners to solo travellers, an adults-only walking food tour features the perfect marriage of wine, cuisine and history.
Led by ultra personable Master Sommelier, Marco Lori, Eating Europe's Food & Wine Stroll begins at the Fontana delle Tartarughe (Turtle Fountain) one of the most beautiful fountains in Rome.
The walking tour then meanders its way through the Jewish Ghetto, across the Tiber River and through the winding streets of Trastavere. Along the way, participants gain insights into the early history of ancient Rome (and even get a peek into the courtyard of Palazzo Mattei where Caravaggio lived in 1601).
It's especially memorable at sunset when Rome's architecture and monumental buildings illuminate. The crowds are gone and it's possible to soak up the unique Roman atmosphere and really feel history come alive.
At each of the stops on the 3.5 hour stroll, participants enjoy wine pairings such as a buttery chardonnay from Cantine Leuci in Salento paired with crisp carciofi alla giudìa (Jewish artichokes).
It's a culinary journey of discovery as you dine your way through Rome. If you're a solo traveller, a food walking tour is a great thing to do in Rome at night alone!
2. Explore the Dark Side of Rome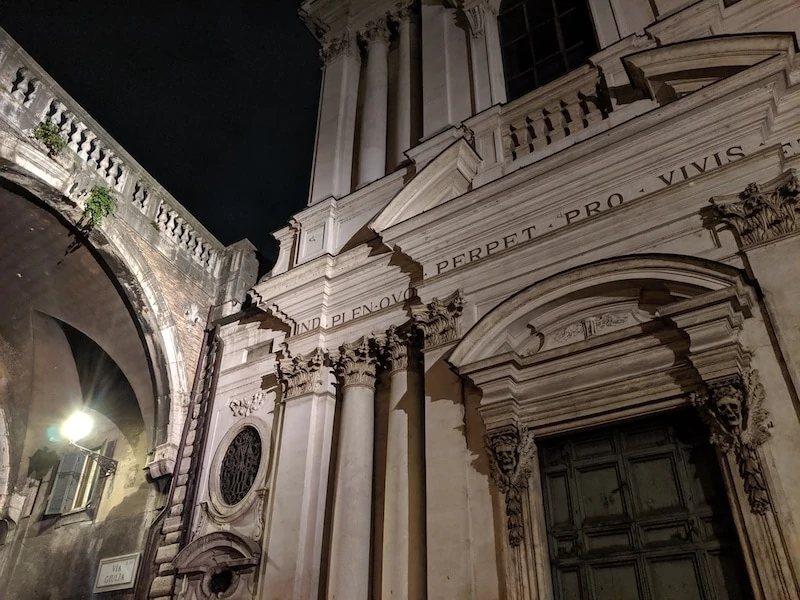 If you're looking for creepy things to do in Rome at night then you're not going to want to miss exploring the "dark side" of Rome with Dark Rome tours. The Ghosts, Mysteries and Legends of Rome Night Walking Tour is the perfect addition to your Rome itinerary.
Meet your group just after sunset at Sant'Andrea della Valle near Campo Fiore and set out for an evening of ghost tales and dark stories. These are the stories you won't hear on a tour of the Vatican!
You'll hear the macabre story of Giulia Tofana, who became famous for creating Aqua Tofana, a poisonous drink she sold to women with husband problems. You'll also hear about various ghosts who haunt the bridges of Rome, with a few church scandals thrown in for good measure.
Another cool stop on the tour is the Church of St. Mary of the Oration and Death, where many unknowns and indigents Romans were buried. Being subject to frequent flooding, it wasn't the best choice for housing bodies, but today still houses some crypts and bone sculptures.
Sadly, the tour does not go inside the church, so you'll have to return during the day and see it on your own. The skulls carved into the facade are definitely not your usual church decor!
by Leigh of Campfires and Concierges
3. Watch an Evening Opera Performance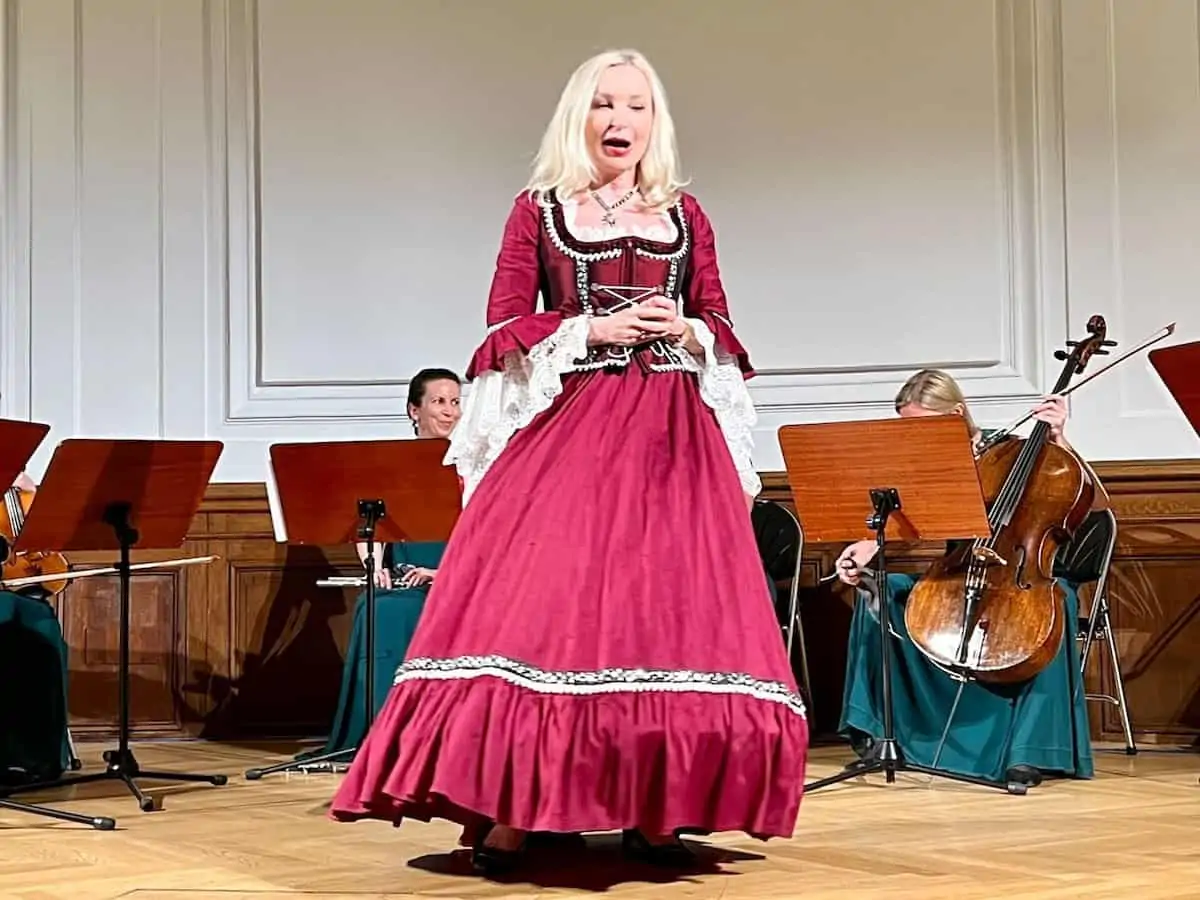 Madame Butterfly, Turandot, La Boheme, La Traviata, The Barber of Seville and more! Where would the world of performing arts be without its famous Italian operas and legendary performers like Luciano Pavarotti and Enrico Caruso?
Attending an opera performance in Italy, the birthplace of opera, is a feast for the eyes, ears and emotions.
The Teatro dell'Opera di Roma (Opera House) is one of Rome's hidden gems. Not only is it historic (it first opened in 1880) but its Costanzi Theatre has exceptional acoustics and continues to host world-class music and ballet performances. Often at very reasonable rates.
Highlights of the 2023 season include Giuseppe Verdi's Aida and Requiem. Book well in advance.
Pro Tip: The Opera House's location near Termini Station is a 5-minute walk from one of the best-value hotels in Rome, the Art Deco Bettoja Hotel Mediterraneo.
Another option is to experience Giuseppe Verdi's classic La Traviata in an Opera Concert in St. Paul's Within Its Walls, a 19th century church also known for its fine acoustics.
4. Cheer on the AS Roma Team at a Football Game in Rome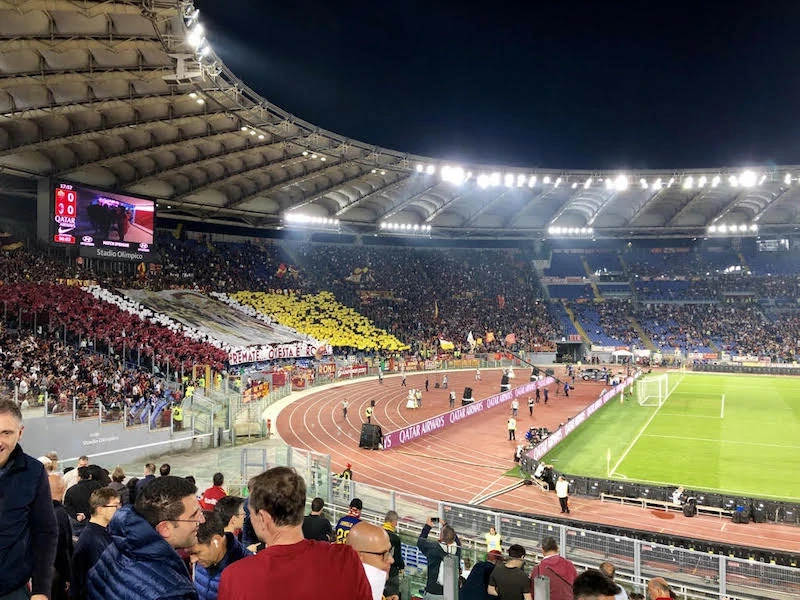 One of the best ways to experience Rome at night is through a European soccer game, better known as football. AS Roma plays in the north part of the city and the games are so fun. Imagine the loudest part of any sports game in the US, that's what it sounds like the entire game.
The season begins in August or September and finishes in May. During this time, AS Roma plays regularly in their beautiful stadium and you'll get the chance to feel like a local as you cheer on the team. It's the kind of experience you'll go home telling everyone about.
You can find tickets by going to the AS Roma website. Make sure you bring your passport with you and only carry a small bag. Security is high at the stadium and you will be asked to show ID at least twice (if not more) to confirm that your name and ticket match.
Because of this, I'd recommend being careful if you try to use StubHub or something similar. Ticket exchanges can be tricky and you don't want to buy tickets for the club only section.
If you're looking for a fun activity to do with teens in Rome at night this is a great option to consider.
by Meghan at The Traveling Teacher
5. Marvel at the Light Show at the Imperial Forums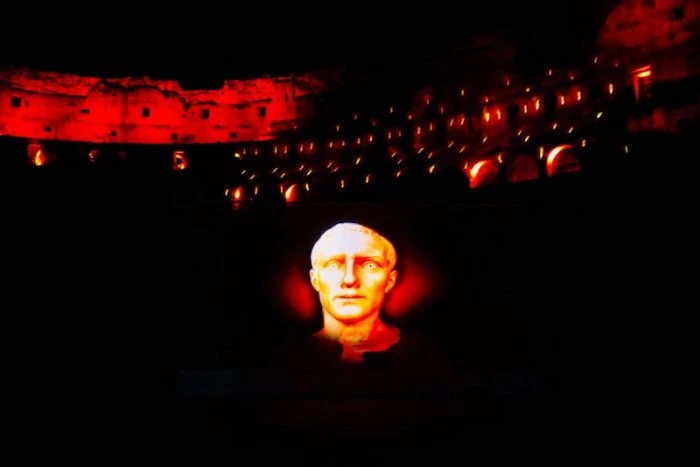 One of the best things to do in Rome at night with family is see the Light Show at the Imperial Forums. The Forum of Caesar and the Forum of Augustus, built by Julius Caesar and Caesar Augustus respectively, are two parts of the ancient Roman ruins collectively known as the Imperial Forums. These were extensions added on to the original Roman Forum as the city's population grew, creating a need for a larger city center.
You'll find the Imperial Forums just opposite the Roman Forum archaeological site, on the other side of the Via dei Fori Imperiali. Sadly, many of the Imperial Forum buildings were bulldozed by Mussolini in the 1930s to create this road. But the light show at night offers an incredible opportunity to see the ruins come back to life.
Much like an open-air cinema, images are projected onto the bare walls recreating what they would have looked like when they were lavishly decorated with stucco work and polychrome marble. You'll be transported back in time to experience daily life in the capital of the Roman Empire.
The engaging narrator tells stories about the fascinating lives of the two very powerful and ambitious men who built these forums.
The shows run from June to October and last for 40 to 50 minutes. Hours vary depending on the season. The entrance fee includes rental of a headset providing narration in multiple languages. Combined with dinner at one of Rome's fantastic restaurants, it's the perfect evening of entertainment.
by Wendy of The Nomadic Nomad
6. Sip and Sightsee Through Trastevere at Night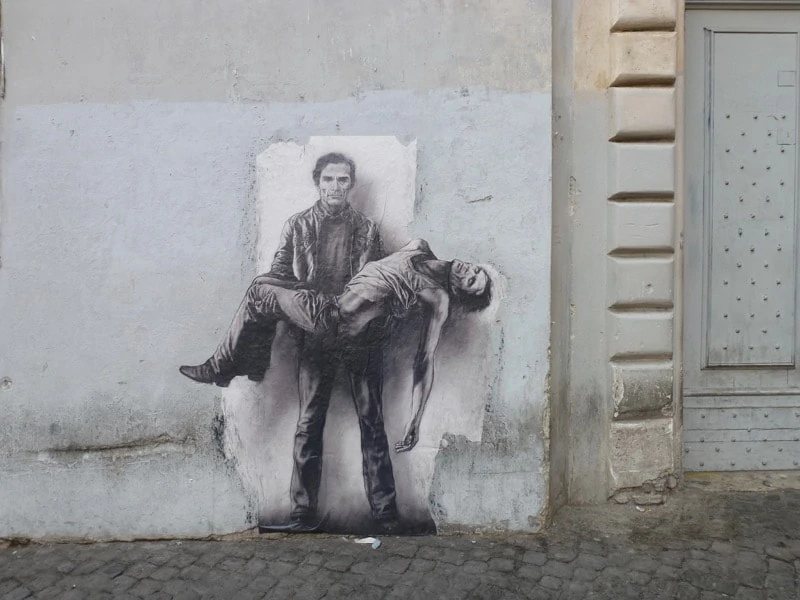 For a choice of cool places to go in Rome at night, head to Trastevere, the 13th rione of Rome, located on the west bank of the Tiber. The hidden alleyways, many of them pedestrian-only, are packed with bars, cafes and restaurants tucked between the churches, piazzas, guest houses and convents of this historic neighbourhood.
Sip a Campari cocktail at one of the bars or buy a bottle of wine and enjoy a glass in one of the parks. Although it's illegal to drink alcohol in a public place in the US and Canada (outside of Quebec), in Rome it's part of La Dolce Vita!
While it's against the law to drink from glass containers on public streets after 10 pm and it's prohibited to drink on the streets of Rome after midnight, it's perfectly fine to drink alcohol in public within the specified hours.
Because it's so easy to get lost in Trastevere, it's wise to take one of the evening tours of Trastevere offered by Eating Europe. Not only will you jump the line at popular restaurants like Da Enzo, but you'll discover unique places — such as ancient wine cellars — you definitely wouldn't discover on your own.
This tour is also a great thing to do in Rome if you're alone, a couple or with a group.
Subscribe to the FREE A Taste for Travel newsletter and you'll get a Promo Code worth 15% off all Eating Europe tours.

You can subscribe to the free A Taste for Travel mailing list here
7. Enjoy Live Music at the Jazz Clubs and Bars in Rome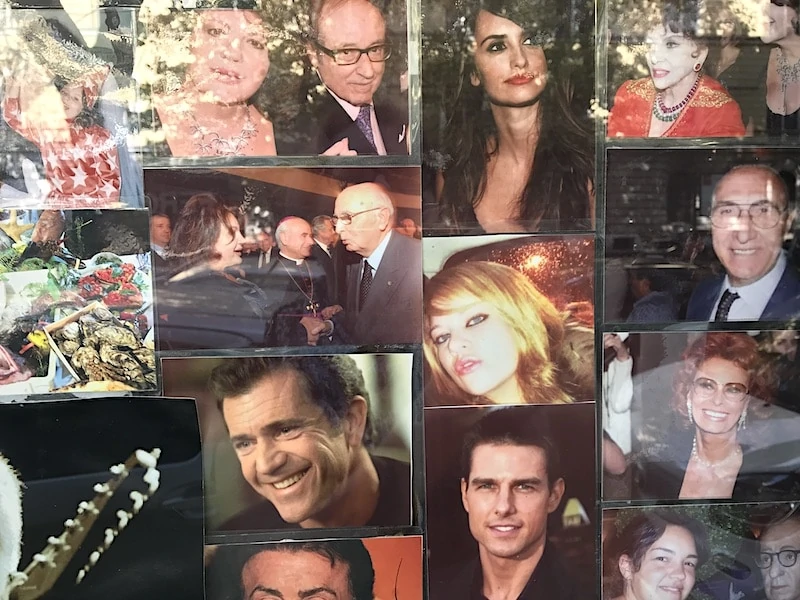 Another cool place to go in Rome at night is the Prati neighbourhood, where there's a wealth of wine bars, jazz clubs, live music venues and nightlife.
Rome's most famous jazz club, Alexanderplatz, is located in Prati and features daily live concerts and dinner from 9 pm. But to secure a seat be sure to call in advance or make a reservation online at the Alexanderplatz Jazz website.
Another popular spot for live music, usually guitar and a pianist playing classics, is Napul'e Ristorante on Viale Giulio Cesare near the Vatican. Its claim to fame is its Neopolitan cuisine, most notably pizza Napoletana, enjoyed by candlelight in the evenings.
For jazz, Italian rock, blues, swing and Latin music, check out Fonclea, a cellar bar where you'll find a lively Happy Hour (6-8:30 pm) featuring bargains on pub fare such as birra alla spina (draft beer), frittini and nachos.
8. Take an Evening Pasta Class in Rome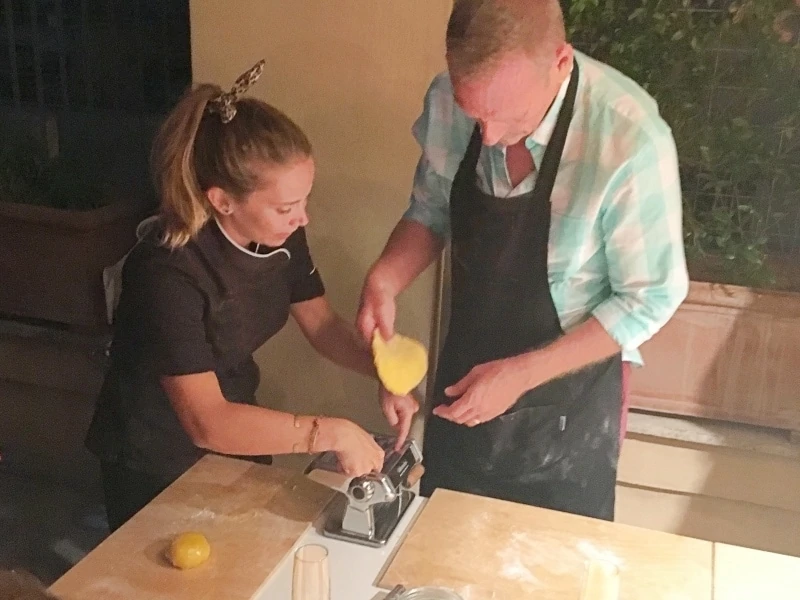 A fabulous night in Rome can be spent cooking and eating pasta with new friends by taking a pasta making class in a chic apartment in central Rome, not far from Piazza Navona.
The class starts in the late afternoon with a welcoming glass of Prosecco. After wine and introductions, participants are ready to start the class.
The lesson is held on a rooftop terrace with view of one of Rome's ubiquitous church domes. Travelers learn how to mix and knead pizza dough and then create spaghetti and ravioli.
Once the meal is prepared, everyone then sits down to a delightful dinner of home-cooked pasta. With more wine, of course. There is also a large dining room in the apartment below if inclement weather makes the open-air terrace less suitable.
It is a wonderful opportunity to meet other travelers, share stories, learn something new and eat great food. Everyone ends the evening with a certificate of achievement and recipes to take home. This is a great experience everyone visiting Rome should have.
by James Ian at Travel Collecting
9. Hang Out on the Rooftop Bars in Rome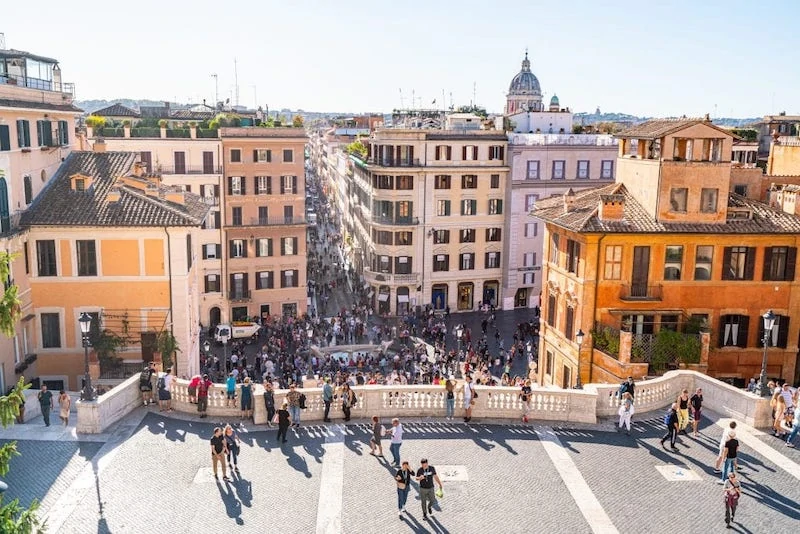 Admiring Rome's skyline with a cocktail or a glass of delicious Italian wine in hand is always lots of fun. But once the sun sets and you can admire the beauty of the city at night, it gets even better!
There's nowhere better to enjoy the best views of Rome at night than at one of the city's many lovely rooftop bars, each with their own personality and perspective on the city.
For epic rooftop views over Piazza Navona, consider making your way to Eitch Borromini, housed at the top of a 17th-century palace.
Another of the most popular rooftop bars in Rome is Hotel Raphael, where you can admire the top of the Pantheon nestled among the skyline.
Or opt for Hotel Minerva, which also has views of the Pantheon.
Want epic views of the Roman Forum at night? Consider heading to the rooftop bar at Hotel Forum.
Also popular among couples looking for a romantic start to their evening is the rooftop bar of the art deco Bettoja Hotel Mediterraneo, situated on Esquiline Hill near Termini Station.
Of course, no matter which rooftop bar in Rome you choose, be prepared to pay fairly steep prices for drinks. You're paying for the view as well as the drink. And if you have your heart set on a particular (or particularly popular) location, make reservations in advance to ensure you get a table!
By Kate of Our Escape Clause
10. Experience the Awesome Colosseum at Night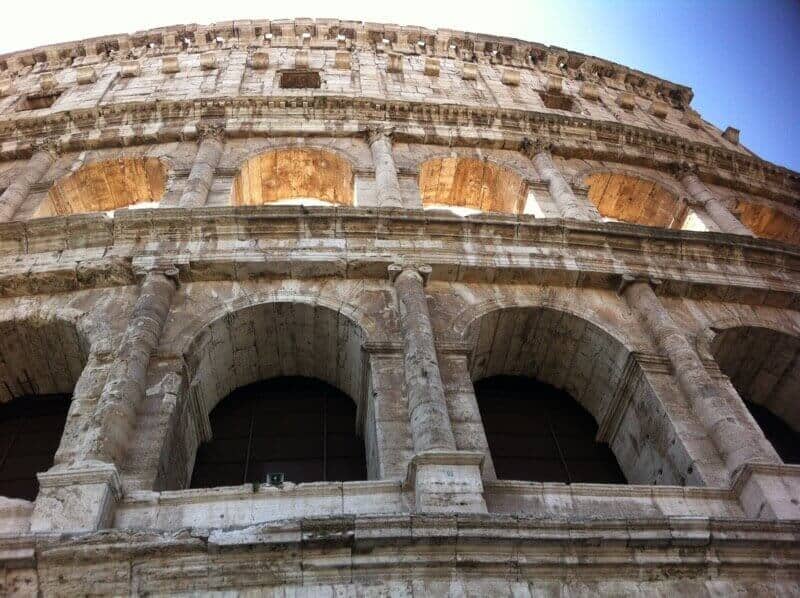 Not many people do it, but visiting the visiting the Colosseum at night is one of the best and most unique things to do in Rome.
While much like other famous Roman landmarks, the site is very crowded during the day. There can be up to 3000 visitors for each time slot!
Fortunately, night time tours of the Colosseum are significantly more private.
In order to visit the Colosseum at night, visitors have to book a guided tour. The Night Tours of the Colosseum often start around 9:00 pm. So it's a good idea to have dinner somewhere close beforehand. Tours last 1.5 hours and include skip-the-line access as well as a guided tour of the Colosseum Underground and the Arena floor where the gladiators fought.
Visiting the Colosseum at night certainly is more expensive than getting the typical skip-the-line ticket or even a guided day tour. They also don't include visits to the Roman Forum or the Palatine Hill.
But the extra cost is worth it for the cooler weather and smaller crowds. Plus the sight of the Colosseum at night is absolutely incredible. You can even see the illumination of its glowing walls from an aeroplane!
Be sure to book your tickets well in advance!
Check prices and availability of the Colosseum Night Tour on Viator.com
By Claudia Tavani of My Adventures Across The World
11. Master Some Skills on a Night Photography Tour of Rome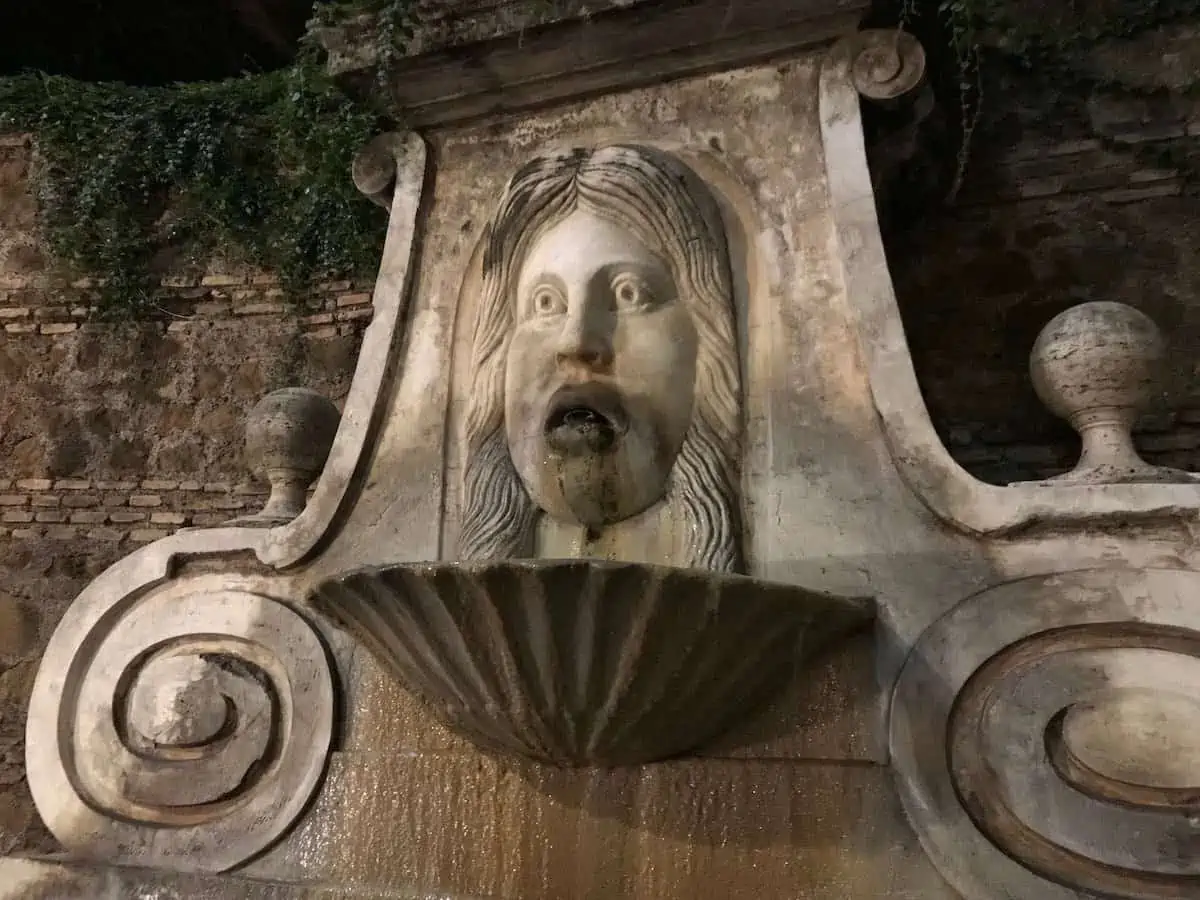 Do you want to see and capture Rome's most famous sites without the crowds? If so, a night photography tour is one of the best things you can do in Rome after dark.
Rome is one of the most photogenic cities in the world, but the constant crowds at almost any time of the year can be a little frustrating. In the middle of the night, you can have the Trevi Fountain and a view of the Pantheon all to yourself.
Sure, you can do it yourself. But photography lovers will have a fantastic experience on a night tour with Rome Photo Fun Tours. A big advantage of this night photography Rome tour is that you can rely on the local photographer's knowledge to make the best use of time.
They'll also provide coaching on composition and settings so that you come away with amazing photos of the eternal city. As you go, you'll learn some historical and local tidbits about each location.
Before you go, be sure to talk to the photographer about must-see sites in Rome such as St. Peter's Basilica, the Piazza di Spagna and more. Or, ask to be shown some lesser-known spots. You'll be sure to get a different perspective by photographing Rome at night.
Cindy Baker of Travel Bliss Now
12. Experience the Vatican Without the Crowds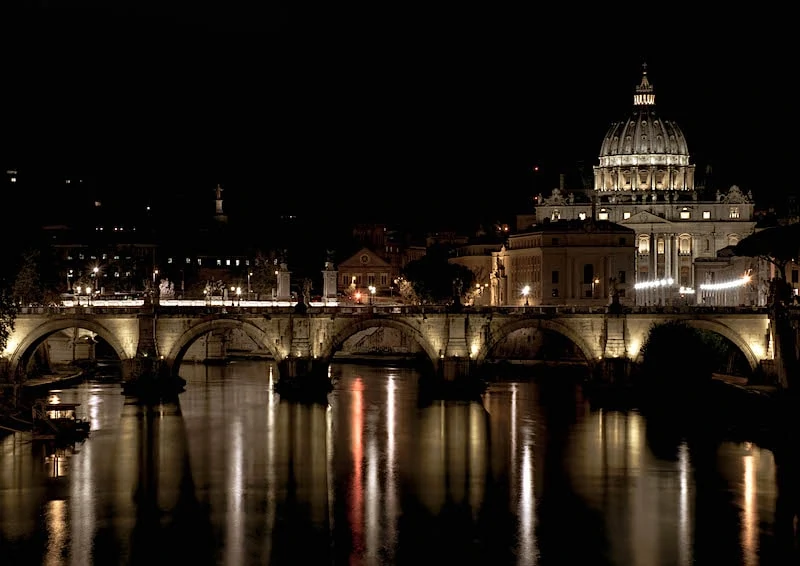 Home to the Sistine Chapel and one of the world's most important art collections, the Vatican Museums is a vast complex housed in a collection of Renaissance palaces.
Not only are the illuminated buildings especially memorable at night, but taking a Vatican Night Tour means you'll also avoid the daytime crowds.
The VIP access and small group size of this night tour allows you the opportunity to marvel at priceless treasures without being rushed.
Along with the frescoes within the Raphael Rooms and Michelangelo's masterpiece, don't miss the Greek, Egyptian and Roman antiquities. Exploring the mosaics, mummy cases, colossal statues and art from ancient temples is a very cool thing to do in Rome at night.
Check prices and availability of the Vatican Night Tour (and Sistine Chapel) on Viator.com.
13. Lift Your Spirits at a Church Concert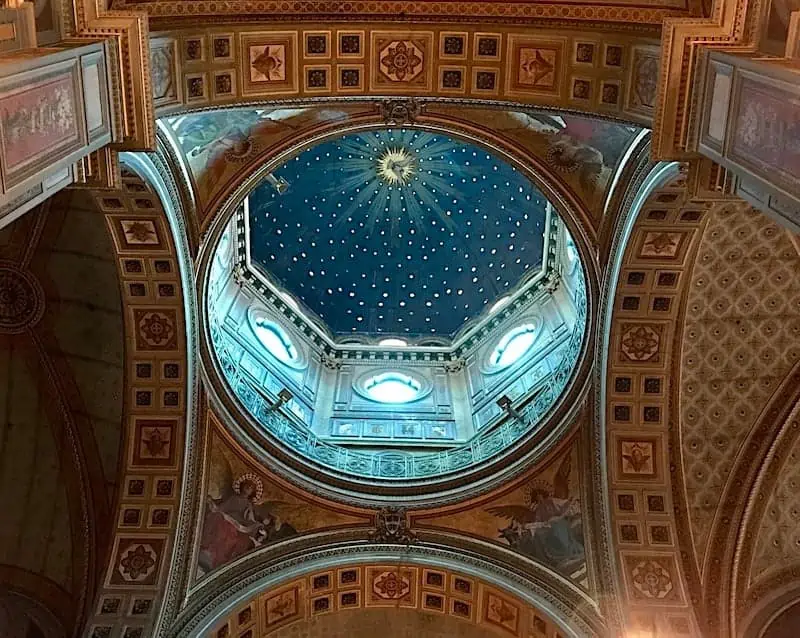 One of the most common mistakes visitors to Rome make is not booking tours for top attractions such as the Borghese Gallery far enough in advance.
If you've made this mistake and find yourself shut out of a tour, then factoring some night attractions into your Rome itinerary is a wise idea. The tour group crowds are smaller and it's easier to purchase tickets at the last minute.
Another advantage of considering a church as a place to go in Rome at night is that their concerts are often free, saving you money that you can splurge on a dinner out or a stay in a luxury hotel.
Some of the churches with free concerts include the impressive San Gioacchino church in Prati, the 17th century Sant'Agnese in Agone facing Piazza Navona and All Saints' Anglican Church in Rome.
It's an unforgettable experience to attend an evening of choral evensong, organ recitals, Italian masterworks of opera or Vivaldi's Four Seasons in one of these impressive venues. Book online for these classic performances at Rome Concerts.
14. Bicycle or Segway Around Rome's Attractions at Night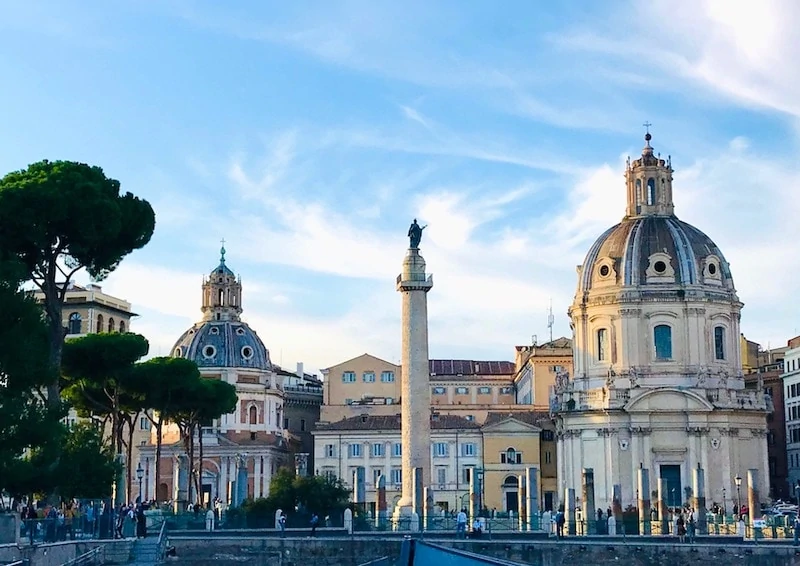 For travellers looking for active outdoor adventure in Rome, a popular activity is exploring the city streets by Segway or bicycle.
Fat Tire Tours is the leader in these active tours. In addition to the opportunity to get some fresh air and exercise surrounded by the monuments of Rome, you can cover a lot more territory by bike than you can on foot.
A bike tour is one of the best things to do at night with kids aged 16 and over if they are intermediate level cyclists.
On a night bike tour of Rome, you'll cycle along the back streets of Trastevere, cross the bridges over the Tiber, enjoy fantastic views of St Peter's Basilica and even get as far as the Spanish Steps.
While you wouldn't want to take these faster-paced tours after an afternoon of bar hopping, it's not all work and no play. You do get the opportunity to enjoy a glass of wine (or other beverage) at one of the scenic stops.
Helmets, bikes and a guide are provided for the 3.5 hour bike tour.
15. Explore Rome at Night by E-Bike
An e-bike tour is a fun thing to do in Rome that delivers all of the awe-inspiring scenery of an evening cycling tour with a lot less exertion! Riding an electric bike also means you can cover more ground and see more attractions.
In this 3-hour tour you'll pedal past the Colosseum, the Roman Forum and famous sights such as the monumental Piazza Venezia.
Check rates and availability of an E-Bike Night Tour of Rome on Viator.com.
16. Eat Your Way Around Rome on an Evening Food Tour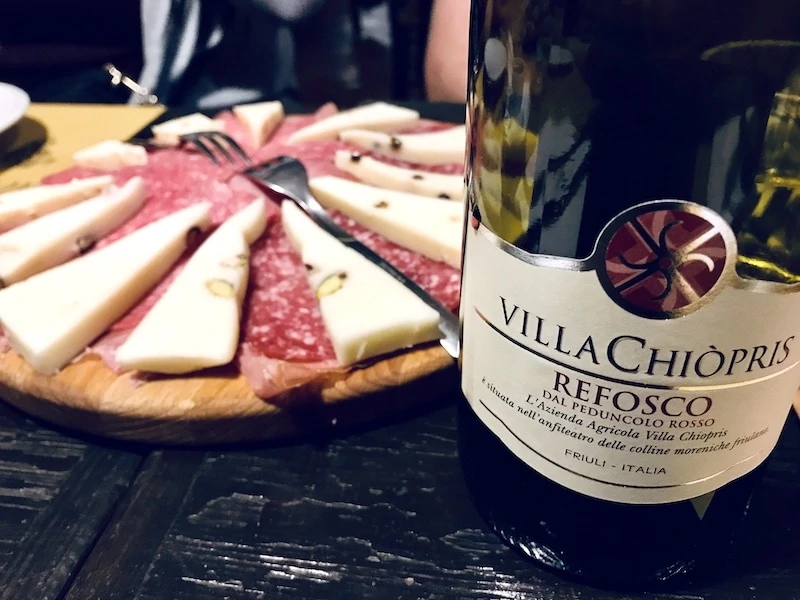 Bring your appetite if you sign up for this small-group Rome Food Tour with Livitaly. While it's similar to the Food & Wine stroll offered by Eating Europe (see above), there's more of an emphasis on food rather than wine.
During the five-course dinner, the dishes are heartier and more substantial and there's less of a tutorial on the wines of Italy.
This 3-hour tour also begins at begins at the Fontana delle Tartarughe (Turtle Fountain) in Piazza Mattaia and although it doesn't include stops in the Trastevere neighbourhood it does visit the incredible Pantheon.
You'll love the gelato stop at Gunther Gelato Italiano. Explore a range of delicious and quirky flavours such as Caprese Salad (mozzarella di bufalo, tomatoes and basil) as well as ricotta with strawberry sauce.
This tour is also a great thing to do in Rome if you're alone, travelling as a couple or with a group.
17. Whisk Around Rome at Night in a Golf Cart or Vespa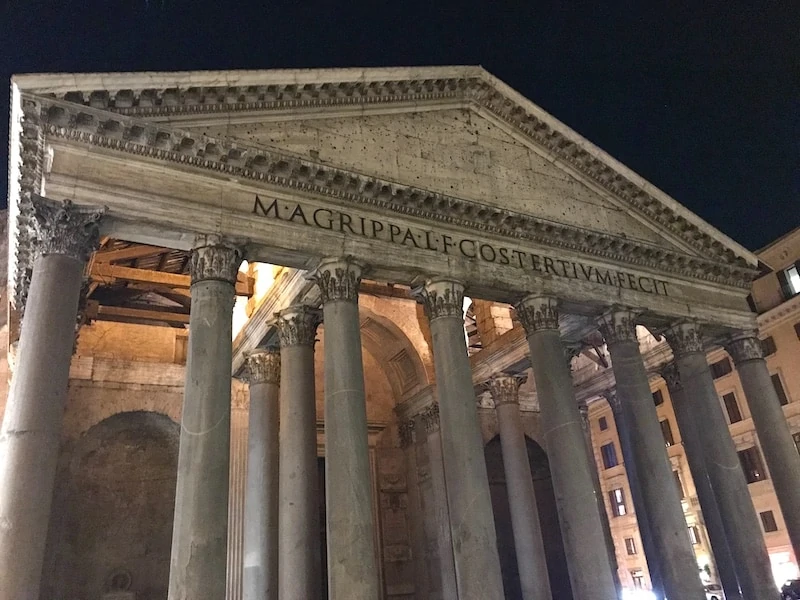 If you've spent the day exploring Rome by foot and can't imagine taking another step, then the Evening Drinks & Golf Cart Tour of Rome offered by Livitaly might be for you.
On this night tour of Rome, a guide will chauffeur you through Rome as the sun sets, stopping to enjoy the beloved Italian tradition of the aperitivo, a craft beer and other libations.
The advantage of this 3-hour Rome evening activity is that you're able to cover more territory by golf cart than you can by foot. This means you'll see more of Rome's attractions.
One of the most impressive of these sights is the Pantheon, completed by Roman Emperor Hadrian around 126 AD. This monument is especially beautiful at night when the crowds are small.
Note that this night tour of Rome features snacks rather than a full meal. With a maximum group size of six people, it's the perfect way to kick off a girls evening of nightlife with a fun activity.
For couples who feel like channelling Gregory Peck and Audrey Hepburn in Roman Holiday why not consider a Vespa tour of Rome? In this 3-hour evening tour a guide will tour you around the Eternal City in a vintage Vespa with stops for gelato and coffee.
Check prices and availability of a Vespa Night Tour of Rome on Viator.com.
18. Take a Cocktail-Making Class in Rome
Once you've mastered the art of the aperitivo, it's time to learn how to make your own Italian cocktail or mocktail.
One option is the Cocktail Making Class held at a bar in Trastevere where a professional bartender will teach you the tricks of the trade to make an authentic aperol spritz and negroni.
He'll also teach you how to pair these classic cocktails with food. You're sure to have fun and make new friends in this 2 hour class.
This Rome activity is also one of the more economical things to do in Rome at night.
Frequently Asked Questions
How Safe is Rome at Night?
Rome is generally a safe city at night and it's not dangerous to walk around after dark. However, there are a few areas you might want to avoid. For example the area behind the Colosseum, San Basilio, Tor Bella Monaco, Ostia and the backstreets around Termini Station can be a bit gritty and pose higher risk for pickpocketing and other criminal activity.
What to Do in Rome after 6pm?
The best thing to do in Rome after 6:00 pm is to do as many Italians do and relax over a glass of wine (or cocktail) and some finger foods at an aperitivo bar. You can unwind, experience local culture, work up an appetite for dinner and do some people-watching.
What is the Drinking Age in Rome?
The legal age for drinking or purchasing alcohol in Italy is 16. Be sure to drink responsibly.
Other Italy Posts You Might Like
This article was originally published in 2019 but was republished with updated information and images in 2023.
Save to Pinterest!
Dividing her time between Canada, Guatemala and Mexico (or the nearest tropical beach), Michele Peterson is the founder of A Taste for Travel. Her award-winning travel and food writing has appeared in Lonely Planet's cookbook Mexico: From the Source, National Geographic Traveler, Fodor's and 100+ other publications.
Read more about Michele Peterson.