We may earn income from links in this post. Please read this Disclosure for details.
A complete guide to the best things to do in Minervino di Lecce, a tiny town in Puglia that makes the perfect base for a year-round food, wine and beach vacation in Italy.
Most travellers know about the Amalfi Coast, picturesque Tuscany, monumental Rome and other scenic places in Italy, but one of the most memorable places to visit in Italy is actually a tiny town in southeastern Puglia few people have heard of.
The name of this small town is Minervino di Lecce. I've often travelled off the beaten path of Italy – having eaten my weight in carciofi (artichokes) from Rome to Venice and indulged in a meal of ghiozzi fish plucked from the mud flats of the Venetian Lagoon.
But within a few hours of arriving in this small town southwest of Otranto, I knew I was in for something completely different.
Named after Minerva, the Roman goddess of music, poetry and wisdom — a mythic figure who emerged whole and clad in armour from the head of Jupiter — Minervino di Lecce is unlike anywhere I've ever been.
During my visit, I danced the pizzica with the town tailor (who looked as though he'd stepped out of Vogue Italia), played the role of Saint Elizabeth in a centuries-old religious ritual and sipped a liqueur made of myrtle berries.
Evenings, I'd walk to my high-ceiled room in a 15th century palazzo to the sound of owls hooting from the rooftops of near-empty streets.
Minervino di Lecce is quite a magical place. While I can't guarantee you'll hear the owls of Minerva, dance with the handsome tailor or get to be a saint for a day, there are enough attractions and unique things to do in Minervino di Lecce that it's worth adding it to your list of places to visit in Puglia, Italy.
Where Exactly is Minervino di Lecce?
By now, you're probably wondering where exactly the town of Minervino di Lecce is located. It's situated southwest of Otranto in Puglia on the Adriatic Coast of eastern Salento Peninsula, the "heel" of the "boot" of Italy. It's the perfect addition to a Puglia road trip that includes the white villages such as Locotorondo in the north.
I'm not the first person to fall in love with the eastern coast of the Salento Peninsula of Puglia. It's where Italians go for the perfect food, wine and beach vacation in Italy.
Even Madonna, Tom Hanks and French President Emmanuel Macron have all vacationed on the beautiful beaches near Bari.
But, much like the other tiny towns on the western coast of the Salento Peninsula, the VIP attention has not yet attracted hordes of package tourists or driven prices higher.
It's still possible to enjoy the region's beaches, attractions and restaurants at surprisingly affordable rates. Its temperate, mild climate also means it's one of the best places to visit in Europe in winter.
The only catch is that you will need to rent a car (I like to use Discover Cars) or hire a car and driver. But there's very little traffic on the roads of Puglia so it's easy and stress-free to drive from town to town or go sightseeing.
Here's a list of the best things to do in Minervino di Lecce:
1. Time Travel to the Bronze Age at the Standing Stones of Dolmen di Scusi
Walk in the footsteps of our Neolithic ancestors at Dolmen Li Scusi, a collection of megalithic stones on the outskirts of Minervino di Lecce. They're much like standing stones at Stonehenge and other ancient monuments in Europe.
But instead of being gated off, subject to an admission charge and swamped with tour bus crowds, these Bronze Age megalithic stones stand in solitude amid the olive trees and wild asparagus growing in wild abandon. It's a remarkable attraction that's totally free to visit.
What exactly are dolmen and menhir? Dolmen are ancient megalithic constructions made of large blocks of stone and entrances. Menhir are tall standing stones. Puglia is the only region of Italy where dolmen and menhir are widespread. There are at least 23 major sites and hundreds of monuments, with more being discovered regularly.
While the exact purpose of these mysterious structures is not completely understood. They could have been places of worship, used for astronomical purposes, as signposts for navigation or even for burial purposes. They've been in use from the 4th century B.C. through to medieval times so could have been used for multiple purposes.
Visiting the dolmen of Puglia is an opportunity to marvel at the mysteries of the past. You can even step inside the chambers of the standing stones at Dolmen Li Scuzi.
2. Experience Authentic Religious Feast Days and Festivals
One of the best things to do in Puglia is to participate in a religious feast day or festival. In autumn, a top celebration is the festival of St. Martin, patron saint of wine-making.
In spring, the most important regional festival is the festival of the Tavole di San Giuseppe (St Joseph's Tables) in March.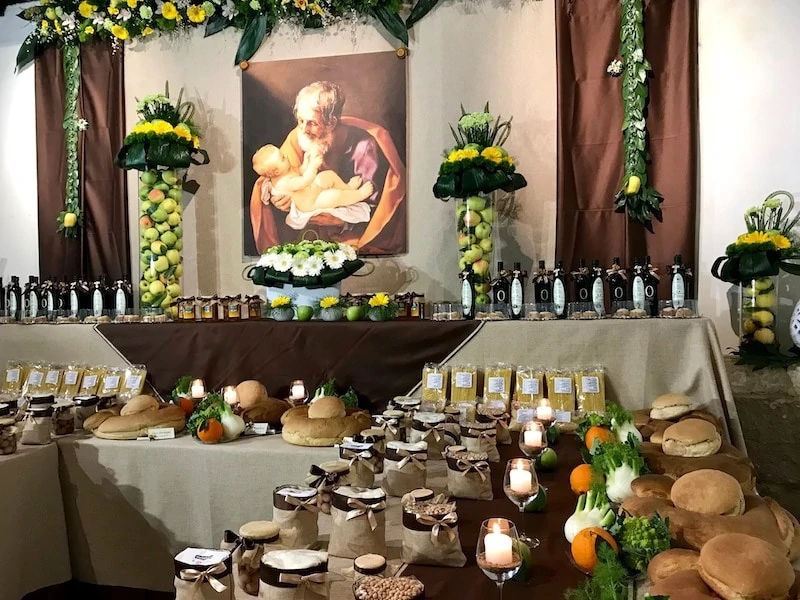 During this religious festival, families create a Tavola di San Giuseppe in their home, according to precise rules and traditions. The tables are carefully laid out with 13 places, representing the Holy Family and 10 saints.
Dignitaries, family and guests enjoy an abundance of regional foods including ritual bread, pasta and chickpeas (their yellow hue representing the colour of spring) as well as pickled onions (representing the transition to a new season).
The centerpiece of the tables is the ceremonial bread. Made of yeast, salt and a special local flour of durham wheat it's firm to the touch and decorated with shapes representing the Holy Family or saints.
After being baked and blessed by the priest, the fragrant three-kilogram loaves will be set on the ceremonial tables and later distributed to charity.
Given its religious significance, one of the top things to do in Minervino di Lecce is visit the presentations of Tavole di San Giuseppe in people's homes, churches and public spaces.
There are posters displayed in town with schedule for visiting the homes with tables open to the public.
You don't need a formal invitation to join in! You'll often find that people will invite you into their homes to sample a bowl of massa ( pasta with chickpeas) even if you're just walking down one of the streets in Minervino di Lecce or neighbouring villages. If you know a few words of Italian, that will make your experience (and theirs!) even better.
While playing the role of Saint Elizabeth, I had to rely on hand signals from my "husband" Zechariah to know when to start eating and when to stop. ( Sign up for the A Taste for Travel newsletter to get the whole story on everything you need to know if you attend a Table of St. Jospeh in Puglia.
3. Take a Day Trip to Lecce – Florence of the South
With close to 100,000 residents, the city of Lecce is much busier than Minervino di Lecce, but is well worth a day trip due to its fine collection of historic buildings and architectural sites featuring pietra di Lecce, the soft burnished local stone. It's even been called the "Florence of the South" due to its rich architectural heritage.
Plan to spend a full day exploring its cloisters, palaces, beautiful Santa Croce basilica and the Piazza del Duomo, home to a fine collection of ornate buildings in the Lecce Baroque style. Italian architect and sculptor Giuseppe Zimbalo (Lo Zingarello – the tiny gypsy) was the master of this style.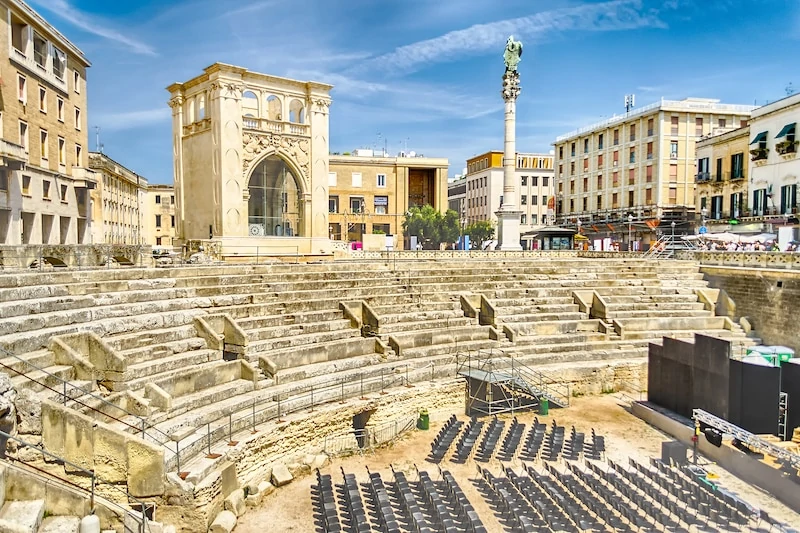 For me, the most incredible features of Lecce is its Roman Amphitheatre in Piazza Sant'Oronzo in the heart of Old Town.
Constructed in the 1st century BC and excavated in 1938, it's partially buried beneath the city which makes it appear even more remarkable as its stone seats seem to rise in a ghostly formation from below ground level. Lecce is a beautiful city that's so easy to get to it and filled with charm, it should definitely be an add-on any one week itinerary of Italy.
For a unique stay in Puglia, check out our guide to Booking a Convent Stay in Italy
4. Marvel at the Ancient Olive Trees of Salento
Do you remember the Ents, the giant humanoid trees from J. R. R. Tolkien's fantasy world of Lord of the Rings, who walked upright, talked and even went to war?
With their wild silvery branches, the ancient olive trees of Salento appear as though they too, have been lifted from Middle Earth.
An estimated 60 million olive trees stand in Puglia. Ogliarola, Cellina di Nardo, Leccino, Nocellara, Carollea and Picholine – these ulivi secolari, centuries-old trees are so abundant they appear to be a sea of silver when the wind blows.
Yet, they're at risk of being lost forever due to Xylella fastidiosa, a devastating plant bacterium that's been sweeping through Puglia since 2003. It's been felling majestic olive trees along its route.
Efforts are underway to save the ancient olive trees of Salento. Even celebrities are getting on board. Helen Mirren has purchased an ancient masseria in Tiggiano, a small village south of Minervino di Lecce, where she grows pomegranates and advocates for Salento's ancient olive trees.
5. Sample Pasticciotto Leccese, the Famous Pastry of Puglia
I'm a person who usually just has coffee for breakfast. But, at Palazzo Ducale Venturi, I was the first person at the breakfast buffet. Blame it on the Pasticciotto Leccese.
This traditional Italian pastry features a shortbread pastry filled with sweet custard cream that melts in your mouth when you take a bite.
Said to have been created in 1745 by chef Andrea Ascalone of Galatina in Lecce as the results of a baking mishap, it's beloved throughout Puglia.
There are several varieties of Pasticciotto, vanilla custard, lemon, ricotta and even a pasticciotto a Obama, a chocolate version dedicated to former President Barack Obama.
Although pasticciotto are available in restaurants, coffee shops, bars and bakeries throughout Lecce, the best place to sample the classic version of Pasticciotto Leccese is at Caroppo Bakery.
While this family owned bakery is most famous for baking the 300 loaves of St. Joseph's bread for the St. Joseph's Table celebration, the rest of the year this bustling bakery is filled with the delicious aromas of fresh-baked pasticciotti.
Get directions to Caroppo Bakery at Panificio Caroppo on Facebook.
6. Sip Fine Menhir Wines at Origano Restaurant
Another reason to visit Minervino di Lecce is that one of the best wineries in Puglia happens to be based here.
Sample rare regional wines such as the Menhir Pietra Susumaniello, an indigenous vine cultivated on the owners' organic vineyards.
Owner Gaetano Marangelli, owner and founder of Cantine Menhir Salento, is using innovative methods to produce refined wines such as Menhir Pietra Rosata and Menhir Calamuri in a region better known for its bulk wines such as Primitivo ( Zinfandel) and Negroamaro.
Be sure to stop in the food boutique attached to the restaurant and pick up some of the fine local products such as handmade orecchiette, the Pugliese pasta known as "little ears" as well as organic olive oil.
If you're interested in learning more about Italy's wine regions, it's worth purchasing a wine course book before you travel.
7. Enjoy Great Food at Minervino di Lecce Restaurants
Minervino di Lecce also happens to be home to several of the best restaurants in Puglia. Within the town itself or a short drive away, you'll find restaurants with menus brimming with regional dishes.
It's got so much seriously good food it's arguably one of Italy's best destinations for culinary travellers.
The three best restaurants in Minervino di Lecce include:
1. Cantine Menhir Salento – Origano Restaurant
Arguably one of the best restaurants in Puglia, it's ideal for an evening of fine-dining with friends or a romantic evening out. Dine outdoors on the pretty garden terrace or indoors within the solarium featuring contemporary decor with rustic Italian farmhouse flair.
Opt for the tasting menu and you'll be rewarded by inspired dishes featuring seasonal ingredients such as Jerusalem artichokes, almonds and pecorino cheese. Each dish is a beautifully prepared work of art and is paired with Menhir organic wines.
Osteria Origano is located on Via Giuseppina Scarciglia in the heart of Minervino di Lecce
2. Casanova Pub, Birria and Pizzeria
This casual yet sleek and stylish restaurant is open late and serves artisanal pizzas as well as draft beer on tap. Be sure to try Nuda e Cruda, a European pale lager beer brewed by Birra Salento in Leverano. Casanova Pub, Birria and Pizzeria is the best place for nightlife as they often host karaoke and pizzica dance nights.
Check out the Casanova Facebook page for special events and details about their B & B. They are located on Via Podgora 23.
3. Volta 51
This family-owned restaurant is best known for its artisanal pizza but is a must-try due to its fine regional dishes from Sardinia. Typical dishes from Sardinia include le fregole sarde, a regional pasta (similar to North African Berkoukes and Middle Eastern Moghrabieh), zuppa gallurese and spaghetti with sea urchin. I sampled mirto, the deliciously sweet liqueur made from the berries of the myrtle tree, at Volta 51.
Volta 51 is located on Via Duca Degli Abruzzi and is open from 6 pm to 11 pm daily.
8. Dance the Pizzica Pizzica
When you're out and about in Minervino di Lecce, you might have the opportunity to hear some live pizzica music, the Salentine version of the tarantella dance. It's fast-paced music featuring accordion, tambourine and vocals.
During my stay at Palazzo Ducale Venturi, I enjoyed hearing the ancient traditional songs of Salento and Salentinian Greece performed by Antonio Papa and singer Anna Sabato.
View this post on Instagram
According to legend, the fast pace of the pizzica pizzica (which translates to "bite bite") was a way for peasants to rid their bodies of venom if bitten by a spider while working the local fields.
While my own attempt to dance the pizzica was rather heavy-footed, it's a guaranteed good time.
Watch this travel video with editing done by VeedYou.com featuring a street festival, cuisine, beaches and other attractions in the Salento region of Puglia, Italy
9. Visit Underground Church of Chiesa della Madonna delle Grazie
While there are several fine churches worth visiting, one of the top things to do in Minervino di Lecce is visit the Chiesa della Madonna delle Grazie ( Church of Our Lady of the Graces).
This tiny church located in the heart of town, is unique in that it is set 12 steps below ground, in representation of the 12 apostles. It's also possible it was once a crypt.
The interior of Chiesa della Madonna delle Grazie also features a beautiful Baroque altar, dating to 1680, that's evocative of Santa Croce in Lecce.
In order to get the most out of visiting the churches and architectural sites of Puglia, it's best to hire a qualified and knowledgable guide.
I highly recommend Anita Maria Maggiulli, based in Lecce, who speaks several languages, including English. You can reach her at her website at www.animasalentina.it
10. Take a Day Trip to Otranto
One of the best things to do during a vacation in Puglia is visit the city of Otranto, one of the leading trade ports during Greek and Byzantine times. It's been conquered by waves of invaders and fell to the Normans in 1070 and Turkish troops in 1480.
This coast of Puglia was an embarkation port for pilgrims to the Holy Land as well as Crusaders and the transportation of supplies to Knights Templar states known as Outremer in the Middle East.
Plan to spend at least a day here to see all major sights. Otranto is just a short 15 minute drive from Minervino di Lecce so it's easy to visit more than once. It's definitely one of the most enticing hidden gems in Puglia.
Top things to do in Otranto include visiting the Duomo, home to an ossuary chapel holding the bones of 800 martyrs who were murdered by the Turks after refusing to abandon their Christian faith.
There's also a fine 12th century mosaic floor and a crypt.
While in Otranto, make time to tour the castle which dates to 1485, shop the narrow, winding streets and enjoy the promenade offering beautiful views of the Adriatic.
11. Go Swimming or Cliff-Jumping at Puglia's Best Beaches
One of the best things about choosing Minervino di Lecce as a base for your vacation in Puglia is that it's near several beautiful beaches.
On a road trip of the Adriatic Coast from Castro to Santa Maria di Leuca, you'll see medieval watchtowers, spectacular villas and several small coves perfect for swimming. You can even hire a boat to take you to hidden grottos accessible only by water.
The best beaches near Minervino di Lecce are located in Otranto, at the spa town of Santa Cesarea Terme and at Marina Serra, a natural swimming pool.
Also be sure to make a stop at Ciolo Bridge, a fjord where cliff divers once flung themselves into the turquoise water (much as they still do in Acapulco, Mexico). Today, it's possible to swim in the protected, crystal blue water. It's one of the major attractions in Minervino di Lecce and southern Puglia.
Read more about the beaches of Salento in 15 Things to Do in Capo di Leuca, Puglia
The closest beach to Minervino di Lecce is Porto Badisco, a beautiful bay with shallow, warm waters widely considered one of the best beaches in Puglia. It's a 15 minute drive from the heart of town.
12. Stay at a Luxury Hotel – 16th Century Palazzo Ducale Venturi
You can soak up some local history at Palazzo Ducale Venturi, a 16th century fortified palace that has been restored as a luxury boutique hotel and spa.
The burnished walls with soaring ceilings, exposed stone and restored frescoes provide an atmospheric backdrop for exploring the attractions near Minervino di Lecce.
This carefully restored property features impressive star-vaulted ceilings, bedrooms adorned by impressive frescoes and a secret passageway built–according to local legend–to facilitate liaisons between the Duke Venturi of Minervino and the Abbess of a nearby convent.
One of the advantages of a stay at Palazzo Ducale Venturi is that you'll have an opportunity to dine on the fantastic cuisine created by Executive Chef Donato Marsella. Dine beneath the historic frescoed ceiling or on the outdoor terrace beneath the rose arbour.
Chef Marsella shared his recipe for Fennel with Ricotta Forte, a heavenly combination of anise-scented fennel, toasted almonds and sharp ricotta forte, a traditional cheese of Salento, Puglia.
For more travel inspiration and tips for Italy, check out these posts:
3 Mistakes You Don't Want to Make in Rome
2 Food Tours You Don't Want to Miss in Rome
Travel Guide to Gallipoli and the Salento Region of Puglia, Italy
Video tour of Palazzo Ducale Venturi by Anthony Barbuti, The Italian Enthusiast.
Travel Guide to Minervino di Lecce
Official Puglia Website: www.viaggiareinpuglia.it
Palazzo Ducale Venturi: Filled with original artwork and surrounded by gardens, this luxury hotel is set within a beautiful 16th century palace and has 13 unique guest rooms. The property also features an indoor swimming grotto, an outdoor swimming pool with terrace and full-service spa. It's ideal for a honeymoon, special occasion or discerning luxury travel.
Check rates and availability at Palazzo Ducale Venturi – Luxury Relais and Wellness on Booking.com.
Budget Hotels and B&Bs: There are quite a few options for budget travellers in Minervino di Lecce and surroundings. A charming well-located place that caught my attention was B&B Zio Cici, where one night for 2 people in an air-conditioned room complete with balcony or terrace cost less than $65 USD a night (including breakfast).
Just outside Minervino di Lecce and near Otranto is Aia Grande, where a room in this lovely country home costs a bit more at $75 USD but your family-friendly digs come with a swimming pool and a delicious breakfast.
Check rates and availability at B&B Zio Cici in Minervino di Lecce on Booking.com.
Check rates and availability at Aia Grande in Uggiano La Chiesa on Booking.com.
Tourism Guide in Lecce: Anita Maria Maggiulli is based in Lecce and speaks several languages, including English. You can reach her at her website at www.animasalentina.it
Getting There: From Rome take a short connecting flight to the modern Brindisi International Airport (BDS) via Alitalia or travel by train in five hours from Rome's Termini Station. It's a one hour drive from Brindisi Airport to Minervino di Lecce.
Read our Guide to the Termini Neighbourhood of Rome for details on where to stay and what to do in the Termini neighbourhood of Rome.
If you're flying into Rome from North America, you'll arrive at Leonardo da Vinci Fiumicino Airport in the early morning and may have a long layover. It's worth considering access to the Plaza Premium Lounge so you rest before your connecting flight to Brindisi.
The other option is to head to the section near Gate E12 where there are some comfortable chairs where you can put your feet up and fall asleep without paying a lounge fee.
Save to Pinterest!
Dividing her time between Canada, Guatemala and Mexico (or the nearest tropical beach), Michele Peterson is the founder of A Taste for Travel. Her award-winning travel and food writing has appeared in Lonely Planet's cookbook Mexico: From the Source, National Geographic Traveler, Fodor's and 100+ other publications.
Read more about Michele Peterson.