We may earn income from links in this post. Please read this Disclosure for details.
Why visit Akko, Israel? The northern port city of Akko, also known as Acre, is a fascinating city of Crusader and Ottoman-era relics and ruins, as well as chef-led dining experiences and wine tastings.
It has a tightly braided history of Jewish, Muslim, Christian, and Bahá'í influences.
Today, it's one of the few cities in Israel where Muslim, Christians and Jews coexist peacefully. Such a situation is all too incongruous in the region, and may seem surprising until you know about Akko.
Akko is five thousand years of history and counting.
That's apparent the minute you arrive and have to start navigating Templar tunnels only recently accidentally discovered and restored, and ancient fortresses to get to where you want to be.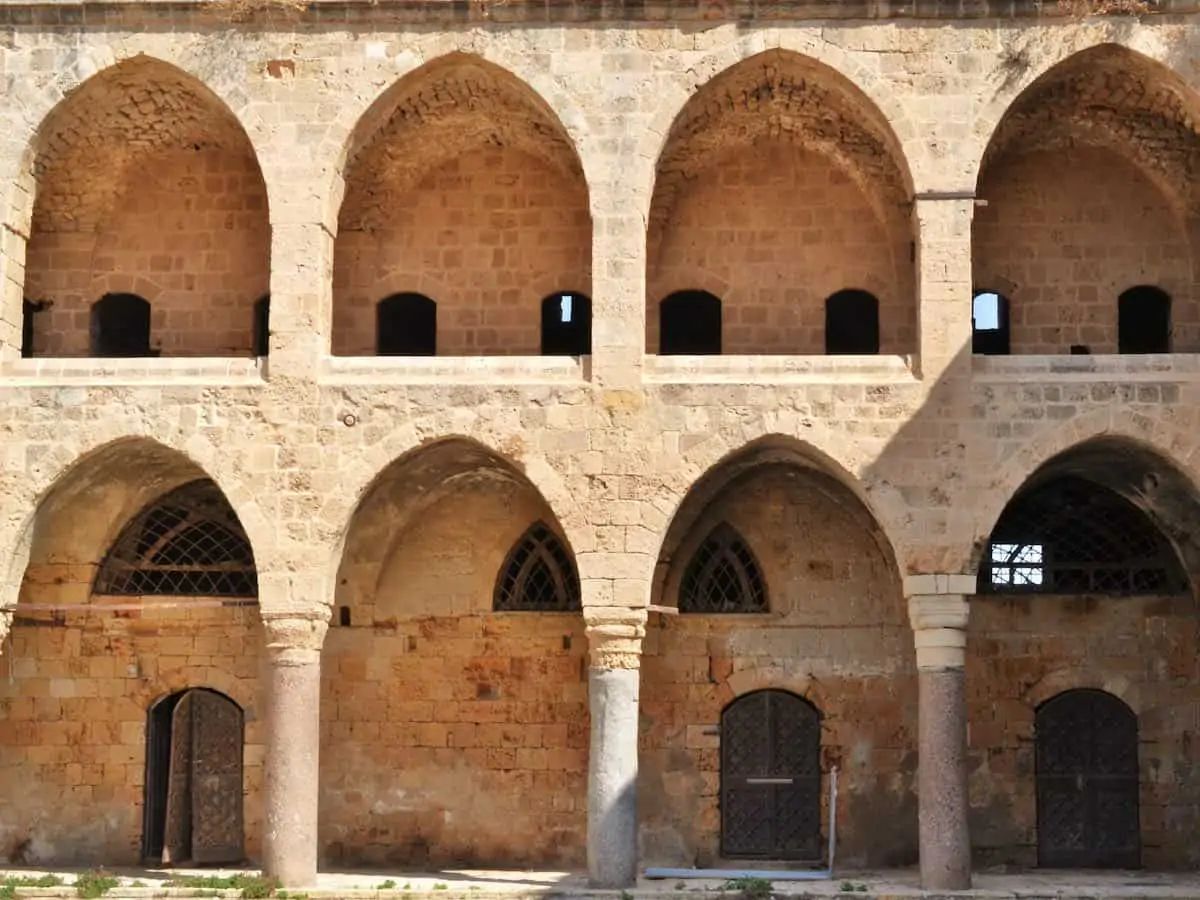 The city's natural harbour made it strategically attractive to every civilization that ever set foot in the region. Akko's first Golden Age was in the 13th century when it was the great Crusader capital.
It was then captured and sacked by the Muslims, and lay in ruins for four centuries until the Ottomans built a new city which was later fortified. The fact that, as locals say, "everyone has been here" helps understand Akko's reputation as a city of tolerance.
It has also helped shape Akko's unique culinary offerings. It's one of my favourite places to visit for food in Israel.
I've visited the ancient city several times, but never fully experienced its food scene. But on my last trip to Akko, a two days jaunt when I was traveling through Israel just before the pandemic shut down the world, I was going to see the sights and eat.
It was early January 2020 when I, with Fleur, a friend from Tel Aviv, took a train for the two hour journey north to Akko.
Day 1 of 2 Days in Akko Israel
Check into Old Town Akko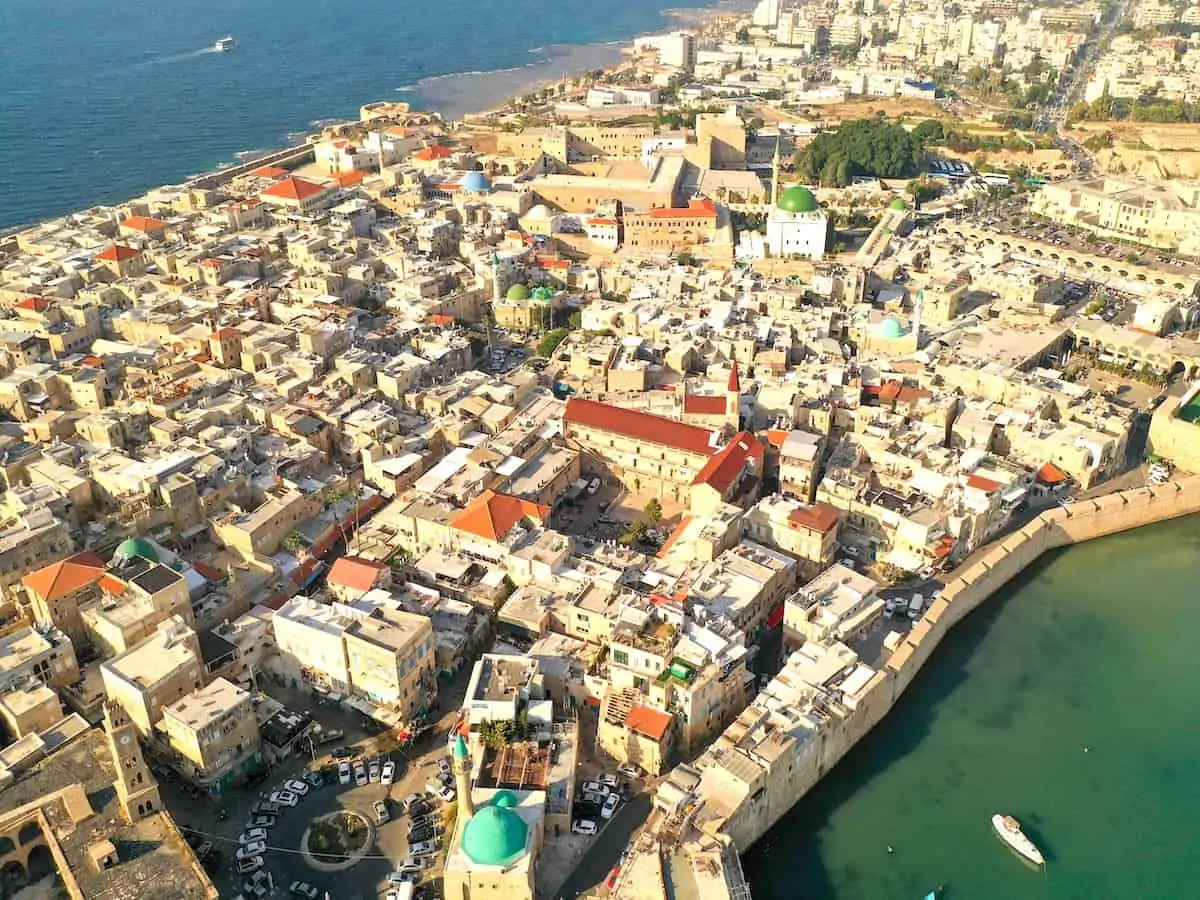 We arrived in Akko under a rainy sky and headed to the Old City, a UNESCO World Heritage Site where most visitors can expect to spend their time. (The new city is largely residential and without much interest to tourists.)
The hotel we had booked could be placed in the once-in-a-lifetime experience category.
The Efendi is an enchanting and expensive boutique hotel composed of 12 guest rooms in two lavish 18th century Ottoman homes that were painstakingly restored and refurbished.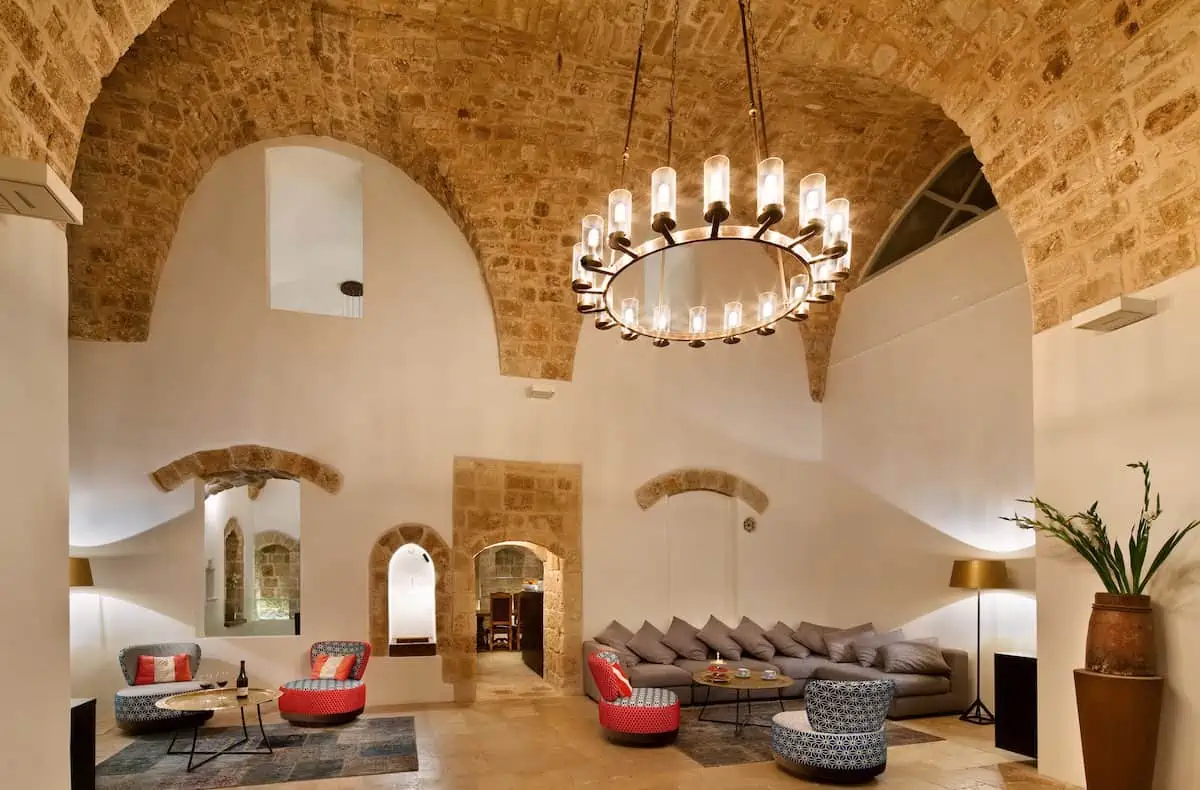 Its reception area is a large room with contemporary furnishings and gorgeous frescoed ceilings.
We were led over marble floors covered in gorgeous wool carpets, to a series of short staircases and finally to our room.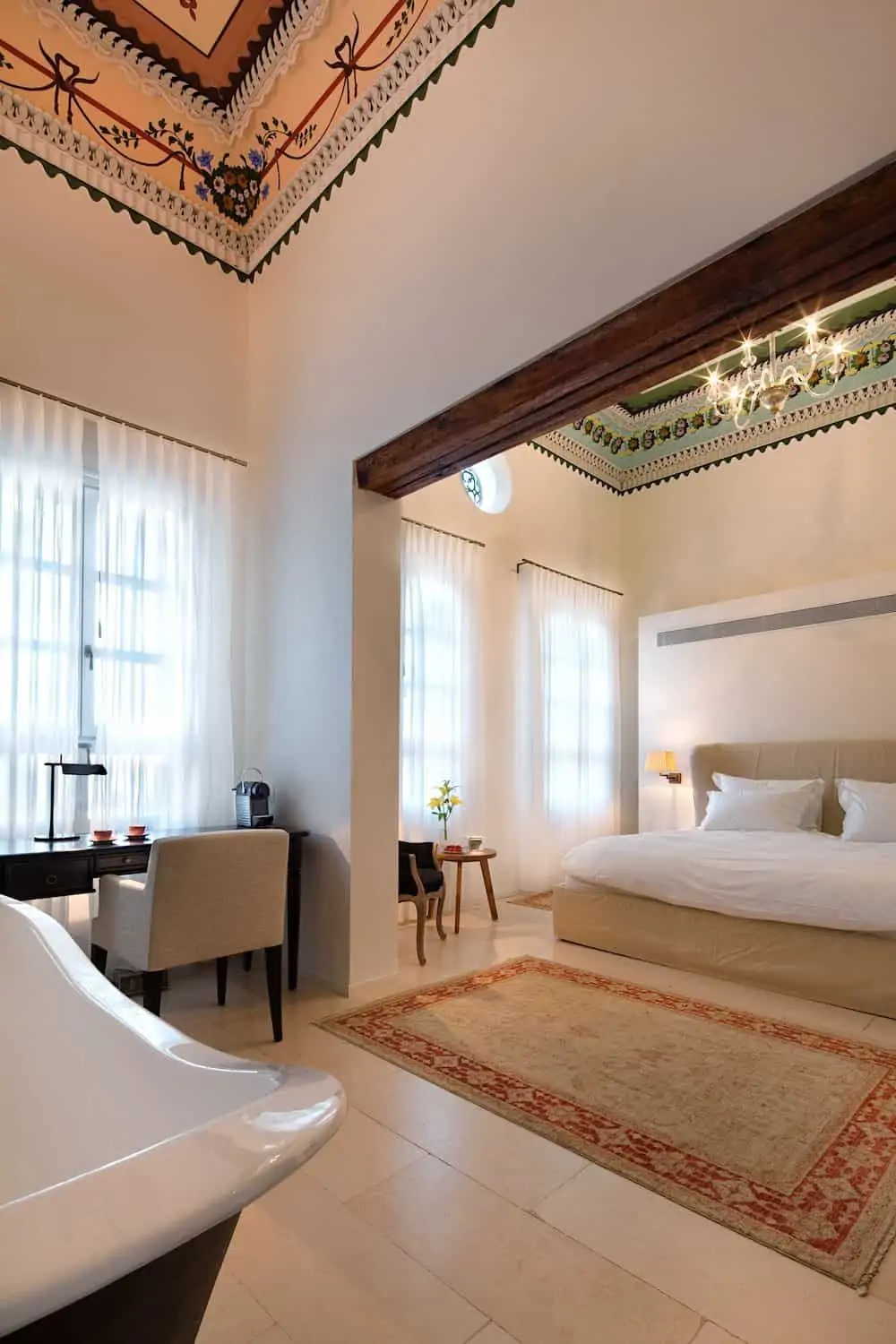 It also had frescoed ceilings, as well as a view over the Mediterranean, the Crusader Walls of the Old City, the Al-Jazzar Mosque, and the scenic mountains of the western Galilee.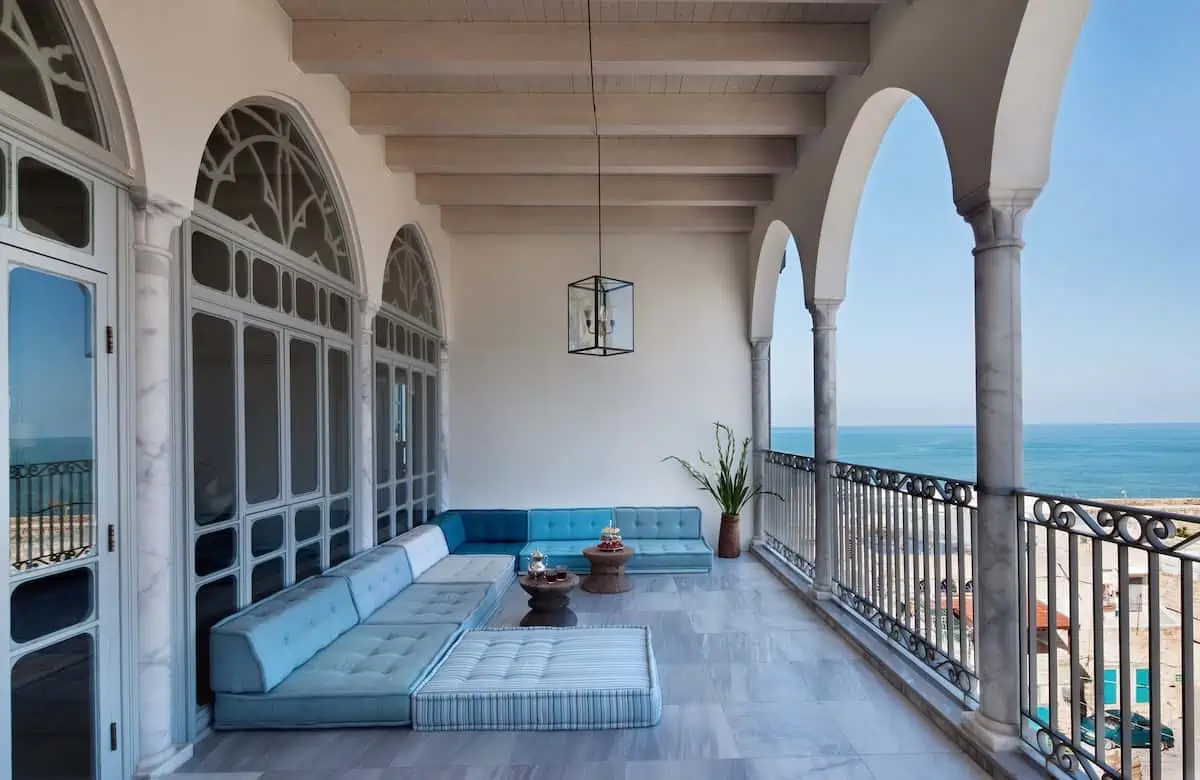 Lunch at Uri Buri Restaurant
We barely had time to drop our bags, and freshen up because lunch was waiting. Despite its rich history, and beautiful scenery, many people come to Akko to eat: both Middle Eastern market fare, and at the restaurant we had booked for lunch.
Uri Buri is an unpretentious fish restaurant whose chef has a masterly hand with local ingredients and innovative flavours.
Situated right on the Mediterranean — the source of what's on your plate — Uri Buri is considered one of the best seafood restaurants in the Middle East.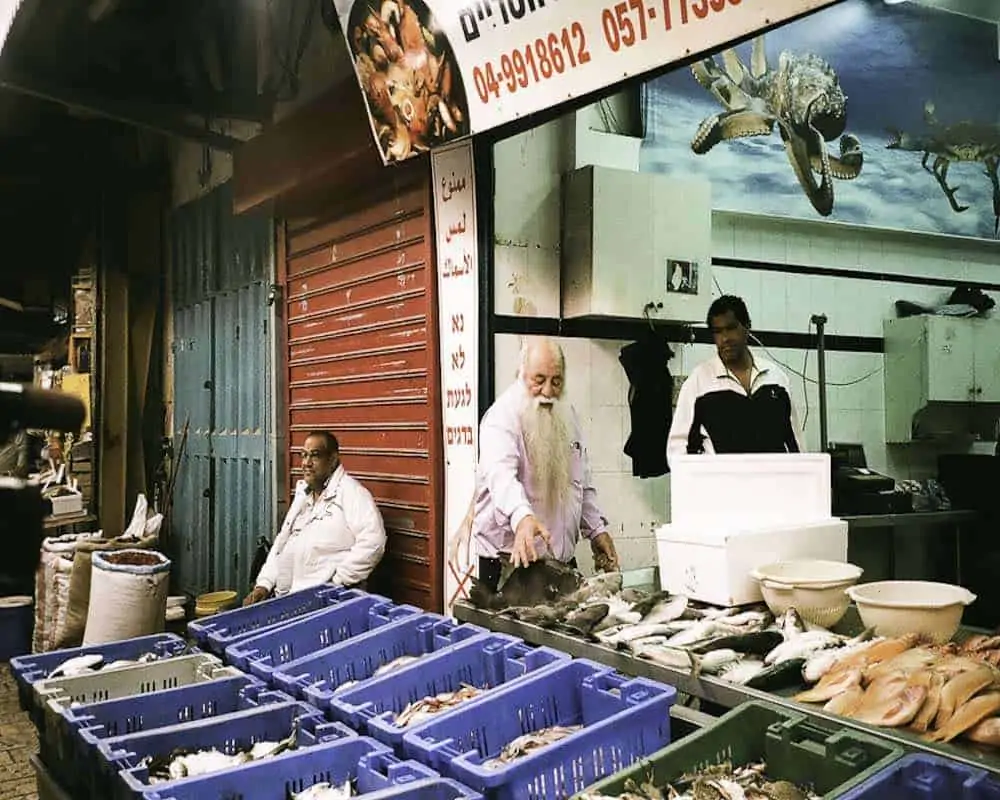 The restaurant's name is the nickname of its legendary owner Uri Jeremias, an old man about town with a Santa Claus beard.
Jeremias is something of an unofficial ambassador of Akko, (or at least champion of the city, and its coexistence). He was also behind the transformation of the Efendi hotel.
Insider Tip: If you're looking for him, try the fish market first. He's there most mornings chatting with vendors and choosing fresh catch for the restaurant.
We made our way to the restaurant through the Templar tunnels. You may have to stoop but they keep an exploring visitor dry on a rainy day.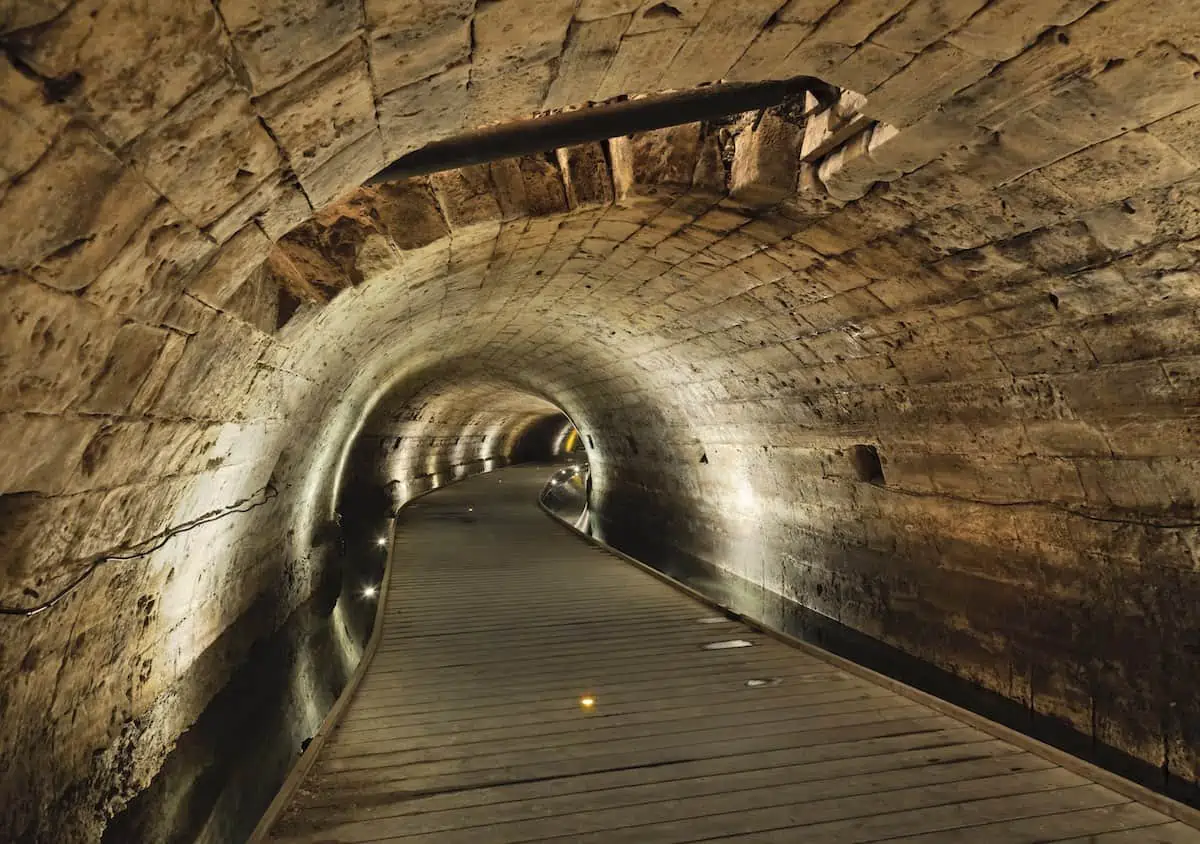 Emerging in front of the Mediterranean, we breathed in the sea air, gathering more appetite as walked until we reached the simple, Ottoman-era glass fronted restaurant.
The rain had stopped but the wind suddenly picked up. It whipped the waves, so they were all but crashing against the restaurant's glass window.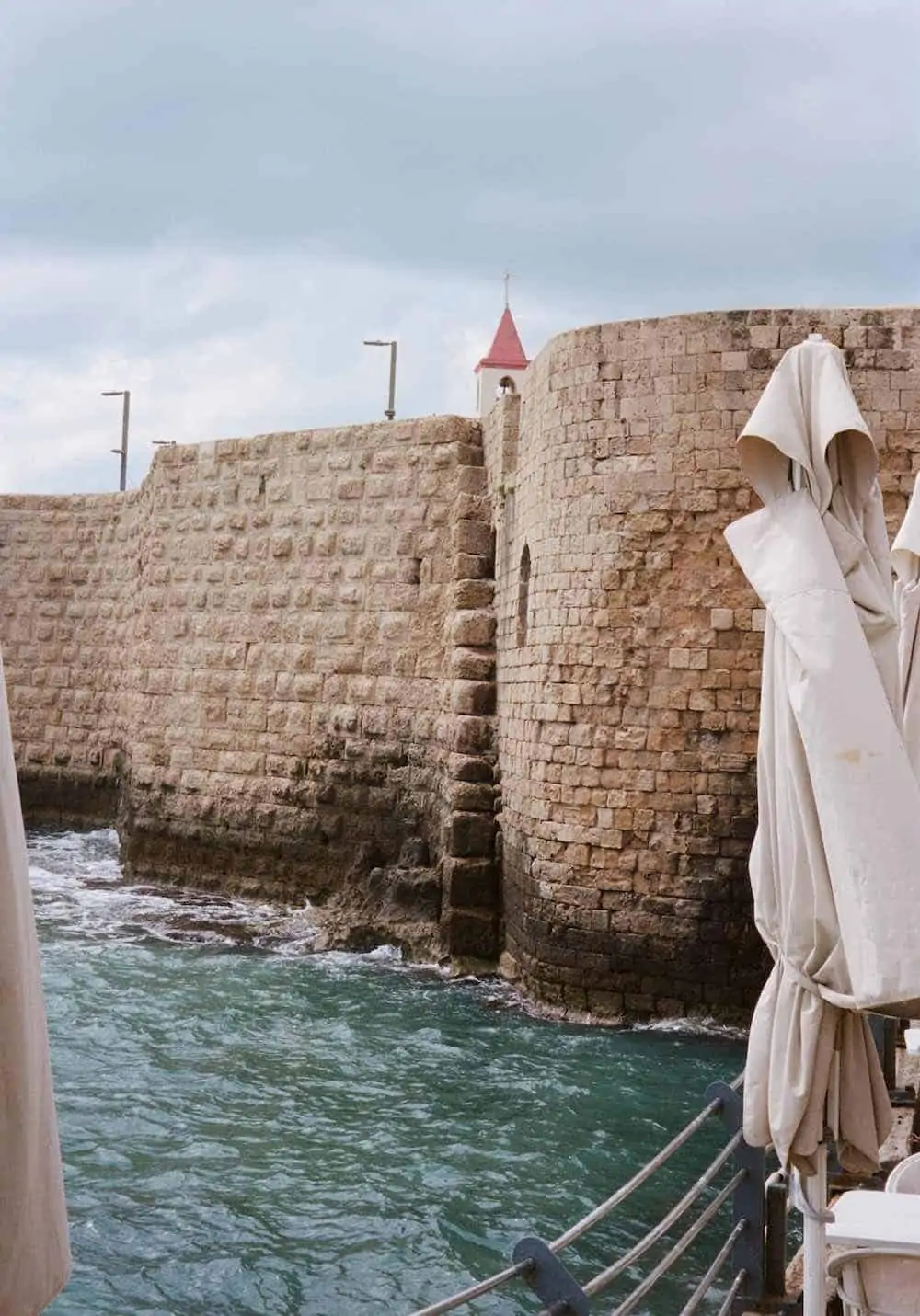 Jeremiah greeted us inside the restaurant's stone walled dining room with crumbling plastered ceilings. He loves to do the rounds and talk to guests. Once seated, we waited for the server to hand us the menu. It never came.
Instead she came over and proposed the tasting menu, explaining how it worked. "Tell us what you don't like and can't eat and we will bring you dishes. Will keep bringing them one at a time until you say stop."
We had already decided on a no hold's bar meal, so said yes. "We're here, let's enjoy it to the max."
We began with a small espresso cup of fresh mushroom soup that tasted of the full flavour of mushrooms. Delicious and warming.
I would have liked more, but soon fresh baked bread and tangy butter came out. Then the appetizers one by one: octopus with zucchini and arak.
Ceviche, the fish sliced thin with olive oil, capers and onions. Then, mains.
We had told the servers we were both here for the seafood. Out came an exquisite dish of shrimp and artichoke in lemon sauce over black rice noodles.
Then coquilles Saint Jacques in cream sauce, ginger, white wine and seaweed. The food was more than fresh and flavourful.
There was a sense of ebullience to it, of incorporating, innovating and celebrating everything around. A very Israeli idea.
We chatted with the two people at the table next to us. A mother and daughter from the US who were likewise enjoying the tasting menu.
"The problem with the tasting menu," we agreed, "is you want to know what's coming next so you can't say stop."
But finally we did. "No more," we told the server. It was early in our trip, but I knew this meal would be a highlight and long linger in my memory.
Early Afternoon – Spices and Coffee at Akko Market
After lunch, we entered back into the Templar's tunnel, emerging at Akko's atmospheric market. Fresh boiled chickpeas were being made into creamy hummus. Just caught fish practically jumped out of plastic bins.
The aroma of cinnamon, cardamon and smoked paprika tempted us into Kurdi Hamudi's well known spice shop. It looked like something straight out of Kipling.
Big gourds, and shoelaces of vanilla bean hung from the ceiling, rows of glass vials of jewel-coloured spices were lined up on a counter.
Every time Hamudi opened one, another aroma mingled with the last, so that there were strata of smells. We stocked up on dates, ras el hanout, a combination of 12 secret spices, sumac and other spices.
Then, we stopped for freshly roasted, cardamon-spiked coffee at Bader's coffee stall (Marco Polo St 25). And I bought a wooden ma'amoul cookie mold from another merchant.
Late Afternoon – Visit El-Basha Hamam – Turkish Bath Museum
We re-entered the tunnel, ambling now towards the historic El-Basha Hamam, or Turkish bath which was built in the 18th century by an Ottoman governor of Akko and also has been recently restored. Today it's a museum.
Though the marble baths are exquisite we found the exhibit rather commercial looking; dummies set around the baths took away some of the atmosphere and made it look a little kitsch.
Still it's worth checking out to understand the importance of hammams in Ottoman history.
Insider Tip: If you want the real thing, there is also a functioning Ottoman-era bath house, Ghattas, at Lighthouse Square in Old Akko, where you can get a good olive oil scrub.
Worth a Stop – Hummus El Abed Abu Hamid Restaurant
Keren Brown, a Tel Aviv based food writer I know, had told me that I had to try treedi, a classic Akko dish consisting of slices of toasted pita and chickpeas in yogurt covered with slivered almond and parsley.
Chef Areen of the amous Akko eatery, Hummus El Abed Abu Hamid restaurant in Lighthouse Square is the master of this dish, said to be Mohammed's favourite dish. Sadly, I didn't have time on this trip.
But back at home, and under lockdown, I did join a Zoom cooking class with Chef Areen where she prepared Treedi. It revived memories of this fascinating city.

Early Evening – Sunset Over Old City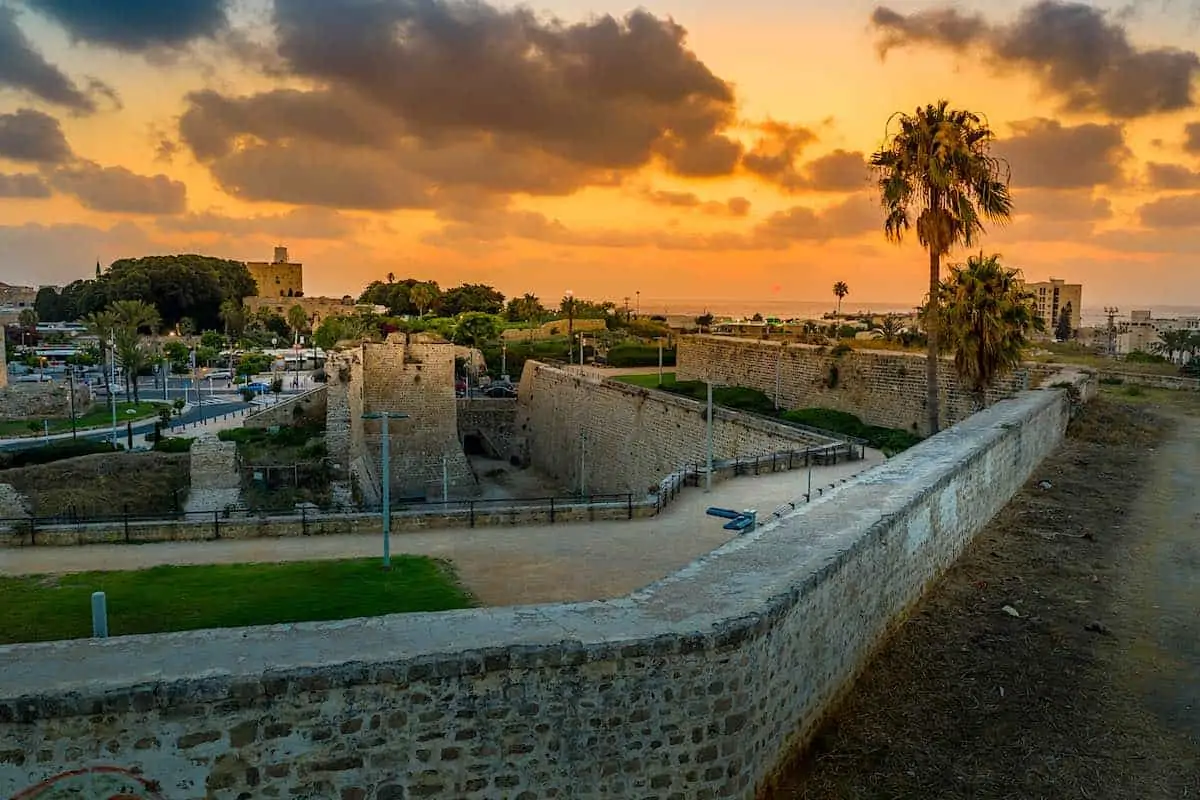 We returned to the hotel before dinner, and debated having a massage from the Effendi's own 400-year-old restored hammam.
But we opted instead to just enjoy the beautiful space and lap up the lavish 19th century Ottoman atmosphere.
We walked out to the hotel's marble floored veranda to enjoy the view and watch the sunset over the old City, and the sea till it sank behind the Galilee hills.
Evening – Sample Street Food and Walk along Argaman Beach
We blew the bank at lunch so we were happy to have simple street food for dinner. At legendary bakery Abu Adnan we picked up a flatbread with tomatoes and onions and another with zatar and olive oil, all baked fresh in an old stone oven.
We also ate oranges we picked up at the market and drank a bottle of rose, then went for a long evening walk along Argaman beach, bordering the Old Town.
Day 2 of 2 Days in Akko, Israel
Family-style Breakfast at Efendi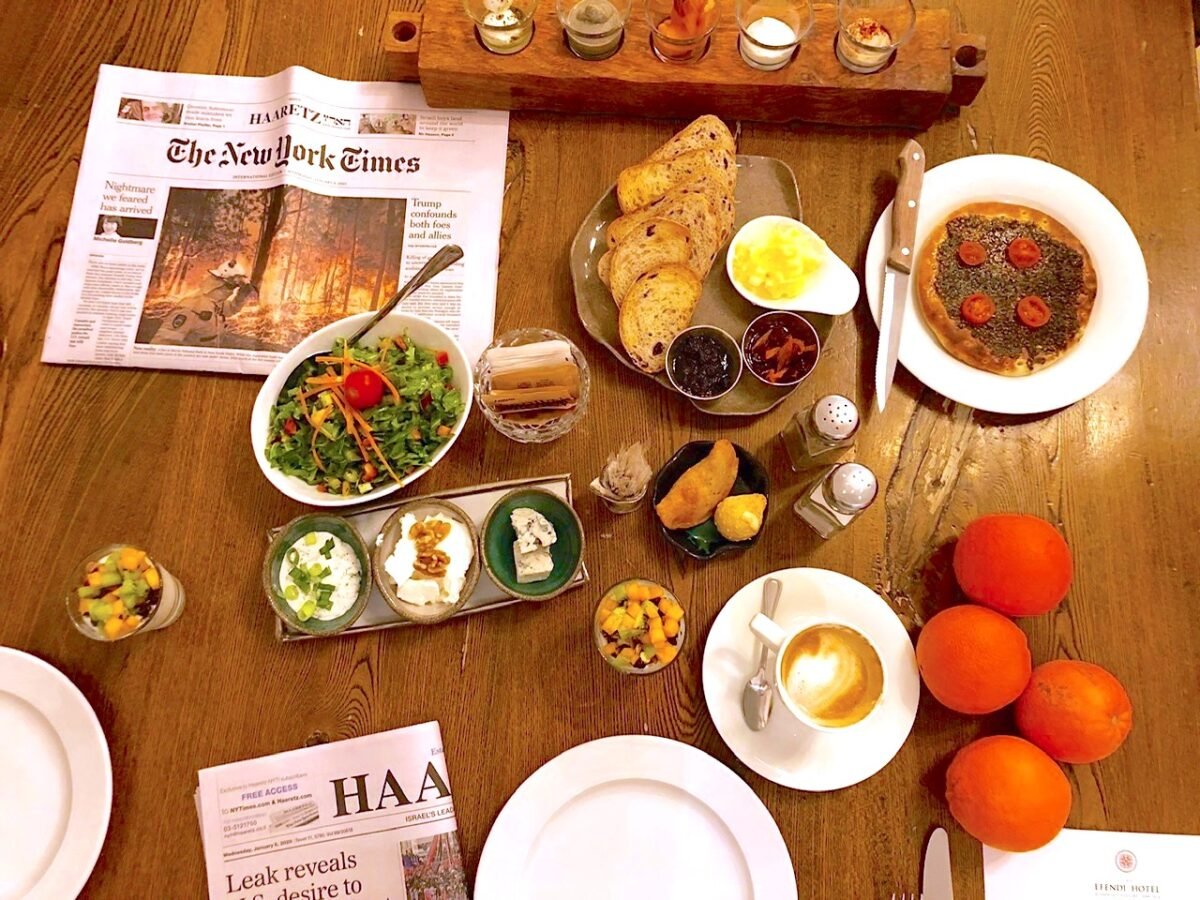 I woke to the sound of the muezzin calling the faithful to prayer from the nearby mosque, and to a sunny sky, perfect for exploring.
Breakfast at the Efendi was divine. Instead of the heaping, overwhelming buffets of many Israeli hotels, this was elegant and a more than substantial morning meal. We enjoyed it family style around a historic knight's table.
It featured delicious boutique cheeses, shakshuka, breads with Mediterranean dips, eggs and fresh squeezed orange juice.
As we got up from the table, the chef handed us a package with some small pastries he baked.
Morning – Explore the Past at Hospitaller Fortress and Knights' Halls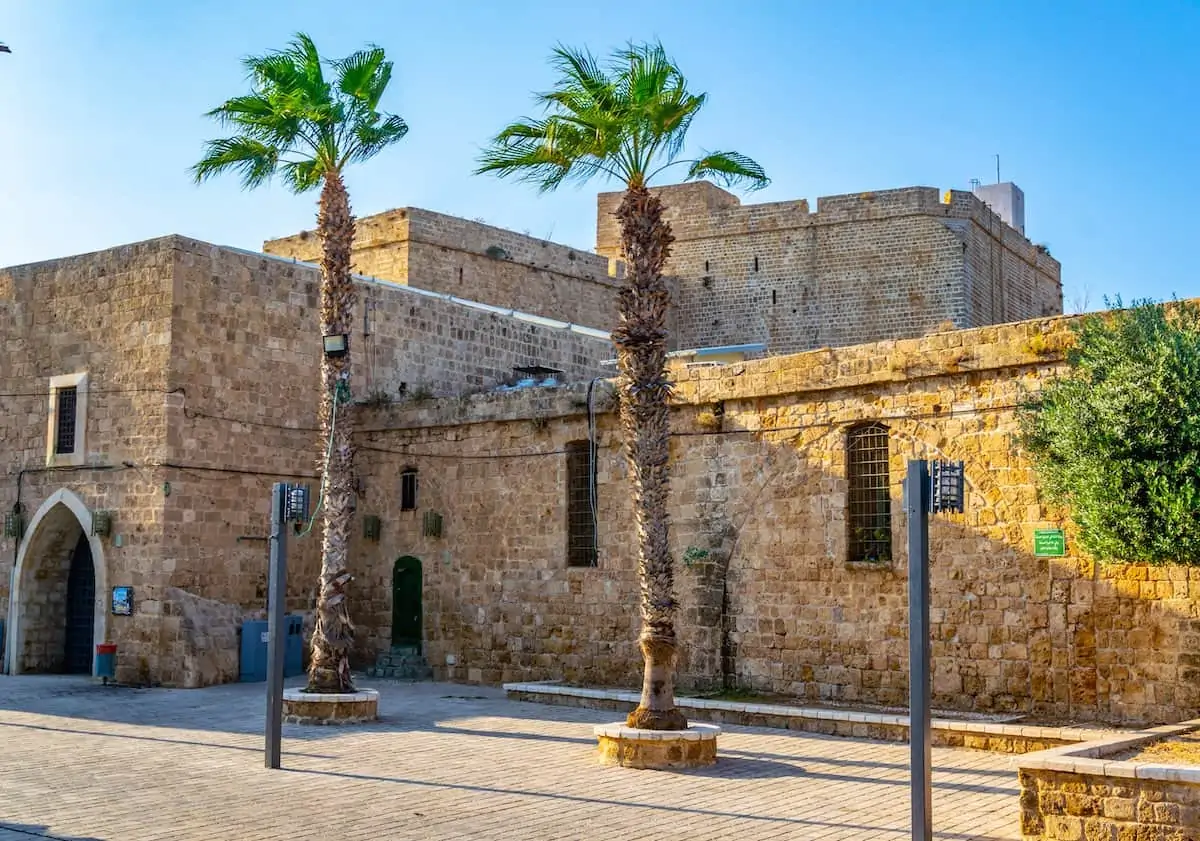 We walked back in time to the underground crusader city where we explored the massive Knights' Halls, in the Hospitaller Quarter built by a military order of warrior monks;
This served, along with the hospital, church and hospice, the many pilgrims coming to the Holy Land in the 12 and 13th-century Crusader era.
The fortress later became a British jail until overrun by Israelis and abandoned in 1947.
Fun Fact: This is the same jail that Paul Newman liberated in the classic film Exodus.
Despite its impressive structure and size, only a small percentage of Acre's Crusader City has actually been recovered.
Related: Learn more about the Knights of St. John at Bodrum Castle, a UNESCO World Heritage Site in Bodrum, Turkey. Or, head to Paphos, Cyprus home to an impressive castle/fort and its own complex and delicious Cypriot cuisine.
Early Afternoon – Stop at Hummus Said and Turkish Bazaar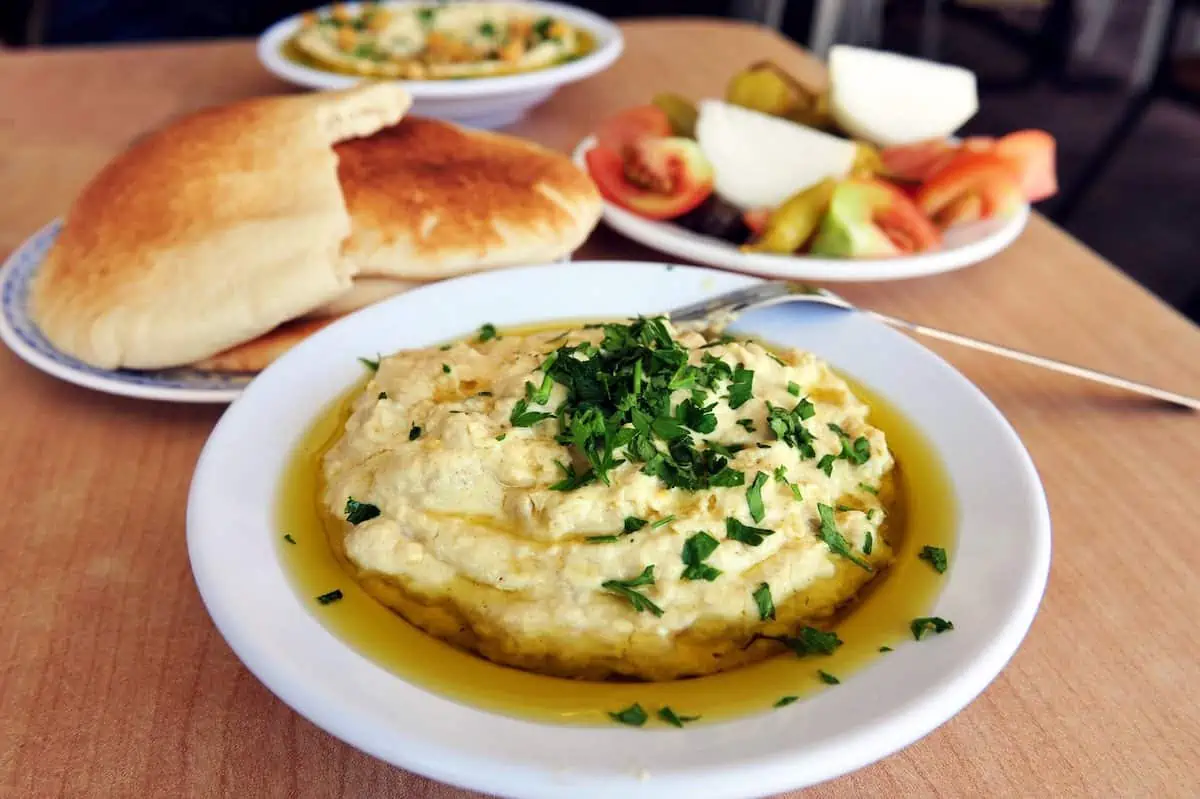 Some of the region's (and thus the world's) best hummus can be found at the marketplace at Akko. We joined the long line at the legendary Hummus Said.
More than a few Israelis have made a trip to Akko just for Said's hummus. There was a kind of organized chaos as people clamoured for their orders around the counter.
After, we continued on to the old covered Turkish Bazaar, built in the late 18th century, where once neglected stalls now host small shops selling art, crafts and souvenirs.
It's also home to several restaurants such as Mercato which serves authentic Neapolitan pizza and Italian dishes with touches of the Mid-East flavour.
Late Afternoon – Stroll the Bahá'í Gardens in Akko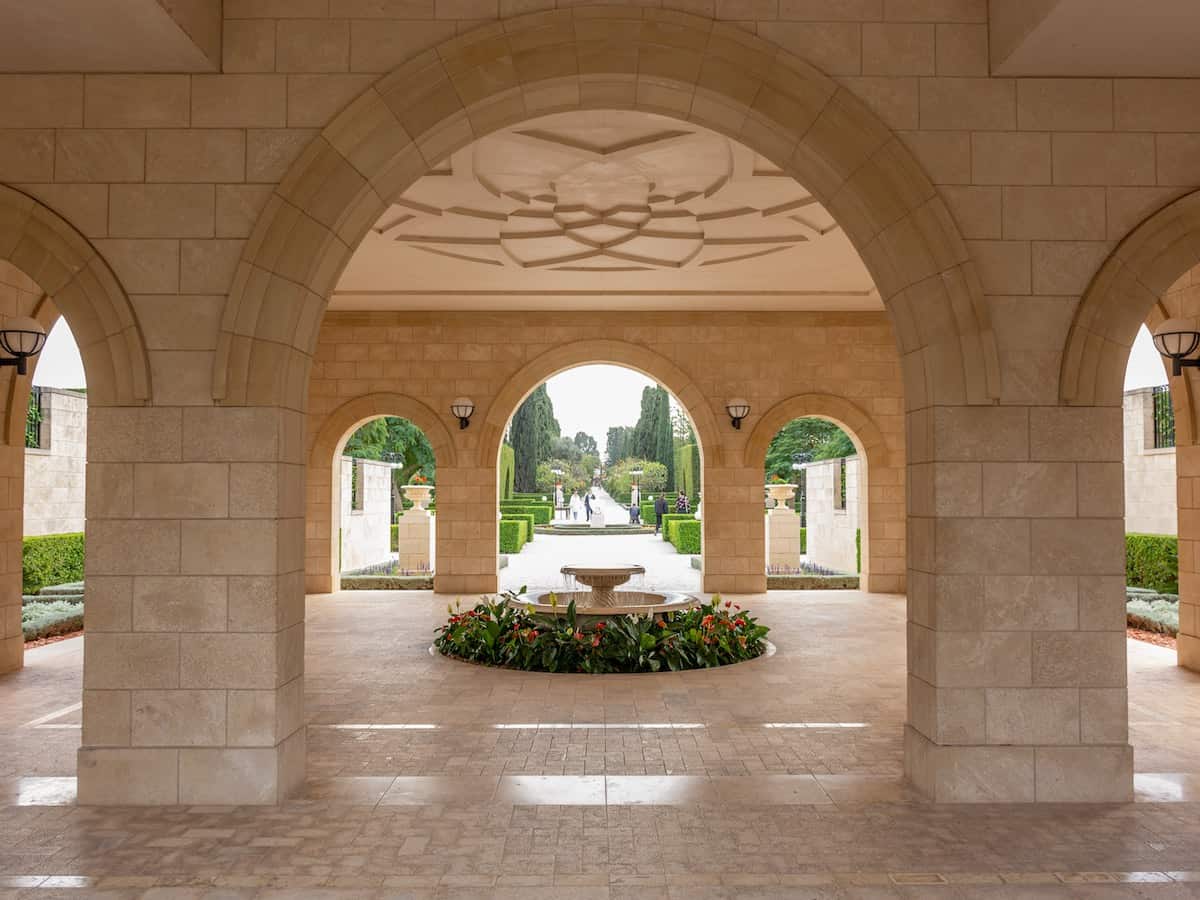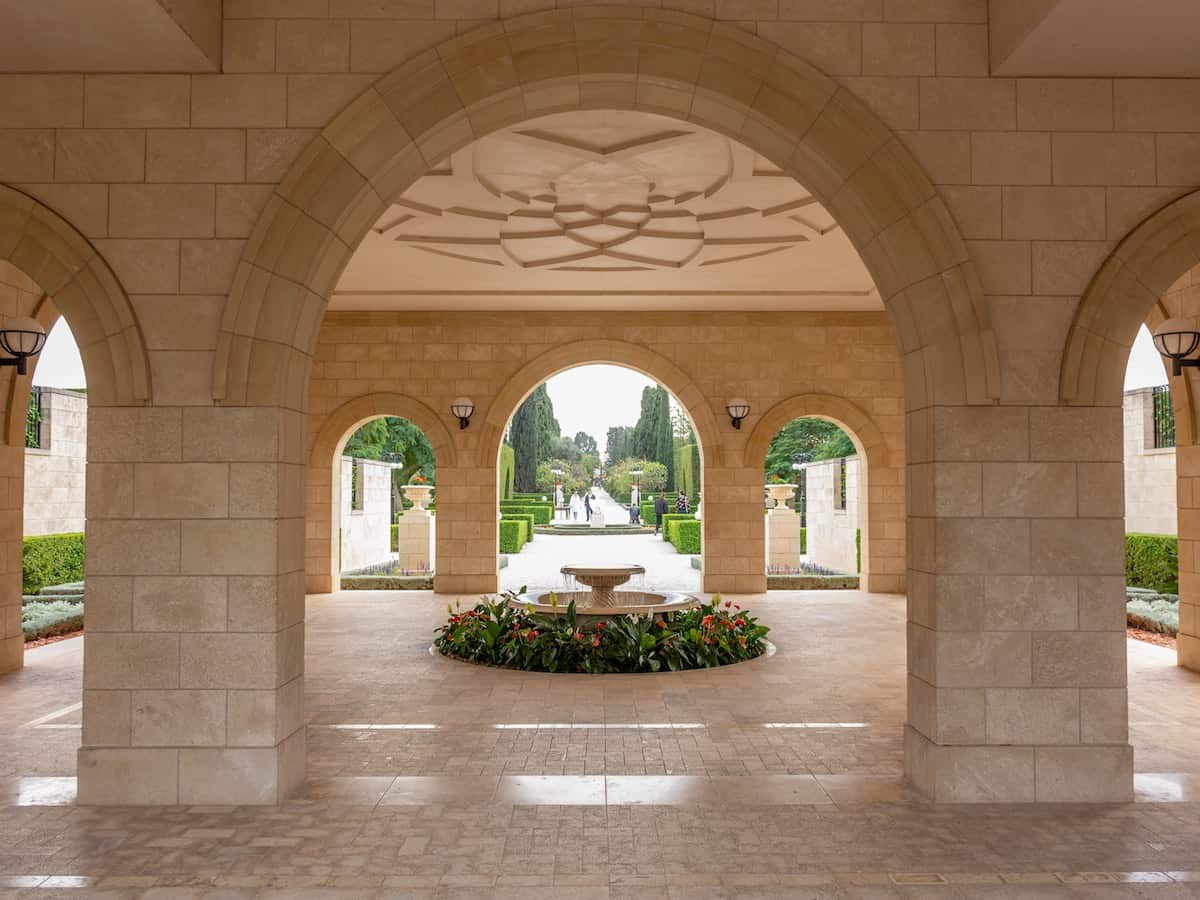 Along with the famous Bahá'í gardens in Haifa, the Bahá'í gardens in Akko make up two of the holiest sites associated with the founders of the Bahá'í religion.
The gardens are set up in a sphere circling the house, the historic resting place of Bahá'u'lláh, the Prophet-Founder of the Bahá'í Faith. The gardens emanate peacefulness and calm as we walked around.
Travel Tip: Reserve in advance online for a one-hour guided tour of the Bahá'í gardens.
Evening – Cocktails at Uri Buri
My friend took the train back to Tel Aviv in the late afternoon. But I stayed on.
I was going back to Uri Buri for an early dinner. Yes, it's a once in a lifetime restaurant, but if in town, I thought, why not make it twice in a lifetime. I was dying for more great food.
But Jeremias also had told me at lunch the day before, that he would be glad to tell me about the renovations of the Efendi hotel. I am fascinated by architecture and design, so I was delighted at the idea.
Back at the restaurant, I sat alone with a cocktail made from oranges from Jeremiahs's son-in-law's citrus garden, but felt comfortable observing the crowd, a mixture of regulars and tourists, and watching the Arab and Jewish chefs jostling in perfect kitchen choreography.
An espresso cup of soup arrived. This time it was corn: creamy, intensely flavoured liquid corn in a cup.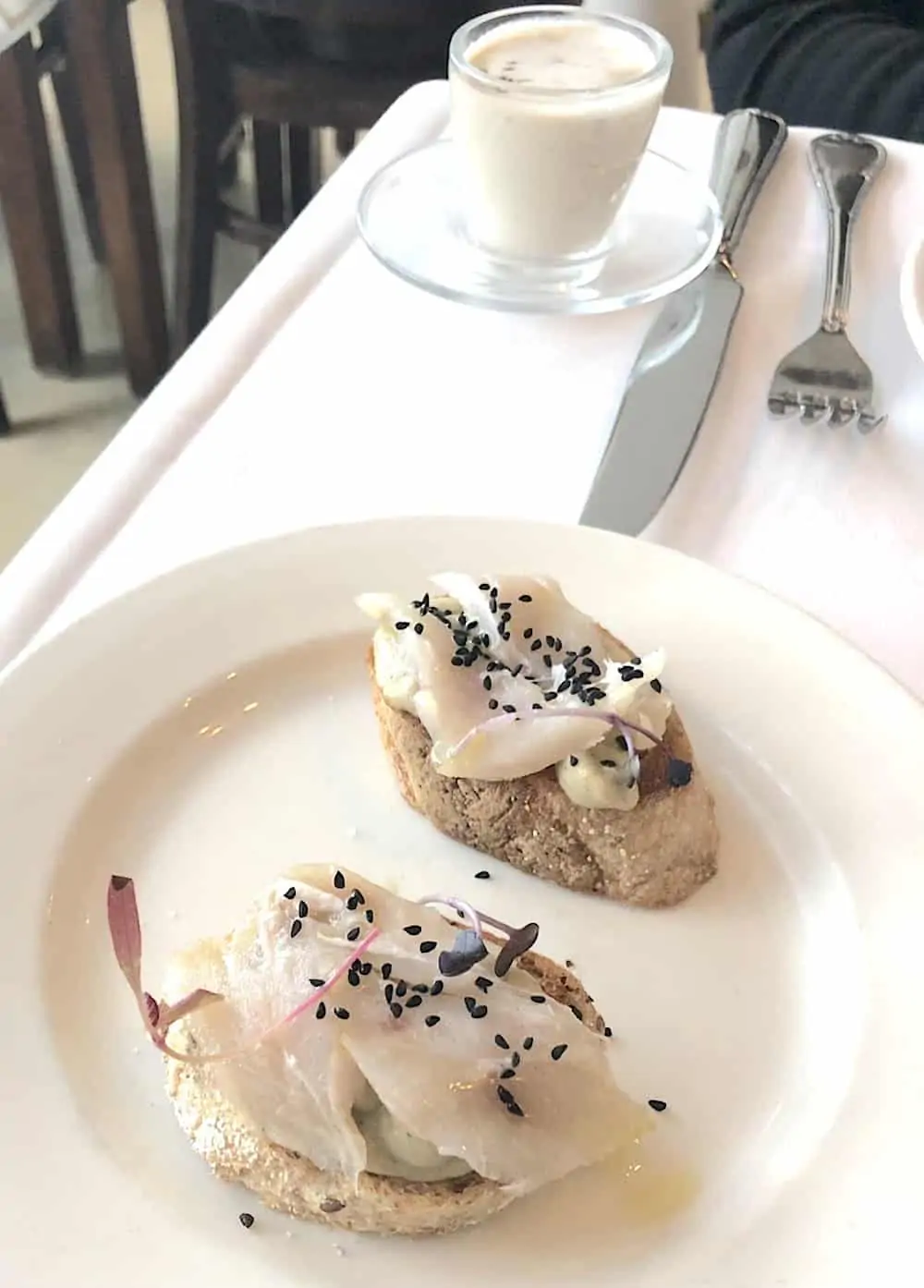 I had a dinner of appetizers: bruschetta with eggplant cream, smoked sea fish and nigella seeds; sashimi with the restaurant's famous Wasabi sorbet.
Jeremias joined me for dessert, ordering me some knafeh, and insisted I also try the grapefruit sorbet with pernod.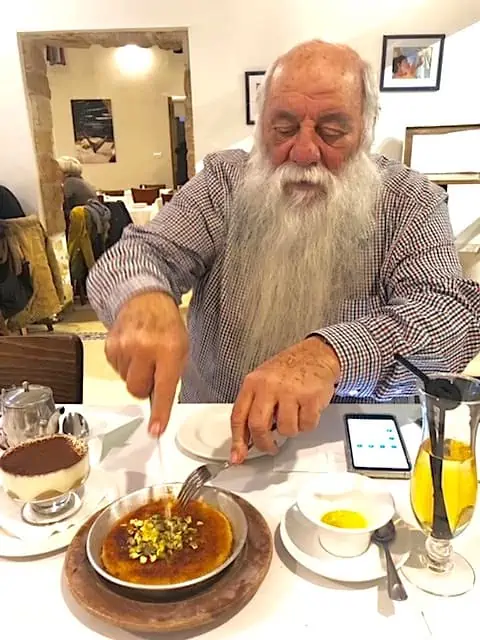 Spotlight on the Efendi Hotel
The Efendi hotel is a passion project. The enormous undertaking of restoring the villas was eight years in the making and used six interior designers as well as artists and artisans to do the frescoed ceilings and restore aspects of the houses' past fusing it with contemporary amenities and furnishings that fit into the original Ottoman style.
Jeremias told me how the ongoing excavations with every building or restoration in the city offers another chapter to the thousands of years of Akko history.
"Archeologists discover more with every excavation and renovation." said Jeremias. "They date the city back to a certain time, but then a new discovery dates it back further. Just when we think it dates back 5200 years, an archeological find dates it back another twenty years. Every year, Akko grows older by twenty years."
When Jeremias originally opened Uri Buri, Akko's old town was a poor and neglected area. "I invested here because I believe in coexistence."
He has also been instrumental in getting locals to open their own homes as guest houses and Airbnbs. That way visitors can experience Akko on a different level, while giving residents new job opportunities.
Note: Many people who splurge for one night at the Efendi move to less expensive accomodations the second. Arabesque Arts & Residency, for example, is a popular guest house choice in the old city.
In the early evening I took the last train back to Tel Aviv. Two days was a good amount of time to explore the highlights of Akko.
But with any place, especially one so ancient there was so much more I would have liked to have seen. And tasted.
Israel Travel Planner
By Train: Israel Rail Israel Railways operates a train from Tel Aviv Center Station to Akko hourly. The trip is about an hour and a half.
Buy a "Rav Kav" (transportation card that also works on local buses as well as trains, or a ticket through an app on your smartphone.)
It's a quick cab ride from the train station to the old town.
By Car: Akko is 164 km from Jerusalem and 124 km from Tel Aviv along Yitzhak Rabin Hwy/Route 6. You won't really need a car in Akko. But if you do drive, parking is, generally speaking, easy to find in the city.
Tourist Israel is a good source if you wish to take an organized tour.
How to Get to Israel: Emirates flies from Toronto (and many other international cities) to Tel Aviv. For the ultimate in comfort (and luxury), Emirates First Class offers ultra posh private suites with floor to ceiling windows, beds designed by NASA, sea kelp infused pyjamas and more on certain flights and aircraft.
Where to Stay:
Luxury: Check rates and availability at The Efendi Hotel in Akko, Israel on Booking.com.
Mid-range: Check rates and availability at Arabesque Bed & Breakfast in Akko, Israel on Booking.com.
Save to Pinterest!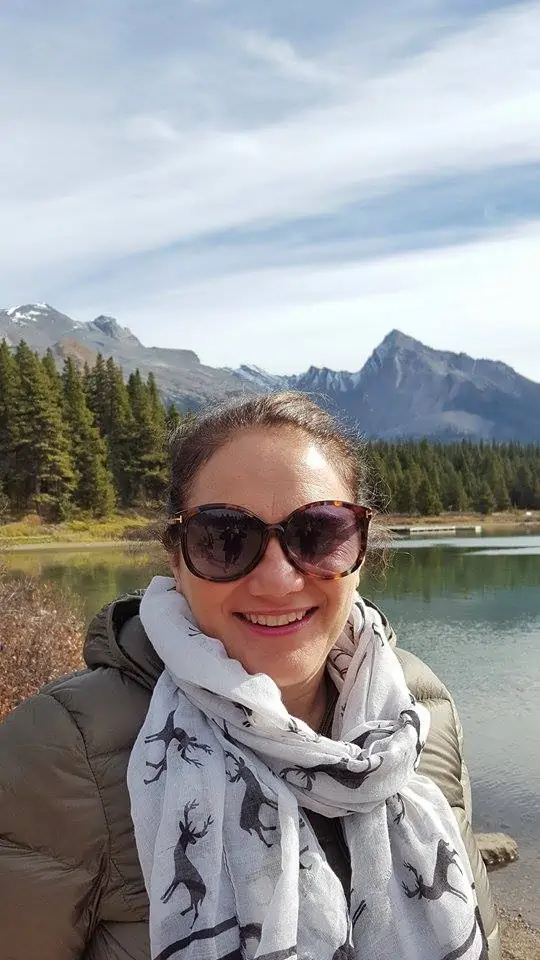 Karen Burshtein is an award-winning journalist writing often about the Middle East, France, Italy, Finland, South Africa, and her native Canada for publications across the globe. She is equally interested in ancient history and contemporary culture.