We may earn income from advertising links in this post. Please read our Disclosure Statement for details. Be sure to check COVID-19 restrictions before you travel!
There's no better way to dive into a culture than by sampling the local cuisine. Over the course of 10 years of reviewing restaurants for the Fodor's Guide to Oaxaca, testing recipes for Lonely Planet's Mexico from the Source and living in Puerto Escondido, I've enjoyed a wide range of foods in Mexico.
I'm convinced that if you're looking to try some authentic Oaxacan food along with your beach vacation, there's no better place to begin your adventure than Mexico's Pacific Coast.
Here are a few of the most adventurous foods to try when visiting Huatulco or Puerto Escondido:
1. Chapulines
Crunchy, toasted and spiced grasshoppers are delicious in tacos or on their own as a quick snack. Take a Puerto Escondido food tour with Gina's Walking Tours for an introduction to these crispy critters or buy some in Benito Juarez Market and experiment with them as topping for your favourite dish.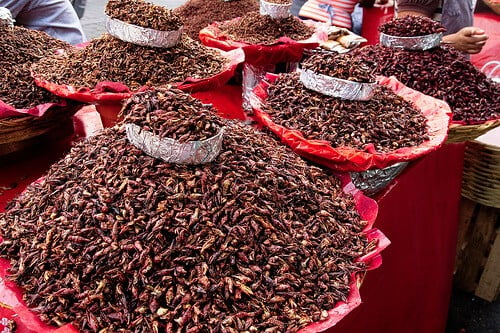 2. Tamales de Tichinda
These warm tamales are stuffed (and accompanied) by fresh black clam-like mollusks. Look for them near the Colotepec River or try them in the towns surrounding Chacahua Lagoons National Park. You can also see them for sale on Saturdays at the Benito Juarez Market.
Read the Puerto Escondido Travel Essentials Guide for more details on Benito Juarez Market.
3. Salsa de Chicatanas
At the beginning and end of the rainy season, locals gather baskets full of flying ants as the insects escape from their flooded nests. The black ants are then toasted on a clay grill called a comal and then ground in a molcajete to make salsa de chicatanas, a treasured spring delicacy. The ants are so prized you won't often find them in the market so your best bet is to search out a salsa cooking class with The Mexykan where you'll prepare and sample a variety of salsas.
Or, check what's on the culinary radar for one of the local chefs such as Chef Quetzalcoatl Zurita who specializes in Oaxacan cuisine at his restaurant Almoraduz on the Rinconada in Puerto Escondido. You can also find chicatanas adding a boost of flavour and crunch to the risotto served at Hotel Escondido, Grupo Habita's chic collection of beach bungalows.
Read Michele Peterson's story in Fodor's for 10 Reasons to Visit Oaxaca Mexico in 2018
4. Huauzontle
Huauzontle pronounced "wah-zont-lay" is a wild plant that grows high in the Sierra Madre Sur mountains above Puerto Escondido and Huatulco. A member of the amaranth family, it's a power vegetable packed with vitamins and minerals.
It's delivered to Puerto by farmers only on Mondays and Fridays, so it has to be ordered a day or more in advance for preparation in one of the best Puerto Escondido restaurants such as El Jardin de Rafaela.
Read more about Where to Chow Down on Huauzontle in Puerto Escondido
5. Cuitlacoche
This unique black corn fungus is so revered for its earthy flavour that it's known as the Mexican truffle. Appearance-wise, the delicacy may be as appetizing as a lump of coal, but the black gold fetches top dollar in local markets. You can sample cuitlacoche at Terra-Cotta Restaurant at Mision de Los Arcos in La Crucecita, Huatulco.
6. Tinchuiche (river anchovies)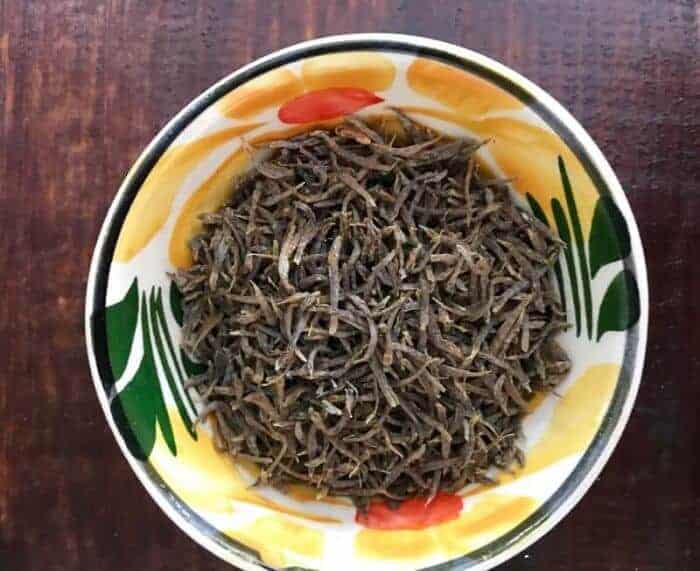 It may look like a worm but tinchuiche is actually a tiny fish that tastes like an anchovy. Sample this seasonal fish gathered from the Zimatan river near Huatulco, in a 4-hour, small-group cooking class at Chiles & Chocolate Cooking School. Taking a cooking class is one of the top things to do in Huatulco.
You'll get a hands-on opportunity to use the tiny salted tinchuiche fish in salsas where it adds a boost of flavour. Other regional ingredients you'll learn to work with include nopal, chapulines (toasted grasshoppers) and Pacific Coast shrimp. Cost for the course includes transportation pick-up/drop-off at Huatulco area hotels as well as lunch, recipe manual, gift bag and more.
Read more about Ultimate Guide To Huatulco Beach Hotels
7. Mezcal de Pechuga
There's a reason that artisanal mescal, tequila's quirky cousin, is steadily earning its place on bar shelves worldwide. While tequila production is restricted to only one type of agave, skilled Oaxacan mescaleros craft mezcal blends using up to 20 different types, resulting in subtle nuances in flavour ranging from citrusy to smoky. Learn more about the differences between Mezcal vs Tequila.
For an adventure in Puerto Escondido, try a shot of Don Franco ( a potent local liqueur), enjoy a mezcal tasting in one of the shops on the Adoquin or for something very authentic stop by the Los Cantaros Mezcaleria shop on Highway 200 just outside Puerto Escondido. If you're a guest at Vivo Resort or Gecko Rock Resort, they will often include a stop at this artisanal producer on their way to the airport, into town or on other shuttle trips.
You can also visit this roadside tasting bar independently and sample a selection of artisanal mezcals distilled in clay pots as well as mezcal distilled in copper bowls. Los Cantaros also has a wide selection of cremas infused with sweet flavours such as coconut, passion fruit, strawberry and coffee.
You can also try artisanal mezcal in various shops in Pluma Hidalgo coffee country in the mountains above Puerto Escondido and Huatulco.
Mezcal fans should seek out mezcal de pechuga, crafted by suspending a raw chicken breast over a vat of mezcal. I sampled this delicately floral mezcal in the valleys near Oaxaca City during the Spirit of Oaxaca Mezcal and Beer Lover's Cultural Tour. It's often accompanied by worm salt, used to rim a glass for a mezcal cocktail.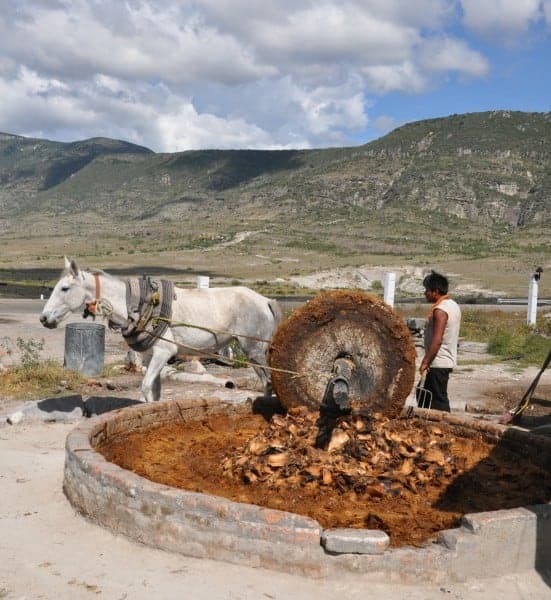 8. Nopal
Visitors are likely to raise an eyebrow when first spotting the prickly plant on the menu, but nopal cactus is one of Mexico's most iconic ingredients. Try it for yourself at the market, where you can watch Zapotec vendors remove the spiky spines, peel the rind and then stack the shiny paddle-shaped leaves to go. With its delicate, tangy flavour, cactus is versatile.
9. Chocolate Mole
This staple, which can refer to a variety of traditional sauces, takes hours to make and is a must-have at any Mexican celebration and worth a try in Puerto Escondido restaurants. Though Oaxaca is known as the Land of Seven Moles, if you're forced to choose just one, go for the mole negro.
This rich, spicy and smoky-sweet sauce made from tomatoes, almonds, raisins, chocolate, plantain and chilis, including the rare chilhuacle variety, grown only in southern Mexico. It might seem unusual to eat chocolate as a main course but try mole negro once and you'll soon be a convert.
10. Paletas
Icy paletas, made by freezing purified water with sugar and fruit, offer a quick and delicious way to cool off in the heat. In Puerto Escondido you can expect to find watermelon, guava and mango along with exotic creations like gooseberry or jicama with chili and gardenia petals. It's even possible to find adult-only, boozy versions of paletas spiked with tequila or mezcal.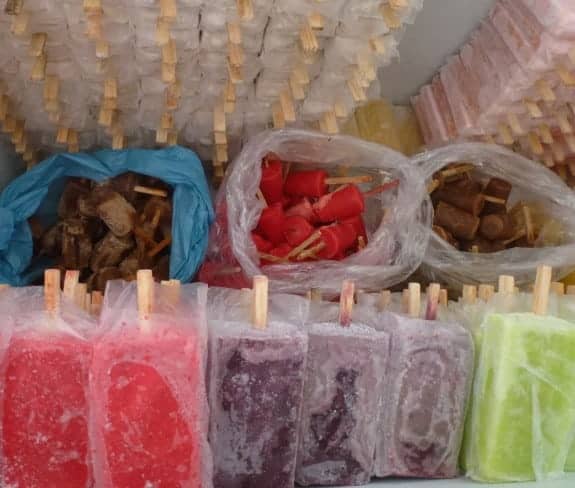 ---
Disclosure: A Taste for Travel participates in affiliate advertising programs. By providing handy links to our affiliates, we may earn a commission. All opinions are our own and we only link to companies and products that we trust and believe in. Read more on our Disclosure Page. Thank you for supporting our website!
Travel Guide for Puerto Escondido Food, Restaurants and Things to Do
And that's not the end of things to do in Puerto Escondido! Read our Essential Puerto Escondido Travel Guide for more information on hotels, beaches, things to do, day trips and more about Puerto Escondido restaurants. Or go directly to these posts:
9 Tips for a Perfect Romantic Getaway in Puerto Escondido, Oaxaca
Beginner's Guide to Puerto Escondido Beaches
Body and Soul Massage Therapy in Puerto Escondido Mexico
7 Awesome Natural Wonders in Puerto Escondido