We may earn income from links in this post. Please read this Disclosure for details.
If you're looking to try some authentic Oaxacan food during your beach vacation, there's no better place to begin your culinary adventure than Puerto Escondido, Mexico.
While Mexico's southern Pacific Coast is famous for its surfing, it also happens to be in the state of Oaxaca.
From mole negro to chapulines (toasted grasshoppers) to "string" cheese, Oaxaca's traditional cuisine is known for its complexity and diversity.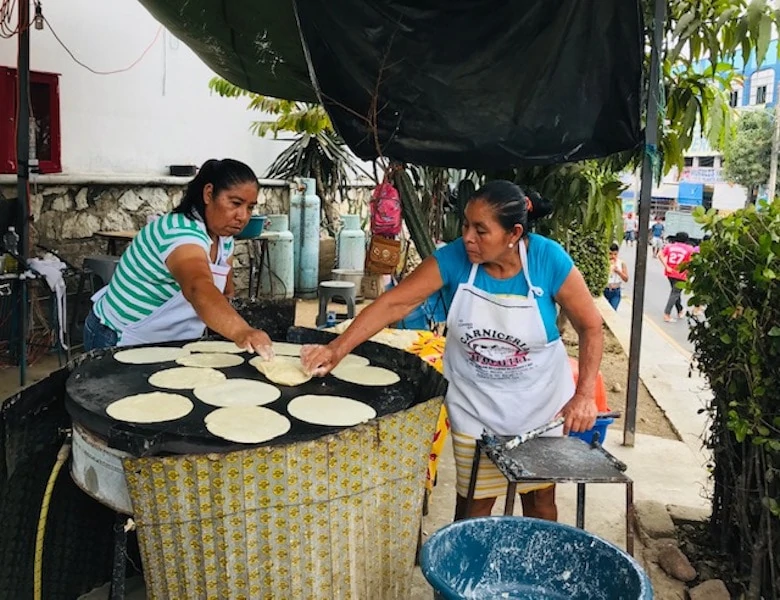 To add to the mix, Puerto's large community of expats have contributed global flavours — from Italian to Polish to Middle Eastern — making it an especially cosmopolitan food scene.
This means that, in addition to all the great things to see and do in Puerto Escondido, there's a lot of delicious food to enjoy!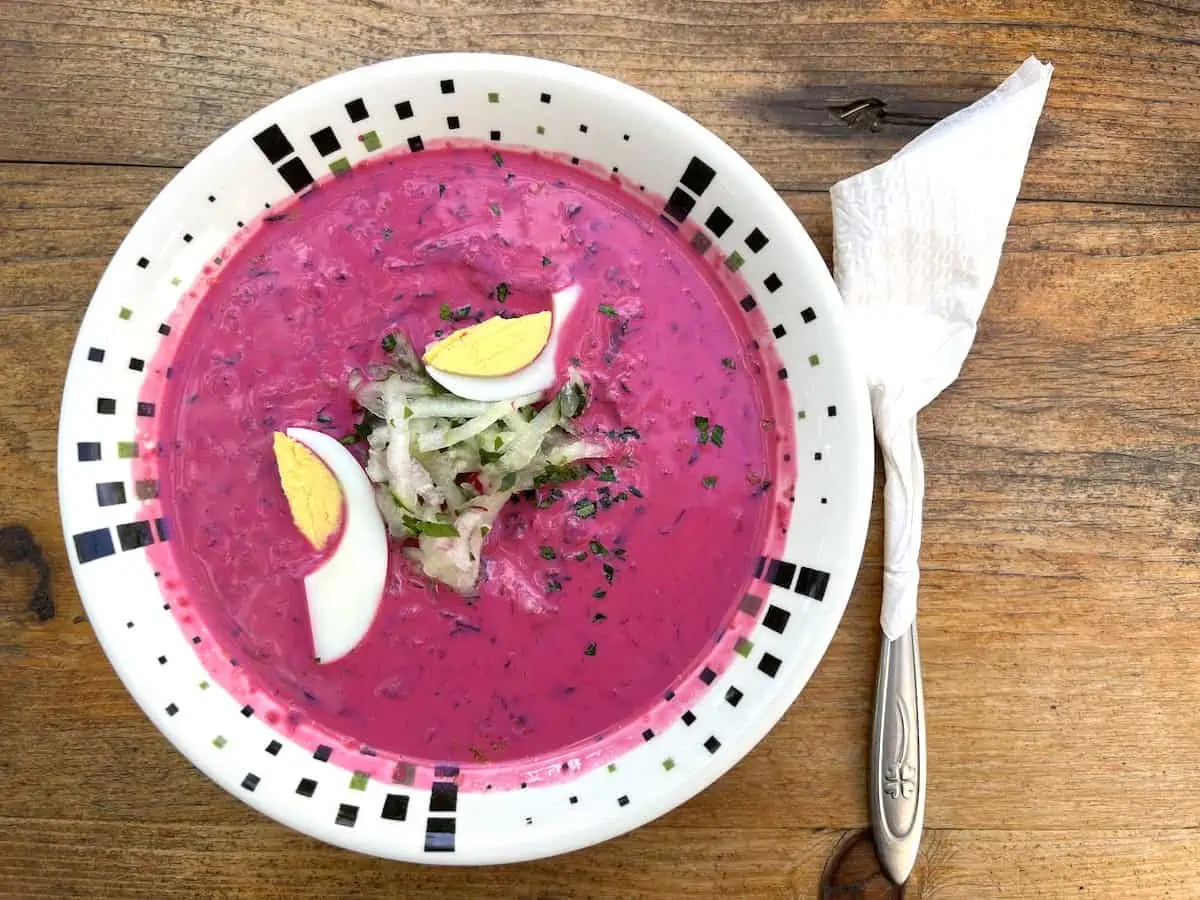 I've been writing for Fodor's Guide to Oaxaca, testing recipes for Lonely Planet's Mexico from the Source and spending time in Oaxaca since 2003.
One thing I've learned is that the Puerto Escondido food scene is ever-evolving.
Just as we lament the closure of favourite eateries such as Los Caracoles, along comes a new guided food tour and an exciting new restaurant such as La Escondida with its fresh, chef-driven menu.
So, if you're trying to decide where to eat in a city known for its great food, here are my top picks of the best restaurants in Puerto Escondido (for lunch/dinner) to put on your must-try list.
Looking for breakfast or brunch? Check out our list of the 10 Best Breakfasts in Puerto Escondido
1. Almoraduz Restaurant – Acclaimed Gastronomic Experience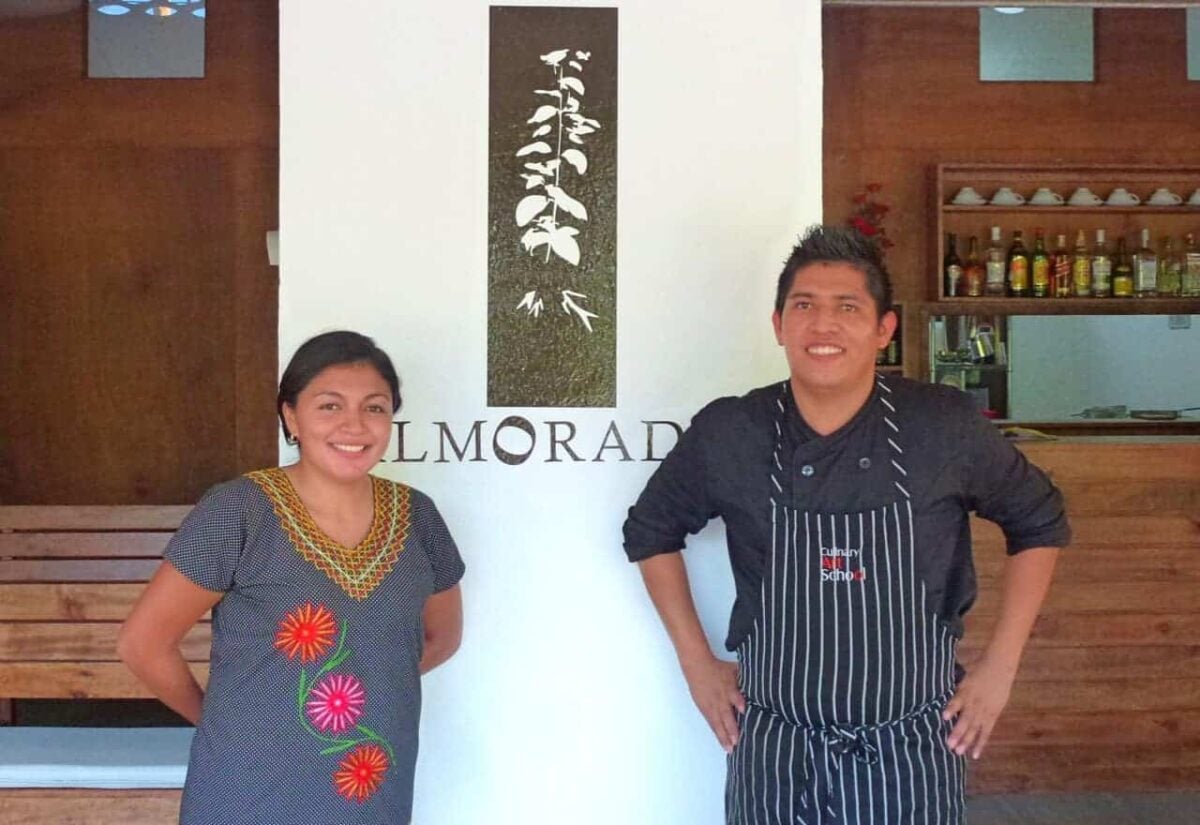 The accolades keep rolling in for Puerto Escondido's most acclaimed restaurant. Almoraduz Restaurant was selected as one of 250 of Mexico's best restaurants for the Larousse Guía México Gastronómico 2022.
Chef/owners Shalxali and Quetzalcoatl Zurita are the creative forces behind dishes and cocktails that are a spin on traditional Oaxacan cuisine.
Sauces burst with flavour, punched with chile-fuelled power and locally-sourced herbs such as pungent epazote.
Sample regional ingredients from the Oaxaca Coast such as Istmeño cheese, tepiche (a flavourful herb) and beef tongue in chapuline (toasted chile grasshopper) sauce. Desserts can include treats like chocolate and maracuyá (passion fruit) truffles
This is a prime spot to sample a jamaica margarita featuring local mezcal. So if it's available, be sure to order it!
Reservations: 954 582 3109
2. Espadín Restaurant – Fine Dining with a View
If you have time for just one restaurant and crave a fabulous daytime view, Espadín should be top of your list of where to eat in Puerto Escondido.
Located within the picturesque boutique hotel Villas Carrizalillo on a cliff overlooking the beach of the same name, it offers a memorable dining experience that's fresh and locally-inspired.
Fish dishes are stand-outs. Even the fish sandwich with its latticework of Baja style chipotle sauce is a winner! Be sure to try the roasted beet salad, chicken in mole negro and shrimp tacos.
The restaurant-bar also carries a wide selection of high-quality mezcal including their house version.
Reservations: 954 164 3363
3. Turtle Bay – Popular Restaurant on the Rinconada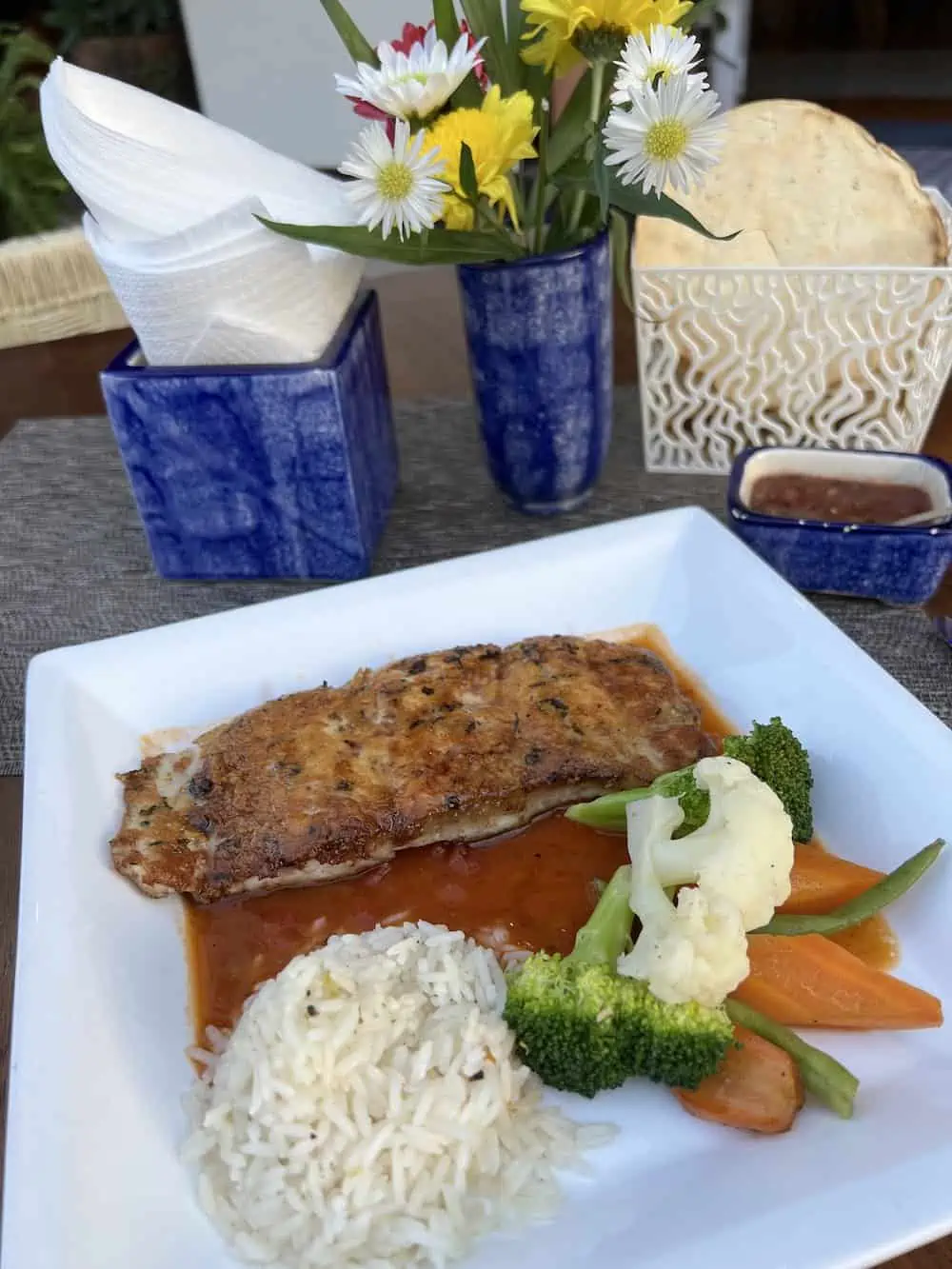 Steadily rising prices haven't dampened the enthusiasm for Turtle Bay Restaurant located on a popular stretch of Benito Juarez boulevard on the Rinconada. It continues to regularly tops the list of restaurants in Puerto Escondido on Tripadvisor and other user-generated review platforms.
You can expect to pay around 290 MXN pesos (US$14) for a mahi-mahi entree, which is at the upper end among restaurants in Puerto Escondido, especially given its curbside setting
However, its spotlessly clean premises, attentive service and the consistency of its dishesmakes it a reliable choice especially if you're dining with a small group.
The menu includes mahi-mahi served a variety of creative ways (such as parmesan-crusted, coconut-pineapple sauce and chardonnay reduction), hearty burgers and even rack of lamb crusted with mustard and fresh rosemary.
Many of the entrees come with very plain rice or pureed potato and steamed vegetables so you'll welcome the accompanying house made hot sauces to add a boost of flavour.
On busy weekends or peak times, it's wise to make a reservation. Phone: 954 147 7469
4. Escondido Brunch & Seafood (Ben-Zaa Hotel) – Best New Spot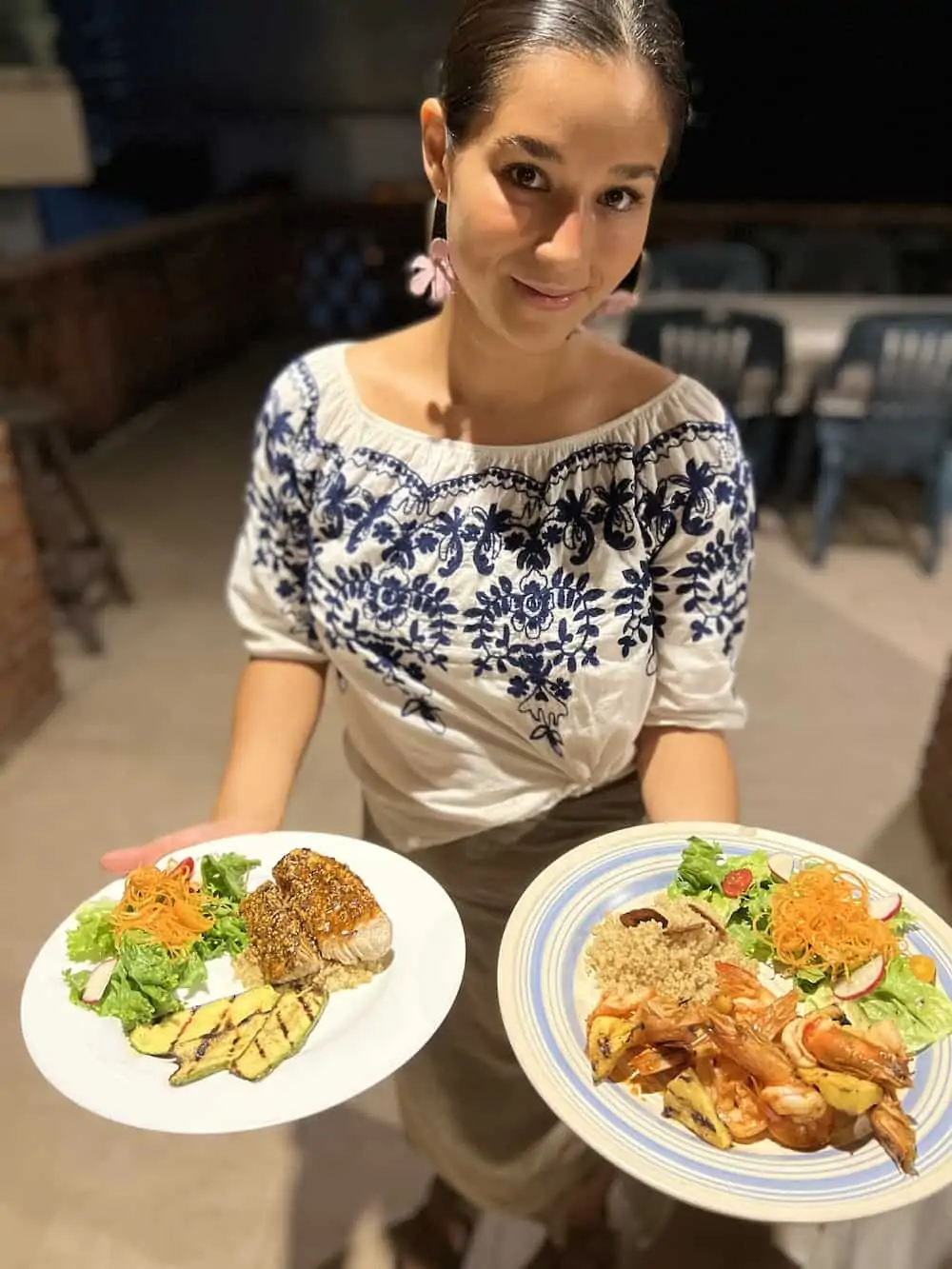 Affectionately known as the "Ben-Zoo" among regulars and fans of the lively Happy Hour, this hotel and restaurant bar is a Puerto institution.
Especially popular among Canadians and Americans, the hotel offers very affordable hotel rooms (some with balconies), a large lending library for guests and fabulous sunset views from the rooftop.
Its new restaurant Escondido Brunch & Seafood offers an evening menu for around 100 to 180 MXN pesos depending what's on the menu. Their margaritas get top votes.
Escondido Brunch and Seafood is helmed by Chef/Owners Rodrigo Herrera and Alejandra, who along with their team, hail from Chihuahua.
Chef honed his culinary skills at upscale restaurants in Torreón and Monterrey as well as Xcaret and Banyan Tree Mayakoba Riviera Maya, Mexico.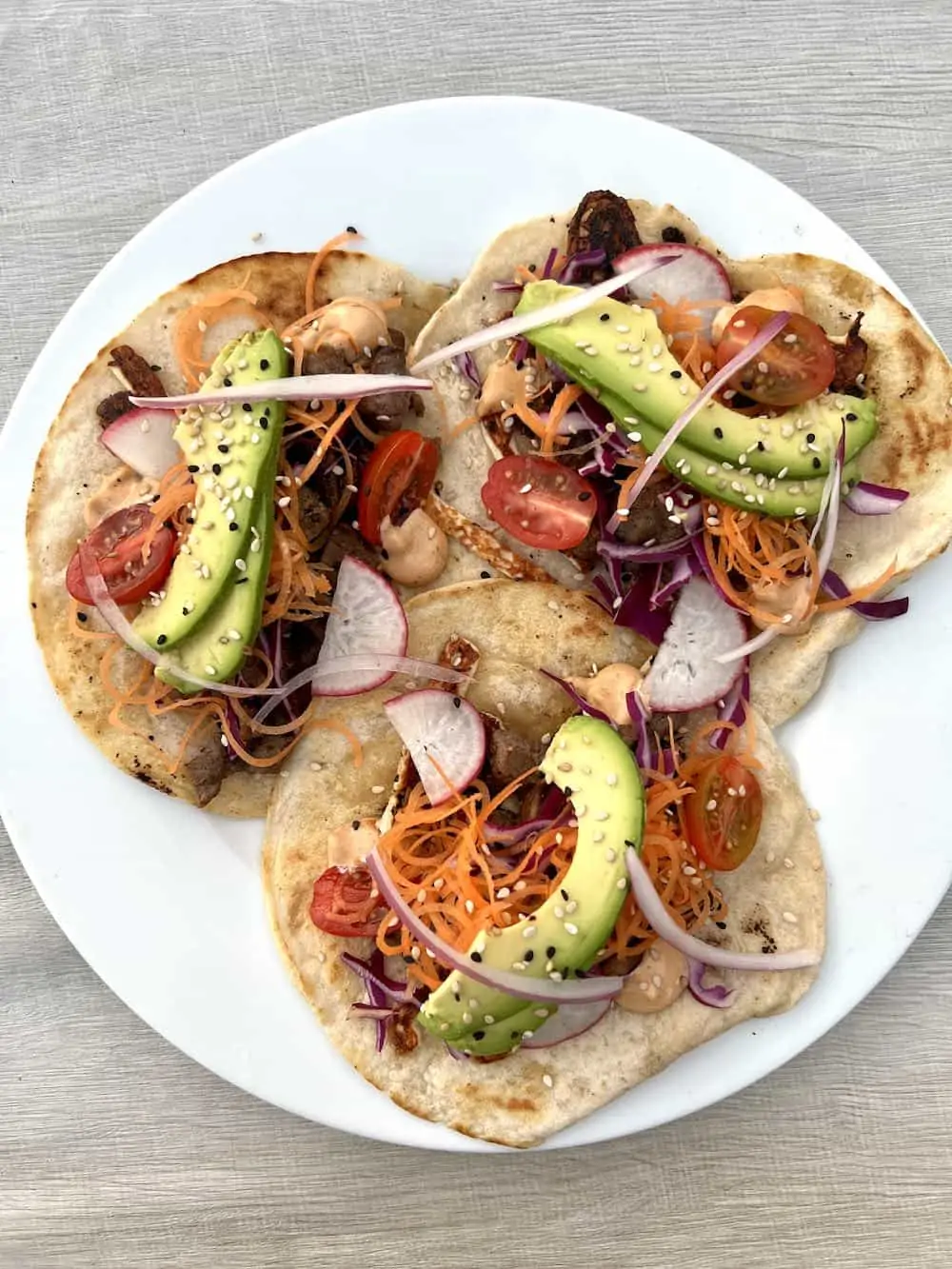 The sophisticated presentation and styling of dishes such as mahi mahi crusted in sesame seed, paella and shrimp flambeed in mezcal reflect Chef Rodrigo's experience gained at a 3 Michelin star restaurant in Barcelona.
The flavours capitalize on the bounty of the seasonal ingredients available from land and sea on the Pacific Coast. Escondido Brunch & Seafood has some of the best food in Puerto Escondido right now.
Food fans are hoping this culinary team decides to make Puerto Escondido their permanent home.
Ask about their new cooking classes too!
Insider tip: Take home a jar of their house-made salsa macha for just 70 pesos. This smoky-spicy, slightly nutty salsa in oil is delicious with tacos, quesadillas and breakfast eggs.

Located at Calle Tercera Sur 303 – entrance is at the back of the hotel in the Hidalgo neighbourhood.
5. El Nene – Hottest Table in Town on the Rinconada
Under new ownership and offering great value, el Nene Bar & Grill is so popular it's almost impossible to score a table!
The revamped menu features an exceptional selection of artisanal mezcals such as cuishe, ensamble (a blend of two or more species of agave), tobala, tepeztate and more.
Sip them straight or in one of the creative mezcal cocktails.
There are several fantastic grilled meats and burgers to choose from on the menu.
If you have time for only one, go for the seared tuna, served with creamy mashed potatoes and a fresh salad topped with a delicate house-made vinaigrette.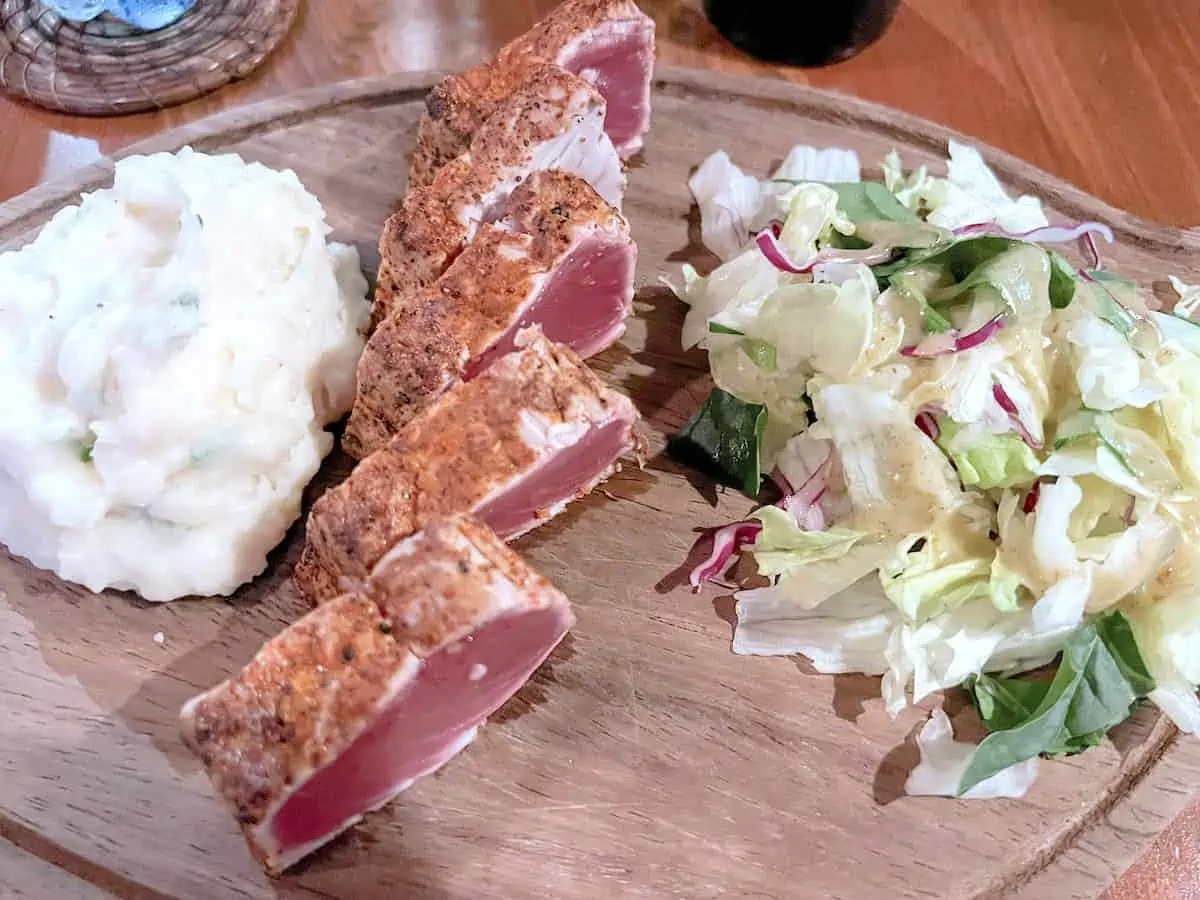 El Nene is located at a new location on Boulevard Benito Juárez. It can get warm so try to arrive early or very late.
954 102 5701
6. El Rincón de Los Almendros Restaurant and Grill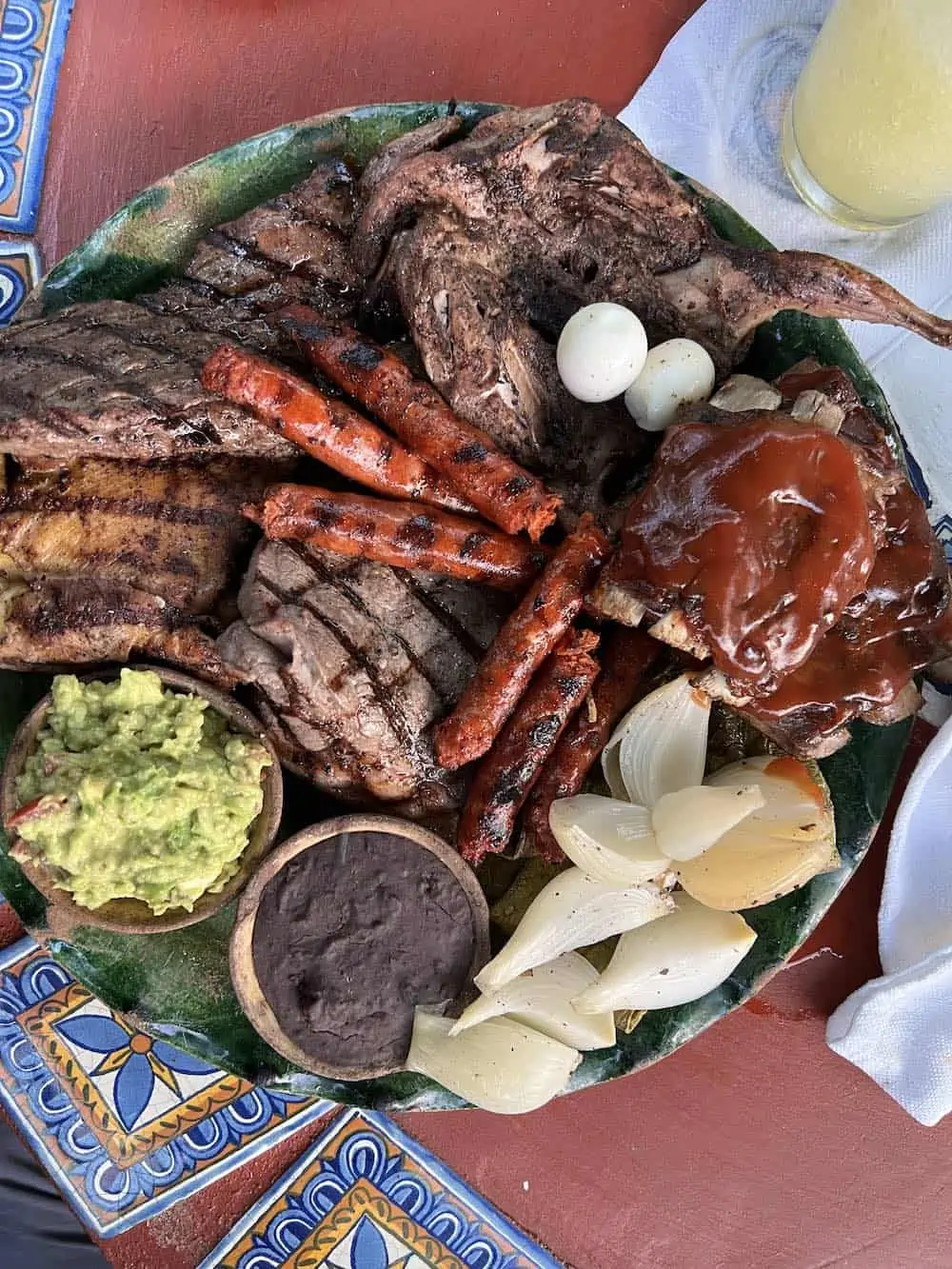 Set at the end of Boulevard Benito Juárez where it curves towards the Bacocho neighbourhood, el Rincón de Los Almendros is where to eat in Puerto Escondido if you're looking for steak such as New York or rib-eye grilled to perfection.
Meat lovers with hearty appetites should opt for the parrillada, a platter for two featuring grilled beef arrachera, chicken, quail, pork ribs and chistorra (Basque-style sausage) served with charred onions, nopal (cactus), guacamole, beans and tortillas.
To soak up the most of the lovely garden setting, time your visit for an evening when they feature live music (usually Saturdays).
Reservations: 954 582 1537
7. La Julia Coffee, Market & Gallery – Bacocho
While Parisian-themed La Julia quickly vaulted onto our list of best breakfasts in Puerto Escondido shortly after it opened, it took us a few visits to discover that they also do a fine job on dinner.
The setting in the afternoon is as magical as it is in the morning, with its Parisian flea market meets Midsummer Night's Dream decor in the heart of the Bacocho neighbourhood.
A long walk in the heat of the afternoon makes the reflecting pool with its curtain of cascading water droplets feel like a real oasis.
Sip an icy chocolate frappe and dine on specialities such as creamy spinach or albondigas (meatball) soup and feel the day's heat slip away.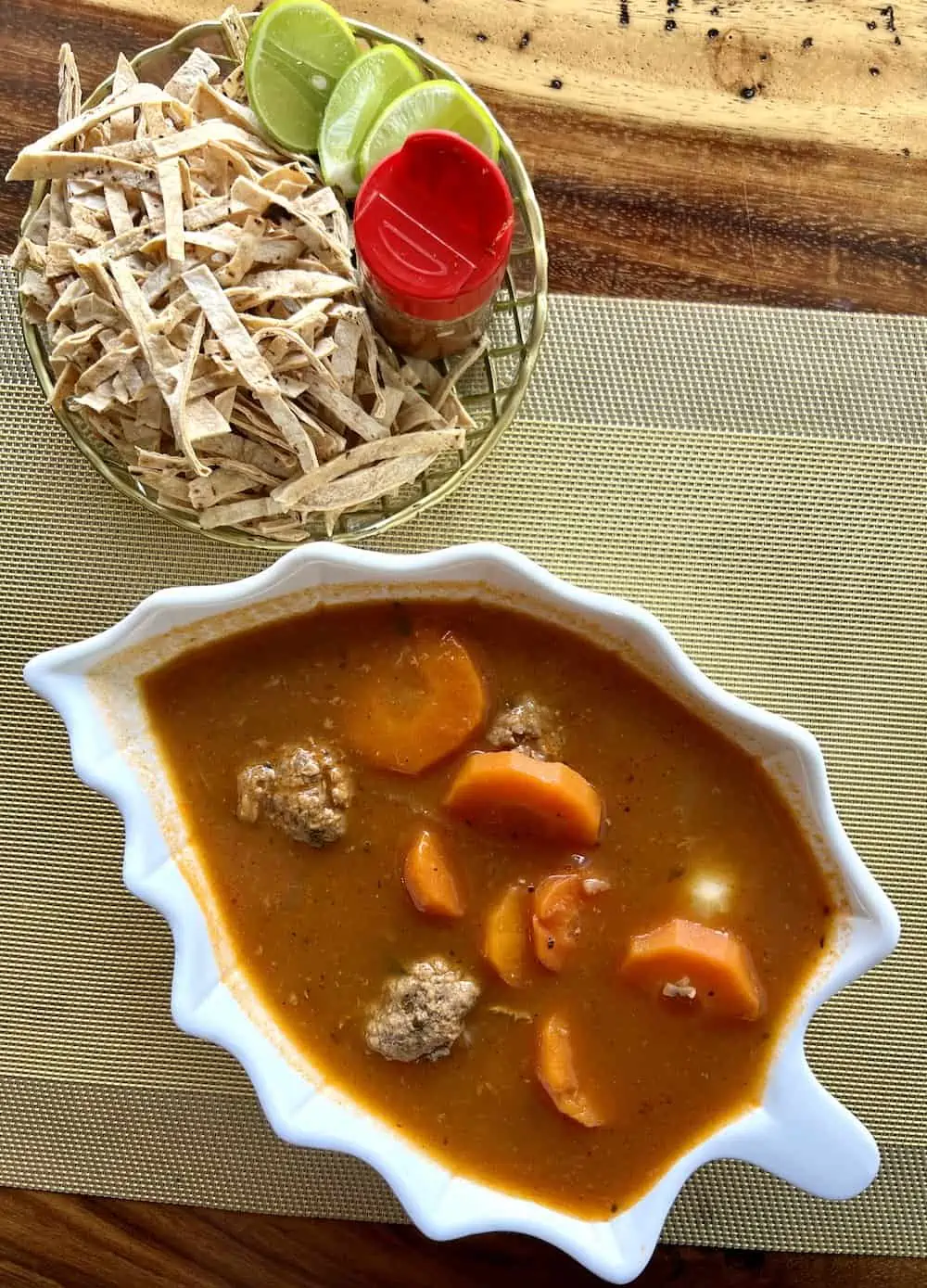 La Julia is located at Tlaxiaco 3 (at intersection of Tehuantepec, Pochutla and Tlaxiaco) in Bacocho near Hotel Suites Villasol.
Open 7:00 am to 8:00 pm, Good WiFi and attentive service. Closed Tuesday.
8. CañaBrava – Best Restaurant on Zicatela Beach With a View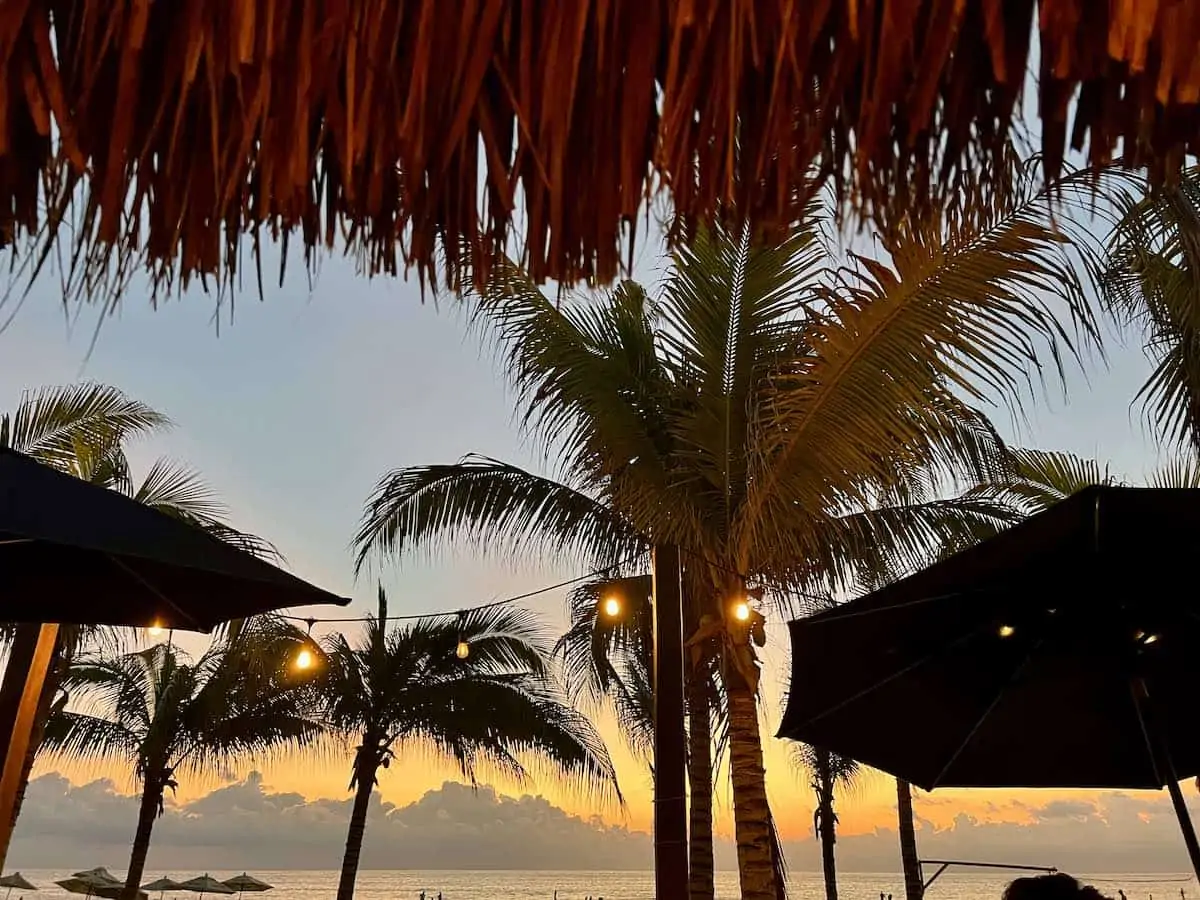 If you're searching for a romantic dinner or a lively Ladies Night with loud dance music and seated dining, Caña Brava will deliver.
This two-storey Zicatela beach bar/restaurant has been delivering epic nightlife for years. Its beautiful rounds of parota wood tables and inventive cocktails are popular among both residents and tourists.
Sip a sangria, an Aperol spritz or a local mezcal while enjoying one of the best sunset views in Puerto Escondido.
In addition to the fabulous views, Caña Brava also happens to offer some of the best food on the Zicatela strip.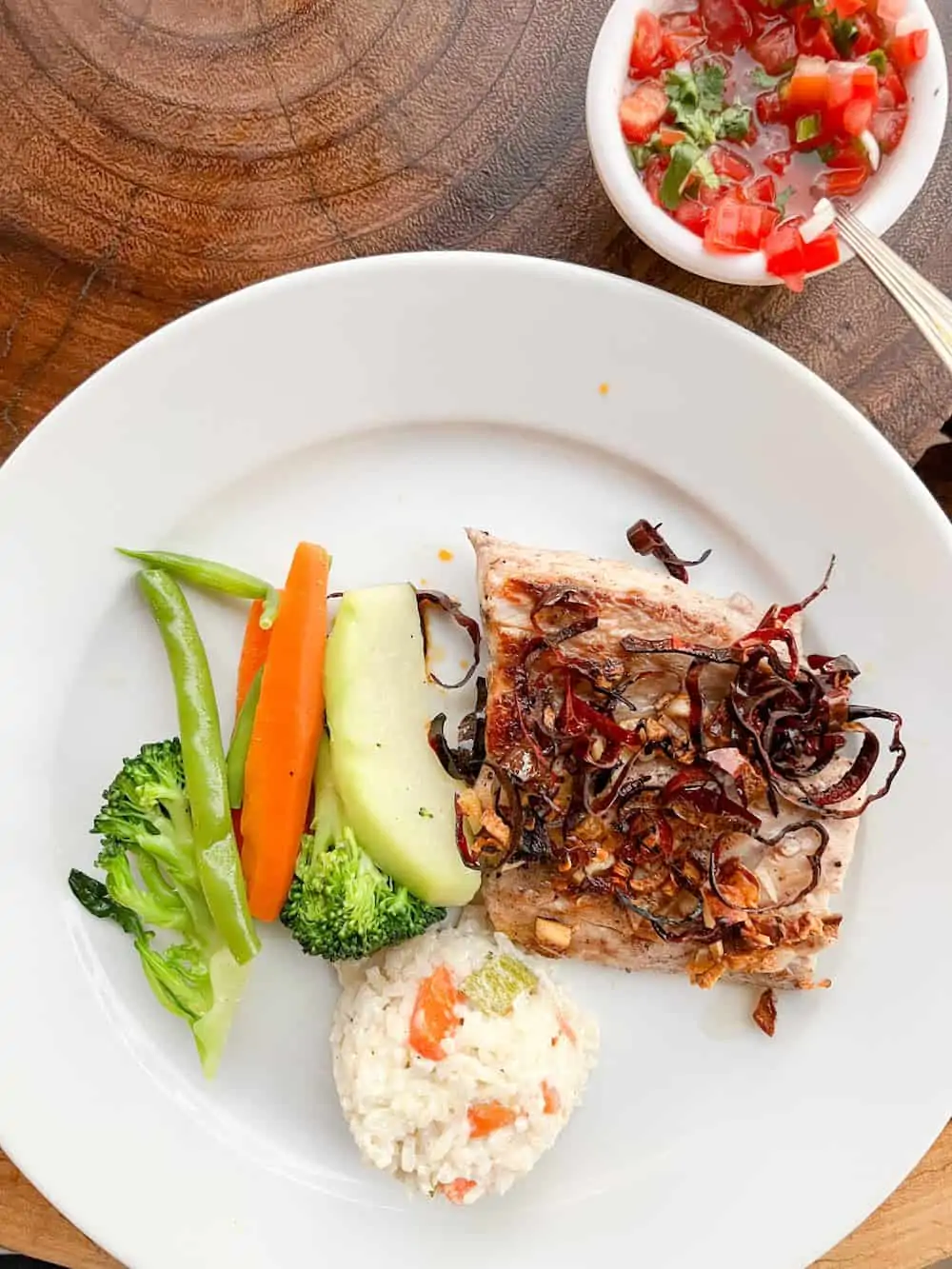 Rather than the usual ho-hum grilled fish filet you'll find on most other menus in Puerto Escondido, at Caña Brava a filete de pescado al ajillo is elevated to something special.
It comes garnished with slivers of chile guajillo and accompanied by a creamy risotto-style rice, steamed veggies and two house-made fresh salsas for 220 MXN pesos or US$10.50.
9. le Bistrot du Marché – French Food in Mercado Zicatela
Many people (including myself) lamented the closure of chef David's Paris Le Bistrot on the Rinconada a few years ago.
Now, there's cause for celebration. He's back and creating wonderful casual French fare at a corner location within breezy Mercado Zicatela near La Punta.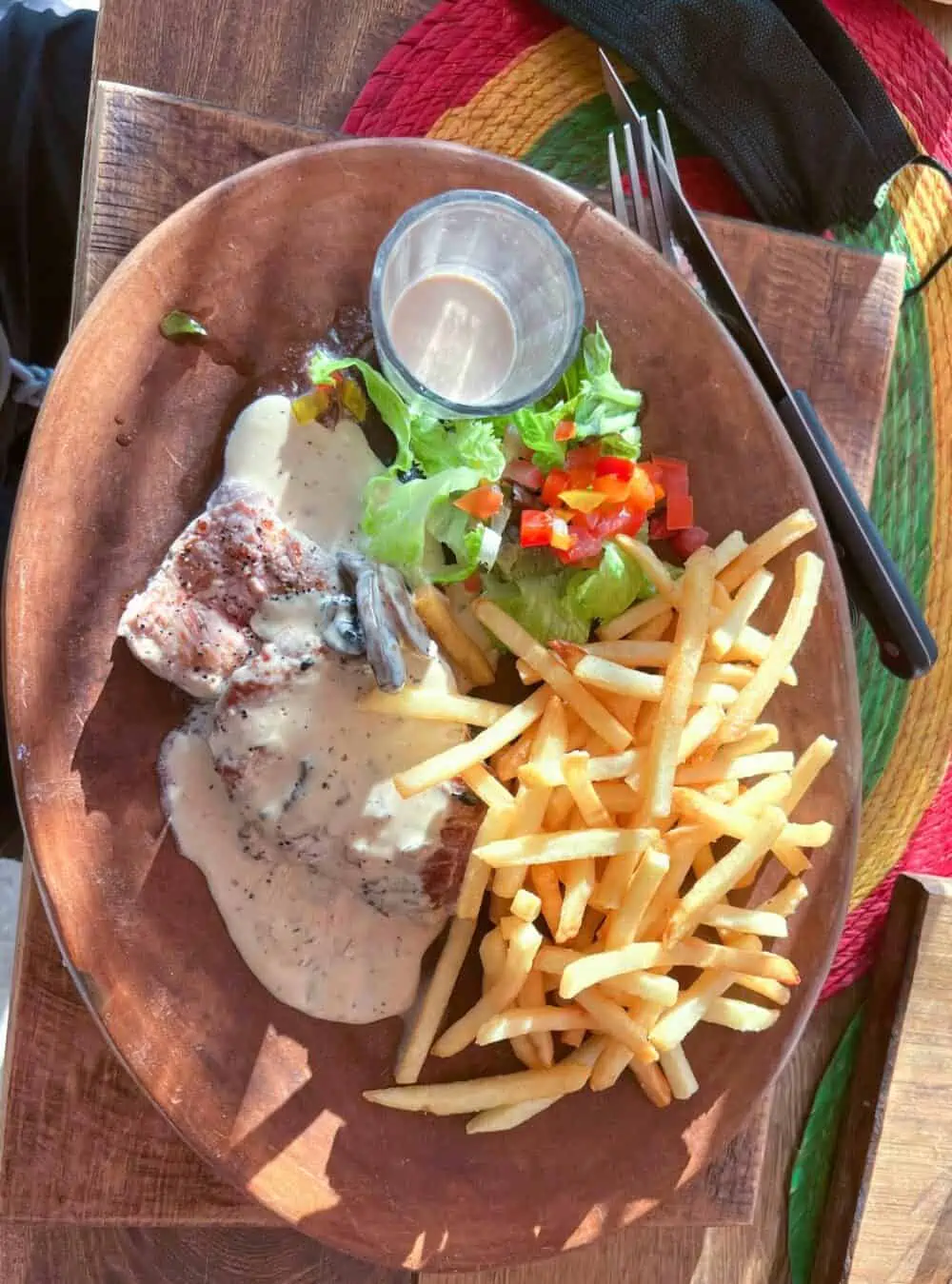 Much as a Parisian bistro that serves moderately-priced simple meals, the menu at le Bistrot du Marché features casual French fare.
Highlights of the menu include three types of quiche (swoon-worthy ratatouille quiche), flambeed shrimp in Pernod and arrachera (skirt steak) bathed in a creamy mushroom leek sauce you'll want to slather overtop everything.
The house-made desserts are another standout. Can't decide between the mousse de chocolate, the profiteroles or the crème brûlée?
Go for option #5 on the menu ( 70 MXN pesos or US$3.50) and you'll score mini versions of all three plus an espresso or tea. Mais oui!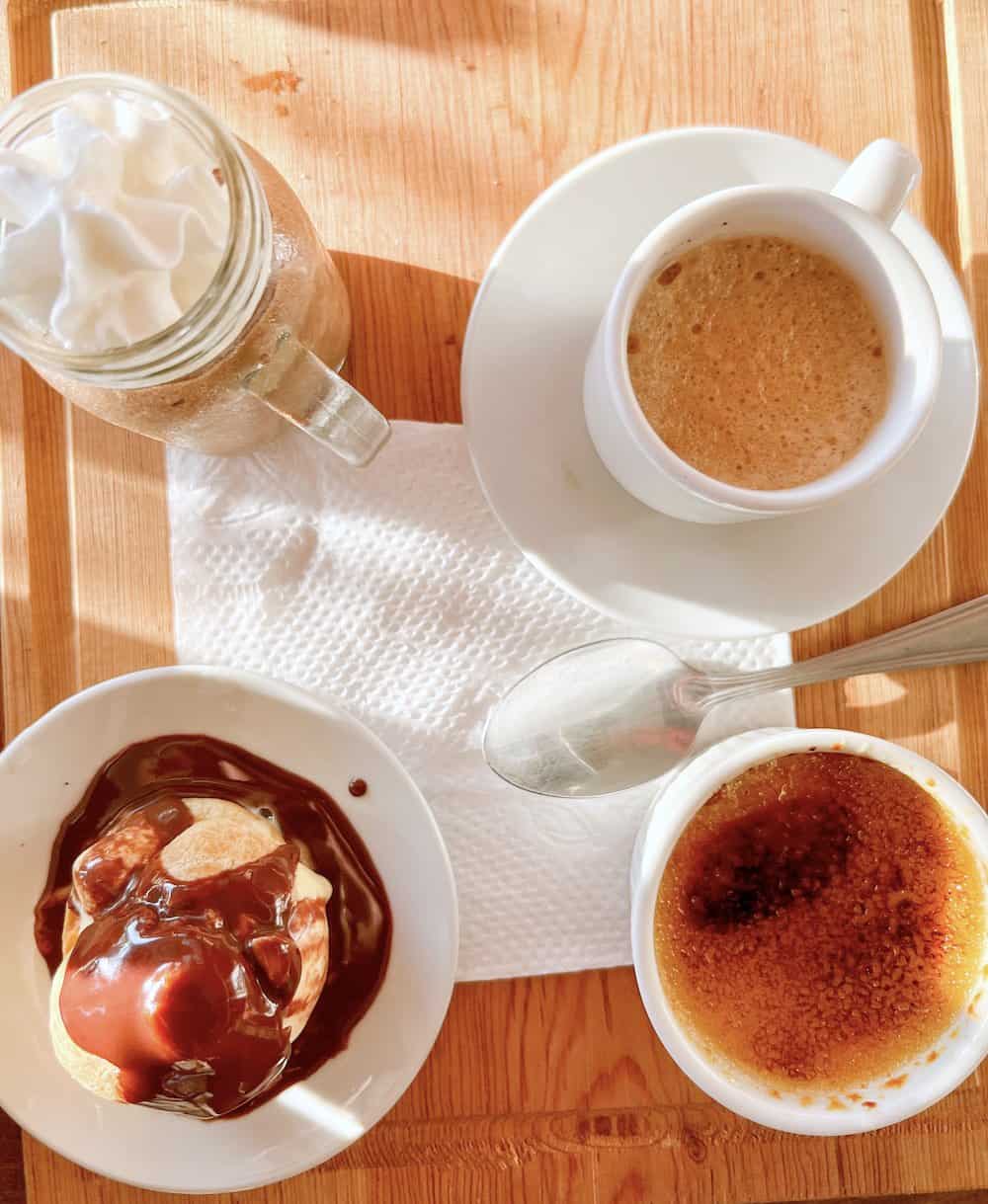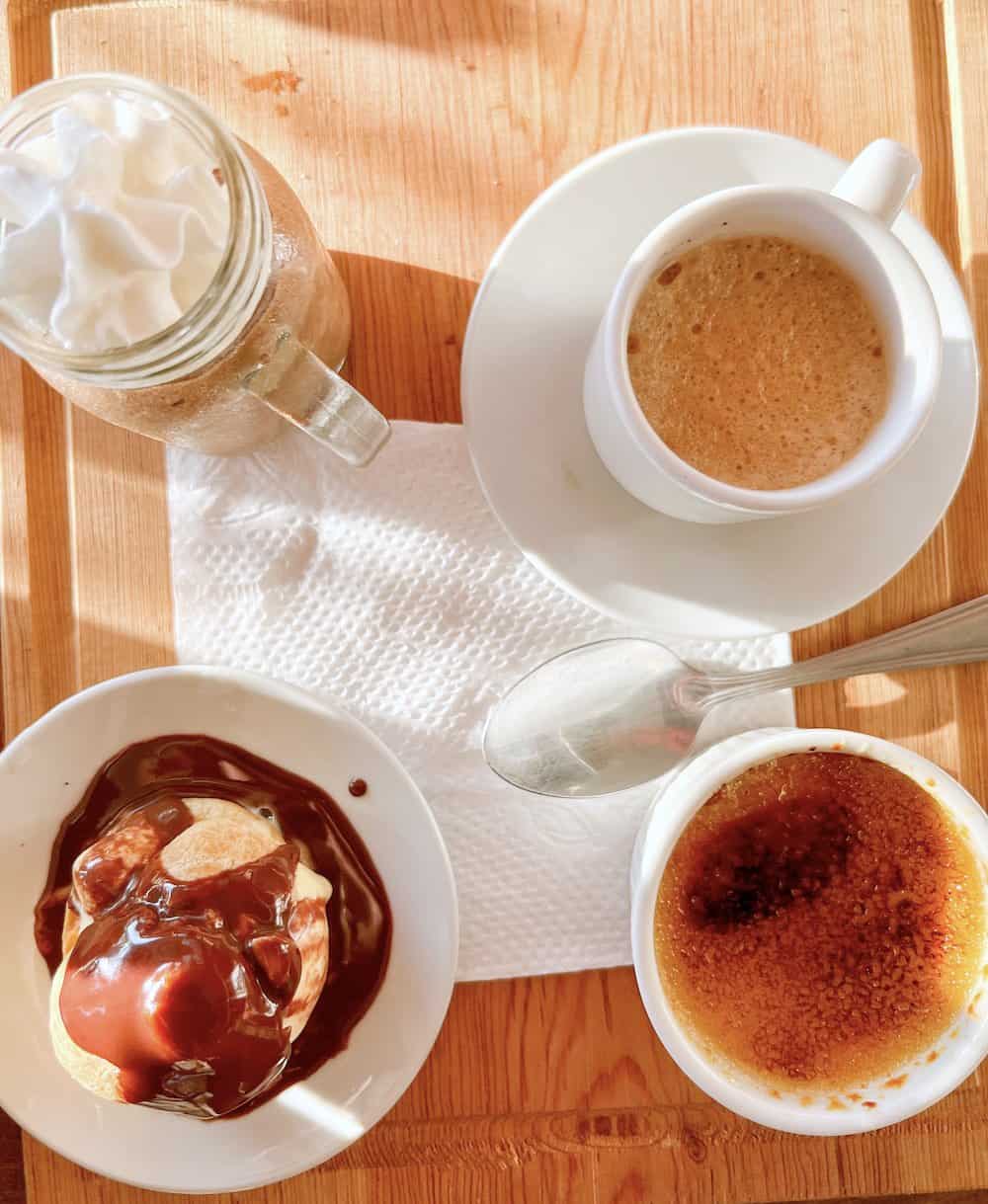 Open Tuesdays to Saturdays from 10 am to 7:00 pm. Sundays until 4:00 pm. Closed Mondays.
10. Santa Fe – Classic Cuisine and Service at Zicatela Beach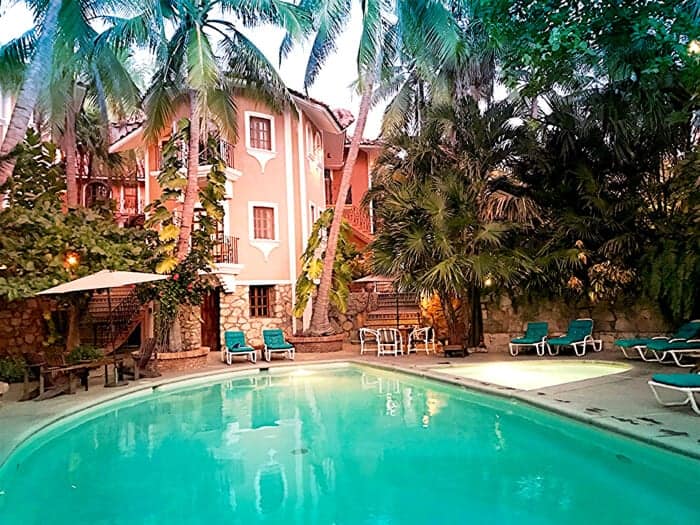 Situated within the Santa Fe Hotel, a gracious grand dame set at the entrance to the Zicatela strip where it meets Playa Marinero, this long-standing restaurant has endured for decades for good reason.
The service is attentive, the setting is gorgeous any time of day and the menu features dishes that are expertly prepared. Which all adds up to making it a good bet for the best meal in Puerto Escondido.
Breakfast comes with coffee sourced from its own coffee plantation – Finca de las Nieves – and is some of the best coffee in Puerto Escondido.
In the evening, top dishes to try include catch of the day for the freshest fish, vegetarian lasagna and one of the salads with house-made dressing. The menu is pescatarian.
There's often live background music on weekends.
11. La Olita – Best Tacos Fusion-Style
If you're looking for tasty fish tacos, then you'll want to try La Olita. It regularly tops the list on Trip Advisor as one of the best restaurants in Puerto Escondido and has grown even more in popularity and size over the past few years.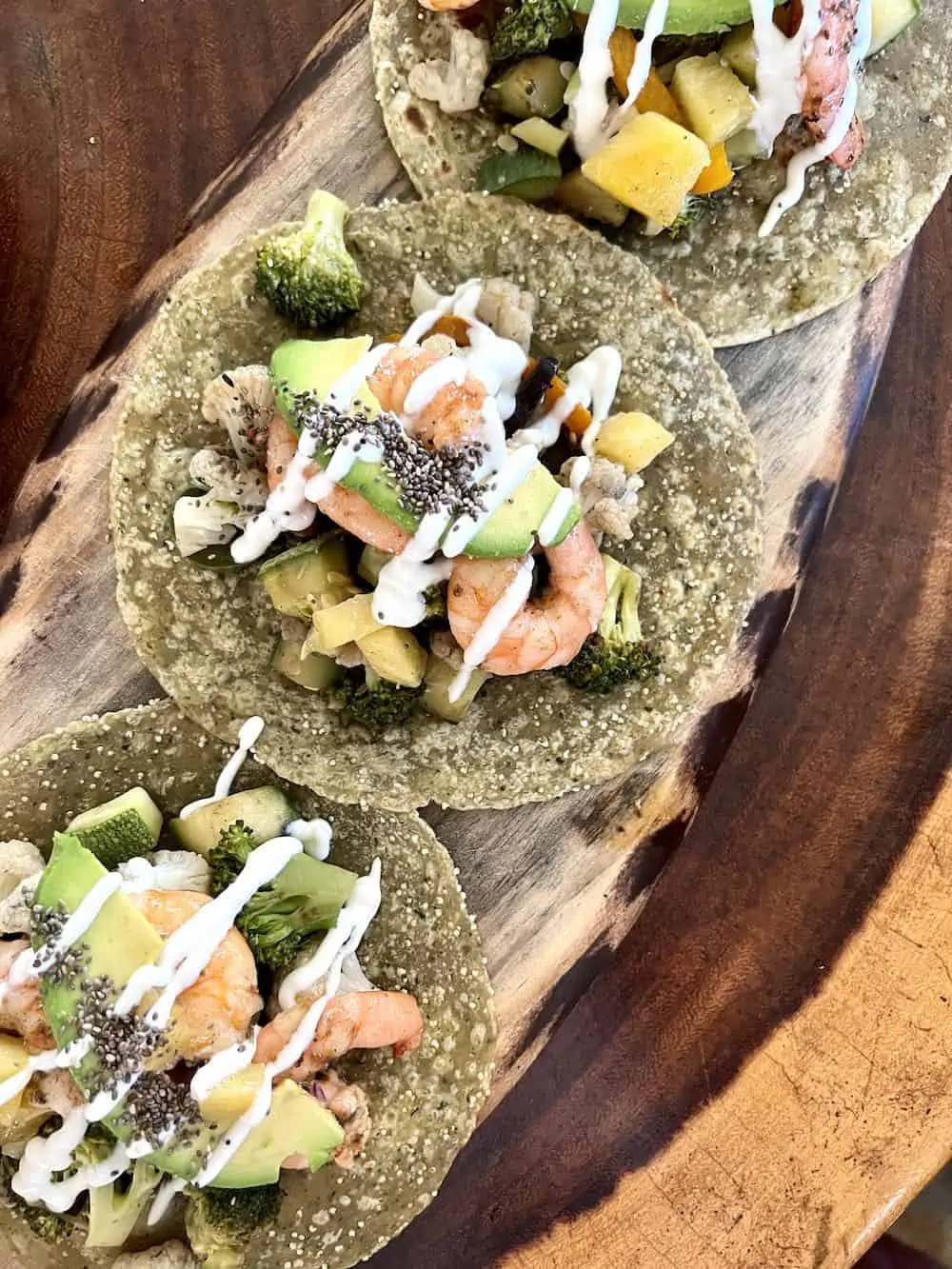 Made of tacos of amaranth and moringa, the tacos here are a tasty change from tortillas de maize or harina. One of the popular versions at La Olita comes topped with grilled or battered fish/shrimp plus loads of delicious grilled fruit and veggies such as broccoli, cauliflower and pineapple.
The house-made hot sauces are fiery good. The decor is also fun — featuring local parota wood and creative murals. At La Olita, you can even pair your tacos with an order of artisanal mezcal, served with chapulines.
There's a second location in La Punta.
12. Brad's Split Coconut – Best Restaurant/Beach Bar in Puerto Escondido
While the legendary Bradley Lopez is no longer with us, his spirit live on at the fabulous new location of his namesake restaurant bar on Zicatela beach.
Located beside Sativa and across from the popular co-working hostel chain, Selina's, Split Coconut features a fantastic view of the sunset with plastic tables spilling onto the beach.
While open throughout the day (horseshoes anyone?) the Split Coconut is best known in Puerto for its live music scene. Evening line-ups of classic rock and blues by local and visiting musicians draw a loyal crowd of snowbirds, retirees and Baby Boomer ex-pats.
In between dancing beneath the palm trees, you can enjoy the new location's expanded menu. It features a few new additions as well as standards such as the bone-sucking ribs made famous at the Split Coconut's string of former locations.
Check Brad's Split Coconut Facebook Page for updates on specials such as pork chops and rib eye steak nights.
If you're craving live music or want to meet some English-speaking folk, Split Coconut is your spot. Closed Tuesdays.
13. Fish Shack – A Buzzing Seafood Restaurant in La Punta
When it comes to deciding on the best tacos in Puerto Escondido, the Fish Shack is favoured as the best stop in La Punta. It's always busy, so be prepared to wait for a table or an order.
They offer both grilled and fried fish tacos with a selection of hot sauces. It is a bit pricier than the others mentioned but when in La Punta, this is the go-to.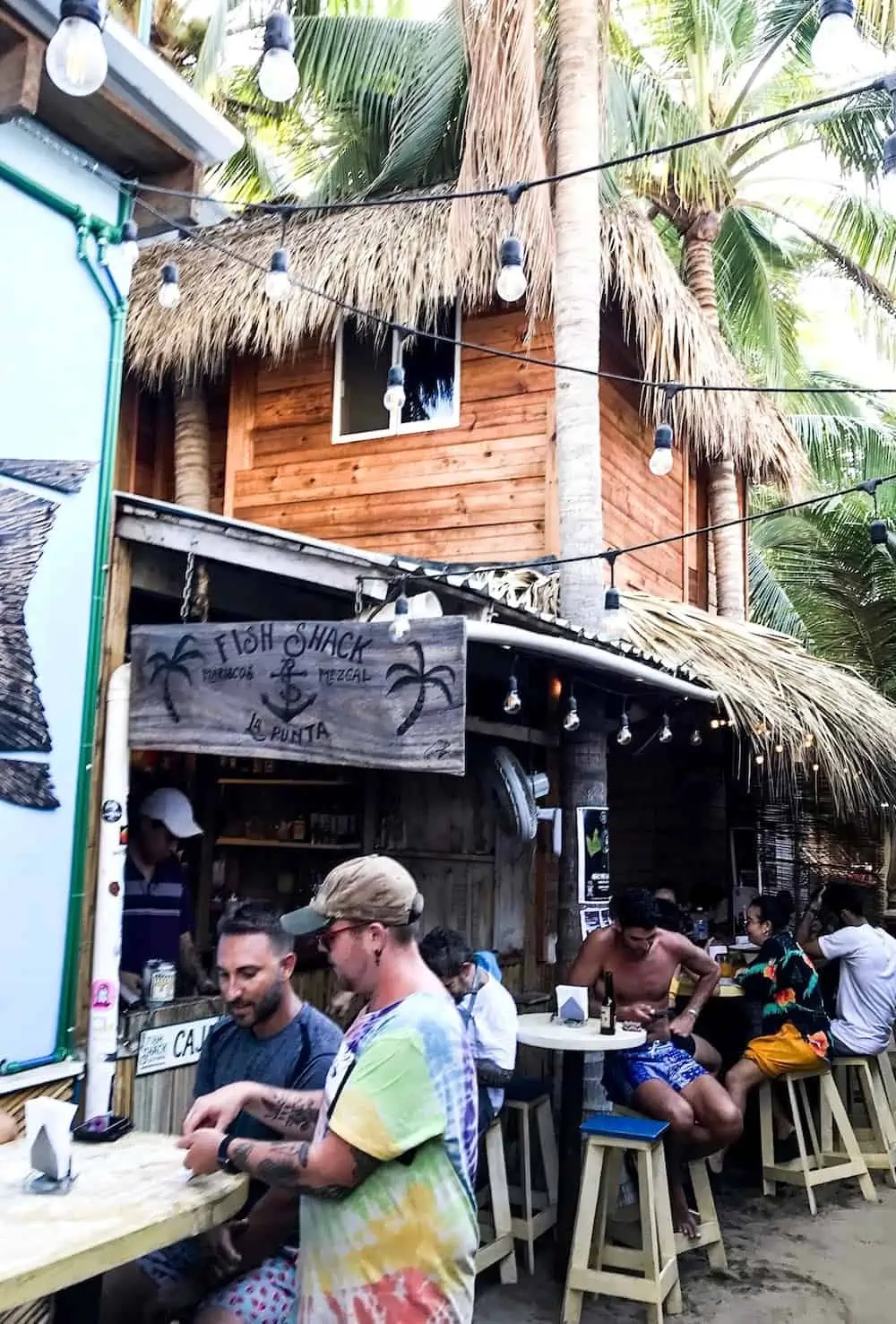 Tucked away on a sandy pedestrian footpath to the beach, it's a bit hard to find. But just look for the line-ups and you'll be able to find it.
The loud, busy atmosphere and mix of expat/tourist surfers at the communal tables adds to the buzz.
14. La Juquileña Restaurant – Typical Oaxacan Food
There's no better way to dive into a culture than by sampling the local cuisine. And lunch at Antojitos Regionales Las Juquileñas is a sensory extravaganza.
Although tlayudas (Oaxaca's version of pizza – a giant corn tortilla slathered in refried beans and toppings) are most usually enjoyed as a popular street food after an evening of nightlife in Puerto Escondido, you can get them in the middle of the day at Antojitos Regionales Las Juquileñas restaurant.
But that's just one reason to visit this local favourite located near Benito Juarez market on Calle Octava Norte (Google map) in el Centro. It has communal tables, open grills, huge portion sizes and a lively atmosphere.
And it's definitely the best restaurant in Puerto Escondido for grilled traditional Oaxacan food and soups.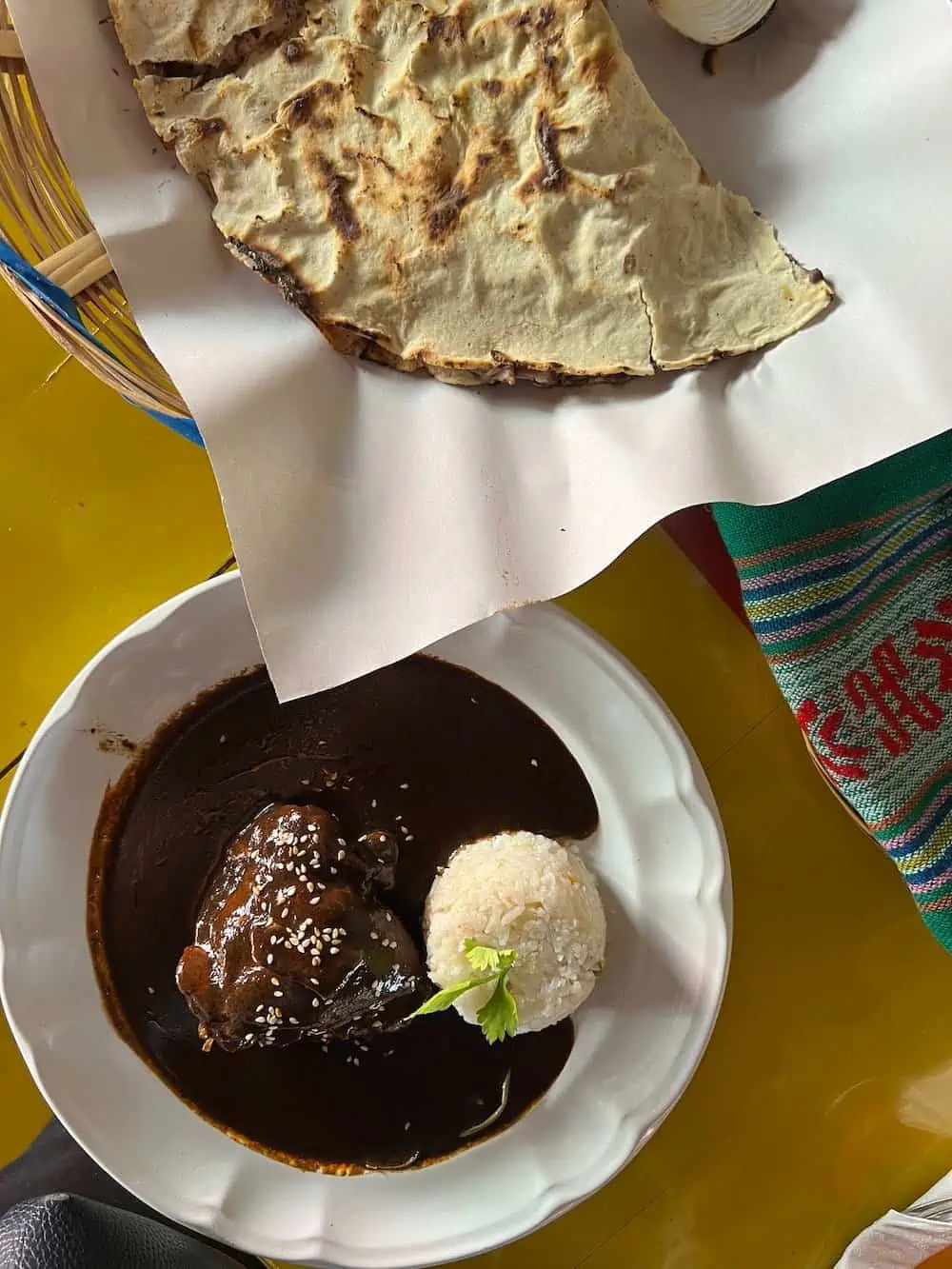 The menu at La Juquileña includes typical Oaxacan foods such as mole negro, mole amarillo, sopes, huaraches and empanadas in a wide range of variations including musroom, tasaja (dried beef) chorizo and more.
There's even molcajete de carne, a tower of meats served in a bowl made of volcanic stone.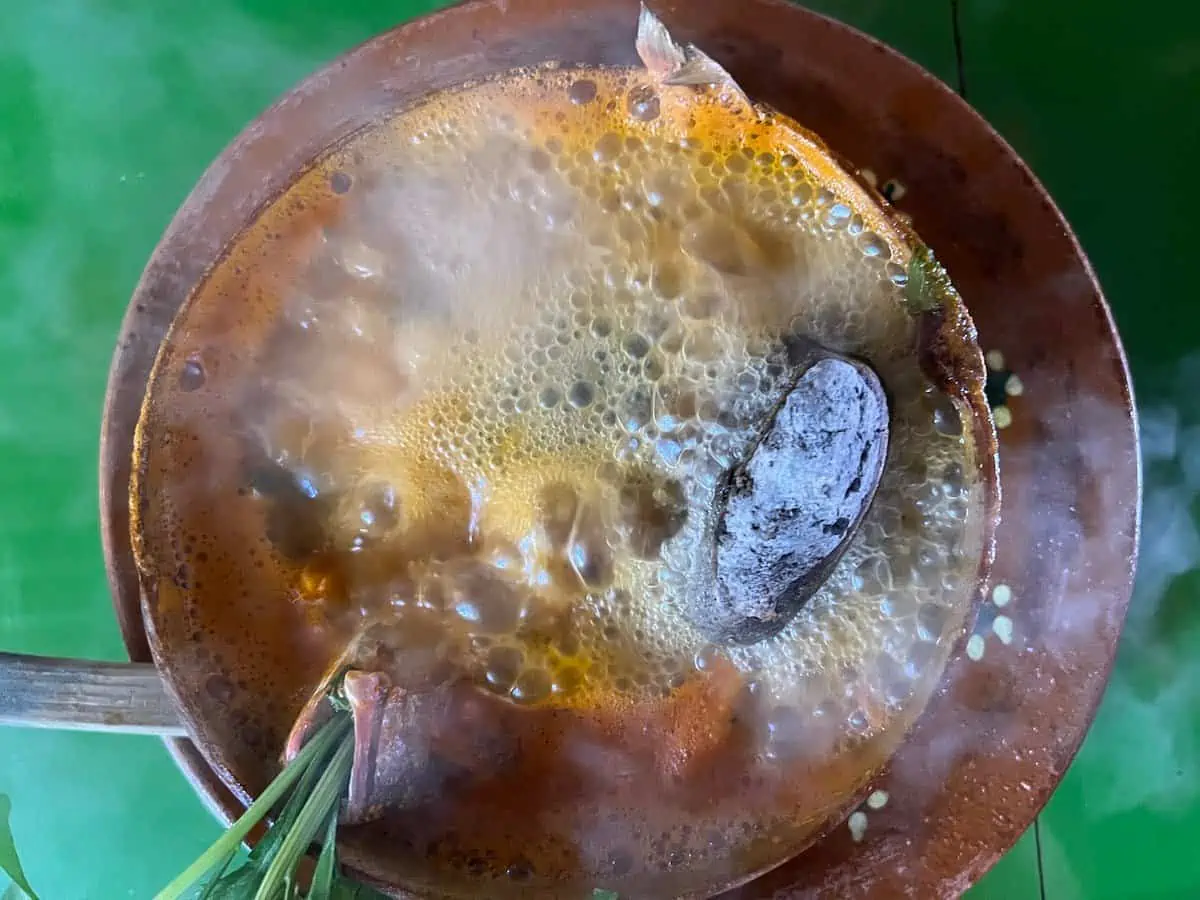 Don't miss the caldo de piedra (stone soup), a seafood, epazote and tomato soup made by immersing red-hot stones in broth in a gourd right at your table.
This traditional chinanteco dish is so important it has been recognized by the state of Oaxaca as a Patrimonio Cultural Intangible de Oaxaca for its cultural and artisanal significance.
15. Las Margaritas – Best Value Breakfast in Puerto Escondido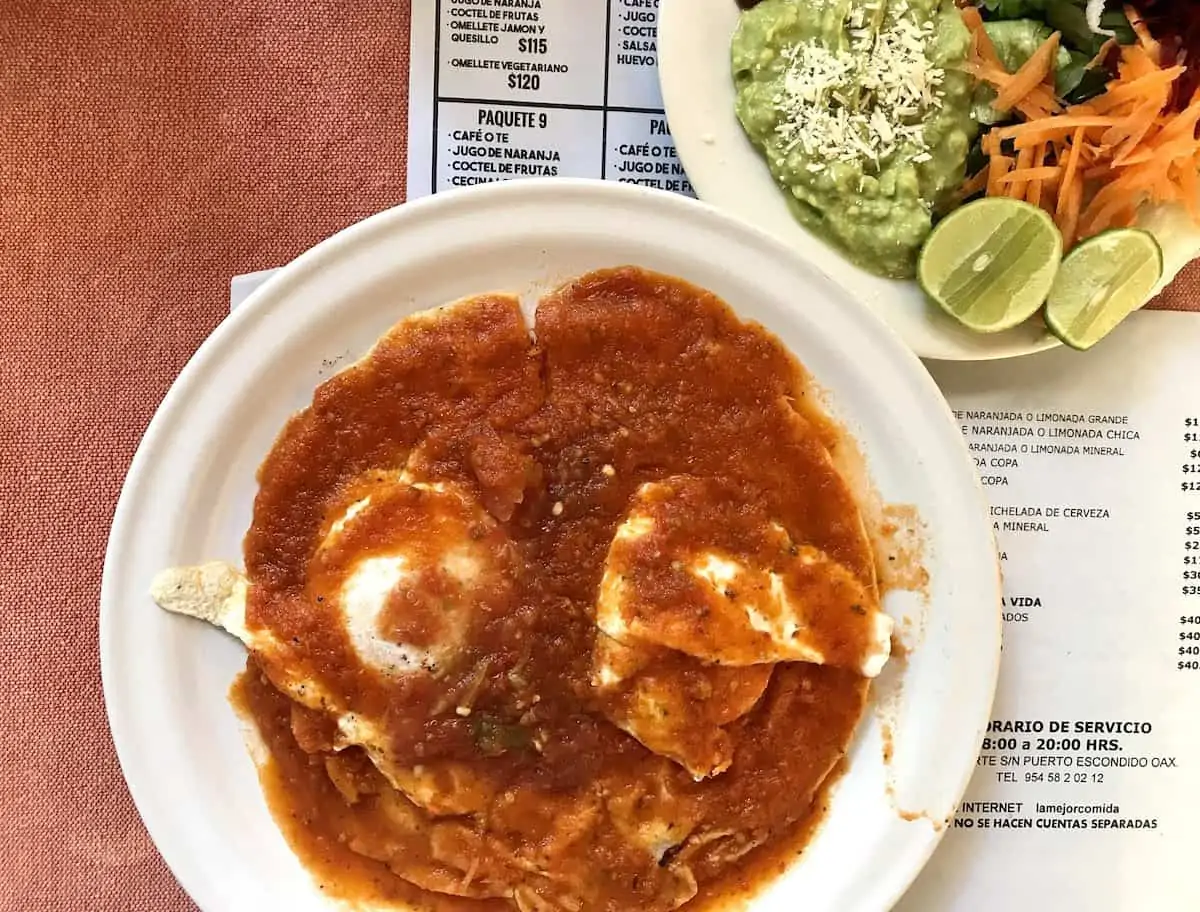 Feeling weary from a morning at the Benito Juárez market? This restaurant is truly an oasis from the bustling street scene along 8a Norte.
Portions of brochettes of fish are so generous you can take some home for your next meal! Another top choice is grilled beef arranchera.
Dishes come with creamy guacamole, green and red salsas, handmade tortillas, black beans and grilled nopal cactus.
The pleasant shaded courtyard, breezy fans, friendly service and immaculate washrooms make it a place you'll want to return to again and again. Daily specials are exceptional value.
Look for Las Margaritas awning at the corner of Avenida Oaxaca and 8a Norte across from Benito Juárez Market.
Gina's Food Walking Tour – Puerto Escondido Food, History and More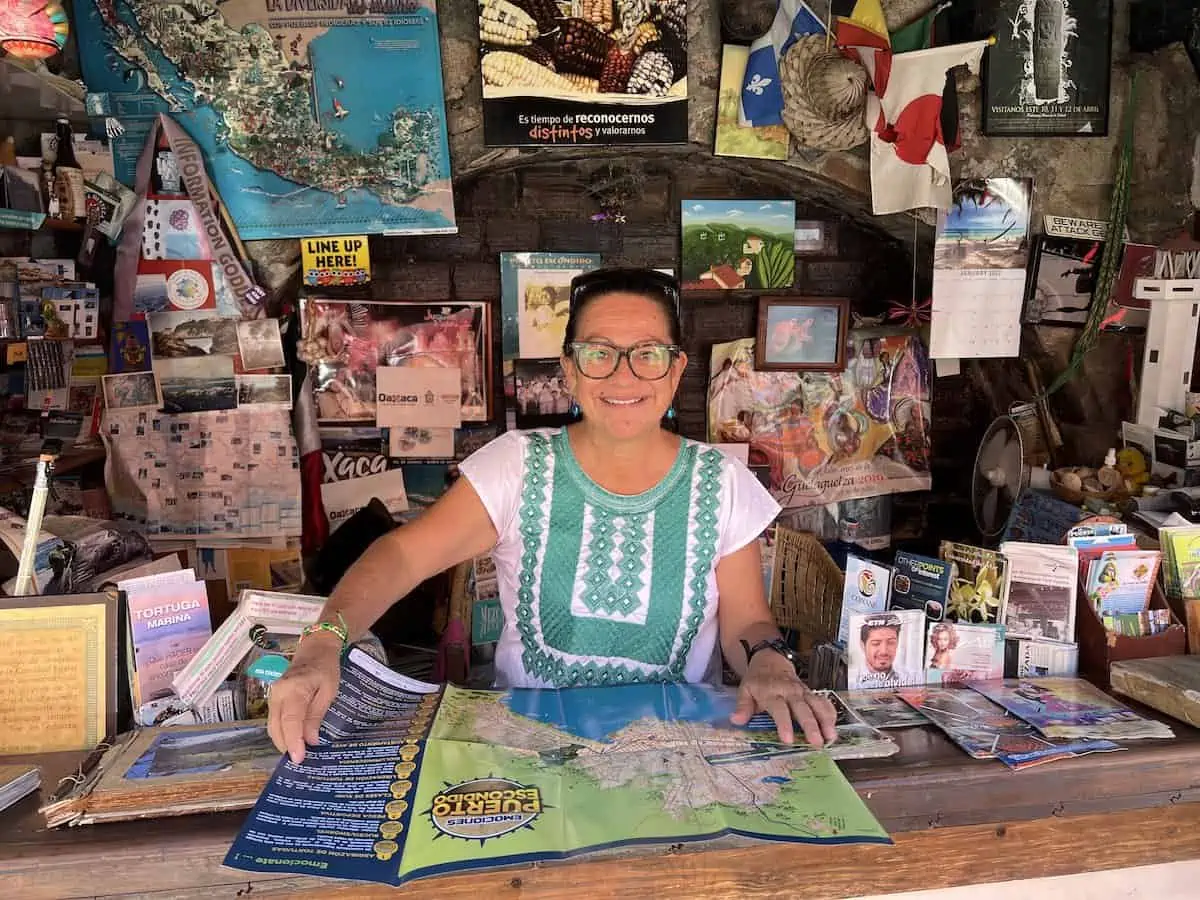 We've already included Gina's Walking Tour of Puerto Escondido as one of the best ways to begin your day. It includes a stop for a typical breakfast along with its deep dive into Puerto's history, culture and traditions.
But it's always worth checking in at her Information Booth on the Adoquin to see what other gastronomy-themed tours might be available. Current options include:
Cooking classes
The Secrets of Mezcal
Loco Por El Chocolate (cacao production)
and more
Prices vary. The walking tour costs $400 MXN pesos per person, including breakfast and takes place on Wednesdays and Saturdays 7:45 am – 10:00 am
Phone (954) 559-5518
Restaurante Eliel – Oysters at Agua Blanca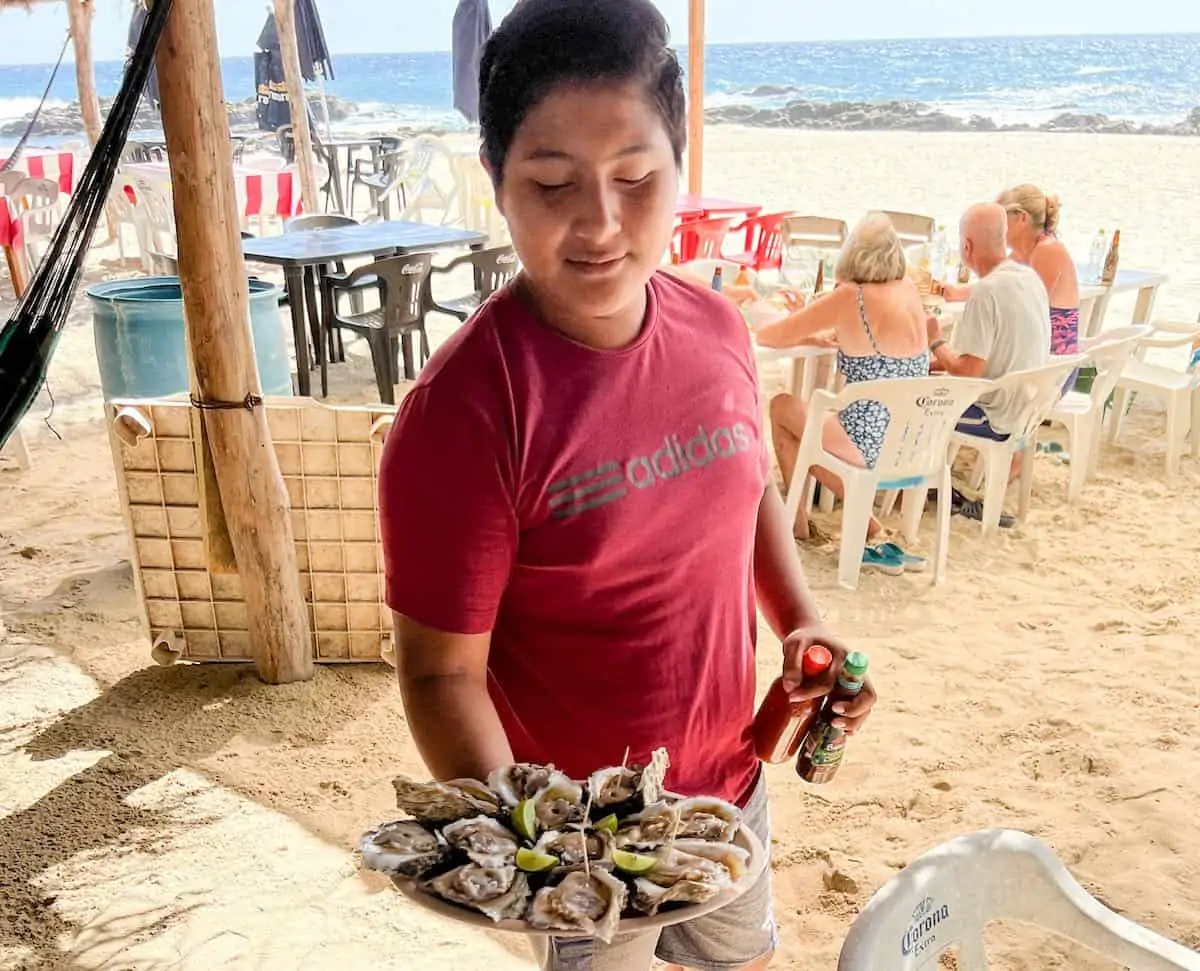 It's well worth a day trip south to Agua Blanca where a string of seafood shacks serve seafood plucked fresh from the Pacific.
While it's certainly possible to order the usual beachside fare of coconut shrimp, whole fish (served al ajo, a la diablo, al ajillo etc) or shrimp cocktail, the main attraction here is fresh oysters, shucked while you wait.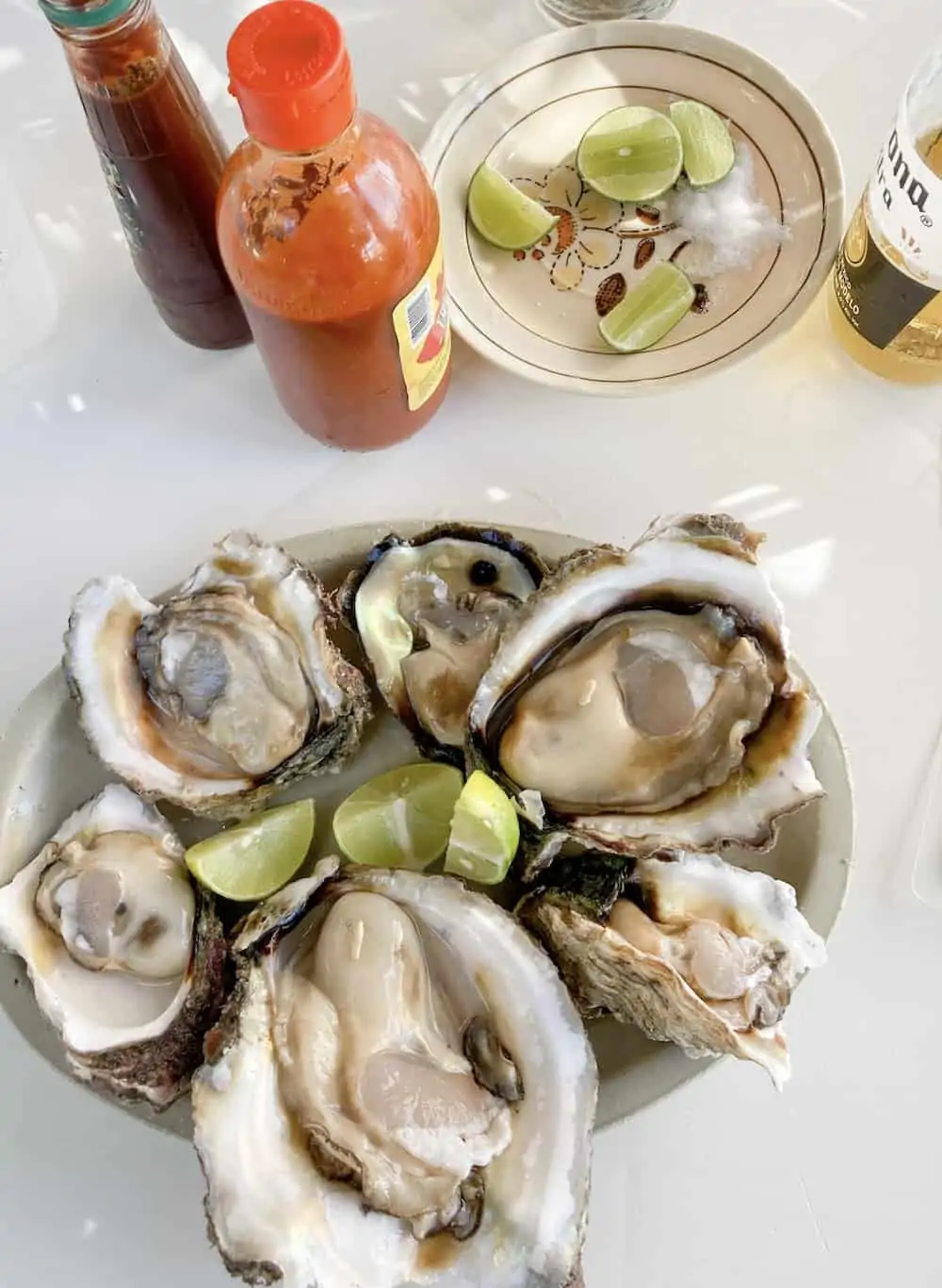 You get a dozen of the largest, freshest oysters you'll ever see for around 150 pesos. While you can get them a la Mexicana or empanizados (breaded), the best way to enjoy them is 'naturales' served raw with lime and hot sauce.
While everyone has their own favourite restaurant at Agua Blanca, we usually head for Restaurante Eliel. Service is attentive and it's just steps to Agua Blanca's sublime tidal pools set among the rocks. Public washrooms (10 pesos) are across the street.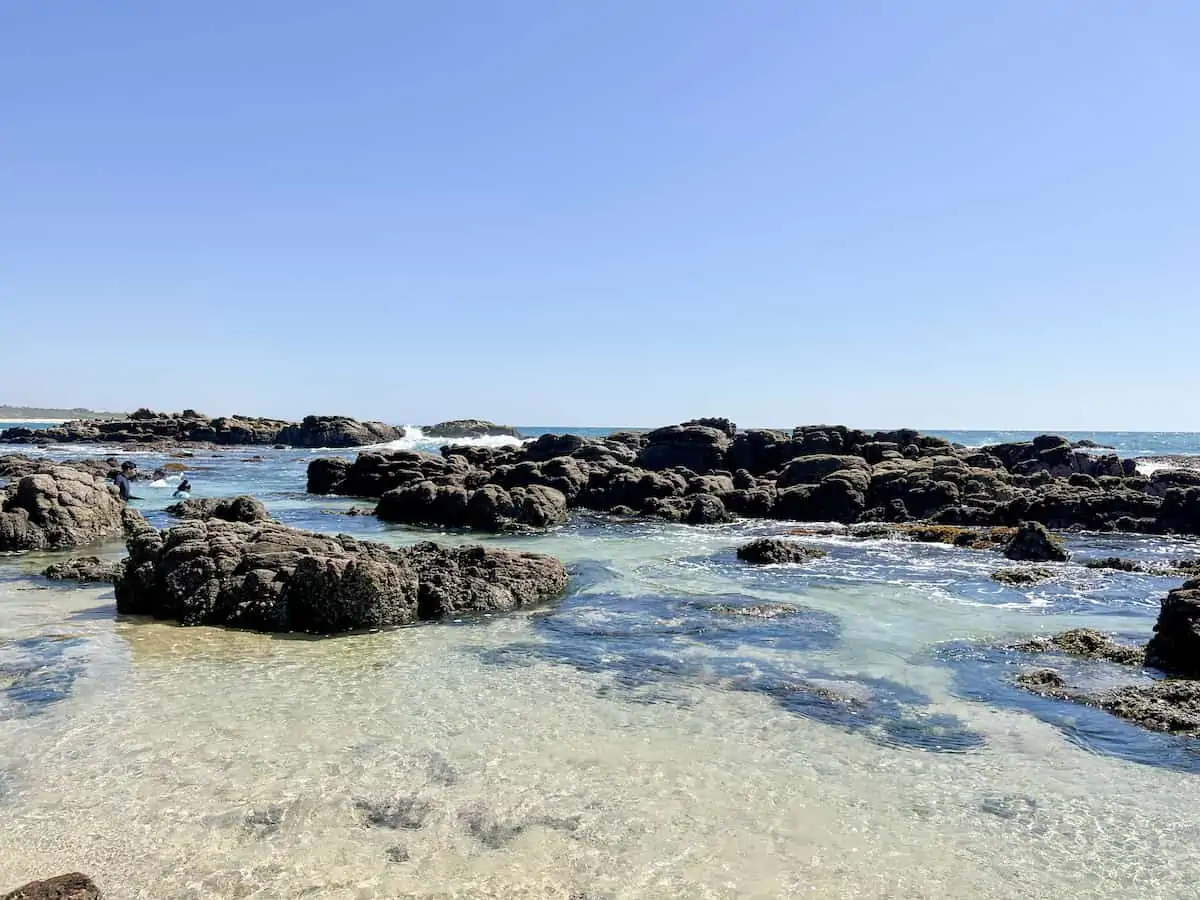 Looking for the best pizza or tacos? Sign up for our newsletter and you'll get our list delivered straight to your in-box.
10 Best Breakfasts and Brunches in Puerto Escondido
Review of One Love Restaurant, Puerto Escondido
9 Tips for a Perfect Romantic Getaway in Puerto Escondido, Oaxaca
Beach Shack & Day Trip to Roca Blanca, Mexico
Our Essential Puerto Escondido Travel Guide is packed with information on hotels, beaches, things to do, day trips and more.
Save to Pinterest!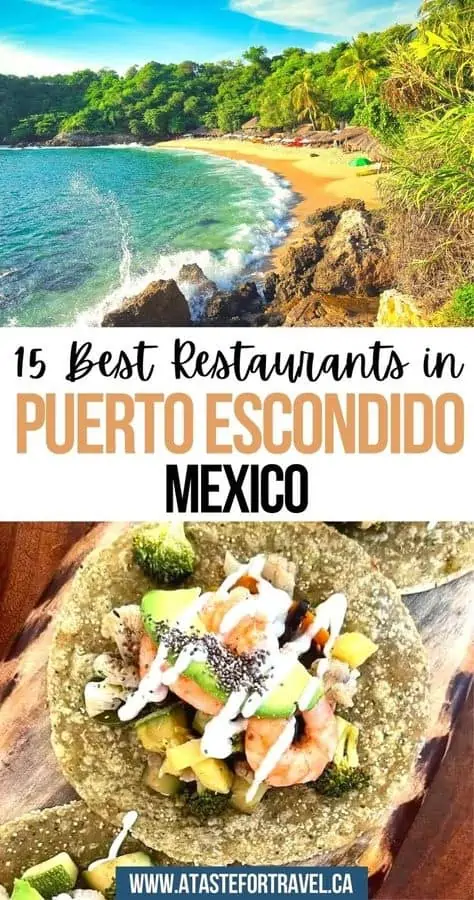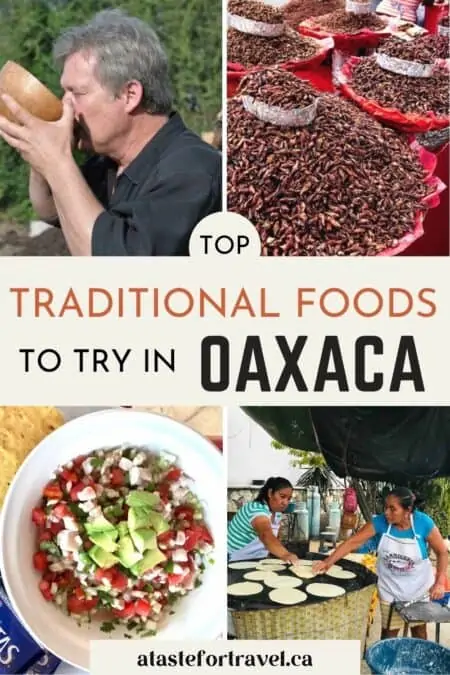 Dividing her time between Canada, Guatemala and Mexico (or the nearest tropical beach), Michele Peterson is the founder of A Taste for Travel. Her award-winning travel and food writing has appeared in Lonely Planet's cookbook Mexico: From the Source, National Geographic Traveler, Fodor's and 100+ other publications.
View more posts by Michele Peterson Read more