We may earn income from links in this post. Please read this Disclosure for details.
If you're looking to try some authentic Oaxacan food along with your beach vacation, there's no better place to begin your culinary adventure than Puerto Escondido.
While Mexico's southern Pacific Coast is famous for its surfing, it also happens to be in the state of Oaxaca. And that means there's great food in Puerto Escondido!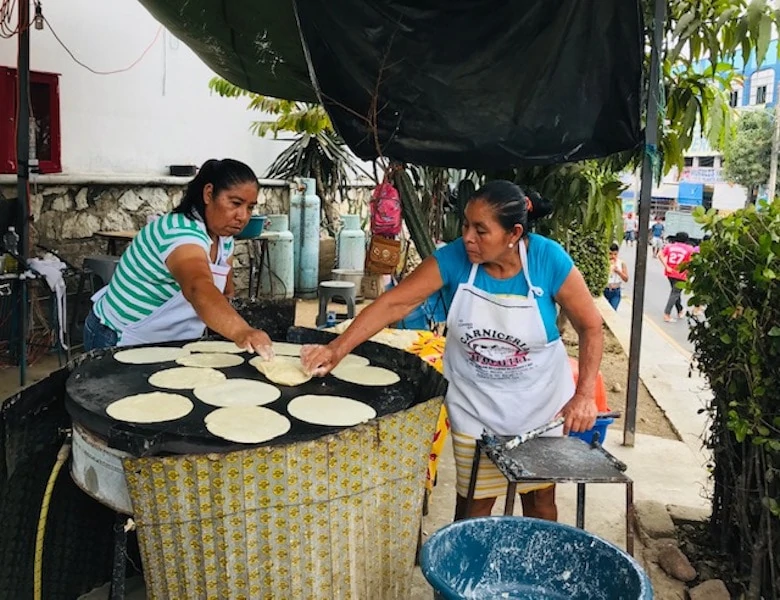 Over the course of 10 years of writing about restaurants for Fodor's Guide to Oaxaca, testing recipes for Lonely Planet's Mexico from the Source and living in Oaxaca, I've enjoyed a wide range of delicious food in Puerto Escondido.
There's no better way to dive into a culture than by sampling the local cuisine. Here are my top picks of the best traditional food and drink to try in Puerto Escondido, Mazunte and Huatulco.
1. Chapulines
Crunchy, toasted and spiced grasshoppers are delicious in tacos or on their own as a quick snack. Take a Puerto Escondido food tour with Gina's Walking Tours for an introduction to these crispy critters.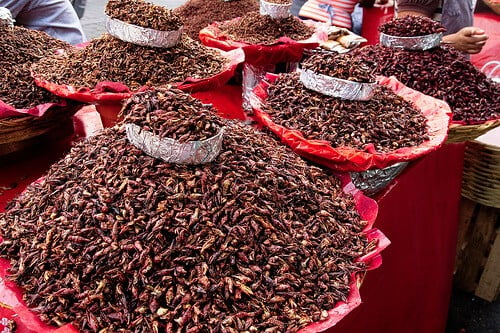 Or head to the Zicatela Market for a fabulous breakfast and request some chapulines on top of an order of huevos revueltos or huevos divorciados.
Another option is to buy a bag of chapulines in Benito Juarez Market and enjoy them as a topping for your favourite dish or tucked inside a taco. They're also delicious ground to a fine powder, mixed with sea salt and used to rim a margarita or mezcalito cocktail glass.
2. Tamales de Tichinda
While tamales are a popular food everywhere in Mexico, in Oaxaca these tasty bundles are a work of art. They come in a variety of fillings from rajas (strips of pepper) to chicken in mole. But the ones to look for are the tamales de tichinda.
These warm tamales are stuffed (and accompanied) by fresh black clam-like mollusks. Look for them near the Colotepec River or try them in the towns surrounding Chacahua Lagoons National Park.
If you're lucky, you might also see them for sale on Saturdays at the Benito Juarez Market, Puerto Escondido's main market. Read the Puerto Escondido Travel Essentials Guide for more details.
3. Salsa de Chicatanas – Ant Salsa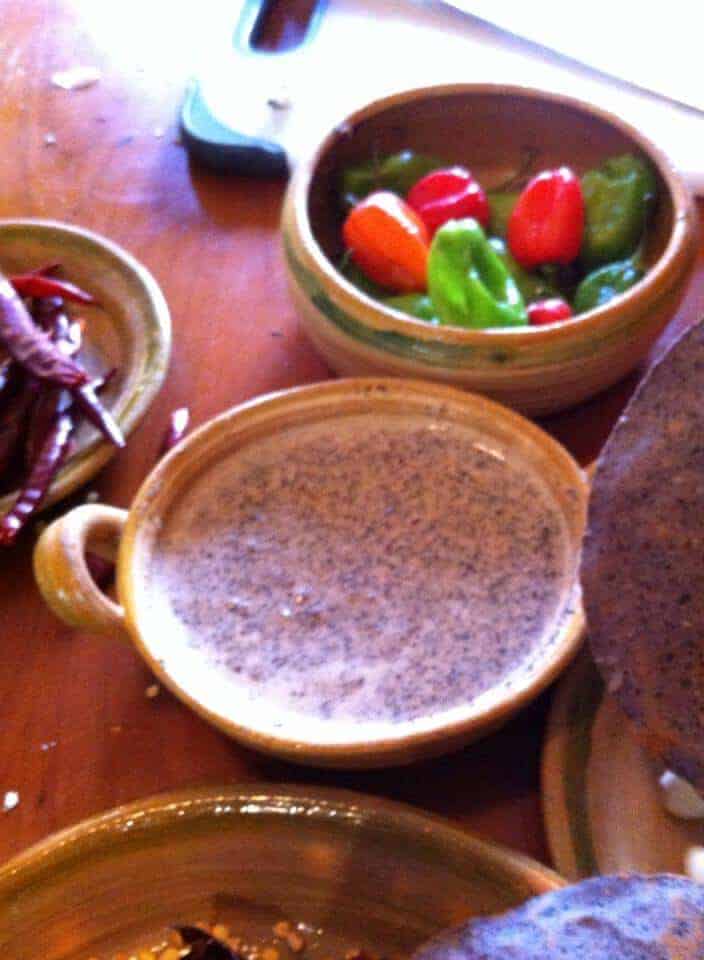 At the beginning (and end) of the rainy season in June and July, the insects escape from their flooded nests. Locals then gather baskets full of the flying ants. The black ants are then toasted on a clay grill called a comal.
Then, they're either eaten plain or ground in a molcajete to make salsa de chicatanas, a treasured spring delicacy in Guatemala and Mexico.
These tasty ants are so prized you won't often find them in the market. So your best bet is to take a cooking class with The Mexykan where you'll prepare and sample a variety of salsas.
Or, check what's on the culinary radar of Chef Quetzalcoatl Zurita, a local chef who specializes in Oaxacan cuisine at his restaurant Almoraduz on the Rinconada in Puerto Escondido.
Another place to find chicatanas on the menu is at Hotel Escondido, Grupo Habita's chic collection of beach bungalows just outside Puerto Escondido. They add crunch and flavour to a uniquely Oaxacan risotto.
Check rates and availability at Hotel Escondido on Booking.com.
4. Huauzontle
Huauzontle pronounced "wah-zont-lay" is a wild plant that grows high in the Sierra Madre Sur mountains above Puerto Escondido and Huatulco. Packed with vitamins and minerals, this super food is a member of the amaranth family.
It's delivered to Puerto by farmers only on Mondays and Fridays, so it has to be ordered a day or more in advance for preparation so you need to plan ahead if you want to try it.
Read more about Where to Chow Down on Huauzontle in Puerto Escondido
5. Cuitlacoche – Black Corn Fungus
This unique black corn fungus is so revered for its earthy flavour that it's known as the Mexican truffle. Appearance-wise, the delicacy may be as appetizing as a lump of coal, but the black gold fetches top dollar in local markets.
The catch is you may have to head out of town to try it. One of the top things to do in Puerto Escondido is to take a day trip to La Escobilla beach to witness a sea turtle nesting.
It's worth extending your trip to overnight in Huatulco just to sample cuitlacoche at Terra-Cotta Restaurant at Mision de Los Arcos in La Crucecita, Huatulco.
6. Tinchuiche (river anchovies) – A Hands-on Cooking Class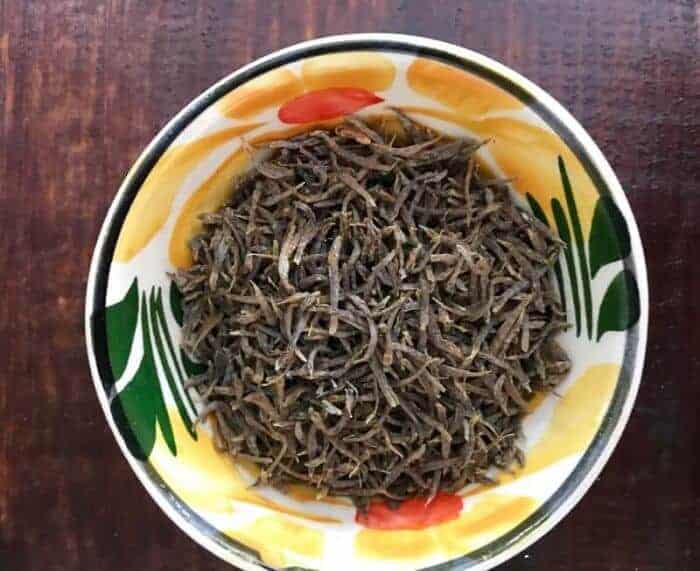 It may look like a worm but tinchuiche is actually a tiny fish that tastes like an anchovy. Sample this seasonal fish gathered from the Zimatan river near Huatulco, in a 4-hour, small-group cooking class at Chiles & Chocolate Cooking School.
Taking a cooking class is one of the top things to do in Huatulco. You'll get a hands-on opportunity to use the tiny salted tinchuiche fish in salsas where it adds a boost of flavour.
Other regional ingredients you'll learn to work with include nopal, chapulines (toasted grasshoppers) and Pacific Coast shrimp. Cost for the course includes transportation pick-up/drop-off at Huatulco area hotels as well as lunch, recipe manual, gift bag and more.
Read more about Ultimate Guide To Huatulco Beach Hotels
7. Mezcal de Pechuga at a Mezcaleria
There's a reason that artisanal mescal, tequila's quirky cousin, is steadily earning its place on bar shelves worldwide.
While tequila production is restricted to only one type of agave, skilled Oaxacan mescaleros craft mezcal blends using up to 20 different types. This results in subtle nuances of flavour ranging from citrusy to smoky.
For an adventure in Puerto Escondido, try a shot of Don Franco (a potent local liqueur) or enjoy a mezcal tasting on the Adoquin, the pedestrian-only night market.
To learn more about the differences between Mezcal vs Tequila stop by the Los Cantaros Mezcaleria shop on Highway 200 just outside Puerto Escondido. If you're a guest at Vivo Resort or Gecko Rock Resort, they often include a stop at this artisanal producer on their way to the airport or other shuttle trip.
At Los Cantaros, you can sample a selection of artisanal mezcals distilled in clay pots as well as mezcal distilled in copper bowls. They also offer cremas infused with sweet flavours such as coconut, passion fruit, strawberry and coffee.
Another option is to sample authentic artisanal mezcal at mezcalerias in Pluma Hidalgo in the mountains above Puerto Escondido and Huatulco.
Mezcal fans should seek out mezcal de pechuga, crafted by suspending a raw chicken breast over a vat of mezcal.
I sampled this delicately floral mezcal in the valleys near Oaxaca City during the Spirit of Oaxaca Mezcal and Beer Lover's Cultural Tour.
But certified mezcal expert Alvin Starkman offers in-depth Mezcal Educational Tours about the culture of mezcal (and pre-Hispanic beverages such as pulque and tejate) on single day or multi-day excursions for both novices and professionals.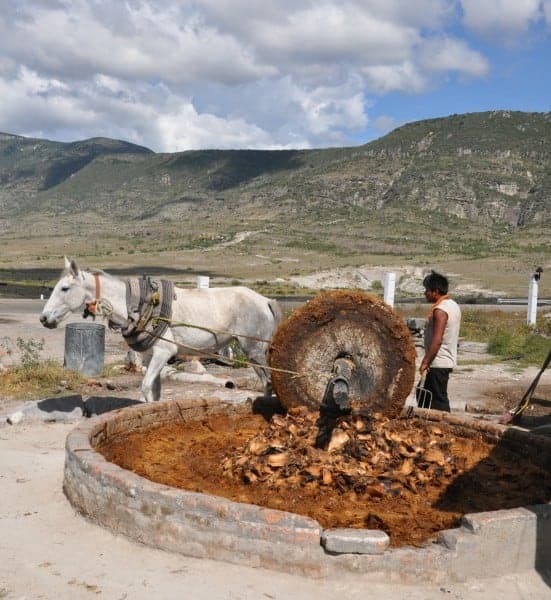 8. Nopal Cactus
Visitors are likely to raise an eyebrow when first spotting the prickly plant on the menu, but nopal cactus is one of Mexico's most iconic ingredients.
Try it for yourself at the market, where you can watch Zapotec vendors remove the spiky spines, peel the rind and then stack the shiny paddle-shaped leaves to go. With its delicate, tangy flavour, cactus is versatile.
9. Oaxacan Hot Chocolate
One of the top drinks in Oaxaca is hot chocolate. The popularity of cacao dates back to ancient times and was considered 'food of the gods' among the Aztecs. Today, there's even a museum in Mexico City dedicated to the history and culture of chocolate.
There are two main ways to enjoy hot chocolate in Oaxaca. One is with milk (de leche), and the other is with water (de agua). Both are served sweet and frothy.
The froth is created using a wooden whisk known as a molinillo. Sample delicious versions or traditional hot chocolate at La Julia or buy some chocolate to make your own at Chocolate Mayordomo across from Benito Juarez Market.
To dive further into the delicious world of traditional chocolate, take the Loco for Chocolate tour with local expert Gina Machorro. You'll get insights into the production of cacao, harvesting it and how to prepare and serve it.
The tour costs 650 pesos per person (minimum two people). To book, contact Gina at the Tourist Information Booth on the Adoquin or by phone at 954 559-5518.
10. Moles – Red, Black, Yellow, Green and Other Types
Chocolate also takes centre stage in mole negro, one of Oaxaca's most famous foods. This rich, spicy and smoky-sweet sauce is made from tomatoes, almonds, raisins, plantain, chilis and chocolate.
It also features the rare chilhuacle variety grown only in southern Mexico. This traditional sauce takes hours to make and is a must at any Mexican celebration.
It might seem unusual to eat chocolate as part of a main course but try mole negro once and you'll soon be a convert.
It's definitely worth seeking out in Puerto Escondido restaurants and food stalls. You'll find it as a topping on Tlayudas Oaxaqueñas, the giant-sized crispy corn tortilla that's an iconic street food throughout Oaxaca.
For tlayudas in Puerto Escondido head to La Juquileña restaurant located a block north of Benito Juarez market.
Though Oaxaca is known as the Land of Seven Moles so be sure to try them all!
11. Paletas
Icy paletas offer a quick and delicious way to cool off in the heat. Unlike ice cream, they're made by freezing purified water with sugar and fruit.
In Puerto Escondido, look for flavours like watermelon, guava and mango or exotic creations like gooseberry or jicama with chili and gardenia petals.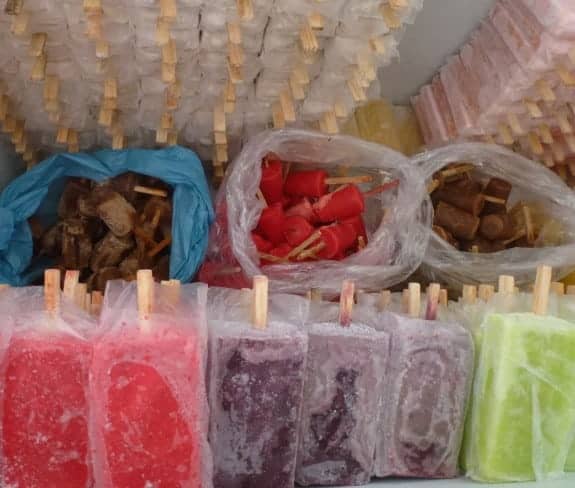 It's even possible to find adult-only, boozy versions of paletas spiked with tequila or mezcal.
12. Fish Tacos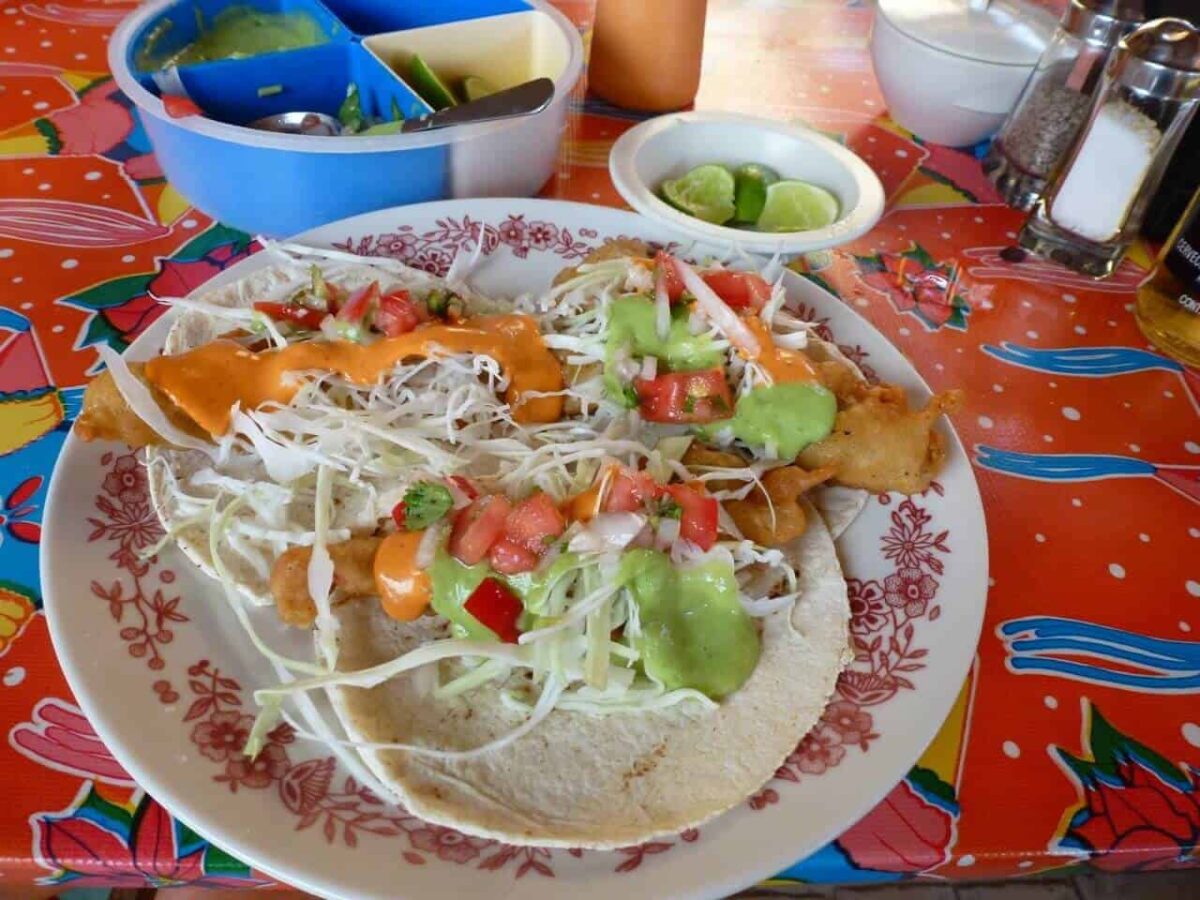 Given its location on the Pacific coast, it's not surprising that a top Puerto Escondido food happens to be fish tacos. While they're often served grilled, at Dan's Cafe Deluxe they come served Baja-style in a delicate batter.
Another top restaurant for fish tacos is La Olita, conveniently located at the entrance to Zicatela Beach. Their tacos camarones (shrimp) will also have you coming back for more.
At La Olita, pair your tacos with an order of artisanal mezcal, served with chapulines!
Best Puerto Escondido Restaurants for Traditional Oaxacan Food
Almoraduz Restaurant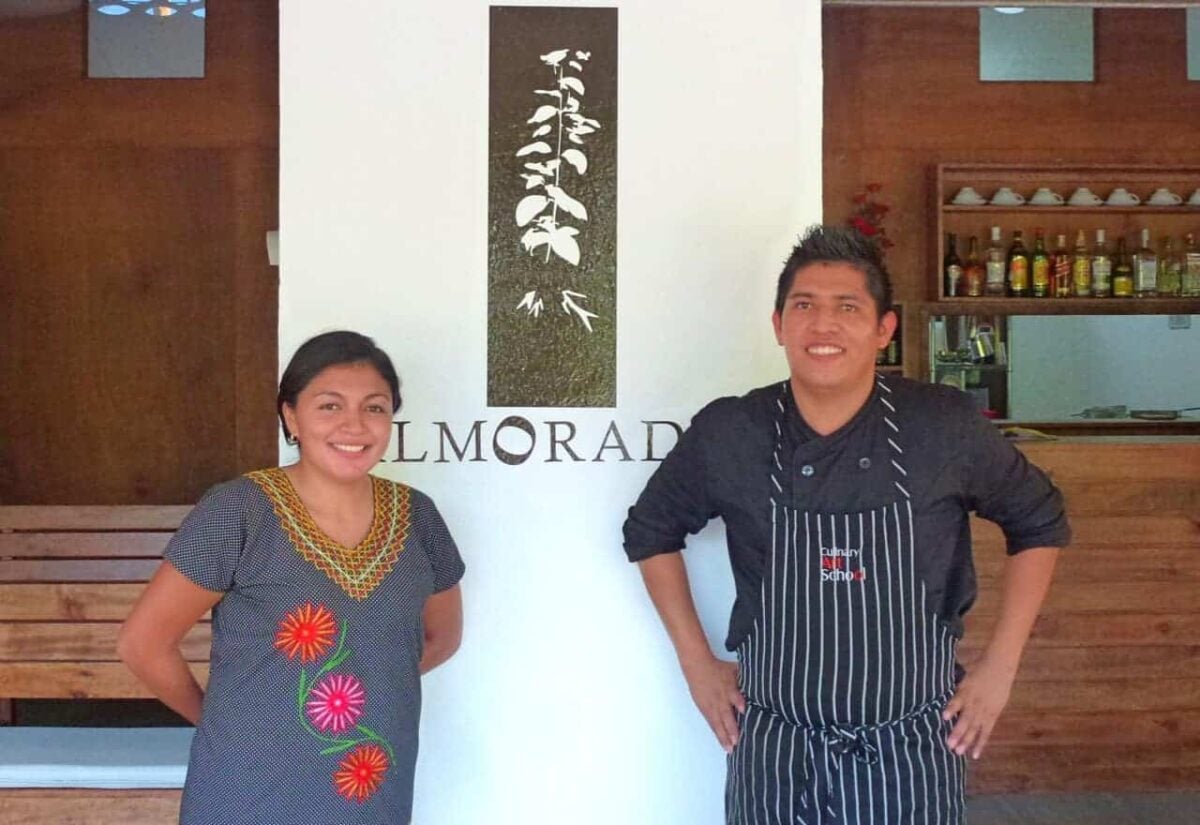 At Almoraduz Restaurant, chef/owners Shalxali and Quetzalcoatl Zurita are the creative forces behind dishes and cocktails that are a spin on traditional Oaxacan cuisine.
Sample local ingredients such as Istmeño cheese, tepiche (a flavourful herb) and beef tongue in chapuline (toasted chile grasshopper) sauce.
This might be your only chance to sample a hibiscus margarita featuring local mezcal. So if it's available, be sure to order it!
Cayuco Cocina y Mezcal
From the chocolate in mole negro to chapulines (toasted grasshoppers) to "string" cheese, Oaxaca's classic cuisine is known for its complexity and diversity.
At Cayuco, Chefs Roberto Cruz Vasquez and José Miguel Cruz Arana have created a unique, fine dining menu. It takes traditional ingredients and reworks them in fresh and exciting ways.
For a twist on Catch of the Day, dorado comes lightly cooked with its freshness highlighted by fragrant spices from the Isthmus of Tehuantepec.
Sauces burst with flavour, punched with chile-fuelled power and locally-sourced herbs such as pungent epazote. This is also one of the best places for mezcal in Puerto Escondido.
Be sure to try one of the artisanal mezcals! Choose from arroqueño, tepextate, barril, mexicano, madre cuixe, bicuixe, sierrudo, and papalometl.
This beachfront restaurant is located almost directly across from the Santa Fe Hotel on the beach side of Calle del Morro on Zicatela Beach.
Espadín Restaurant
If you have time for just one restaurant, Espadín should be top of your list. Located within the picturesque boutique hotel Villas Carrizalillo on a cliff overlooking the beach of the same name, it offers a memorable dining experience.
Fish dishes are stand-outs. Even the fish sandwich with its latticework of Baja style chipotle sauce is a winner! But Chef Patricio Sandoval, founder of the well-known Mercadito restaurants in Chicago, New York and Miami, has many other standout dishes.
Be sure to try the roasted beet salad, chicken in mole negro and shrimp tacos. The restaurant-bar also carries a wide selection of high-quality mezcal.
La Juquileña Restaurant
Although tlayudas are a popular street food after an evening of nightlife in Puerto Escondido, get them in the middle of the day at La Juquileña restaurant.
This local favourite is located a block north of Benito Juarez market on 8a Norte. It has communal tables, open grills, huge portion sizes and a lively atmosphere.
Las Margaritas
Feeling weary from a morning at the Benito Juárez market? This restaurant is truly an oasis from the bustling street scene along 8a Norte. Portions of brochettes of fish are so generous you can take some home for your next meal! Another top choice is grilled beef arranchera.
Dishes come with creamy guacamole, green and red salsas, handmade tortillas, black beans and grilled nopal cactus.
The pleasant shaded courtyard, breezy fans, friendly service and immaculate washrooms make it a place you'll want to return to again and again. Daily specials are exceptional value.
Look for Las Margaritas awning at the corner of Avenida Oaxaca and 8a Norte across from Benito Juárez Market.
If You Enjoyed This Post, You Might Also Like
Our Essential Puerto Escondido Travel Guide. It's packed with information on hotels, beaches, things to do, day trips and more.
Review of One Love Restaurant, Puerto Escondido
9 Tips for a Perfect Romantic Getaway in Puerto Escondido, Oaxaca
Beach Shack & Day Trip to Roca Blanca, Mexico
Save to Pinterest!
Originally published in 2014, this post was substantially updated with new photos and text in 2021.
Dividing her time between Canada, Guatemala and Mexico (or the nearest tropical beach), Michele Peterson is the founder of A Taste for Travel. Her award-winning travel and food writing has appeared in Lonely Planet's cookbook Mexico: From the Source, National Geographic Traveler, Fodor's and 100+ other publications.
View more posts by Michele Peterson Read more