We may earn income from links in this post. Please read this Disclosure for details.
There's lots happening in the Puerto Vallarta food and restaurant scene on Mexico's Pacific Coast. In fact, there's so much going on, it can be tough to know where to begin!
That's where this restaurant and food tour guide comes in. From sipping artisanal raicilla overlooking the cobblestone streets of Old Town Vallarta to eating aguachile at a beach bar in San Pancho, you're sure to love these food and drink experiences.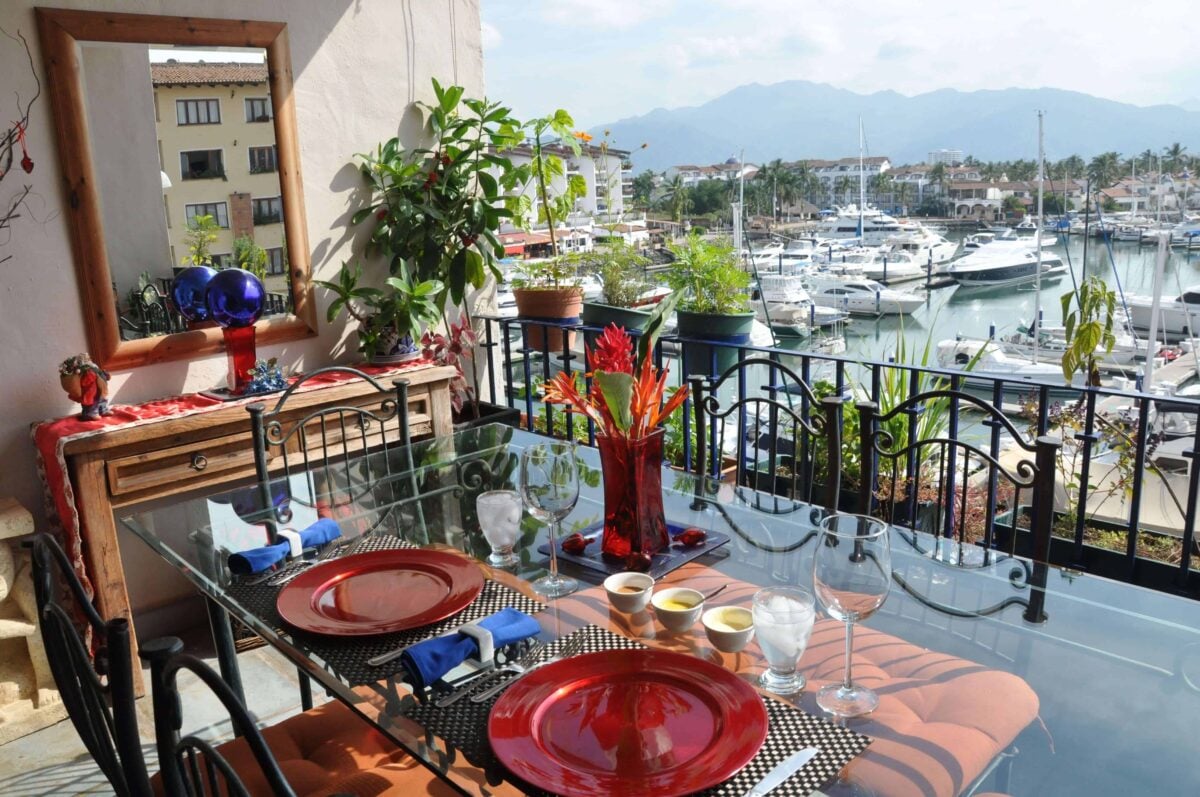 This list is the result of decades of exploring Puerto Vallarta food and drink scene! Puerto Vallarta was one of the first places I visited in Mexico, camping on the beach in still-wild Mismaloya and eating grilled fish on a stick.
Since then I've spent a lot of time eating my way up and down the Pacific Coast while writing for Lonely Planet's cookbook Mexico from the Source and Fodor's Travel guide.
I also have lots of friends and family in PV so that's always another great reason to visit!
🌟 Fun Fact: My aunt Angeline Kyba even has an art studio in Old Town Vallarta near the Rio Cuale. It's open to the public during high season so check out her website for hours!
Whether you're eating beachside with friends or fine-dining in the Romantic Zone, eating in Puerto Vallarta is always an adventure.
This post has the inside scoop on the best places to eat, foodie things to do, local spirits to try, day trips, food tours and all-round favourite Puerto Vallarta culinary experiences.
1. Get Cooking at a Puerto Vallarta Cooking Class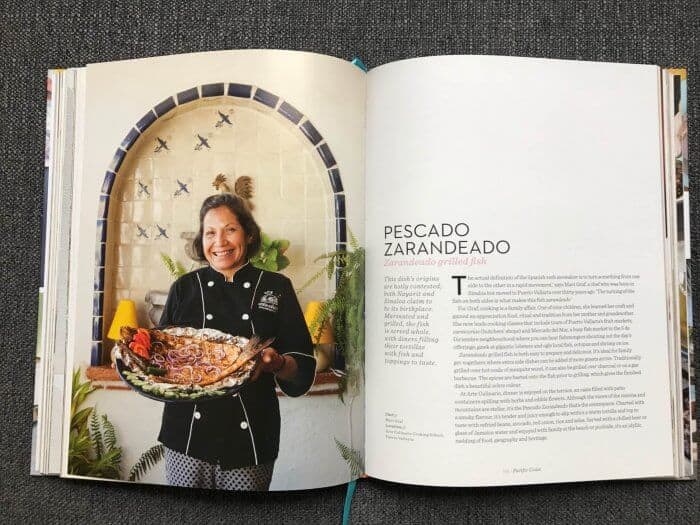 For culinary travellers, markets offer instant immersion into the colours and flavours of a country's culture. In Puerto Vallarta, there are not one but several authentic food markets, each with its own personality.
The best way to experience them is on a guided market tour led by Chef Mavi Graf of Arte Culinario.
Part of a cooking class held in Marina Vallarta, participants explore hidden culinary haunts meeting fishmongers, butchers and fruit vendors along the way.
Taking a cooking class is one of the best ways to dive into a local culture.
You'll get a behind-the scenes look at bustling food stalls, then enjoy a cooking class featuring appetizer, entrèe and dessert with optional wine pairing.
2. Take a Downtown Puerto Vallarta Food Tour
A Downtown Puerto Vallarta Food Tour is one of the first things every food lover should do when they arrive in town.
Food tours are a great way to get oriented to the city, meet some people and get some ideas for fantastic places to eat for the rest of your stay. You'll also learn a lot about local food.
Whether you're visiting Puerto Vallarta on a cruise or spending a week in the area, the 3.5 hour Downtown Puerto Vallarta Food Tour is a savvy way to enjoy authentic local food while soaking up some history and culture.
On this small-group tour of downtown you'll enjoy 10 different food stops and tuck into a range of foods from appetizers to dessert.
Don't know the difference between tacos de sesos and tacos de pescado? No worries! Your local guide will help you out!
Sesos are cow brains. While they're a prized taco filling in Mexico (especially in Mexico City's Historic Zone), unless you're feeling super adventurous you might want to know before ordering!
Check prices and availability of the Downtown Puerto Vallarta Food Tour on Viator.com.
3. Indulge in Bean to Bar Chocolate Workshop in Puerto Vallarta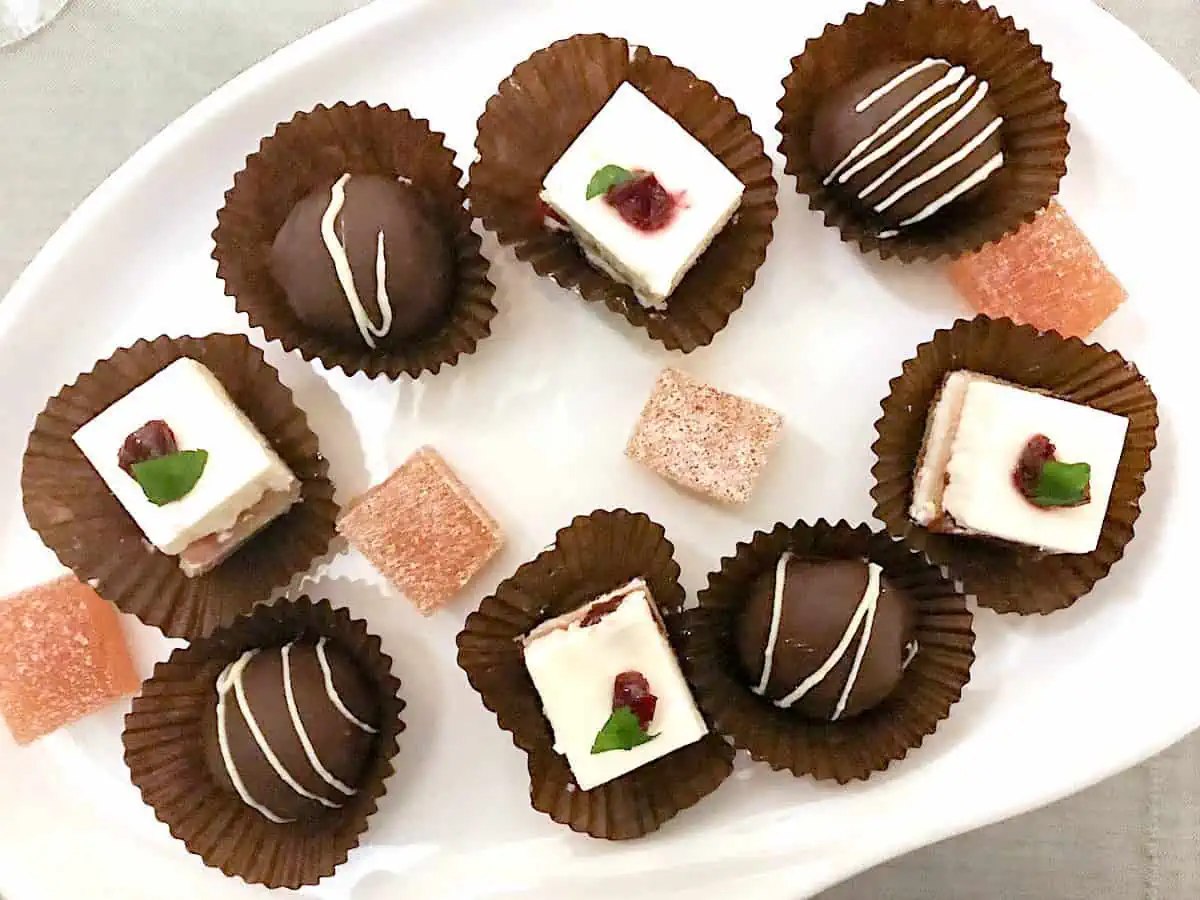 One of the shortest food tours in Puerto Vallarta also happens to be one of the sweetest!
During this popular 2-hour, hands-on Bean to Bar Chocolate Workshop you'll learn about the history, cultivation and use of cacao in the traditional cuisine and culture of Mexico.
From chocolatl, the prized drink of Aztec royalty, to the spicy-sweet mole negros of Oaxaca cacao has been revered throughout the Americas for centuries.
In addition to exploring the bean's rich history, you'll have the opportunity to make your own chocolate confection to take home!
Check prices and availability of a Bean to Bar Chocolate Workshop on Viator.com.
4. Explore Old Town Farmers Market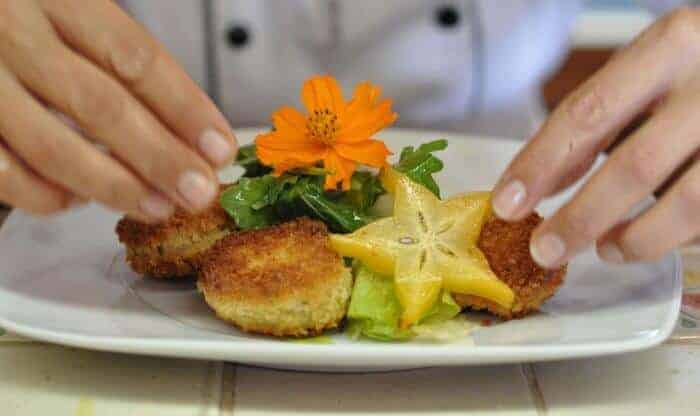 You can also purchase Arte Culinario's popular salad dressings, infused vinegars and meat rubs to enjoy at home.
These 100% preservative-free products are also available at the Old Town Farmers Market featuring products made by vendors who live within 75 kilometres of Puerto Vallarta.
Old Town Farmers Market is located at Plaza Lazaro Cardenas and is open Saturday from 9:30 am to 2:00 pm from January-May
5. Enjoy Some Traditional Jalisco Fare at Gaby's Puerto Vallarta Restaurant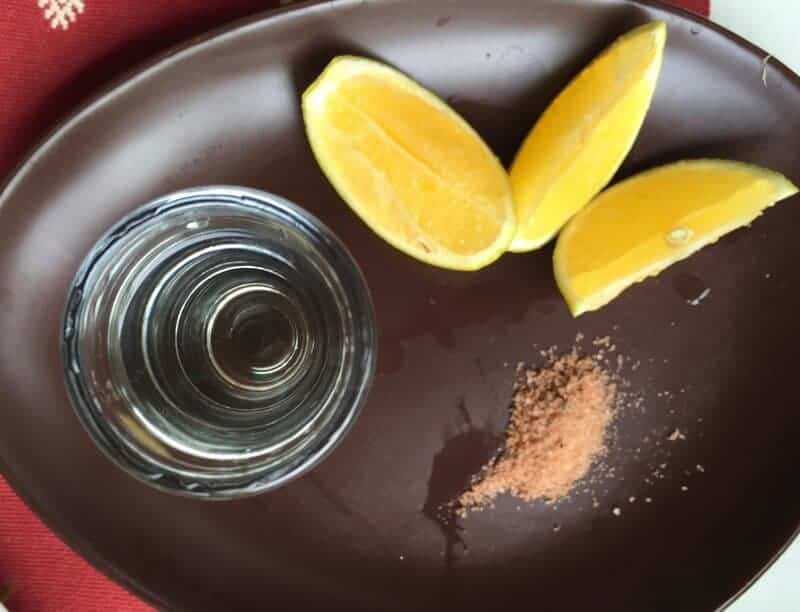 While working on the Lonely Planet Cookbook: From the Source – Mexico: Authentic Recipes From the People That Know Them the Best (Lonely Planet) I included Gaby's family-run restaurant mostly because of its authentic version of cuala de coco, a classic Puerto Vallarta street snack that's a cross between a coconut custard and flan.
But their menu features a vast array of other authentic dishes and drinks. While I was working my way through the menu, pondering the deliciousness of it all, I was treated to a shot of the restaurant's artisanal raicilla.
This distilled spirit, similar to tequila and mezcal because it's produced from the agave plant, can often be harsh because it's frequently valued for potency rather than flavour.
But the raicilla at Gaby's is delicate, with faint floral notes. While it's available served in the signature Gaby's margarita, it's worth trying straight for a real taste of Jalisco.
6. Signature Architecture and Street Food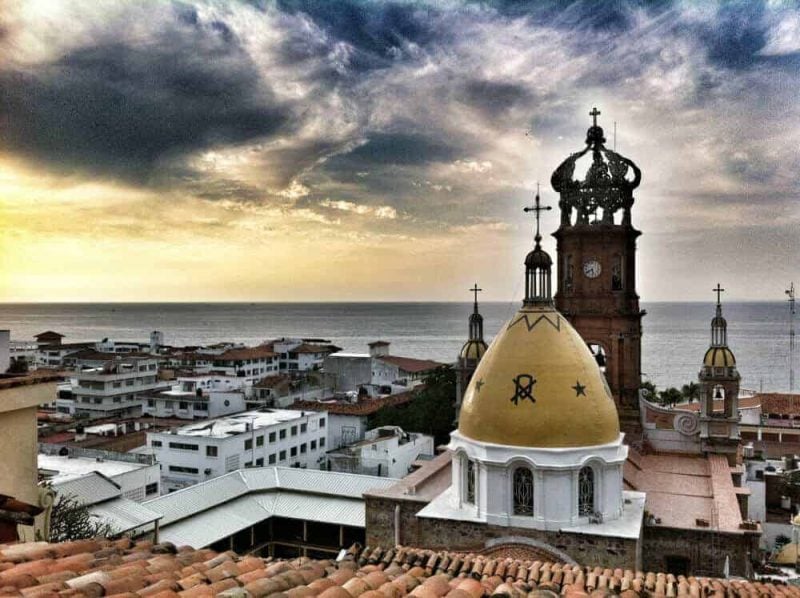 The soaring Los Muertos Pier, designed by Mexican architect Jesus Torres revitalized the Old Town beach scene with its waterfront promenade, scenic night lighting and modern dock with ferry boats whisking visitors to the hidden beaches of Yelapa.
Watch local fisherman haul in their catch, catch a spectacular sunset or just soak up the relaxed vibe.
The pier evokes the romance of the sea with its motif of an unfurled sail, its grand plaza entrance and circular walkway. The pier has joined other signature architecture, such as the church of Our Lady of Guadalupe, to become an icon for Puerto Vallarta.
Culinary adventurers will want to try their off-the-beaten-path tours of Pitillal and Versalles neighbourhood. Themes include street food, regional tacos, hand-crafted cocktails and more.
Also worth experiencing are their Bikes & Bites Taco Bicycle Tour (yes it's a food tour by bicycle!) or for a more leisurely option, the Vallarta by Road Tour where you travel by air-conditioned van.
It's also possible to see these major sights (and sample some tequila!) on the Highlights of Puerto Vallarta cruise ship excursion.
7. Romantic Fine-Dining at Villa Premiere Hotel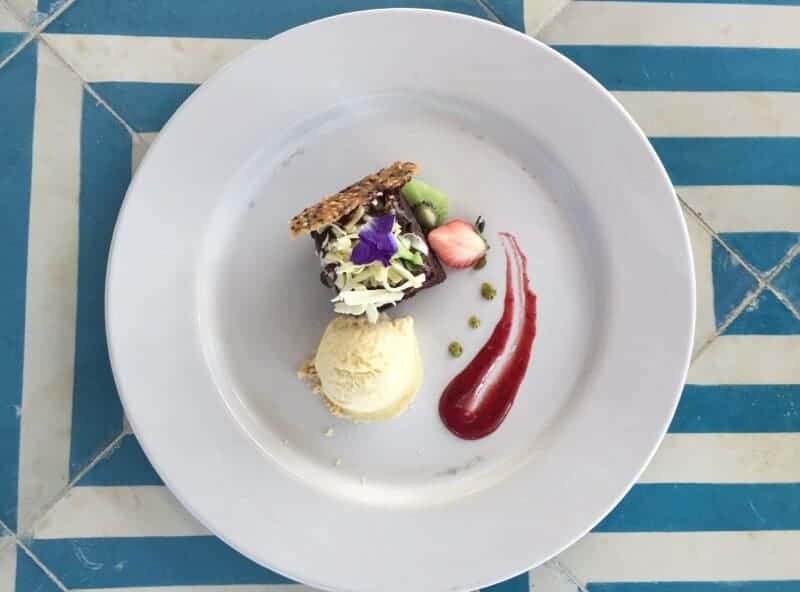 Although it may not be well known outside of Puerto Vallarta, Villa Premiere Boutique Hotel is an adults-only hotel that's on my list of the most romantic hotels in Mexico.
With just 80 rooms and suites, it's the only hotel I've ever been to where a therapist welcomes guests with a neck and shoulder massage upon check-in.
The spacious suites offer incredible ocean views from the balcony and the decor is contemporary, sleek and dramatic. Other amenities include a pillow menu and a scent menu for in-room aromatherapy and a prime oceanfront location a short walk to town.
However, for food fans a highlight of a stay at Villa Premiere is the sophisticated cuisine. At La Corona restaurant Chef Tony Martinez has a deft hand when it comes to preparing local ingredients with molecular gastronomy techniques.
Seafood dishes are an especially good choice as are the glamorous desserts which come beautifully presented with fresh flowers, gold leaf and other creative touches.
Check rates and availability at Villa Premiere Boutique Hotel & Romantic Getaway on Booking.com.
8. Hang Out at the W Hotel Punta de Mita Beach Bar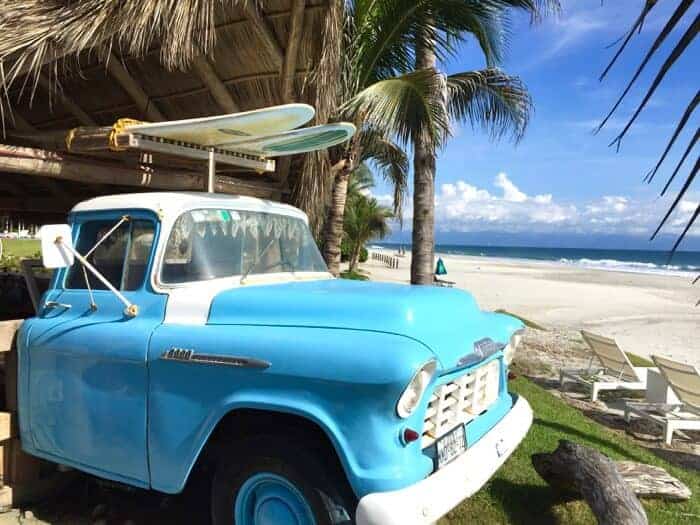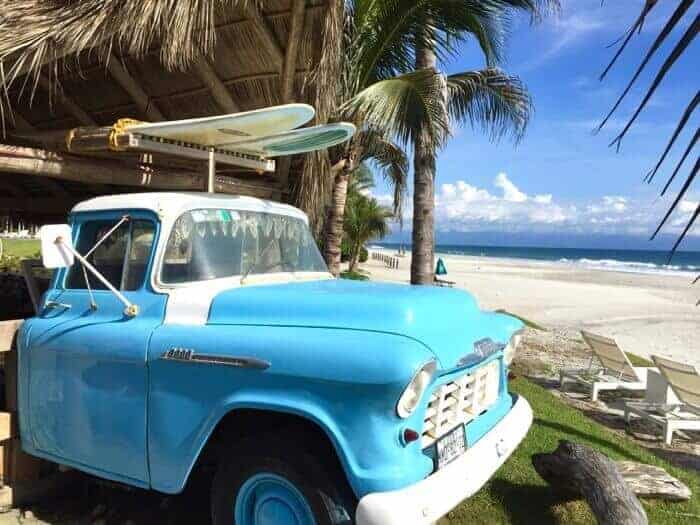 If you're looking for a beach bar away from the crowds, you'll find your nirvana at the Chevicheria at the W Hotel in Punta de Mita.
This laid-back hang-out is located within a palapa-topped Chevrolet 3800 pick-up truck set on a windswept stretch of coastline.
You can enjoy a cocktail paired with one (or more) ceviches from the beach bar's ever-evolving ceviche menu.
Inventive ingredients include mezcal, green apple, red grapefruit, hibiscus flower syrup and a smorgasbord of tastes and textures that vary seasonally.
While at the W Punta de Mita, keep your eye tuned for decor from Revolucion del Sueno. This cool design shop in Sayulita that features cheeky Mexican motifs in its modern line of fun accessories.
While in Sayulita, also check out the Sayulita Wine Shop for a tasting of mezcal, raicilla, wines from Valle de Guadalupe and unique Mexican liqueurs such as the Ancho Reyes Ancho Chile Liqueur from Puebla.
Infused with dried and smoked poblano pepper, it will add a boost to classic cocktails such as margaritas and can be tough to find outside Mexico.
Check rates and availability for W Hotel Punta de Mita on Booking.com.
9. Bask on a Beach at Restaurant Las Palmas in San Pancho ( San Francisco)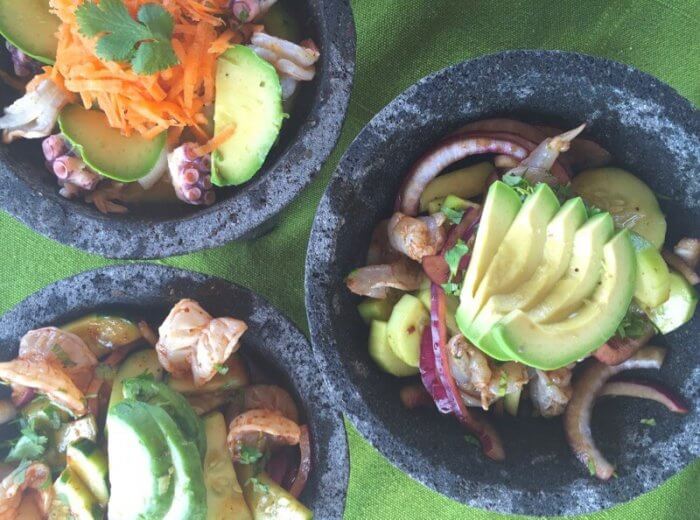 Another restaurant that's well worth a road trip is Las Palmas Restaurant and Bar (Google Map) in San Pancho (officially known as San Francisco), an hour north of Puerto Vallarta in Riviera Nayarit.
This is my favourite spot to enjoy aguachile. This Pacific coast specialty features a mix of fresh, raw shrimp slightly "cooked" in lime juice and mixed with red onion, cucumber and serrano chile peppers.
It's similar to ceviche but has more of a kick thanks to the hot chiles.
Chef Sergio Romo offers several variations on classic aguachile. So plan on spending an afternoon with your feet in the sand exploring aguachile negro (an Asian-style version) or aguachile naranjado (an orange-hued treat) while listening to the sounds of the waves.
The coast of Nayarit is also a good place to pick up a few bottles of Salsa Huichol, the hot sauce produced in Tepic according to a secret family recipe.
Slightly south of San Pancho you can make a stop in the beach town of Sayulita for a Tacos & Tequila Tour. It's one of the top Sayulita tours for good reason.
On this tasty 3-hour tour you get to sample tequila, mezcal, and raicilla and food at seven restaurants!
10. Sip Craft Beer at a Brew Pub in Puerto Vallarta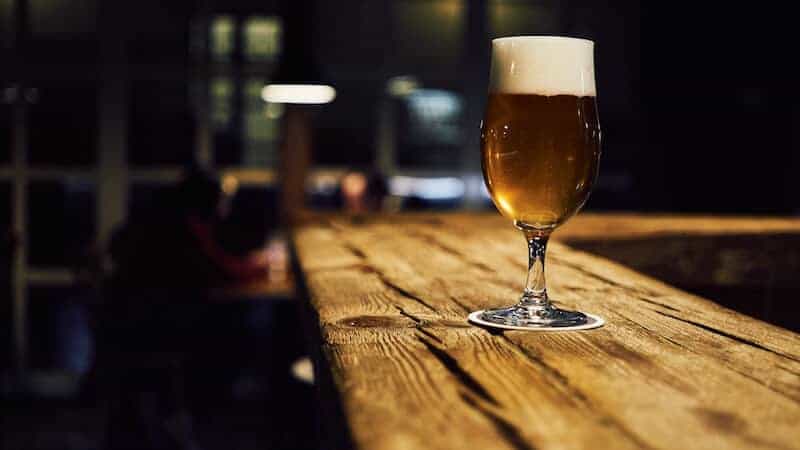 Ever since 1542 when Emperor Carlos V of Spain gave permission to Alfonso de Herrera to establish a cerveceria in the Americas, beer has been popular in Mexico.
While big labels such as Corona, Dos Equis, Sol and Victoria are world famous, recently, there's been a surge of interest in small-batch, artisanal beer.
One of the top hubs for beer aficionados is Los Muertos Brewing in Puerto Vallarta. With its cheeky labels and street front Puerto Vallarta restaurant location in Old Town, it offers artisanal beers served with cantina flair.
Sip a Mexicana Rubia, a light-bodied pale ale. Or, if you're feeling adventurous go for an Anillo de Fuego, a chile-infused ale that's perfect paired with tomato juice.
For spots where you can dance the night away, there are lots of nightclubs, bars and cabaret-style venues to choose from. Puerto Vallarta. happens to be Mexico's most gay-friendly beach destination, so there are lots of gay clubs –such as Anonimo and Cc Slaughters — to hang out at.
Mezcal lovers will want to include Bar Morelos Mezcaleria on their list of things to do at night in Puerto Vallarta. While Twisted Palms Rooftop Lounge is a top spot when cocktails when bar hopping in Vallarta.
Secrets Vallarta Bay: A Foodie Couples Beach Resort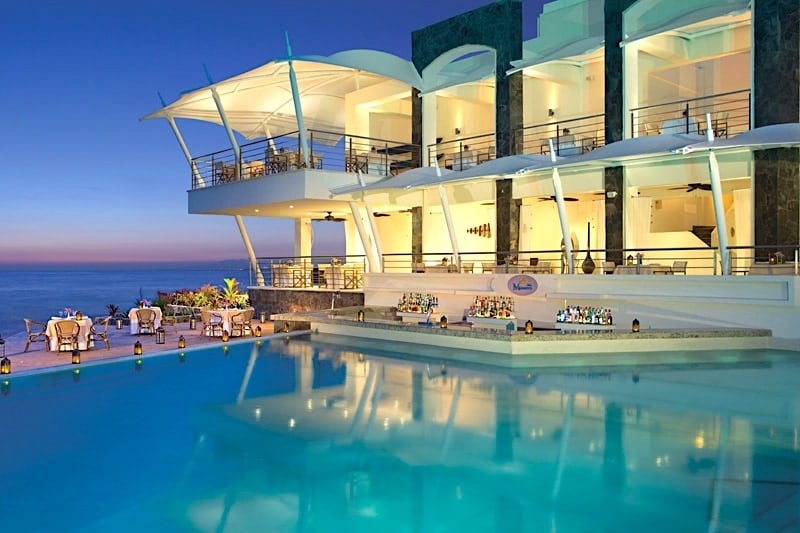 A once-vacant piece of land on Las Glorias beach has been reborn as Secrets Vallarta Bay Resort and Spa.
Situated within easy walking distance to El Malecon and overlooking Banderas Bay, this adults-only, all-inclusive property offers all the charm of Puerto Vallarta's classic vibe but with luxury amenities such as elegant suites, ocean-views and gourmet cuisine at five à la carte restaurants.
Highlights of a stay include Maya cooking classes, salsa dance lessons and yoga on the beach. Golf fans will appreciate complimentary green fees at three nearby championship courses.
The Preferred Club, with its exclusive lounge offering afternoon tapas and concierge service, enhanced mini-bar, continental breakfast and roomy suites with outdoor Jacuzzi, is well worth the upgrade. The glam swim-up suites are the nicest in town.
Puerto Vallarta Restaurant Guide Travel Planner
Official Puerto Vallarta Tourism: www.visitpuertovallarta.com
Puerto Vallarta Old Town Farmers Market: The location of this farmers market is at Plaza Lazaro Cardenas. It's open Saturday from 9:30 am to 2:00 pm. January-May
Puerto Vallarta Cooking Class: Arte Culinario
More Food and Travel in Mexico
Recipe for Easy Crab Cakes by Mavi Graf, Arte Culinario
Essential Guide to Day of the Dead in Mexico
Top 3 Tours of Mexico City's Floating Gardens
Save to Pinterest!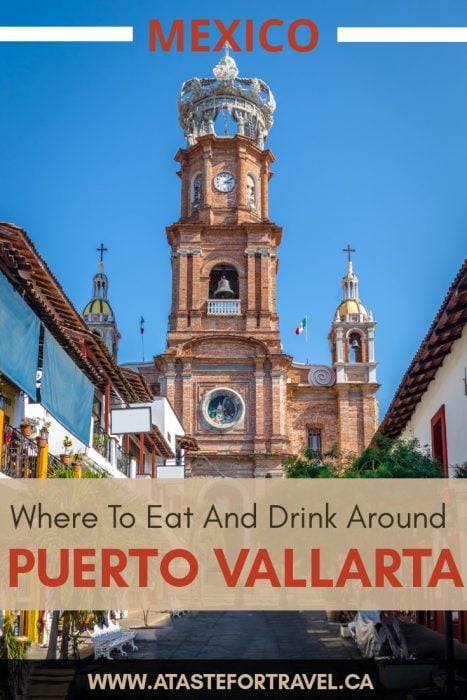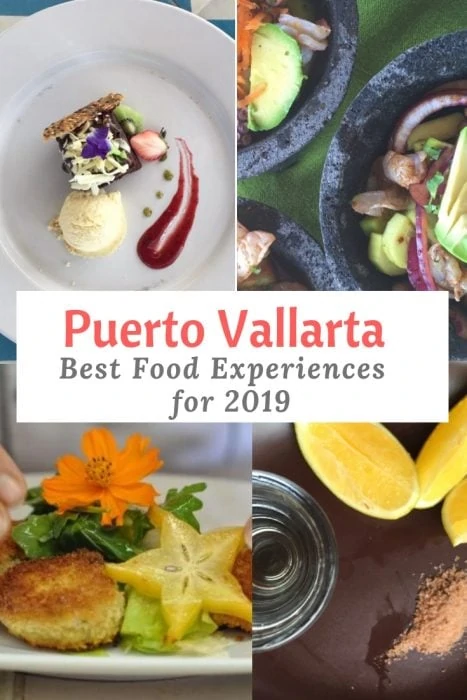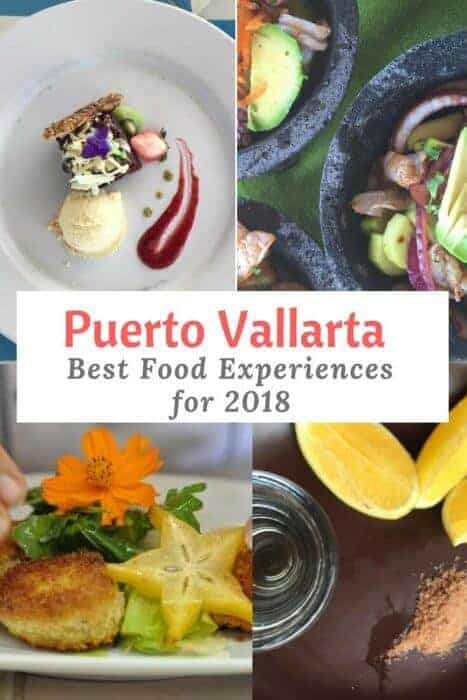 Dividing her time between Canada, Guatemala and Mexico (or the nearest tropical beach), Michele Peterson is the founder of A Taste for Travel. Her award-winning travel and food writing has appeared in Lonely Planet's cookbook Mexico: From the Source, National Geographic Traveler, Fodor's and 100+ other publications.
Read more about Michele Peterson.