We may earn income from links in this post. Please read this Disclosure for details.
Looking to cool off in a natural swimming pool on your trip to Guatemala? The cascading waterfalls and pools at Balneario Pasabien in Zacapa, Guatemala make a fine escape from the hot sunny weather of the eastern part of Guatemala.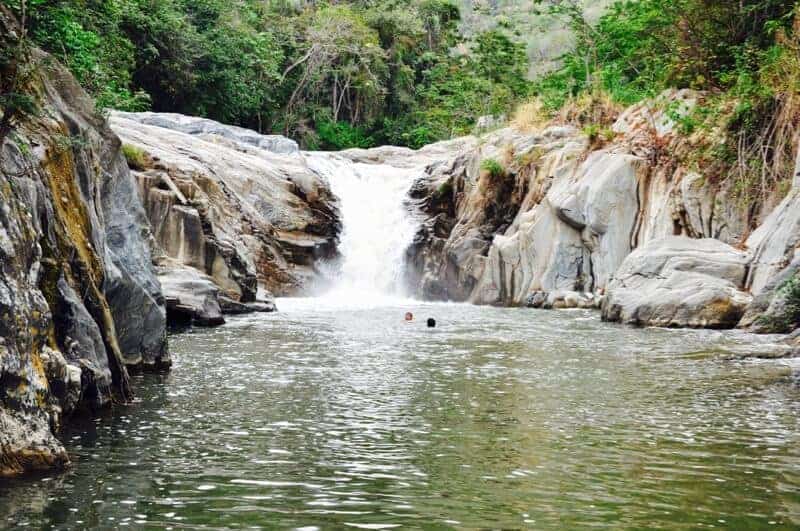 Balneario Pasabien in Popular Guatemalan Culture
Ever since I first heard the song "Soy de Zacapa" I vowed to someday see the natural swimming balnearios (baths) at Pasabien Zacapa near Rio Hondo in Guatemala. The Cancion Guatemalteca was written by the famous Guatemalan composer and musician José Ernesto Monzón (1917-2003) who was born in Todos Santos Cuchumatan in the municipality of Huehuetenango.
He composed 250 patriotic songs about Guatemala, many of them anthems to the people, culture and traditions of the region.
"Soy de Zacapa" was his greatest hit and is a famous song played by several Guatemalan artists as well as musical groups including marimba bands, mariachis and even recording artists such as FM de Zacapa, known for their lively merengue music.
"Soy de Zacapa" is such a popular traditional Guatemalan song, it's listed as one of the Best Mariachi Songs of All Time for Dancing.
Beautiful Landscape of Zacapa, Guatemala
My husband was born in Zacapa, so I've been listening to Soy de Zacapa for more than two decades now. I finally got my chance to see the famous Pasabien mentioned in the song when we spent a day there, crossing the San Vicente River and skipping past the village of Huite to Rio Hondo.
If you're travelling from Guatemala City to Rio Dulce or Flores, it's also possible to make a detour to stop at Pasabien.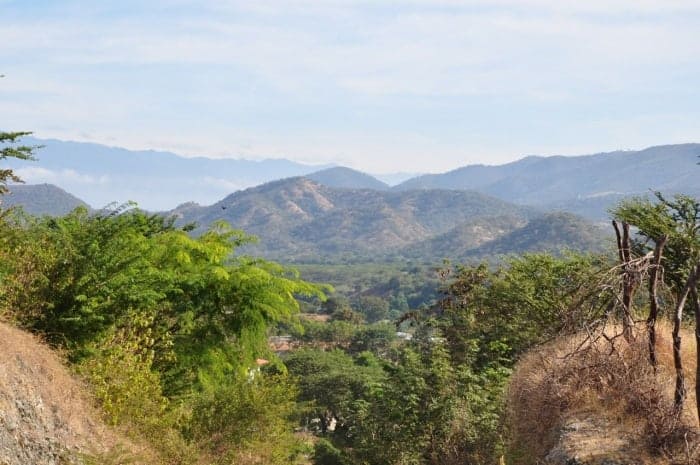 We paused at Valle Escondido waterslide park, surrounded by a high security fence. Signs warned no armas – handguns allowed. Just in case you were thinking of tucking a pistol in your Speedo.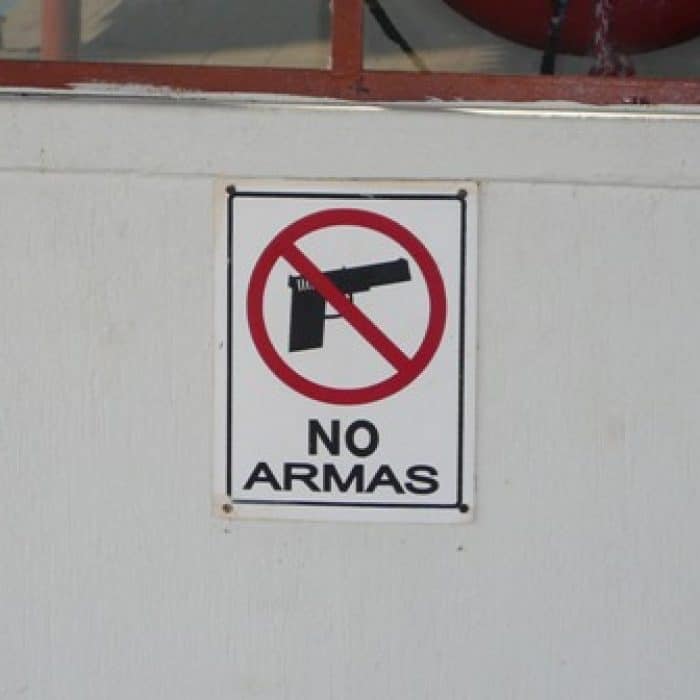 We then crossed a highway which traced the route of Guatemala's former national railway. Built between 1877 and 1908 and then taken over by United Fruit and abandoned in the 1950's, it once connected Guatemala City to Puerto Barrios, the steam-powered locomotives feeding the economic powerhouse of trade in fruit, coffee and vegetables.
Today, all that remained of the mightiest railway line in Central America was a few tracks and the fascinating, but often overlooked Museo de Ferrocarril or Railroad Museum, in Guatemala City.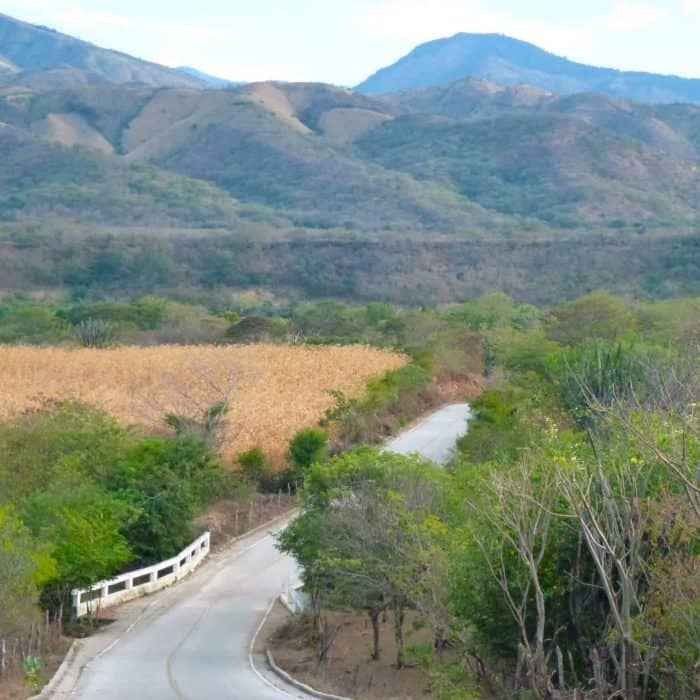 On a drive through Zacapa you'll see farmland, avocado trees, cactus, mango, papaya and cattle grazing by the side of the road.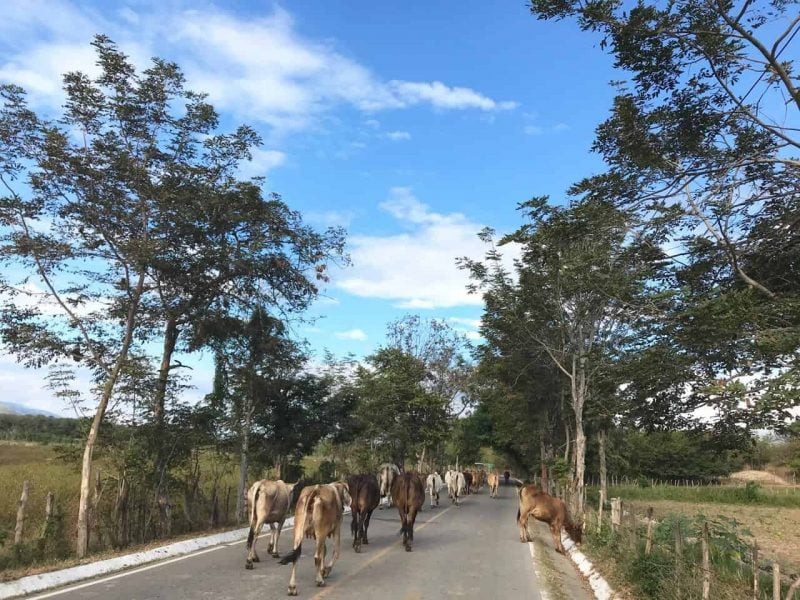 Natural Springs at Balneario Pasabien Zacapa Guatemala
Beyond Santa Cruz's busy commercial area, with its gas stations and cowboys, we continued along a small winding road, past vendors selling pineapples and quesadilla, the crumbly cheese cake so beloved in Zacapa.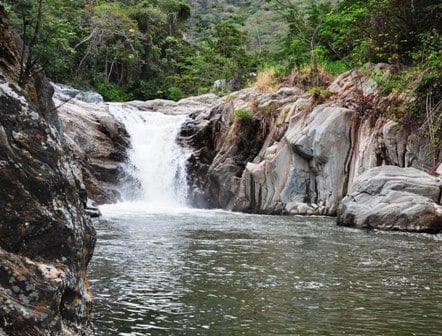 At Balneario Pasabien, we parked beside some comedors local food stands. The place was completely deserted. We were the only car in the parking lot. Although just minutes from the highway, Pasabien was an oasis of tranquility.
The river itself was wild, with tumbling and churning cascades of white water at its northern end where it spilled from its source in the Sierra de las Minas Mountains, into a natural rock pool.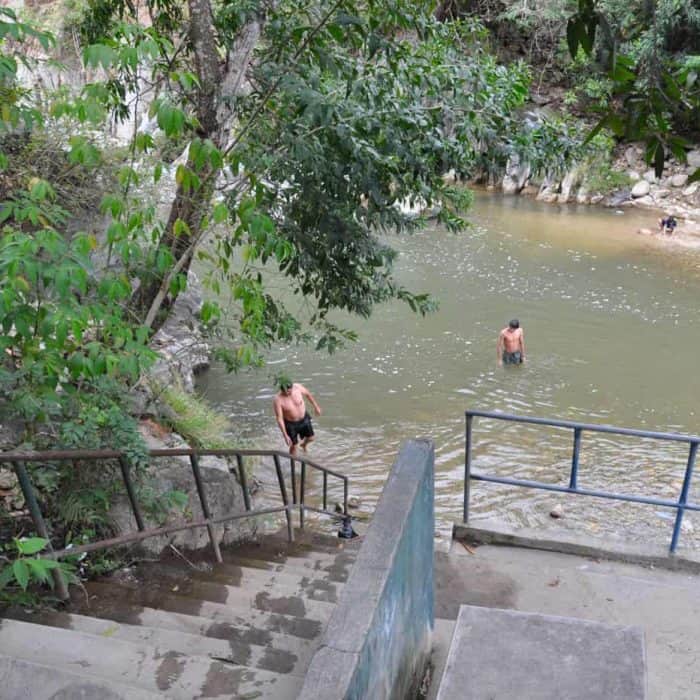 The first pool of calm water was surrounded by large smooth boulders, perfect for diving from. The river then made another series of drops, each creating mini-waterfalls which fed a string of peaceful pools.
Each pool was surrounded by stones of different sizes and colours. We hurried to get changed and I was still pulling up my bathing suit when I heard everyone hooting and shrieking. From the sounds of it, the water was icy cold.
I ran to the river's edge and jumped in up to my ankles, ready to paddle out to the middle of the pool. I could feel the current tugging lightly on my calves.
"Fresh from the mountains," shouted one of the guys who was thrashing about determined to show off his fortitude.
"No wonder the place is so empty," I hollered back.
They looked more like an otters than people – diving, ducking under the waterfall and sliding down the rocks.
"You should see it during Semana Santa (Easter)," he said coming up for air. "The water is as warm as a bathtub and packed with people."
One of the most popular traditions in Guatemala during major holidays and festivals like Easter and Christmas is to head to the beaches of Monterrico or balnearios like Pasabien with family and friends.
But visiting during the off season as we did offers its own special rewards. With few crowds, you'll enjoy peace and tranquility and the natural beauty of this impressive natural pool.
Travel Guide to Balneario Pasabien and Hotel Pasabien Zacapa
This post contains affiliate links. Read more on our Disclosure Page.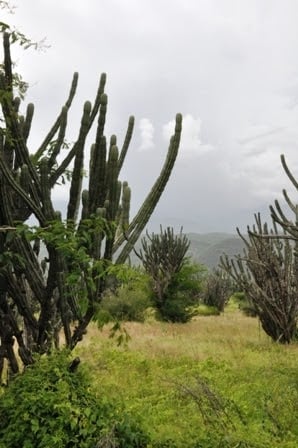 Official Guatemala Tourism website: www.visitguatemala.com
Where to stay: In Santa Cruz, at km 126 on Ruta al Atlantico is Hotel Pasabien Zacapa featuring a restaurant, playground and basic but comfortable accommodation.
Entrance Cost: Free
YOU MIGHT ALSO ENJOY
Top Tips for Safe Travel in Guatemala
Amazing Things to Do in Guatemala
Night Bus to Guatemala from Mexico
Dividing her time between Canada, Guatemala and Mexico (or the nearest tropical beach), Michele Peterson is the founder of A Taste for Travel. Her award-winning travel and food writing has appeared in Lonely Planet's cookbook Mexico: From the Source, National Geographic Traveler, Fodor's and 100+ other publications.
Read more about Michele Peterson.