We may earn income from links in this post. Please read this Disclosure for details.
Is Guatemala safe? If you're planning to visit Guatemala I'm sure that question has crossed your mind.
I've been travelling to Guatemala for more than 25 years visiting family and writing for magazines such as Fifty-five Plus, The Montrealer and Hola Latinos.
And, although my Guatemalan mother-in-law gives me lots of great advice (such as keep your money in your shoe), it's worth taking safety precautions so you can avoid crime problems such as carjacking, robbery, kidnapping, extortion and assault.
It's also important to consider dangers related to natural disasters such as volcanic eruptions, landslides and flooding during the rainy season and beach safety.
Facts about Safety in Guatemala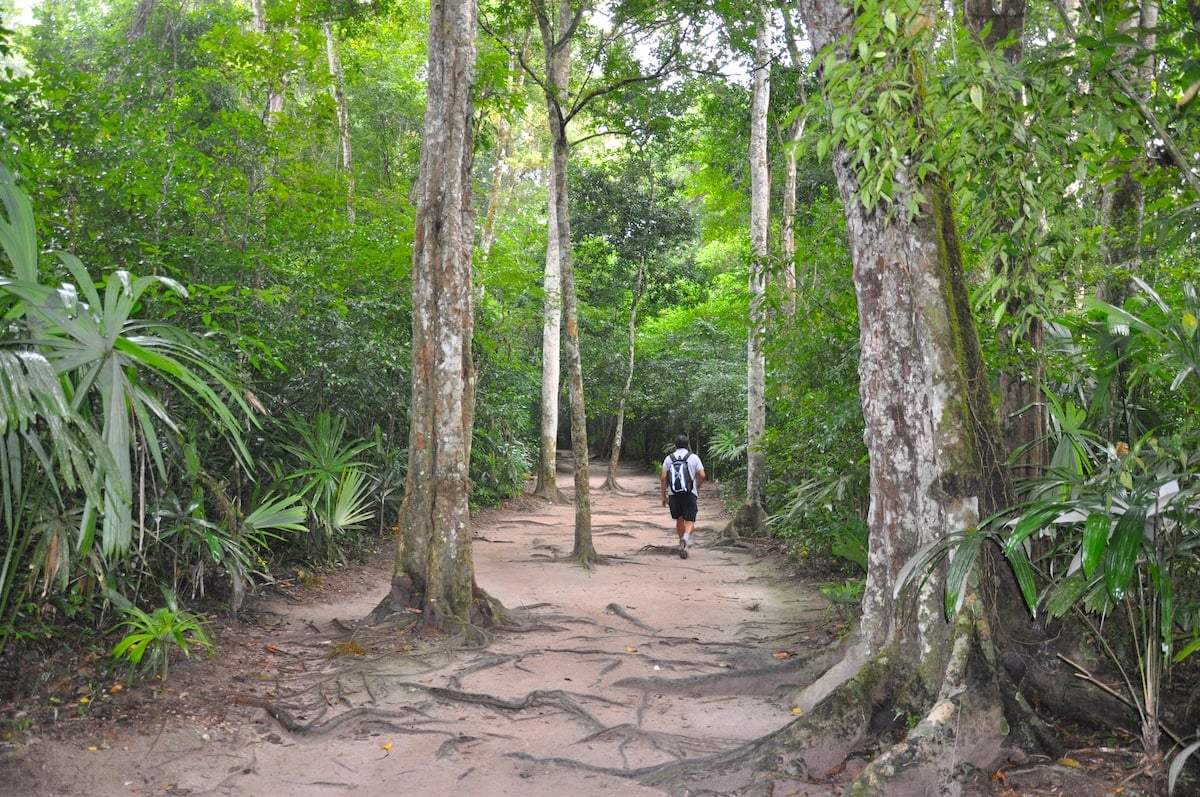 Currently, the U.S. State Department ranks Guatemala as a "Level 3 – Reconsider Travel" country. That's a deterioration of its previous Level 2 Guatemala Travel Advisory and is due mostly to the health risks associated with COVID-19.
Travel safety in Guatemala is particularly dangerous in the departments of Huehuetenango and San Marcos due to crime. In the Department of Esquinta, the areas with the most crime are Escuintla, Nueva Concepción, Santa Lucía Cotzumalguapa, Tiquisate, Puerto San José and Palín.
But even if you're travelling outside those areas and to popular tourist destinations such as Tikal, Antigua and Panajachel, it's well worth taking precautions especially if you're a solo female traveller or travelling independently.
Myths about Travel Safety in Guatemala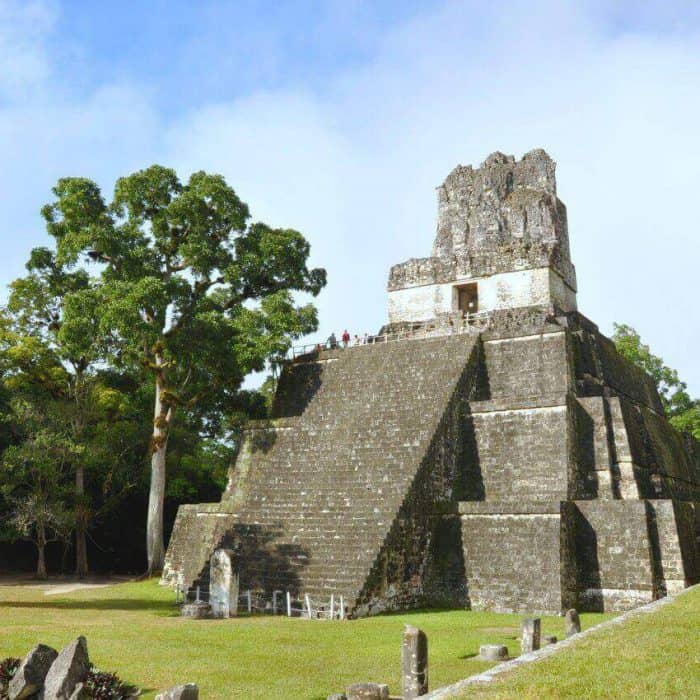 I often hear from travellers who have returned from Guatemala that they "felt very safe" or statistics don't matter or that crime is confined to Guatemala City. It's a myth that "feeling safe" is a measure of personal safety.
I've personally witnessed gunfire on beautiful, sunny days when I felt perfectly safe. And if you're a woman, statistics do matter. Guatemala has one of the highest rates of "femicide" in the world, according to a report released by the National Institute of Forensics.
And violence is not confined to Guatemala City. I was shocked to hear about a vigilante-led lynching of the mayor of Concepcion, a small village near Lake Atitlan I'd spent time in during el Dia del Diablo.
It seemed like such a peaceful community, it's hard to imagine such violence.
Chances are you will never have a problem when travelling in Guatemala in Central America and the vast majority of murders do NOT involve foreigners.
But it doesn't hurt to be prepared or to ask the questions. How safe is Guatemala? And how safe are Guatemala cities?
Guatemala is an amazing country with lots of incredible things to do. To help you with your travel planning, I've put together some tips for Guatemala Safety when traveling in the country.
Top Travel Safety Tips for Guatemala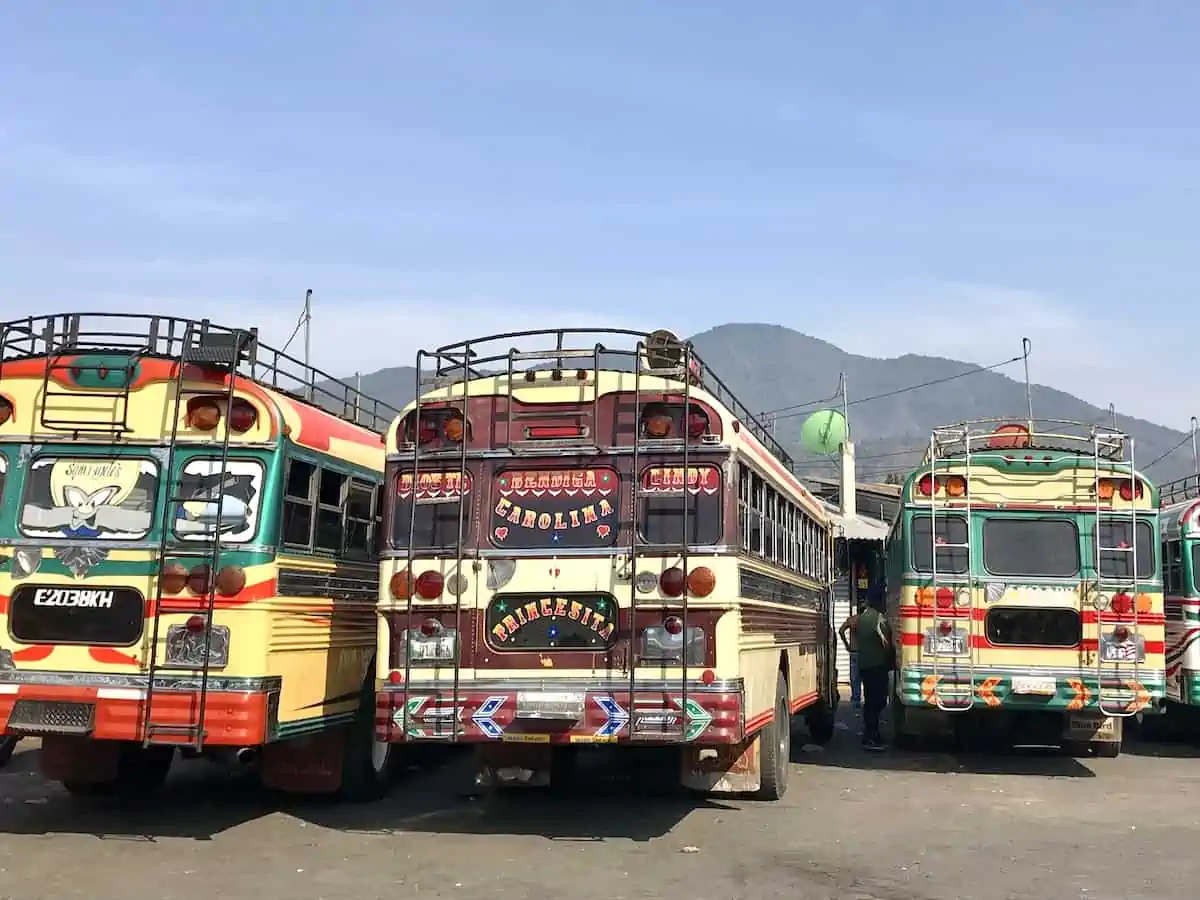 Many armed robberies involve the use of motorcycles by assailants. Walk on the sidewalk out of reach of motorcycles to avoid being targeted. And, contrary to the advice to wear a cross-body purse, I don't recommend this. If your cross-body purse is grabbed, you can be dragged behind the motorcycle until the strap breaks and can seriously injured.
Wear a hidden money belt, a Tilley hat or a travel scarf with a secret pocket. Or, do as my mother-in-law does when she goes to the market. Put your money in your shoe! If you have more things to carry, it's best to purchase a travel daypack. These travel bags are roomy enough to fit a water bottle, electronics, a snack or two and souvenirs yet are lightweight and don't scream "tourist".
Cultural sensitivity is worth keeping in mind when travelling in the countryside. Hiring a guide when travelling to local communities can help avoid any misunderstandings. For example, when in a rural area, my guide first approached local elders to get their permission to visit the church, the shrine to Maximon and explore the community. He introduced me, explained my intentions and translated from Kaqchikel Maya to Spanish and English. We asked permission before taking any travel photos and made a small donation to the church. Never take photos of children without permission of their parents.
Outbreaks of serious mosquito-borne viruses, such as Dengue Fever, Zika Virus and Chikungunya, are common in the lowlands, urban areas, jungles and beaches throughout Central America (including Costa Rica, Honduras, Nicaragua and El Salvador). There is no vaccine or cure. Protect yourself by using insect repellent, wearing long pants and taking other precautions to avoid mosquito bites.
For Guatemala travel safety tips on staying healthy, read our article on 12 Ways to Protect Yourself from Dengue and Chikungunya and why the ONE item you must buy as soon as you arrive.
Ensure your routine vaccinations are up-to-date. Check with the CDC or your local travel clinic for additional recommended vaccines and prescription medicines to protect against rabies, hepatitis and malaria.
INGUAT is available to offer tourist assistance and who can assist with solving problems. They also coordinate security for tourist groups and can be contacted in case of emergency. Follow the advice of these and local law officials to safeguard your safety in Guatemala.
Crime levels increase prior to and during holiday periods so if you're traveling at that time, be extra vigilant.
Don't lose sight of your luggage, backpack or other valuables, especially in crowded places. Keep personal information on your luggage to a minimum to avoid extortion attempts. Protect your personal information on your baggage tags with Shacke Luggage Tags with Full Back Privacy Cover w/ Steel Loops.
Reduce your quantity of luggage. Don't carry a tangle of camera equipment, computer bag, suitcase, purse and daypack or you can become a prime target for thieves.
Use certified copies (or regular photocopies) of travel documents and keep originals in a safe place.
Only carry the amount of cash you need for a day and store the remainder in the hotel's safety box. If you're staying in an AirBnB or a vacation condo, it's worth investing in a portable travel safe to store your valuable. The FlexSafe portable safe, voted gadget of the year for 2019, is lightweight, costs under $65 USD, is slash-proof and can even be strapped to your lounge chair at a swimming pool or beach.
Travel during the day and if using a vehicle and taking road trips, use main highways. Don't stop on the highway to give rides to anyone. If you see an emergency call 1-500 0 2421-2810.
Avoid public transport. Use only authorized taxis (get your hotel to call a taxi), private transport or the TransMetro rapid transit system. Avoid public buses as they can be targets for gang extortion in many parts of Guatemala and Latin America. Chicken buses are iconic symbols of Guatemala but can be dangerous due to armed robbery. Hundreds of bus drivers have been murdered by gangs in Guatemala due to extortion.
Uber is available in Guatemala City and Antigua. It's also a good option for safe travel between Guatemala City airport and Antigua.
Choose reputable shuttle vans for inter-city travel. I've found Adrenalina Sightseeing Tours to be professional and reliable for inter-city travel. Read the post A Night Bus to Guatemala for more tips on trip planning and travel between Mexico and Guatemala.
If you're going to Tikal or one of the beautiful resorts on Lake Petén Itzá, fly into Mundo Maya International Airport in Flores rather than travel by private car or shuttle.
Obtain medical travel insurance and keep the information handy for your safety and security and in case you require any heath care during your time in Guatemala.
Exchange currency only at banks and use ATMs within (not outside) a bank throughout Guatemala. Check your statements online regularly for fraudulent ATM transactions on your debit or credit card.
If you're hiking, avoid traveling in remote areas – remain on the trail and travel in groups. Use a licensed and authorized tour guide if one is available. Check with locals for safety conditions when hiking between villages around Lake Atitlan.
Armed robbery and extortion can be a problem when hiking to Volcán de Agua in Antigua even when travelling with a guide or in a group. I recommend admiring this magnificent, extinct volcano from a distance unless a local from the village Santa Maria de Jesus (at the base of the volcano) can assure you that conditions on the trail are safe.
Guatemala is home to at least 37 active, extinct and dormant volcanos. Some volcanoes, such as Pacaya and Volcán de Fuego (volcano of fire), are active and unpredictable. Pyroclastic flow–a deadly flash flood of ash, rocks and hot gases–can quickly bury entire villages. Follow safety reports in Guatemalan newspapers such as Prensa Libre or check for current volcanic activity reported by the Global Volcanism Program at the Smithsonian.
Negotiate prices for tours and travel in advance. Ask for receipts for service to avoid misunderstandings. Contact INGUAT if you need assistance.
Avoid late-night partying or walking on the streets at night. If you're out late you increase your chances of safety hazards.
Check weather conditions before taking boats or watercraft. Lake Atitlan can get very windy in the late afternoons.
Check travel alerts and travel warnings on sites such as the Australia's smart traveler, or the United Kingdoms Travel Advisory service; and register your contact information at the U.S. Department of State and Foreign Affairs and International Trade Canada and North America.
Secure your laptop with a steel cable to a fixed object such as a table within your hotel room or rental apartment. For under $20 you can protect your laptop computer from theft with a laptop security combination lock and steel cable.
Choose a hotel with Secure Parking. To avoid car jacking or theft stay in a hotel with secure parking rather than leave your vehicle parked on the street.
Use caution when swimming. Heed beach safety flags especially in Monterrico and other beaches on the Pacific coast where the surf and riptides can be strong. Also be cautious of submerged rocks and other hazards when swimming at balnearios such as Pasa Bien.
Finally, do not swim in the lagoons and other bodies of water in the Peten where there may be crocodiles. Check with locals if in doubt.
The safest zones in Guatemala City are Zonas 10, 15, 9 and 13. But you still need to use caution if you are an American tourist or international visitor. Avoid Villa Nueva.
Is Guatemala Safe to Visit Now?
Safety conditions in Guatemala can change quickly. It's worth following La Policía Nacional Civil (National Police) at @PNCdeGuatemala on Twitter for updates on crime, gang activity and potential natural disasters.
Ultimately, Guatemala is safe to visit, as long as you follow the advice for travellers as listed above and at the various government websites, and keep your common sense about you.
If you have any specific questions about safety in Guatemala please leave me a comment below and I will get back to you.
You Might Also Like:
For more travel tips on staying safe in Guatemala and other travel tips, check out these posts:
Save to Pinterest!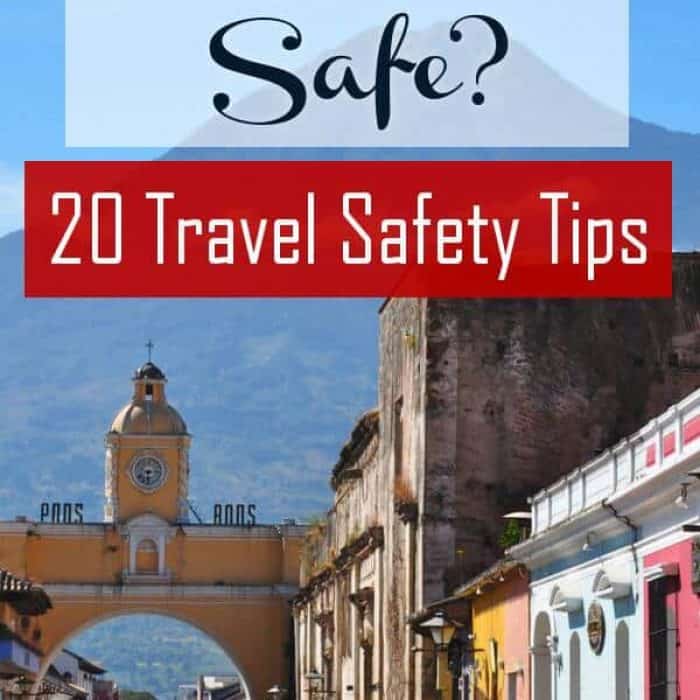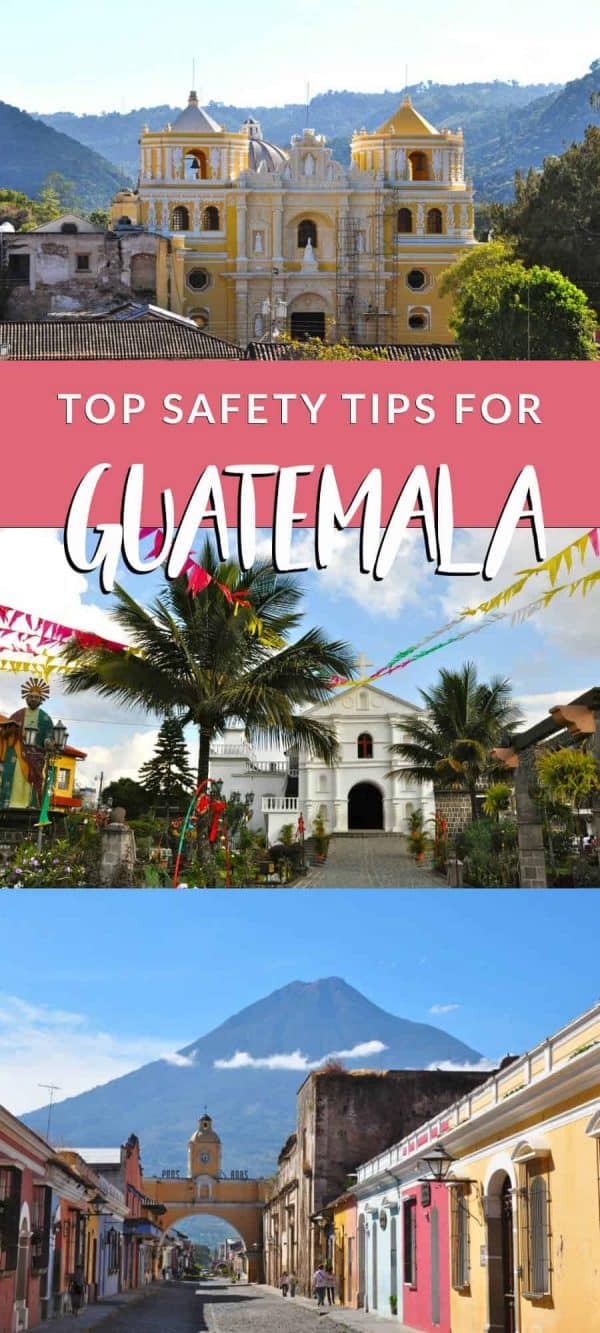 Dividing her time between Canada, Guatemala and Mexico (or the nearest tropical beach), Michele Peterson is the founder of A Taste for Travel. Her award-winning travel and food writing has appeared in Lonely Planet's cookbook Mexico: From the Source, National Geographic Traveler, Fodor's and 100+ other publications.
Read more about Michele Peterson.