We may earn income from links in this post. Please read this Disclosure for details.
If you're looking for ways to prevent mosquito bites when travelling, read on for tips on how to avoid getting bitten by mosquitos and the dangers of viruses such as dengue, zika and chikungunya.
It's not very often that I find similarities between my in-laws in Guatemala and Hollywood actress Lindsay Lohan. But they have all been infected by chikungunya, the mosquito-borne virus that causes severe fevers, headache and joint pain.
Unlike dengue (which can sometimes be fatal) or zika (which causes birth defects) caused by the same kind of mosquito, chikungunya (pronounced chik-en-gun-ye) is usually not fatal but the joint pain can be debilitating and can linger for months. There is no vaccine or cure.
But you can protect yourself from getting bitten by mosquitos that carry the zika, chikungunya or dengue virus.
Which Countries are You at Risk?
Travellers who go to Africa, Asia, Mexico, Central and South America, and islands in the Indian Ocean, Western and South Pacific, and Caribbean can be at risk of dengue, chikungunya and/or zika. Get the complete list at PAHO/WHO.
The World Health Organization reported the following confirmed cases of dengue by mid 2019.
Nicaragua: 46, 287
Mexico: 29, 910 ( including the most severe Dengue Type 4)
Honduras: 18, 988
Guatemala: 5,610
Important Update: The World Health Organization (WHO) removed Antigua and Barbuda in the Caribbean from its Zika virus country classification list on Oct 23, 2018
As shown on the above map, all reported cases in the United States occurred among travellers returning from affected areas. If you're planning a tropical vacation, you should check the Center for Disease Control for the latest news on outbreaks in your destination and review their precautions for zika and dengue virus prevention.
Who is Most at Risk?
Are you a mosquito-magnet? Do other people never seem to get bitten yet you come home covered in welts? You're not alone. Science has proven that 20% of the population is more attractive to mosquitos than others. This includes people with Type O blood, beer-drinkers, females and other more mysterious factors. The CDC advises travellers in high-risk groups to discuss travel plans with their health care provider. High-risk groups include the following:
People who have arthritis
People with serious underlying medical conditions (such as high blood pressure, heart disease, or diabetes)
People older than 65
Women who are late in their pregnancies, because of the risk to babies born at the time their mother is sick
Long-term travellers, including missionaries and humanitarian aid workers and people visiting friends and relatives
People who might have difficulty avoiding mosquito bites, such as those planning to spend a lot of time outdoors or staying in rooms without window screens or air conditioning.
How do you get infected by chikungunya, dengue and zika?
Chikungunya virus ( as well as dengue and zika) is transmitted to humans through the bites of infected mosquitoes, primarily the Aedes aegypti and Aedes albopictus mosquito. The best way to avoid contracting chikungunya (or dengue and zika) is to avoid getting bitten by mosquitos.
The CDC has some excellent Tips on Avoiding Mosquito Bites but check out my dengue virus prevention tips below too.
How to Protect Yourself from Chikungunya, Dengue or Zika
A few years ago, I survived a terrible bout of dengue in Guatemala, so I now take extra precautions to avoid getting bitten by mosquitos when I travel. By preparing in advance, you can minimize the likelihood of catching a mosquito-born virus.
12+ Tips for Preventing Mosquito Bites
1. Wear Long-sleeved clothing
Wear long sleeved shirts and pants, preferably light-coloured (not like the clothes I'm wearing in above photo which were not only hot but attracted mosquitos). It may seem strange to be wearing pants or long sleeves when its 40C but at least your skin will be protected.
If you're headed to a beach resort and want to look more stylish, one of the best travel clothes for women to have with them is one of the beach sarong wraps with Craghoppers' NosiLife insect repellent woven right into the fabric.
2. Stay in a Hotel with Air-Conditioning on the 5th Floor or Higher
Book a hotel room with screens and/or air conditioning. Always request a room on an upper floor. Rooms at ground level tend to have more crawling insects than those on the second floor or higher. Dengue mosquitos prefer to fly at knee level which means you'll find more mosquitos at lower levels than at higher.
Some experts say the Aedes aegypti mosquito can fly no higher than 50 feet which suggests that staying above the 5th or 6th floor of a hotel should place you in safe territory.
3. Eliminate Breeding Spots for Mosquitos
If you're staying with family or have any control over your surroundings such as a long-term vacation rental, eliminate (or disinfect) standing water in receptacles such as pails, flower pots, buckets, old tires etc.
4. Be Prepared
The Aedes aegypti mosquito is a day-biting, urban mosquito. This means you can get bitten while lounging obliviously at the airport, hanging out at a cafe at noon or even downward-dogging it in yoga class. Don't think you're only at risk when you're in the jungle or remote areas.
5. Pack Duct Tape
I always travel with a roll of duct tape and use it to seal large gaps in doors or windows. Admittedly this can be a rather time-consuming (and noisy task with all that ripping sound of tape) but there's something satisfying about waking up in the morning and seeing all those insects trapped on the outside of the door. Just think of all the bites you avoided!
Of course, if you seal yourself into your room and then decide to go out again, well you've got to begin the process all over again. As my travel pal and Vancouver blogger, Colleen Friesen noted one evening in Mexico, as I taped up all the exits in our condo "I guess this means we're in for the night."
6. Purchase a Plug-in Bug Zapper
When you arrive at your destination (and before you tape yourself in), head to a store like Super Che and purchase a box of Raid Laminitas. See the photo of this handy mosquito-blaster in the shopping list below. In Mexico, one box costs less than $10 and will last for several weeks.
Use laminitas like an air freshener. Just insert the blue pad inside the device, plug it into an electric outlet and leave the room for 30 minutes. When you return, the mosquitos will be gone. The laminitas also get rid of tiny gnats which, although not dangerous, can cause annoying welts and intense itching. The instructions say you can leave laminitas plugged in all night but I probably wouldn't do that if you have asthma or other respiratory issues.
7. Buy Insect Repellent with DEET
Use insect repellent with DEET. This isn't the time to use gentle natural repellents. Although you're not allowed to take aerosol cans on airplanes, purchase the small purse or pocket-sized pump bottles at your local pharmacy (or online) and take them in your carry-on bag.
Apply repellent as soon as you arrive, as you'll often encounter mosquitos at airports or enroute to your hotel. Read about the 10 Best Insect Repellents.
8. Request a Fan at Your Hotel
Once at your hotel, request a portable fan for your room and direct the air flow towards yourself, your bed or patio.
9. Use a Mosquito Net at Night
Use a mosquito net if there is one. If not, you can always purchase a traveller's mosquito net and take it with you. The portable mosquito nets come with an adjustable string and a ring to attach to the ceiling.
10. Pack Acetaminophen (Tylenol) not Aspirin or Ibuprofen
If you do have the misfortunate of getting dengue virus, acetaminophen is the recommended pain medication to take. I didn't know that. So when I got hit with dengue I began dosing myself with aspirin and this caused added complications. If you suspect you have dengue, see a doctor immediately.
11. Wear Insect Repellent Clothing
Treat your clothing or purchase clothing pretreated with Permethrin.It's as effective as 100 percent DEET and not only repels insects, it actually kills ticks, mosquitoes, chiggers, mites, and more than 55 other kinds of insects on contact. The active ingredient Permethrin is a synthetic molecule similar to pyrethrum which is taken from the Chrysanthemum flower. A single application lasts six washings or 42 days of sun exposure. Do not use the solution on your skin.
12. Vitamin B and Foods to Eat
Other ideas for dengue virus prevention include purchasing Vitamin B patches or pills to repel mosquitos. Mosquito patches provide a steady dose of vitamin B1 or thiamine for 36 hours. The belief is that the patch alters blood chemistry and human smell making the wearer less attractive to mosquitoes. Some people find that taking vitamin B supplements helps protect against mosquito bites.
Another natural remedy involves using papaya leaf extract to prevent and treat dengue fever.
Research published by the Journal of Insect Science comparing the effectiveness of insect repellents reported that the Mosquito Skin Patch containing vitamin B1 did not reduce attraction rates.
13. Candles, Lotions and Bracelets
You can also take a multi-pronged approach for preventing mosquito bites by using brands offering several complementary mosquito deterrent products from citronella candles to Avon Skin So Soft lotion. Some people rely on insect repellent bracelets of clip-on devices to wear as extra protection.
It's worth reading the Journal of Insect Science's detailed analysis (noted above) of these methods. According to Health Canada, products such as electrocuting devices and ultrasonic devices aren't recommended since they may not be very effective or long-lasting.
How to Get Relief from Itching?
If you do happen to get bitten by a mosquito and the itch just won't go away, it's worth looking into the Zap Ease product. It's recommended by several medical authorities as way to reduce itching from mosquito bites as it sends a small electrical impulse which inhibits histamine release and itching.
Check out this review of Zap Ease as well as several products for preventing mosquito bites.
Best Mosquito Protection for Indoors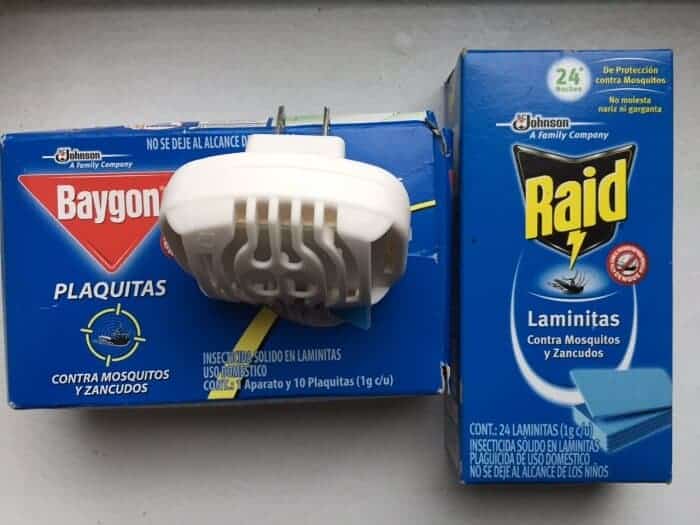 Travel Tips for Dengue Virus Prevention
Note: The above information is no substitute for medical advice! You should contact a medical professional should you feel ill when travelling or before international travel.
7 Reasons Why You Need Travel Insurance When You Travel
Do you have any tips or suggestions about avoiding mosquito bites or mosquito-borne viruses? Have you ever had dengue fever, zika or chikungunya? Please let us know by adding your comments below!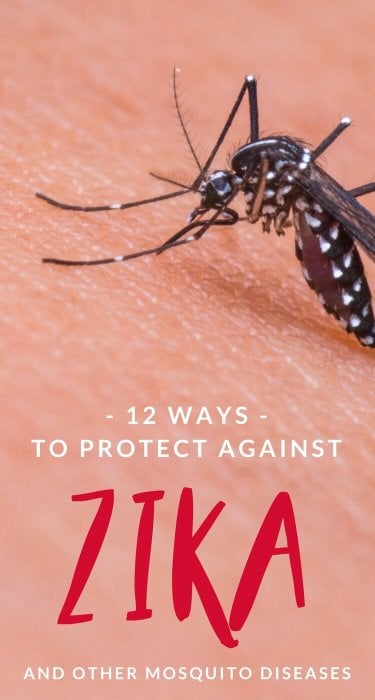 Dividing her time between Canada, Guatemala and Mexico (or the nearest tropical beach), Michele Peterson is the founder of A Taste for Travel. Her award-winning travel and food writing has appeared in Lonely Planet's cookbook Mexico: From the Source, National Geographic Traveler, Fodor's and 100+ other publications.
Read more about Michele Peterson.