We may earn income from links in this post. Please read this Disclosure for details.
St. Petersburg, Florida is a fantastic place for a romantic couples getaway. You're guaranteed to find the powdery white beaches and crystalline water that's quintessentially Florida.
But there are plenty of romantic things to do in St. Petersburg beyond strolling its perfect beaches.
From romantic restaurants to honeymoon-worthy outdoor adventure, there's a bounty of fun and unforgettable things to do in St. Petersburg for couples.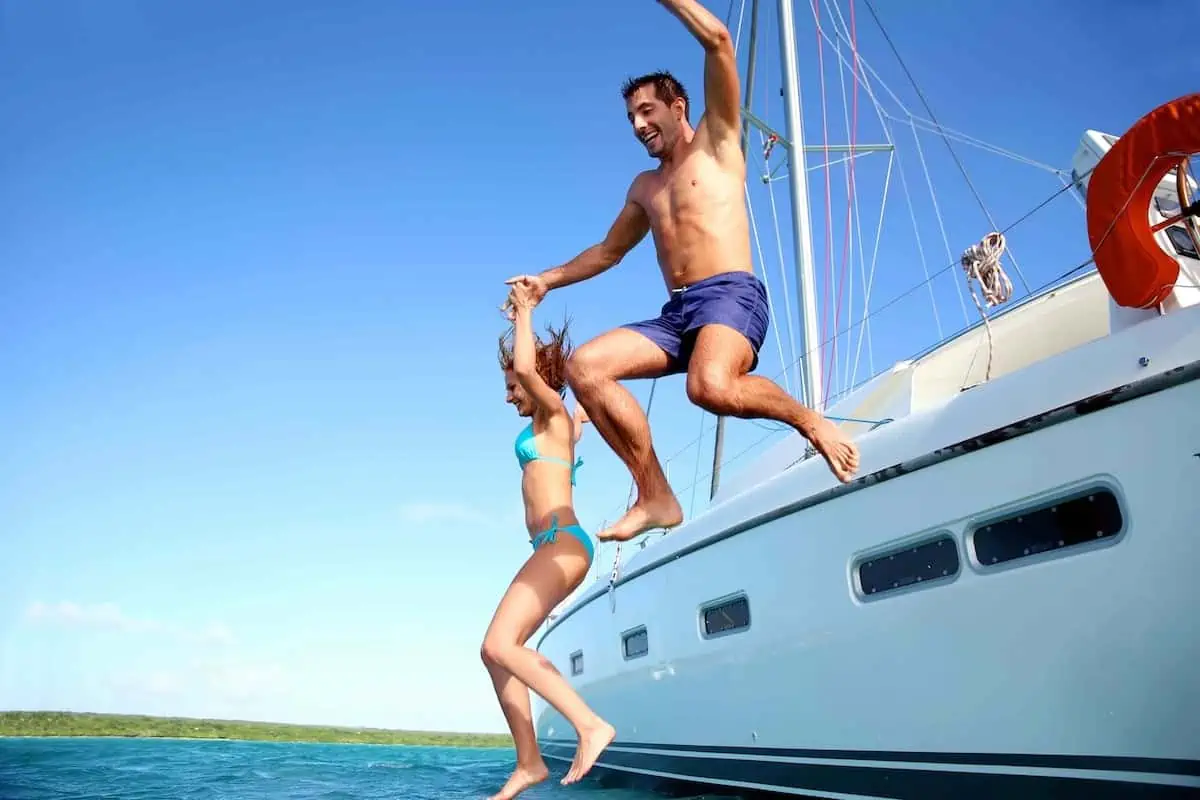 Our family of five loves visiting this part of the Florida coast because there's something for everyone.
But it's also happens to be our favourite Florida couples' getaway for a weekend sans kids.
This travel guide to St. Pete's, Florida will help you discover the top attractions, enjoy local food and drink, find the most beautiful beaches and experience the best this dreamy destination offers for couples.
Where is St. Pete's?
St Pete is a small coastal town about 30 minutes southwest of downtown Tampa on the east coast of central Florida.
One of the closest beaches to Disney World, it's about a 2 hour drive from downtown Orlando.
If you're celebrating a special occasion such as a birthday in Orlando, adding on a few beach days in St. Pete's is the perfect combo of fun and sun.
1. Take a Romantic Stroll on St. Pete Beach
One of the first things to do on a couples getaway to St. Petersburg is to hit the beach!
Located on the Gulf of Mexico, St. Pete Beach is a must-do on every couples' itinerary. It's one of the most popular beaches in the area because of its wide variety of activities and attractions.
It's perfect for strolling, swimming in crystal-clear warm waters, or participating in an organized activity such as volleyball, fishing, parasailing, and kayaking.
The weather is sunny and warm year-round with average temperatures ranging from 72°F to 87°F (22C to 30C).
There are also plenty of shopping and entertainment options nearby. Stop at John's Pass Village & Boardwalk (Google Map) for some souvenirs, a busy fun vibe or to take a boat tour to see dolphins up close!
2. Dine at a Romantic Restaurant in St. Pete's
St. Pete is home to many excellent restaurants that offer a variety of different cuisines and culinary experiences for couples to enjoy.
Choose from seafood shacks ideal for laid-back date nights or high-end dining perfect for a milestone celebration!
Always popular are Doc Ford's Rum Bar and Grille St Pete Pier located in the heart of downtown St. Pete.
Well known for its seafood specialties, Buoys Waterfront Bar and Grill (Google Map) is a prime waterfront restaurant where the fine food and views will wow you.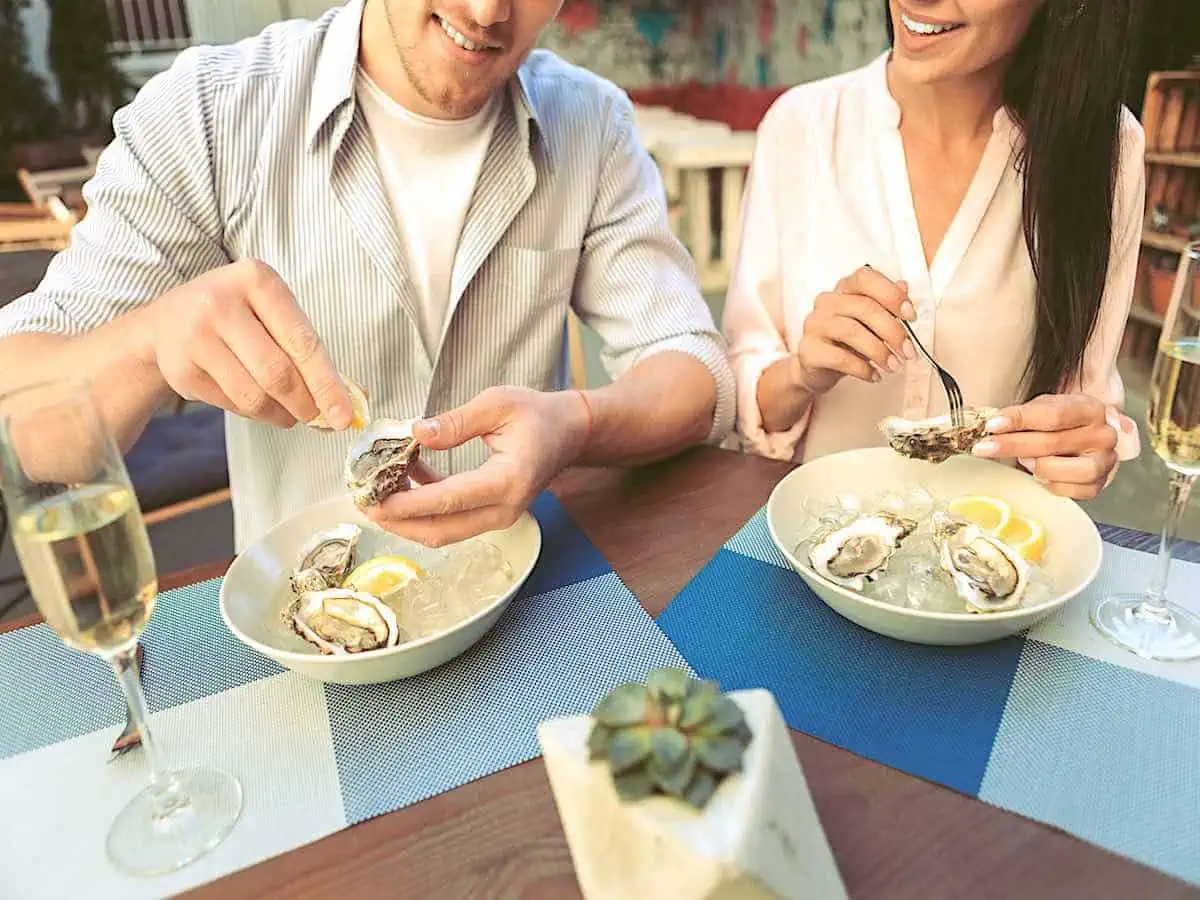 Finally, Cassis American Brasserie serves a surprisingly affordable menu of French meets American cuisine for brunch, lunch, and dinner.
Oysters-on-the-half-shell and steak-frites for two? Mais oui!
3. Enjoy the Nightlife in Downtown St. Pete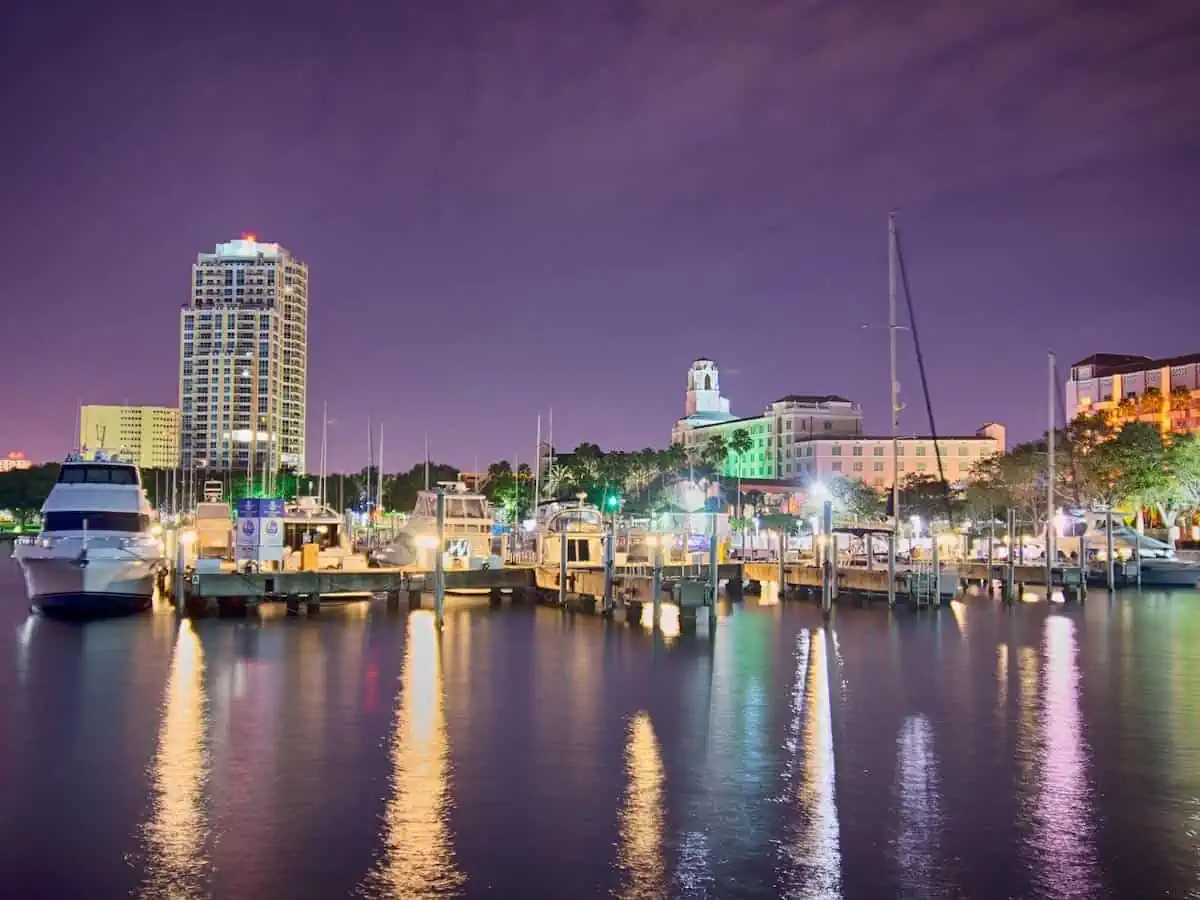 The downtown nightlife in St. Petersburg is definitely one of a kind.
From chill rooftop bars with sweeping views of the city to lively dance clubs playing the latest hits, there is always something to get people up and dancing.
Live music venues such as The State Theatre offer up some of the best local acts in the area.
Other popular nightclubs like Ruby's Elixir (Google Map) offer live music, inventive cocktails and Happy Hour specials. Check the Events Calendar at Ruby's Elixir before you go.
For inventive cocktails, try The Mandarin Hide in the Waterfront Arts District. There are also plenty of classic dive bars where you can grab a beer or two and chill out.
No matter what your preference is for nightlife, St. Pete has lots of great options for couples.
4. Explore the Vibrant Art Scene of St. Pete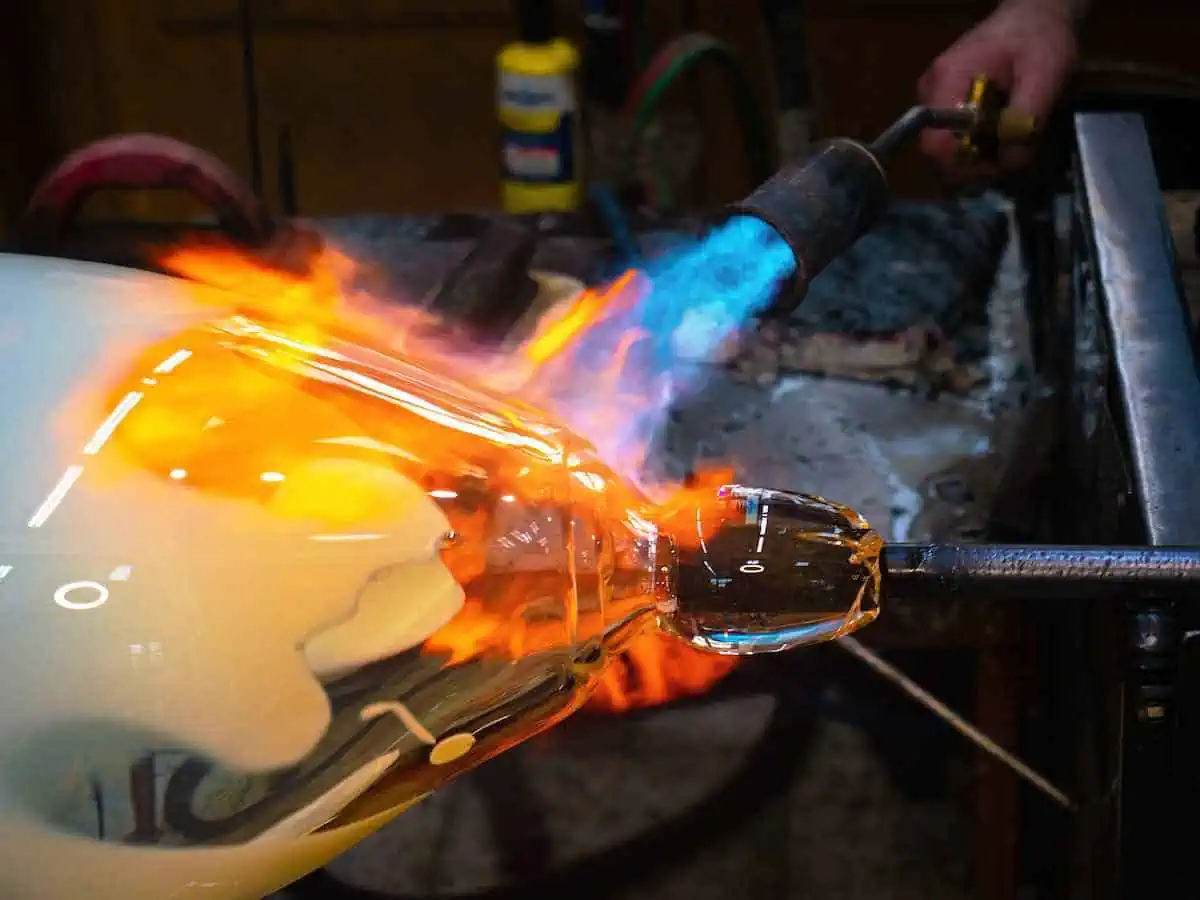 The art scene in St. Pete, Florida, is alive and vibrant, with a wide variety of galleries and museums showcasing the inspiring work by local and international artists.
The Museum of Fine Arts is one of the most prominent in the area, featuring exhibits ranging from contemporary art to traditional works.
The city also has many street art murals that local businesses or community groups have commissioned to bring beauty and life to certain areas.
In addition to these beautiful pieces, there are numerous sculptures sprinkled throughout the cityscape that help provide texture and character.
The Morean Arts Center (MAC) is another popular spot that hosts workshops, classes, lectures, and an extensive collection of artwork from around the world.
Finally, the Chihuly Collection within the Morean Arts Center is a must-see for anyone looking for a unique experience. It displays the best of Dale Chihuly's mesmerizing glass-blown works.
🌟 Insider Tip: Book your very own glass-blowing experience for two!
5. Watch Dolphins Playing at Clearwater Marine Aquarium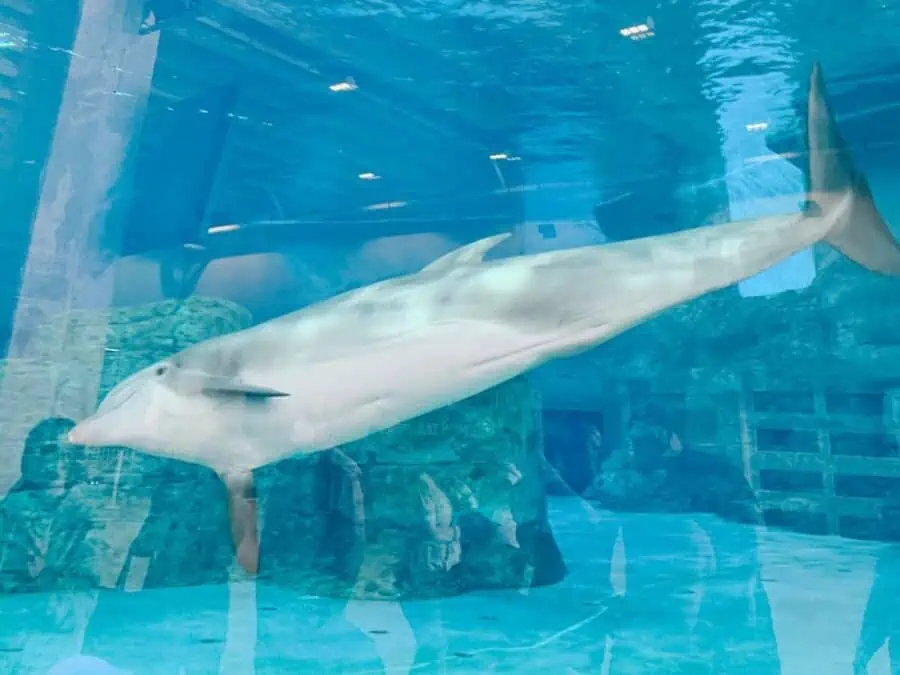 The Clearwater Marine Aquarium is a unique and exciting destination for people looking to experience marine life up close.
It's home to a variety of species, including dolphins, sea turtles, stingrays, otters, and many more.
Visitors can get an up-close look at these fascinating creatures in their natural habitat, as well as learn about the aquarium's efforts to protect marine wildlife.
The aquarium also offers educational programs that teach guests about the importance of conservation and sustainability in order to preserve our oceans for future generations.
Guests can watch mesmerizing dolphin shows, and feed stingrays, or they can also take part in interactive exhibits such as the Stingray Touch Tank.
The Clearwater Marine Aquarium is an amazing place to connect with nature and learn more about our aquatic world.
With its ongoing commitment to conservation combined with interactive exhibits and captivating wildlife shows, it's sure to be a great experience.
6. Go Fishing off Indian Rocks Beach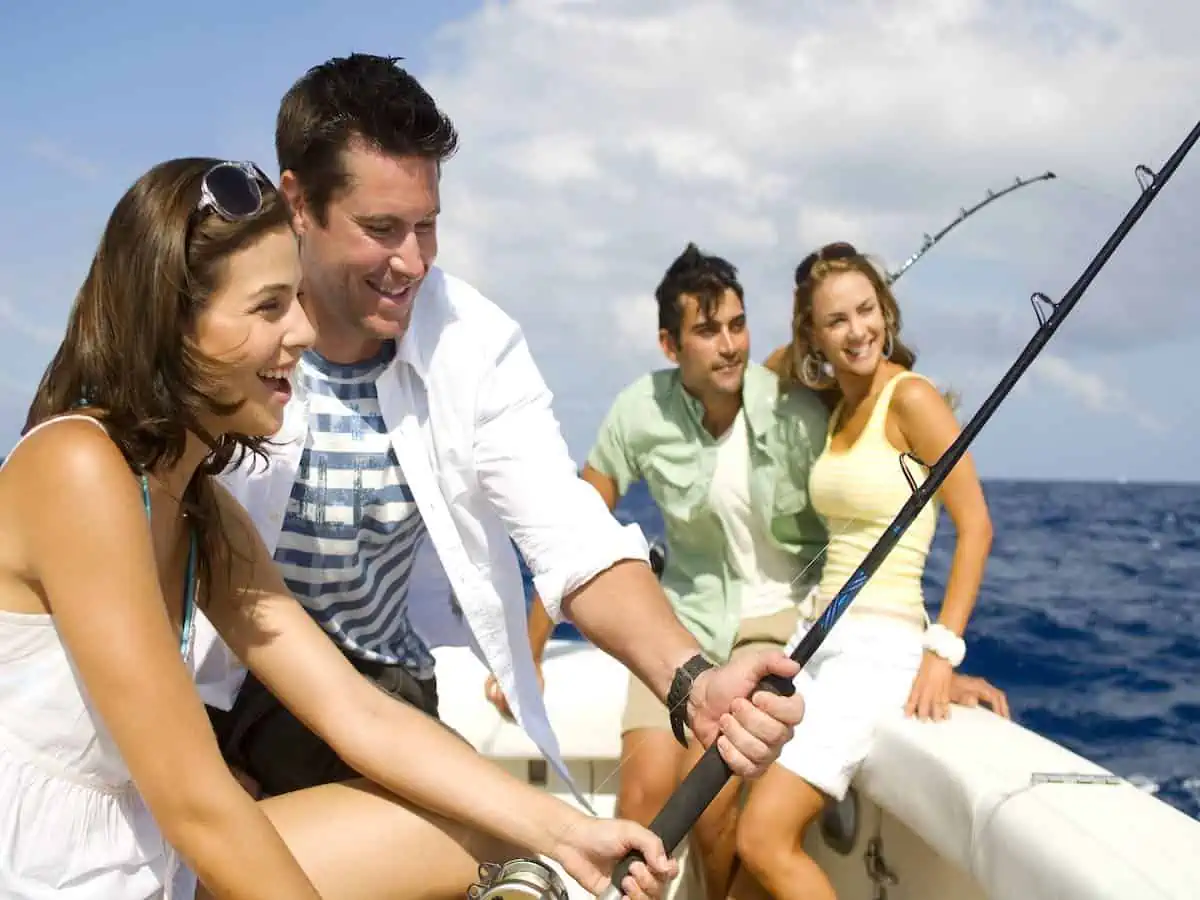 Indian Rocks Beach is the perfect destination for fishing enthusiasts looking to experience the beauty of Florida's Gulf Coast.
With its proximity to both freshwater and saltwater sources, anglers can expect to find a variety of species, such as redfish, snook, tarpon, and more in the area around Indian Rocks Beach.
There are plenty of spots along the beach that offer excellent opportunities for fishing, such as off the jetty or in the shallow waters near mangrove trees.
From kayak tours to boat charters, there are plenty of ways to explore what this area has to offer.
Another option is to take a guided trip with a local expert who will show you the best spots while providing tips on how to catch your dream fish. Rent or bring your own gear.
Or, pick up a boogie board from one of the local surf shops to try your hand at riding the waves after you're done kayaking.
7. Sample Craft Beer at a Local Brewhouse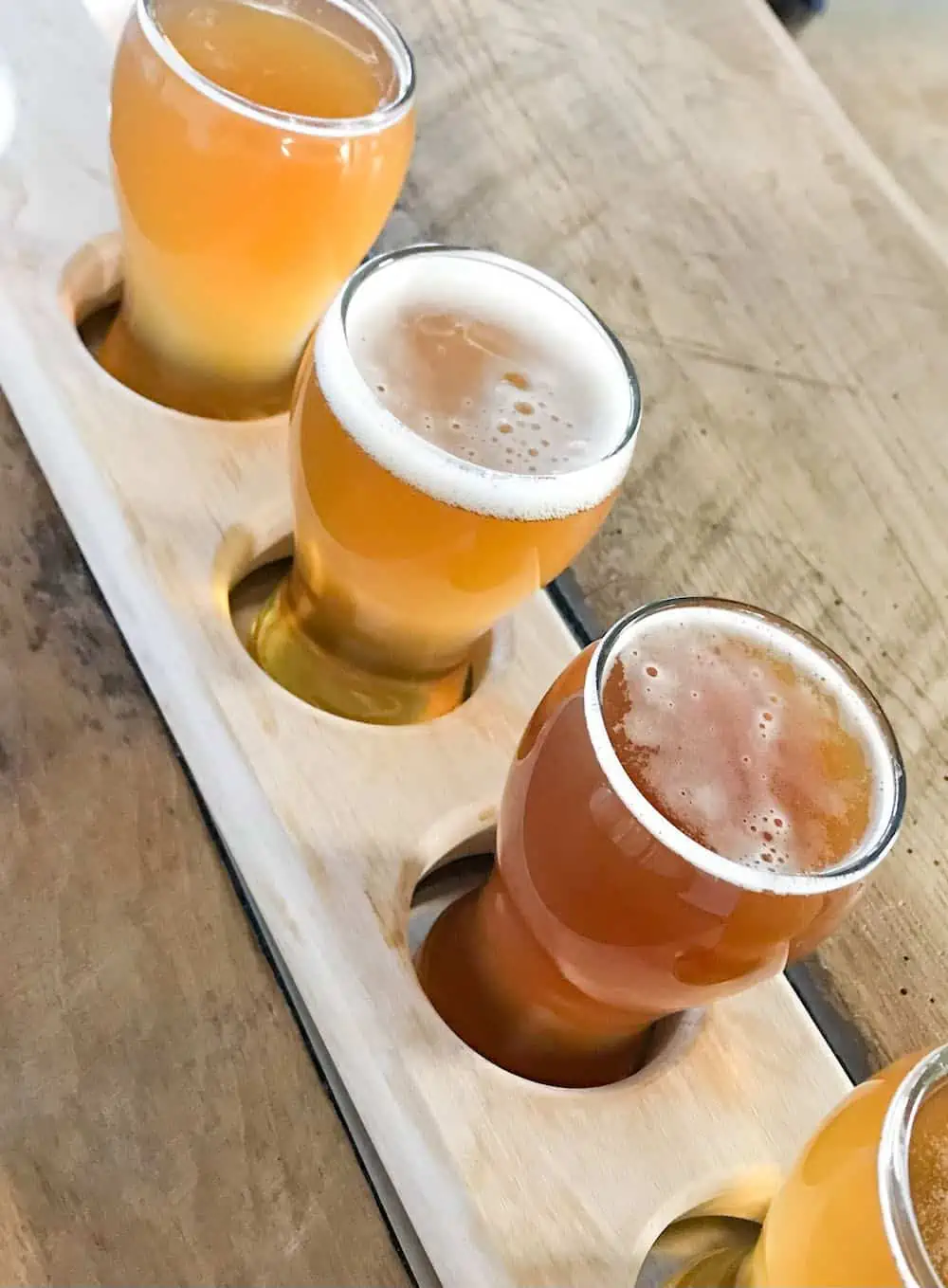 St. Petersburg, Florida, is a top destination for craft beer lovers looking to experience some of the best brews in the country.
The city's craft beer scene is thriving thanks to its numerous local breweries and taprooms that offer up an impressive selection of beers.
Located in downtown St. Petersburg, the Ale & the Witch is a popular spot for locals and visitors alike who come to enjoy their wide array of house-brewed beers and ciders as well as food from their menu of gourmet pizzas, sandwiches, and salads.
Another great destination for craft beer fans is 3 Daughters Brewing (Google Map). The brewery has been producing award-winning ales since 2013 . It offers an impressive range of styles including IPAs, stouts, and lagers.
Not only do they serve up delicious brews, but they also have plenty of events such as trivia nights, live music performances, and even yoga classes with bottomless beer!
There's something going on here year-round. They even host a spooky weekend bar crawl that should be on every brew lover's list of the best Halloween travel ideas in the US for adults.
8. Take a Romantic Cruise to Shell Key Preserve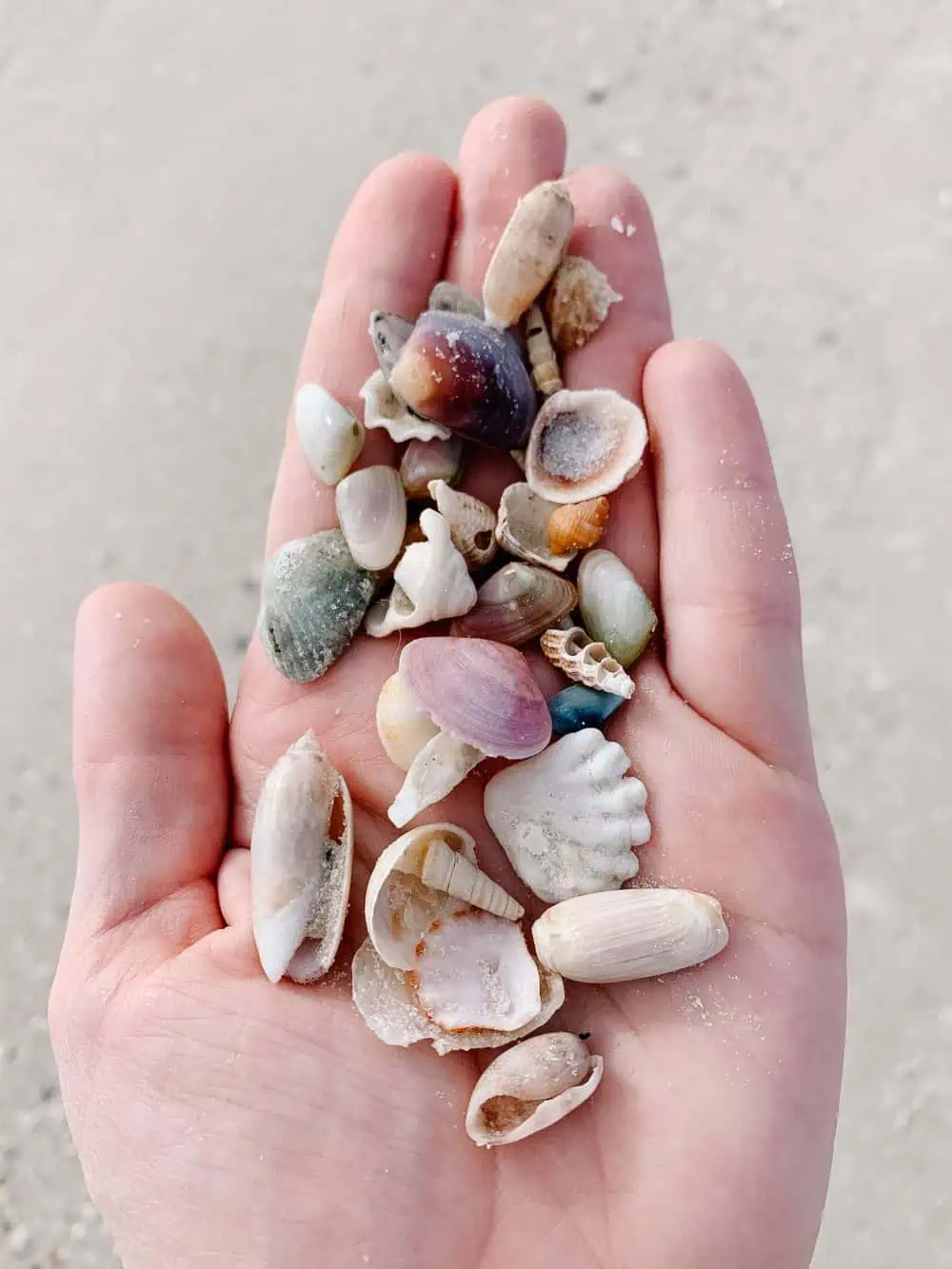 The boat ride to Shell Key Preserve is an experience that is sure to ignite the romance in any relationship.
Located just 30 minutes by boat from St. Petersburg, Florida, Shell Key Preserve offers a secluded paradise where couples can enjoy nature's beauty at its finest.
The preserve is composed of islands encompassing 1,800 acres of white sand beaches, mangroves, and tidal mud flats, making it an ideal spot for beachcombing and bird-watching.
The best way to explore this serene environment is by taking a romantic boat tour, which will allow you and your loved one to enjoy the stunning views of the surrounding scenery.
During the charter boat tour, you will be able to spot dolphins swimming alongside your vessel as well as numerous species of birds.
9. Get Adventurous at Weedon Island Preserve
Weedon Island Preserve is a 3,190-acre natural area located just north of St. Petersburg, Florida.
The preserve consists mainly of mangrove forests, salt marshes, and pine flatwoods that are home to a wide range of wildlife, such as wading birds, shorebirds, sea turtles, otters, and dolphins.
The preserve provides numerous recreational activities for visitors to enjoy such as fishing, kayaking, canoeing, and bird watching.
Additionally, there are several trails that make it easy for hikers of all levels to explore the area.
There are also educational programs offered throughout the year for people who want to learn more about the unique ecosystems found in Weedon Island Preserve.
Mangrove Tunnels Park is another fantastic spot in St. Petersburg for outdoor enthusiasts looking to explore nature's beauty.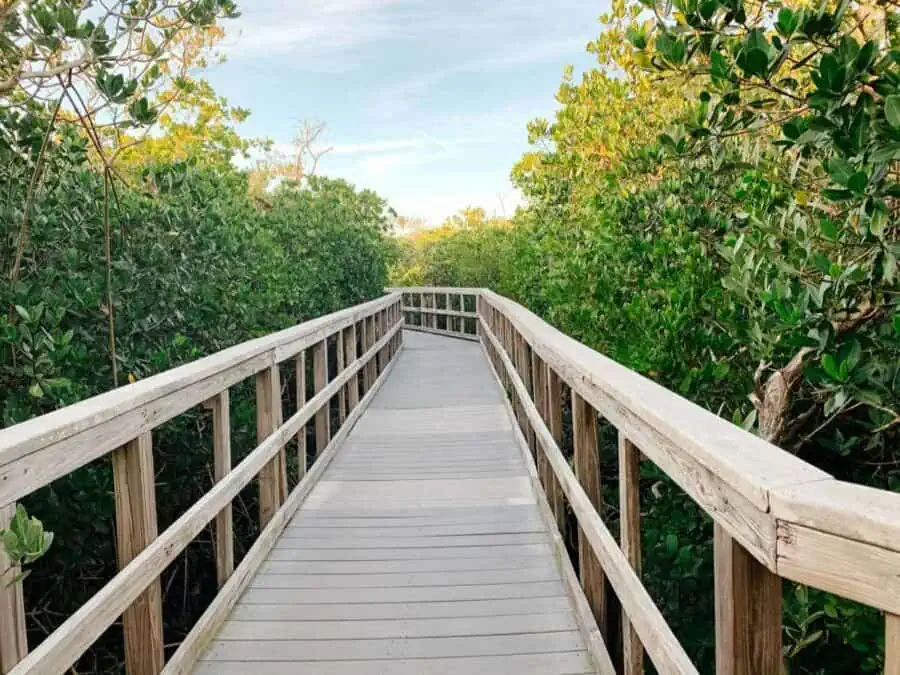 This park features an array of mangrove tunnels which provide a unique environment for couples to observe marine life such as fish and crabs while kayaking or canoeing through its waters.
10. Bask on a Beach at Fort De Soto Park
Spending time in the vast expanse of green and blue hues of Fort De Soto Park is a top thing to do in St. Petersburg, Florida.
This vast historic park is home to five interconnected keys (cays) that offer visitors an array of activities and attractions.
Fort de Soto was constructed in 1898 by the US Army Corps of Engineers as part of an effort to protect the area's coastline from potential naval intrusions.
However, today, the area is a popular destination for locals and tourists. It stretches across 1136 acres of mangroves, wetlands, hardwood forest and coastal ecosystems providing habitat for birds, loggerhead sea turtles and other wildlife.
The interconnected keys of Fort de Soto Park are surrounded by some of the most beautiful beaches along Florida's Gulf Coast.
🌟 Insider Tip: Fort de Soto Beach regularly tops "best beach in the USA" lists so it's a must-see.
11. Get Inspired at The Dalí (Salvador Dalí Museum)
The Salvador Dalí Museum, located in St. Petersburg, Florida, is a must-visit destination for those looking to experience the works of one of the world's most renowned and influential artists.
One of two in the world, the museum houses pieces from the prolific Spanish painter, sculptor, and filmmaker who was born in Figueres, north of Barcelona, Spain in 1904.
Within the collection are some of Dali's most famous works such as "The Persistence of Memory" and "The Hallucinogenic Toreador."
Visitors to the museum can explore an array of exhibitions that showcase Dalí's life and work while learning about his unique approach to art.
Additionally, there are educational programs available throughout the year where visitors can learn more about this creative genius through lectures, films, workshops, and more.
12. Stroll Through the Romantic Sunken Gardens
The Sunken Gardens in St. Petersburg, Florida is a stunning four-acre botanical oasis located just off 4th Street North.
Established more than a century ago, the gardens feature tens of thousands of tropical plants and flowers, which are arranged into lush landscape displays throughout the area.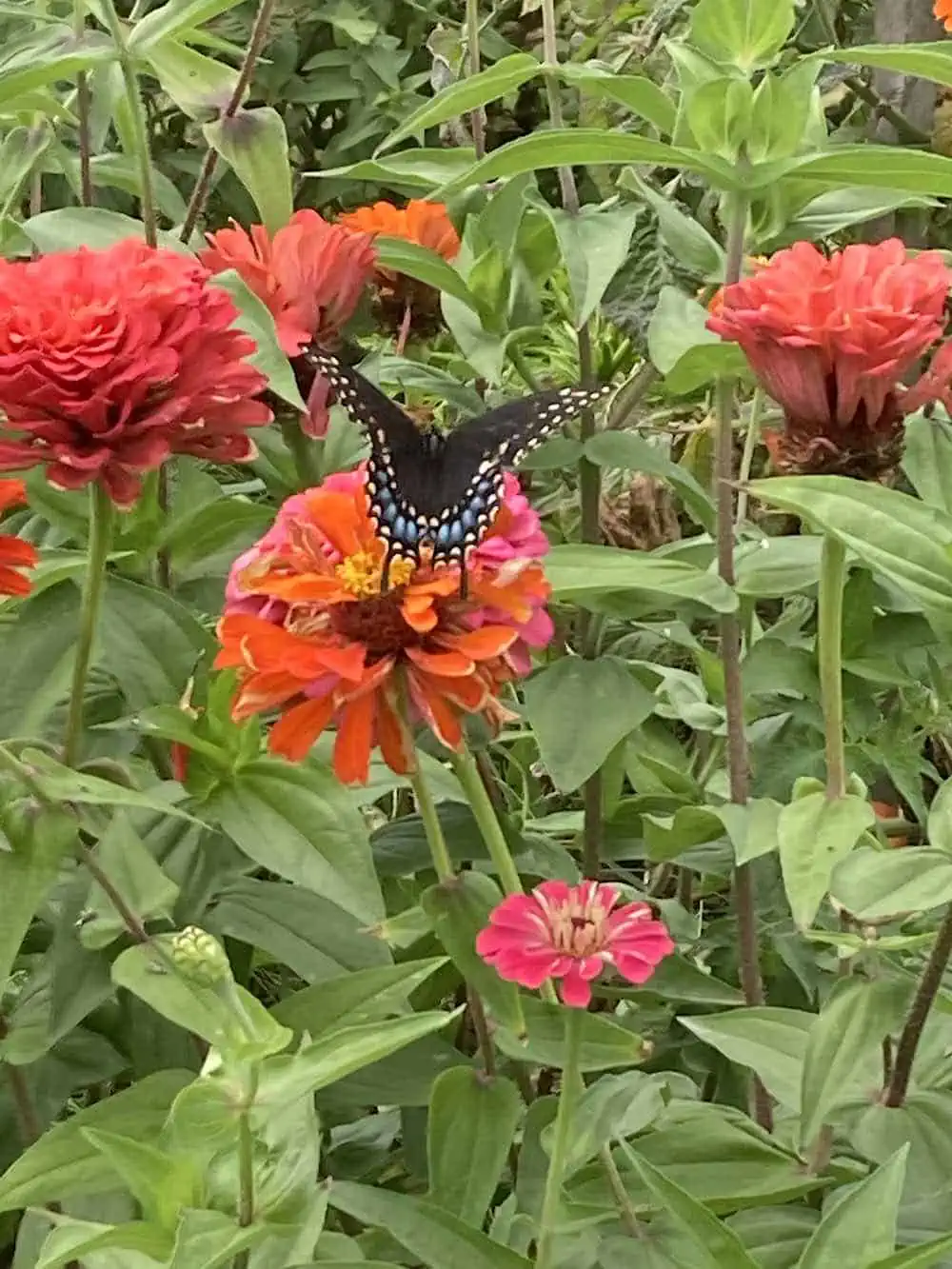 The most notable aspect of the Sunken Gardens is its unique sunken design, which was created by draining away the natural wetlands that once occupied the land.
Visitors to the gardens can explore a variety of different themed areas such as an orchid garden, a butterfly garden, and palm tree groves as they wander through this lush green paradise.
Besides admiring the beautiful foliage and wildlife, visitors to the Sunken Gardens can also learn about its rich history throughout their journey.
The gardens have been declared a National Landmark and have been featured in many books and films due to its unique atmosphere and picturesque setting.
13. Enjoy a Horse-drawn Carriage Ride in Downtown St. Pete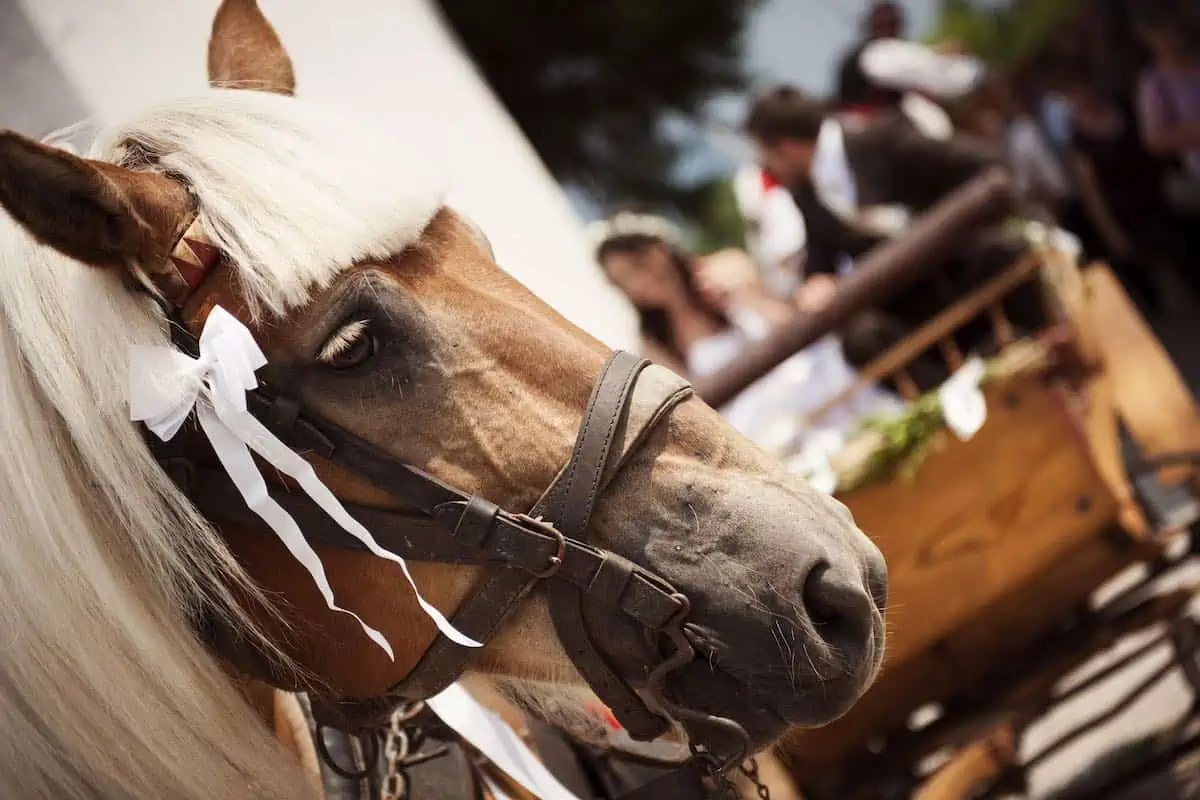 Taking a horse-drawn carriage ride is a unique thing to do in St. Petersburg. They offer couples the chance to explore the city in a truly special way and are especially popular for weddings, engagements and milestone celebrations.
The carriages are beautifully decorated and provide a comfortable and relaxing journey, while the gentle trotting brings guests closer to the sights and sounds of downtown St. Pete.
During the ride, the driver offers detailed commentary about the city's history, culture, and architecture.
As you pass by iconic sites such as The Salvador Dali Museum and Beach Drive, you'll have plenty of opportunities to take photos or simply soak up the atmosphere of this vibrant city.
If you're looking for a romantic experience for two or want to learn more about this historic city, taking a horse-drawn carriage ride through downtown St. Pete is a must-do on every couples' itinerary.
14. Eat like a Local at the St. Petersburg Saturday Morning Market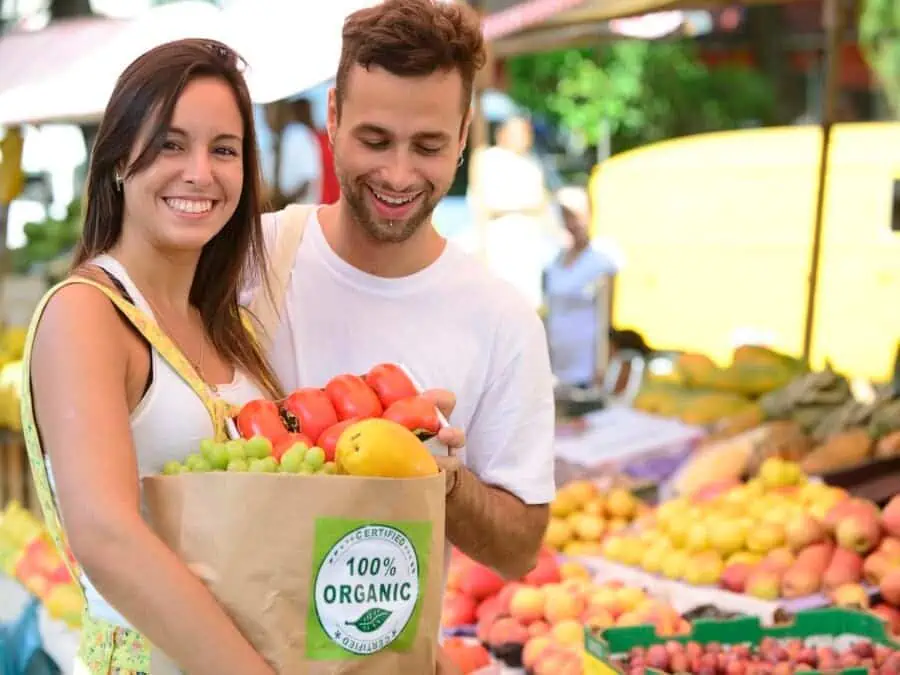 The St. Petersburg Saturday Morning Market is a vibrant, open-air market that showcases an array of locally grown fruits and vegetables, handmade crafts, and tasty treats made by local vendors.
The market is held downtown in the heart of St. Pete's art district every Saturday morning from 9 am to 1 pm. It makes for a fun (and inexpensive) outing.
As you wander through the marketplace, you can sample fresh produce from local farmers, pick up unique gifts crafted by local artisans, or purchase delicious snacks made with love by passionate cooks and bakers.
Whether you're looking to buy ingredients for a dinner for two or find some one-of-a-kind momento to take home with you, the St. Petersburg Saturday Morning Market is sure to have something for you.
15. Catch a Spectacular Sunset at Pass-a-Grille Beach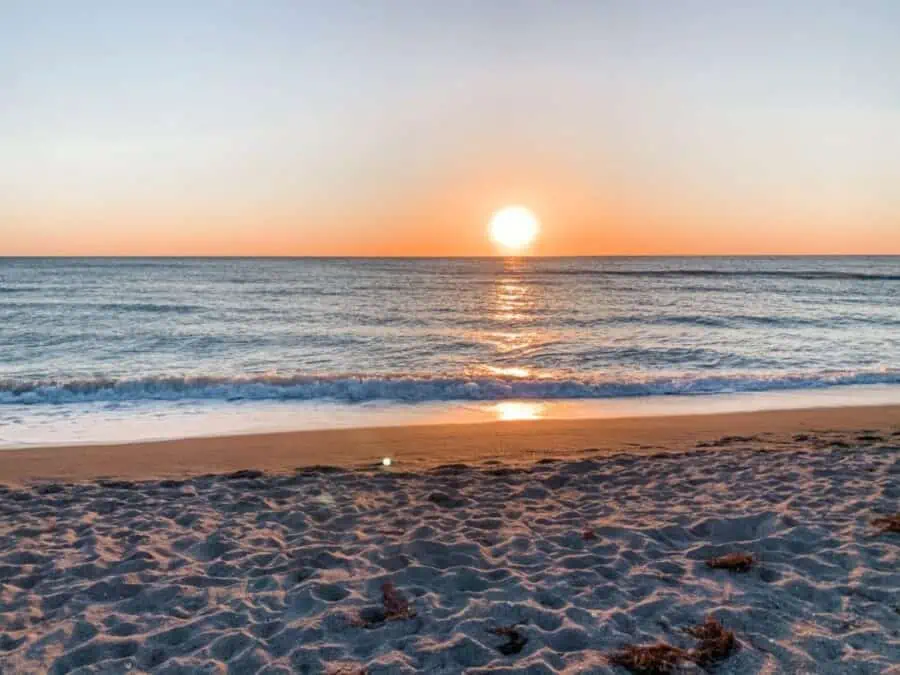 Spending a day at Pass-a-Grille Beach is definitely a top thing to do in St. Petersburg for couples.
It offers couples a chance to unwind from city life and experience the stunning natural beauty of the Florida coastline
Located on the south end of St. Pete Beach, this iconic beach is known for its white sandy beaches and crystal-clear waters. It's the perfect spot for soaking up some sun and relaxing with your partner.
It's also home to several historical landmarks. The quaint cottages built in the 1920s that have been preserved as part of Pass-a-Grille's unique charm.
🌟 Insider Tip: For couples who bring their furry friends along, make sure to check out the Pass-a-Grille Beach dog park at the south end of the beach.
Romantic Hotels in St. Petersburg
The Don CeSar – Best Luxury Hotel for Couples
Located directly on the beach, the Don CeSar is a classic luxury hotel for a romantic getaway in St. Petersburg.
Known as the "Pink Palace" this historic hotel features an expansive swimming pool, beautiful ocean or city views, an indulgent spa and fine-dining options.
Check rates and availability of The Don CeSar on Booking.com.
Inn on the Beach – Good Value and Location
Inn on the Beach is located in the historic Pass-a-Grille district. The studios also have kitchenettes which is handy for chilling a bottle of wine or snacks to enjoy at sunset on your getaway for two.
Check rates and availability of Inn on the Beach on Booking.com.
FAQs
Does St. Petersburg have nightlife?
St. Petersburg Florida has a lively nightlife scene that includes dance clubs, speakeasys, live music venues and rooftop bars. Ruby's Elixir and The Mandarin Hide are especially popular places when the sun goes down.
Other Florida Beaches and Romantic Destinations
Save to Pinterest!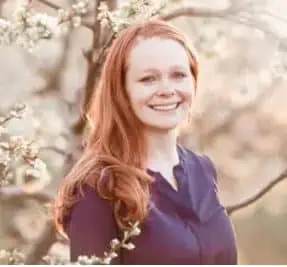 Candice loves traveling the United States and sharing her advice, tips, and tricks with others. With her husband, three kids, and dog, they travel the United States in their RV visiting national parks, beach towns, and everything in between. The rocky coasts in Maine, the white sandy beaches in Florida, and Moab, Utah are some of their favourite places to visit.