We may earn income from links in this post. Please read this Disclosure for details.
Looking for romantic things to do in Cancun? When it comes to romance, you can't go wrong with the Caribbean coast of Mexico.
The white sand beaches, clear blue waters, warm sultry breezes and rich Mayan culture create a naturally romantic backdrop.
And with its prime location and wide selection of luxury hotels, one of the top spots for couples happens to be Cancun.
Since 2000, I've travelled to over 50 countries and spent time in the world's most beautiful locations throughout the Caribbean and beyond. Cancun is still one of my favourite places!
While it's definitely isn't a secluded hideaway, it's got tons to offer couples planning a honeymoon, vow renewal, romantic getaway or special anniversary.
For the best excursions, attractions and activities for two, here are my top picks for the most romantic things to do in Cancun for couples.
1. Swim in a Cenote or Underground River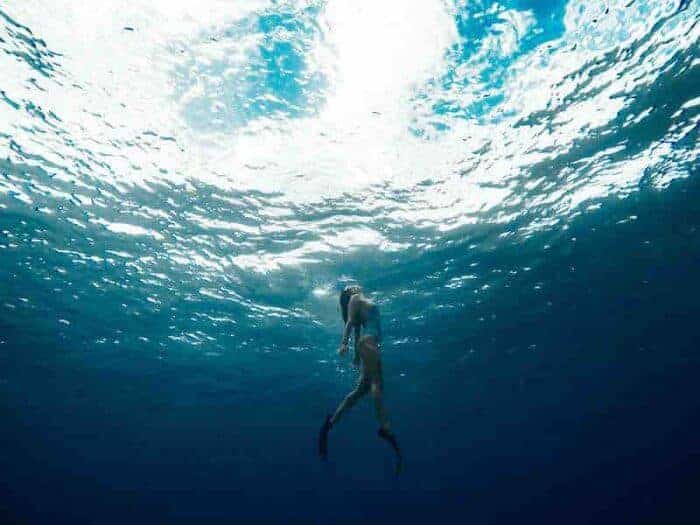 Plunging into the silky waters of an underground cenote (sinkholes) is one of the most romantic and unforgettable things to do in Cancun for couples.
Imagine floating hand in hand through the emerald depths of Río Secreto or the incredible Blue Cenote.
Another romantic tour features a swim through the vast caverns at Kantun-Chi, an eco-park where stalactites hang suspended over mystic waters. You can also go a bit further afield and visit beautiful cenotes in Tulum.
Adventurous couples can explore four natural underground pools in one day on the Tour Xenotes Excursion. You'll visit four completely different cenotes (including the Blue Cenote) and enjoy a range of eco-adventure activities like kayaking, zip-lining, rappelling and snorkelling.
This fun tour includes a certified guide, transportation, equipment such as life jackets and a picnic lunch.
Check rates and availability of the Tour Xenotes Package (and get a discount of up to 50% off) by booking direct with Xcaret Park.
Insider Tip:
Taking a cenote tour is an especially good option if there's a lot of
seaweed in Cancun.
Since 2015, Mexico's Caribbean coast, Florida and many Caribbean islands have been experiencing large quantities of sargassum seaweed.
Get sargassum seaweed maps, safety tips and forecasts on Cancun and Riviera Maya seaweed before you book.
2. Be Amazed at JOYÀ by Cirque du Soleil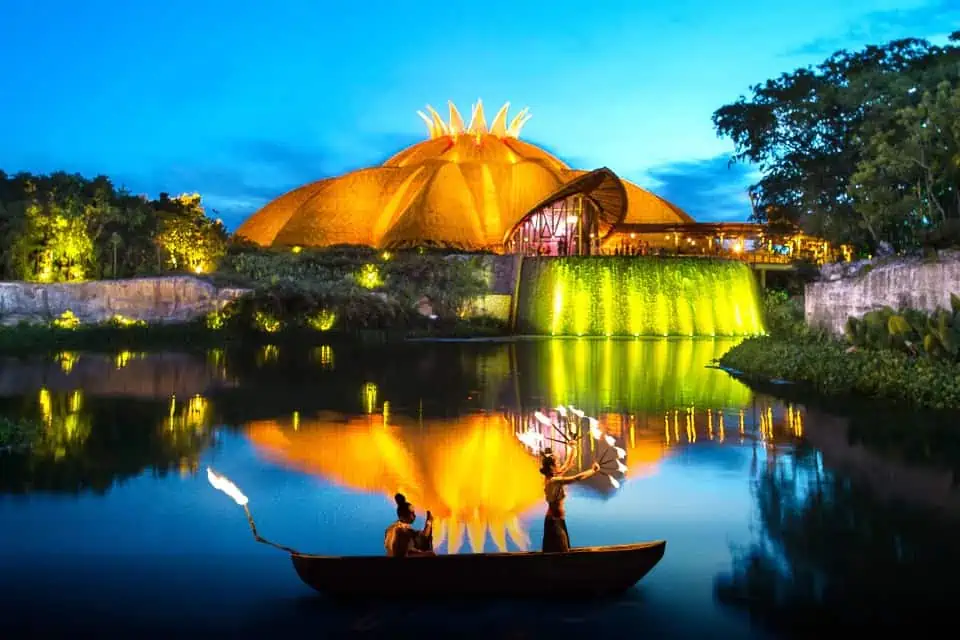 You'll feel as though you're stepping into another world as you follow the wooden walkway leading to this magical theatre set in the jungle above a lagoon and waterfall.
This is the world of JOYÀ – a unique, immersive and multi-sensory entertainment and culinary experience by Cirque du Soleil, masters of jaw-dropping acrobatics.
Filled with imaginative contemporary circus, light, music and spectacle, JOYÀ 's theme alludes to the history and culture of Mexico. from the migration of the monarch butterflies to music to artists such as Diego Rivera and Frida Kahlo.
For couples, it's well worth reserving the full JOYÀ experience. This pre-show gastronomic adventure features a romantic dinner complete with champagne.
The menu is inventive – think edible menu and lots of drama such as swirling "Dragon's Breath" smoke. It's definitely a top thing to do on a honeymoon in Cancun.
Insider Tip: This attraction is located within the Vidanta Riviera Maya resort, a 45 minute drive from the Cancun hotel zone. So, your best bet for a stress-free evening is to purchase tickets that include transportation and drop off in Cancun. Many tours offer pick up from Plaza La Isla Shopping Center.
Check rates and availability of the Cirque du Soleil JOYA show on Viator.com (dinner and transportation available)
3. Float in a Gondola under the Moonlight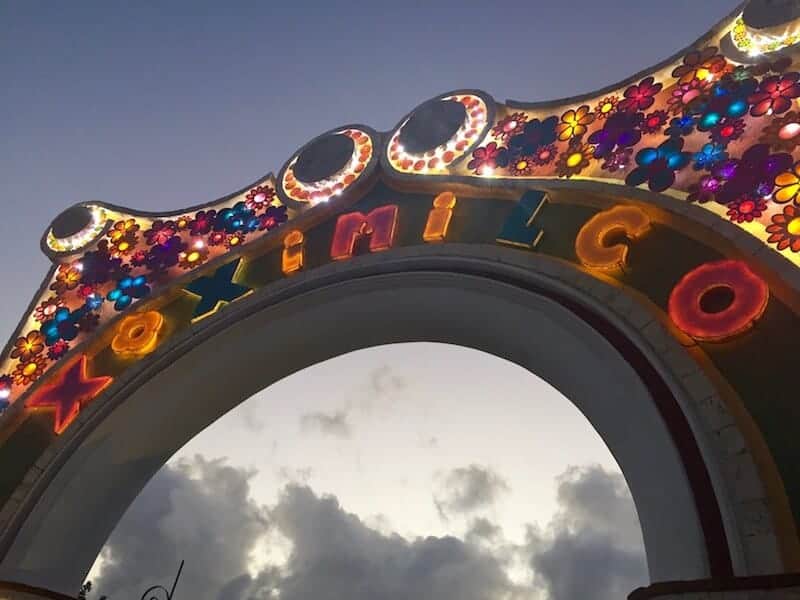 A unique Cancun honeymoon activity is being serenaded by traditional Mexican love ballads while gliding in a trajinera (gondola) along 7.4 kilometres of Venetian-like canals at Xoximilco Cancun.
This attraction pays tribute to the legendary Xochimilco floating gardens of Mexico City with festive colours, folklore and traditional Mexican cuisine.
It's definitely more of a fiesta than a solitary trip for two. But there's nothing quite as romantic as dancing under the stars to live music. And you'll get to do that too!
While you're gliding through the moonlit canals, impress your loved one by consulting our playlist of the most romantic mariachi songs to request a love ballad from one of the mariachi bands.
This is definitely one of the top things for couples to do in Cancun at night.
Insider Tip: Transportation and admission to Xoximilco Xcaret Park is included in an overnight stay at Hotel Xcaret Arte, a top all-inclusive hotels for adults in Mexico.
Check rates and availability of Xoximilco Party in Cancun on Viator.com.
4. Sip Mexico's Sexy Spirit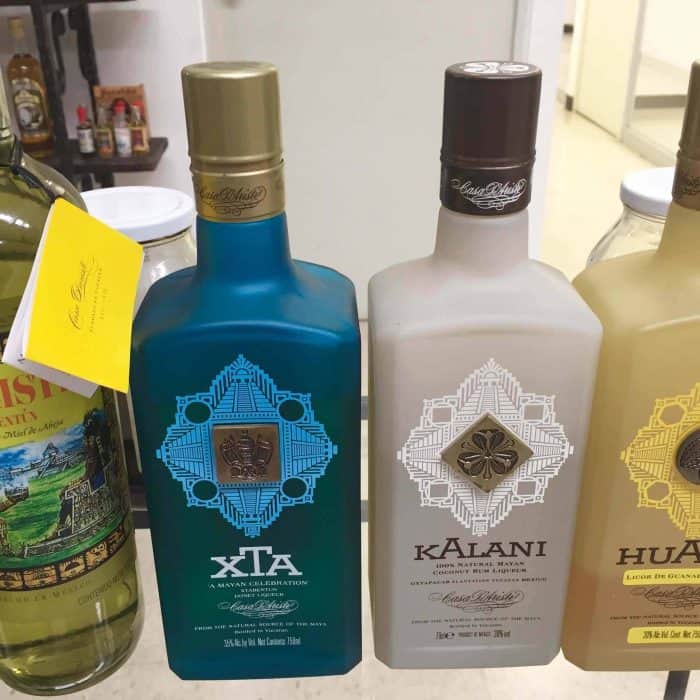 The Kama Sutra can't be wrong – wild honey is a potent aphrodisiac! Couples on a honeymoon in Cancun will want to pick up a keepsake bottle of this honey liqueur.
Rekindle your romance or end it to dizzying heights with a splash of Xtabentún, a regional liqueur made of anise and fermented honey in the Yucatan.
Another way to try this golden elixir is in a Xtabentun cocktail at Nizuc Resort and Spa, a sensual retreat set on a nature preserve in a secluded pocket of Cancun.
Check availability and rates at Nizuc Resort & Spa on Booking.com.
5. Experience a Couples Temazcal – Mayan Ceremonial Sauna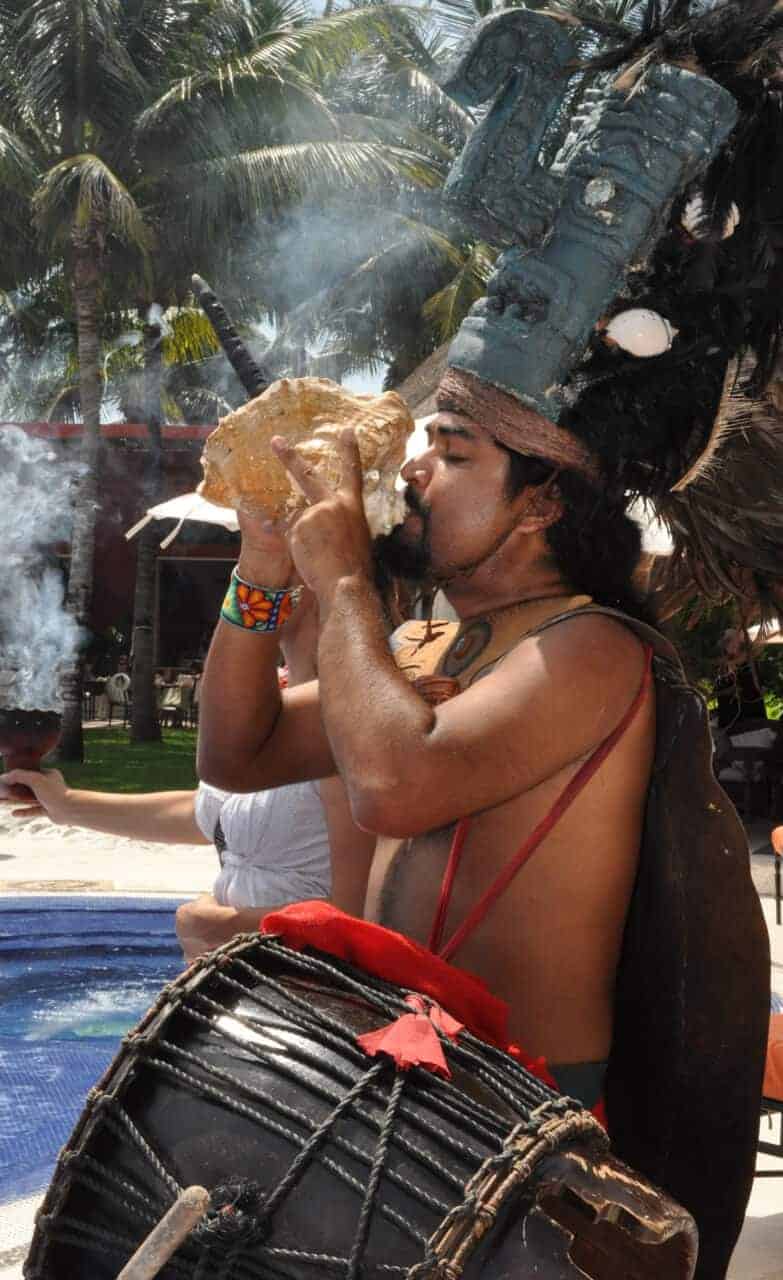 One of the most romantic excursions in Cancun is unique to the Rivera Maya. In this spiritually rich tour you'll experience a cleansing ritual featuring a sauna, natural herbs and incense, under the guidance of a shaman.
Similar to the temazcal ceremonies of Oaxaca, this Mayan bath ritual is intended to purify mind, body and spirit.
Following your sweat lodge experience, you'll float together in a sacred cenote and sample traditional Mayan cuisine. This excursion includes pickup and drop-off at most major hotels in Riviera Maya.
Check rates and availability of a Mayan Ceremonial Night on Viator.com
6. Sail in a Private Catamaran Tour to Isla Mujeres – Island of Women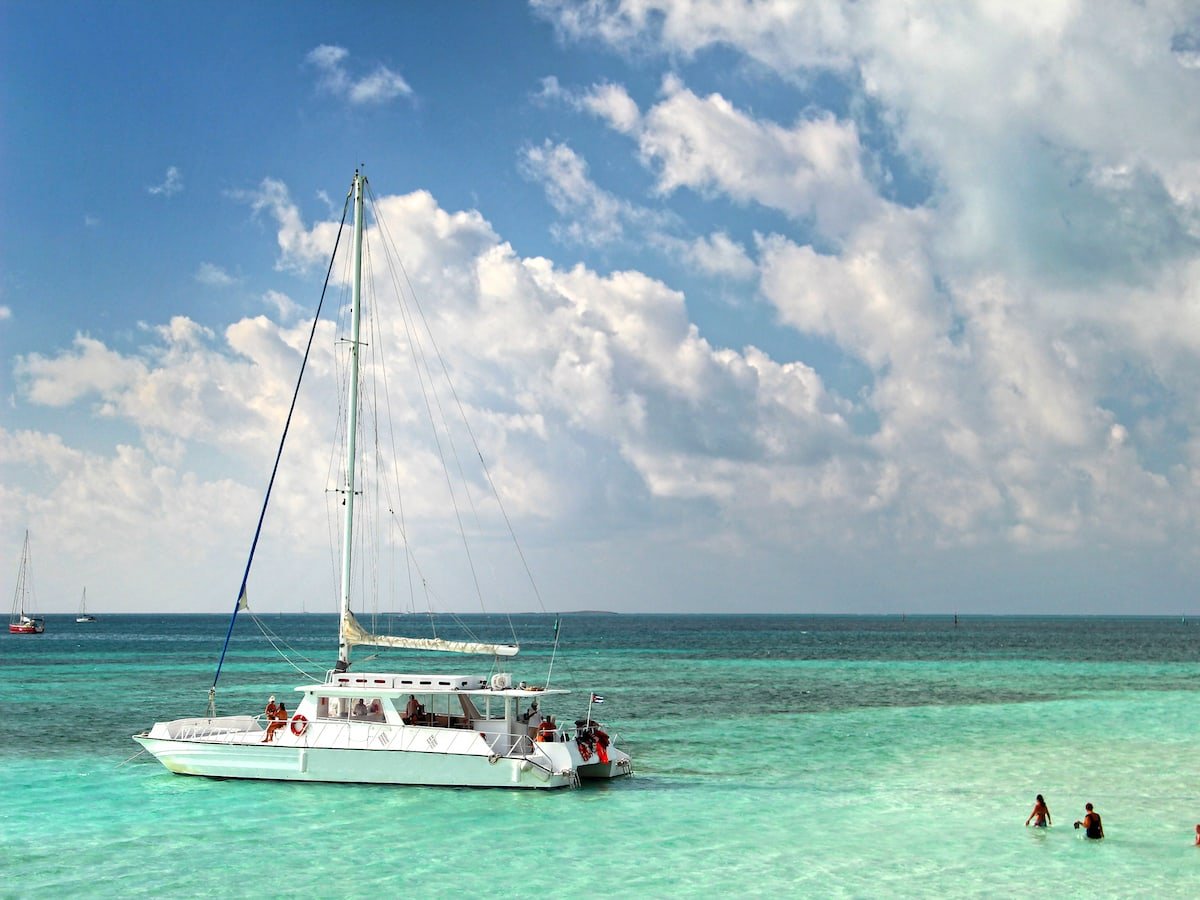 One of the most romantic things to do in Cancun is to take a luxury catamaran cruise to Isla Mujeres, enjoying cocktails, snacks and time sailing together in the sunshine.
Another top tour for couples is a sailing excursion to a secret sandbar near Puerto Morelos. Swim in the clear blue waters, relax over lunch and even try paddle boarding for two on the calm sea.
Check prices and availability of a Catamaran Sailing to Isla Mujeres on Viator.com.
7. Discover Ancient Mayan History at Tulum Archeological Site
A favourite activity in Cancun for couples is taking a day trip to the incredible Tulum Archeological Zone, one of the best-preserved coastal Maya sites.
Perched on a cliff overlooking the azure-blue Caribbean Sea, the ruins of this pre-Columbian walled Mayan city are especially scenic.
While smaller in size and scale, the site contains several ancient buildings including the temple of El Castillo, the Temple of the Frescoes, and the Temple of the Gods of the Wind.
The distance from Cancun to Tulum is shorter than Cancun to Chichen Itza so if you have time for only one day trip, Tulum is your choice.
The best Tulum Archeological Site Tours combine a visit to the archeological site with a stop at Chen Há and Mariposa Cenotes (extra cost to swim) so you have the added advantage of being able to experience two attractions in one excursion.
Check rates and availability of a Tulum and Cenotes Tour on Viator.com.
8. Escape to a Romantic Hotel in Cancun
Whether you're on a honeymoon, celebrating a milestone birthday or anniversary or just looking for time together, choosing the most romantic hotel in Cancun is the key to a perfect couples getaway.
Here are our top picks:
Best All-Inclusive Resorts for Couples in Cancun
Pamper yourselves at Secrets Playa Mujeres Golf Resort & Spa in Cancun, home to one of the best hydrotherapy circuits in Cancun. This new, all-inclusive resort is located north of the hotel zone in a quiet, gated area.
You also can't go wrong with Secrets The Vine Cancun, a top choice among the 5 Best All-Inclusive Resorts in Cancun-Riviera Maya. With three infinity pools, curtained Bali beds and no all-inclusive wristbands, Secrets The Vine is made for romance. This adults-only hotel is in the heart of Cancun's hotel zone but is a world away from the Spring Break crowd. With a no-reservations dinner policy, a 4,500 bottle wine cellar and 24-hour room service, you're free to focus on each other. Check it out with a Day Pass to Secrets The Vine.
Situated on the widest stretch of beach in Cancun's Zona Hotelera (Hotel Zone), it's also worth considering all-inclusive, adults-only Hyatt Zilara Cancun.
The prime central location, expansive spa, gourmet cuisine, creative cocktails, swim-out suites and exciting evening entertainment make the Hyatt Zilara an ideal Cancun resort for young couples.
Check prices and availability at Secrets The Vine Cancun on Booking.com
Check prices and availability at Secrets Playa Mujeres Golf & Spa Resort on Booking.com
Best Hotels for Couples in Cancun (not all-inclusive)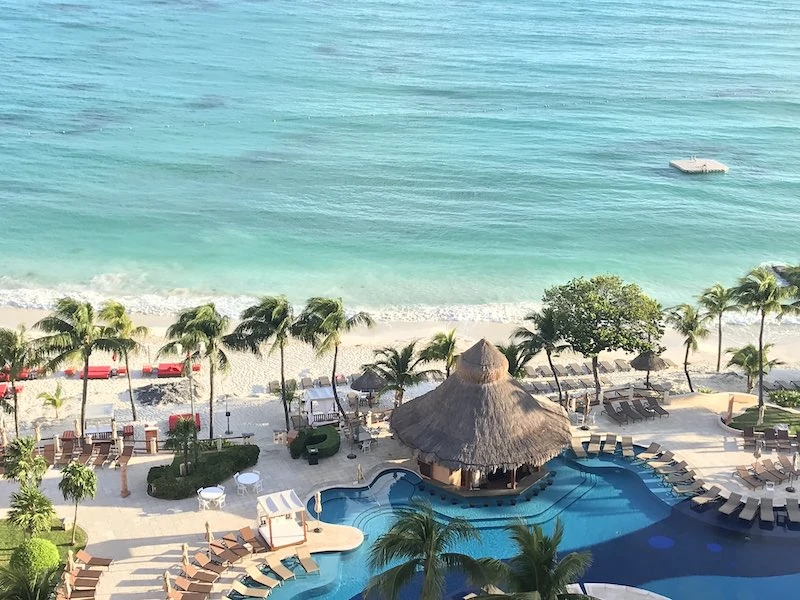 For a luxury hotel that's comes with its own beautiful beach, try the Grand Fiesta Americana Coral Beach Cancun. Upgrade to the concierge Club Floor level and enjoy appetizers, snacks and treats along with the spectacular views.
Coral Beach is one of the most private beaches in Cancun. In addition to its calm and swimmable waters, it usually receives less sargassum seaweed than other beaches in the area.
Another very romantic hotel in Cancun is Nizuc Resort and Spa, a sensual retreat tucked on a peninsula in a secluded pocket of Cancun. Although it's considered a family-friendly resort, it has an adults-only zone that's ideal for couples. It also features an independent Kosher kitchen.
Check prices and availability at Grand Fiesta Coral Beach Cancun on Booking.com
Check availability and rates at Nizuc Resort & Spa on Booking.com
9. Indulge in a Libido-Boosting Romantic Dinner for Two
For a night of seductive cuisine, take an adult-only sunset cruise of Cancun's Nichupte Lagoon and dine on fresh lobster.
Low in fat and high in protein, potassium and zinc, this decadent crustacean is packed with libido-boosting powers.
Another romantic spot to dine is within the restaurants located within the Hotel Grand Fiesta Americana Cancun.
At the Five Diamond Le Basilic, you can watch a work of art be created by the hotel's talented resident painter, dine on fresh ceviche and other fresh seafood at the oceanfront restaurant Isla Contoy.
This hotel is also home to the stylish La Joya restaurant where traditional mariachi players serenade at dinner along with a spectacular light and sound show.
The light and sound spectacle at La Joya restaurant is an unforgettable experience. It draws on Mexican motifs, traditions and history for inspiration.
It's quite unlike anything you'll else you'll find in Cancun and memorably romantic. Be sure to book in advance.
10. Sip Cocktails on Romantic Sunset Sailing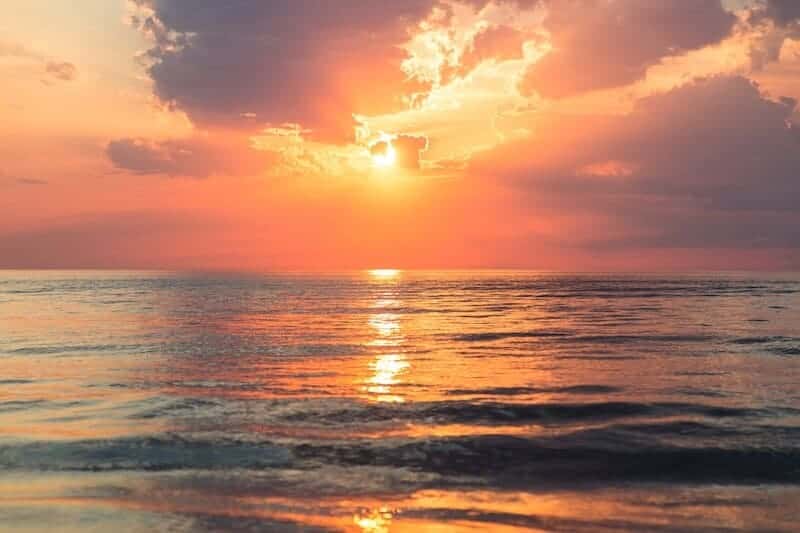 One of the most romantic tours is to sail along the magnificent coastline of the Riviera Maya on a luxury catamaran.
Relax with a cocktail from the open bar while nibbling on appetizers provided by the attentive crew. Hotel transport is provided from most hotels for this excursion.
Check rates and availability of a Luxury Sunset Sailing on Viator.com
11. Bathe in Warm Chocolate at a Luxury Spa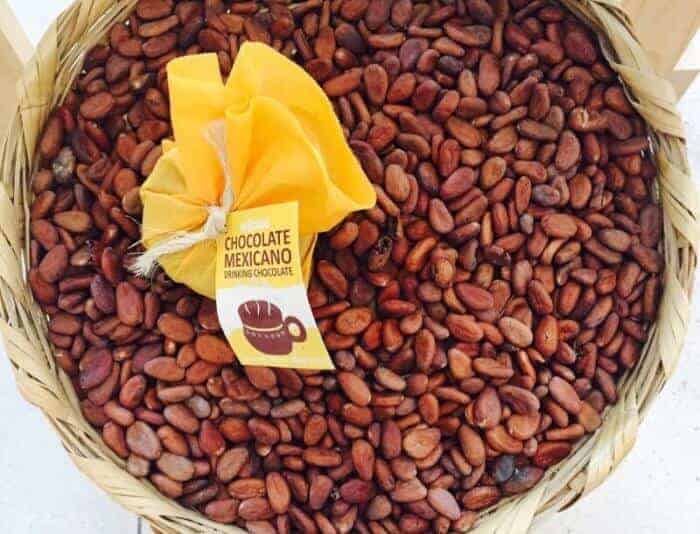 Early Mayan hieroglyphs suggest cacao was prized for its aphrodisiac powers.
A romantic thing to do in Cancun is sample the deep, rich, taste of fine Mexican chocolate at one of several Ah Cacoa Chocolate Cafes in Riviera Maya and Cancun.
Then, head to the Spa by Pevonia at Secrets Playa Mujeres where you can indulge in a sexy spa treatment that includes a full body chocolate and mint scrub.
It will be followed by a luxe wrap so moisturizing you'll feel as though you've been dipped in a chocolate fondue.
Relaxing in a soothing hydrotherapy circuit is also a must-do for couples in Cancun. So try to book a resort ( such as Secrets, the Hyatt and Fiesta Grand Americana) that offer hydrotherapy pools in their spas.
Check prices and availability at Secrets Playa Mujeres Resort & Spa on Booking.com.
12. Ride in a Hot Air Balloon Over the Pyramids at Chichen-Itza
For couples looking to avoid the crowds (and the hassles of renting a car in Cancun), there's the option to take a private jet from Cancun to Chichen Itza. You'll arrive in the heart of the Mayan world in just 20 minutes!
Once there, you can book a scenic Balloon Ride and see the incredible expanse of jungle and one of the seven new wonders of the world from the air.
To make it even easier and stress-free, all entrance fees, drinks and snacks are included. A limo transfer to the airport elevates the experience even more.
13. Visit the Smart is Sexy Museo de Cancun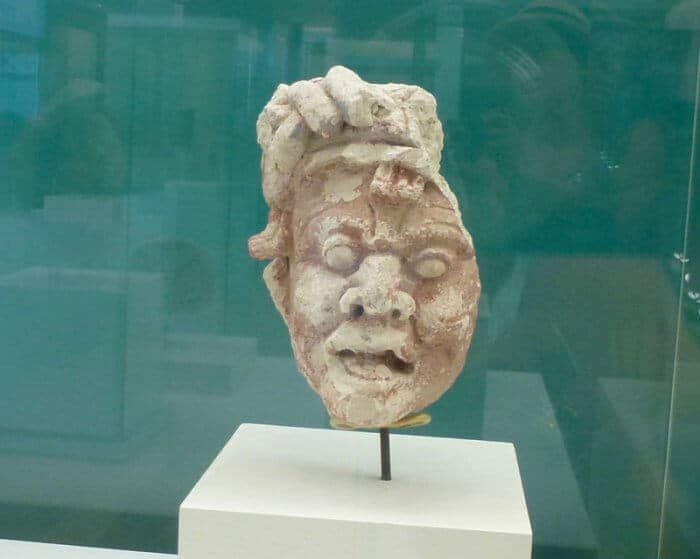 For a day of intrigue, spend an afternoon at the stylish Museo Maya de Cancun designed by Mexican architect Alberto Garcia Lascurain.
The building's sexy curves hold a treasure trove of art collected by the National Institute of Anthropology and History.
Visiting this world-class museum is a good option if you're looking for things to do in Cancun if it's raining.
The Mayan Museum of Cancun and the Archaeological Zone of San Miguelito are located in the heart of the Hotel Zone at Km 16 on Boulevard Kukulcán.
It's also a bargain as the admission cost per person is just 70 MXN pesos (less than $4 USD).
Note that the museum is closed on Mondays.
14. Escape to Xcaret Park for Eco-Adventure and a Night Show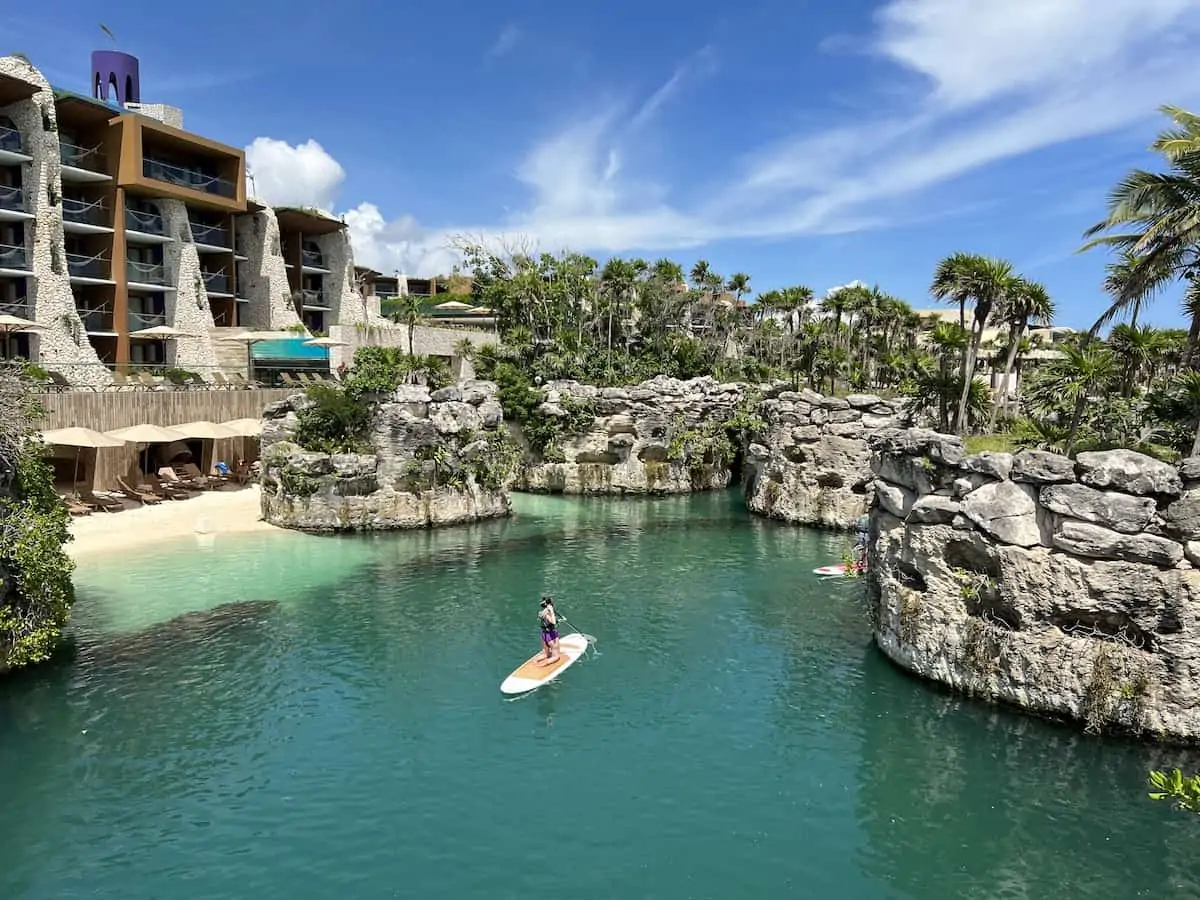 Go swimming in a lagoon, snorkel in the turquoise waters of the Caribbean and explore a network of subterranean rivers at Xcaret, an eco-theme park and archaeological site. You'll see monkeys, parrots and butterflies along the way!
After the sun sets, enjoy folkloric entertainment that highlights the ancient Mayan culture. This tour includes transportation from most hotels in Cancun, but for the ultimate couples escape, consider staying at adults-only, all-inclusive Hotel Xcaret Arte.
Not only is it one of Mexico's most romantic resorts, but it's known for its food scene. AND, you'll have unlimited access to all of Xcaret's eight parks, archeological sites and nature preserves.
Check prices and availability at Xcaret Eco-Park and Night Show (including transportation) on Viator.com
15. Take a Romantic Helicopter Tour of Cancun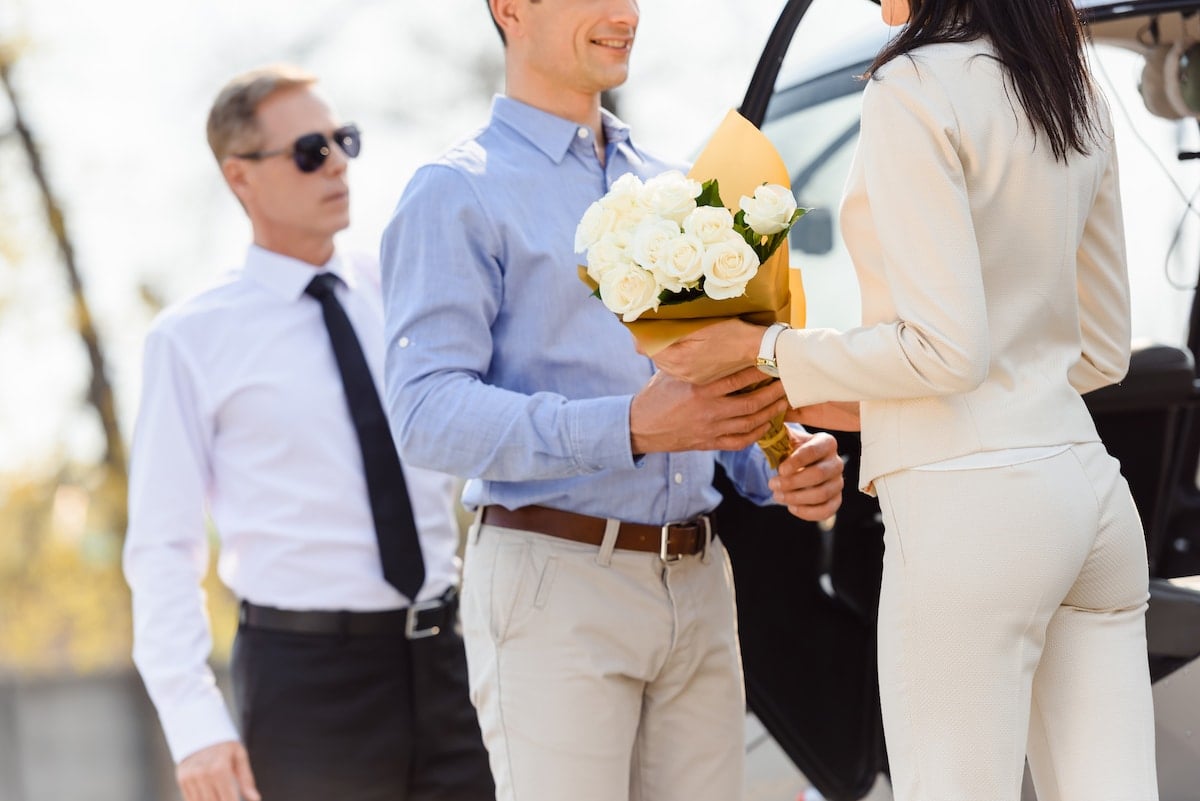 A romantic helicopter tour of Mexico's coastline was featured in the Netflix series Love is Blind.
A scenic helicopter ride for two is one of the most romantic things to do for couples at any destination. It's even more special in Cancun.
In episode 5 of Season One in the popular Netflix reality series Love is Blind, Cameron and Lauren's helicopter flight was the best date of the series!
Spotting sea turtles, dolphins and manta rays while you soar above the turquoise waters cuddled in a luxury helicopter is both exciting and unforgettable.
A scenic helicopter tour at sunset is one of the top places to propose in Cancun as well!
16. Take a Day Trip to Valladolid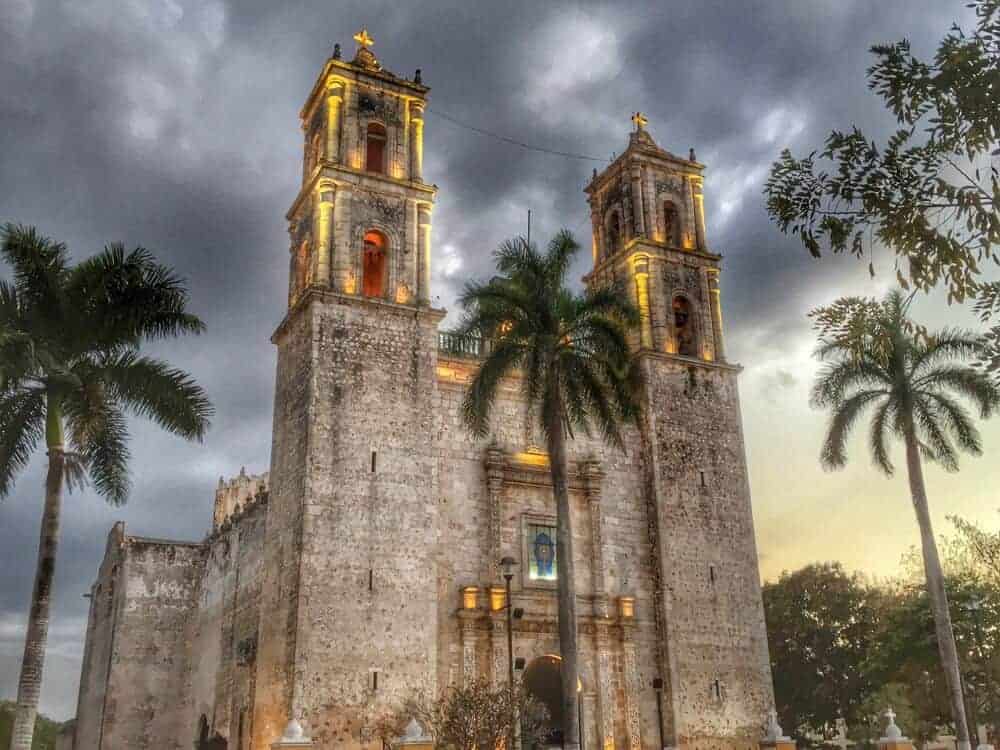 Another popular honeymoon activity is to take a tour to Valladolid, a colonial city that's an easy day trip from Cancun.
Founded in 1543, this inland town features charming cobblestone streets, the impressive open Cenote Zaci and proximity to the pyramids of Chichen Itza.
Its Instagram-worthy historic buildings make beautiful backdrops for engagement and honeymoon photo shoots.
Foodie couples will also enjoy sampling authentic regional dishes of the Yucatan such as cochinita pibil (Yucatán-style grilled pork), longaniza (smoked sausage) and sopa de lima (lime soup) at the restaurants around the city square.
Check prices and availability of a Full Day Tour to Chichen Itza, Cenote and Valladolid on Viator.com.
More Romantic Things to Do in Cancun, Mexico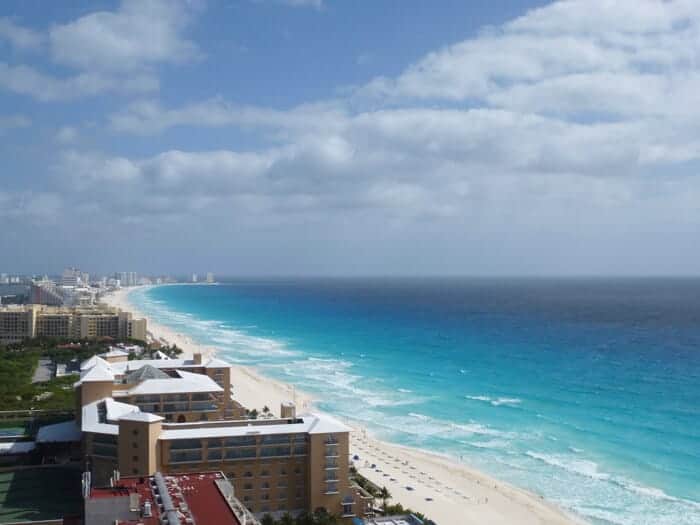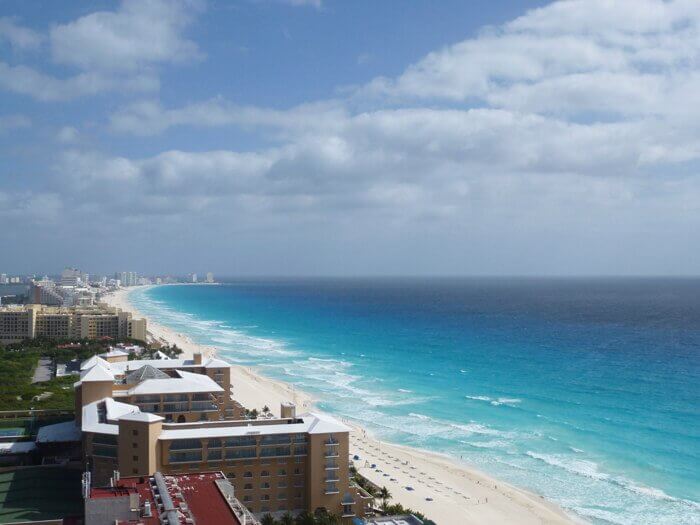 And that's not the end of fun things to do in Cancun for couples!
Couples looking to party while sailing on the Caribbean Sea should consider one of the popular Cancun Party Cruise Sailings.
These adults-only cruises feature DJs spinning hip-hop, R & B and techno music, champagne showers and an open bar.
In addition to being a fun, floating dance party, these lively cruises include a stop for snorkelling and swimming.
Check rates and availability of an afternoon on a Cancun Party Boat on Viator.com
Read these posts for more vacation ideas including hotels, beaches, special events and day trips in the Riviera Maya.
Save to Pinterest!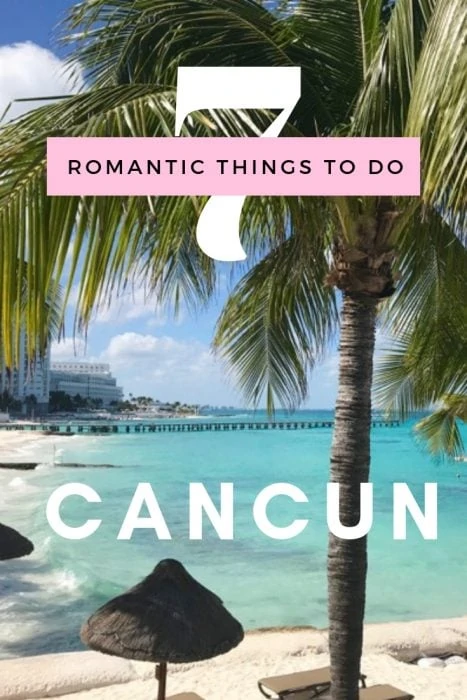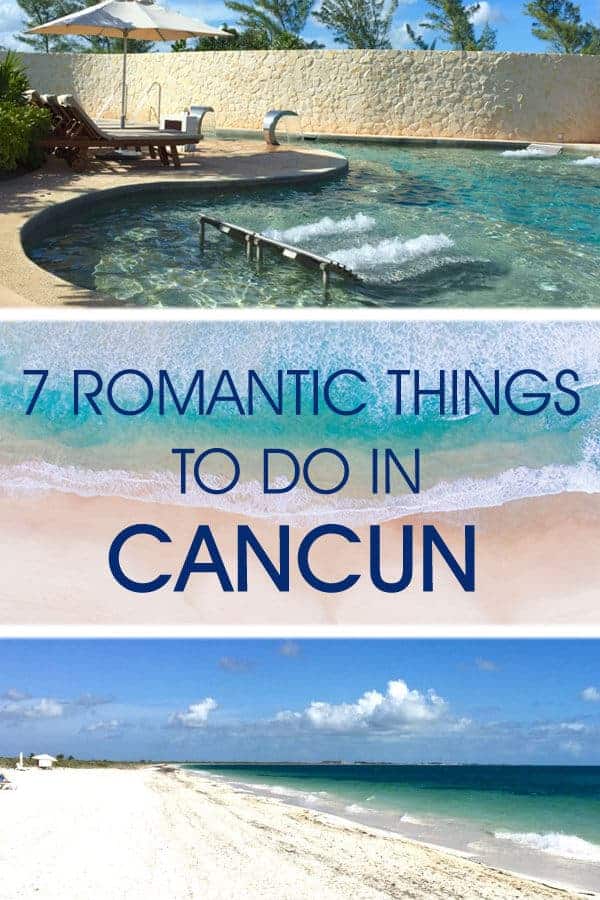 Dividing her time between Canada, Guatemala and Mexico (or the nearest tropical beach), Michele Peterson is the founder of A Taste for Travel. Her award-winning travel and food writing has appeared in Lonely Planet's cookbook Mexico: From the Source, National Geographic Traveler, Fodor's and 100+ other publications.
Read more about Michele Peterson.