We may earn income from links in this post. Please read this Disclosure for details.
One of the first cities in Germany to be founded by the Romans, the city of Mainz has long tradition in the wine trade.
If you're a wine aficionado, it's tempting to spend all your time sipping Riesling in its cozy weinstuben (wine taverns), indulging in hearty Rhineland-Palatinate cuisine and celebrating at its famous libation-fuelled festivals.
But the wine scene is just the beginning of the many fascinating things to do in Mainz, Germany.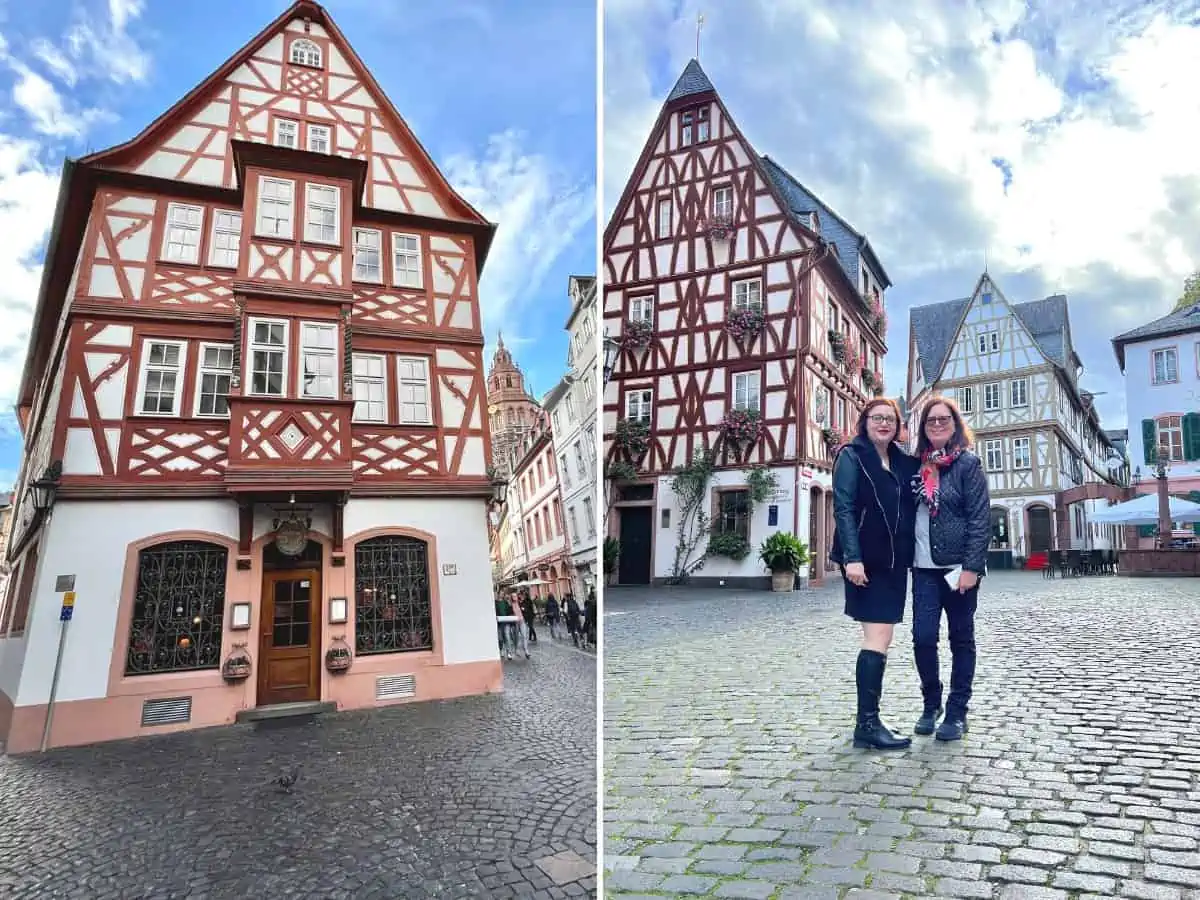 Where is Mainz?
The beautiful city of Mainz, Germany lies on the western bank of the River Rhine about 40 km southwest of Frankfurt-am-Main.
It's well known for its impressive cathedral and quaint Old Town, as well as being the birthplace of the inventor Johannes Gutenberg.
It's also famous for being Germany's wine capital and is the country's only member of Great Wine Capitals of the world.
Situated in the Rheinhessen, Germany's largest wine-growing region, Mainz is a popular launching point for day trips, wine tours of the Rhine Valley, wine hikes and cruises of the Rhine and Moselle Rivers.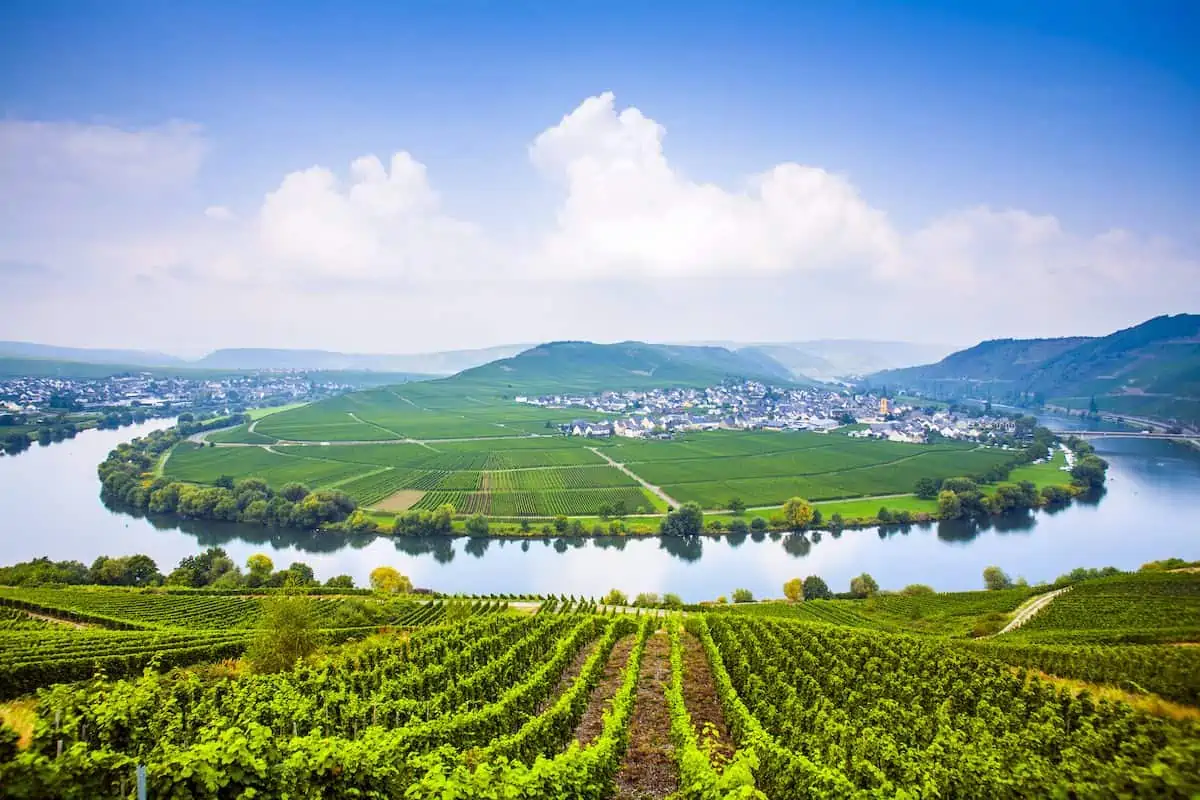 While some travellers head to Wiesbaden (a spa town across the Rhine) or Frankfurt prior to their river cruise, we opted to spend time in Mainz prior to embarking on Emerald Cruises' 8-day Legendary Rhine and Moselle cruise.
We're thrilled we did. I'm convinced Mainz is one of Europe's most overlooked cities and can't wait to go back.
Not only are there plenty of things to do in Mainz City Center — which is fairly small and easy to explore on foot — but the capital of the Rhineland-Palatinate state of Germany has a distinctive regional cuisine that's a must-try for food and wine lovers.
Is Mainz, Germany Worth Visiting?
There's a bounty of museums, churches and attractions (plus wine taverns, wine cellars and beer gardens) that could keep you entertained for a week in Mainz.
But if you're taking a river cruise and only have one day in Mainz, you'll still have enough time to experience the best of this historic city.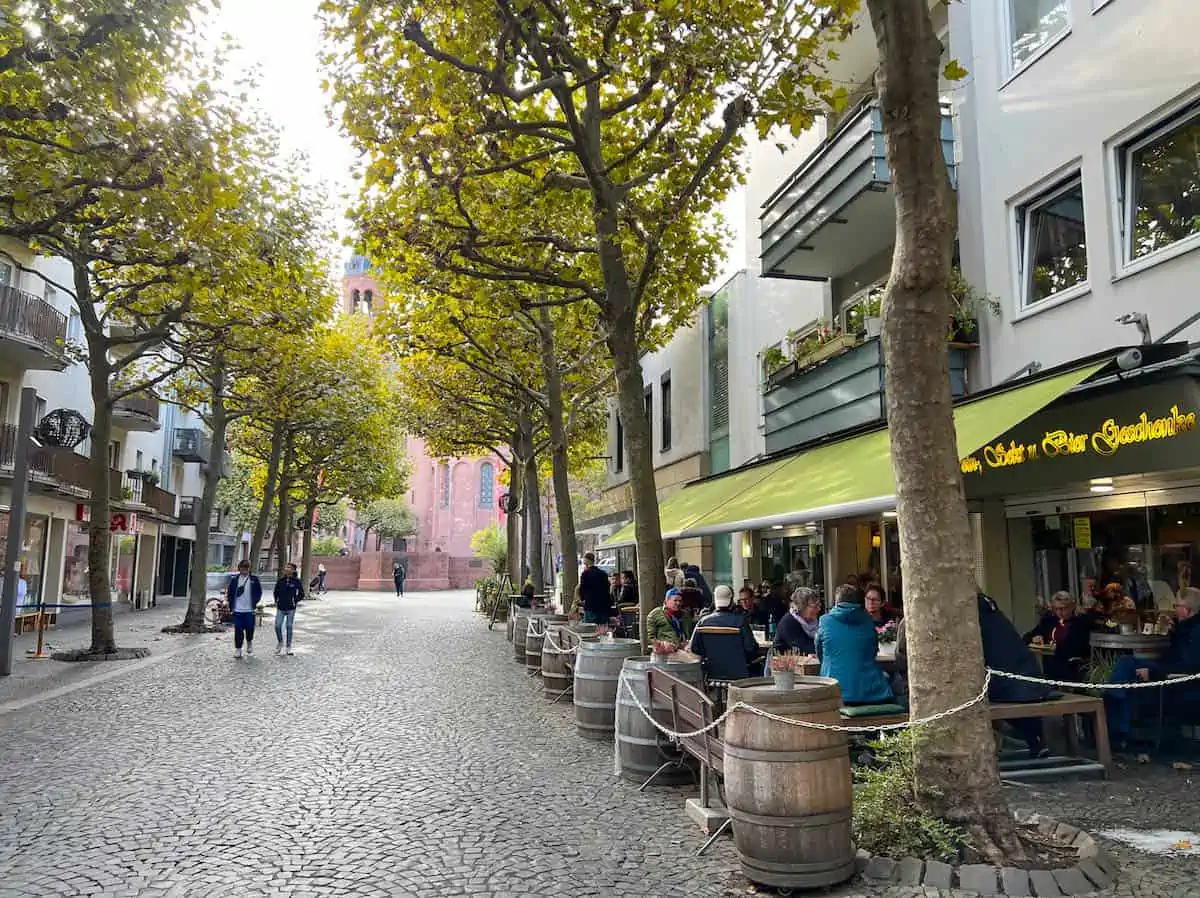 While the city center is easy to explore independently, you can also sign up for a guided tour to make the most of your visit.
No matter what season you visit, it's a good idea to pick up a map from the Mainz tourist information office located at Market Square at the start of your visit.
Let's explore some of the best things to do in Mainz in one day:
Contents of This Guide to Mainz
1. Stroll the Rhine Promenade (Adenauer-Ufer)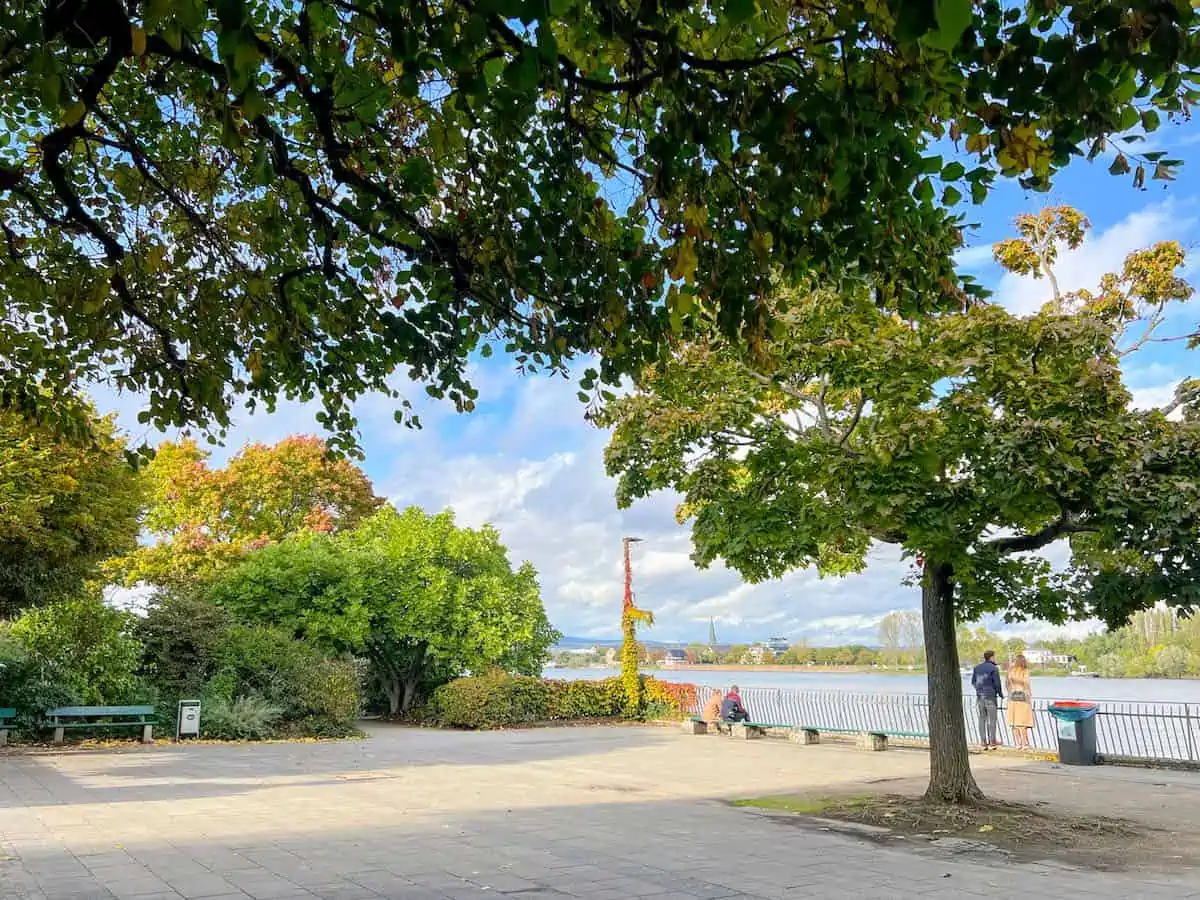 The Adenauer-Ufer (riverbank promenade) stretches from the new town of Mainz to the Fischtorplatz in Mainz Aldstadt.
In addition to the stone gates which were part of the city's fortifications in the 1800s, this leafy promenade is lined with grassy lawns, sculptures and benches where you can watch the world go by.
You'll often see couples strolling arm in arm, young people relaxing in beer gardens and people cycling, jogging or soaking up the sunshine around the Frauenlob fountain.
2. Wander Around Mainz Aldstadt (Old Town)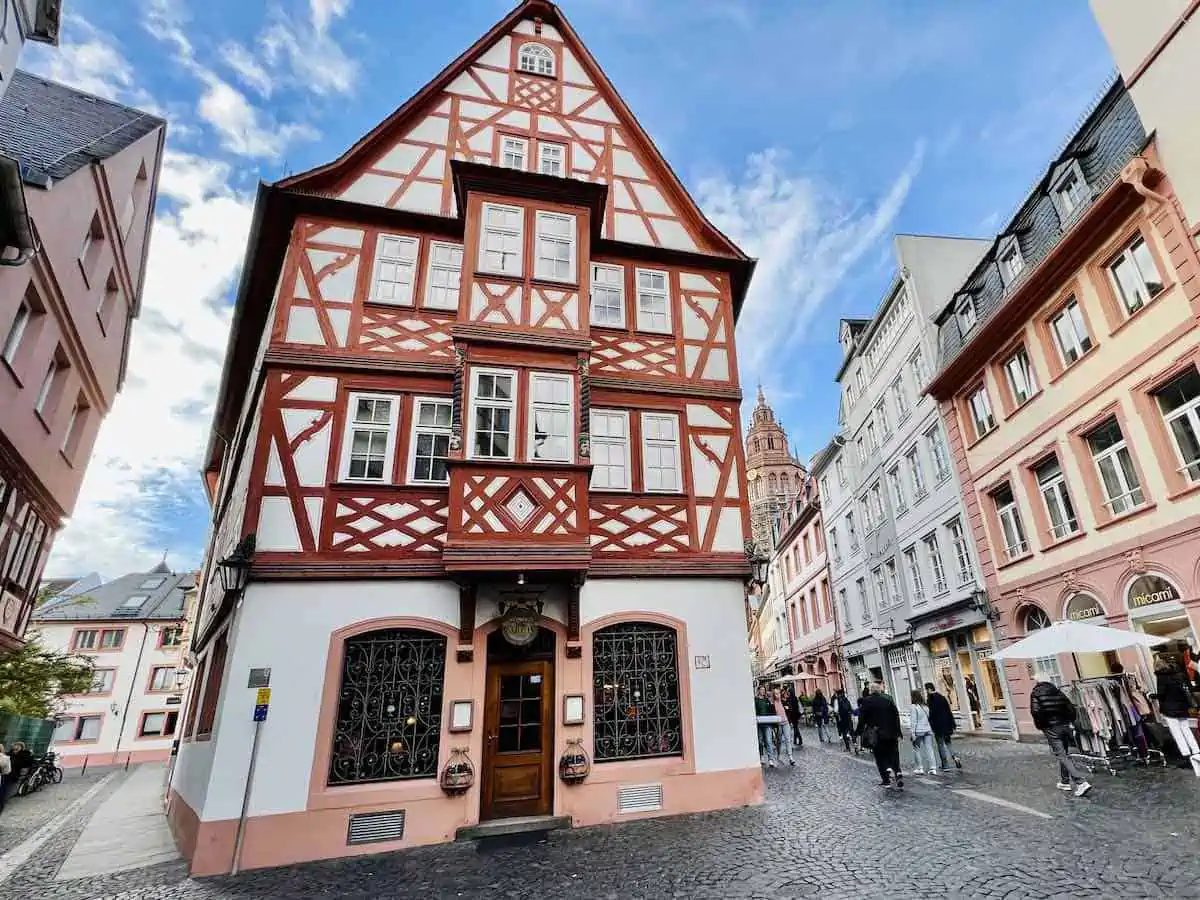 Mainz Altstadt is a cobblestoned delight of winding streets filled with restored half-timbered buildings, some dating back to the 1400s.
Exploring these streets lined with towering chestnut trees, museums and medieval buildings is sure to make you a fan of its charms. Augustinerstrasse is probably the most famous street in Mainz Old Town.
But it's also worth visiting Kirschgarten (cherry garden), a pretty square and street of the same name dating to 1329.
3. Get Wowed by Mainz Cathedral (Mainzer Dom)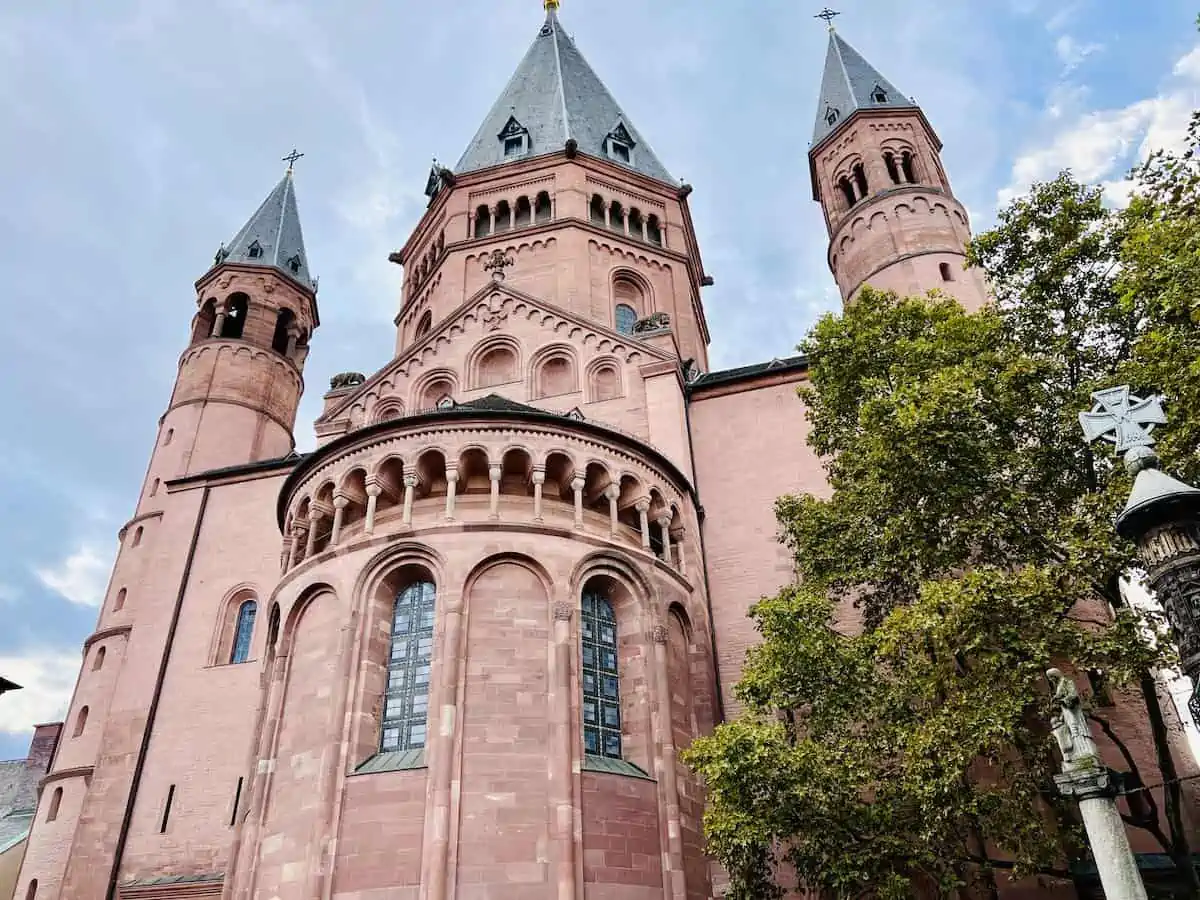 Located in the pedestrian zone and anchoring Market Square, St Martin's Cathedral, or the Mainzer Dom, was constructed in the 12th century and is one of the most popular Mainz tourist landmarks.
This towering structure can hold 4,000 people inside its cavernous interior and is a mix of various architectural styles including Romanesque, Gothic and Baroque.
One of the most remarkable sights within the cathedral are the episcopal tombs spanning centuries, and the cloisters containing fine sculptures.
There's also a statue dedicated to St. Boniface of Mainz (675 – 754), who is known as the Apostle of Germany, and was made archbishop of Mainz by Pope Gregory III.
4. Get Social at Mainz Market Square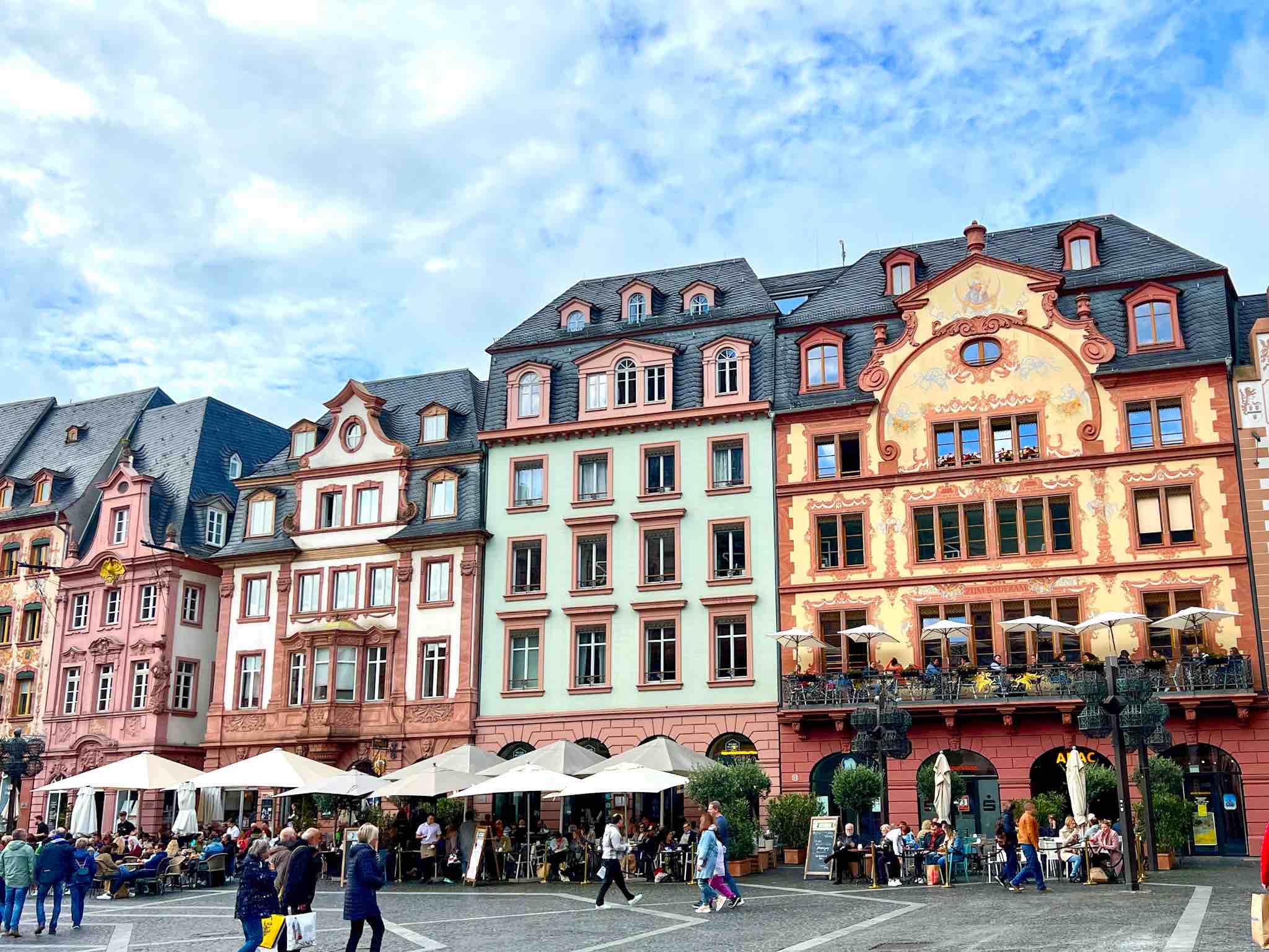 Most German cities have an impressive market square (or Markt) at their heart, and Mainz is no different. But this one is especially full of life.
Mainz market square lies in front of Mainz Cathedral and is home to a weekly market (between 7am and 2pm) on Tuesdays, Fridays, and Saturdays.
Stroll around and soak up the atmosphere while you shop for fresh produce, baked goods and delicacies like fresh buns topped with local cheese or sausage.
Pro Tip: From March to November, you can enjoy a traditional Rheinhessen Breakfast at the Market on Saturday mornings.
Look for the tasty weck, worscht un woi (roll, sausage and wine) sold at stalls in Liebfrauenplatz (in front of the Cathedral).
Be sure to take time to admire the beautiful Renaissance Fountain topped with a figure of the Madonna in the middle of the square.
5. Learn About Printing History at the Gutenberg Museum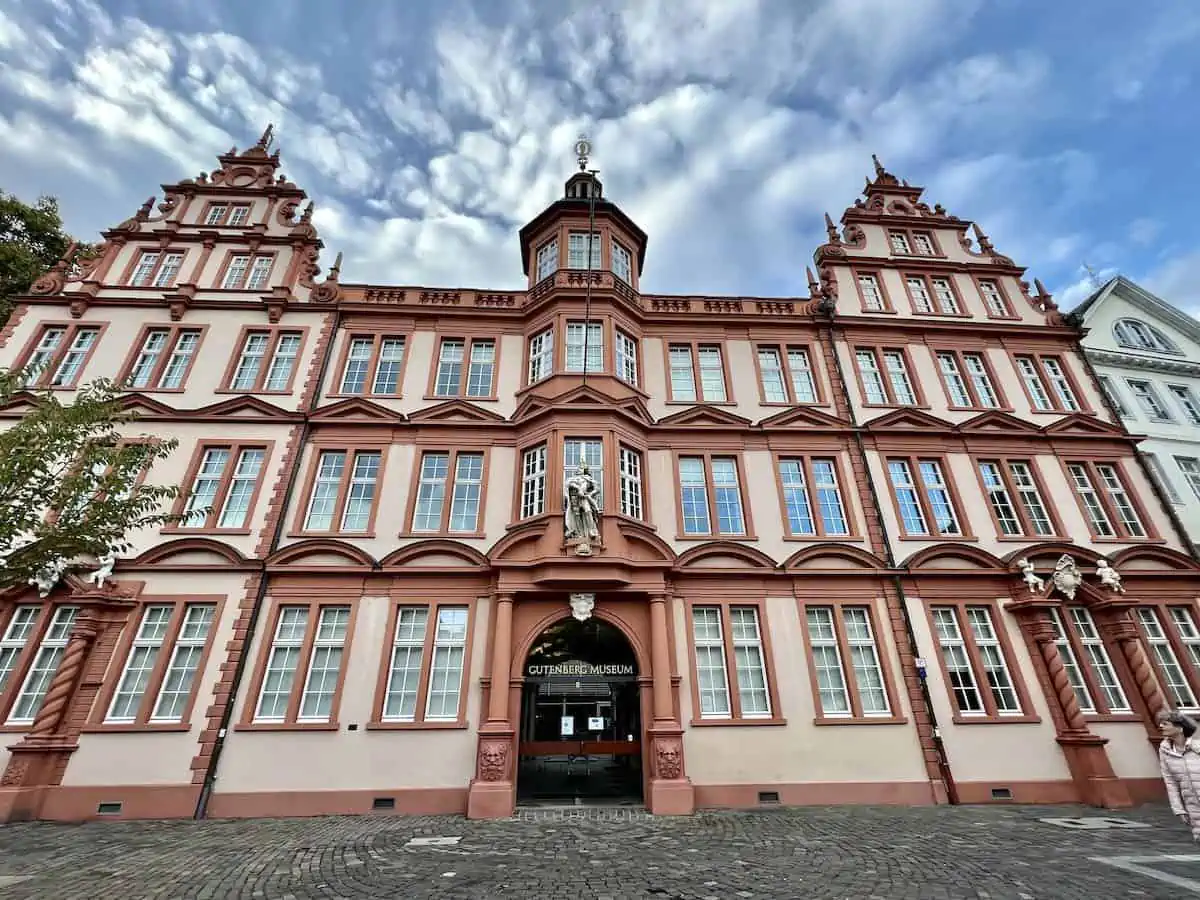 Bibliophiles, book collectors and scholars won't want to miss The Gutenberg Museum another top attraction in Mainz.
Housed behind a striking building with a Late Renaissance facade, this unique museum celebrates Johannes Gutenberg (c 1400-1468), who was born in Mainz and invented the movable-type printing press and produced the first printed Bible.
The museum's fascinating collections contain antique printing technology and books including two Gutenberg Bibles from the 1400s. There are only 48 of these precious books left in the whole world!
To get the most out of a visit, take a private guided tour of the Gutenberg Museum with an expert.
But if you're short on time, head straight to the 2nd floor to the vault to see the Bibles and learn why they're considered to be among the world's most beautiful printed books.
6. Taste the World's Best Riesling Wines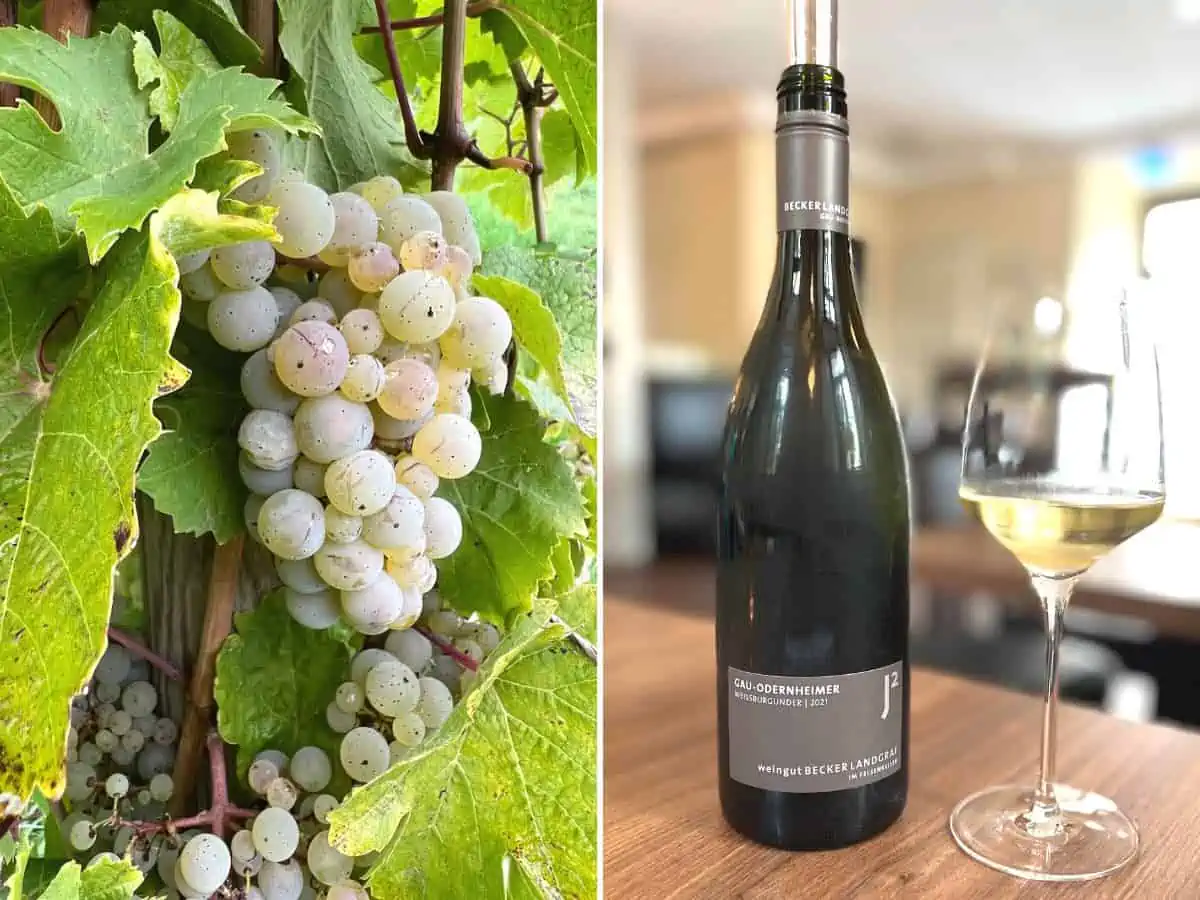 Mainz has a millennia-old wine tradition.
It was one of the first German towns to be founded by the Romans, who brought wine-growing to this area. The region produces some of Germany's most prized white wines, especially those of Riesling grapes, due to the unique geography and soil.
You can find countless wines to sample at the vinoteken (wine shops) of Mainz. While a dry Riesling is the most popular local wine, there are also sweeter white wines such as Niersteiner Domtal, Liebfraumilch and Scheurebe to sample.
For an in-depth tutoured tasting (in English) head to Vinotek Wangenrot (at Stefansplatz 1), one of the best wine bars and wine shops in Mainz.
The friendly and knowledgable owners Angela and Hartmut Zobelein offer a fine selection of local, regional, and international wines paired with small plates.
Pro Tip: Time your visit to catch the Mainz Weinmarkt held in Mainz City Park on the last weekend of August and first weekend in September. It features more than 60 winemakers from different regions showcasing their wines.
And if you're wondering what to do in Nuremburg in July, you can hit up their wine festival. It features more than 40 German wines!
If you're more of a beer lover, then plan a visit to Bamberg. It's located in a region with the world's highest density of breweries per capita.
Another popular September wine festival takes place in Cyprus. The Limassol Wine Festival is one of the largest wine festivals in the Mediterranean. It's well worth a trip!
7. Marvel at the Chagall Windows in St. Stephan's Church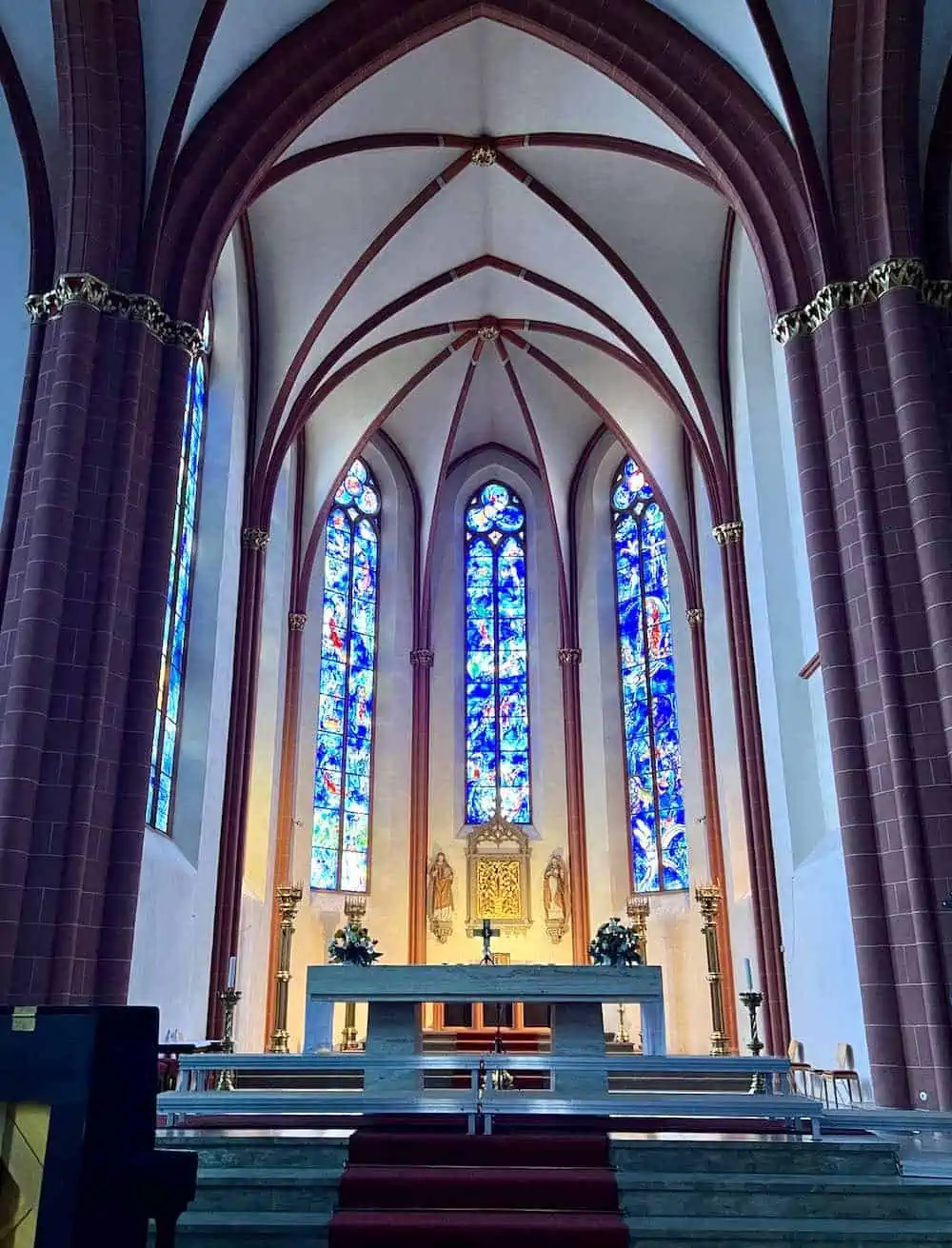 Located next to Vinotek Wangenrot, a 15-minute walk west of the Cathedral, St. Stephan's Church is deservedly one of the most popular attractions in Mainz.
It was completed in 1340 but during World War II Mainz was heavily bombed and St Stephan's Church severely damaged.
As part of its restoration, world-famous Jewish-French artist Marc Chagall designed nine beautiful stained-glass windows as a symbol of reconciliation.
They were installed in 1984 just months prior to the artist's death at age 98.
Today, the blue-hued glass windows, with their depictions of scenes from the Old Testament flood the interior of the church with calming, azure light.
It's a truly unique and memorable atmosphere.
St. Stephan's Church is a must-see and the best free thing to do in Mainz!
8. Sip Some Bubbly Fiederweisser (Young Wine)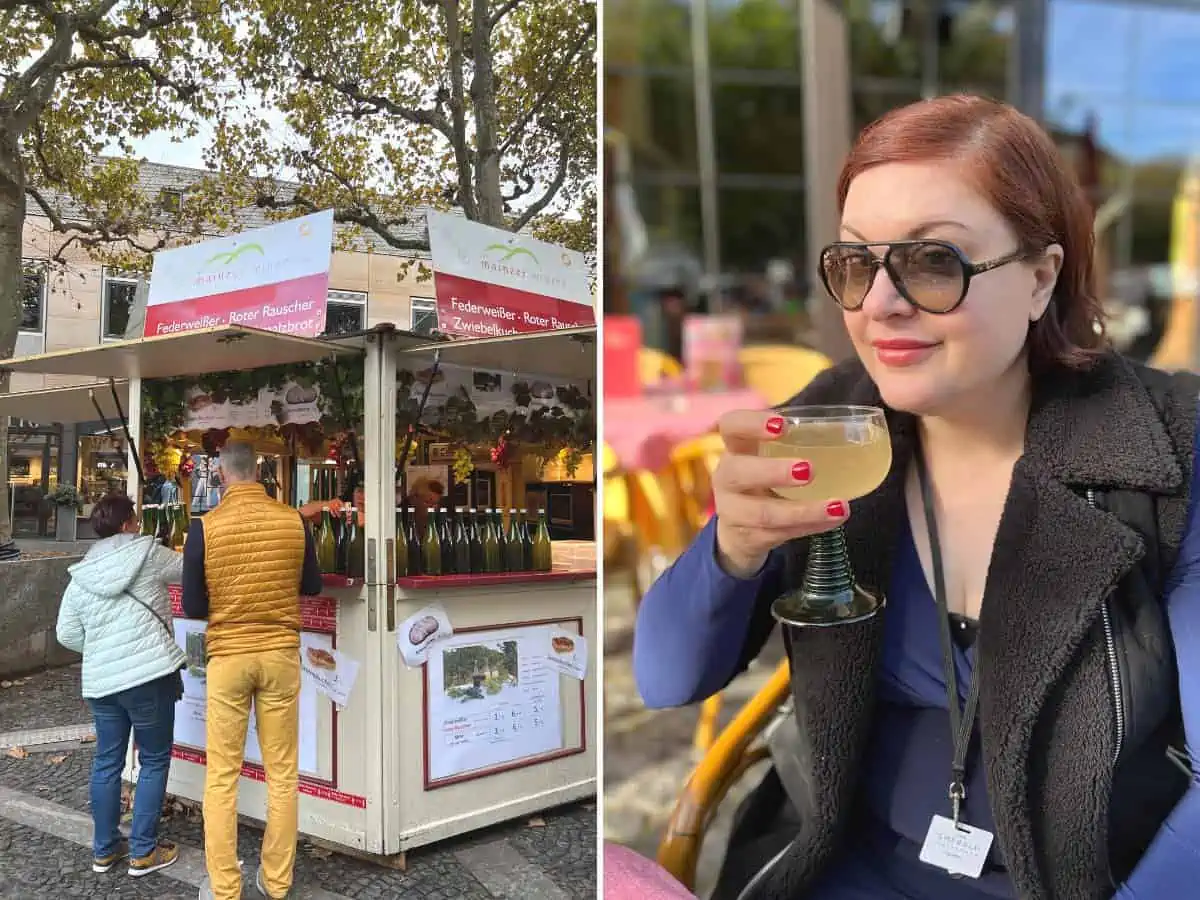 If you visit Mainz in autumn as we did, you're sure to see stands selling federweisser or fermented freshly-pressed grape juice.
This thirst-quenching, young German wine is half way between grape juice and wine. In fact, if you hold a glass of federweisser up to your ear you can actually hear it fizzing or murmuring.
For the full autumn in Germany experience, order an onion tart to go with your glass of federweisser. The rich flaky pastry is the perfect complement to the slightly-sweet taste of this effervescent young wine.
It has an alcohol content of around 5% so packs a light punch.
9. Step Back in Time at an Underground Shrine to Isis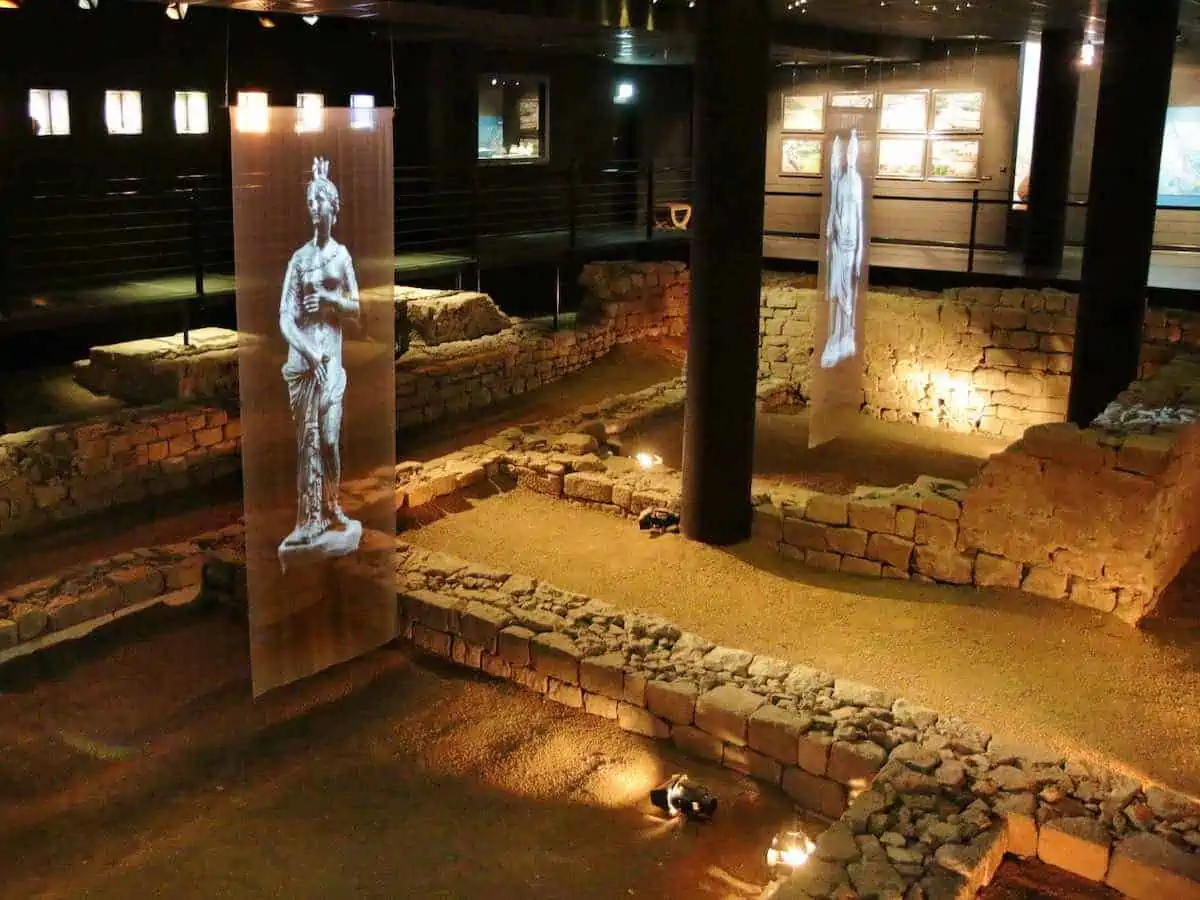 One of the most unique places to visit in Mainz is located at the Römerpassage Shopping Mall, where there's a small but fascinating museum in the basement.
This hidden gem contains the preserved remains of a Roman shrine and sanctuary dedicated to Isis and Magna Mater (the goddess Cybele).
The Heiligtum der Isis und Mater Magna Museum also contains numerous stone inscriptions and artifacts such as stone bowls and fertility statues used as offerings to the goddesses.
This important site of worship was discovered in 1999 during construction of the shopping mall. Today, a raised glass walkway allows visitors to peer into the archeological site containing the stone walls of the sanctuary.
Atmospheric lighting and projections add to the evocative experience of stepping back in time to the 1st century.
This is another fabulous free thing to do in Mainz. There is no admission to the Heiligtum der Isis und Mater Magna museum.
Tip: Entrance is on the western side of the Römerpassage on Adolf-Kolping Street within the City Center pedestrian zone. It's closed on Sundays.
10. Sample the Regional Food Specialties of Mainz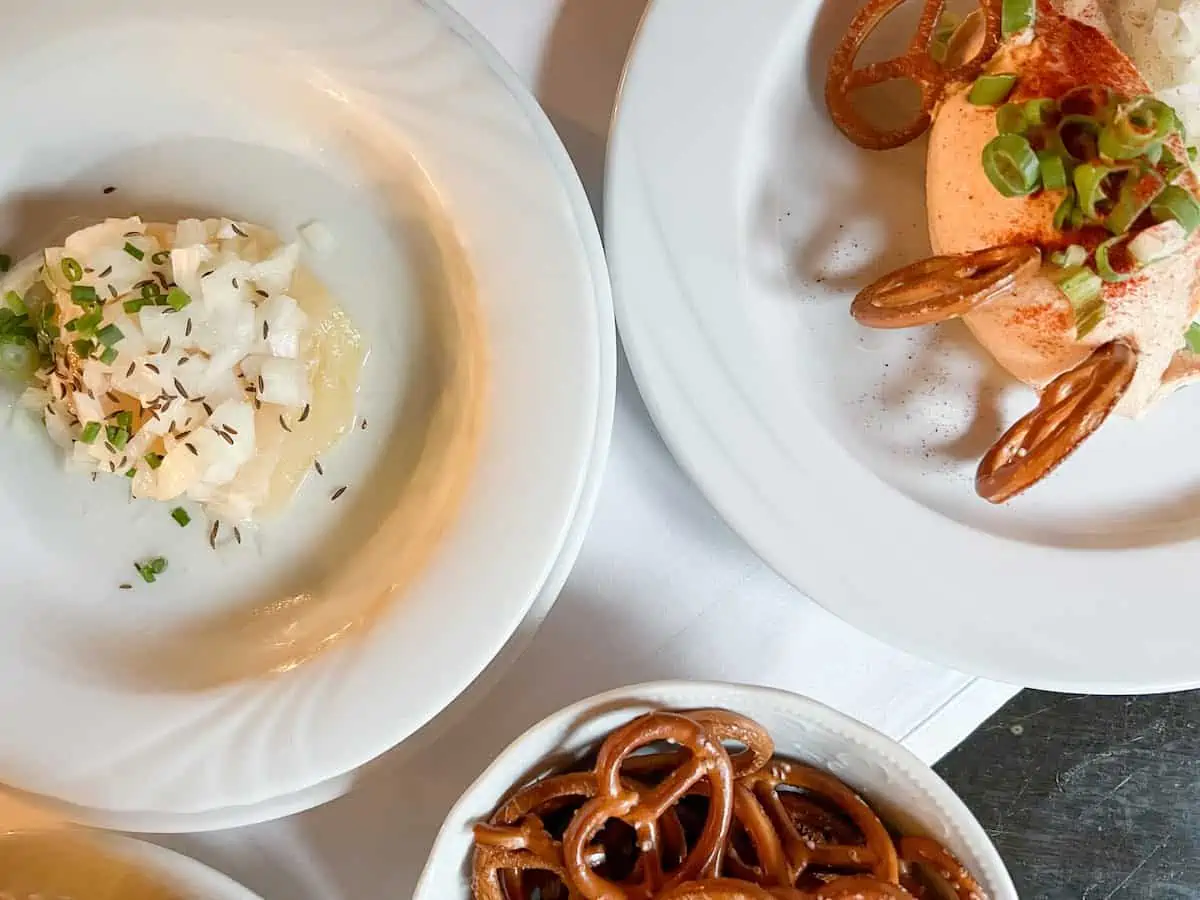 No visit to Mainz is complete without spending an evening at a traditional weinhaus or wine tavern. These cozy spots are the best places to sample the famous culinary specialties of Mainz.
It's a 10 minute walk from the Römerpassage to Weinhaus Wilhelmi (Rheinstraße 53), a traditional restaurant popular with locals and visitors spending a wine weekend in Mainz.
This cozy weinhaus is an ideal restaurant to sample regional specialities. But don't stop there. Ask to hear the daily specials (such as creamy forest mushrooms with egg noodles).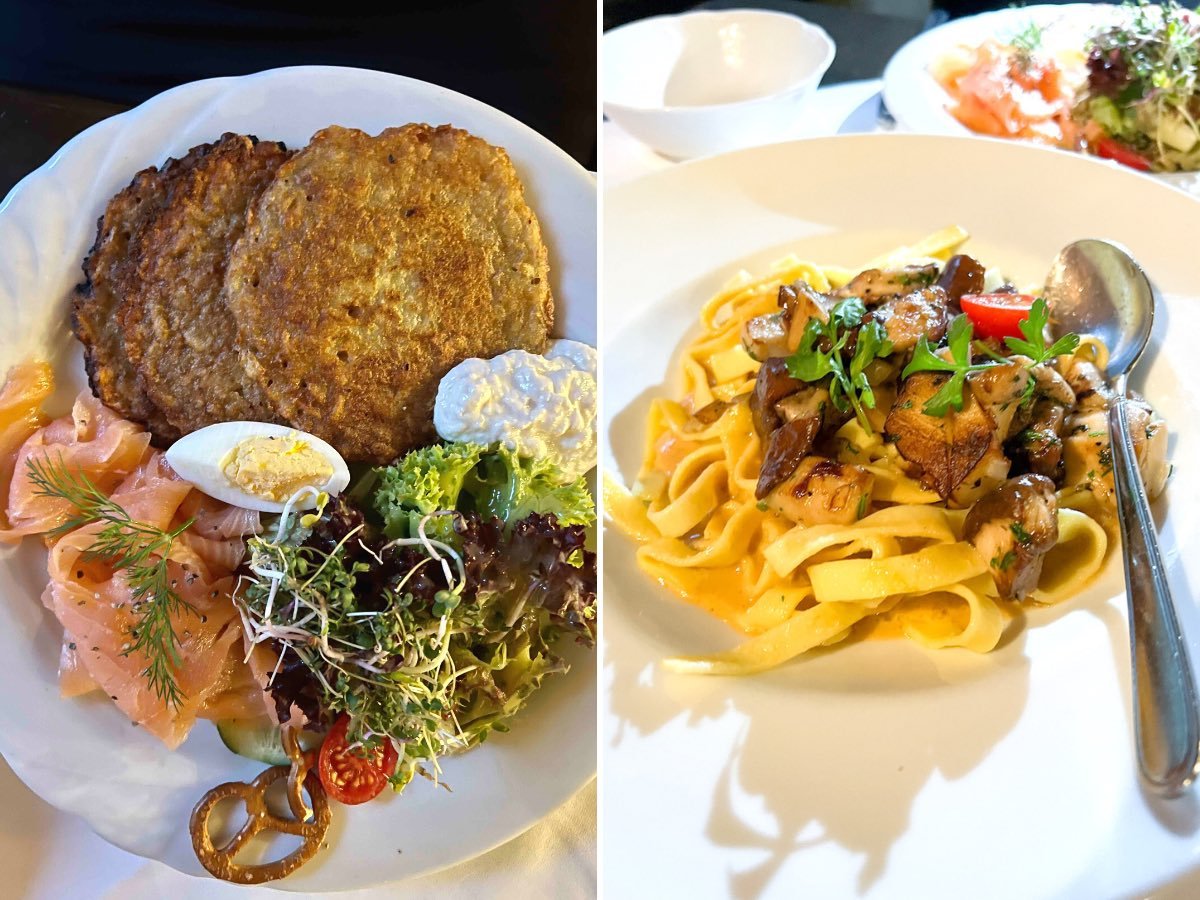 What to Eat in Mainz – Top Food and Drink to Try
Spundekäs – homemade cream cheese topped with white onion and served with tiny pretzels.
Handkas – a pungent, hand-formed sour cheese in an oil and vinegar sauce.
Kartoffelsuppe – potato soup often made with Riesling wine served with dark German bread.
Fleischworscht – traditional spiced pork sausage.
Zwetschgen – plums in jams, cake and tiny dumplings.
Leberworscht – cold liver sausage served with potatoes.
Kartoffelpuffer – crispy, fried potato pancakes popular as street food during Christmas market and other special events.
Worschsalat – pork sausage salad.
Eiswein – German wine law allows the designation of Ice Wine if temperatures at the time of harvesting the temperature is at least -7 degrees Celsius.
Note: In Canada, temperatures must be a minimum of -8 Celsius for 3 days in order to be designated ice wines. Learn more about the process of harvesting grapes for this rare and special wine in our Guide to the Niagara Ice Wine Festival
11. Marvel at the Mainz Carnival Fountain (Fastnachtsbrunnen)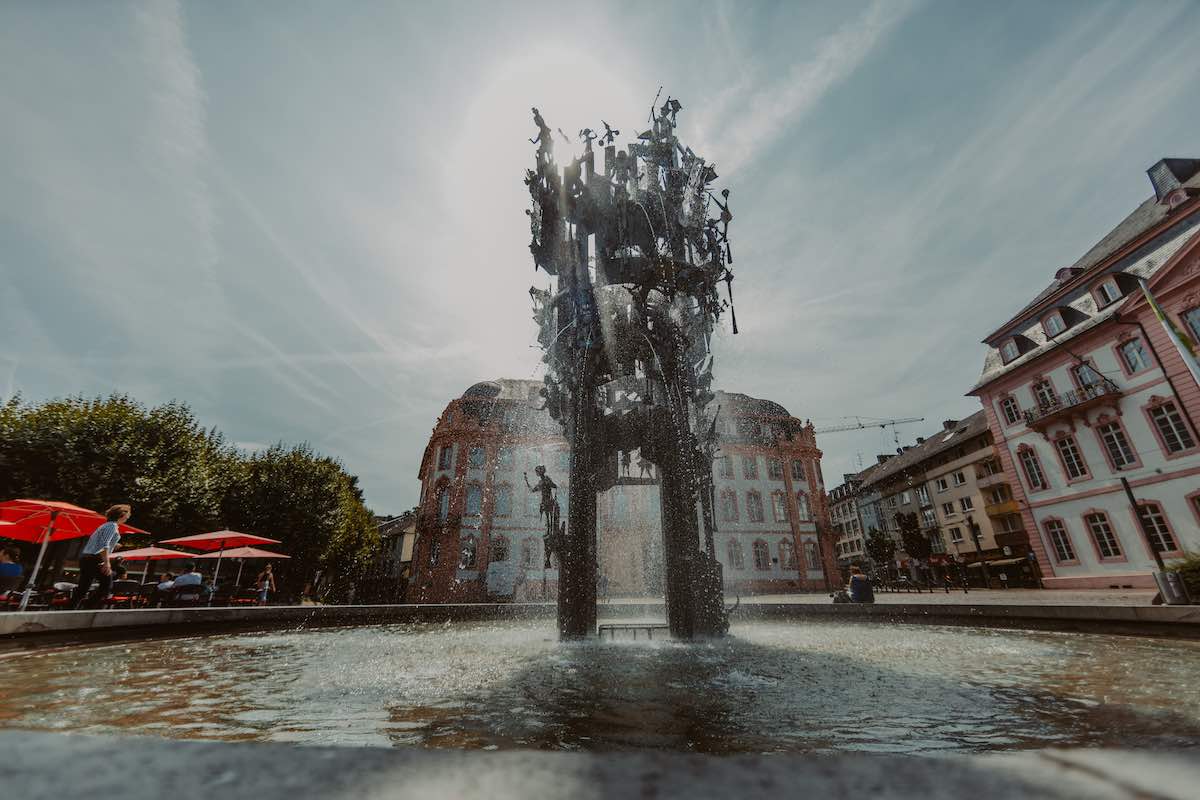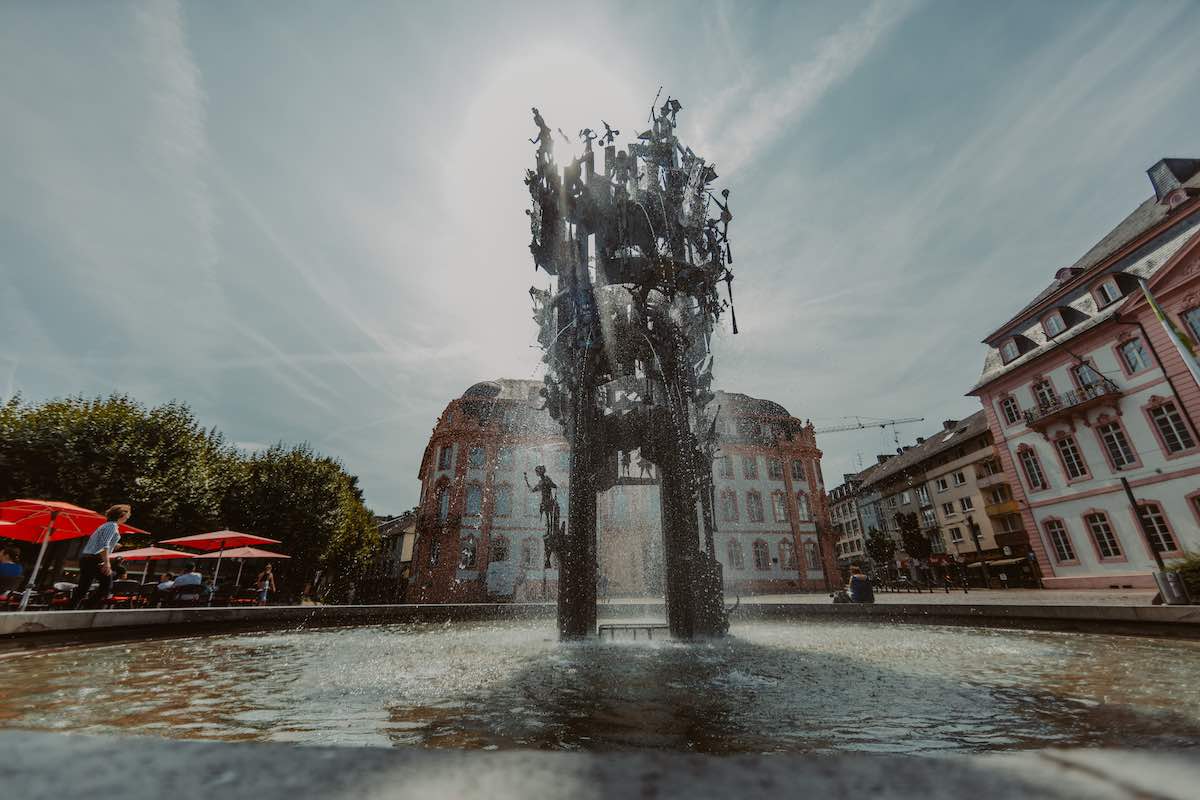 Mainz Carnival Fountain celebrates Mainzer Fastnacht (Mainz Carnival), which is one of the biggest in Germany.
The festivities kick off on November 11th and continues through Ash Wednesday. However, the revelry peaks in February or March around six days before Ash Wednesday.
Filled with cheer, the Mainz Carnival is packed with costume parties and parades. In the mid 1800s, the festivities were also an opportunity for political dissent as well as socializing.
Even today, the processions and costumes often feature satirical political commentary and caricature, much as with Las Fallas of Spain.
More than 200 figures from the Mainz Carnival, folklore and mythology are depicted on the Carnival fountain.
Look for Till Eulenspiegel, the beloved medieval German trickster, said to have played pranks on religious and political authorities. If you're keen to learn more, make a stop at the nearby Carnival Museum.
12. Learn About Ancient Roman Seafaring
One of the Mainz attractions I would have loved to visit was the Museum of Ancient Seafaring located near the Romisches Theatre train station, within walking distance of the Hyatt Regency.
Unfortunately the Ancient Seafaring Museum closed for renovations in 2022, but it's scheduled to reopen in Spring 2023. It's at the top of my bucket list to visit.
Among the highlights of the museum are the restored ancient Roman ships discovered buried in mud during excavations of the Rhine in the 1980s.
The 2,000 year old ships include cargo ships, patrol vessels and even a war ship. They offer insights into the role of the Roman Navy, a military force often overshadowed by the more famous Roman Legion.
These Roman vessels once patrolled major frontier rivers such as the Rhine and Danube and the fleet served an important role in supplying the army in key settlements such as Mainz.
13. Ride the Gutenberg Express Sightseeing Train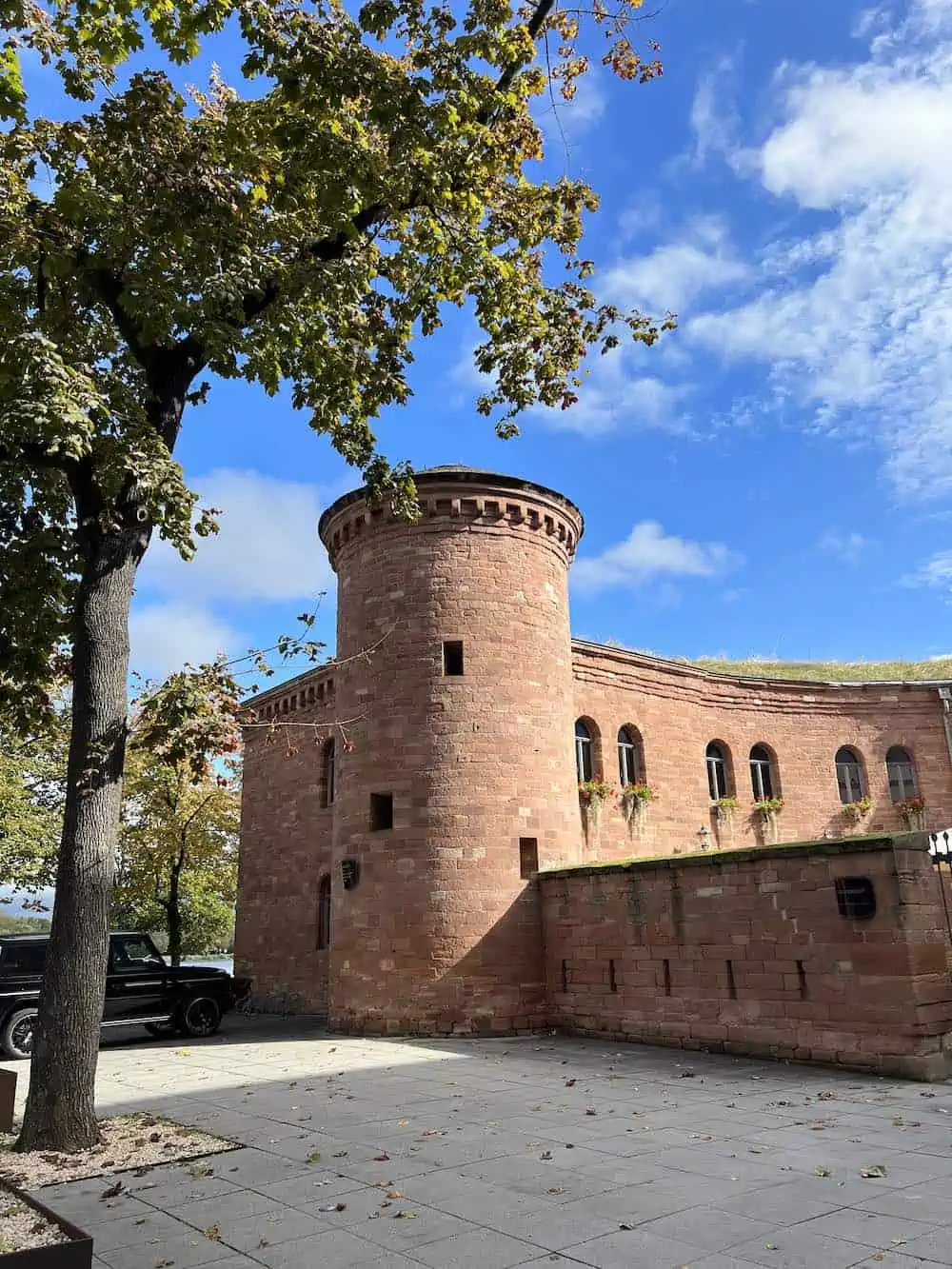 For me, taking a city sightseeing bus or train is one of the best ways to get oriented upon arrival in new city. I've taken them in Toronto, Canada, London, UK and even Mexico City (by tuk tuk).
In Germany, where many of the streets are pedestrianized, trains often substitute for the typical double-decker sightseeing buses.
In Mainz, the Gutenberg-Express is a fire engine red train that departs from the Gutenbergplatz. It operates seasonally and covers a surprisingly large number of attractions in its 55-minute route.
Commentary is provided in English, French and German. This is a fun and affordable activity to do in Mainz with kids.
15. Mainz Christmas Market and Other Festivals
If you're lucky enough to visit Mainz in winter, then you definitely won't want to miss the Historical Mainz Christmas Market (Historischer Mainzer Weihnachtsmarkt).
Mainz's market square fills with the magical atmosphere of Christmas, while decorated booths sell handmade festive gifts and delicious traditional snacks such as roasted chestnuts.
Be sure to treat yourself to a Bratwurst or potato pancake, and, of course, a mug of warming Glühwein. Also keep a lookout for eiswein (ice wine), the deliciously sweet wine created by frozen grapes.
Final Thoughts on Mainz Travel and Attractions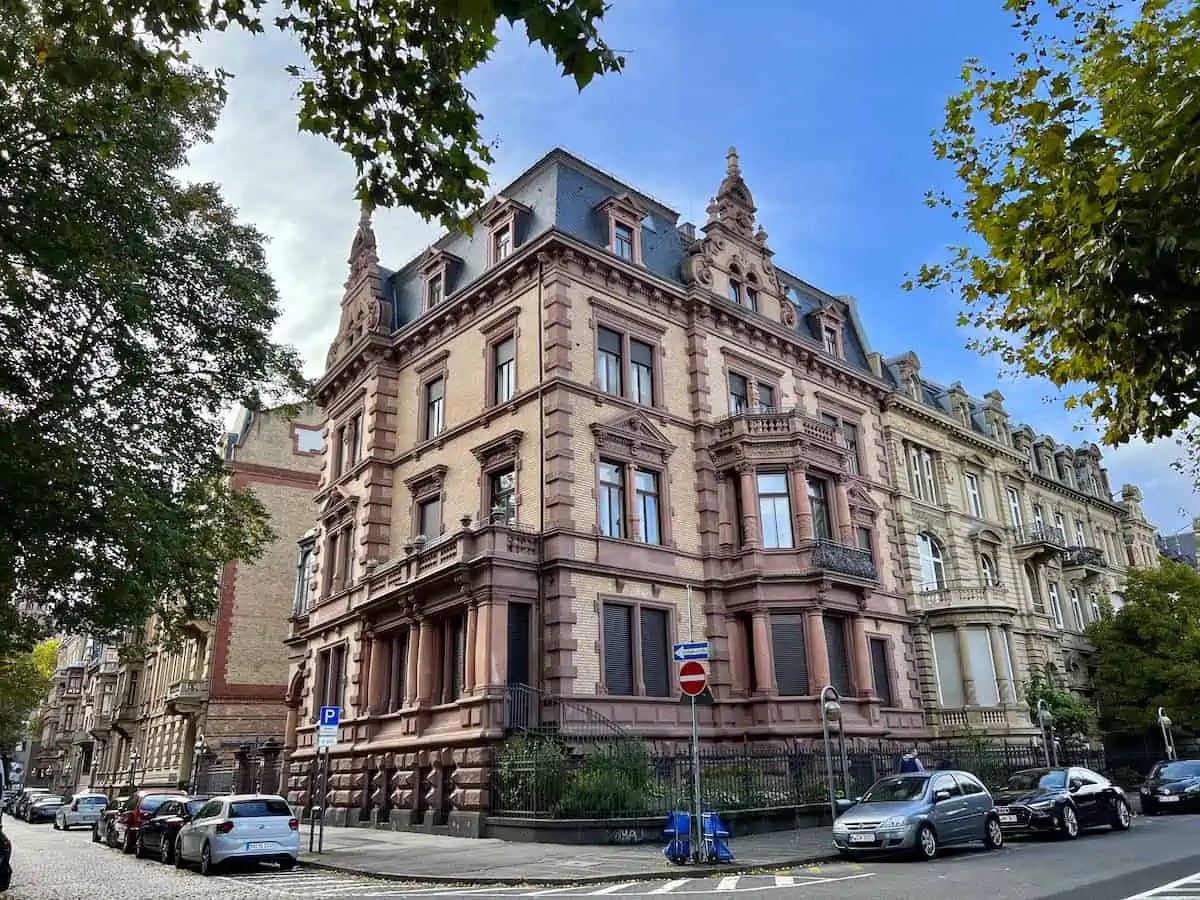 Mainz Tourism Card
It's well worth adding a few days to your Mainz itinerary. Consider purchasing a mainzcardplus Tourist Card if you are planning to take public transportation and/or visit the museums in Mainz.
The mainzcardplus card gets you discounts, a free guided tour, public transport (certain routes) and free admission to museums. The cost is € 11.95 per person.
It's valid on the date of purchase as well as the next day.
Getting There
Taxi: Expect to pay around € 65 for a taxi from Frankfurt airport to Mainz. It's the fastest way to get to Mainz.
Train: Another option that will save some money, there is frequent and direct rail service from Frankfurt Airport to Mainz. Travel time is around 16 minutes.
Check schedules and prices at Rail Europe.
Emerald Cruises
Part of Australian-owned parent company Scenic Tours and based in Switzerland, Emerald Cruises offers all-inclusive, luxury cruises of rivers in Europe and Southeast Asia.
Our Legendary Rhine & Moselle Cruise was on the Emerald Sky, one of Emerald Cruises' fleet of Star Ships that travel the Rhine-Main-Danube rivers on itineraries from eight to 15 days. It holds 182 passengers in spacious suites.
Its culinary experiences are exceptional and include wine tastings, wine tours, locally-inspired dishes and chef-led cooking classes.
Where to Stay in Mainz – Hotels in Mainz
We stayed at the 268-room Hyatt Regency Mainz (Templerstraße 6). It features everything I love in a city hotel.
Our room was spacious, had a panoramic view of the Rhine River and was spotless. It was easy walking distance to Old Town.
The in-room coffee maker and soaking tub with a rain shower were welcome in-room amenities after our long overseas flight.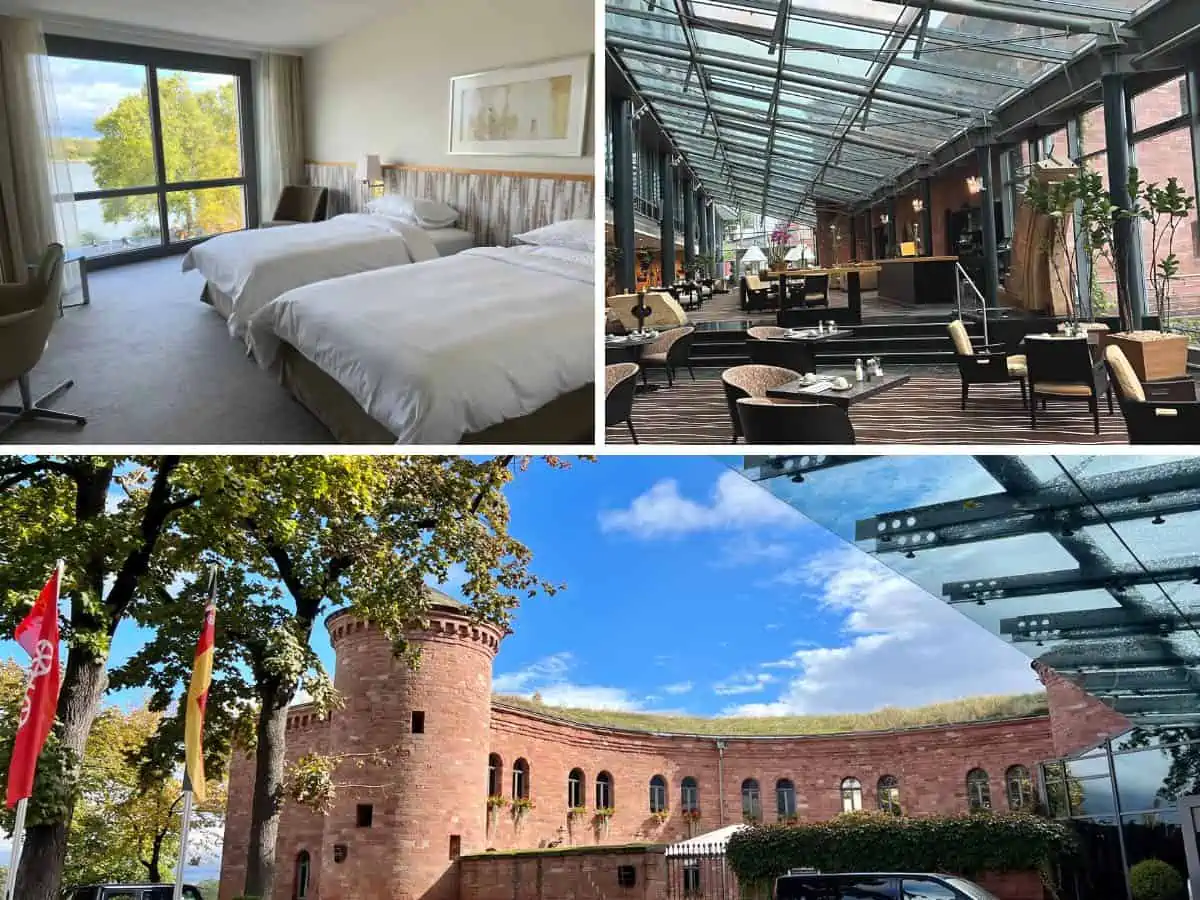 The architecture at the Hyatt Regency Mainz is also interesting. Portions of the walls of Malakoff Fort have been incorporated into its public areas.
Guests have a sense of being connected to history while enjoying modern amenities such as a swimming pool, sauna and fitness centre.
A fantastic buffet breakfast, a lobby bar and a beer garden on its riverfront terrace round out the offerings at this top Mainz Hotel.
Check rates and availability at the Hyatt Regency Mainz on Booking.com
Save to Pinterest!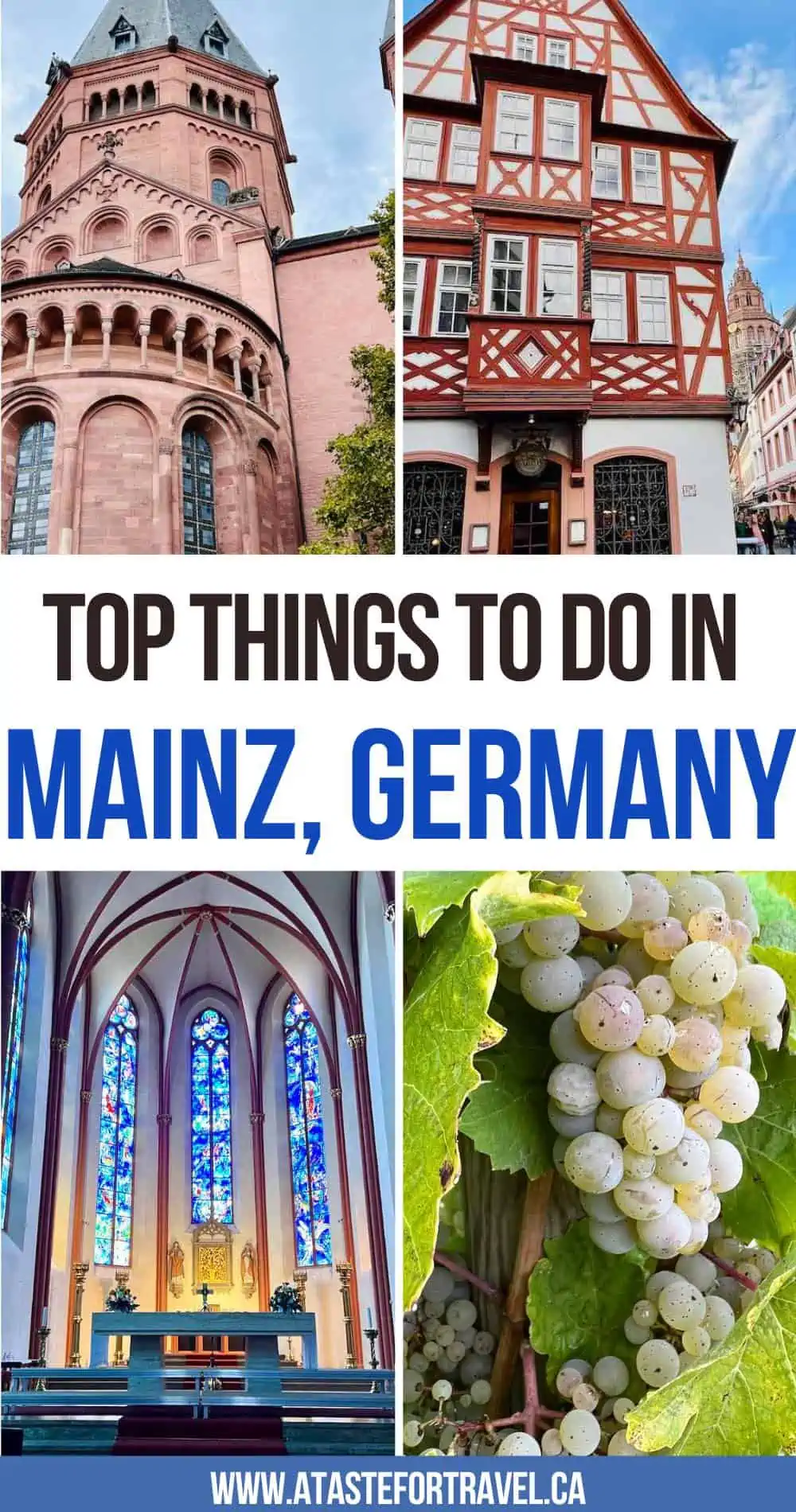 Dividing her time between Canada, Guatemala and Mexico (or the nearest tropical beach), Michele Peterson is the founder of A Taste for Travel. Her award-winning travel and food writing has appeared in Lonely Planet's cookbook Mexico: From the Source, National Geographic Traveler, Fodor's and 100+ other publications.
Read more about Michele Peterson.