We may earn income from links in this post. Please read this Disclosure for details.
Although Spain's third-largest city is best known for its lovely Mediterranean scenery of long, wide beaches and fragrant orange groves, it's also the home and birthplace of Las Fallas Festival, one of the world's most important pyrotechnic events.
Each year, Las Fallas lights up the historic streets of Valencia, Spain with fireworks, processions, music and special food.
But Las Fallas de Valencia is much more than just a fireworks display. It's a fascinating blend of religious devotion and an exuberant celebration of culture and national pride.
Dates for Las Fallas de Valencia Festival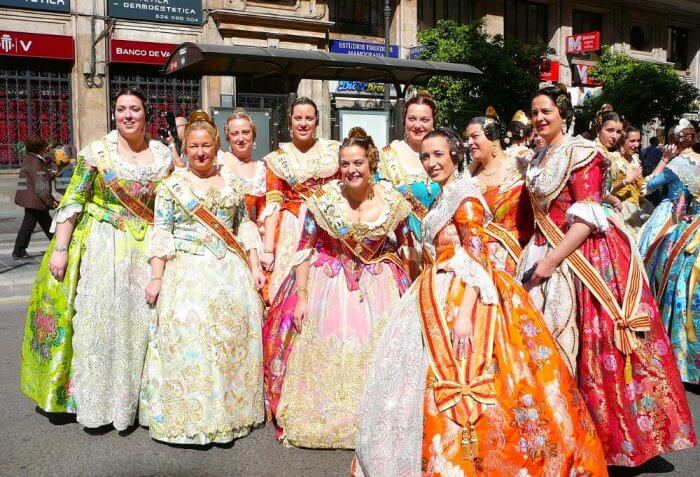 Las Fallas is the most important festival in Valencia and although fireworks take place throughout the entire month of March each year, between March 15th and 19th — a period known as Fallera Week — Valencia transforms from a quiet city with a population of 800,000 to over two million flame-loving revellers.
Fallera Week is when the most events happen so it's the best time to go if you want to experience the parades, fireworks, special food and ceremony.
However, if you want to see the city's major attractions, plan to arrive earlier than March 15th as many sites such as churches and museums are actually closed to the public during the festivities.
If your time is limited, this itinerary for one day in Valencia will help you plan your time efficiently.
It's such a significant event, UNESCO has even declared Las Fallas of València an Intangible Heritage of Humanity in recognition of its important contribution to the world culture in terms of community building, arts and crafts, language, ritual and tradition.
Religious Background and History of Las Fallas
Much like other major festivals and celebrations in the world, this festival is not just about partying. What began centuries ago as a feast day for St. Joseph, the patron saint of carpenters, has evolved into a 5-day celebration of fire.
But it's one that still has strong religious and devotional elements.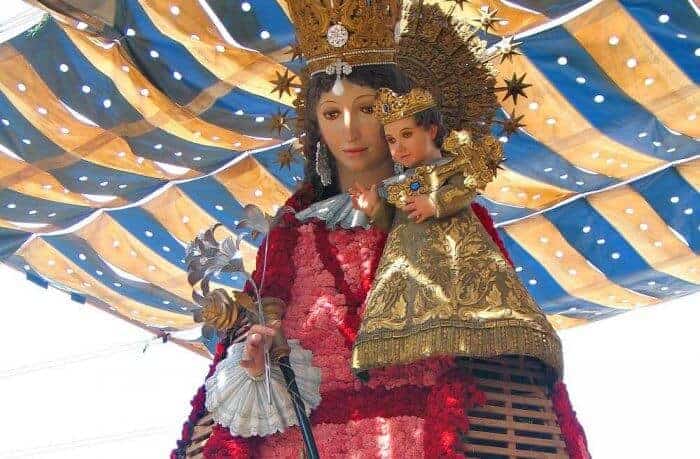 The festival's grand finale specifically coincides with Saint Joseph's Day and the Feast of Saint Joseph on March 19, but demonstrations of religious devotion to Our Lady of the Forsaken, the patron Virgin of Valencia, also play an important role in the festivities throughout the week.
Facts about Las Fallas Fireworks Festival Sculptures and Monuments
Although the festival has its roots in religion, in modern times, the main attraction of the Fallas festival is the burning of the sculptures created for the event and the spectacular fireworks displays.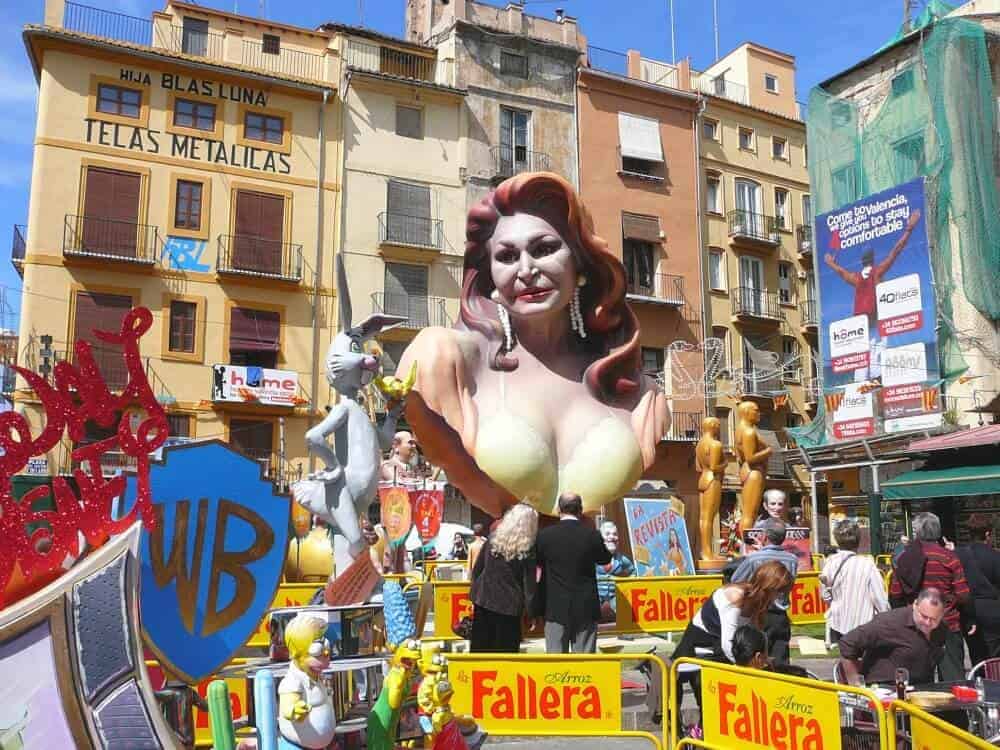 Over 400 comisiones falleras or neighbourhood falla groups sponsor their own gigantic sculpture, known as ninots.
The ninots are mounted on flammable bases and the entire structure is then known as a falla.
The meaning of the word "falla" in English is "torch" and this is exactly what happens during the festivities…the fallas are burned in gigantic bonfires.
The significance of the burning of these sculptures dates back to pagan times and may represent springtime ritual of getting rid of the old and welcoming the new.
In the 18th century, the sculptures were primitive constructions created out of old furniture, rags and wax. They were made of the pieces of wood carpenters used to prop up their lights during the winter.
This ties into the religious connection to St. Joseph — patron saint of carpenters.

Now, the sculptures are works of art crafted by teams of local artisans who can take up to six months to complete their creations.
Made of papier-mâché, polyurethane as well as modern environmentally friendly materials and stretching several stories tall, the sculptures represent everything from Mad Max futuristic characters to cartoon effigies of celebrities.
Satirical scenes from politics to current affairs are also popular. The figures are often caricatures of famous politicians and are a commentary on social issues. There are even fallas for children.
Schedule of Major Events of Las Fallas Festival Week
The main events during Las Fallas festival are free and open to the public. The events take place between March 15 and 19th every year and follow a specific schedule.
However, the location of certain event and hours of the parades may change from year to year, so be sure to check the official timetable posted by Tourism Valencia before you go.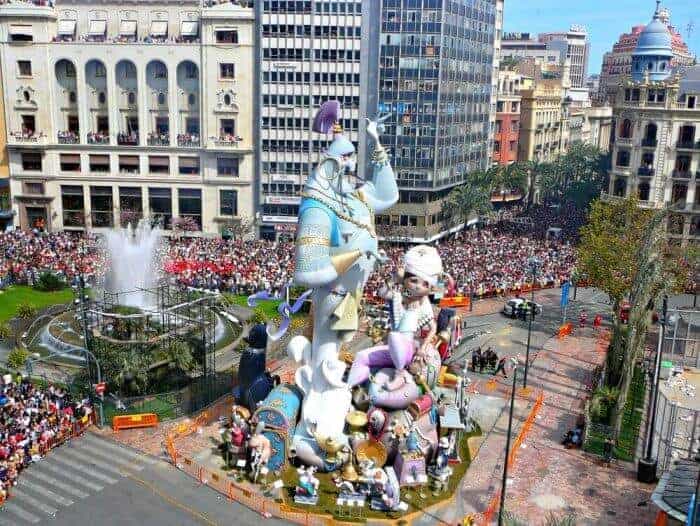 Here is a listing of the major events, hours and dates you don't want to miss during Fallera Week – March 15-19 of Las Fallas Festival:
March 15 – La Planta
The festival begins in the early morning of March 15th with la planta, the installation and unveiling of the falla monuments in the streets and squares of central Valencia.
March 15-19 – La Despertà and Las Fallas Parades
During the festival, each day begins with la despertà or wake-up call at 8 a.m., when processions of brass bands and falla groups march through the streets dressed in traditional costumes, playing music and throwing large firecrackers.
Everyone from little children to shopkeepers get into the act by tossing their own fireworks as they pass by.
March 17 and 18 – La Ofrenda
During La Ofrenda, a floral offering conducted on the 17th and 18th of March, thousands of falleras, local women in traditional regional dress, parade in their finery of velvet, lace, gold filigree jewellery and shawls through the cobblestone streets.
The falleras place flowers on an enormous wooden structure in the Plaza de la Virgin. Fragrance fills the air as the flowers collectively form a colourful shawl.
March 15-19 – La Mascleta
Anyone planning to sleep in late is sure to be awakened by the mascleta, a thunderous midday concert held at 2 p.m. in the Town Hall Square each day from March 1st to 19th.
This celebration begins with a low rumble, becomes a ground-shaking roar and finally explodes into a cacophony of sound that echoes off buildings and mingles with the shouts from the watching crowds.
Finally, plumes of fireworks in magenta pink, green and brilliant yellow cascade through the skies. From the simply curious to the confirmed fanatic, everyone comes out to enjoy the thrills of this pyrotechnic spectacle.
March 15-19 – Viewing of the Fallas Sculptures
Each day, the historic downtown streets of Valencia are packed with people viewing the sculptures. Everyone from wide-eyed babes in strollers to locals to curious tourists hits the streets.
Strings of tiny coloured lights hang from the glossy leaves of the orange trees and the air is filled with the smoke from firecrackers. As evening approaches, the pace of activity begins to build.
March 15-19 – Nightly Fireworks Displays
Evening activities include beer gardens, bonfires and dancing. With 700 streets blocked to traffic, there is plenty of all-night partying to be had.
A highlight of the activities is the nightly fireworks display at 1 a.m. Held in the old Turia riverbed, it is a colourful, creative explosion of light and sound visible throughout Valencia's old town.
March 18 – La Nit del Foc or Night of Fire
Each night, the displays become increasingly grander, until the night of March 18th, when the most spectacular show of all occurs. Known as the La Nit del Foc or Night of Fire, it is a symbolic preview of the final celebratory burning of the fallas the next evening.
March 19 – La Cabalgata del Fuego
Another spectacular procession is La Cabalgata del Fuego, a celebration of the culture of fire on the evening of March 19th. During this pagan-inspired spectacle, hundreds of figures dance through the streets accompanied by costumed participants representing mythical beasts, dragons and fire-breathing monsters.
March 19 – La Cremà Grand Finale
The festival's grand finale is known as la cremà, when the fallas monuments are set alight in huge bonfires and burned to the ground. The activities begin at 11 p.m. with the burning of the children's fallas. As the countdown to midnight begins, the crowds begin to chant and the streetlights are turned off.
At midnight, the torch is put to all the fallas throughout the city. Except for one.
Only the first prize winner, selected for its originality, beauty and technical achievement, by popular vote is spared from the fire. This "ninot" or fallas figure is saved and preserved within the city's Falla Museum.
Following the torching, the clouds of smoke, deafening fireworks and colourful bursts of aerial pyrotechnics overhead make for a fantastical open-air nightclub.
If you really like to party, check out this post on the top music festivals in Spain.
Las Fallas Food You Don't Want to Miss
Between spectacles, it's time to chill out and sample some Valencian food.
Here's what not to miss when it comes to the best food to eat during Las Fallas: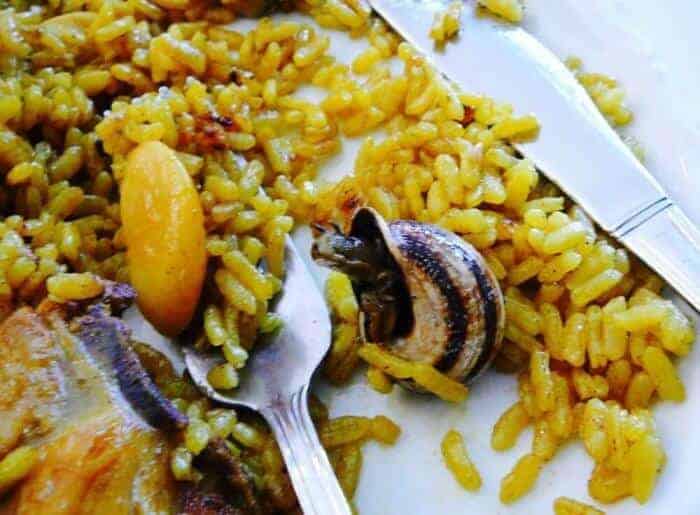 Paella
Even though it's popular in Barcelona and other parts of Spain, the region around Valencia is best-known as the birthplace of Spanish paella. This traditional dish is a not-to-be-missed experience.
The most authentic version features saffron-scented rice topped with tender pieces of rabbit, chicken and snails served up in a jumbo-sized casserole which often requires several men to carry it.

While one of the top things to do in Valencia is enjoy paella on one of Valencia's beaches, spending an afternoon on a terrace alongside historic Plaza de la Reina is another great option.
Both are perfect ways to soak up an authentic Valencian atmosphere.
For another taste of traditional paella, try La Matandeta, located within the rice fields just outside town.
At La Matandeta, you'll expect to find paella with rabbit, chicken, duck and even escargot served in jumbo paella pans and enjoyed by local families on Sunday afternoons.
Looking for more restaurants where you can sample authentic paella? Check out our insiders guide on How to Find the Best Paella in Valencia, Spain.
🌟 Pro Tip: Take a hands-on paella cooking class in Barcelona.
Fideuà
This tasty alternative to paella features tender noodles mixed with fish, squid, shrimp and other treasures of the sea.
Tapas
Another popular food during Las Fallas Festival is tapas.
A top choice for Las Fallas food is Las Cuevas restaurant on Carrier del Comte D'Almovar.
A table on the second floor of Sagardi restaurant on Calle San Vicente Martir is a good choice for its birds-eye view of the festivities.
🌟 Pro Tip: Make your own Spanish tapas with our easy recipe for Cream of Sardines with Smoked Salmon and Capers, a delicious snack created by celebrated Basque chef Martin Berasategui
Traditional Las Fallas Drinks and Cocktails
Nightfall is the time to stroll Barrio del Carmen in the old quarter sampling local cocktails such as Agua de Valencia (orange juice, Spanish champagne, vodka and Cointreau) or a traditional drink such as Spanish horchata, made of locally-produced tiger nuts.
A good place to enjoy horchata is at the aptly named Horchateria Santa Catalina in the plaza near the church of Santa Catalina.
This traditional shop with a charming decor serves several varieties of horchata, each of them a rich source of nutrients including iron, vitamins and minerals.
The refreshing drink is a welcome boost of energy if you find yourself flagging when out and about enjoying the lively fireworks celebrations among the crowds.
The clean toilets at this horchateria are also a bonus.
Street Food Sweets
For something sweet, be sure to stop at a street vendor and pick up some bunuelos or bunyols, deep-fried donuts sprinkled with sugar and served in a paper cone.
Be sure to try the cream-stuffed churros. Sprinkled with sugar, they are similar to Mexican churros and just as addictive.
Also popular are fartons, fingers of sweet bread glazed with sugar, most often enjoyed dipped in horchata.
Hotels, Things to See, What to Do in Valencia
If you're wondering where to stay in Valencia during Las Fallas, it's wise to book a hotel that's close to Old Town. That way you can avoid parking problems and waiting for transportation crowds.
However, be sure to pack ear plugs if you plan to get any sleep at night. Fireworks go all night long!
Get into the festival spirit by purchasing a panuelo, a blue plaid bandanna to wear around your neck, and begin exploring the historic downtown. Valencia's dramatic architecture is worth noting during your stroll.
Originally founded in 138 BC by the Romans, the city has a long history as an important trading centre.
Many buildings, such as the Cathedral of Valencia, constructed in 1262, reflect a mixture of Romanesque, Gothic, Baroque and Renaissance styles.
The City of Arts and Sciences is a major landmark in Spain. It's well worth spending an entire afternoon exploring its fascinating science exhibits and visiting Europe's largest aquarium.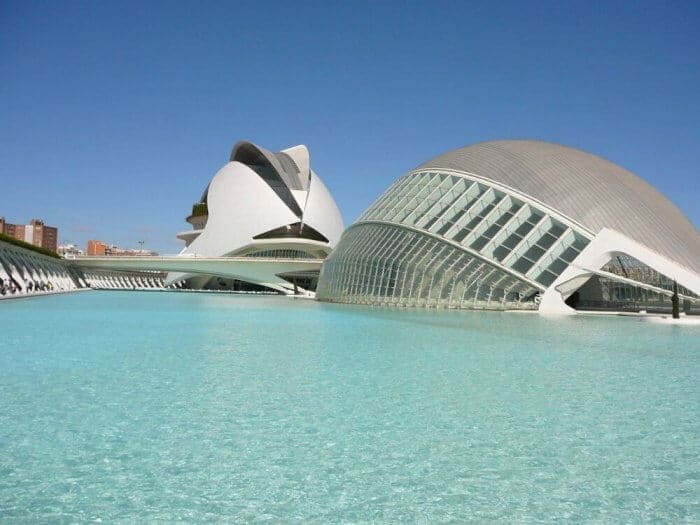 The UNESCO World Heritage site, Lonja de la Seda, built between 1482 and 1533, is an exceptional example of late Gothic architecture. Surrounding the old city centre are the remains of the ancient walled city.
The Torres de Serranos, a restored 14th century city gate located at Serranos Bridge, is an excellent vantage point for watching the festival's evening fireworks displays.
You can also visit the fascinating Museu Faller de Valencia, home to a collection of sculptures saved from the fire by popular vote. It also contains falls where the whose collection is made up of pieces ranging from those made of
No matter whether your interests lie with the festival's tasty culinary treats, the uniqueness of its cultural traditions or the non-stop partying, las Fallas Festival of Valencia offers a quintessentially authentic Spanish experience.
Just don't forget your earplugs.
Travel Planner for Valencia, Spain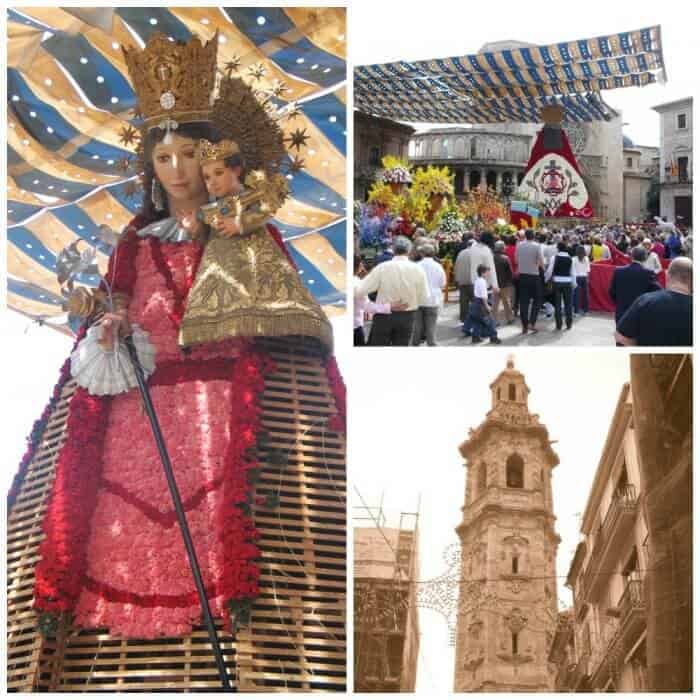 Valencia is located 350 kilometres southeast of Madrid and 350 kilometres south of Barcelona on the Mediterranean coast. It can be reached by rail, bus and air.
Rail Europe: The high speed train from Madrid is 3.5 hours. Rail Europe USA or Rail Europe Canada
Tourist Office of Spain: www.tourspain.toronto.on.ca; 416 961-3131
Tourist Office of Valencia: www.turisvalencia.es
Visas: If you are from the United States and Canada, you don't need a visa to enter Spain. It's part of the Schengen Agreement allowing short-term stays for up to 90 days out of every 180 days.
Due to its appealing climate and rich culture, Valencia is a popular city for ex-pats. If you decide you'd like to stay longer, there is a long term visa option ( including a special retirement visa) available for qualified applicants. It's worth looking into!
Save to Pinterest!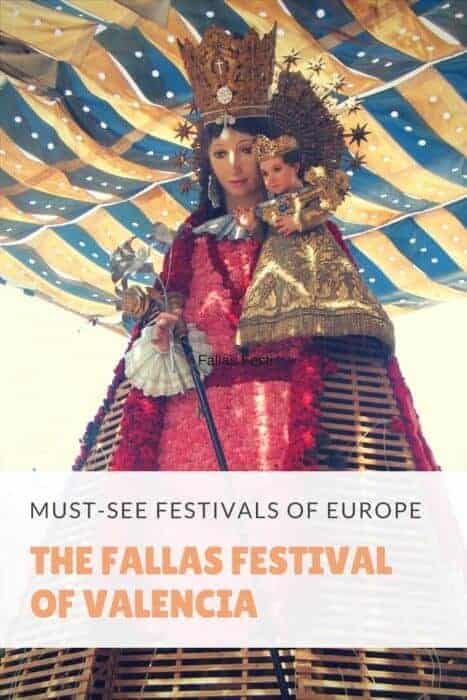 You Might Also Like:
Dividing her time between Canada, Guatemala and Mexico (or the nearest tropical beach), Michele Peterson is the founder of A Taste for Travel. Her award-winning travel and food writing has appeared in Lonely Planet's cookbook Mexico: From the Source, National Geographic Traveler, Fodor's and 100+ other publications.
Read more about Michele Peterson.