We may earn income from links in this post. Please read this Disclosure for details.
Looking for a full day of fun-filled adventure at Rincon de la Vieja National Park in Guanacaste? You'll find zip-lining, hot springs, horseback riding and even vegan food at Buena Vista Lodge and Adventure Park.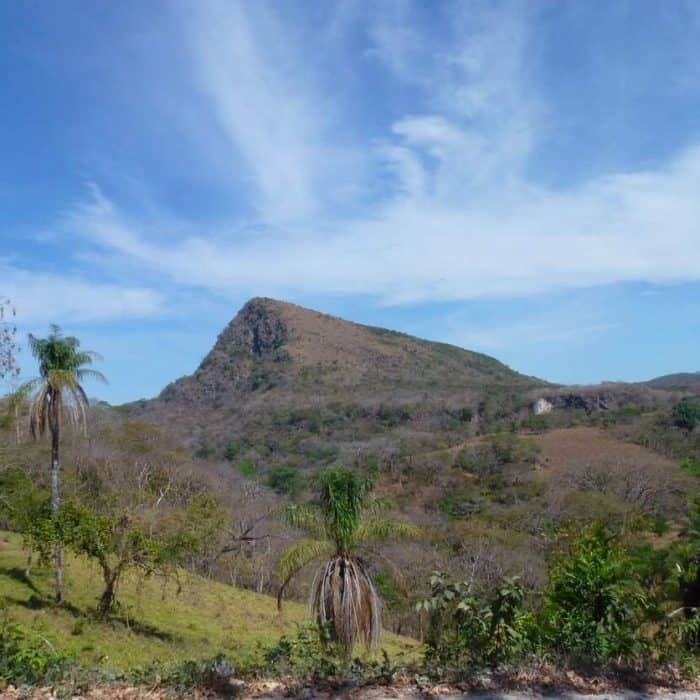 My fascination with Costa Rica started when my grandmother brought me back a funky coconut carved monkey with marble-eyes and twisted-wire glasses as a souvenir when I was five years old.
Since then, I've been fantasizing about visiting the jungle and all the awesome wildlife it has to offer.
I finally crossed Costa Rica off my bucket list this past August on a tour to Buena Vista Lodge in Guanacaste and it was everything I've ever dreamed of!
Costa Rica is an animal lover's paradise, with everything from little iguanas scurrying across your path to the eerie sound of howler monkeys in the trees, to anteater and raccoon families shuffling around in the bushes.
Where to Stay near Rincon de la Vieja Volcano National Park
We wanted to combine some beach time with our outdoor adventure so opted to stay at Dreams Las Mareas Resort & Spa.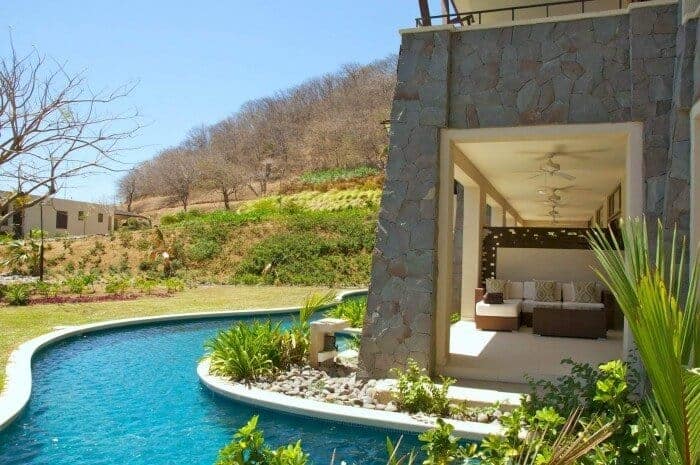 You can often find great snorkelling right off beach with schools of tropical fish swimming around your ankles steps from the shore.
It's also a top place to go scuba-diving in Costa Rica. They even offer complimentary diving orientation classes in the swimming pool at Dreams Las Mareas.
I even saw schools of fish jumping out of the water in unison! I recommend wearing water shoes, as there were many baby sting rays in the water. Adorable to look at, but very painful to step on by mistake.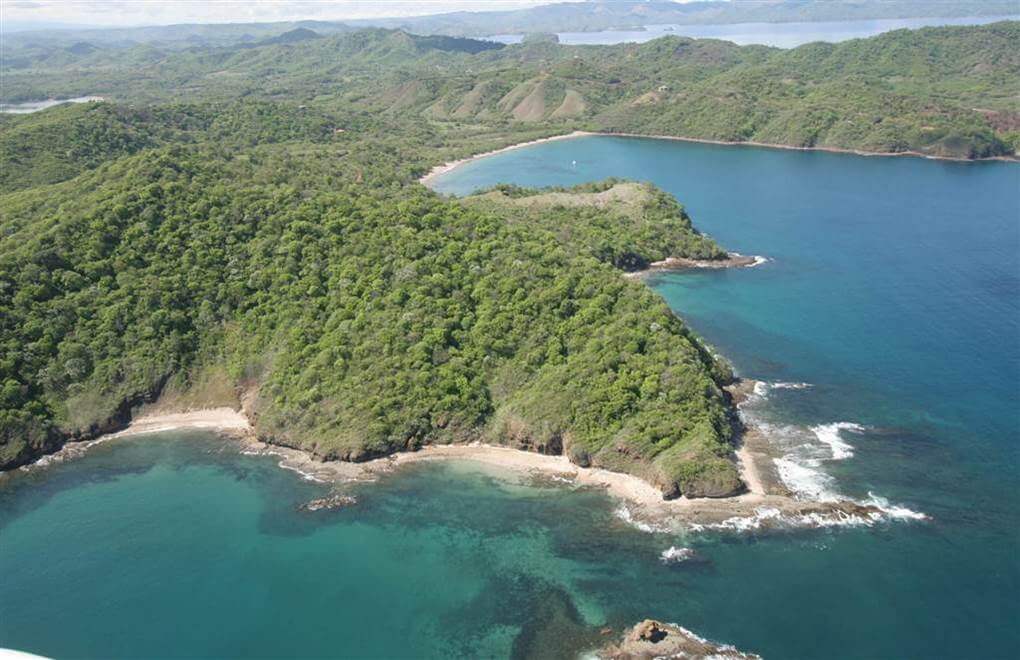 Editors Note: Read more about Dreams Las Marea in Our Wild Planet: An Intergenerational Getaway to Costa Rica, recognized with an award of excellence by the North America Travel Journalists Association (NATJA).
Check prices and availability of Dreams Las Mareas Resort & Spa on Booking.com.
Buena Vista Lodge and Zipline
The day we spent at Buena Vista Lodge and Adventure Park was a highlight of my trip to Costa Rica. It was incredible to go zip-lining through treetops swarming with gigantic howler monkeys, smothering ourselves in volcanic mud and bathing in natural hot springs in Guanacaste.
Buena Vista Lodge is a 650-hectare property situated at the edge of Rincón de la Vieja Volcano National Park or Parque Nacional Volcán Rincón de la Vieja,
It was formerly a beef and dairy farm, but has been converted to an eco-adventure attraction featuring a dry tropical forest of laurel and guanacaste trees.
You'll enjoy stunning views of Rincón de la Vieja and Santa María volcanoes when you're not beneath the leafy forest canopy.
Check prices and availability at Buena Vista Adventure Park Hotel & Spa on Booking.com.
Buena Vista Lodge & Adventure Tour
And although we got to Buena Vista on an escorted AMStar tour, it's possible to rent a car in Costa Rica and visit it independently.
This all took place at Buena Vista Lodge & Adventure about an hour from the unlimited luxury of Dreams Las Mareas Resort and Spa. Our tour guide, Christian, was very informative and had the bus cracking up with laughter. Except me, I was trying my best to catch just "5 more minutes" of beauty sleep before we got there.
After a short horseback ride and 10 minutes in a steamy sauna, I got my first mud bath experience which was so fun. Splashing around and smearing mud on my face made me feel like a kid again! It also made my skin ultra soft.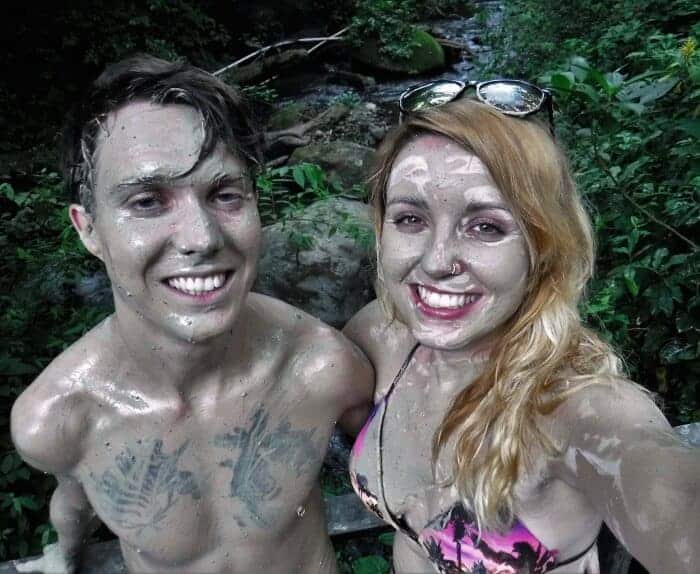 After getting hosed down, we lazed around in five different natural pools heated by the Rincon de la Vieja volcano. What could be more relaxing?
I honestly could have stayed there all day. There was even a cash bar beside the spa.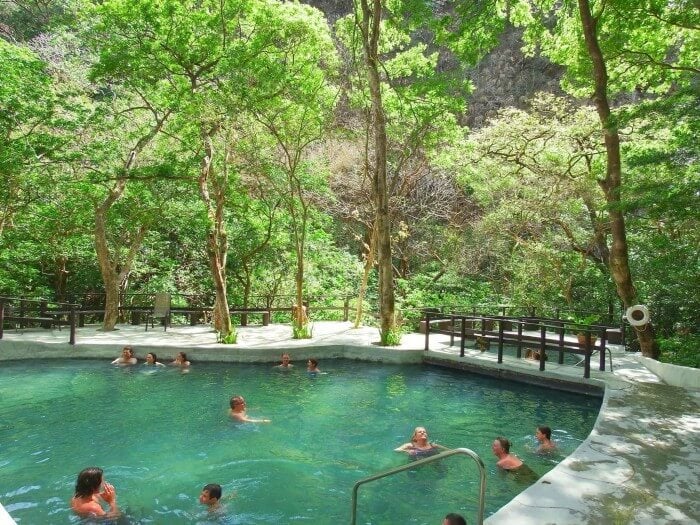 Buena Vista Lodge Waterslide
About 30 minutes later (too soon if you ask me), a tractor ride took us back up the hill. My boyfriend, Wes, being the adrenaline-junkie that he is, slid down a terrifying 420-foot-long waterslide.
My mom and I marvelled at some monkeys jumping around the trees and some coatis roaming around on the ground (they're a Costa Rican version of a raccoon).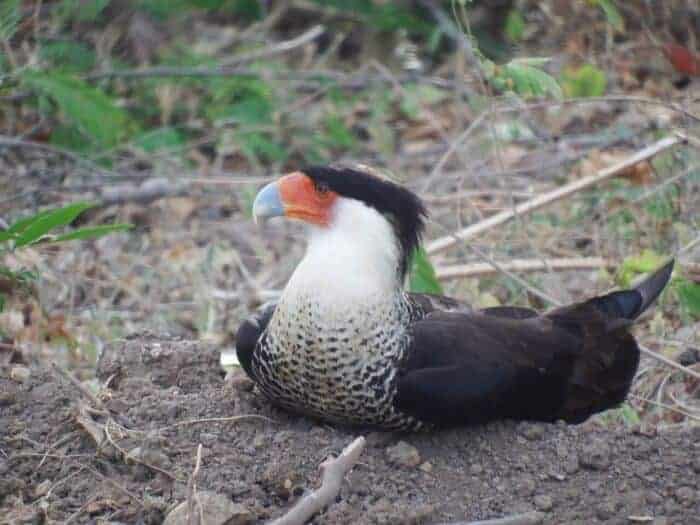 I was pleasantly surprised to find a great vegan lunch waiting for me at the buffet. Paranoid from nearly starving to death during past tours on other trips, I had frantically stuffed four pieces of white bread and some packets of jam in my purse earlier that morning in case there was nothing for me to eat during the excursion.
Lucky for me, I didn't have to eat them.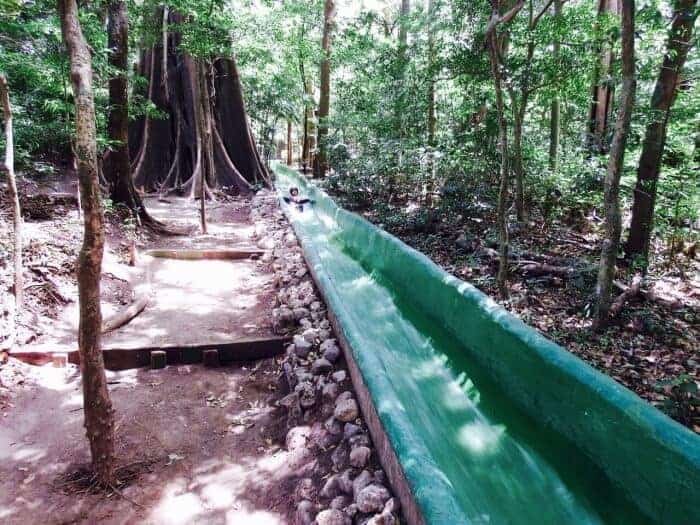 Vegan Cuisine at Buena Vista Lodge Costa Rica
The traditional Central-American buffet at Buena Vista offered lovely local coffee and sweet tropical fruit punch, and included a nice buffet of vegan options to choose from. I chose white rice with black beans, cucumber and tomato salad alongside a carrot and green bean medley.
There were other choices available for me as well, such as spaghetti with tomato sauce and other fried veggies. I have to admit, I wasn't expecting such a decent variety to choose from. Sometimes, as a vegan traveler, you are lucky to get a substandard bowl of steamed veggies with no butter!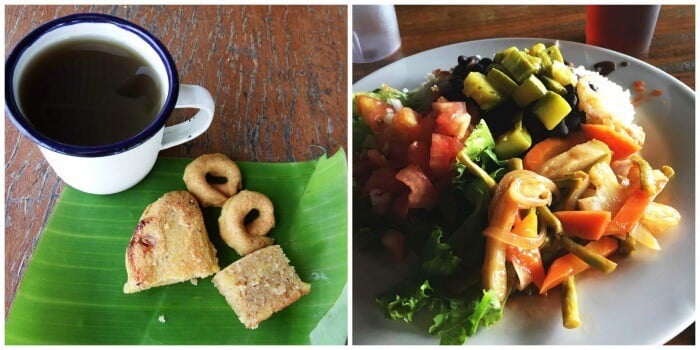 Costa Rica, as you may have guessed, is scorching hot even on a cold day, so we welcomed the afternoon sprinkling rain with open arms. The hearty lunch gave me more than enough energy to get pumped for the rest of the day hiking through the jungle and 10 zip lines through the treetops.
The zip-lining crew was full of beans, racing ahead of one another, joking around, and making everyone else feel at ease. Even though I was a little bit nervous at first (I had only once tried it in Mexico), I was zipping through those canopies like a pro in no time.
My only regret is that I didn't try to go upside down like they taunted me to.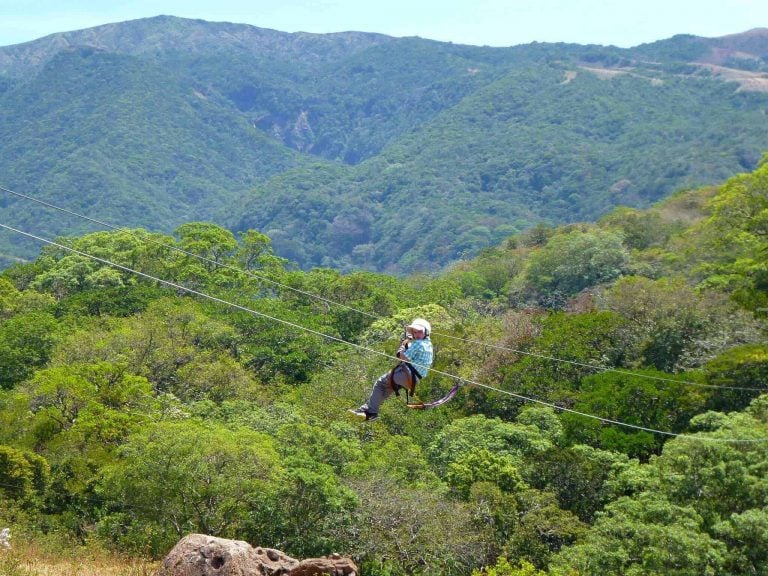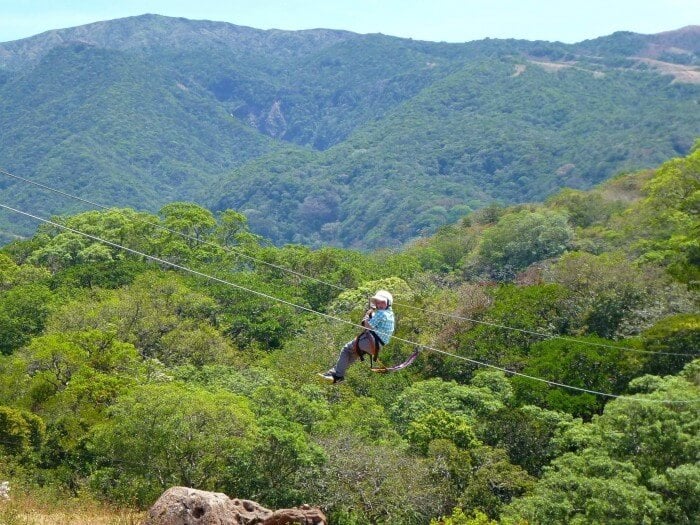 With a national motto like "pura vida" (something like "hakuna matata") it's no wonder Costa Rica has been named the happiest place on earth.
A country running on renewable energy with vibrant green rain-forests and breathtaking beaches has a lot to be happy about. Pura vida is definitely the lifestyle for me!
Travel Planner for Buena Vista Lodge and Adventure Park
AMStar: AMStar offers tours, airport shuttles and transfers in Mexico, Dominican Republic, Jamaica, Hawaii and Costa Rica. Their Mega Combo tour is a full day of horseback riding, hot springs and zip-lining. Cost is from $116 USD pp and includes transportation, admission and lunch.
Temperature: The elevation of Rincon de la Vieja Park is 396 – 1,916 meters and at around 500 metres elevation Buena Vista Lodge is not at a high enough that you can expect much relief from the intense Guanacaste heat.
The zip-lines courses, thermal pools and jungle water slide zones are fairly well shaded but it's easy to get baked if you spend much time in the sun. Stay well hydrated, wear sun screen and avoid strenuous excursion until you become acclimatised to 30 C ( and higher ) weather midday.
Mosquitos and Dengue Fever: The Costa Rica Ministry of Health has measures in place to eliminate mosquito breeding areas but there have been cases of dengue fever in Costa Rica.
The World Health Organization reported 2,275 cases of dengue in 2018. Protect yourself by reading our 12 Tips to Avoid Getting Dengue, Zika and Chikungunya Virus before you go.
Check prices and availability of Dreams Las Mareas Resort & Spa on Booking.com.
Check prices and availability at Buena Vista Adventure Park Hotel & Spa on Booking.com.
If you enjoyed this post on Costa Rica, you'll love these other posts by the Vegan Vacationista.
Jessica Percy Campbell is a world traveller currently based out of beautiful British Columbia. She loves to experience the latest and greatest of plant-based alternatives wherever she goes. Always venturing off the beaten path for unique local businesses and the hidden gems of vegan life, you can keep up with @veganvacationista on Instagram.
Learn more about Jessica Percy-Campbell.