We may earn income from links in this post. Please read this Disclosure for details.
After a jam-packed week of hustling and bustling through heavy traffic in downtown Panama City for the Latin American Travel Writers Conference, a relaxing getaway to Dreams Playa Bonita Panama City (formerly known as Secrets Playa Bonita) was a much-needed treat.
Indulging in a few magnificent beach days (tropical cocktails in hand) really helped us recharge before heading back to that mean old Montreal winter.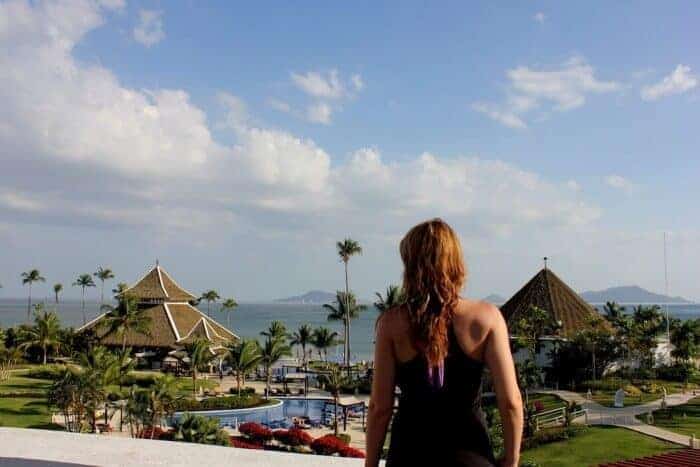 If you're thinking about visiting Panama in Central America, Dreams Playa Bonita Panama Resort and Spa is a great option. It's just minutes away from the colonial streets of modern downtown Panama City.
Playa Bonita also happens to be one of the closest beaches to Casco Viejo and the other sights of Panama City. The resort even offers a daily shuttle to Casco Viejo so it's easy to go exploring!
While Playa Bonita isn't the golden sand swimming beach you might find at other popular Dreams Resorts (such as Tangolunda Beach in Huatulco), it's excellent for beachcombing in the tidal pools or taking long walks.
It's one of the best beaches in Panama City. Playa Bonita even appears as the romantic setting in the Netflix reality series 'Perfect Match' hosted by Nick Lachey and featuring singles from 'Love Is Blind,' `The Mole,' and `Too Hot to Handle.'
Amenities at Dreams Playa Bonita Resort in Panama City
All of its 310 rooms offer oceanfront views, private balconies and a fully-stocked mini-bar refreshed daily.
Dreams and Secrets Resorts have built a stellar reputation for their brand of all-inclusive, luxury vacations.
They call it Unlimited-Luxury® which means the service is spectacular, the restaurants are top notch, the inclusions are extensive and the properties are architecturally striking.
This location in Panama is no exception.
Here's what you can expect to find on the food scene: An alluring choice of fine-dining restaurants with various themes, 24-hr room service, poolside BBQ and an extensive lunch buffet.
Even those with restricted diets will enjoy an array of culinary choices.
All restaurant menus have clearly marked gluten-free and vegetarian options, which is great for those worried about finding food they can actually eat at an all-inclusive resort.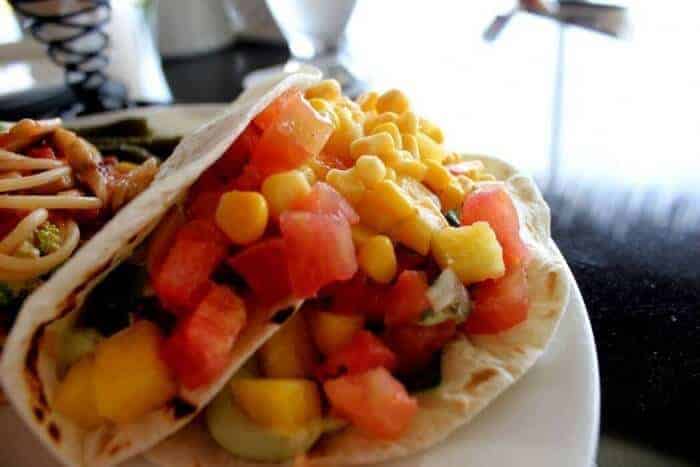 The buffets have a wide arrays of veggies and fruits to choose from, as well as gourmet vegetarian options such as grilled veggie sandwiches at the Seaside Grill, make-your-own tacos from the lunch buffet, lovely pastas at Porto Fino and delicious quesadillas from the room service menu.
Whether you're in the mood for Italian, French, seafood or local specialities, the staff at each of the restaurants are always happy to accommodate special diets, which is very highly appreciated.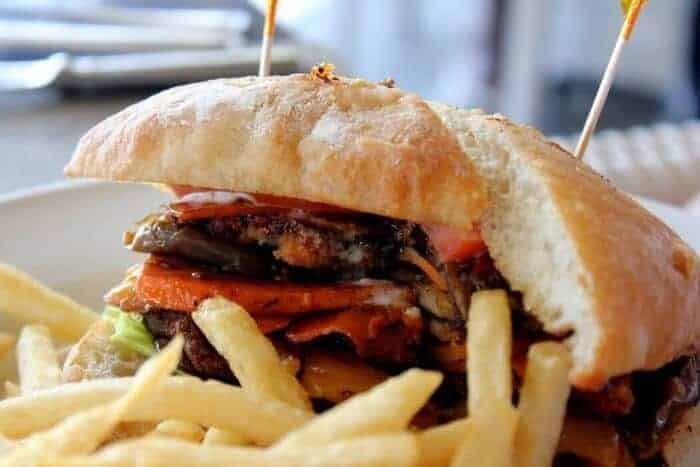 Things to Do at Dreams Playa Bonita Panama
My personal favorite detail about Playa Bonita? It's ideal for nature lovers. Every morning at 11 a.m. guests have the opportunity to journey through the rainforest, just steps behind the property.
On the two-hour guided trek, they can expect to learn about a wide range of exotic plants and critters. While the clans of mini monkeys are a barrel of laughs, sloth-spotting is all the rage in the rainforest.
If you're really lucky like I was, you'll see one waking up from an afternoon snooze.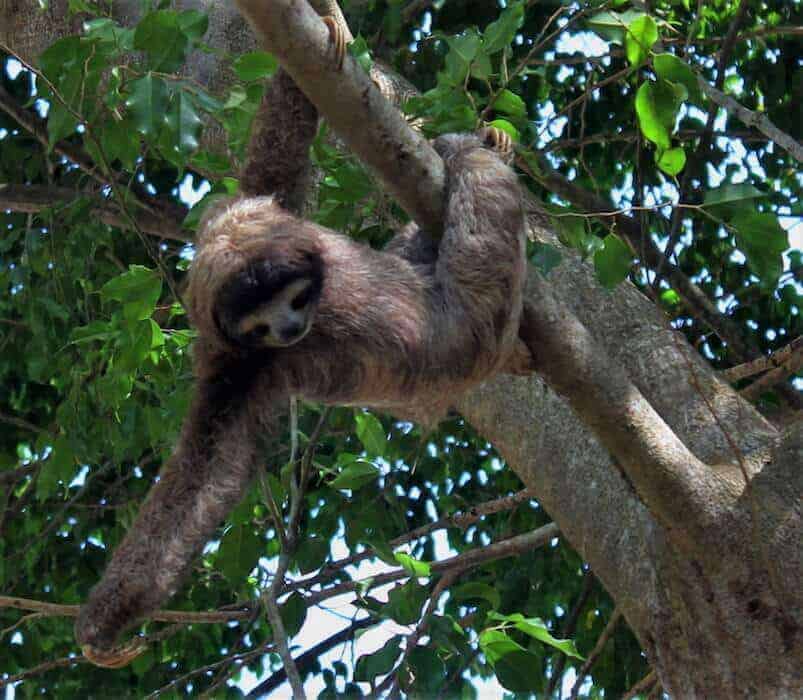 It can get blazing hot on that nature trail. But that will only make your premium cocktail from the swim-up pool bar all the more rewarding.
For the ultimate follow up, treat yourself to a pedicure at the Dreams Playa Bonita Panama luxury spa.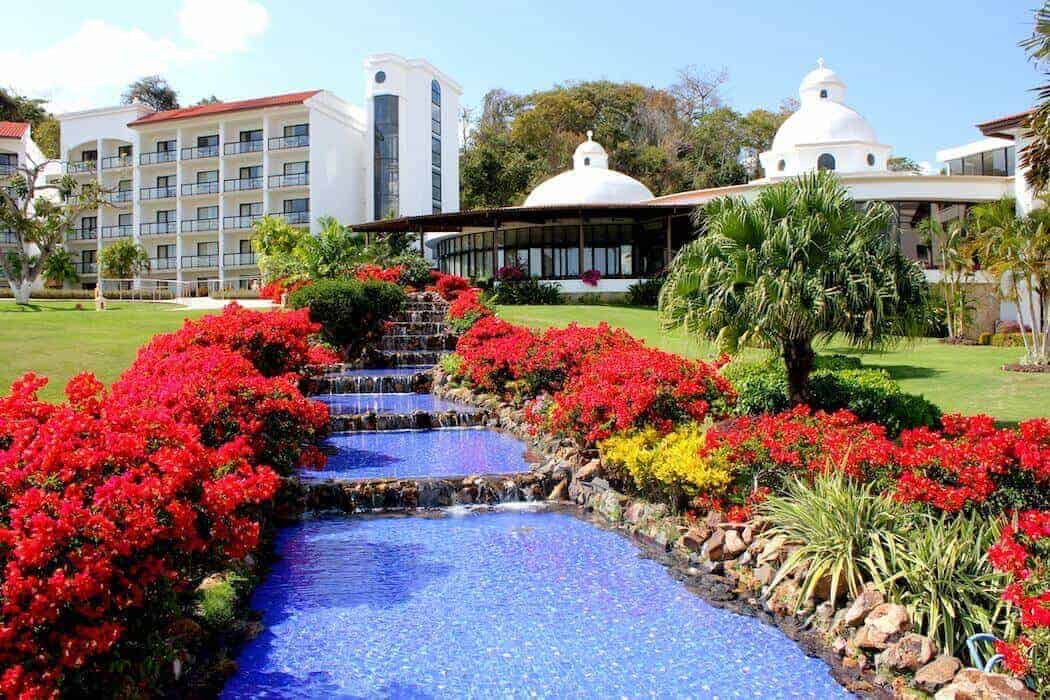 There's an extra cost for spa treatments but check the daily resort activity sheet (delivered to your room with the evening turn-down service) for spa specials.
Things to Do in Nearby Panama City
For shopaholics and city-slickers, Panama City is a 20 minute drive away. It makes for a fun day trip. Laden with loads of fascinating architecture to gawk at; even the city bus designs have attitude in this artsy city.
A highlight is Panama City's historic district or Casco Antiguo (also known as Casco Viejo). It's well worth taking a guided tour of this UNESCO Cultural World Heritage Site.
You'll learn the stories behind the centuries-old churches, beautiful facades of historic residences and government buildings.
Check prices and availability of a Walking Tour of Casco Viejo on Viator.com.
A night out in the town is a must-do. So brush up on your Spanish, find yourself a rooftop terrace and check out that gorgeous cosmopolitan skyline.
You can't go wrong with the stylish rooftop lounge and bar at Hotel La Compañía. It dates to the 17th century but has recently been restored. A perfect blend of history and luxury, it's one of the top hotels in Panama City, Panama.
Oh, and don't forget your dancing shoes. Panama City has plenty of Latin-American flair, so the salsa music is loud and the nightlife is booming.
🌟 Fun Fact: Did you know that Panama the only place in the world where you can watch the sun rise over the Pacific Ocean, and then drive across the country to watch it set over the Atlantic?
However, if you want to visit the BioMuseo, also known as the Museum of Biodiversity, in Panama City (the first building in Latin America by architect Frank Gehry), your best bet is to take an Uber as taxis are surprisingly expensive in Panama City.
Check out this post on using Uber and get some Uber promo codes.
Other Dreams and Secrets Resorts You'll Love
FAQs
Does Dreams Playa Bonita Panama have any great views?
Yes, the guest rooms at Dreams Playa Bonita offer views of the landscaped gardens, Playa Bonita and the Gulf of Panama. One of the most unique things to see in the distance are the twinkling lights of ships passing through the Panama Canal via the Pacific Ocean.
Can you swim in the ocean at Dreams Playa Bonita Panama?
No, the ocean is not swimmable at Dreams Playa Bonita Panama. It is rocky with sharp seashells and shallow depending on the tides. However you can enjoy non-motorized water sports such as kayaking at high tide. Wear water shoes if you do enter the water.
Where is 'Perfect Match' filmed?
Season One of the Netflix reality 'Perfect Match' was filed in Panama City, Panama. Playa Bonita Beach appears as the backdrop to many scenes.
Jessica Percy Campbell is a world traveller currently based out of beautiful British Columbia. She loves to experience the latest and greatest of plant-based alternatives wherever she goes. Always venturing off the beaten path for unique local businesses and the hidden gems of vegan life, you can keep up with @veganvacationista on Instagram.
Learn more about Jessica Percy-Campbell.