We may earn income from links in this post. Please read this Disclosure for details.
Canned sardines go upscale in this easy recipe for Sardine Pâté with Smoked Salmon. This sardine tapas recipe was created by Basque Chef Martin Berasategui for Paradisus Los Cabos, Mexico.
Enjoy it as a luscious party appetizer, budget game day food or tasty snack. Creamy, salty with a hit of briny tang from the capers, it's one of our favourite tinned sardine recipes!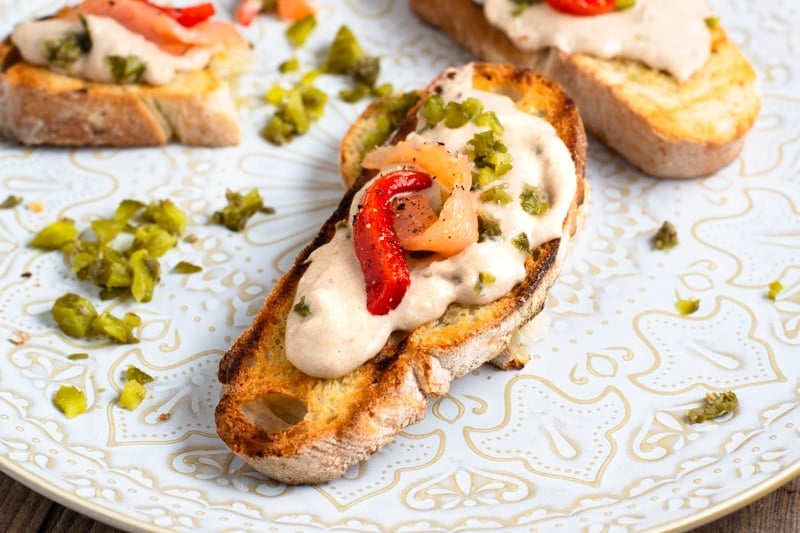 Why You'll Love This Sardine Tapas Recipe
I first discovered this dish at Gastro Bar by Martin Berasategui, an upscale tapas bar located at Paradisus Los Cabos, Mexico.
Titled simply Cream of Sardines it was presented in a whimsical dish shaped like a sardine tin and came topped with smoked salmon, capers and piquillo pepper.
Executive Chef Thomas Quenet generously shared the Cream of Sardines recipe with me.
It's become one of my favourite sardines tapas recipes to make! Here's why I think you'll love it too!
This sophisticated treat makes a delicious appetizer that's fancy enough for entertaining yet is made with everyday canned sardines.
It features just a few, easy-to-find, ingredients.

The finished dish is so diverse — featuring hits of salt, smoke and sweetness — you'd never believe it was made from a pantry staple.
Menu at Gastro Bar by MB at Paradisus Los Cabos
Located within the elegant Paradisus Los Cabos in San Jose del Cabo, one of the best resorts in Los Cabos, Gastro Bar by Martin Berasategui is the Basque chef's newest restaurant venture in Mexico.
The menu features casual dishes drawn from Chef Berasategui's childhood roots in San Sebastián, Spain.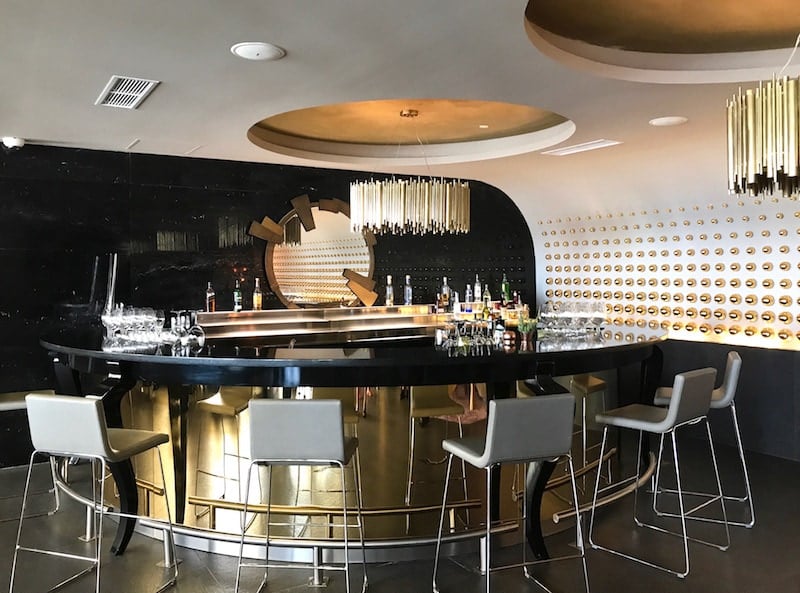 Although the decor is posh, the concept of Gastro Bar by MB is quite different than the molecular gastronomy that's the hallmark of Chef Martin Berasategui's restaurants at the Paradisus resorts in Cancun Riviera Maya.
It's also a world away from the haute cuisine at his acclaimed restaurants in Europe. There he's garnered the most stars in the history of the Spanish edition of the Michelin Guide.
At Gastro Bar the menu is relaxed and dedicated to tapas. In addition to this sardine paté, you'll find crisps of Parmesan cheese, sangria infused watermelon, esqueixada de bacalao and creamy porrusalda, the traditional Basque soup.
Choosing the Best Canned Sardines for Sardine Pâté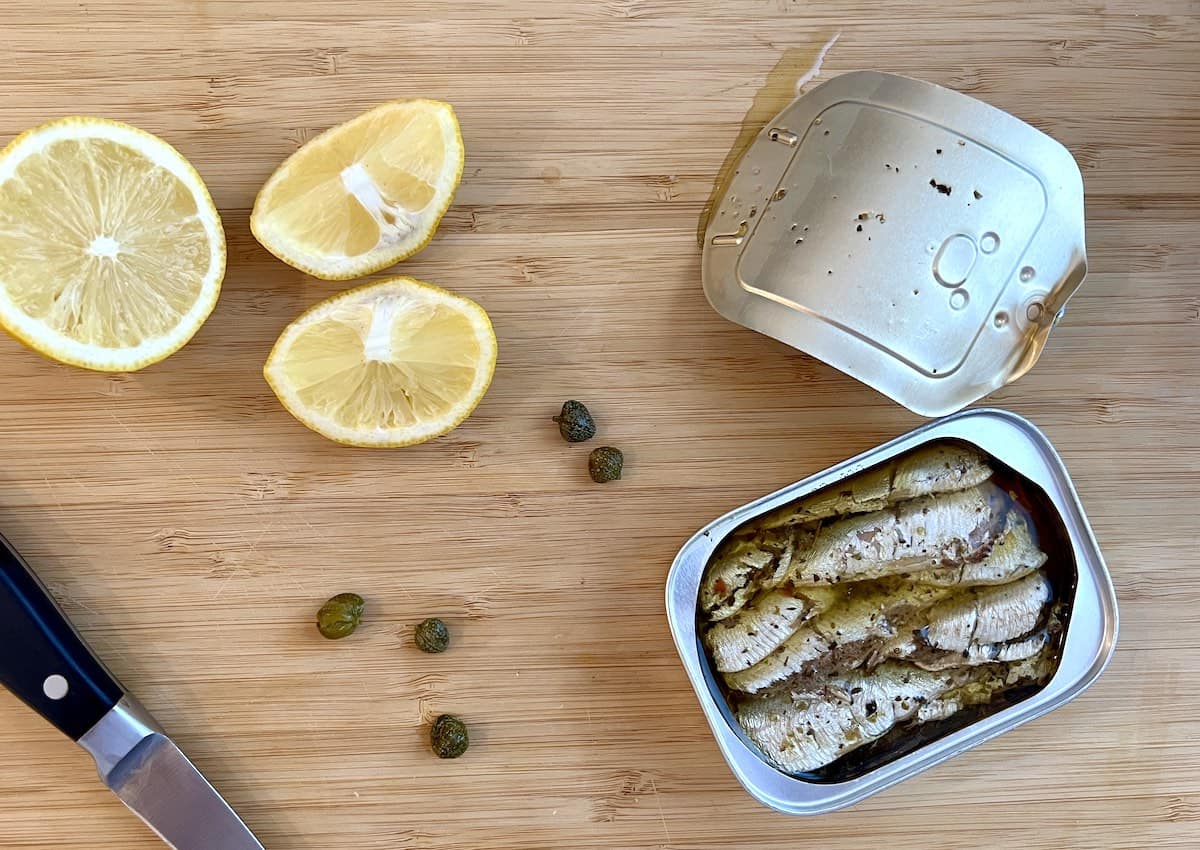 When it comes to making this recipe, the key is quality ingredients.
Use the very best sardines you can find. Although my fellow North Americans might argue that Canadian sardines–which include brands such as Brunswick–are the best in the world, in my opinion canned sardines from Portugal and Spain are truly exceptional.
European brands of sardines larger, firmer and meatier than those canned in North America. They're available in bars, restaurants and virtually every grocery store throughout Europe.
Spain's canned seafood — which can include octopus, anchovies, sea urchins and even baby eels — is sourced primarily from the pristine waters of Galicia on Spain's Atlantic coast.
At the cannery, the fish are washed, the heads and tail are removed. The fish are then smoked or cooked, either by deep-frying or steam.
They are then packed in either olive, sunflower or soybean oil, spring water or in a tomato, chile or even mustard sauce.
Tinned sardines are also a very economical food. A can of sardines generally costs under $20 so opting for a sardine recipe for an appetizer is very budget-friendly.
When choosing canned sardines for this dish, purchase the best sardines you can afford.
You can find good brands from France, Spain or Portugal in a speciality shop. Or order a gourmet brand such as Matiz Gallego Sardines or Chef José Andrés Foods online through Amazon.
How to Eat Canned Sardines
Because canned sardines are so portable, they're perfect for a quick meal if you're travelling, camping or on a hike. A sardine can is virtually indestructible. It opens easily and is ready to serve, which makes it handy for travelling or as a boating snack.
To eat canned sardines, just scoop out a sardine, mash it slightly on a piece of crusty bread, buttered toast or cracker. Squeeze on a bit of lemon, top with a sliver of red onion and it's ready to eat.
There's no need to separate the bones from the sardines. Just eat them whole, bones and all.
Or use them in one of the many versatile sardine recipes popular around the world.
Ingredients for Sardine Pâté Tapas
You don't need many ingredients for this cream of sardines tapas recipe, but they should be high quality. Use the very best quality of tinned sardines you can find.
I love that this recipe calls for the Laughing Cow brand of cheese. It might seem surprising to see a chef who has amassed so many Michelin stars using this cheerful wedge of spreadable cheese in a recipe.
But Fromageries Bel has been producing this popular cheese since 1865. It's a blend of milk, cheese and fresh and aged cheese. The French cheese is primarily Comté, made from unpasteurized cow's milk.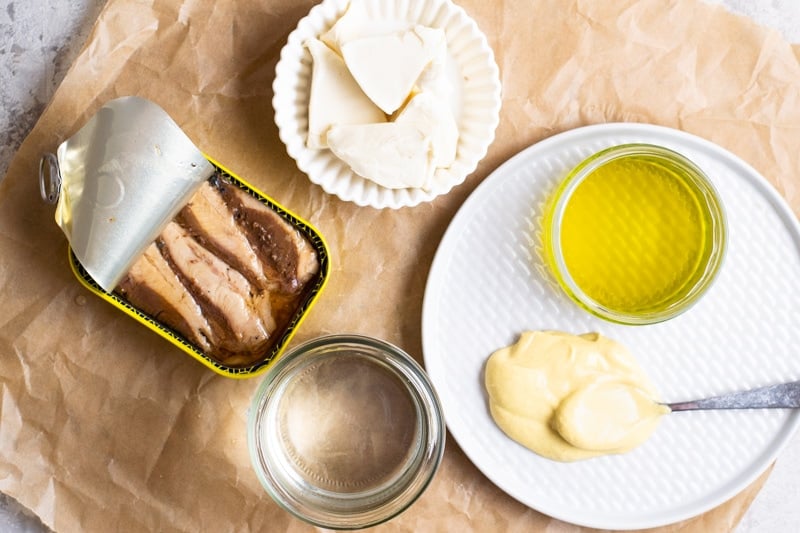 How to Make
Please scroll down to the recipe card for the full instructions, method and quantities.
1 Purée all ingredients (less oil) until smooth. Use the entire sardine. Skin, bones and all.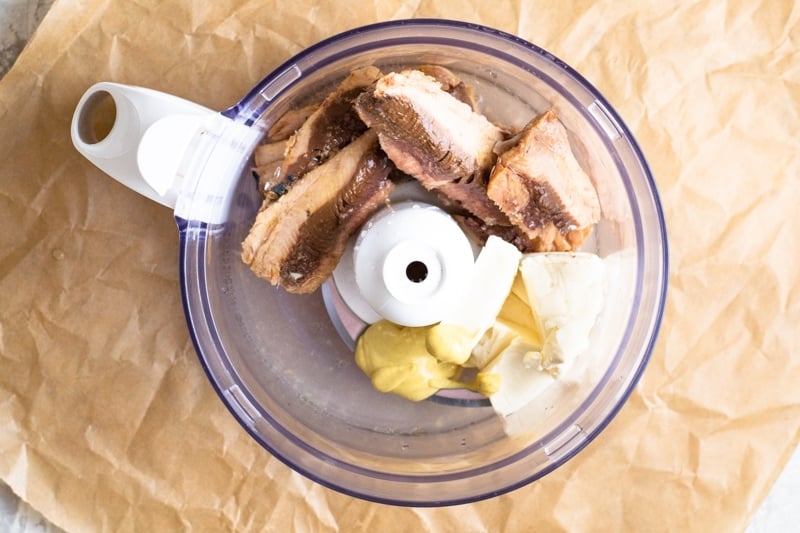 2. Slowly blend the ingredients until the mixture is smooth.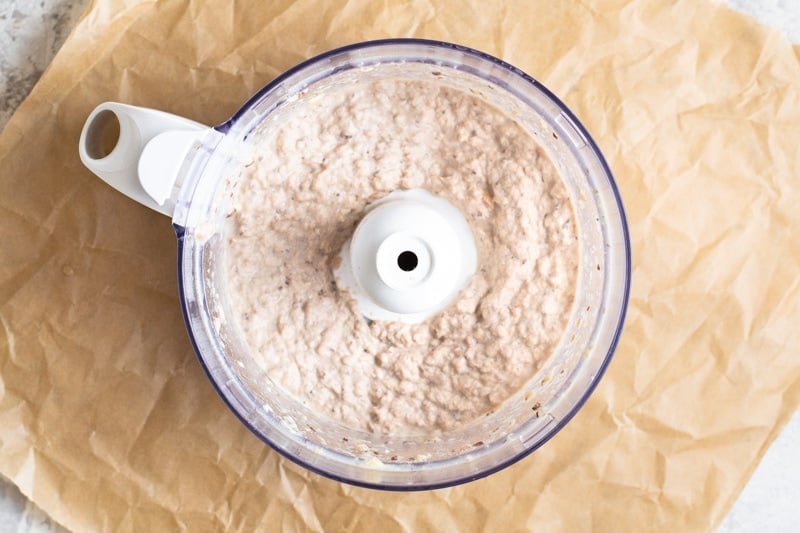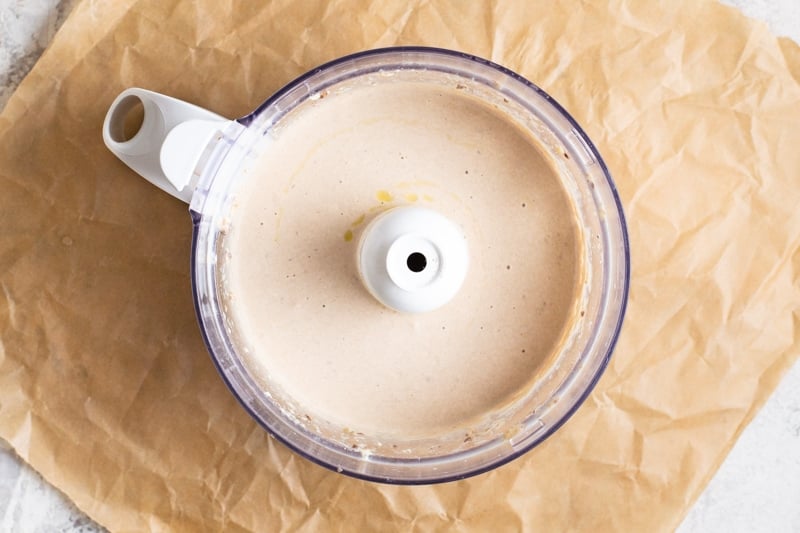 3. Then add a little olive oil (as you would make a mayonnaise). Strain well to remove any lumps.
4. Refrigerate for at least 2 hours.
5. Scoop the chilled sardine pâté into a small decorative dish.
6. Garnish with bright ingredients such as slivers of smoked salmon, fried shrimp, piquillo peppers or capers.
7. Enjoy!
Serving Suggestions
Served accompanied by small bread toasts, crostini or premium crackers. It also goes well with Catalan Salted Cod Salad , Heirloom Tomato Gazpacho and Bacalao a la Vizcaina – Spanish-style Salt Cod.
Pair it with a glass of sparkling cava, a Spanish Gin & Tonic or a bubbly prosecco cocktail.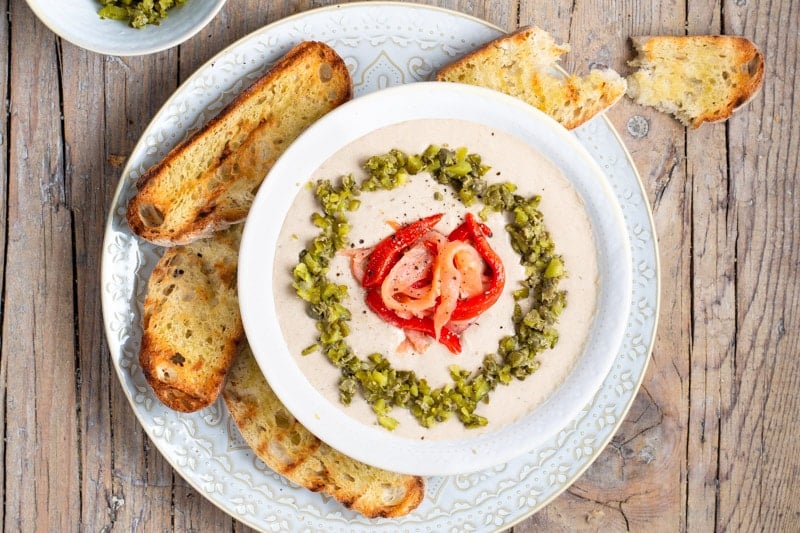 Tips & Variations on this Tinned Fish Pâté
Use the best quality ingredients you can afford.
This easy recipe for canned sardine pâté works best using the whole sardine straight from the can. No need to try to separate the bones! They're soft enough to be easy to eat. Especially when blended into a pâté.
Get creative with the decorative garnish. Try to use Spanish piquillo peppers as they add an important smoky hit of flavour.
For other delicious dishes using tinned fish, try this quick & easy appetizer recipe for Smoked Mackerel Pate. Or this recipe Canned Salmon Impossible Pie, an entree the whole family will love.
Enjoy it with a Sparkling Mango Cocktail from Los Cabos, Mexico.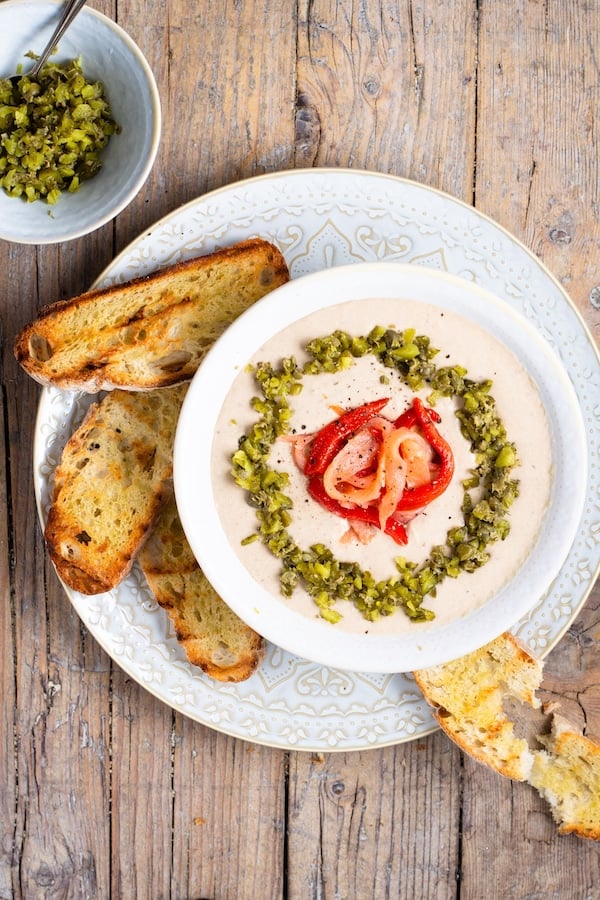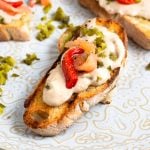 Print
Cream of Sardines with Smoked Salmon and Capers
Canned sardines go upscale in this easy Cream of Sardines recipe created by celebrated Basque Chef Martin Berasategui for Gastro Bar by MB, at Paradisus Los Cabos, Mexico. Try it for a luscious party appetizer, budget game day food or tasty snack.
Ingredients
130

grams

canned sardines in olive oil

high-quality packed in olive oil

125

grams

Laughing Cow cheese

150

grams

extra virgin olive oil

150

grams

mineral water

20

grams

mustard
Decorative Garnish
4

slices

smoked salmon

8

capers

4

fried shrimp

optional

40

grams

red piquillo pepper

sliced

4

baby spinach leaves

fried

2

small

pickles

sliced
Instructions
Purée all ingredients (less oil) until smooth.

Then add a little olive oil (as you would make a mayonnaise)

Strain well and refrigerate for 2 hours

Serve the chilled cream pate within an empty sardine tin or a small decorative dish.

Garnish with decorative ingredients and serve accompanied with small bread toasts.

Notes
You can substitute well-drained, jarred roasted red peppers for the piquillo peppers and while they deliver the sultry taste of a charred pepper and add nice colour they lack the heat of a Spanish piquillo pepper.
Fried shrimp is optional but is a welcome addition for a heartier snack.
Nutrition
Calories:
499
kcal
|
Carbohydrates:
3
g
|
Protein:
15
g
|
Fat:
47
g
|
Saturated Fat:
8
g
|
Cholesterol:
82
mg
|
Sodium:
899
mg
|
Potassium:
272
mg
|
Sugar:
2
g
|
Vitamin A:
405
IU
|
Vitamin C:
5.2
mg
|
Calcium:
194
mg
|
Iron:
1.7
mg
Save to Pinterest!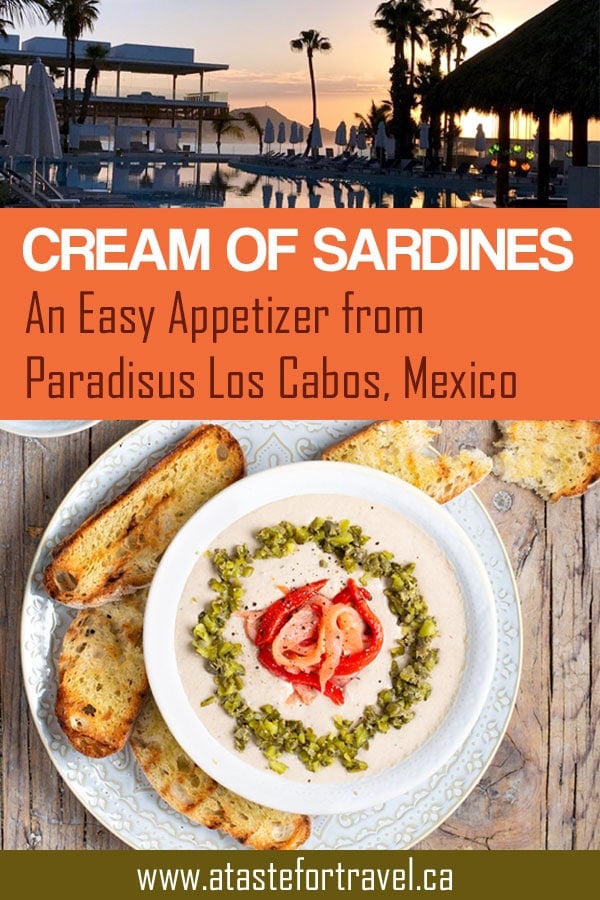 More Delicious Spanish Recipes to Try
Dividing her time between Canada, Guatemala and Mexico (or the nearest tropical beach), Michele Peterson is the founder of A Taste for Travel. Her award-winning travel and food writing has appeared in Lonely Planet's cookbook Mexico: From the Source, National Geographic Traveler, Fodor's and 100+ other publications.
Read more about Michele Peterson.