We may earn income from links in this post. Please read this Disclosure for details.
If you're planning a trip to Lisbon, love food and are wondering where to shop for food souvenirs, the absolute best place to go is the store that broke my suitcase — Conserveira de Lisboa.
Originally founded in 1930, this historic food shop located in the heart of Lisbon is beloved among locals and visitors alike for its vast collection of canned fish. It's the best place to buy canned sardines in Lisbon.
Its central location on Rua dos Bacalhoeiros also means a shopping trip to Conserveira de Lisboa does not require a major expedition.
This Historic Grocery Store is the Best Lisbon Sardine Shop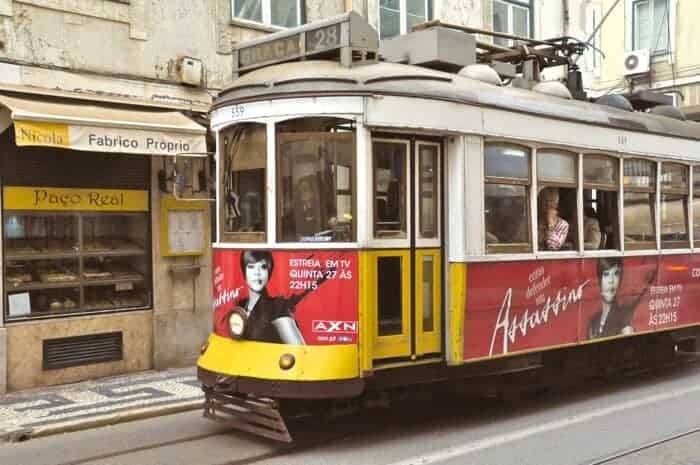 Learn more about other sights you can see via the Remodelado trams, the cheerful yellow and red trams that rattle through the narrow streets of Lisbon in this Lisbon City Guide.
Unlike Portugal's plush cotton towels, beautiful bedspreads, Pasteis de Belem custard tarts, bottles of port or other things Lisbon is known for, the canned fish you purchase from Conserveira de Lisboa are small, packable, inexpensive and transportable with little likelihood of breakage or confiscation by vigilant customs officials.
An extra bonus is that your purchases from Conserveira de Lisboa will come gift-wrapped in brown paper and twine at no extra charge!
Why You Should Buy Sardines in Lisbon
You might be tempted to think I'm obsessed with sardines (if you're not convinced, just read my story about Swimming with Sardines in Huatulco, Mexico) but the truth is I'm not alone in my enthusiasm for this slim fish.
Each June, during the festival of Santo António, one of Lisbon's favourite saints, the streets are filled with vendors grilling fresh sardines over charcoal grills. It's an absolute must to eat fresh sardines at this time of year in Lisbon.
Although fresh sardines are one of the top foods to enjoy in Portugal, if you've missed the festival, canned sardines are the next best thing.
They have their own unique merits. There's a world of difference between European canned sardines and the budget versions you might be familiar with in North America.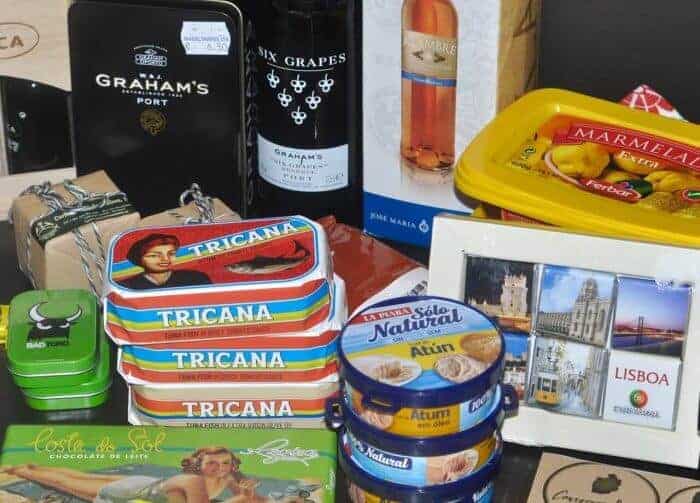 While canned fish might seem an unusual souvenir to bring home from a vacation in Lisbon, the truth is that canned sardines in Portugal are unlike sardines in any other part of the world.
European brands of sardines are meatier, firmer and less oily than those canned in North America. They're wild-caught primarily in the clear waters of the Atlantic off the coasts of Portugal and Spain and served in bars and restaurants across the Iberian Peninsula.
Not only do they taste a million times better than any other fish in a can, but they come in the world's cutest packages in their house brands such as Tricana, Minor and Prata do Mar.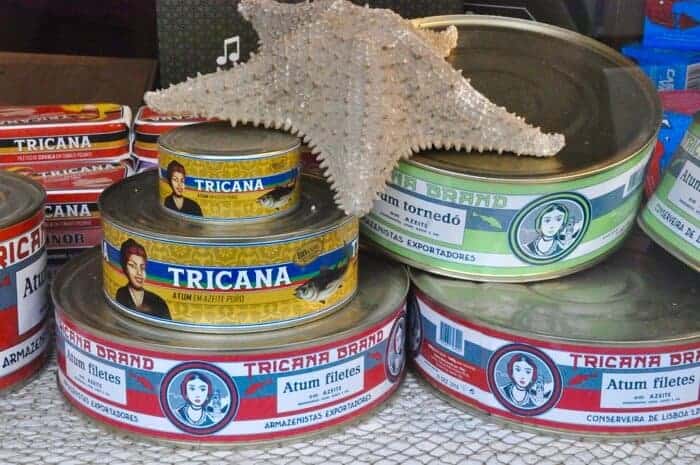 Packed with heart-healthy omega 3 fatty acids and plenty of vitamin D, canned sardines are considered a premium product.
They're so delicious they're even on the menu at Gastro Bar by MB, the restaurant in Paradisus Los Cabos, Mexico helmed by Martin Berasategui, the celebrated Basque chef who has garnered seven Michelin stars across his various restaurants.
Try this easy recipe for Cream of Sardines with Smoked Salmon and Capers from Gastro Bar by MB at your next dinner party and everyone will be amazed at how delicious canned sardines can be!
Tinned sardines are also really versatile. I always have a few tins in my pantry so I can use them in recipes such as Sicilian pasta and other sardine recipes from around the world.
Prices at Conserveira de Lisboa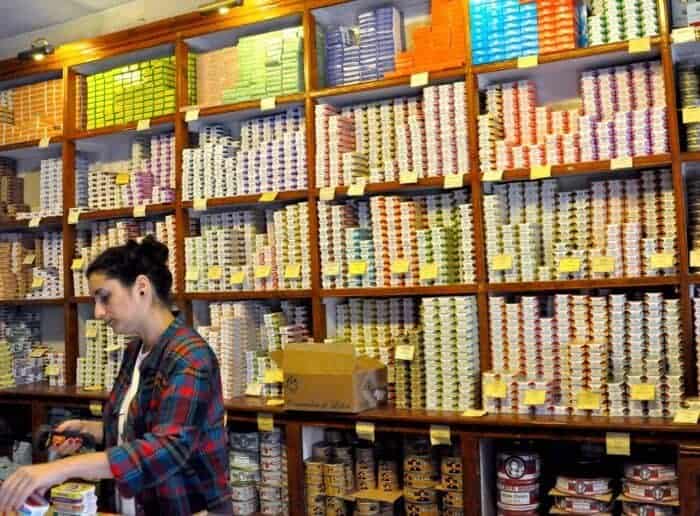 Truth is that although most people come to Conserveira de Lisboa for the sardines, it is possible to buy canned mackerel, canned tuna, bags of sea salt and several other delectable items.
In fact, there's a whole wall of tasty (and super inexpensive) items to choose from. Prices are around €2.50 per can.The delightfully retro design of the packaging of the Conserveira de Lisboa brands dates back to 1942.
The tinned fish comes packed in olive oil or a slightly spicy tomato sauce. Tricana is one of the most popular brands.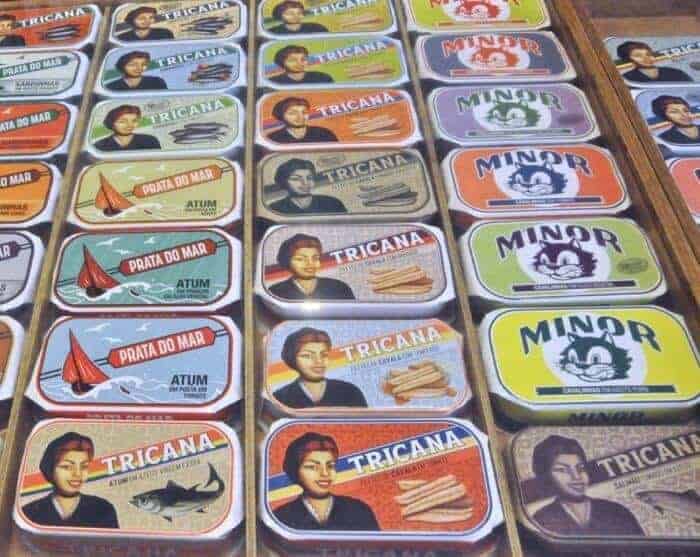 The sardine shop clerks are very helpful if you're undecided what to choose from the 130 varieties available but if you'd like to save time, you should know that the Tricana brand features larger filets of fish, while Minor is fish paste and Prata do Mar is fish exclusively from Portuguese waters. Stock varies seasonally.
If you're wondering where to begin with this dizzying array of choices, your best bet is the Tricana brand of sardine in tomato sauce. It makes an ideal snack with some crusty bread, cheese and Portuguese wine.
Or, if you're unconvinced about the appeal of canned sardines, opt for the canned tuna. It's delicious in Mediterranean-style olive and tuna tapenade, a mix of tuna, chopped black olives, lemon juice and onion.
Just remember, if you do decide to tote home a one-year supply of canned sardines from Conserveira de Lisboa as I did, those cute little cans are heavier than they look.
You too may end up sacrificing a suitcase to the gods of tinned fish.
Travel Planner for Conserveira de Lisboa Sardine Shop
Address: Rua dos Bacalhoeiros 34, Lisbon 1100-071, Portugal
Culinary Backstreets Lisbon: If you're a foodie, you also don't want to miss a culinary walking tour of Lisbon with Culinary Backstreets. Their tours are filled with insider food tips, meetings with local food producers, chefs and cooks as well as a fascinating overview of the city's culture and history. Culinary Backstreets offers three tours in Lisbon.
Packing for Lisbon: If you plan to do any shopping for food souvenirs in Lisbon, you should go equipped with the best daypack that doubles as a reusable shopping tote. If you get carried away with buying goodies, you can load up the daypack and still be comfortable while exploring the city for the rest of the day.
Getting to Lisbon: A member of the Star Alliance network, TAP (Transportes Aéreos Portugueses) flies direct to Lisbon from more than 85 destinations in 38 countries across Europe. One of the most attractive features of TAP is the ability to add a stopover in Lisbon.
Travellers can stay up to three days in Lisbon or in Porto, at no extra cost, as part of the Portugal Stopover Programme. Azores Airlines also offers direct flights from various destinations and includes free stopovers in Lisbon.
Get more travel planning advice in this One Week in Portugal Itinerary.
Oceanario Lisboa: Learn more about Portugal's marine life and environment ( including sardines!) during a visit to Europe's largest indoor aquarium Oceanario Lisboa at the Park of Nations .
Save to Pinterest!
You Might Also Like:
Eating Italy Food Tour of Rome ( Features a Special Discount Code for Subscribers)
3 Luxury Gold Experiences in Spain and Italy
3 Mistakes You Don't Want to Make in Rome
Why Rome's Termini Neighbourhood Should Be on Your List
Dividing her time between Canada, Guatemala and Mexico (or the nearest tropical beach), Michele Peterson is the founder of A Taste for Travel. Her award-winning travel and food writing has appeared in Lonely Planet's cookbook Mexico: From the Source, National Geographic Traveler, Fodor's and 100+ other publications.
Read more about Michele Peterson.