We may earn income from links in this post. Please read this Disclosure for details.
With spring on the horizon, it's time to start thinking about travel to Europe. For me, it's also a time to reflect on the amazing experiences I've had in cities such as Seville, Venice and Florence in the past, and to plan for future travels.
One collection of experiences quickly rises to the top. Over the past few years, I've been lucky enough to participate in Luxury Gold escorted journeys to Italy, Spain and Portugal while researching stories for several online and print publications.
If you're not familiar with Luxury Gold, it was launched in 2012 by Insight Vacations, and is high-end luxury travel. It's the kind of travel you want if you're planning a memorable trip — be it a first trip to Europe, a honeymoon, a wedding anniversary, a milestone birthday or even an intergenerational trip.
Each of the journeys features exclusive VIP experiences you can't get on your own (unless you happen to be related to a count or a princess – more on that later).
Here's a look at three of the most memorable Luxury Gold moments I've experienced.
1. Ultimate Italy: A Cooking Class in Tuscany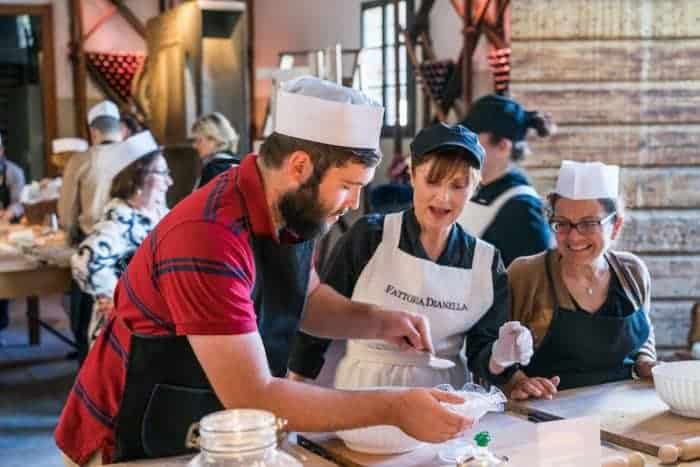 Our cooking class had a rather raucous start. One participant almost spilled her glass of rosé wine, another had more eggshell than yolk in his bowl and several others were struggling to get flour and water unstuck from their fingers. There was so much hilarity it seemed unlikely anything edible would materialize from our communal cooking stations.
We were participating in a hands-on cooking class in Tuscany, one of several excursions from our hotel base at Villa Le Maschere, a late-Renaissance estate in the beautiful Mugello valley north of Florence. Built in the 16th century, the luxurious villa once served as a retreat for popes, sovereigns and the powerful Medici dynasty.
Today, our enthusiastic group of Luxury Gold travellers was making pappardelle noodles and dipping zucchini blossoms into batter for frittelle di fiori di zucca.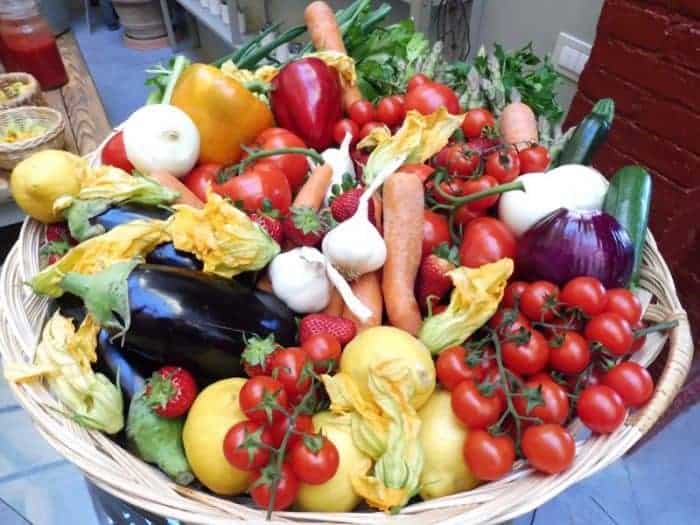 "You need to put more muscle into it," said our instructor as she glanced at my pasta dough. It looked like a lump of lead compared to hers, which was so elastic it looked ready to bounce off the table and into the vineyard.
I redoubled my efforts and my exertions were rewarded by as the dough began to feel springy in my hands.
"Now roll," said our instructor, as she handed me a rolling pin.
As I began rolling, the motion brought back memories from my childhood in Winnipeg when my mother would make pasta for chicken soup and drape the egg noodles across a kitchen chair to dry. Yet here in Italy, there was no time for reflection. I was clearly falling behind the rest of our group, my chef's hat slipping down until it bumped my glasses.
Miraculously, thanks to the skilled efforts of my fellow travellers and the vigilant eye of our instructor, the dough transformed into pasta and as it boiled inside a giant stainless steel pot, I refilled my glass of white wine — lovely with just the right balance of sweetness and acidity — and stepped outside to the terrace.
There, beneath a centuries-old tree I watched the rays of the afternoon sun illuminate the rolling curves of the villa's vineyards. It was a patchwork of different colours, the sun heating the soil and creating terrior, the magical alchemy of air and soil that defines a wine.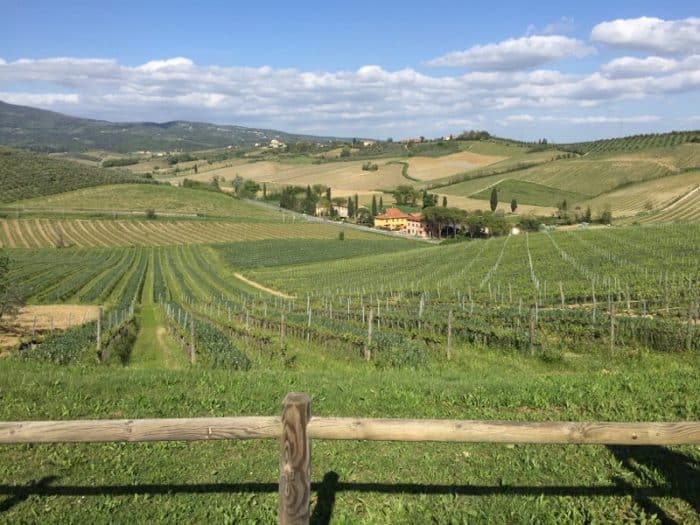 Soon it was time for our late lunch and our group enjoyed the fruits of our labour at a table so long it could seat a small Tuscan village. It was a boisterous meal filled with conversation and although I thought I could recognize my lopsided strands of pasta in the serving dishes, imperfections didn't matter.
Inspired by generous glasses of sparkling rosé, our group of travellers had bonded during our hands-on cooking class, forging new friendships along with our culinary skills — just like one big Italian family.
2. Seville in Style: A Horse and Carriage Ride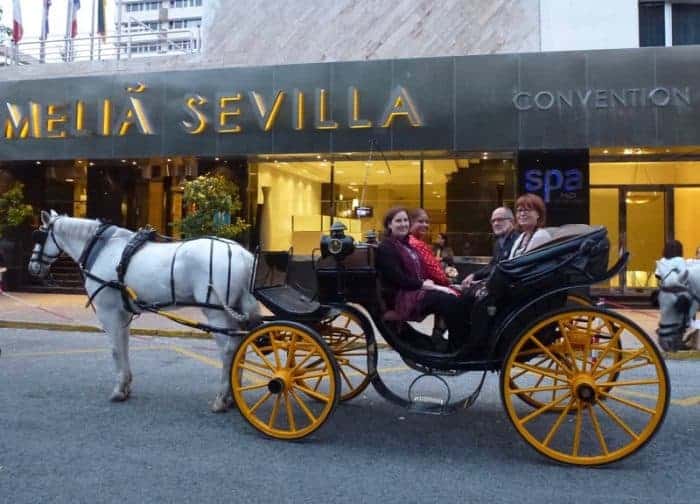 My Luxury Gold journey to Spain wasn't the first time I'd been to Seville but it was definitely the most memorable.
Whether you enjoy tapas in the world's oldest restaurant or witness a performance of fiery flamenco, Seville, the capital of Andalusia is a sensory slideshow. Its palace of Alcázar, constructed in 1540, is the oldest royal palace still in use in Europe and is so picturesque its sumptuous gardens represented the royal kingdom of Dorne for the 5th season of HBO's Game of Thrones.
For me, beyond the sights, a highlight of visiting Seville was a Luxury Gold horse and carriage ride at sunset through leafy Parque Maria Luisa. Although I've taken horse and carriage rides throughout the world, this one was truly special.
The experience began with pick-up at our hotel, the Melia Sevilla. A hallmark of the Luxury Gold collection is its hotels, each selected for its special combination of location, character, amenities and service. And the Hotel Melia Sevilla didn't disappoint. It's located next to Parque Maria Luisa, a vast green space donated by Princess Maria Luisa de Orleans to the city from the grounds of the Palacio de San Telmo.
As our carriage horses clip-clopped their way along the tree-lined avenues of Maria Luisa park, the sounds of street traffic slipped away. Lamplight illuminated cascading waterfalls, fountains, and lakes graced by swans. Even the Plaza de Espana, the centerpiece of the 1929 Exposition seemed to glow in the waning light. It was as though we'd been transported to a gracious era and had become nobility ourselves.
If you're planning in visiting Spain, it's worth spending at least three days in Seville.
Pure magic.
3. A Gondola Ride in Venice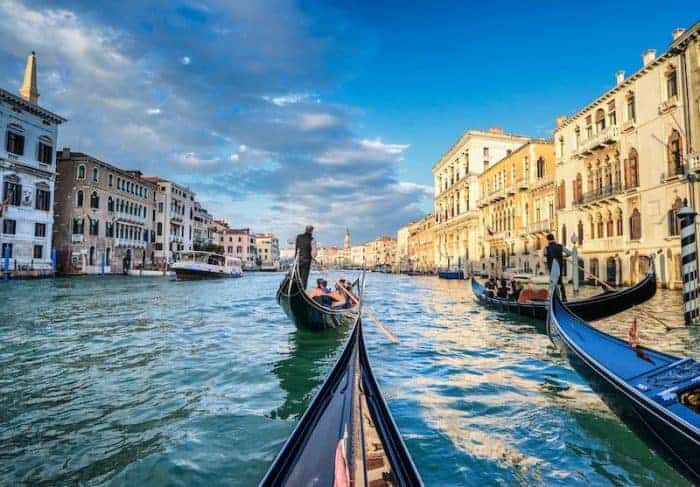 Venice is definitely a bucket list destination. While it might be tempting to think a Venetian water taxi might be a good substitute for a Venice gondola ride, having done both, trust me, there's a world of difference.
In the evening, when the cruise ship crowds have returned to their staterooms and the sun slips behind the faded buildings, gliding through Venice in a gondola in Luxury Gold style is an experience you won't soon forget.
As Venetians open the shutters on their windows to catch the cool evening breeze and the setting sun glints off the polished domes of the churches, "La Serenissima" seems to awaken.
And rather than simply a gondolier singing as we glided through canals lined by Renaissance and Gothic palaces, during our Luxury Gold experience, an opera singer serenaded us with songs that echoed off the weathered stones in a way that seemed to stop time.
It was easy to imagine when the composer Vivaldi, wealthy merchants and mistresses with masked patrons used these waterways to conduct business in what was once the world's most powerful city.
It was a transformative moment, one where it was possible to feel not just a visitor in Venice but rather that we'd captured a glimpse of life in another era.
A Luxury Gold trip through Europe is a journey of experiences as much as it is about seeing the sights!
Insight Vacations Luxury Gold Travel Guide
Itineraries: While Luxury Gold itineraries are filled with unique curated experiences, exceptional fine dining and VIP highlights, they also feature plenty of free time for independent exploring and "relaxed starts" so you're not waking up at the crack of dawn or rushing from destination to destination.
What to Pack: Wondering what to pack for your luxury journey through Europe? Check out this Ultimate Packing List for Summer in Europe so you'll always look chic and be comfortable.
Transportation: Luxury Gold escorted journeys feature travelling concierges, small group sizes and travelling in a class of its own, be it luxury motor coaches with extra legroom and Wi-Fi connectivity, luxury trains, boutique river cruise ships, or off-road safari vehicles.
Ultimate Italy: This trip is a 13-day journey from Rome to Venice visiting Naples, Pompeii, the Isle of Capri, Perugia, Florence, the Cinque Terre, Verona and more. It's one of the most popular trips within the Luxury Gold portfolio, a collection including more than 30 itineraries in Europe, India, Bhutan, Nepal, Asia, North America and South America. Browse Luxury Gold Destinations for the latest vacation itineraries
Luxury Gold is not a budget vacation. But by booking early, you get the best deals possible as well as the largest choice of luxury escorted journeys, trips and departure dates.
Check the Luxury Gold website for inspiration and the latest deals, including savings on Solo Travel.
YOU MIGHT ALSO ENJOY:
3 Mistakes You Don't Want to Make in Rome
Enjoy a Walking Tour of Testaccio with Eating Italy
The One Food Souvenir Stop You Must make in Lisbon
Food, Fun and Fireworks in Valencia, Spain
Save to Pinterest!
Dividing her time between Canada, Guatemala and Mexico (or the nearest tropical beach), Michele Peterson is the founder of A Taste for Travel. Her award-winning travel and food writing has appeared in Lonely Planet's cookbook Mexico: From the Source, National Geographic Traveler, Fodor's and 100+ other publications.
Read more about Michele Peterson.