We may earn income from links in this post. Please read this Disclosure for details.
Think of Muskoka, Ontario and the first images that come to mind are the region's beautiful mirrored lakes, tall pine trees and rocky shorelines. But there's another reason to head north of Toronto.
The region's select luxury Muskoka resorts also offer the opportunity to dine on fine, locally-sourced cuisine that's well worth making Canada's most star-studded cottage country part of your summer plans.
If you're planning a Muskoka vacation, here are our top picks for where to stay as well as tips on the best Muskoka restaurants, luxury resorts and things to do on a food-inspired weekend getaway from Toronto.
1. Windermere House Lake Rosseau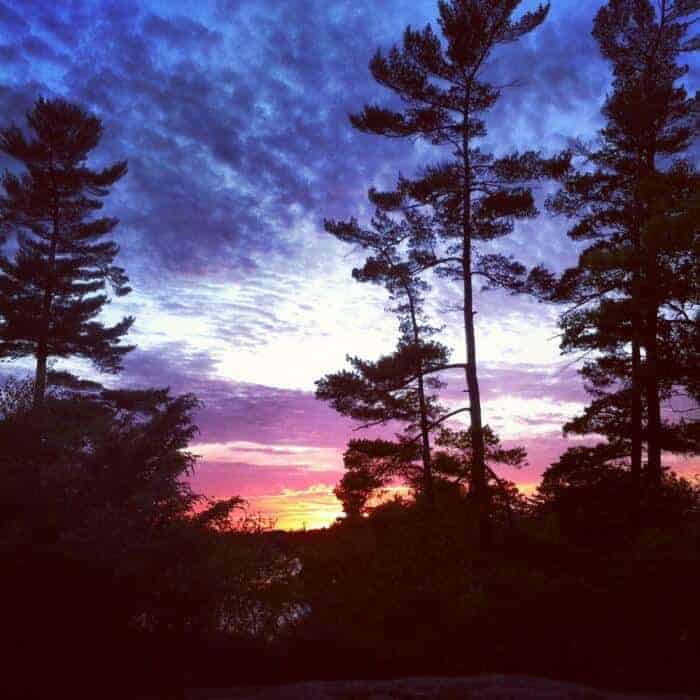 Executive Chef Glen Kitchen presides over the cuisine at Windermere House, a classic Muskoka resort, 2.5 hours north of Toronto on Lake Rosseau. While chef's whites might seem an unusual sight against the iconic green backdrop of pine forest, this luxury Muskoka resort is as much about preserving cottage country traditions as it is about blazing culinary trails.
For sushi lovers, there's even a take-out menu featuring ultra-fresh salmon sashimi, Black Dragon and California rolls.
Windermere House features four dining options, including Muskoka's oldest pub, founded in 1870. For me it offered the quintessential northern Canadian summer scenery of my childhood in Flin Flon, Manitoba — gnarled trees, Canadian Shield and endless days — minus the lumpy mattresses, musty Mad magazines and voracious horseflies.
Sitting on the resort's Victorian-style veranda and sipping a Summer Collins, a defty-mixed cocktail of gin, lemon juice and pink peppercorns topped with soda, it was the perfect Muskoka cottage country atmosphere. And proof that it's one of the best tourist spots to visit in Canada if you want to experience the Canada's wilderness without roughing it.
For food fans, the menu at the Rosseau Grill (dishes can also be enjoyed on the verandah) features a wealth of locally-sourced ingredients in inventive dishes such as a Milford Bay smoked trout starter and fresh pickerel plucked from the waters of Northern Ontario and crusted with cornmeal and sumac. Vegetarians will be thrilled with the many options.
Click here to check prices and availability at Windermere House.
2. J. W. Marriott The Rosseau Resort and Spa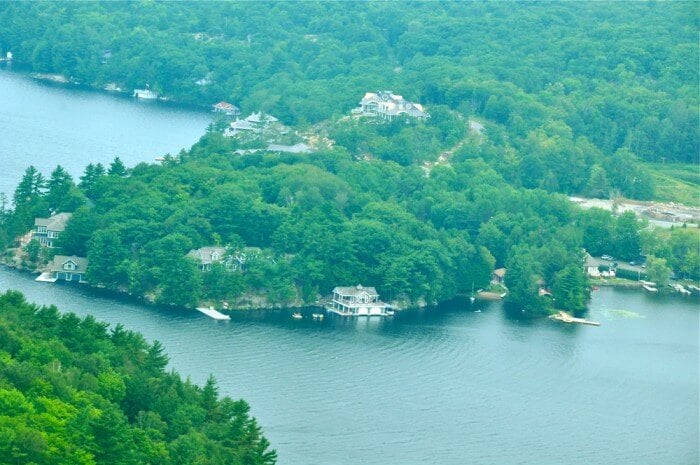 You've got to get on the water to truly experience the spirit of the Muskoka Lakes. While a classic thing to do is take the Segwun steamship tour and gawk at digs owned by celebs like Goldie Hawn and Tom Hanks, a top thing to do on a family vacation in Canada is to go fishing.
One of the best luxury resorts for families in Ontario is the J.W. Marriott The Rosseau Resort and Spa, a lakefront resort modelled on the Royal Muskoka Hotel, a 1901 landmark known for its high society clientele. It's also an ideal Muskoka family resort.
You're likely to see Lamborghinis in the driveway and plenty of million-dollar views, but the resort is also committed to providing authentic Muskoka experiences along with the glitz.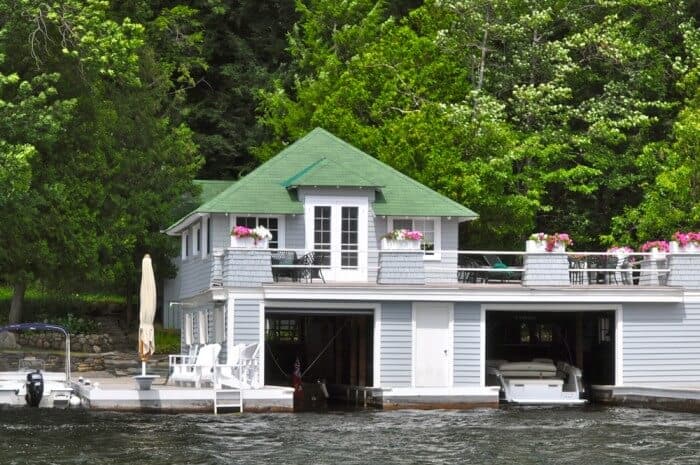 "Sports-fishing is one of the best-kept secrets of the Muskokas," explained our guide, who hails from Lake Nipissing, earning him instant street-cred.
While I didn't catch one of the 4- foot long pikes reported to be in the waters of Lake Rosseau, bobbing on the waves was fine with me.
Instead of the usual leaky 14-foot aluminum boat of my childhood fishing trips, at the J.W. Marriott The Rosseau Resort and Spa fishing has been elevated to a luxury experience.
I lounged on a white leather settee while a powerful engine got me back to the resort in time for my spa treatment. The Muskoka Spa Rosseau draws its inspiration from Muskoka's rock, wind and water. I soon lost myself in a botanical infused facial that was relaxing as a calm day on the water.
Another memorable experience was dining at Crossroads in Rosseau, helmed by Owners/Chefs, Julie and Richard Lalonde (Phone for reservations 705.732.4343).
Not to be missed dishes include hand-cut mushroom ravioli and of course, the Georgian Bay pickerel, pan-seared and served with a refreshing fennel salad.
Click here to check prices and availability at J.W. Marriott The Rosseau Resort and Spa.
3. Touchstone Resort, Lake Muskoka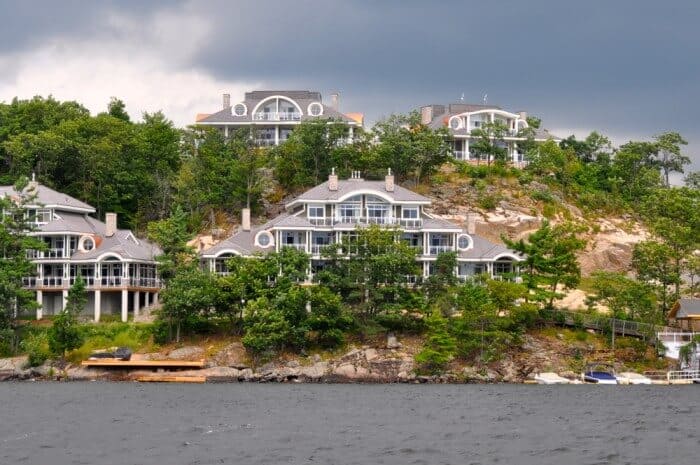 Another top luxury resort in Muskoka is Touchstone Resort on Lake Muskoka. Built on the former site of Aston Beach Resort and Tamwood Lodge, Touchstone does the Grand Resort revival well.
Soaring buildings hug the rocky granite landscape and haute décor includes skylights and sleek furnishings.
You can float on your back in the infinity pool (Muskoka's first) and looked up at the night sky through the top of a 100-year-old long-needle pine.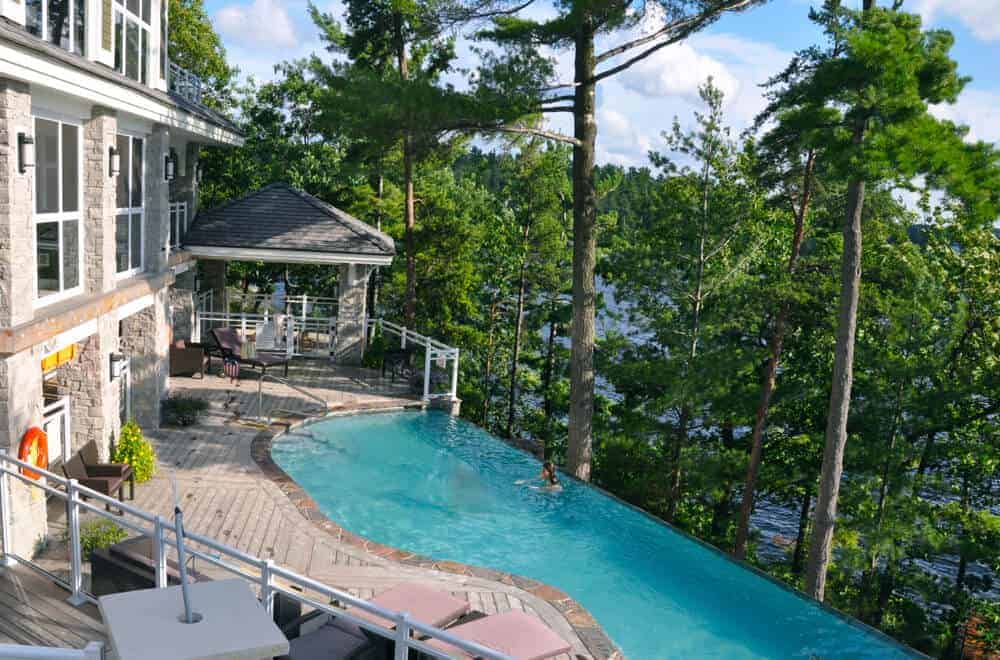 Unlike the Windermere and J.W. Marriott, Touchstone Resort is a collection of luxury waterfront resort condominiums. This means many of the other guests are owners or renters who are staying for longer than just a few nights, which adds to a more relaxed feel.
It's also very well-suited for a family vacation as the units vary in size with 4-bedroom villas being perfect for a family vacation in Muskoka.
If you're travelling with small children, you might want to pack some of these travel rail beds for toddlers to stop your little ones from rolling out of bed.
Couples on a budget can opt for a smaller studio suite in the Main Lodge located near the spa, restaurant and infinity pool.
Although there are dining options available onsite (or for take-out), each of the units (including studios) come equipped with kitchenettes or full kitchens.
Click here to check prices and availability at Touchstone Resort.
The Muskoka Lakes region is definitely one of the top destinations for a summer weekend getaway in Ontario.
By the end of my luxury Muskoka getaway, I realized that modern Muskoka captures the essence of my northern cottage country memories perfectly.
Top Luxury Muskoka Resorts Travel Guide
Getting to Muskoka: If you're headed to Muskoka Lakes Ontario and want to avoid the traffic, Cameron Air Services offers float plane service on their fleet of Cessna planes to Muskoka, Georgian Bay and Temagami. It's not cheap but the scenic views of the Muskoka Lakes (and Toronto) are unforgettable.
Another, more economical option for flying to Muskoka is via Porter Airlines. Porter Airlines has launched seasonal service from downtown Toronto to Gravenhurst, Muskoka (YQA). The flight takes 35 minutes and you'll skip all the highway traffic.
Once you arrive you'll be a short drive to Muskoka's lakes, luxury resorts and cottage docks.
Porter Airlines flies to Muskoka from June 25, 2020 through September 8, 2020 on Thursdays. One-way fares cost around $116 CAD.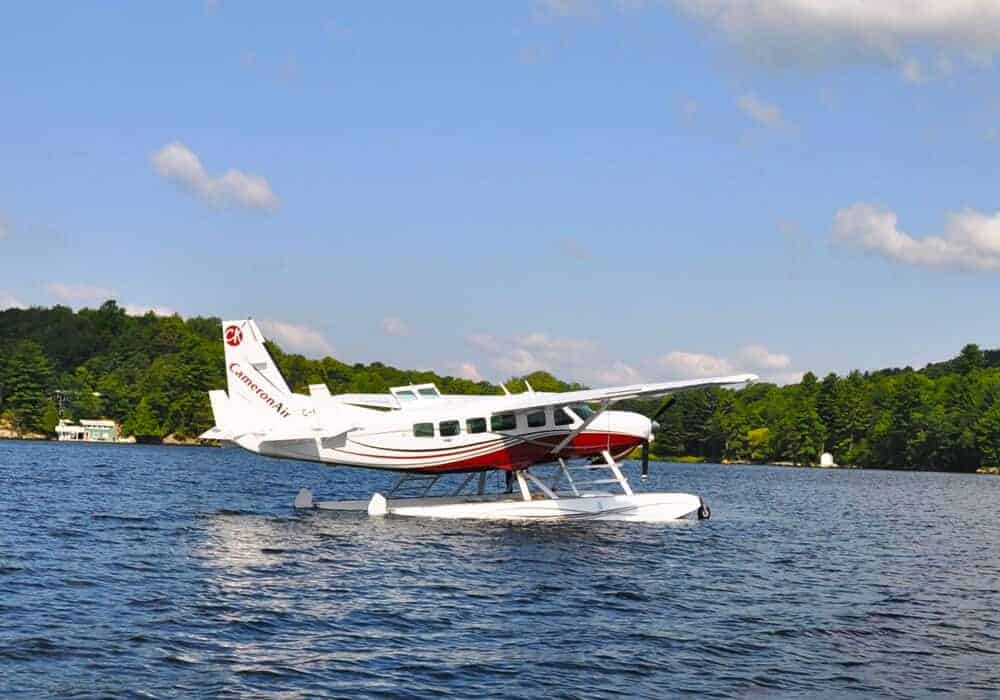 Getting to Muskoka by Car: A great base to begin a Muskoka vacation is Port Carling, located in the heart of cottage country along Highway 118 northwest of Gravenhurst. Known as the "Hamptons of the North", Port Carling offers small town atmosphere with the cachet of the moneyed crowd.
It's not by accident that both the Lake Rosseau Circle Tour and the Lake Muskoka Circle Tour include Port Carling on their carefully chosen scenic drives.
Pick up a Muskoka Driving Tour map at the Visitors Centre (1 800-267-9700; www.discovermuskoka.ca), Highway 11 north of Severn Bridge.
Travel Resources: Ontario Tourism Official Tourism Site
What to Pack: Unlike other cottage country areas of Ontario such as the Kawartha Lakes where dining out is as carefree as throwing on a cover-up and flip-flops, Muskoka resorts and restaurants are more upscale.
Save to Pinterest!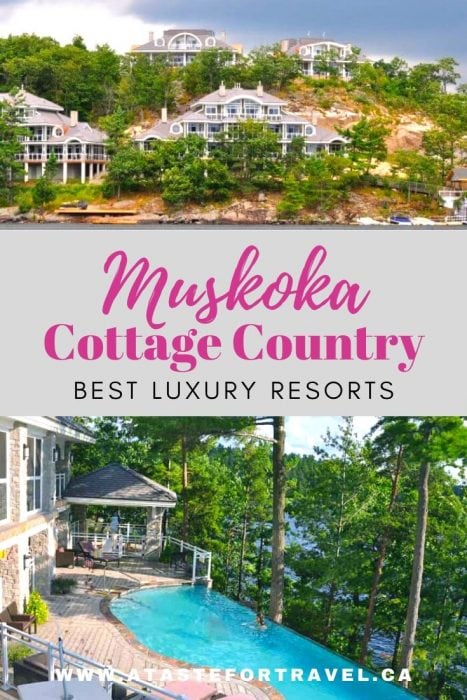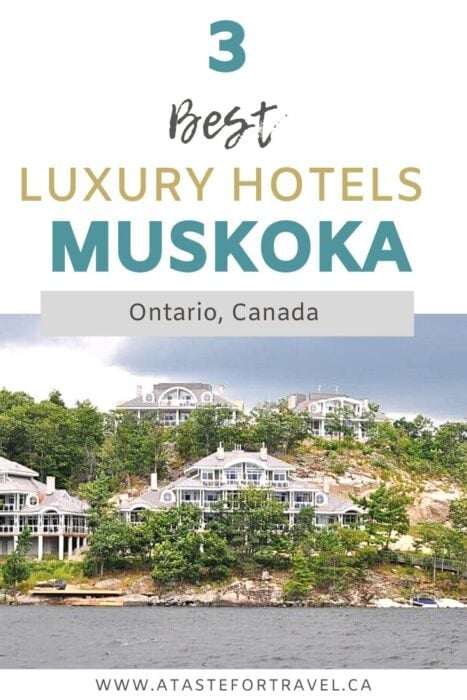 You Might Also Like:
Dividing her time between Canada, Guatemala and Mexico (or the nearest tropical beach), Michele Peterson is the founder of A Taste for Travel. Her award-winning travel and food writing has appeared in Lonely Planet's cookbook Mexico: From the Source, National Geographic Traveler, Fodor's and 100+ other publications.
Read more about Michele Peterson.