We may earn income from links in this post. Please read this Disclosure for details.
While best known as a ski and golf resort, the farm-to-table cuisine of cabin, Hockley Valley Resort's signature restaurant makes Hockley Valley Resort an ideal weekend escape for food fans.
Located blissfully off the tourist path 45 minutes from downtown Toronto in Mono Ontario, it offers a delicious taste of rural life and local fare.
I'm mostly vegetarian and along with my primarily carnivorous boyfriend (and photographer/driver for this trip) Arnie, we hit the road on a snowy, spring day with big appetites. Our goal was to try as many wines and dishes as we could in a 24 hour period and squeeze in some much needed relaxation time.
A Tasting at Adamo Estate Winery
We started our day at Adamo Estate Winery which is located just one kilometre down the road from the main resort (shuttles are available from Hockley Valley Resort). Adamo Estate Winery was started by Mario & Nancy Adamo – the proprietors of Hockley Valley Resort. Mario Adamo originally came to Canada from Calabria Italy when he was 18 years old.
The rolling hills reminded him of home and in 1985 they started Hockley Valley Resort, which has since grown into a 104 room, 4 season luxury resort with 18 hole golf course, 15 runs of ski slopes, 8,000 square foot spa, 3 on-site restaurants and a 25 acre winery. Amenities also include indoor and outdoor pools, a hot tub, sauna and fitness centre.
Proximity to the beautiful hiking trails of Hockley Valley Provincial Park near Toronto is another big draw for city dwellers looking for fresh air and outdoor adventure.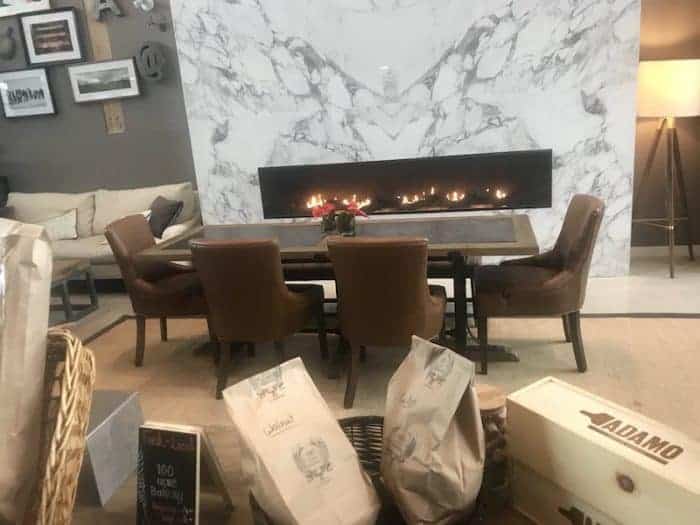 After our scenic drive through the rolling hills, we arrived at the winery where we were warmly greeted by Tasting Bar Attendant Bailea. Given the chill outdoors, we were thrilled to see Adamo Estate Winery had a large marble fireplace with a crackling fire blazing. We learned that the winery's first vines were planted by Mario Adamo and his friend Frank in 2013 and the Adamo Winery was launched in 2016.
It's a unique destination, being the sole winery in the region. In fact pioneer Mario Adamo was told by many it was not possible to grow vines in this region. Many awards later, his gamble seems to have paid off.
The bright two storey building with in-house cellar was constructed on land that had originally been a horse farm and the original paddock doors were preserved and installed in the cellar. We started our tour in the main entry, impressed with the artistic touches such as the massive chandelier constructed out of the inaugural estate wine barrels.
We then explored the "crush pad" where the wine is fermented in huge steel tanks the Adamo family had custom made and shipped over from Italy. Here we got to touch the "ice jacket" a thick icy frost layer used to ferment the higher sugar wines like Vidal and Rieslings.
After learning all about their wine making process we were really looking forward to sampling the results of all this science so we headed over to the tasting room.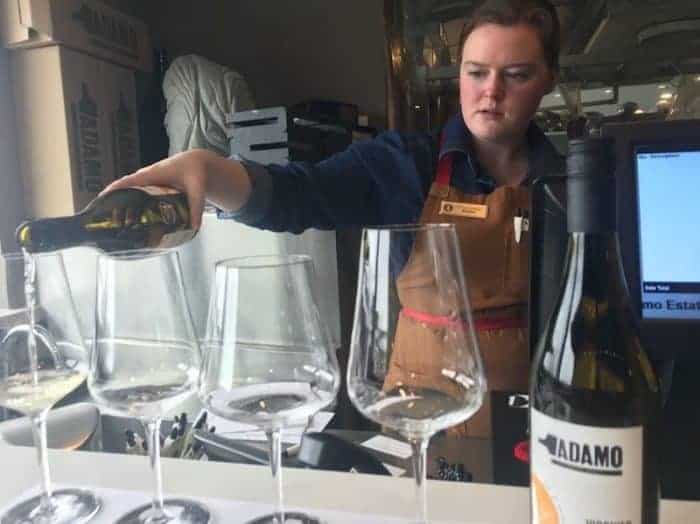 A tasting includes a flight of four wines and are limited to a maximum group size of 20 around the tasting bar (although larger groups can be accommodated in other rooms).
During our tasting we munched on crispy gnoccho fritto (deep fried pasta dough), then our appetites got the best of us and we ordered the cheese board which featured a variety of cheeses from the Cheese Boutique in Etobicoke, bread from Hundred Acre Bakery in Orangeville as well as in-house honey made from bees on the Adamo Estate.
Bailea informed us that an etymologist had recently tested the bees and pronounced them "happy". I don't normally have a sweet tooth, but this was exceptional honey. Perhaps it is the happiness that is the secret ingredient?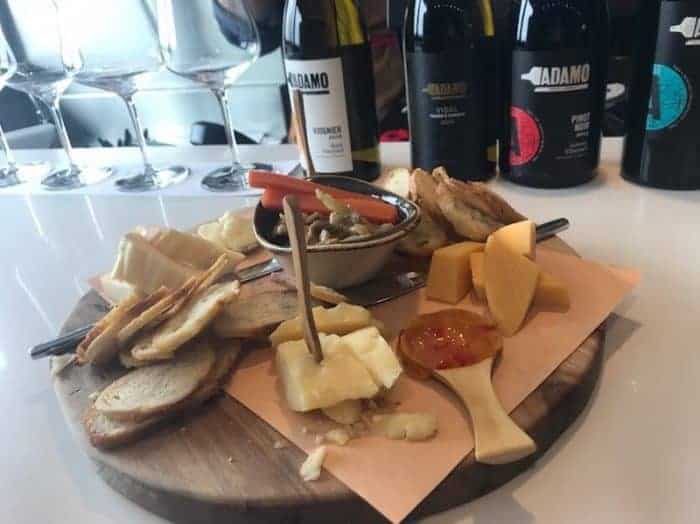 All the wines were fantastic – Arnie picked his favorite as the refreshing Viognier 2016 with its fruit and floral aromas – while I thought the Meritage 2015 with its hints of blackberry was the standout.
Adamo Estates has won numerous awards including Best In Show, Best Value Dry Riesling at the 2017 Decanter Wine Awards. Adamo Estates Wines are available to purchase on site at the winery, or on their website (for Ontario only).
Hockley Valley Resort Weddings and Corporate Events
If you're looking for a gorgeous outdoor venue for a special event, Hockley Valley would be great for an intimate, romantic wedding ceremony or a corporate event.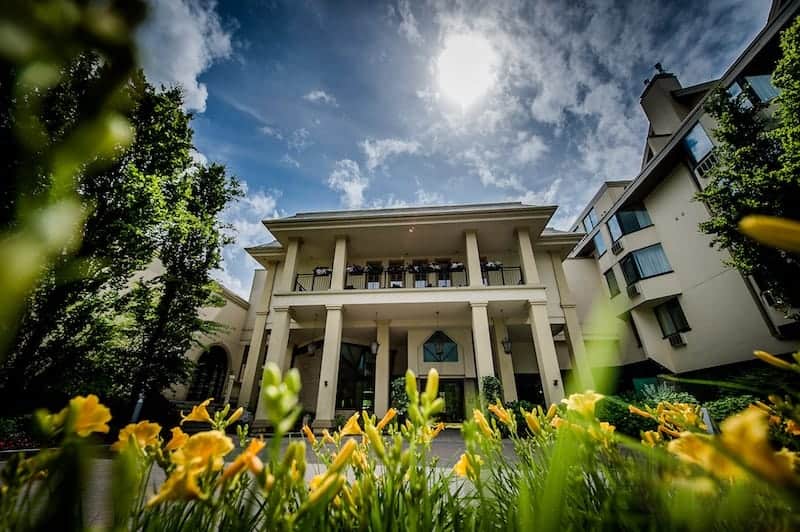 In addition to the main building, we thought the large airy and bright 2 level space of Adamo Winery with its Great Hall and outdoor patio would also make a perfect Corporate Event or Wedding venue.
Top marks for the entire space being wheelchair accessible. We bought a bottle of our two favourite wines to take with us back to the resort.
It's worth noting, if you purchase 4 of any bottles of wine, the Tasting fee is waived.
Hockley Valley Resort Rooms
After the winery, we checked into our room at the resort, which was a spacious 2 level loft style suite with 2 balconies and 2 bathrooms. We noted the muted nature-inspired earth notes used throughout the space, very tranquil with lovely tree-inspired artwork on the walls.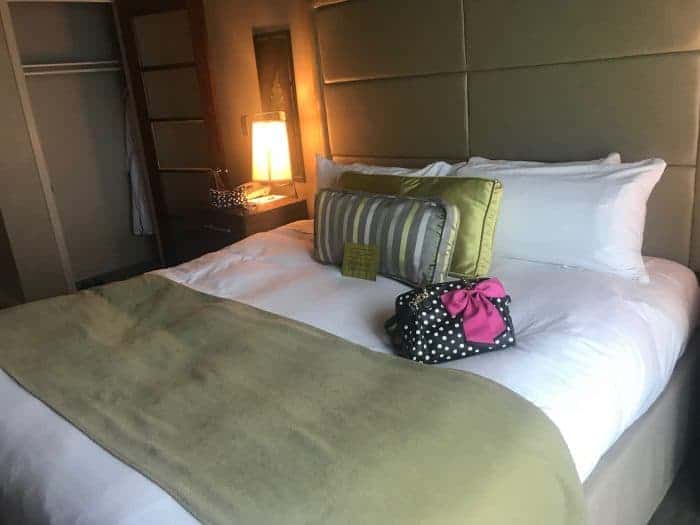 The Hockley Valley Resort room amenities included a bar fridge, Keurig coffee and tea machine and a King sized bed which we found delightfully comfortable.
I also enjoyed seeing the eco initiatives such as organic, paraben free and minimally fragranced toiletries in the bathroom. Recycling receptacles are also available. I wish all hotels would provide recycling bins.
Hockley Valley Resort Restaurants
There are several restaurants at the resort – Babbo Wine Bar & Lounge, R85 with views of the slopes available for the very popular breakfast buffet (and corporate lunches) and the fine dining restaurant, cabin. It was named cabin as a nod to the first structure on the property, a log cabin. A la carte dining is also available in the Spa at Oasis Café and Babbo Lobby Lounge.
In addition to the fabulous Adamo wines, their extensive wine list features Ontario wines from the Niagara and Prince Edward County regions.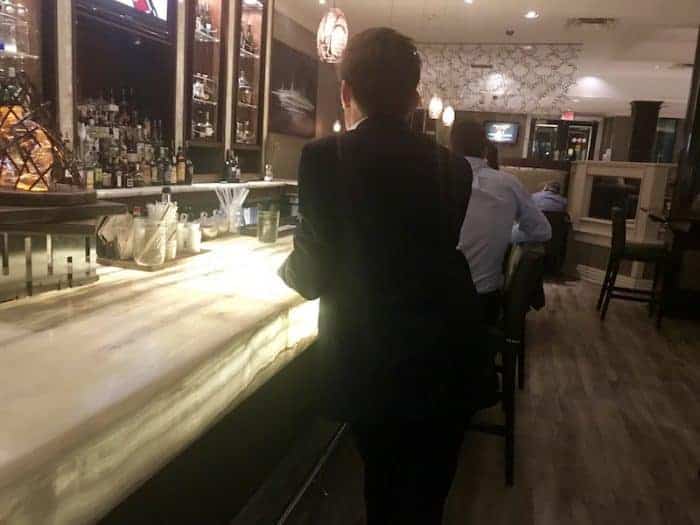 We're as into fashion just as much as food (maybe even more) so Arnie changed into a navy blue Ted Baker suit with champagne Cole Haan shoes with Tag Heuer Aquaracer watch.
I opted for a black and white Vince Camuto dress paired with a chunky vintage gold necklace and knee high Geox boots with a 4" heel (super comfortable due to the Vibram sole).
Meeting Chef Iniyan Vijay at cabin restaurant
Specializing in farm-to-table Italian inspired cuisine, the team at cabin is led by Chef Iniyan Vijay who trained under the former Chef John-Paul Adamo (son of Mario Adamo).
In the summer, cabin sources up to 80% of the produce from their in-house gardens as well as local farmers. All meats are locally sourced and grassfed. Chef Vijay is truly passionate about keeping his ingredients within a 100 kilometre radius.
Every March he holds a meeting with local farmers where he shares with them the ingredients he wants to work with, menu planning is a truly collaborative experience.
The à-la-carte menu celebrates the best from local producers featuring fresh ingredients from Hockley Valley Resort's two-acre fruit and vegetable garden as well as seasonal preserves.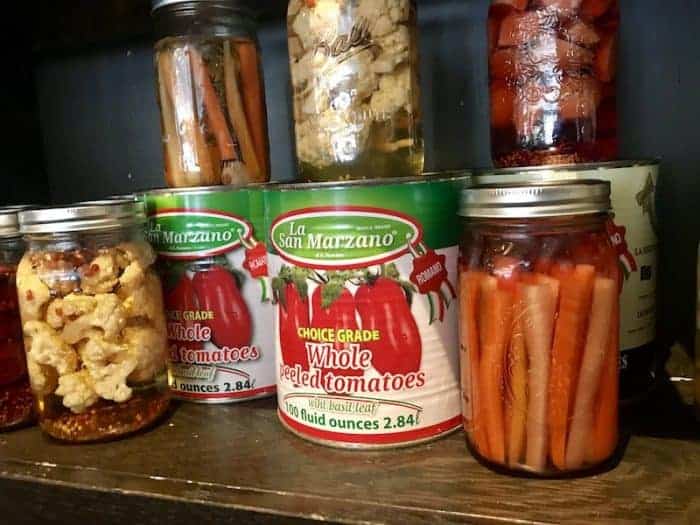 During the warmer months, Chef Vijay stops to chat with the in-house gardener each morning to see what is ready to be harvested that day. All cabin kitchen staff are required to spend at least 1 hour a week in the garden planting, or harvesting.
"If you don't get your hands dirty, you don't know what you're doing" he told us with a smile.
Menu at cabin, a Hockley Valley Resort Restaurant
We began our cabin culinary experience with bread from Hundred Acre Bakery, which is served with whipped butter as well as a chipotle-infused kidney bean spread that I vow I must attempt to recreate at home.
Next up were house-cut potato chips topped with shaved reggiano cheese, fresh chives and paired with truffle aioli. They were wonderfully light and seasoned perfectly, the earthy flavour of the truffle aioli making them truly addictive.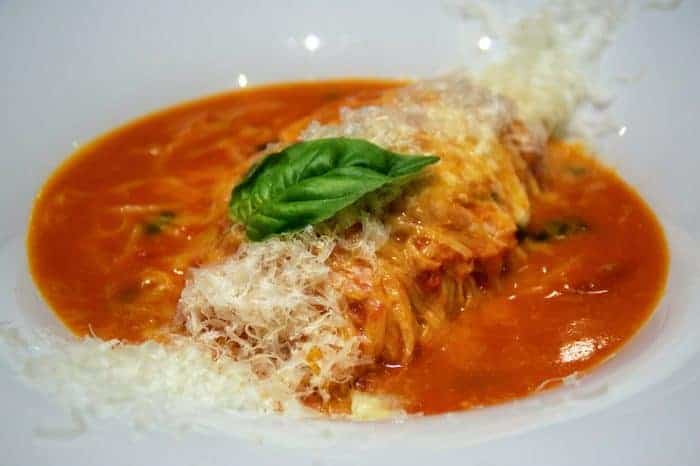 For a starter, I chose the Tuscan kale salad, tossed in a buttermilk dressing, brioche crouton, saba and grated reggiano. As a vegetarian, I've eaten my fair share of kale salads – this was hands-down the best one. The quick blanching of the kale removed all the typical toughness from the greens and the creamy buttermilk dressing made the greens sing with flavour.
We'd heard that one of the in-house specialties was homemade pasta, so Arnie ordered the ricotta gnocchi, with braised short rib, mushrooms, pan sauce and pecorino cheese. He proclaimed it "unforgettable". The mushrooms were from Fresh & Tasty Mushrooms in Amaranth (you can try them yourself at The Stop's & The Evergreen Brickworks Farmers Markets).
I chose the Vegetarian Plate – 5 tastes from the Chef's choice. So often I find the vegetarian options to be an afterthought at restaurants – this wasn't the case here. A fresh shaved fennel, onion and olive salad drizzled with Adamo Estates Olive Oil from Italy, couscous with roasted brussel sprouts, bruschetta with ricotta and roasted grapes, and perfectly cooked asparagus topped with shaved almonds – it was a vegetarian's dream meal I could eat every day. Even "meatatarian" Arnie was eyeing it approvingly.
Worth noting, our server Raj was attentive, with a perfect pace of service and checked in at the beginning of our meal to inquire about any dietary restrictions. Having worked at Hockley for 13 years, he clearly knows what he's doing. They can accommodate gluten free, dairy free, low sodium, and low cholesterol diets. There is something for everyone at cabin and I'd agree with the OpenTable users who awarded cabin their Diners Choice Award 2018.
After our dinner we retired to our king size bed and slept off our food comas – we loved how quiet the resort was. It must be the friendly reminder to guests when we checked in "to please keep volume to a minimum after 11 pm".
In the morning, we drank a quick coffee (whitener is provided in the room, but you can request cream or milk at the front desk which we did) and headed down to restaurant 85 which offers both a popular breakfast buffet and a la-carte breakfast and lunch option.
I'd read rave reviews about the buffet which includes frittatas, potatoes, pancakes/french toast, cereals, fresh fruit, smoked salmon, fresh pastries, with plenty of gluten free, vegetarian and kid friendly options. You can tell they take pride in using high quality ingredients not just in the fine dining restaurants, but also in the buffet.
Hockley Valley Resort Spa
While Arnie leisurely sipped his coffee, I ate my delicious bagel with smoked salmon and capers in record time to make my morning spa appointment. My Just For You facial was customized to my skin type (unfortunately acne prone, and sensitive) followed up with an Oxygen Ageless treatment that I found invigorating.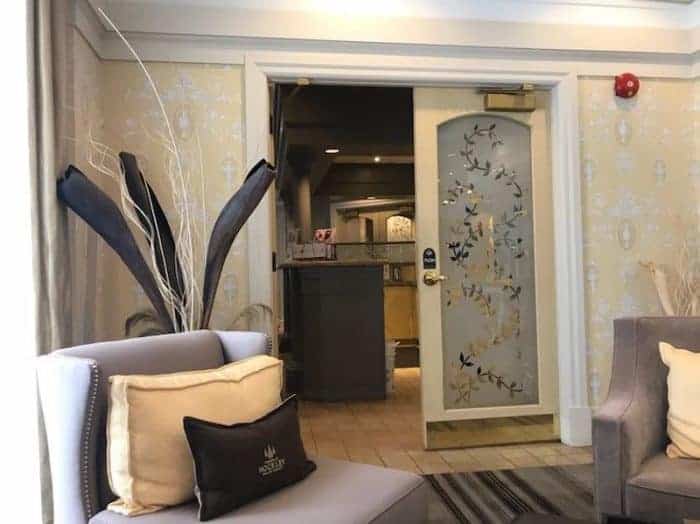 I really enjoyed the luzern and naturpathica products used my treatment. Typically my sensitive skin is red and irritated by facials, I was surprised to see it was positively glowing as I sauntered out of the spa. I was so tranquil after my treatment, I had to ask for a late check out (thank you front desk!).
Arnie and I adored our stay at Hockley Valley Resort and we both vowed to return to this romantic, relaxing resort again soon.
We think it's a great quick getaway for couples, families, foodies or any stressed out Torontonians who need to unwind from the big city.
Disclosure: The author was hosted by Hockley Valley Resorts. However, as always our opinions are our own honest opinions. All of the writers at A Taste for Travel only recommend properties and experiences we believe our readers will enjoy.
Hockley Valley Travel Guide
Hockley Valley Resort: This year-round destination resort is located 45 minutes to one hour north of Toronto, in the heart of a valley with picturesque rolling hills. It features 104 luxury rooms and suites, 14 meeting rooms and an 8,000 sq.ft. full-service spa. The resort is home to a championship 18-hole golf course as well as Hockley Valley Ski Resort with 15 scenic ski and snowboard runs for all levels. Cabin is the signature restaurant at Hockley Valley Resort. You can also contact them at 1-866-HOCKLEY (462-5539) Follow them @HockleyVResort #cabinfoodies
Hockley Valley Resort Deals: Check for details on their Fantastic Fridays, a promo from April 1-August 31st featuring one-night accommodation, a 3-course meal, full buffet breakfast and a spa credit.
How to get to Hockley Valley Resort: Driving from Toronto to Hockley Valley Resort should take you less than one hour. It's located just north of Orangeville near Mono Cliffs Provincial Park.
York Durham Headwaters Tourism: 45 minutes from the GTA, the York Durham Headwaters Region is a convenient destination for a weekend getaway with a range of spas, resorts and culinary experiences to choose from. #visitydh #DiscoverOn
---
YOU MIGHT ALSO ENJOY:
The Food-lovers Guide to Muskoka
Warming up to Winter at the Niagara Icewine Festival
All Aboard Ontario's Cheese Train
5 Things To Do When Visiting Toronto
Top Things to Do in the Kawarthas
Pin it for later!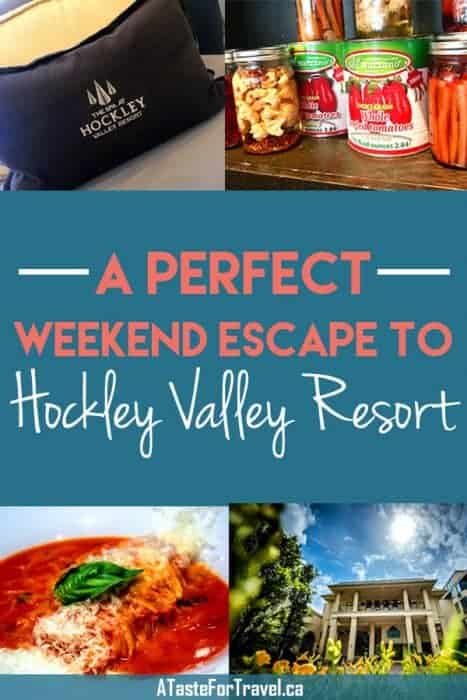 Heather Koroluk is a Toronto-based freelance travel writer and photographer who enjoys exploring and showcasing the world of luxury travel, gastronomy, outdoor adventure, wellness and high-end fashion. Her print work has appeared in Canadian World Traveller and Taste & Travel International magazines.
Learn more about Heather Koroluk.