We may earn income from affiliate advertising links in this post.
This standout pizza featuring beer pizza dough is summer at its very best! Just grab some fresh basil, a craft beer, some regular flour, instant yeast, a can of tomatoes and whatever fresh veggies are ripe in your garden or local Farmers Market and you'll be ready to create a delicious artisanal pizza.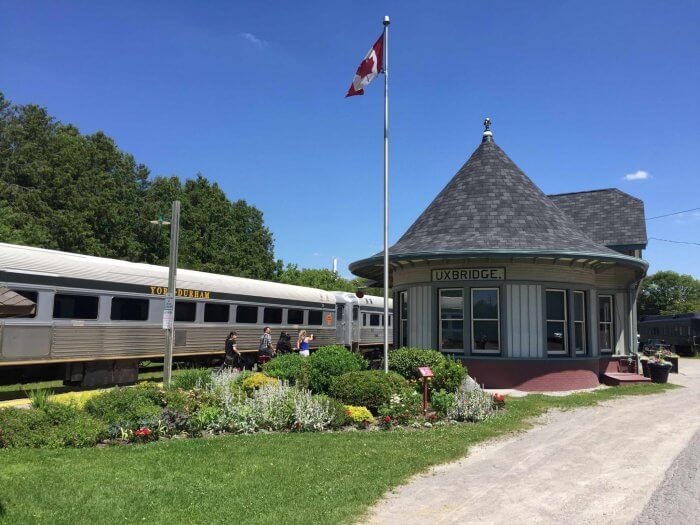 Perfectly thin and crispy with blistered edges, this beer pizza dough will instantly transport you to the Testaccio neighbourhood of Rome, Italy. Or to Uxbridge, Ontario which is where I arrived after being invited to experience the York-Durham Heritage Railway's Boxcars & Beer Train hosted by fromager Cecilia Smith and brewery owner/certified beer judge Joanne Richter, who led guests through five pairings of artisanal Ontario cheeses and craft beer.
Update: In 2018, the Boxcar & Beers Cheese train is no longer being offered but it's still possible to the York-Durham Heritage Railway's journey to local brewery The Second Wedge Brewing Company.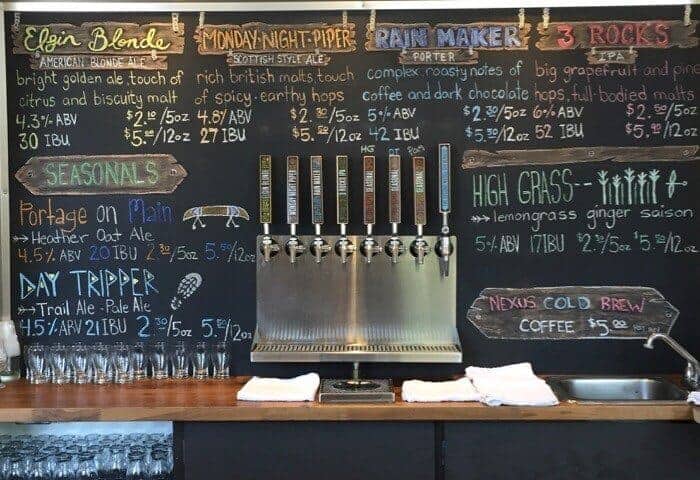 Keep a lookout for oh-so-delicious Providence cheese from Montforte Dairy, a Cheddar with big tang that had all of us swooning. This cheese is so popular it's apparently sold-out everywhere else. Other delicious Ontario cheeses include an Oxford Harvest washed rind from Gunn's Hill, Woodstock and an Albert's Leap Brie from Vaughn.
In addition to the fabulous views of the Oak Ridges Moraine along the route, one of the highlights of the York-Durham Heritage Railway is that mid-excursion you deboard in historic Uxbridge.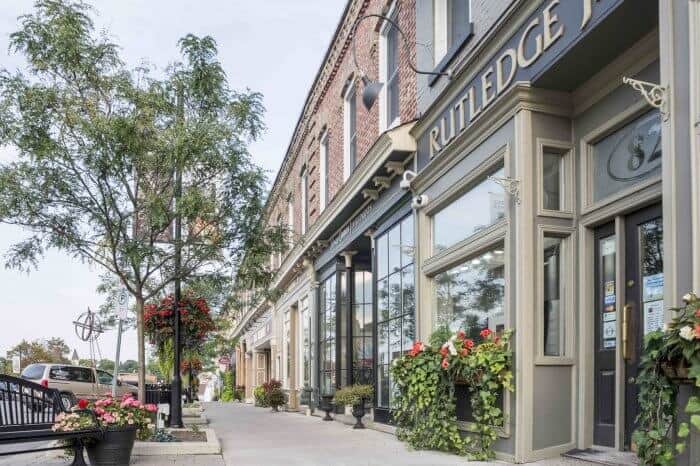 This means you have the opportunity to explore the Second Wedge Brewing Co., The Passionate Cook's Essentials shop, the Uxbridge Farmers' Market or other interesting locales within Uxbridge.
During our visit, we enjoyed a cooking class hosted by Lisa Hutchinson, the Chef/Owner of the Passionate Cook's Essentials and Bistro in the heart of historic Uxbridge. She whipped up a Brie pizza in the open kitchen and generously shared her recipe for Lisa's Dynamite Beer Pizza Dough as well as a few insider tips.
Her first tip was to use San Marzano canned tomatoes for making the sauce. I found my can of San Marzano tomatoes at Maselli's, a family-run Italian food store on the Danforth. This variety of plum tomato, the tomato of choice for pizza makers, hails from the Sarno River valley near Mount Vesuvius and is sweeter, meatier and has less seeds than other varieties of tomatoes. They are absolutely worth the extra money.
Lisa's second tip was to use a pizza stone for baking your pizza. I invested in a 14-inch Emile Henry pizza stone from France. While slightly more expensive than other brands, it offers the advantages of being lighter, dishwasher-safe and scratch resistant.
I was thrilled with how my thin-crust beer pizza dough turned out: perfectly crispy on the bottom yet light and airy on top. For the crust, I'd originally planned to use Monday Night Piper, a Scottish-style ale from the Second Wedge Brewing Co. but alas my bottle of that delicious craft beer disappeared within a few days of arriving home from Uxbridge — enjoyed on our back patio one sunny afternoon.
Beer Pizza Dough
So, I substituted a Major Small session ale brewed by Muddy York Brewing Company. With 30 IBUs, this craft beer is brewed using earthy hops and biscuity malts which added a depth of flavour to the crust. I think it also added a bit of lift as the crust rose beautifully.
Here's the recipe for Lisa's Dynamite Pizza for you to try at home! It's sure to be your summer go-to pizza recipe. If you'd like to make homemade pizza in a hurry, here's a handy recipe for making pizza with store-bought pizza dough.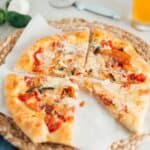 Brie, Beer and Basil Summer Pizza
An easy, fresh as summer pizza featuring a crispy craft beer crust
Keyword:
homemade pizza crust, summer
Ingredients
28

ounces

San Marzano tomatoes

825 ml

2

Tablespoons

olive oil

1

Tablespoon

salt

15 ml

2

cloves

garlic minced

2

teaspoons

dried oregano

10 ml
For the Dough
2 ½

cups

white flour

625 ml

2

teaspoons

instant yeast

10 ml

1

teaspoon

salt

5 ml

1

Tablespoon

sugar

15 ml

1

cup

very hot craft beer (not too hot or you will kill the yeast)

250 ml

2

Tablespoons

olive oil

30 ml
Toppings
Nduja

this is a spreadable pork salami but I substituted slices of dry, spicy salami

Brie

Parmesan

Fresh basil
For the traditional Marguerita pizza, use tomato sauce, buffalo mozzarella, fresh basil and finish with a sprinkling of Parmigiano-Reggiano
Instructions
In a bowl add tomatoes and using a spoon or your hands, squish the tomatoes so they are almost crushed but still have meaty pieces intact.

Add the rest of the ingredients and set aside for the flavours to develop while you are making the dough. Note: The sauce is enough for 4 pizzas

Place a pizza stone 8 inches (20 cm) from the broiler and heat for 30 minutes at 500°F (260°C).

Then turn to broil and heat for 10 minutes.

Place yeast, sugar and beer in a bowl and mix together, let sit until it starts to foam about 5 mins.

Mix flour and salt together, then stir in beer mixture and olive oil.

Mix together until the dough forms a nice ball. Turn out onto a floured surface and knead a few times until you have a smooth ball that isn't sticky

After making the dough, divide the dough in half, coat with olive oil and and then let rise covered with a clean cloth for about an hour

Place dough on floured surface and roll out to your desired thinness.

Transfer to a pizza peel and add sauce and toppings.

Using a quick, jerking motion, transfer the pizza onto the pizza stone.

Broil 3 to 4 minutes until crust and toppings are golden and slightly charred.
Nutrition Facts
Brie, Beer and Basil Summer Pizza
Amount Per Serving
Calories 355
Calories from Fat 90
% Daily Value*
Fat 10g15%
Sodium 1730mg75%
Potassium 500mg14%
Carbohydrates 55g18%
Protein 9g18%
Vitamin A 295IU6%
Vitamin C 12.5mg15%
Calcium 65mg7%
Iron 4.5mg25%
* Percent Daily Values are based on a 2000 calorie diet.
Travel Planner
The Passionate Cook Essentials and Bistro: This fascinating kitchen supply shop, cooking school and bistro is a must-visit for every food lover. One of the classes I'd love to sign up for is the Spanish Tapas and Paella Class, a veritable feast. Visit the Passionate Cook website for a list of classes, hours of operation, recipes and cooking tips. It is located at 68 Brock St W Uxbridge Ontario 905-862-3359
York-Durham Heritage Railway: The York-Durham Heritage Railway is a 1950s heritage excursion train operating along a 20-kilometre route between the towns of Stouffville and Uxbridge, home to the Second Wedge Brewing Co. and The Passionate Cooks Essentials. Autumn tours available include Sunday and Saturday Fall Colours tours (with long and short duration options) as well as a special Halloween train.
Urban Pantry Restaurant A trendy eatery, featuring organic and locally-sourced cuisine, in the heart of town. Be sure to try their wilted Uxbridge greens with Boursin on a crostini with cranberries and almonds.
The Second Wedge Brewing Co. This craft brewery, complete with landscaped beer garden, is located at 14 Victoria Street a short walk from the Uxbridge train station. 905-852-3232
Ontario Tourism: Discover more culinary adventures, maps, accommodation advice and more on the official Ontario Tourism marketing website.
Discover Uxbridge: You're going to be tempted to move to Uxbridge, known as the Trail Capital of Canada, once you've sampled its culinary offerings.

Other posts you might enjoy featuring Ontario culinary experiences and beer include:
21 Amazing Things to Do in Kawartha Lakes This Summer
Agate Beach and other Thunder Bay Adventures
5 Things Every Visitor to Toronto Must Do
Old Flame Beer and Balsamic Steak Marinade
Easy Beer, Bacon and Cheese Dip