We may earn income from links in this post. Please read this Disclosure for details.
While Portugal is famous for its stunning natural landscapes, historic architecture and warm hospitality, the depth and diversity of traditional Portuguese food and drink make it an extra special country to visit.
Tucked in the southwest of Europe with a long coastline and fertile fields, Portugal relies on fresh seafood and seasonal produce as the staples of its cuisine.
But as I've learned–while eating and drinking my way around Portugal for the past four years–its cuisine is surprisingly diverse!
Not only is it influenced by Mediterranean and Arabic gastronomy but it boasts a rich legacy of African, Asian and South American spices and cooking techniques brought back by 15th century maritime explorers.
Whether you're visiting São Miguel in the beautiful Azores Islands, shopping for authentic Portuguese souvenirs in Lisbon or visiting a centuries old port wine cellar in Porto, or basking on a beach along the Algarve coast, you're going to see a lot of enticing food and drink!
To make it easier for you to decide what to eat, I've compiled this guide to the very best Portuguese dishes and drinks to try when visiting Portugal!
I've also shared some insider tips on the best places to find authentic Portuguese cuisine.
1. Bacalhau – Salted and Dried Codfish
Considered the national dish of Portugal, Portugal's culinary repertoire boasts more than a thousand bacalhau recipes! You will fall in love with salted cod because of the delicious flavour it develops due to the salting and drying process.
When travelling through Spain and Portugal, you're sure to encounter salt cod on just about any traditional menu.
In Portugal, the most common recipe is bacalhau à lagareiro, served with roasted or grilled potatoes and red bell peppers.
Another favourite is bacalhau à gomes de sá which is shredded cod served with caramelized onions, boiled eggs, potatoes, and olives. The sweet olive oil counterbalances the saltiness of the dish in mouthwatering perfection.
Another favourite traditional Portuguese dish, pataniscas de bacalhau, is simply cod fritters served with vegetables and eggs. Although there are many tempting salt cod recipes and dishes to choose from, you definitely need to try this dish on your next visit.
Where to enjoy the best bacalhau in Portugal: Enjoy the most memorable bacalhau meals at Oxalá restaurant in the city of Ovar. Other restaurants that serve fine versions of salt cod include A Casa do Bacalhau, Laurentina and o Rei do Bacalhau, both located in Lisbon.
Salted cod also goes upscale! It's such a popular food in Porto you'll even discover it served in inventive ways in the city's Michelin-starred restaurants.
Pro Tip: Make some salt cod stew at home with our recipe for Bacalao a la Vizcaina!
2. Caldo Verde Soup – The Ultimate Portuguese Soup
It's no secret, the Portuguese love their soups! But there's one soup that stands out above all the rest. Caldo verde means "green broth" and the popular Portuguese soup gets its green colour from its main ingredient, kale.
The dish originated in northern Portugal but is a firm favourite across the country. Thus, caldo verde is very much a staple during the country's feasts.
It's often served with mashed potato and Portuguese smoked sausage, chouriço, or linguica for a healthy and hearty meal.
Where to enjoy the best caldo verde soup in Portugal: You can find this soul-enriching soup at any tasca (local tavern) where you'll often find incredible value for money when it comes to traditional Portuguese meals.
You can even find Caldo Verde soup served at the shopping mecca El Cortes Ingles, a Lisbon hidden gem when it comes to gourmet and traditional food.
Ask about the 'Prato do Dia', the dish of the day or even the 'Menu do Dia', the menu of the day.
The menu combo often includes a soup as a starter, a main meal, a drink, and an espresso shot to round off. Often at under €10!
3. Pastéis de Nata Pastry – The Most Famous Portuguese Dessert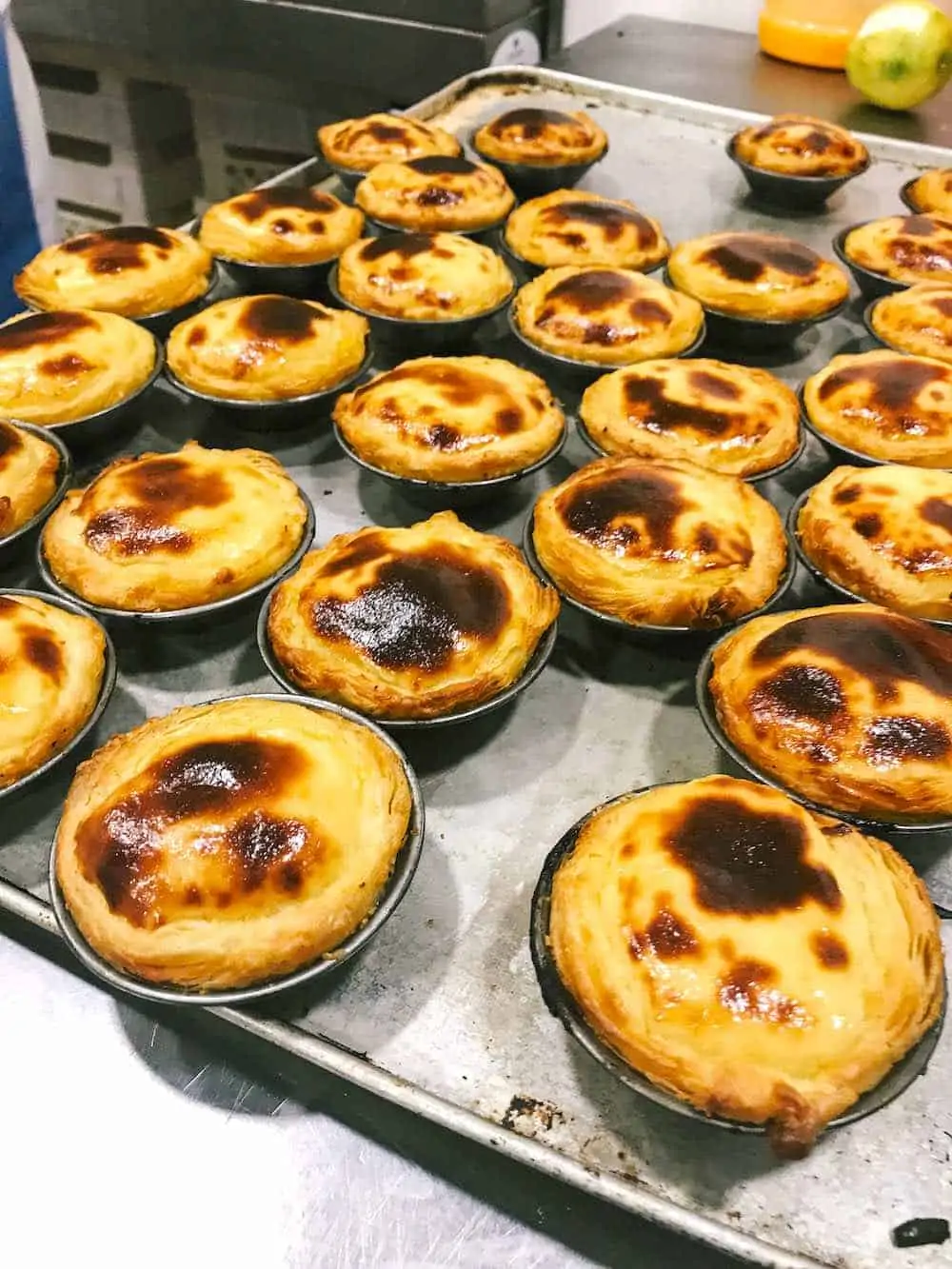 If you have a sweet tooth, one Portuguese food you don't want to miss is pastéis de nata. This delectable egg yolk custard pastry is made by stuffing yellow egg yolk custard inside a crunchy puff pastry tartlet.
The pint-size egg custard tart is beloved for its sugary and creamy texture with a dash of lemon zest. The golden pastry is usually showered with powdered sugar and cinnamon and can be enjoyed at any time of the day.
This is indeed a heavenly treat for any foodie and can be enjoyed with coffee.
Where to enjoy the best Pasteis de Nata pastry in Portugal: Pastéis de Belém bakery is a popular spot to try this pastry. They've been making the pastry since 1837 in Lisbon, after having bought the 'secret' recipe from the monks at a nearby monastery..
Insider Tip: Pastéis de Belém attracts long queues of tourists wanting to get their hands on these tasty treats. A great alternative is to head to the Manteigaria chain of stores found throughout Lisbon and Porto. Their pastéis de nata are equally delectable and will save you tons of time queuing unnecessarily.
Subscribe to the free A Taste for Travel newsletter and get 15% off Eating Europe's
Lisbon Food Tour of Essential Alfamba
, a 3-hour culinary walking tour that includes s stop for pasteis de nata, homemade ginjinha (cherry liqueur) and more!
4. Bolo Rei – Traditional Portuguese Christmas Cake
Bolo-Rei, translated as the Kings Cake, is a traditional Portuguese cake that you should certainly not miss out on. The popular Christmas cake made its way into Portugal during the 19th century, said to have originated from France.
It is impossible to ignore the gorgeous and delicious cake with crystallized fruits, dried fruits, and nuts when you enter a Portuguese pastry shop. Portuguese never forget to enjoy the staple Portuguese dessert that is traditionally prepared during Christmas, and the famous cake is certainly the King of the family table.
Enjoy a slice of your preferred Portuguese Christmas cake and wash it down with a hot spiced Christmas tea while you're at it.
Where to enjoy the best bolo rei in Portugal: Your trip to Portugal wouldn't be complete without tasting the Bolo Rei, and you can enjoy the best Bolo Rei at Confeitaria Nacional, the pastry shop responsible for having brought the Bolo Rei over from France back in 1872.
Insider Tip: If you have less of a sweet tooth you may want to opt for the Bolo da Rainha, the Queens Cake, version. This traditional Portuguese cake is less sweet and replaces the crystalized fruits with walnuts, almonds and hazelnuts.
5. Sardinhas Assadas – Grilled and Charred Sardines
Sardinhas Assadas is a popular comfort food in Portugal. It's a major attraction during the many fall festivals that take place in Lisbon in October.
Even if you're not a fan of canned sardines, you'll love this dish! Grilled sardines are cooked over an open-fire and simply seasoned with coarse sea salt, olive oil, and vinegar.
It's impossible to resist a platter of freshly grilled meaty sardines with its smoky and charred flavours, especially during summertime.
You'll find them crispy on the outside and wonderfully soft and flaky on the inside. This traditional dish is served with bell peppers, onion, tomato, and lettuce. It's generally washed down with a beer or your favourite glass of Portuguese wine.
Where to enjoy the best sardinhas assadas in Portugal: You can enjoy the grilled and smoky sardines at most restaurants throughout the country. If you're visiting Lisbon during the month of June, then you'll be bombarded with the incredible smell of barbecued sardines at the Santos festival.
Head to the neighbourhood of Alfama, where the streets are lined with partygoers and vendors sell all sorts of Portuguese fare, especially Sardinhas to festival goers.
Editor's Note: The Alfama neighbourhood also happens to be a great spot to pick up tinned sardines in Lisbon, another popular food in Portugal.
6. Bifanas – Classic Pork Sandwiches of Portugal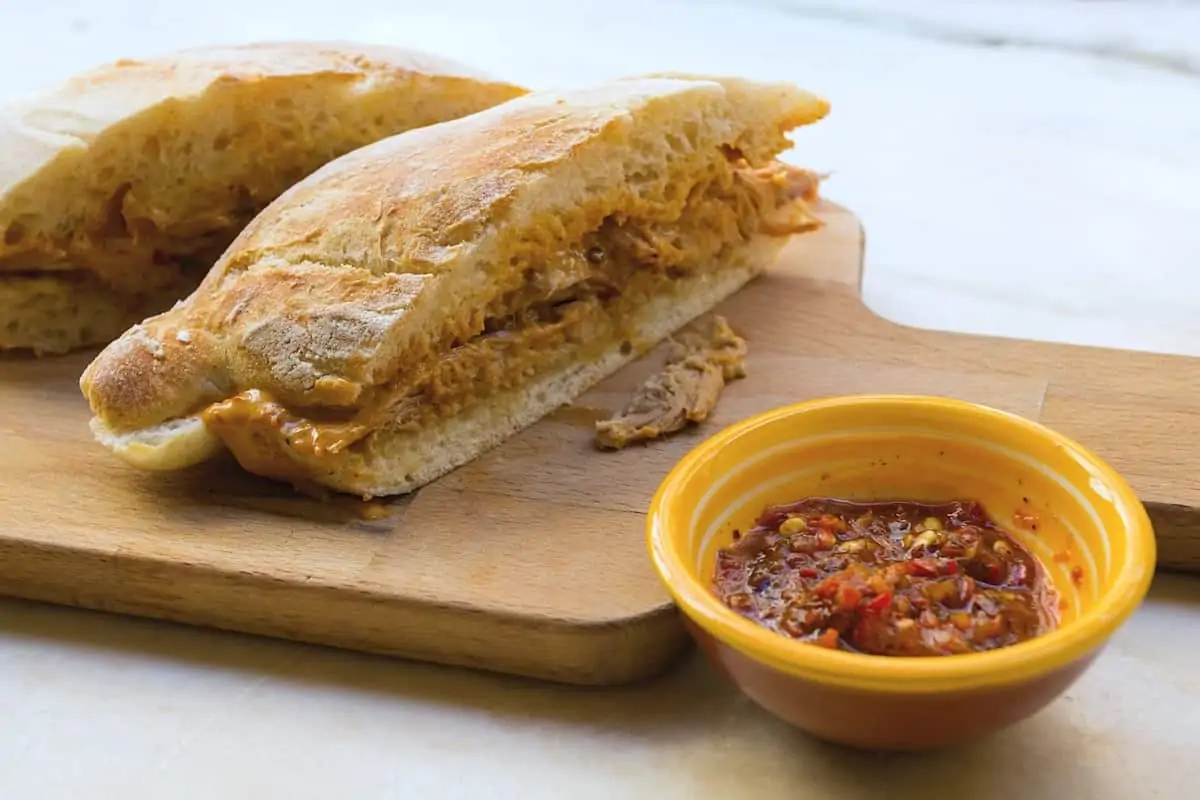 Culinary travellers won't want to miss sampling bifanas–Portuguese pork sandwiches–a favourite with both locals and tourists alike.
The sandwiches are prepared from thinly-sliced pork, marinated in a mix of garlic and white wine. It's then tucked within a sauce-soaked crusty bread with a pillowy soft interior.
Where to enjoy the best bifana in Portugal: Finding the best bifana is indeed worth it, and you can certainly enjoy them at Vendas Novas, which hosts an annual Bifanas festival.
Another option is Café Beira Gare in Lisbon. They're known for serving juicy bifanas packed with flavour.
7. Amêijoas à Bolhão Pato – Flavoursome Clams in Olive Oil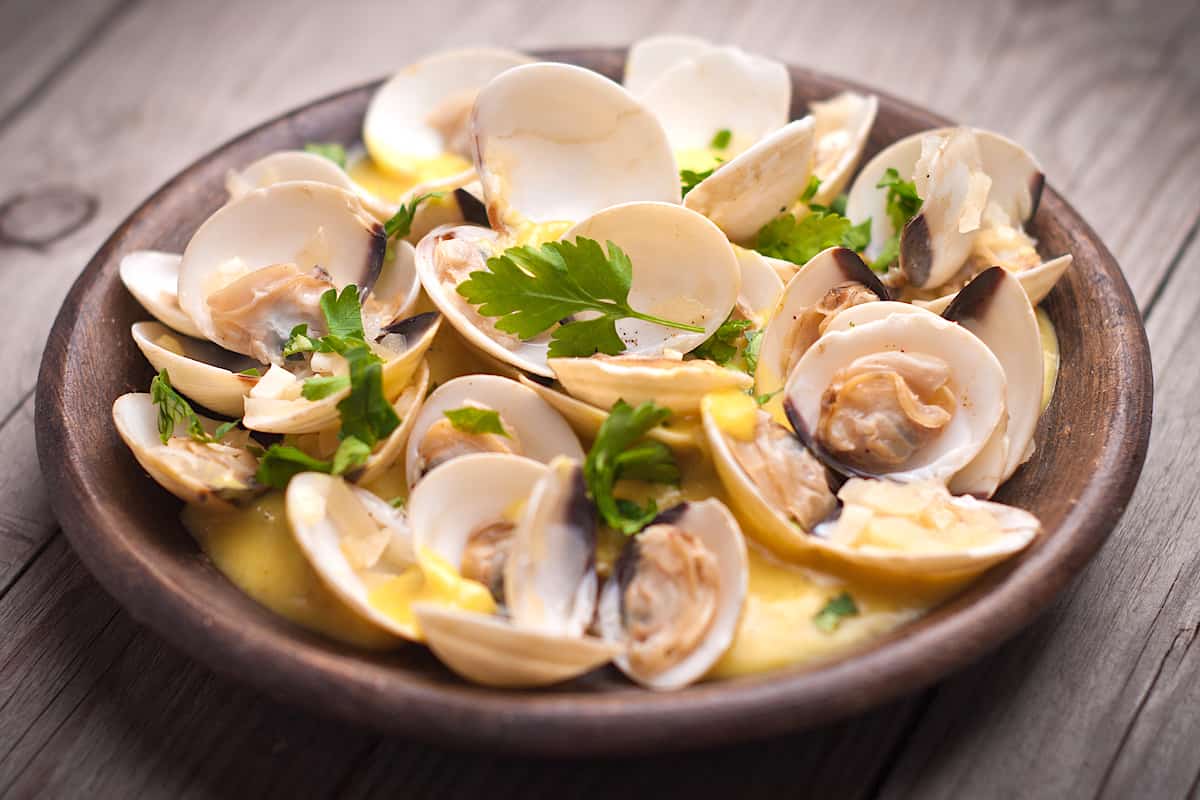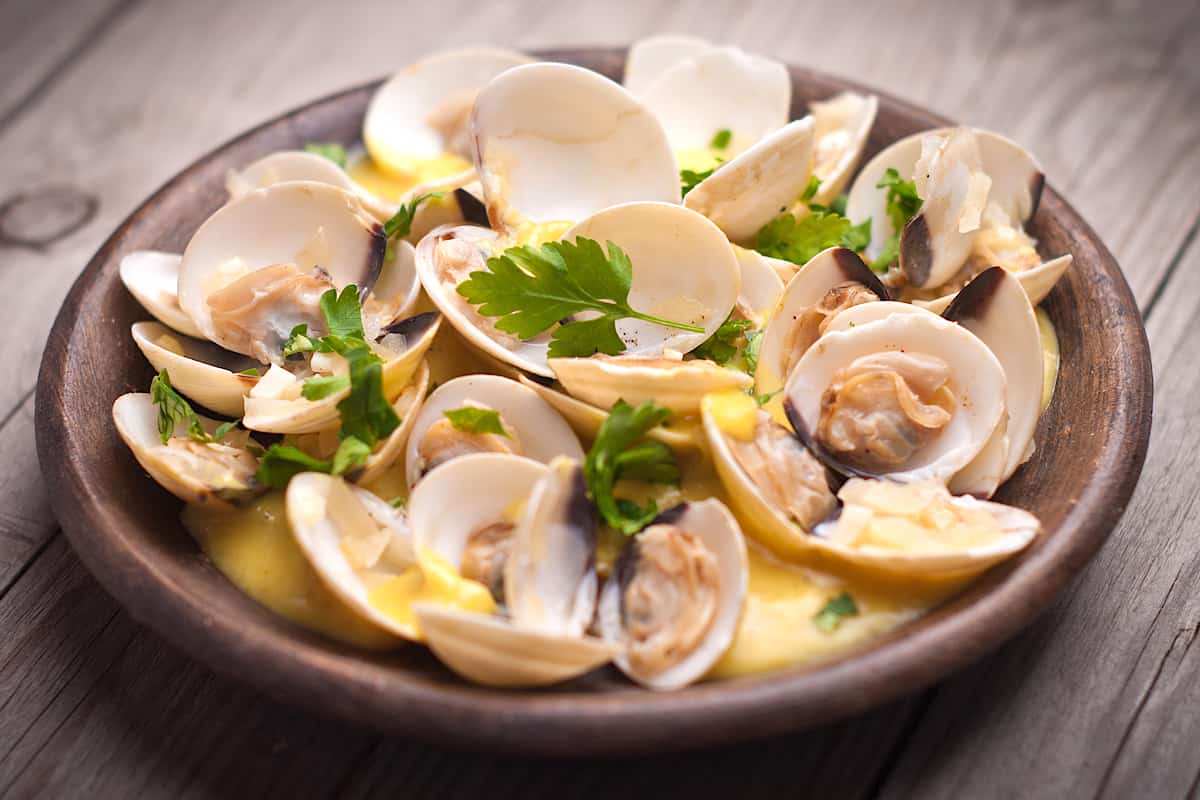 Another traditional Portuguese food you don't want to miss is amêijoas à bolhao pato. It's one of the most beloved appetizers in Portugal. The majority of Portugal's clam supply originates in the Algarve region, known for its incredible beaches and stunning golden cliffs.
In this recipe, the amêijoas are submerged in a thick olive oil sauce. They're served in a steaming pot and can be enjoyed as a starter or delicacy in between. Prepared with olive oil and seasoned with salt, pepper and fresh lemon juice, it's also a delicious side to your main meal.
Where to enjoy the best amêijoas à bolhão pato in Portugal: Pinoquio in Lisbon serves some of the best Amêijoas à Bolhao Pato. Restaurante Castelejo in Vila Do Bispo is another amazing location to enjoy this dish at.
Be sure to head there in time to catch one of the glorious sunsets too!
8. Açorda de Marisco – Traditional Bread and Seafood Stew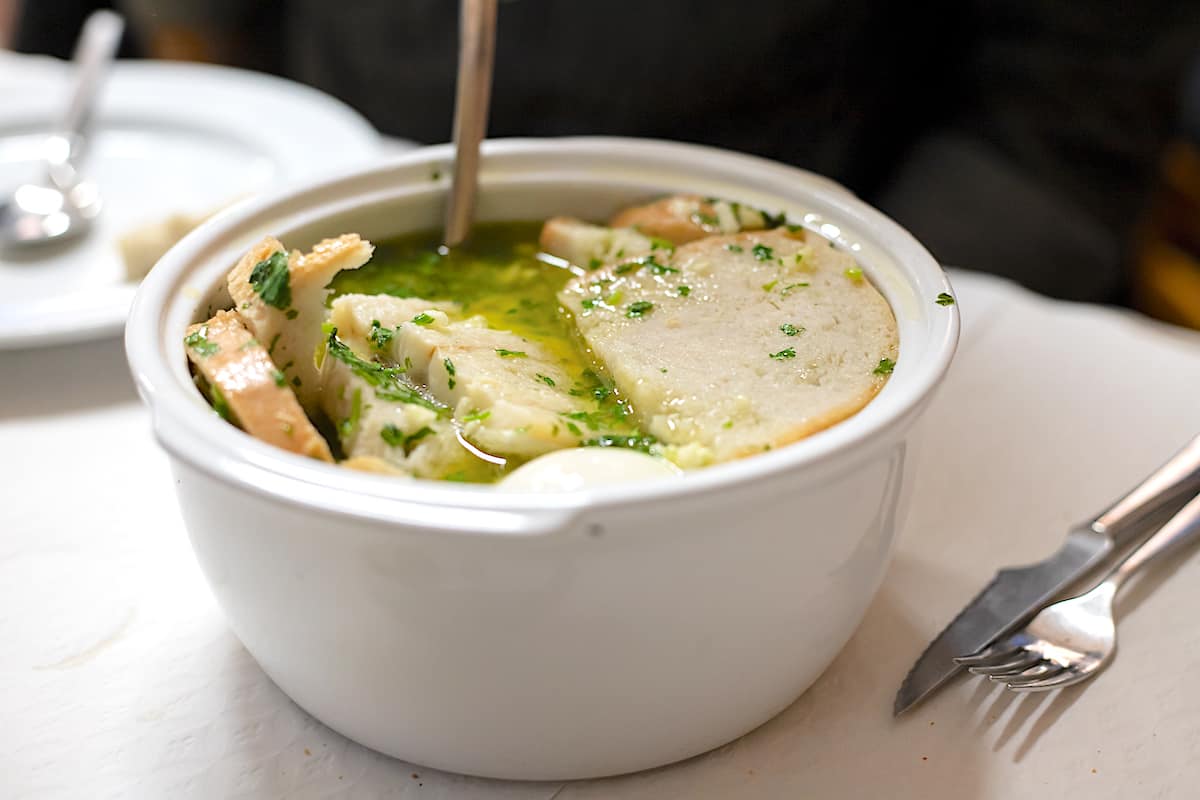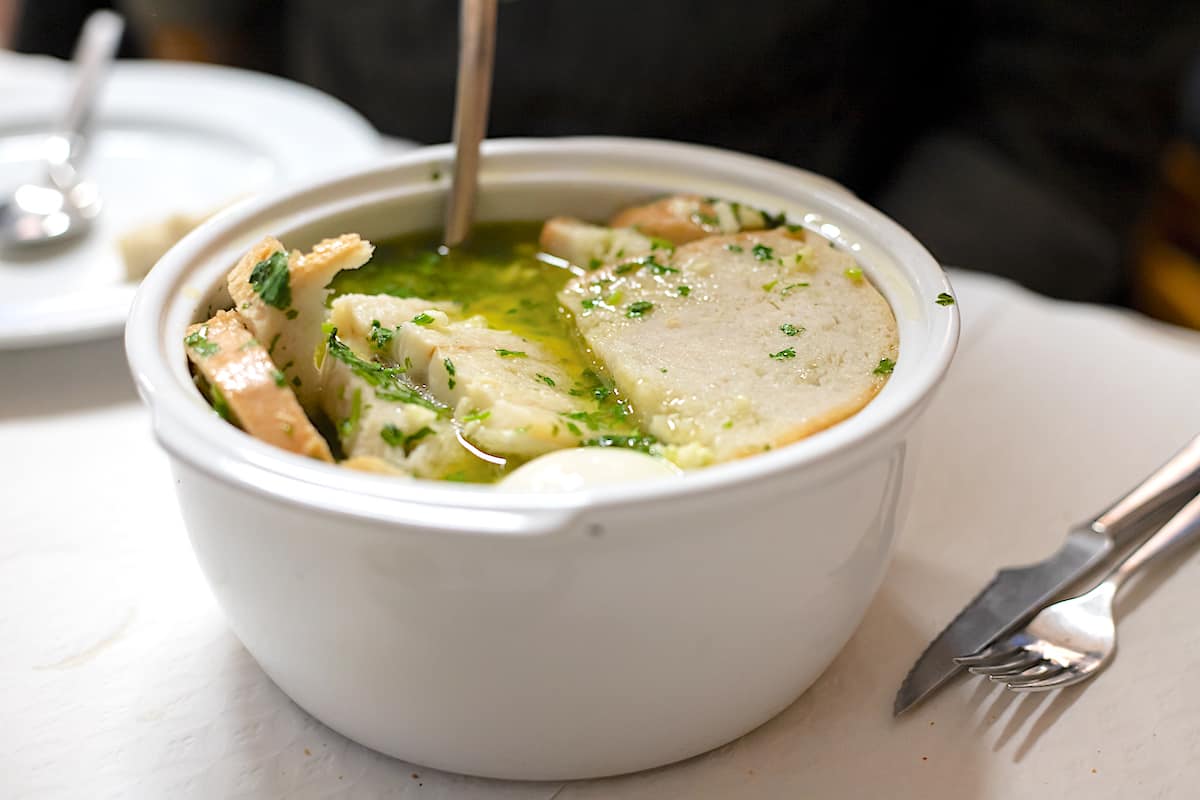 This rustic countryside dish originates from the Alentejo region of Portugal and is likely of Arabic origin. It's made by mashing bread with garlic, coriander, vinegar and olive oil in a seafood broth. It comes topped with poached eggs.
Recipes for this traditional Portuguese food may vary according to the region. Locals–mainly farm labourers–customized the dish with other cheap ingredients based on their needs.
Along the coast, shrimp and other seafood are often added to the recipe, making a hearty seafood stew.
Where to enjoy the best açorda de marisco in Portugal: Food critics suggest names like Tasca do Celso, Tasca da Esquina, Esplanada Marisqueira "A Antiga", Pap'Açôrda and Restaurante 1/4 P'rás 9 to enjoy the best açorda.
9. Port Wine – Portuguese Fortified Wine
Portugal's port wine is well known and exported around the world. In the North, the Douro Valley region makes wonderful fortified port wine in several varieties. Touriga grapes are the most desirable in producing port wine.
For many, the strong flavours may seem overwhelming. But, you'll no doubt find the perfect variety for your palate on a port wine tasting tour. Try out varieties such as Tawny, Ruby, or even a White Port, a refreshing mixer as a Porto Tonico (port wine & tonic).
Where to enjoy the best port wine in Portugal: When visiting gorgeous Porto, be sure to stop at the Vila Nova de Gaia riverfront, home to several famous Port houses.
Or, head to Grahams, Ferreira, Calem, or even Porto Cruz for fabulous port wine tours and tastings!
10. Medronho – Portuguese 'Fire Water'
Made from medronho berries, aguardente de medronhos is a traditional Portuguese spirit that certainly packs a punch. While you can purchase these at supermarkets, most people in Portugal prepare the drink at their homes. They often use family recipes passed down from generation to generation.
With an alcohol proof of around 40%, it's not for the fainthearted! It's most often enjoyed as a shot after a meal in Portugal.
This traditional drink of Portugal is prepared from honey, cinnamon, lemon, and of course, medronho berries. It is increasingly popular in cocktails as well and the first choice for those living in the Algarve region.
Where to enjoy the best medronhos in Portugal: You can shop for medronho at the supermarket. Or enjoy it after a meal at most restaurants throughout Portugal.
Another option is to pay a visit to the Medronhos distilleries scattered throughout the Algarve region. Or head to the village of Monchique to enjoy the best variety and learn more about this feisty drink.
Other Traditional Portuguese Food and Drink to Try
While you'd need a lifetime to fully explore Portuguese cuisine, there are several more must-try foods and drinks worth adding to your bucket list.
Chouriço sausage, often served grilled or in a fava bean stew.
Feijoada, a hearty traditional stew featuring beans with beef and pork.
Cozido à portuguesa, a boiled meal of meat and vegetables. Considered one of the national dishes of Portugal, it varies considerably by region. For example, in the Azores, this unique dish is prepared by cooking the meat and vegetables underground using volcanic steam.
Portuguese rice pudding (arroz doce) is a close cousin to Mexican and Guatemalan arroz con leche but it has one important difference. It often contains lemon! How delicious is that?
A top traditional Portuguese drink to try is Madeira, a high-quality fortified wine.
Piri-piri chicken is popular throughout the world. It features the African bird's eye chili pepper married in wonderful perfection with citrus, paprika and other spices, salt and spirits.
Save to Pinterest!
About the Author
Born and raised in South Africa, Marco Santos from Travel-Boo, currently resides in sunny Lisbon, Portugal. With an absolute love for Europe, he's on a mission to rediscover his own Portuguese & European heritage along the way.
Marco shares his passion for exploring Spain, Portugal and Europe on his travel blog Travel-Boo. Keep up with his travels on Facebook, Pinterest, Twitter and Instagram.