We may earn income from links in this post. Please read this Disclosure for details.
Discover what to eat in Oaxaca, Mexico with this guide to the best traditional food in Oaxaca and the top places to find it.
While the state of Oaxaca is best known for its Day of the Dead celebrations, monumental Monte Alban archeological site and sunny beach towns such as Puerto Escondido, Mazunte and Huatulco, it's equally famous for its delicious Oaxacan cuisine.
In this list of the best Oaxaca food to try on a visit to Mexico's most enticing state, we'll provide insider tips on local tours, street food stalls, cooking classes and food markets.
And share the stories of the customs and people behind the dishes!
What is Oaxacan Cuisine?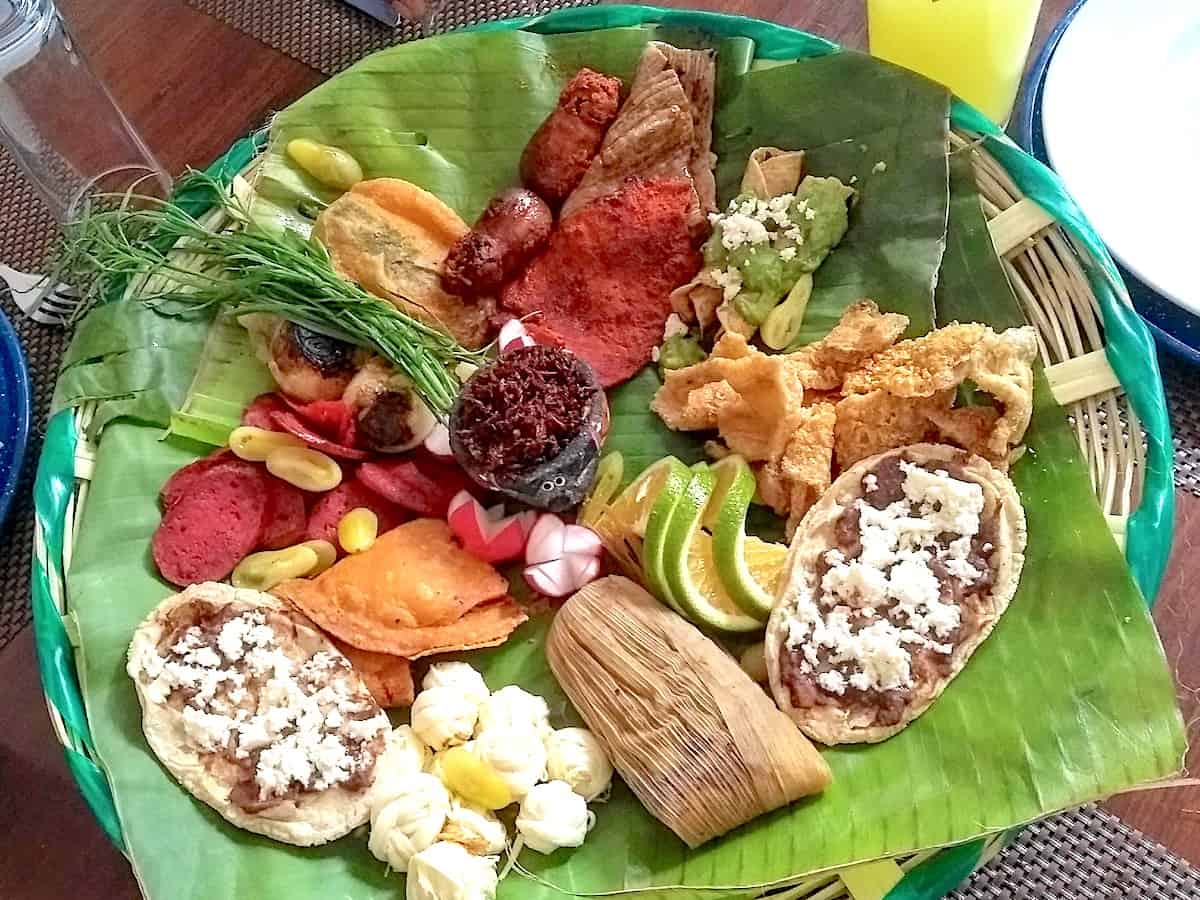 Traditional Mexican cuisine was recognized by UNESCO as an Intangible Cultural Heritage of Humanity in 2010.
Even among the famous cuisines of Michoacán, Puebla, Yucatán and other states of Mexico, Oaxacan food is distinct and diverse.
It's drawn from the deep cultural heritage of the Zapotec, Mixtec, Chatino, and other indigenous peoples as well as Spanish, African and Mestizo influences, ingredients and cooking techniques.
It's also shaped by geography. The State of Oaxaca encompasses the fertile slopes and valleys of the Sierra Madre Sur Mountains as well as Mexico's Pacific Coast.
Its offshore waters are world famous for fish such as mahi mahi, black marlin, tuna, sailfish and more.
This all adds up to a unique mix of delicious flavours and experiences!
Delicious Oaxacan Food You Should Not Miss
I've been exploring Oaxaca since 2003 while writing for Fodor's Guide to Oaxaca, Lonely Planet's Mexico from the Source and owning a home here.
But even after two decades of eating my way around the state, there's always something new to discover.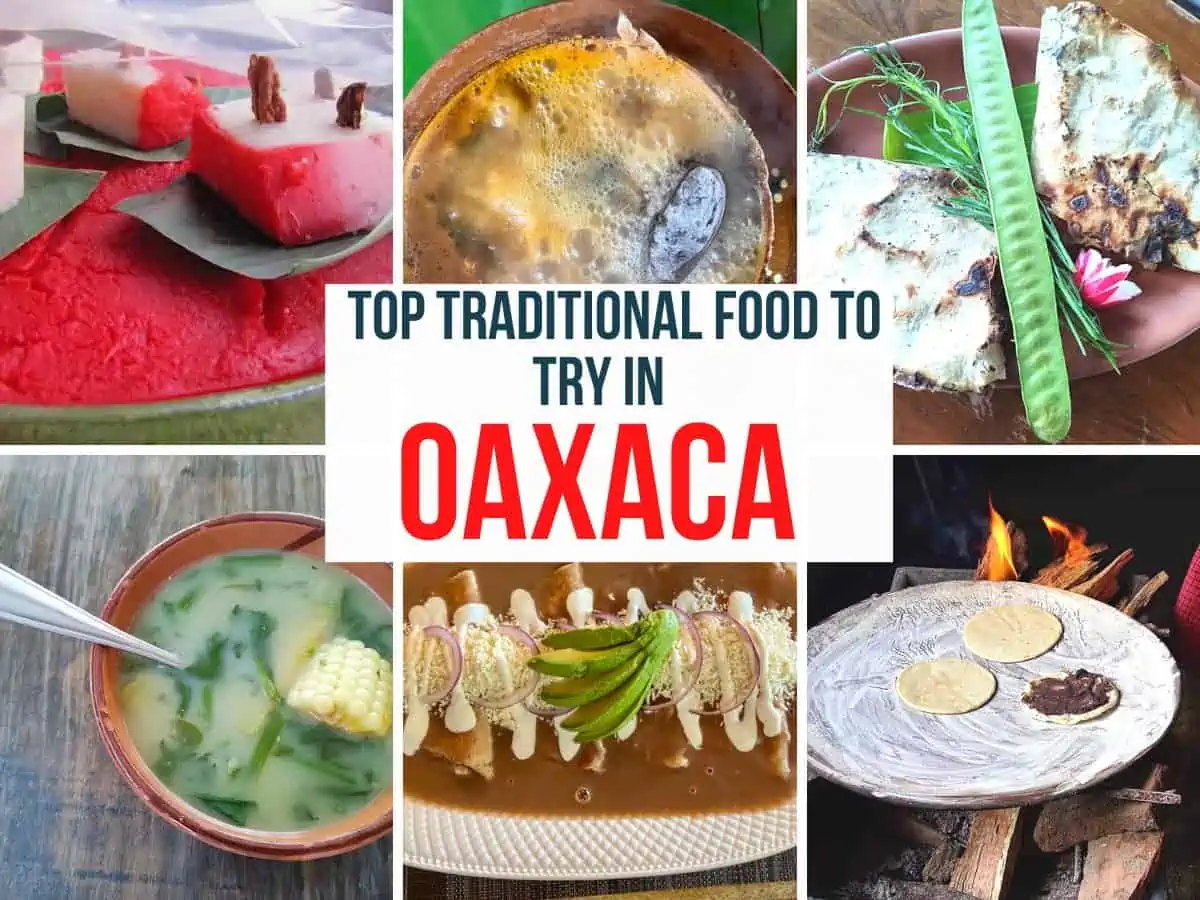 To help me compile the ultimate list of the best traditional Oaxacan food to try in Mexico's most delicious state, I called upon some local foodie experts.
In Puerto Escondido, Mexico-born Gina Machorro has been hosting small group culinary walking tours in Puerto Escondido for decades. She's passionate about ancestral farming and cooking methods.
Suzanne Barbezat in Oaxaca City also contributed her favourite dishes. Not only is she an award-winning author (Frida Kahlo at Home) but she's lived in Oaxaca City since 1997 where, along with her Mexico-born spouse, they operate Discover Oaxaca tours.
In this list of Oaxaca food to try, we share our favourite local tours, street food stalls, cooking classes and markets.
There's even a recipe or two. Buen provecho!
1. Barbacoa de Chivo (Goat Barbecue)
Barbacoa de chivo is one of the most popular Oaxacan dishes to enjoy on weekends and fiestas.
To make this dish, goat meat is bathed in a lightly-spiced sauce of tomato, onion, jalapeño pepper, onion and avocado. Then, it's wrapped in maguey or banana leaves and baked in an earthenware pot, an outdoor oven or pit oven where it picks up the smoky flavour from the charcoal.
The tender meat is usually served tucked inside corn tortillas and eaten like a taco. Dip it into the rich and slightly spicy broth of tomato, jalapeño and onion and add a squeeze of fresh lime. Heaven.
Try it: Many Oaxacan families go out to eat barbacoa on Sundays at roadside stands on the outskirts of Oaxaca City.
On Sundays, the dedicated barbacoa section at Tlacolula market does a bustling business.
Insider Tip: Tomas Vicente of Amazing Huatulco Tours recommends La Barbacoa (C. Sabali 413, La Crucecita) as one of the best places for goat meat tacos and consommé in Huatulco.
Open until 5 pm. Closed Mondays and Tuesdays.
2. Caldo de Piedra (Stone Soup)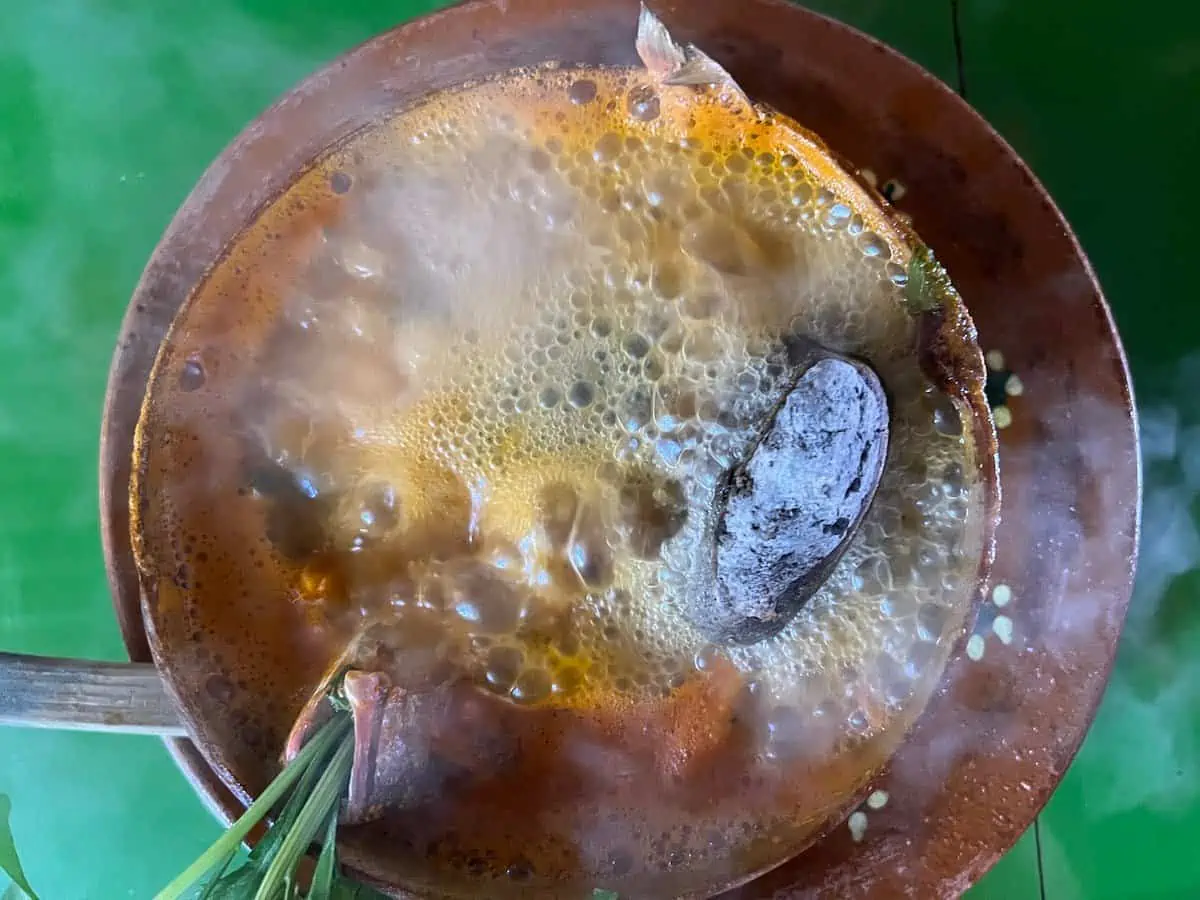 One of the most memorable traditional Oaxacan dishes is caldo de piedra (stone soup).
This ancestral dish is so important it was recognized in 2021 by Congress as a Patrimonio Cultural e Intangible del Estado de Oaxaca for its cultural and artisanal significance.
This ceremonial soup is traditionally prepared by the men of a village as a sign of respect for their wives, mothers, elderly or other distinguished members of the community. It features seafood, epazote, tomato, onion, garlic and chile pepper.
The cooking method is especially unique. First, river stones are collected, washed and heated over fire for hours.
Then, the red hot stones are immersed into the broth within a jicara, a bowl made from a gourd of the calabash tree. The soup is cooked at the table so the ingredients cook instantaneously with much steam and sizzling.
Try it: This Chinanteco soup can be found in the communities of San Felipe Usila, Tuxtepec, outside Oaxaca City at Caldo de Piedra. It's a popular stop on tours to Hierve el Agua and the legendary el Tule tree.
You can also find caldo de piedra at Antojitos Regionales Las Juquileñas (Google Map), a popular traditional restaurants in Puerto Escondido.
3. Cacao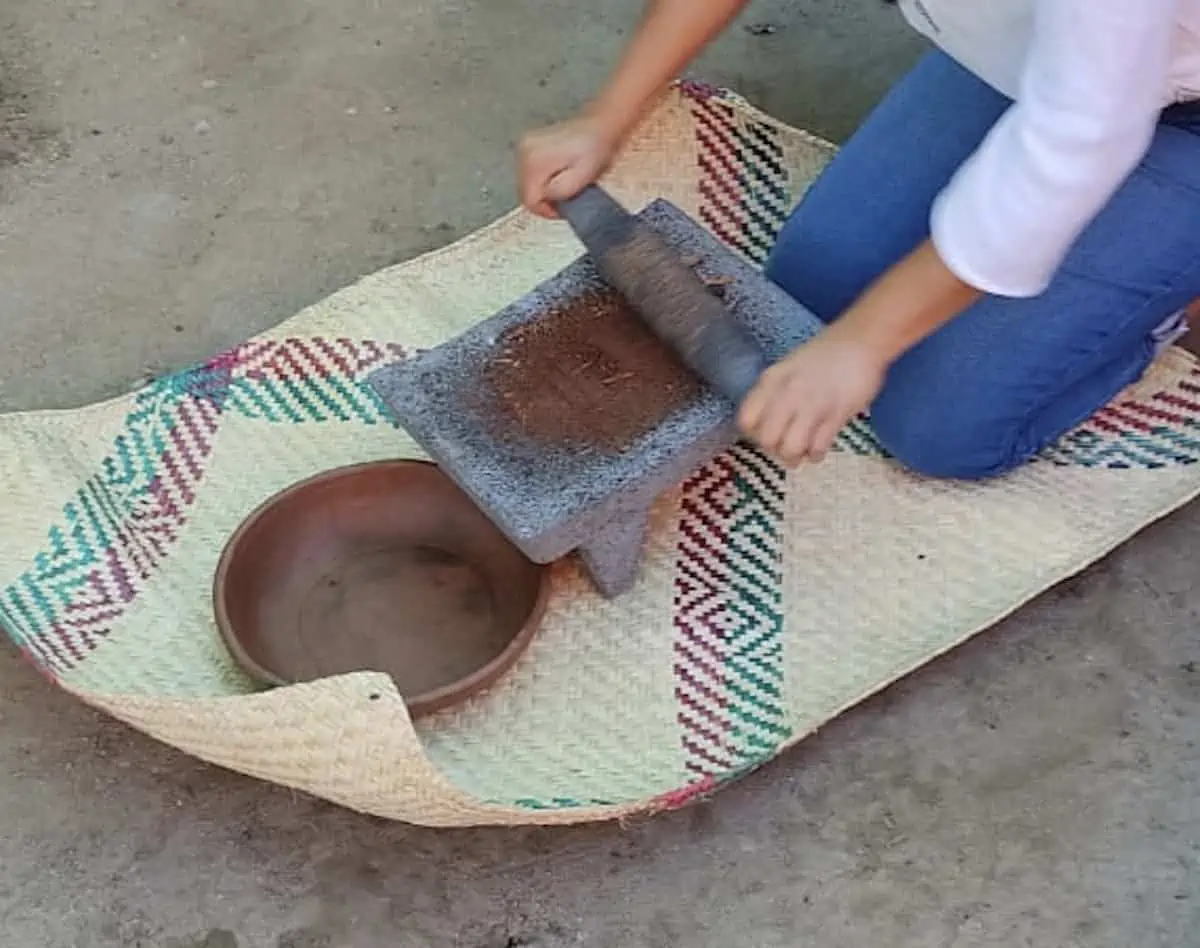 One of the first foods to try in Oaxaca is cacao. The popularity of cacao dates back to ancient times and was considered 'food of the gods' among the Aztecs.
Today, there's even a museum in Mexico City dedicated to the history and culture of chocolate.
In Oaxaca, cacao is a key ingredient in mole negro (spiced sauce for chicken) as well as in beverages. Chocolate also takes centre stage in mole negro, one of Oaxaca's most famous foods.
Pick up some chocolate to go at the Mercado de la Merced in Oaxaca City and at Mayordomo in Puerto Escondido.
Try it: To dive further into the delicious world of traditional Oaxacan chocolate, take the Loco for Chocolate tour with local expert Gina Machorro. You'll get insights into the production of cacao, harvesting, preparing and serving it.
In Oaxaca City, take a deep dive into the world of Oaxacan cacao with a Food of the Gods: Chocolate and Maize tour offered by Oaxaca Profundo Sessions.
4. Chapulines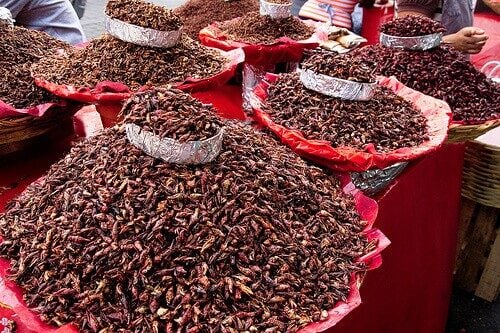 Eating grasshoppers (and other insects) is an ancestral culinary tradition in Oaxaca. Insects are high in protein, inexpensive to source, easy to prepare and convenient to store, all of which makes them appealing as a food source.
They're so popular that chapulines (crunchy, toasted and spiced grasshoppers) are sold in almost every market in the state of Oaxaca.
If you take a food walking tour in Oaxaca City that includes the Central de Abastos market, you'll discover chapulines in a range of sizes. Their size depends on when they were harvested.
The largest chapulines are harvested late in the season when they've had time to mature in the alfalfa and corn fields.
Packed with tangy flavour, they're delicious rolled up in a corn tortilla or ground to a fine powder, mixed with sea salt and used to rim a margarita or mezcalito cocktail glass.
Many Oaxacans simply munch on chapulines as they would peanuts as they sip a beer or other refreshing drink.
Some restaurants serve chapulines as a condiment. You can always request chapulines on top of an order of huevos revueltos or huevos divorciados at breakfast or sprinkled into guacamole.
Check prices and availability of an Oaxaca City Food Walking Tour (20+ tastings including chapulines) on Viator.com.
5. Chiles Rellenos de Picadillo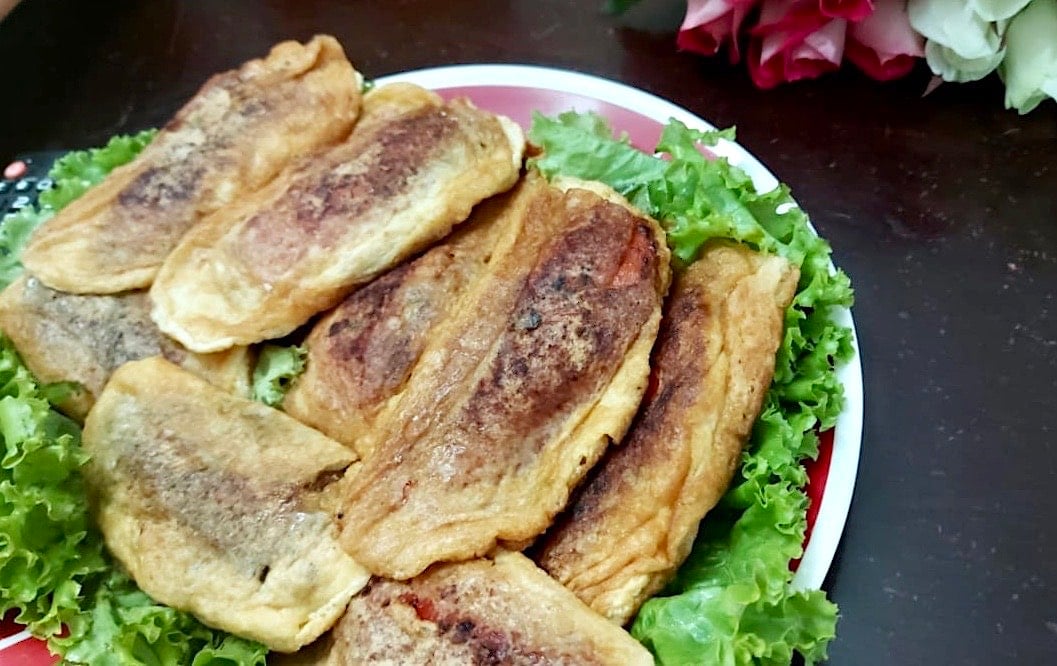 Chiles rellenos de picadillo is the Oaxacan variation of the stuffed peppers popular all over Mexico.
While in other parts of Mexico the peppers are usually stuffed with cheese, in Oaxaca the filling is most often minced chicken, pork or even beef.
In this way, they're quite similar to Guatemalan chile rellenos.
To make this Oaxacan dish, charred poblano peppers are stuffed with the chopped meat mixture (picadillo) then battered. They're served topped with a tomato and onion sauce.
Learn how to make chile rellenos in a Traditional Oaxacan Cooking Class on Viator.com
6. Cuitlacoche or Huitlacoche (Black Corn Fungus)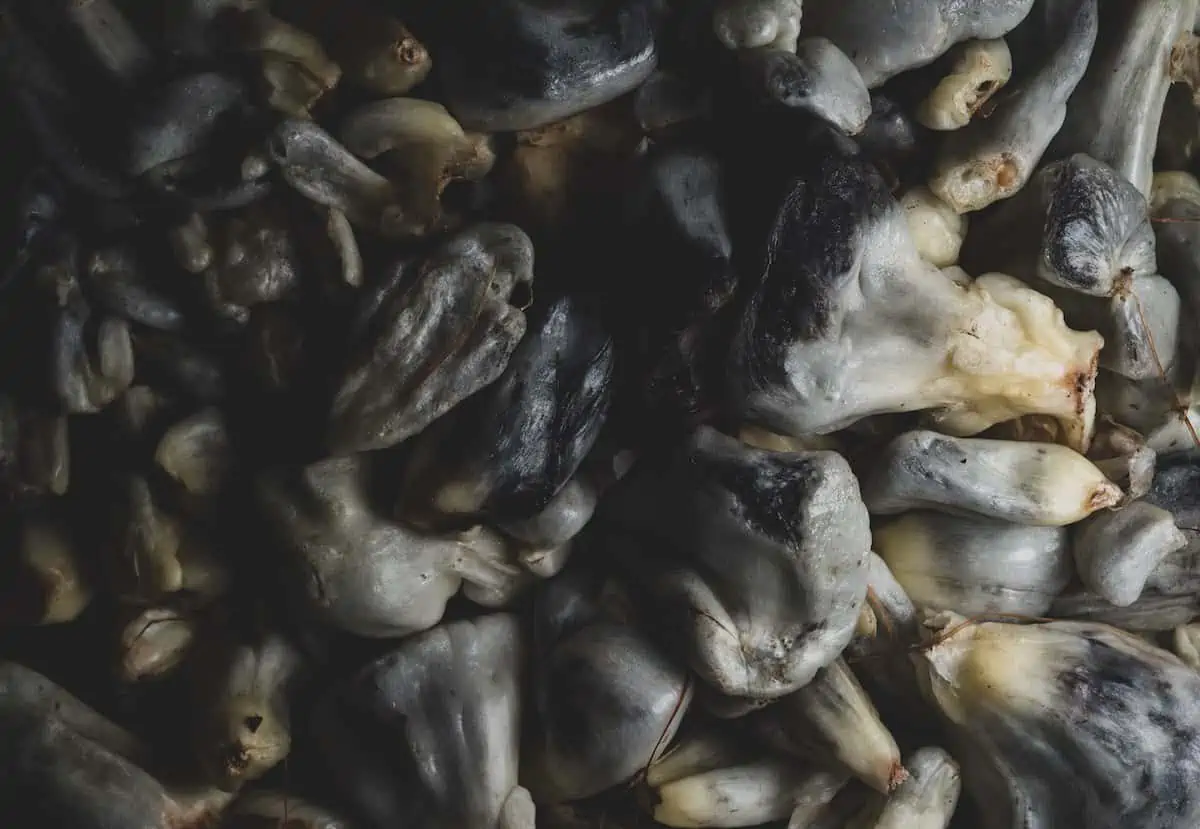 Also known as huitlacoche, this unique black corn fungus is so revered for its earthy flavour that it's known as the Mexican truffle.
Appearance-wise, the delicacy may be not be the most appetizing, but the black gold fetches top dollar in local markets.
It's worth extending your trip to overnight in Huatulco just to sample cuitlacoche at Terra-Cotta Restaurant at Mision de Los Arcos in La Crucecita, Huatulco.
Or, you can purchase a bag of cuitlacoche at the Mercado Zicatela and make yourself some cuitlacoche quesadillas.
Try it: In Oaxaca City, head to the La Cosecha market north of Santo Domingo church on Alcalá Street (closed Mondays and Tuesdays) where you can enjoy huitlacoche on top of a memela or inside a quesadilla.
7. Empanadas
One of the most famous foods of Oaxaca, empanadas are proof that Oaxacan food is quite distinct from what you'll find in other parts of North America.
Somewhat similar to a calzone, this crescent-shaped street food can be prepared with a variety of fillings such as beef, turkey and pork.
But the most famous empanadas Oaxaqueñas are the empanadas de amarillo.
They're stuffed with shredded chicken and mole amarillo, the versatile yellow salsa flavoured with chile costeño, chilhuacle amarillo and chile guajillo.
Try it: Take one of Culinary Backstreets food tours of Oaxaca City's Historic District and you'll have the opportunity to sample the popular empanadas at Empanadas del Carmen Alto, a family-owned street food stall on the corner of Garcia Vigil and Allende in Oaxaca City.
This family-owned street food stall has been in operation since 1965.
8. Enfrijoladas Oaxaqueñas
Enfrijoladas are one of the most popular typical dishes of Oaxaca. (Credit: Michele Peterson)
In Oaxaca, enfrijoladas do double duty as both comfort food and fast food.
This delicious traditional dish is made by bathing corn tortillas in a refried bean puree flavoured with avocado leaf, then topping them with crumbled cheese, crema Mexicana, slivers of red onion and slices of avocado.
They may or may not be folded. Often, they come served with tasajo (beef), shredded chicken, eggs, or Oaxacan string cheese.
They're often eaten for almuerzo (a late breakfast) but are served at other times of the day as well.
9. Enmoladas
Sometimes referred to as enchiladas, in this traditional Oaxacan food, lightly fried corn tortillas are bathed in a mole sauce (usually mole negro or rojo).
Then, they're topped with crumbled cheese, crema Mexicana, slivers of onion and bits of parsley.
They may be stuffed with chicken or cheese, and served with meat or eggs.
10. Entomatadas
Another variation of enmoladas, these corn tortillas are bathed in tomato sauce and served topped with crumbled cheese, crema Mexicana, slivers of onion and slices of avocado.
They may be stuffed with chicken or cheese.
Try it: In Puerto Escondido, Danny's Terrace (Av. Alfonso Pérez Gasga 900,) on Playa Principal features entomatadas, enmoladas and enfrijoladas (with egg, chicken or tasajo) on its breakfast specialties menu.
In Oaxaca City, any of the food stalls in the 20 de Noviembre market serve this traditional Oaxacan food.
11. Flor de Calabaza (Squash Blossoms)
Flor de calabaza (squash blossoms) are an important ingredient in Oaxacan cuisine. They are often served sautéed and stuffed inside a quesadilla or empanada or cooked within a creamy squash blossom soup.
They also make delicious appetizers when the blossoms are stuffed with Oaxacan cheese, battered and then deep-fried. They're then often topped with a simple tomato salsa.
Try it: One of the best places to sample crema de flor de calabaza or tamalitos de flor de calabaza is Restaurante La Olla, helmed by the brilliant chef Pilar Cabrera, in Oaxaca City. Closed Tuesdays.
12. Huauzontle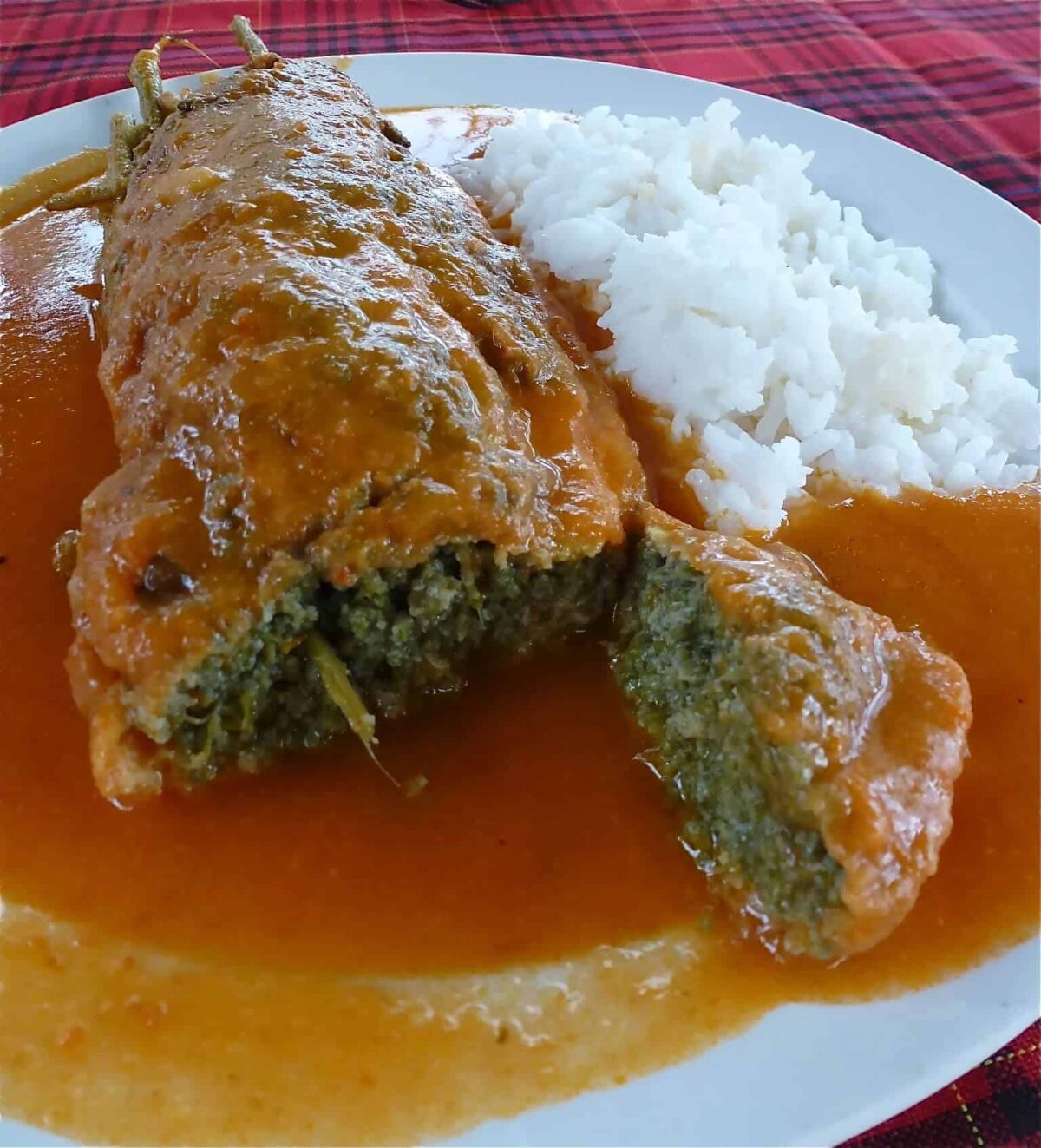 Huauzontle pronounced "wah-zont-lay" is a wild plant that grows high in the Sierra Madre Sur mountains and valleys.
Packed with vitamins and minerals, this super food is a member of the amaranth family.
It's delivered to Puerto Escondido by farmers only on Mondays and Fridays. So order this dish (or ingredients) a day or more in advance if you want to try it.
Make This Dish at Home: Get a recipe and learn how to make Tortas de Huauzontle.
13. Huaraches and Sopes
A traditional appetizer in Oaxacan and Mexican food, these oval shaped masa dough are shaped like a sandal (hence the name) and cooked on a comal.
They come topped with refried beans, mole rojo, tinga de pollo (shredded spiced chicken), chorizo, chicharron (deep fried pork fat), mushrooms and Oaxacan cheese.
These thick, fried tortillas are similar to sopes, small tortillas made of masa with a raised border around the edges. The edges are formed when shaping the tortillas and they're designed to contain an abundance of toppings.
They make delicious bite-sized appetizers and are often served as street food. But they can also be found in restaurants or comedors.
Try it: Begin your meal with sopes at Antojitos Regionales Las Juquileñas (Google Map) in Puerto Escondido. They're just 25 MXN pesos for three so order a variety of toppings.
14. La Parillada Oaxaqueña (Oaxacan Grill Plate)
A must-try dish in Oaxaca is la Parillada Oaxaqueña. (Credit: Michele Peterson)
Popular throughout Mexico, a parillada is a mixed grill of meats cooked over wood charcoal.
It's a food tradition on weekends and for celebrations at home or at restaurants where the entire meal is cooked on a grate outdoors over coals on a grill known as la parilla.
In Oaxaca, a parillada features an assortment of meats including beef steak arrachera (flank steak), rib-eye steak, chicken, quail, pork ribs, chistorra (thin Basque-style sausage) as well as strips of nopales (cactus) and cebollitas (tiny white or whole green onions).
A parillada Oaxaqueña typically comes topped with quail eggs and served with warm tortillas, charro or refried beans, queso fresco and guacamole. It's the ultimate meal for serving a crowd!
Try it: In Puerto Escondido, restaurant Rincon de los Alemendros is one of the best places to try la parillada. Word has it that this is Mexico's President Obrador's favourite place to eat in Puerto.
15. Memelas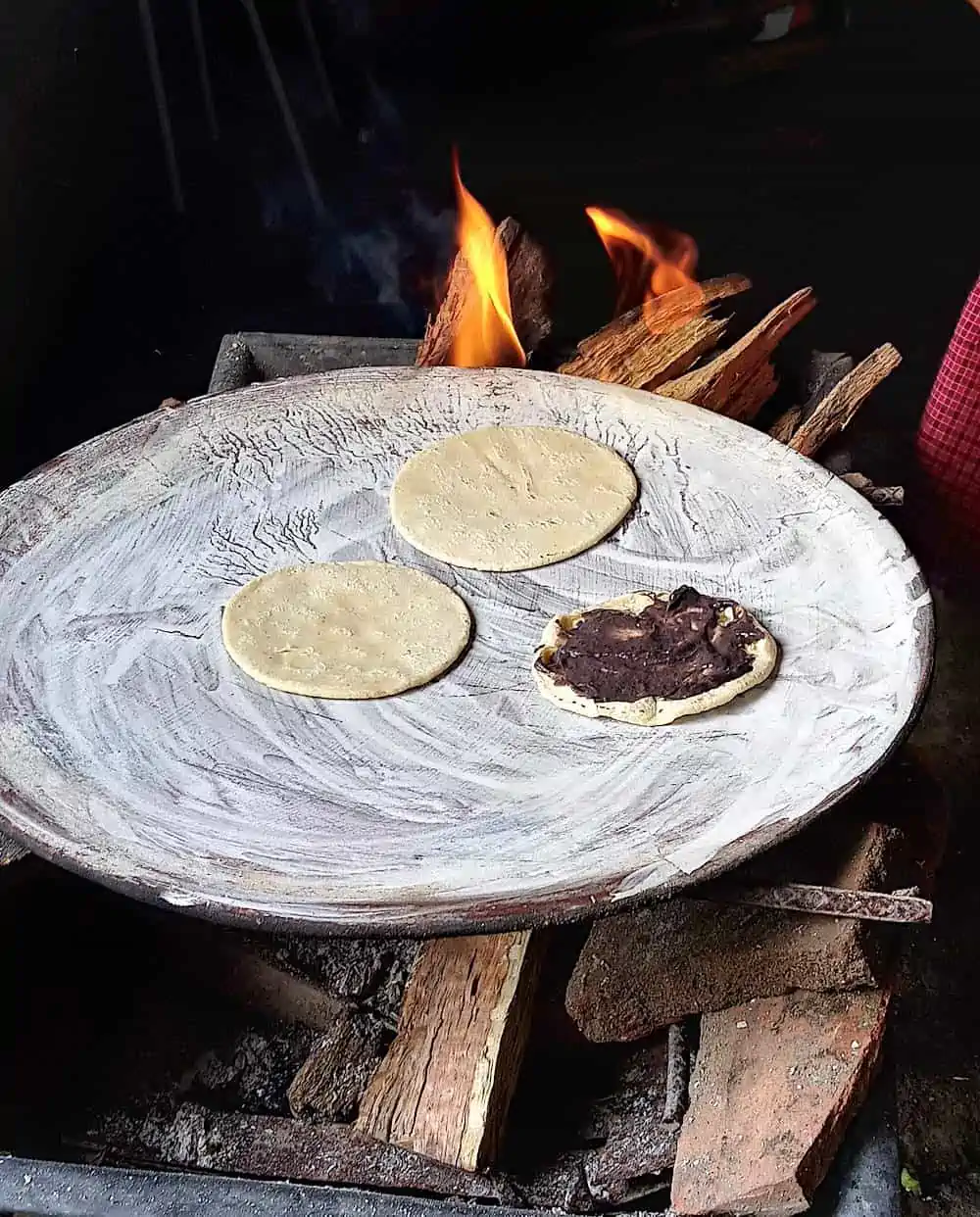 Although memelas are usually eaten at breakfast or brunch, they can be enjoyed as a tasty snack any time of day! Oaxacan memelas are made with corn masa similar to tortillas but thicker and more oval-shaped.
Before adding toppings, the masa is flattened and toasted over a comal griddle. Traditional Oaxacan memelas are slathered with a black bean paste, sprinkled with cheesy queso fresco and topped with salsa.
But they can have a wide variety of other toppings added as well, including potatoes cooked with poblano chiles, huitlacoche, squash blossoms, or eggs.
Simply eat them like an open faced sandwich or fold in half and enjoy!
Try it: You'll find some delicious memelas made by Doña Vale at a stall at the Mercado Central de Abastos in Oaxaca City. She tops the memelas with a spicy tomatillo salsa.
16. Molcajete de Carnes
This is another traditional Oaxacan dish that's best enjoyed with a dining companion unless you're ravenous and can manage to polish off this epic meal solo.
Unlike typical dishes of Oaxaca enjoyed at home with family, this dish calls for a special occasion both due to its presentation and quantity of ingredients.
A molcajete de carne generally comes in two sizes. Each featurea a towering selection of meat, cheese and veggies, arranged in a cascading fashion within a molcajete.
This traditional bowl made of volcanic stone is used as part of a mortar pestle for grinding spices, making salsas and guacamole. It's one of the most important tools of the Oaxacan kitchen.
The size and weight of a molcajete de carne means it takes center stage in the middle of the table.
Each person builds their own tortilla by topping it with grilled arrachera (beef flank), a strip of nopal cactus, Oaxacan queso fresco or string cheese, avocado, onion, chistorra sausage.
Try it: A molcajete de carne is popular throughout Oaxaca but in Puerto Escondido, try it at Antojitos Regionales Las Juquileñas (Google Map).
At Restaurant Casa Chatina in San Marcos Zacatepec, enroute to Santa Catarina Juquila, sample a seafood version.
On a day trip to Ocotlan from Oaxaca City, make a stop at Restaurante Tierra Mágica (Google Map) on Highway 175. They serve it with handmade tortillas fresh off the comal.
17. Moles: Red, Black, Yellow, Green and Others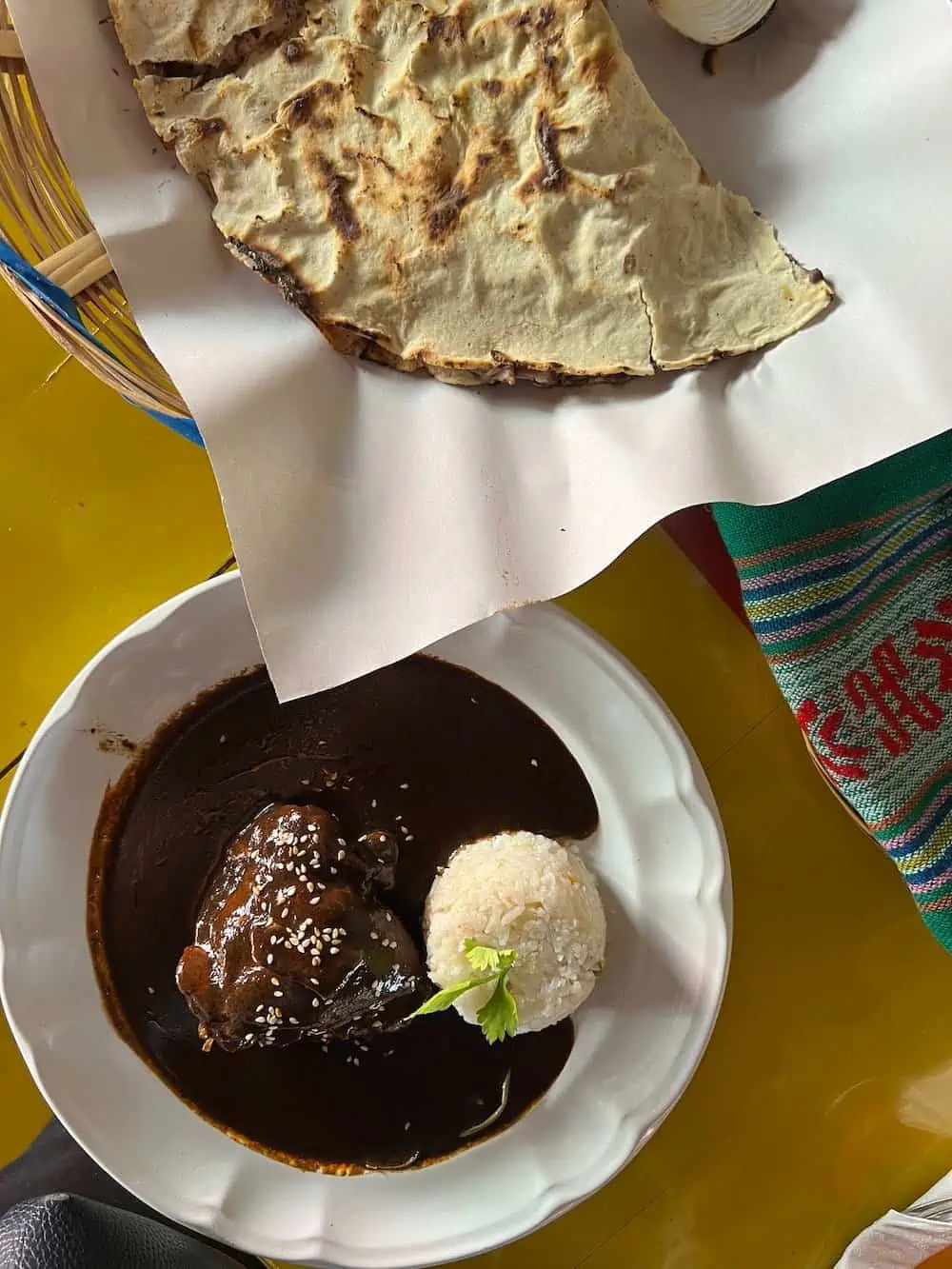 Enjoy Oaxaca moles and tlayudas and more at La Juliqueña.(Credit: Michele Peterson)
Both a famous Mexican food and an iconic dish of Oaxaca, this traditional sauce takes hours to make and is a must-try food in Oaxaca.
Oaxacan moles are often served at celebrations but are also served as part of a hearty midday meal served with corn tortillas and white rice. Moles are usually served over chicken legs or cubes of pork.
Seven Moles to Try in Oaxaca
Oaxaca is known as the Land of Seven Moles so be sure to try them all! Here are the most famous types of moles:
Mole Negro or just mole Oaxaqueño: It might seem unusual to eat chocolate as part of a main course but try mole negro once and you'll soon be a convert. This dark, slightly spicy and intense mole is the most famous of Oaxacan moles. It's traditionally served over turkey on Day of the Dead, but you'll more commonly find it served with chicken.
Mole Amarillo: This deep yellow mole features cumin and chiles. It's thickened with corn masa and is often served with chicken, but you may find a vegetarian version with mushrooms during the rainy season.
Mole Chichilo: An intense mole featuring charred black chilhuacle chile and avocado leaves.
Mole Manchamantel: This is a slightly fruity mole and includes a bounty of ingredients such as pineapple, plantain, tomato, chile peppers and more. The name manchamantel means "table-cloth staining" mole.
Mole Rojo: One of the most popular of the seven main Oaxacan moles, red mole is often served with pork.
Mole Verde: Somewhat similar to the sauce in the Mayan dish of jocón, this green mole features sesame seeds, pumpkin seeds, chiles, parsley and epazote.
Mole Coloradito: A red mole with tomato served over chicken or pork.
Try it: In Oaxaca City, the economical La Flor de Oaxaca Restaurant (Google Map) near Templo San Agustin makes a tasty mole negro. Or head to Restaurante Coronita where you can get a mole sampler of all seven.
Most cooking classes include a guided market tour to purchase ingredients followed by a hands-on lesson on how to make mole negro. You'll then enjoy a communal lunch.
Check rates and availability of the Flavours of Oaxaca City Market Tour and Cooking Class on Viator.com.
18. Molletes
A hearty and filling breakfast, molletes are made with refried beans, melted cheese and salsa on toasted bolillos.
Served with pico de gallo, it can also be enjoyed as lunch or dinner.
Try it: Enjoy an order of pillowy bolillos at La Julia cafe, one of the best restaurants for breakfast in Puerto Escondido.
19. Molotes de Plátano Istmeños
A traditional dish from the Isthmus of Tehuantepec region of Oaxaca State, molotes are made with mashed plantain stuffed with cheese and fried until caramelized and then drizzled with crema.
In Oaxaca City, try molotes and other specialties from the Isthmus region at Zandunga Sabor Istmeño Restaurant. (Google Map)
20. Nicuatole
Every culture has a beloved sweet treat. For the people who call Oaxaca home, that sweet treat is nicuatole.
This jelly-like dessert has a long history. Traditionally, it's made from ground maize, vanilla, cinnamon and sugar.
A distinguishing feature of this traditional dessert is the top layer made with the crimson red dye sourced from the cochineal insect, a parasite that feeds on the nopal or prickly pear cactus.
Modern variations of nicuatole may include different ingredients such as pineapple, coconut and mango. While it looks easy to make, a lot of time and work goes into making nicuatole. The 40 minutes of mixing to get the texture just right is just the beginning.
Try It: This traditional Oaxaca dessert is best enjoyed chilled and can be found in most of the markets around Oaxaca. Doña Priscila, who has been making and selling nicuatole for over 50 years, has a stall set up at Mercado Hidalgo in Oaxaca City.
You can also try nicuatole as dessert at La Olla, helmed by chef Pilar Cabrera, in Oaxaca City. It's often featured on the menu of the day at lunch. Closed Tuesdays.
21. Nieve de Leche Quemada con Tuna
Nieves are a delicious frozen delight that are a cross between ice cream and sherbet.
Every area of Mexico has its own version of this treat. But in Oaxaca the most traditional flavours are leche quemada (burnt milk) and tuna (not the fish! – that's what the fruit of the prickly pear cactus is called in Spanish).
These two flavours are often served together, and complement each other beautifully. The taste is a decadent mix of savoury and sweet with a creamy texture.
Nieves are the ideal snack for hot days when a cold, tasty treat hits the mark!
Try it: Find a traditional version of nieve de leche quemada con tuna on the Adoquín in Puerto Escondido or in the Zócalo of La Crucecita in the Bahias de Huatulco.
In Oaxaca City, Jardín Socrates, in front of the Basilica de la Soledad (Google Map), is the place to get your traditional nieves fix.
Other flavours to try include mamey, mezcal, beso de angel (kiss of an angel) and even rose petal.
22. Nopal Cactus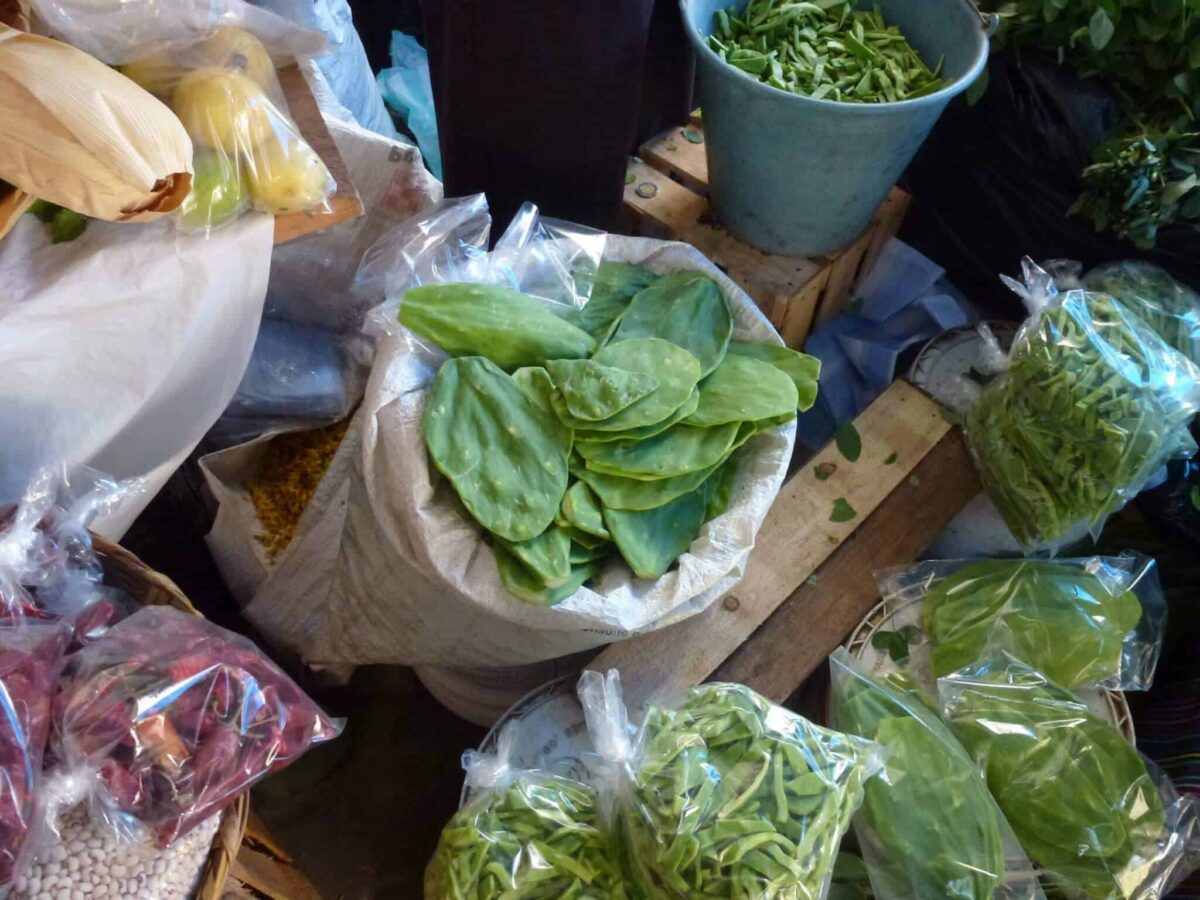 First-time visitors to Oaxaca might raise an eyebrow when first spotting cactus on the menu. But nopal is one of Oaxaca's most famous ingredients.
Try it for yourself at the market, where you can watch Zapotec vendors remove the spiky spines, peel the rind and then stack the shiny paddle-shaped leaves to go.
With its delicate, tangy flavour, cactus is versatile. It's often served as ensalada de nopales with diced tomato, onion and cilantro. Or grilled and served along with meats and green onion.
Try it: You can find nopal most everywhere in Oaxaca even all-inclusive resorts such as Secrets Huatulco Resort & Spa and other top hotels in Huatulco on Tangolunda Bay.
23. Palanqueta and Other Oaxacan Dulces
Mexican sweets are one of the most exuberant Oaxacan foods you'll come across in your travels. They're enjoyed on weekends, evenings and at fairs.
Dulces are also given as gifts to families and friends at parties and on special occasions.
Most Popular Dulces Tipicos de Mexico
ata (fruit jellies),
glorias (burnt milk and nuts in red cellophane),
alegrias (amaranth seed cakes),
cocada (coconut milk sweets),
mazapán (ground almond, egg and sugar – de la Rosa is a popular brand),
merengues (tinted egg white inside crispy cone)
palanqueta.
While palanqueta is popular throughout Mexico, Oaxaca has its own traditional way of preparing this tasty snack.
Made of a mix of roasted peanuts, sugar syrup and seeds, it's very similar to peanut brittle and sesame snaps.
The sweetness is balanced with a pinch of salt. The end result is a crunchy, decadent creation that can be eaten as a treat any time of day or as a dessert.
Try it: You can find commercially-prepared palanqueta at tiendas and other small grocery stores. Artisanal Oaxacan varieties — which might include pumpkin seeds or other nuts — are most often sold at markets and food stalls.
24. Paletas (Popsicles)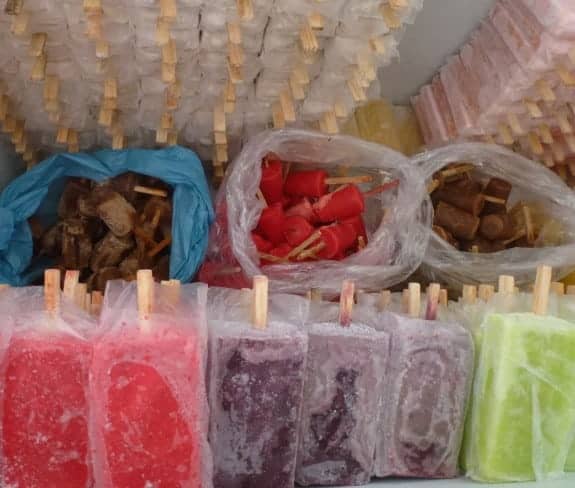 Icy paletas offer a quick and delicious way to cool off in the sweltering heat on Oaxaca's coast. Unlike ice cream, they're made by freezing purified water with sugar and fruit.
In Puerto Escondido, look for flavours like watermelon, guava and mango or exotic creations like gooseberry or jicama with chili and gardenia petals.
It's even possible to find adult-only, boozy versions of paletas spiked with tequila or mezcal.
In Oaxaca City, Paletas Popeye located at Dr. Liceaga #119 on the south side of the Llano park has many different kinds to try.
25. Pan de Yema
A traditional sweet bread, Oaxaca's pan de yema can be deceiving. Baked in wood-burning clay ovens, this egg yolk bread is toasty and almost dry on the outside, but light and fluffy on the inside.
Sesame and anise seeds give this bread its distinctive taste. It's so fluffy, it melts in your mouth.
Dunk it in hot chocolate — the traditional way to enjoy this slightly sweet bread — and it's even more delightful.
Try it: Find pan de yema sold at local festivals including Day of the Dead in Oaxaca where a special version known as pan de muerto is an essential item on home altars.
Year-round you can find very good versions of pan de yema at the market stalls in Santa Caterina de Juquila as well as at Comedor Candita's market counter at the Mercado 20 de Noviembre in Oaxaca City
26. Pescadillas
Fishing is an important part of the culture along Oaxaca's coast. You can see shrines dedicated to the Virgin of Soledad, patron saint of Puerto Escondido and fishermen, at local beaches.
Fish pescadillas are a very popular snack in Oaxaca. The name of these tasty folded tacos is a combination of 'quesadilla' and 'pescado' as they're made by tucking fish cooked with onion, tomato and Mexican oregano within a folded corn tortilla.
The delicious pockets are then lightly fried and topped with shredded cabbage.
Unlike other parts of Mexico where pescadillas might be made with dogfish, in Oaxaca they're usually made with dorado, tuna or mahi-mahi.
Try it: At El Mexicano Restaurant-Bar at Playa Manzanillo in Puerto Escondido. Many of the best tours of Manialtepec Lagoon include a snack of locally-made pescadillas.
27. Quesillo: Oaxacan String Cheese
One of the most unique foods in Oaxaca is quesillo, or Oaxacan string cheese as it's sometimes called.
Quesillo is a white, medium-hard cheese with a mild, buttery flavour and springy texture. It's made from cow's milk.
By itself, it's presented as a ball made up of a long strip of cheese rolled up like a ball of yarn!
To eat it, you pull the strings apart. Because it melts so easily, quesillo is used in many dishes including quesadillas, enchiladas, tacos and soups.
Many Oaxacan restaurants serve quesillo on its own as a starter or on a charcuterie board.
28. Salsa de Chicatanas (Ant Salsa)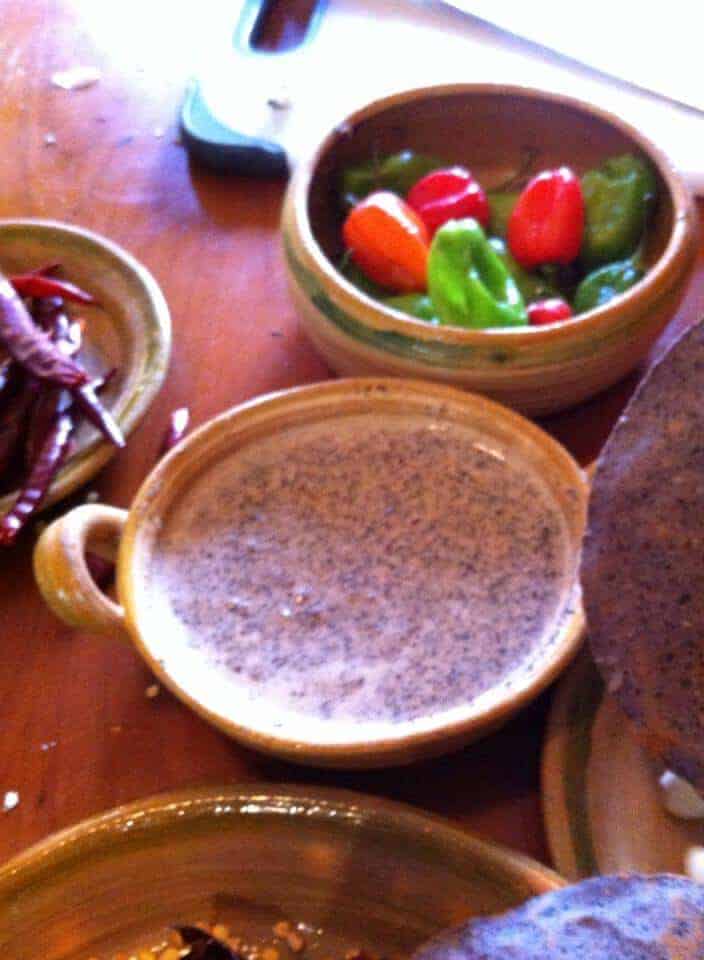 At the beginning (and end) of the rainy season in June and July, winged black insects escape from their flooded nests.
Families head out to gather baskets full of the prized flying ants. The ants are toasted on a comal and eaten plain or ground to be used in regional dishes.
Salsa de chicatanas is a treasured delicacy in both Guatemala and Oaxaca. The sauce is featured in costilla de puerco en salsa de chicatana (pork ribs in ant sauce).
Try it: Take cooking class with The Mexykan. You'll learn how to make a salsa chicatana and salsa verde (green tomatillo salsa).
Or, check what's on the culinary radar of Chef/Owner Quetzalcoatl Zurita, who specializes in Oaxacan cuisine at Almoraduz (Google Map) in Puerto Escondido.
Another place to find chicatanas on the menu is at Hotel Escondido outside Puerto Escondido. There, ants add crunch to a uniquely Oaxacan risotto.
Check rates and availability at Hotel Escondido on Booking.com.
29. Sopa de Guías
In Oaxaca, it's not just the flower, fruit and seeds of squash that are edible. They're key ingredients in sopa de guías, a traditional soup made with the tender shoots and leaves of the zucchini plant.
There's often a piece of corn on the cob, squash blossoms and tiny leaves of chepil (a local herb) in the bowl. Sometimes chochoyotes (small dumplings made of corn masa) are added for a special treat.
This traditional food of Oaxaca is usually served with a piece of tasajo (beef) and a tostada or tlayuda.
You can find sopa de guías at many Oaxacan restaurants and fondas. On weekends, chef Celia Florian makes a delicious version served at her restaurant Las Quince Letras in Oaxaca City.
At produce stands in food markets around Oaxaca, you'll find the ingredients for sopa de guías ready-to-go in a plastic bag. So, you can easily make your own at home.
30. Tinchuiche (River Anchovies)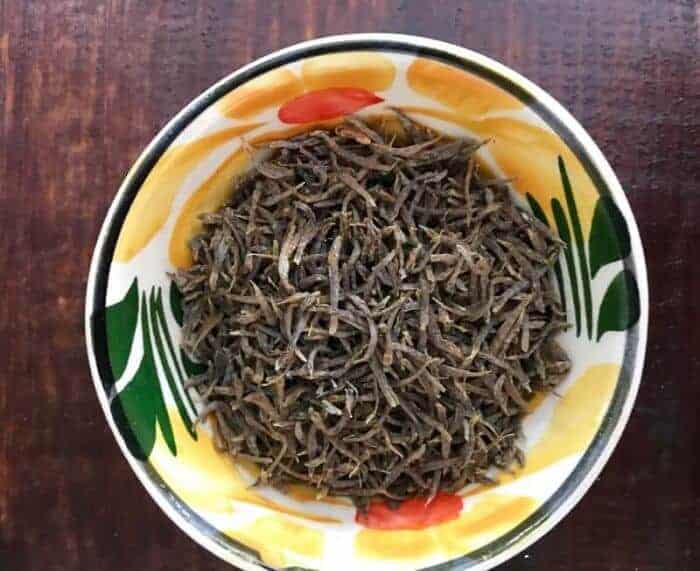 If you're looking for a unique oaxaca food, don't miss tinchuiche. It may look like a worm but tinchuiche is actually a tiny fish that tastes like an anchovy.
Sample this seasonal fish (gathered from the Zimatan River) in a 4-hour, small-group cooking class at Chiles & Chocolate Cooking School.
Taking a cooking class is one of the top things to do in Huatulco. You'll get a hands-on opportunity to use the tiny salted tinchuiche fish in salsas where it adds a boost of flavour.
Other regional ingredients you'll learn to work with include nopal, chapulines (toasted grasshoppers) and Pacific Coast shrimp.
Cost for the course includes transportation pick-up/drop-off at Huatulco hotels as well as lunch, recipe manual, gift bag and more.
31. Tamales Oaxaqueños
While tamales are a popular food everywhere in Mexico, in Oaxaca these tasty bundles are a work of art. Oaxacan tamales come with a variety of different fillings from rajas (strips of pepper) to chicken in mole.
While there are many variations of tamales throughout Mexico, tamales Oaxaqueños have distinct differences.
First of all, these tamales are cooked in banana leaves. The ingredients vary slightly but typically feature either pork or chicken with a mole or tomato-based salsa, masa with pork lard and at least two types of chiles.
Another regional specialty is the tamal de chichilo Oaxaqueño, made with the black chilhuacle chile and a meat, often venado (deer).
This traditional Oaxacan dish is typically served on special occasions, most notably for Día de Muertos, Christmas, and Día de la Candelaria.
But you can usually find it at many markets and street vendors around the state of Oaxaca any day of the year.
Try it: Some of the best tamales in Oaxaca City are sold at the Tamales Cande stall in the Sanchez Pascuas market. Get there early, though. They're usually sold out by noon!
32. Tamales de Tichinda
One of the most unique types of tamales Oaxaqueños is so unique it deserves a category all its own. These are the tamales de tichinda. These warm tamales are both stuffed (and accompanied by) fresh black clam-like mollusks.
To make it, masa dough is mixed with melted lard and the river snails which have a slightly earthy, smoky flavour.
Try it: Tichinda are harvested from Oaxaca's mangroves and rivers so look for tamales de tichinda in comedors and roadside eateries on Highway 200 near Manialtepec Lagoon.
Or try them in the towns surrounding Chacahua Lagoon National Park, a highly recommended weekend trip from Puerto Escondido.
If you're lucky, you might also see them for sale on Saturdays at the Benito Juarez Market, Puerto Escondido's primary market. Read the Puerto Escondido Travel Essentials Guide for more details.
33. Tasajo
Unlike Cuban tasajo (horse meat), Oaxacan tasajo is a thinly-sliced cut of beef that's generally flank or skirt steak. It's marinated to tenderize it.
This traditional Oaxaca food is often served on its own as a platillo asado (grilled plate) accompanied by rice and grilled cebollitas (green onions) and nopal cactus.
But it can also be served as a topping on another dish such as a tlayuda. Or alongside enchiladas or entomatadas.
34. Tetelas
A snack similar to sopes or memelas, these masa dough snacks hail from the Mixteca region of Oaxaca State.
Filled with beans and cheese (and sometimes other fillings) they're folded into triangles to form corn pockets.
Originally prized for their convenience and portability, elevated versions are appearing in restaurants around Oaxaca.
35. Tlayudas: A Famous Oaxaca Street Food
This famous Oaxacan street food is sometimes dubbed a "Mexican pizza" because it's created open-faced and served as a snack late at night.
But tlayudas are prepared in many ways and with a variety of toppings, and are available any time of day.
These large tortillas (about a foot in diameter) which are initially left on the comal until crispy and toasty brown.
The toppings are made to order and can be served sencilla (plain), with chorizo (sausage), tasajo (sliced beef), pollo (shredded chicken) or mixto with everything including Oaxacan cheese, shredded cabbage, refried beans, chiles and more.
This Oaxacan street food is usually served folded in half and eaten on the go.
In Oaxaca City, locals flock to Tlayudas los Libres on Calle Libres after hours to satisfy their cravings after a night of partying.
Also check out Tlayudas El Negro on Independencia near the Zócalo for tlayudas and a live performance of Oaxacan folk dances on weekend evenings.
Related: Enjoy an upscale version of tlayduas created by Chef Alejandro Ruiz at Hotel Xcaret Arte in Playa del Carmen.
Enjoy tlayudas with a shot of mezcal! Learn more about this traditional spirit in A Beginner's Guide to Mezcal.
Oaxacan Food Guide, Tours and Cooking Classes
One of the best ways to dive into a country's culinary culture is to take a cooking class. It's exciting to meet the people in kitchens and markets and hear their stories.
Try to time your visit for a market day. That's when the farmers come in from the countryside to sell homegrown tomatoes, wild mushrooms, herbs, chile peppers, fresh cheese and artisanal crafts.
Oaxaca City Food Tours
Culinary Backstreets offers a walking food tour in Oaxaca City including Mercado de la Merced and Mercado 20 de Noviembre. Their Earth, Corn & Fire tour is an in-depth look at the historical roots, ingredients and cooking techniques that shape traditional Oaxacan cooking. Along the way, you'll enjoy six or more tastings and meet the people who grow and prepare the food.
Discover Oaxaca offers private tours (and small group tours for Day of the Dead) including their specialty Food Traditions tours focused on street food, village markets and cooking classes.
Puerto Escondido Food Tours
Local expert Gina Machorro offers a food walking tour of Puerto Escondido. It begins with breakfast at Playa Principal and continues through to Mercado Benito Juarez. See her at the Tourist Information booth on the Adoquin.
Enjoy the flavours, sights and culture of Puerto Escondido with one of three delicious walking tours offered by Puerto Food Tours. A local expert will take you to hidden gems in several neighbourhoods to discover the best food in Puerto Escondido. Subscribe to the A Taste for Travel newsletter and you'll get a 10% discount off any booking!
Enjoy these tours with a shot of mezcal espadín, tobala or tobaciche.
Huatulco Cooking Class
Learn about southern Mexico cuisine and get hands-on instruction on making street food, tacos, salsas and more. Then, enjoy lunch at the Chiles&Chocolate Cooking School in the village of Zimatan, near Huatulco. Cost includes transportation to/from local hotels.
FAQs
What Food is Oaxaca Known For?
The most famous traditional foods in Oaxaca, Mexico are moles, tlayudas (Mexican pizza), quesilla (string cheese), tamales Oaxaqueños, tetelas, caldo de piedra (stone soup), sopes, huaraches and nicuatole.


Is Oaxaca the food capital of Mexico?
Oaxaca City is widely considered to be Mexico's culinary capital. Even among the famous cuisines of Michoacán, Puebla and Yucatán, Oaxacan food is distinct and diverse.

It's drawn from the deep cultural heritage of the Zapotec, Mixtec, Chatino, and other indigenous peoples as well as Spanish, African and Mestizo influences, regional ingredients (such as nopal cactus, insects and cacao) and traditional cooking techniques.
What is the most popular food in Oaxaca?
When it comes to street food, the most popular food in Oaxaca is the tlayuda, a large tortilla grilled on a comal and topped with refried beans, Oaxacan string cheese, shredded cabbage and other toppings.
What Makes Oaxaca Food Different?
The food of Oaxaca is different from the rest of Mexico in both its ingredients and inventiveness. Oaxacan cuisine relies heavily on aromatic chiles (ancient varieties such as chilcosle, chilhuacle amarillo and smoky Oaxacan pasilla are unique to the state), chocolate and tortillas of maize (rather than flour).

One of the poorest states in Mexico (after Chiapas and Guerrero) Oaxacan cuisine also draws on meat substitutes such as grasshoppers, river snails and ants for protein as well as flavour.

Wild-sourced (and cultivated) edible plants such as nopal cactus, tuna, squash (leaves, stems and flowers) and chipilín are economical and ancestral foods of Oaxaca.
Other Mexico Travel Ideas to Explore
Save to Pinterest!
Dividing her time between Canada, Guatemala and Mexico (or the nearest tropical beach), Michele Peterson is the founder of A Taste for Travel. Her award-winning travel and food writing has appeared in Lonely Planet's cookbook Mexico: From the Source, National Geographic Traveler, Fodor's and 100+ other publications.
Read more about Michele Peterson.