We may earn income from links in this post. Please read this Disclosure for details.
This healthy prickly pear salad dressing is not only a beautiful vinaigrette but it's packed with antioxidants, fibre and vitamin C. Enjoy it on salads, sliced grilled chicken breast or as a topping on fruit salad.
It's as versatile as it is delicious!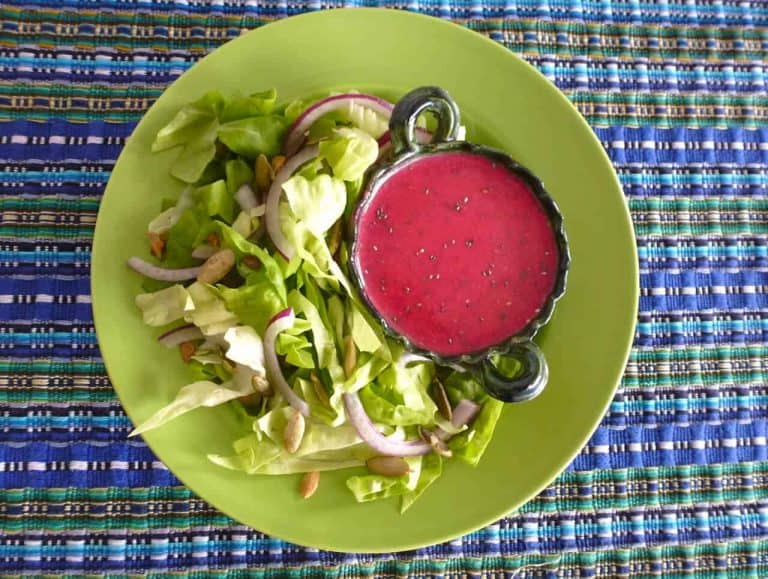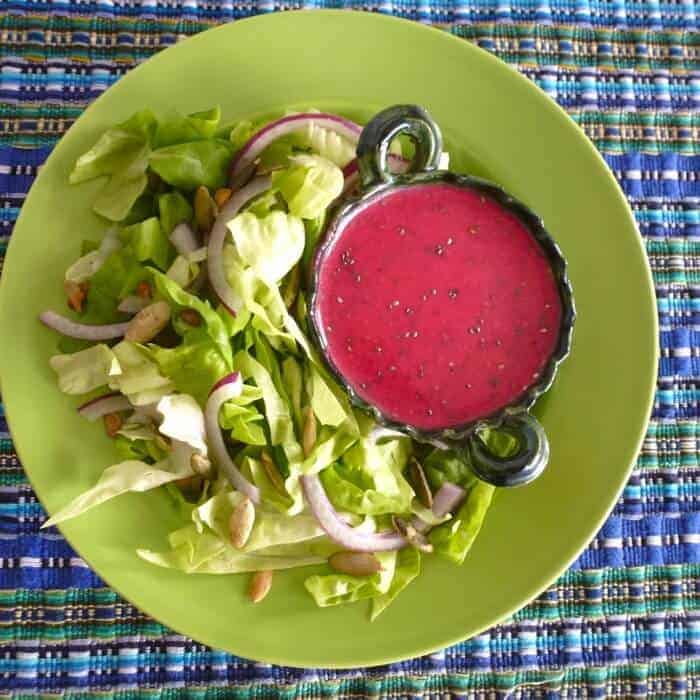 What is Prickly Pear?
While browsing the market I came across several varieties of tuna fruit, the brilliant pink sweet fruit that is deliciously sweet. Also known as prickly pear or cactus pear, opuntia is part of the genus in the cactus family, cactaceae.
Prickly pear is produced by the tuna cactus each summer in southern US, Mexico and throughout Latin America. In San Vicente, Guatemala a forest of tuna cactus line the winding road leading to my husband's family ranch. It's a beautiful sight to see them in bloom.
How to Buy Prickly Pear Fruit
One of the best things about living in Mexico is the opportunity to enjoy a wide range of seasonal tropical fruit and vegetables. This is especially true on the weekends at Mercado Benito Juarez in Puerto Escondido when the Zapotec and Mixtec peoples from the foothills of the Sierra Madre Sur mountains bring their produce down from the Oaxacan highlands.
Their informal stalls selling whatever they've grown in their backyard plots and gardens spill out from the market and around the surrounding streets.
Depending on the time of year, you can discover everything from buckets brimming with mangos to huauzontle, a unique vegetable similar to rapini and quinoa. Read more about huauzontle, where to try it and how to prepare it.
For those of us who live in Puerto Escondido and love to cook, this ever-evolving seasonal bounty of fresh fruits and vegetables are opportunities to explore new taste sensations and recipes. Many times, the vendors are happy to offer complimentary tastings of what they have on offer and they're always keen to explain what it is, where it came from and how to prepare it.
When shopping for prickly pear fruit, look for fruit that is firm and not mushy. There should be no depressions in the skin. The red prickly pear are sweeter than the green but both are equally as delicious.
Are Prickly Pears Dangerous?
Use caution when touching prickly pear because, as its name suggests, it's covered with tiny spines. Known as glochids or glochidia, these hair-like spines or short prickles are found on the areoles of prickly pear cacti and other members of the Opuntioideae cactus family.
Touch the skin of a prickly pear and the spines, while barely visible will stick in your skin and be very difficult to remove. If you do get stuck by a spine, don't worry.
The spines of a prickly pear aren't poisonous but they are definitely annoying and you need to remove them.
There are four main ways to remove cactus spines that may have gotten into your skin:
Use tweezers to remove cactus spines by grasping each spine close to the base near the skin. Then slowly, but firmly remove the spine by pulling upward.
Apply strips of duct tape to the affected area of your skin, gently smooth it over the skin and then slowly pull the duct tape off. You may need to repeat this several times.
Apply Elmer's or a similar white glue to the affected area and allow it to dry. Then pull the glue off and the spines should lift off with it.
Using Veet Waxing Strips for Body or Leg Hair Removal to remove the spines is another option. The strips grasp onto the spines to gently lift them out by the root. To use Veet ( or any other brand of high quality cold waxing strip) just peel the backing off the strips, and place them over the affected area, no warming or rubbing is required. Then lift the strip off.
Once you've removed the spines from your skin, wash the affected area gently with soap and water.
How to Eat Prickly Pear Fruit
You can eat prickly pear raw (see below about whether you should remove the seeds) or in recipes where it's cooked. The most usual way to prepare cooked prickly pear is in a jelly or jam.
Since I'm trying to avoid added sugar, I love using a variety of prickly pears in a rainbow of colours and sweetnesses to create a healthy prickly pear salad dressing.
Health Benefits of Prickly Pear
Prickly pear fruit contains the flavonoids kaempferol and quercetin, powerful antioxidants that have anti-inflammatory properties.
These anti-inflammatory properties — common to both nopal (the paddles of the plant) and prickly pear cactus — make prickly pear juice a popular folk remedy for hangovers.
Some studies have also shown that the antioxidant properties of the Opuntia genus of the Cactaceae family may also play a role in helping prevent chronic illnesses such as diabetes.
A 2013 nutritional study of Prickly Pear Juice conducted in Mexico compared samples of various colours of prickly pear and found that the red-purple variety had the most antioxidants.
Can Prickly Pear Make You Sick?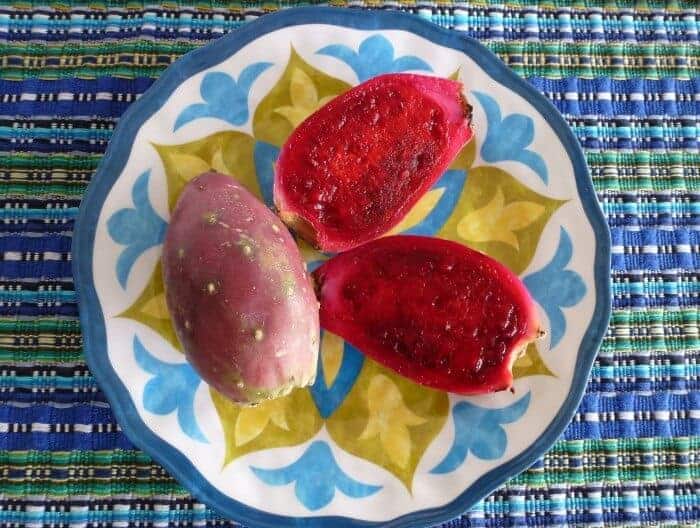 In addition to the spines, prickly pear fruit also contains small, black seeds inside the pulp. While many people eat the seeds or chew them and spit them out, I recommend straining them out with a sieve or strainer.
If you do decide to consume them, it's worth considering the risks. The risks aren't unique to prickly pear. They actually apply to consuming large quantities of pumpkin seeds, sunflowers seeds or other seeds.
The biggest risk in consuming seeds is the chance of the formation of a bezoar, a solid mass of indigestible material that can sometimes accumulate in the digestive tract. If the bezoar gets large enough it can cause a blockage in the stomach, small intestine or large intestine. This can cause fecal impaction requiring medical treatment and hospitalization.
How to Make Prickly Pear Pulp
Select your prickly pears while wearing gloves. Then, soak them in Microdyne solution ( if you're in Latin America or other location where water quality may be questionable).
Still wearing your gloves, cut the ends off each of the prickly pears and discard. Then, cut narrow incisions into each prickly pear lengthwise. Peel off the skin of each prickly pear by removing each of the strips of skin.
Scoop the prickly pear pulp out of each fruit and place in a strainer to remove the seeds.
Discard the prickly pear seeds or use them for compost.
Your prickly pear pulp is now ready to use.
Step by Step Instructions on How to Make Chia and Prickly Pear Dressing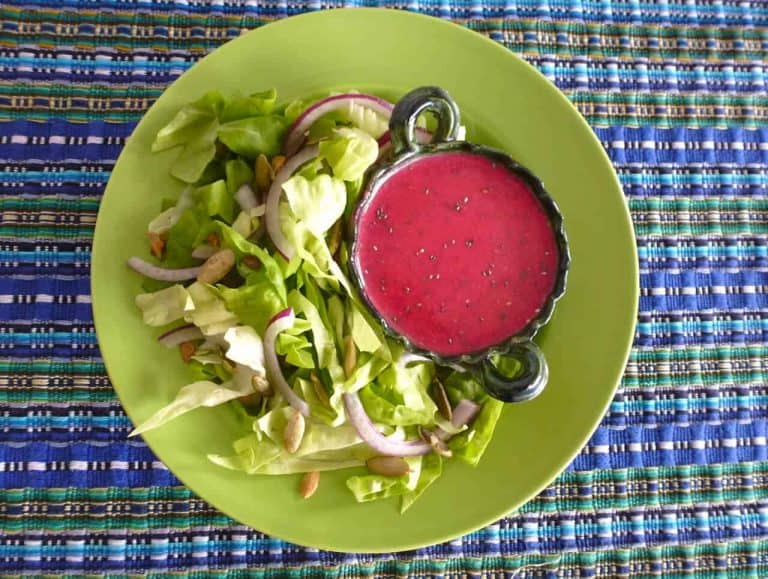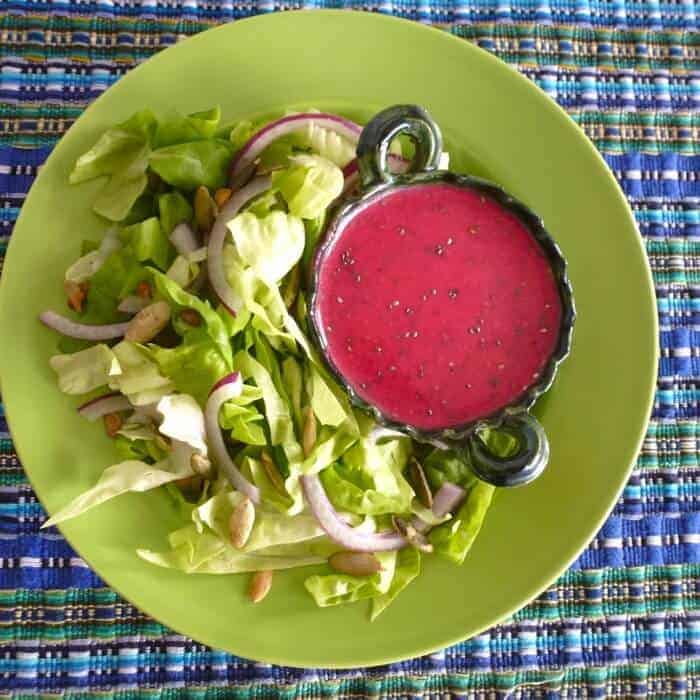 Once you have the strained pulp, place it inside a blender or food processor along with the mustard, olive oil and red wine vinegar. Blend for two minutes.
You don't need to add chia seeds if you don't want to but I like the extra health boost. The little poppy-like seeds are packed full of antioxidants, fiber and Omega-3 and add a thickening texture to the dressing. Use up any extra chia seeds in our recipe for Kiwi Coconut and Chia Pudding.
If you want to use chia seeds, wash them and then add to the prickly pear pulp. Add salt and pepper to taste. You can add a few tablespoons of water if the salad dressing is too thick.
Arrange the slivered red onions and salad greens on a plate, drizzle the salad dressing over top and then sprinkle with toasted pepitoria (pumpkin seeds).
I used three pink prickly pears for this dressing. Once you've made your prickly pear pulp, the rest of the recipe is super easy to make and makes a deliciously refreshing green salad for lunch.
Prickly pear salad dressing is also delicious on slices of cold roasted chicken
Tips for Making Prickly Pear Pulp and Dressing
Be sure to remove all the spines from the prickly pear using gloves.
Strain out the seeds and don't use chia seeds if you have any digestive issues as seeds can become compacted in the bowel and cause health problems.
Store in the refrigerator for up to three days.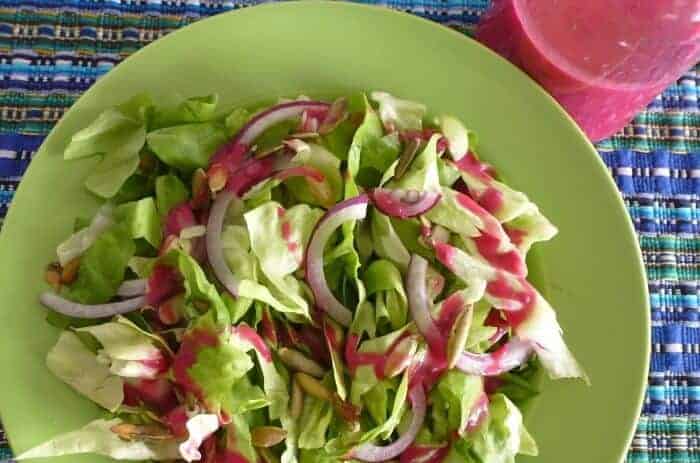 If You Enjoyed This Salad, You'll Love These Other Salad Recipes
Print
Healthy Prickly Pear and Chia Salad Dressing
A healthy, easy recipe for prickly pear (tuna) and chia seed vinaigrette. This luscious, creamy salad dressing is not only beautiful but it's packed with antioxidants, fiber and vitamin C.
Ingredients
3

pink prickly pears

also known as tuna or cactus pears

2

Tablespoons

red wine vinegar

5

Tablespoons

olive oil

2

Tablespoons

chia seeds

1/2

teaspoon

Dijon mustard

1/4

small

red onion

1/4

cup

toasted pepitoria

shelled pumpkin seeds

3

cups

shredded lettuce greens

salt and pepper to taste
Instructions
Wearing gloves, wash the prickly pears (soak in Microdyne solution if you're in Latin America).

Cut the ends off the prickly pears, make several cuts diagonally in the skin and then peel.

Place the pulp in a blender and blend briefly. Place the pulp in a strainer and remove the black seeds. Return the prickly pear pulp to the blender.

Add the mustard, salt and pepper, oil and red wine vinegar to the blender.

Blend for 2 minutes.

Add the chia seeds into the blended pulp and oil-vinegar mixture

You can add a teaspoon or two of purified water if the dressing is too thick. Add salt and pepper to taste.

Arrange the greens and slivered red onion on a plate and then top with pepitoria (raw peeled pumpkin seeds) lightly toasted in a dry frying pan or comal.

Serve the prickly pear and chia salad dressing on top of the greens with extra on the side.
Notes
Be sure to remove all the spines from the prickly pear using gloves.
Strain out the seeds and don't use chia seeds if you have any digestive issues as seeds can become compacted in the bowel and cause health problems.
Store in the refrigerator for up to three days.
Nutrition
Calories:
628
kcal
|
Carbohydrates:
52
g
|
Protein:
8
g
|
Fat:
46
g
|
Saturated Fat:
6
g
|
Sodium:
69
mg
|
Potassium:
647
mg
|
Fiber:
14
g
|
Sugar:
28
g
|
Vitamin A:
610
IU
|
Vitamin C:
15.5
mg
|
Calcium:
127
mg
|
Iron:
3.2
mg
Save to Pinterest!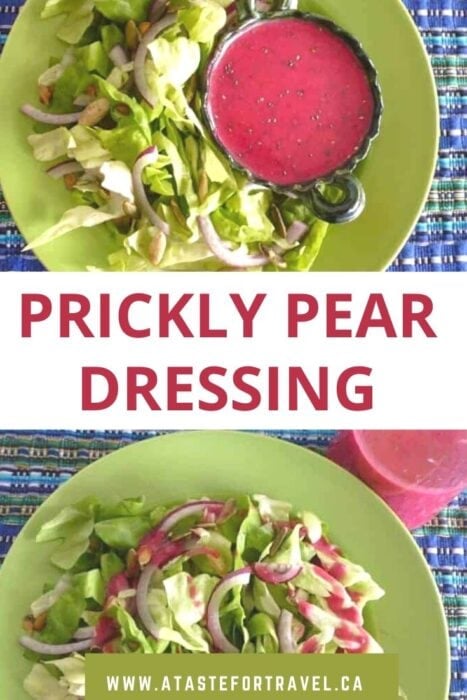 Dividing her time between Canada, Guatemala and Mexico (or the nearest tropical beach), Michele Peterson is the founder of A Taste for Travel. Her award-winning travel and food writing has appeared in Lonely Planet's cookbook Mexico: From the Source, National Geographic Traveler, Fodor's and 100+ other publications.
Read more about Michele Peterson.