&nbsp
Creamy avocado dressing: a recipe inspired by Santiago Atitlan, Guatemala
Green hills, a blue sky streaked with clouds and mirrored water. One of my favourite destinations in the highlands of Guatemala is the town of Santiago Atitlán on the shores of Lake Atitlan. Home to the Tz'utujil Maya people and surrounded by the volcanoes San Pedro, San Lucas Toliman and Atitlan, it's one of 12 pueblos named for the apostles.
The town was also the site of one of the most pivotal events in Guatemala's history. On December 2, 1990 the Guatemalan army opened fire on protesting villagers, killing 15 people and wounding 21 others. Although it was just one act in a long period of violence, it prompted such international outrage  it helped usher in an era of peace.
Today, the Parque del Paz or Peace Park with its silent graves, graceful trees and  murals, is a reminder of the casualties of Guatemala's brutal civil war and the courage of those who spoke out against persecution. A memorial plaque recognizes the "Martires de la Paz" those who gave their lives. It's a place of sadness, hope and beauty.
Near the park, it's possible to stand at the edge of the volcanic slope and look out across the Lake Atitlan. You can see Maya women washing their laundry in the lake as they have for centuries. A modern new structure, built to encourage the women to do their washing in communal washbasins is all but abandoned.
The outdoor street market is a top spot to scout out local foods such as avocados, watermelon and patin,  a tiny sardine-like fish in a tomato chile salsa that comes wrapped in maxán leaf.
During a recent market visit. I picked up a particularly large avocado and was surprised at its leathery skin and how light it felt.
"It has a tough cascara on the outside but will be soft in the inside," said my ranchero husband, who's an expert on anything if it comes from a farm in Guatemala and can be eaten.
The vendor cracked the avocado open with her hands to show us the fruit's interior. It was creamy, bright green and looked ready to be whipped into something delicious. Once she'd sacrificed one avocado to the god of commerce, we had no option but to buy a big bag.  When over the next few days when we couldn't eat them fast enough, I decided to whip them into a salad dressing.
Creamy avocado salad dressing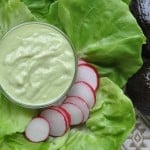 Creamy Avocado Dressing
This delectable salad dressing tastes like guacamole but gets a bit of kick from using cider vinegar instead of lime. It makes a luscious topping for a simple summer salad of Boston lettuce or over sliced grilled chicken. It's also a great way to get rid of too- ripe avocados.
Ingredients
3

very ripe avocados

1

small onion

chopped

¾

cup

Hellman's Light Mayonnaise

1

cup

buttermilk or plain 2% yogurt

1

large clove of garlic

chopped

2

Tablespoons

cider vinegar

1

Tablespoon

olive oil

salt and pepper to taste

¼

teaspoon

oregano
Instructions
In a food processor, puree the avocado, onion, mayonnaise, garlic, and buttermilk until smooth.

Add vinegar, olive oil, oregano and salt and pepper and blend until incorporated.

Chill and store in refrigerator until ready to serve.

It will stay fresh for 3-5 days.
Travel Planner  
A 5-stop tour of Santiago Atitlan with an English-speaking guide via tuk-tuk includes the mirador, the peace park, a visit with the moneja (the Maya woman who was allegedly the model for the image on the Guatemalan centavo) and the church costs 100 Quetzal ( around 12 USD). A visit to the shrine of Maximon, the cigar-smoking Maya deity, costs extra.
Pin this for later!