We may earn income from links in this post. Please read this Disclosure for details.
Visiting Disney World can be an amazing experience, but after a few days of waiting in lines, there's nothing quite like escaping to one of Florida's beautiful beaches.
From Clearwater Beach to Cocoa Beach, these 10 stunning beaches near Disney World are perfect for anyone looking for fun in the sun away from the hustle and bustle.
Whether you want to relax on powdery white sand or explore hidden coves and tidal pools, each of these beaches offers something unique that will make your vacation especially memorable.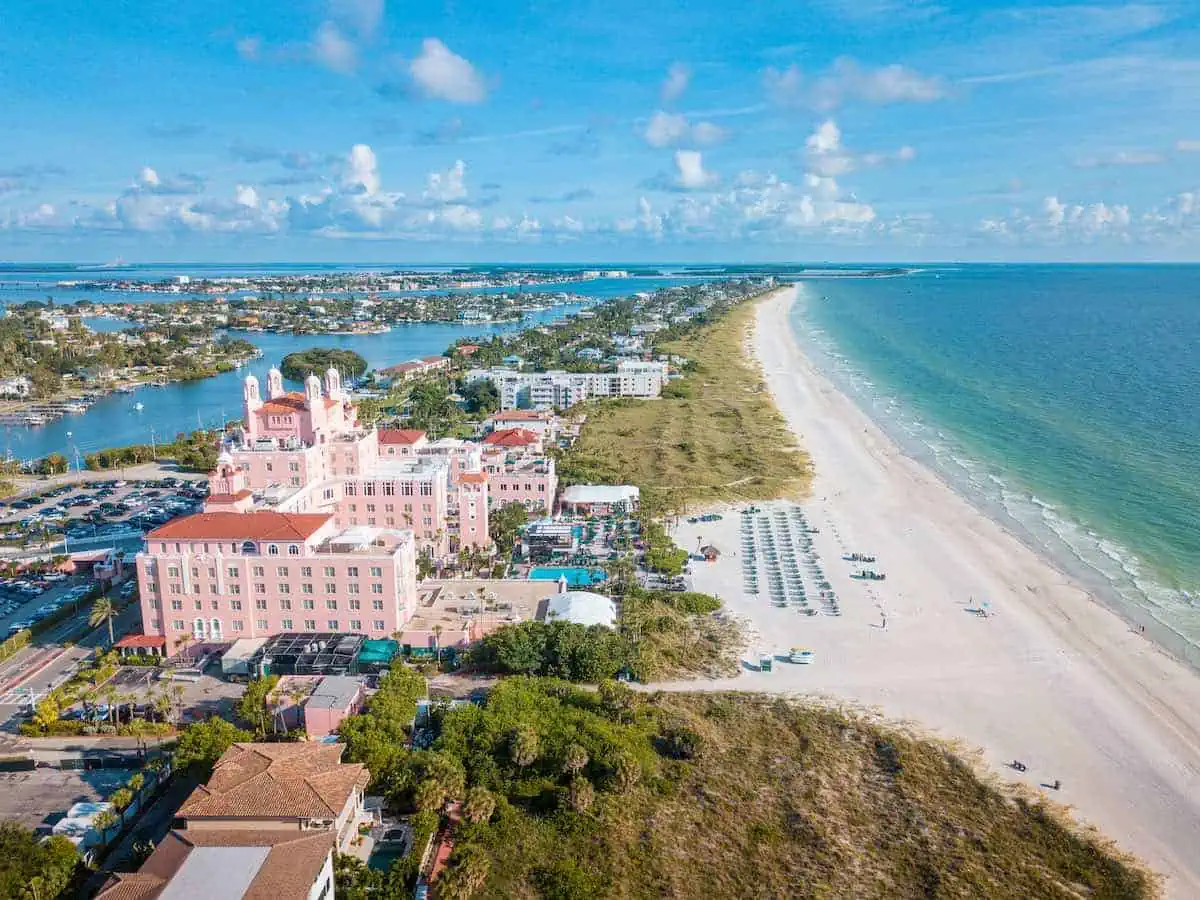 Over the years, while staying in Orlando many times, I've visited most of the beaches near Disney World. These are my favourites.
Not only are they among the best beaches in Florida but I've included some insider tips to make your beach vacation even better.
So grab your swimsuit (and sunscreen!) and get ready for a day at one of Florida's best beaches near Disney World!
Best Beaches Near Disney World – East Coast (Atlantic)
1. Cocoa Beach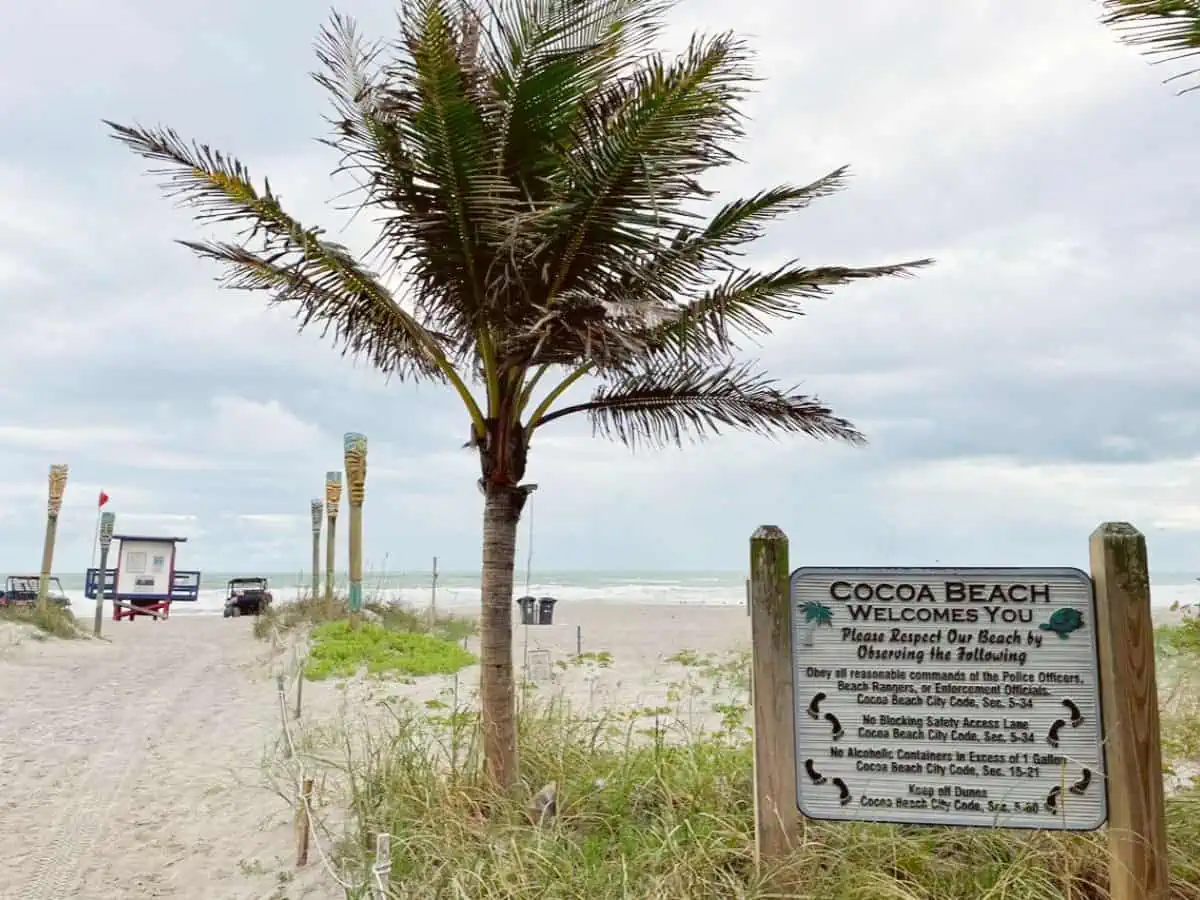 Just an hour's drive east of Disney World (approx 64 miles), Cocoa Beach is a local favourite. It features miles of wide beaches and plenty of activities to keep you busy.
The shallow waters and consistent waves make it an ideal spot for learning how to surf. Visitors can also explore Cape Canaveral on a Segway tour, visit the Kennedy Space Center, or head to the famous Cocoa Beach Pier.
Don't miss out on the bioluminescence experience. Tiny dinoflagellates give off an amazing blue glow in the water at night making Cocoa Beach a truly unique destination. It's one of the top things to do in Cocoa Beach with teens.
Tip: If you have kids, pay a visit to Lori Wilson Park (Google Map). This picturesque place offers beautiful lush green lawns, grills, pavilions, and picnic areas.
Kids will love exploring this place! There are playgrounds with swings and slides, as well as a nature trail.
Another good reason to head to Cocoa Beach is that not only is it the closest beach to Disney but you'll have the chance to spot dolphins, manatees and seabirds during a family-friendly Dolphin Eco-Tour of the mangroves of the Cocoa Beach Thousand Islands.
Check prices and availability of a Cocoa Beach Dolphin Eco-Tour on Viator.com.
2. Daytona Beach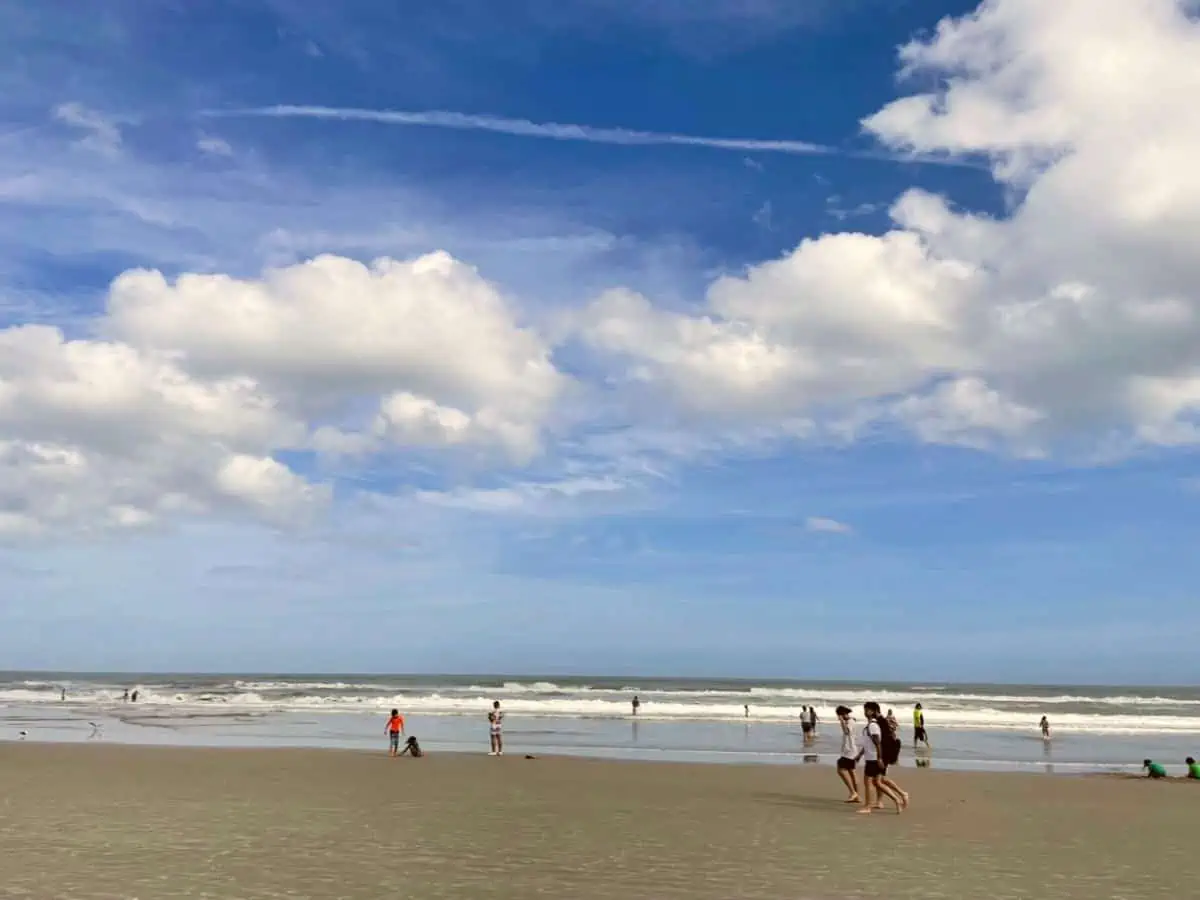 Known for its famous beach racing, spring break revelry and annual car show, Daytona Beach is only an hour away from Disney World (approx 70 miles).
This stunning beach is one of the best beaches to visit near Orlando. The pristine waters, swaying palms, and tropical atmosphere make it an ideal getaway to relax and indulge in all its beauty.
But that's not all! There are also a lot of places nearby worth exploring!
Places like Daytona Beach's iconic Boardwalk, Ponce de Leon Lighthouse & Museum, Marine Science Center and the Angell & Phelps Chocolate Factory.
There's even ziplining through the treetops at Tuscawilla Park. And don't forget all the sporty playgrounds for beach volleyball and much more!
Foodie Tip: For some evening fun hop on the Brewery Bus Tour for a 4-hour romp through the best craft breweries in and around Daytona Beach.
3. Flagler Beach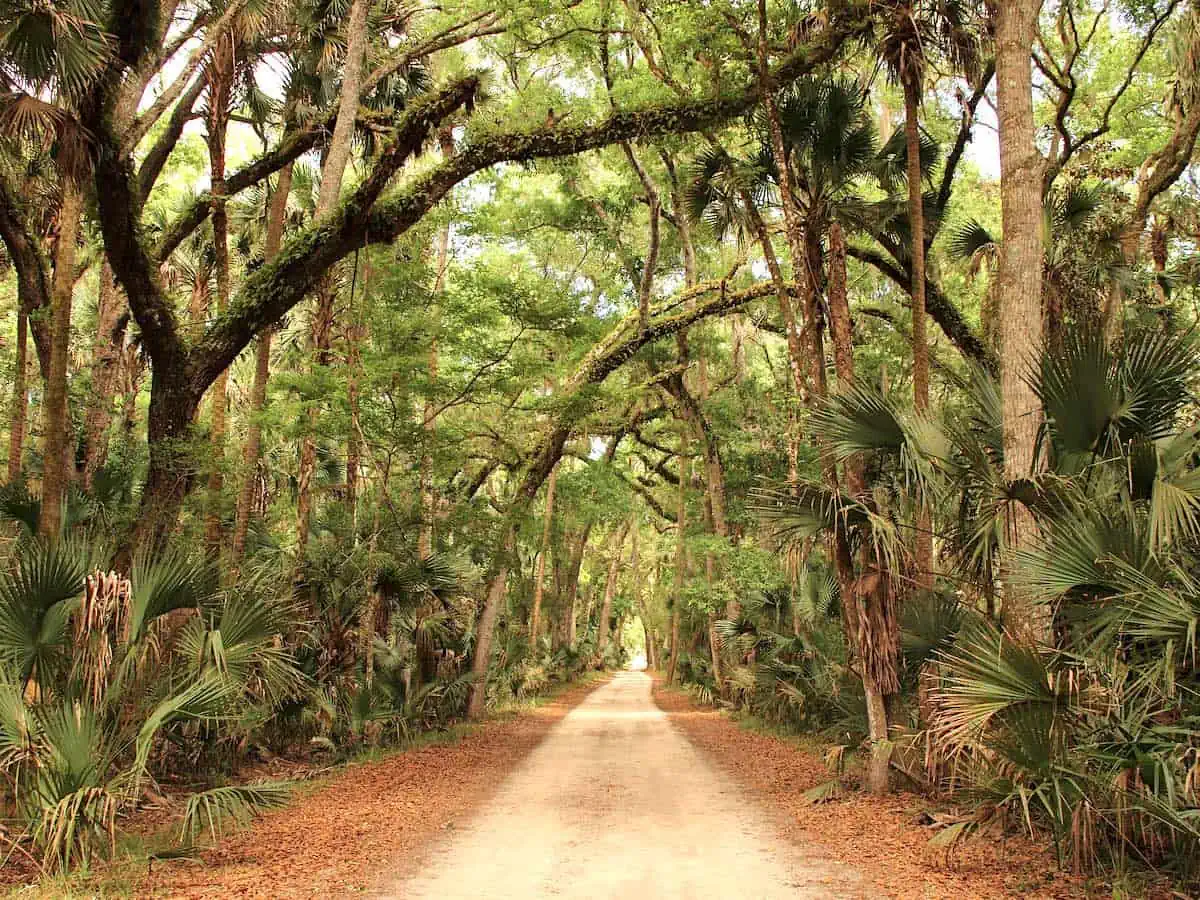 Flagler Beach is an ideal destination for beach lovers looking for something a little different.
Found along the eastern shore of Florida, Flagler Beach boasts cinnamon-hued sands and is conveniently located 1.5 hours away from Disney World.
There are plenty of sights to take in while visiting. The Betty Steflik Memorial Preserve is a great place to go for wildlife viewing.
And not-so-easy-to-find Bulow Plantation Ruins Historic State Park (Google Map) is an especially atmospheric place to combine history with nature.
Whether you're seeking a quiet getaway with your loved one or a sunny family adventure, Flagler Beach will give you the experience you're looking for.
4. New Smyrna Beach
New Smyrna Beach is one of the most laid-back beaches in Florida. And the good news for people visiting Orlando, it's just 75 miles from Disney World.
This beach is renowned for its unspoiled beauty, pristine shoreline, and thriving surfing culture. With gentle waves and lots of sandbars, it's the perfect spot to relax or practice your surf skills!
If you're looking for hidden gems, then be sure to visit Apollo Beach or Wilbur Beach. However, if you prefer the convenience of having restaurants and shops nearby, then New Smyrna Town Beach would be your best bet!
Another popular thing to do in to take a New Smyrna Dolphin and Manatee Adventure Tour. You'll learn about the history of the town while you paddle a peaceful waterway surrounded by wildlife such as dolphins, manatees, pelicans, sea turtles and more.
5. Vero Beach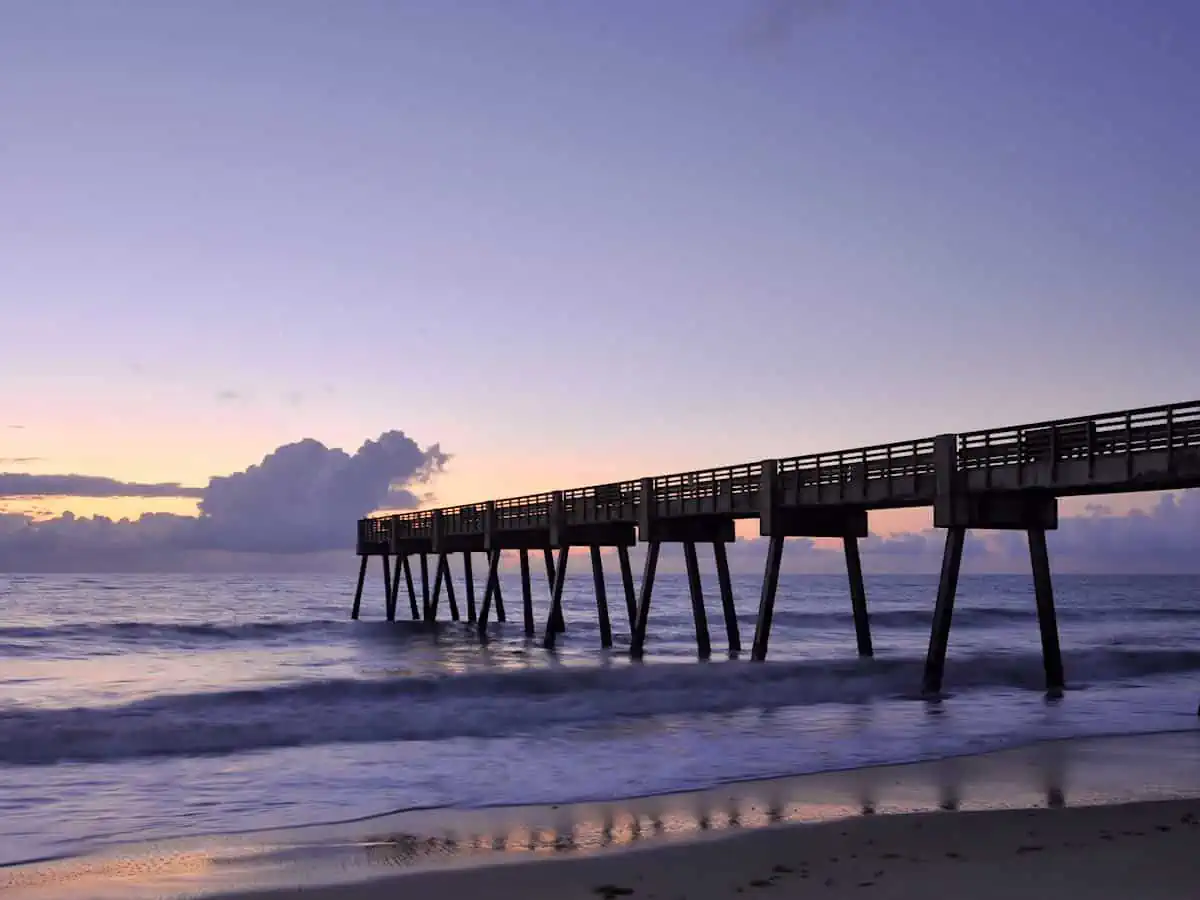 Situated on Florida's Treasure Coast, beautiful Vero Beach offers a unique blend of relaxation, cultural arts and outdoor activities that make it a perfect destination for those looking for a quiet beach near Disney World.
It's located around 100 miles from Disney or only an hour and a half away by car.
Its tranquil beaches provide beautiful and picturesque views, as well as plenty of space to swim, fish, or simply stretch out on the soft sand.
Along the beachfront, you'll find charming little boutiques and eateries that offer ultra-fresh seafood and other local specialties. It's got a thriving arts scene with street murals, independent galleries and the acclaimed Vero Beach Museum of Art.
Wildlife lovers must pay a visit to the nearby Archie Carr National Wildlife Refuge, where they'll have the chance to spot pelicans or loggerhead turtles in their natural habitat.
If you're interested in manatees, consider a wildlife eco-tour, just an hour south on the Atlantic, in Stuart.
Pro Tip: Disney has its own resort (and private beach) here. This makes it perfect for families wanting to get away for a few days but still stay connected with the Magic Kingdom vibe.
Best Beaches Near Disney World – West Coast (Gulf)
6. Clearwater Beach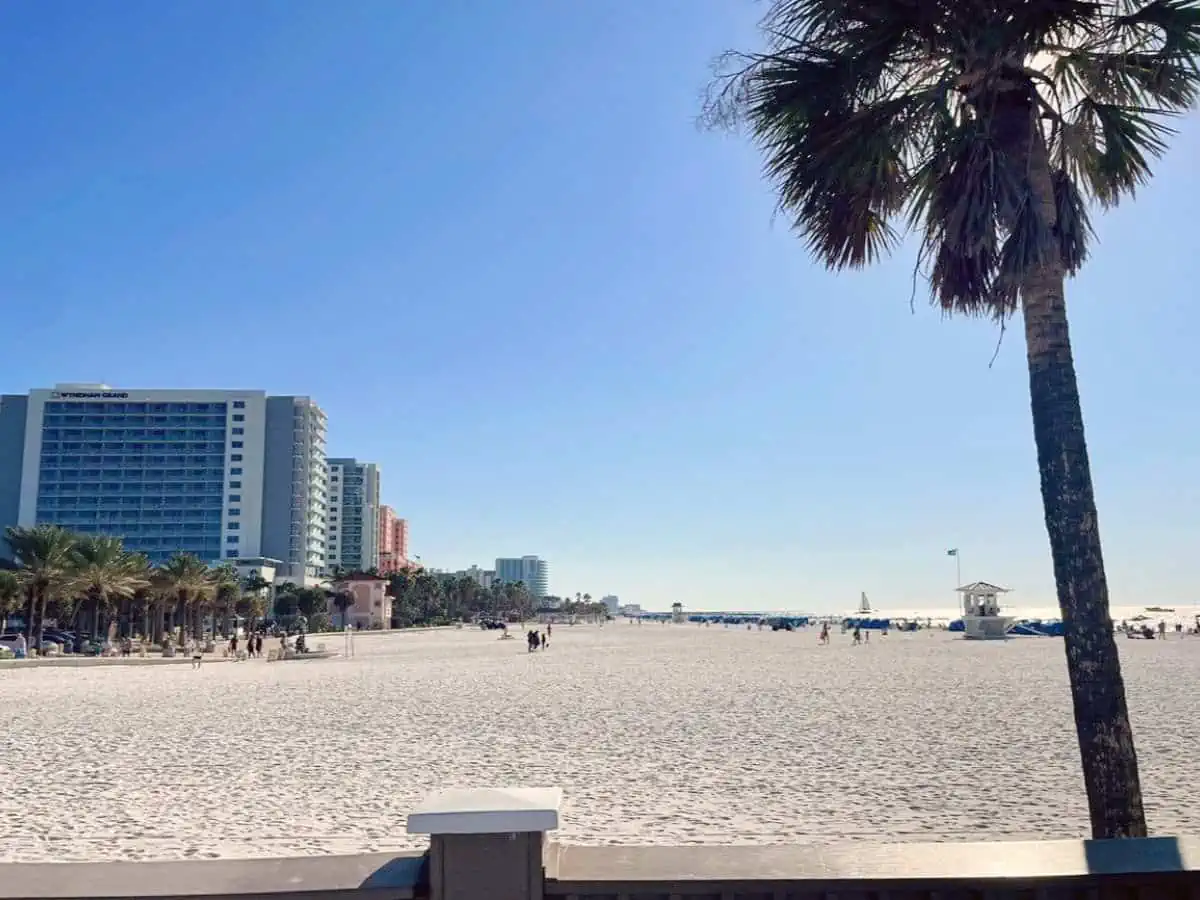 Clearwater is a popular beach destination located on Florida's Gulf Coast, less than two hours from Disney World (approx 92 miles).
If there's a sargassum seaweed problem on the Atlantic beaches then the beaches on Florida's Gulf coast are an excellent option.
With its stunning, white-sand beaches and crystal-clear waters that span 2.5 miles along the Gulf, this destination is a true paradise.
Clearwater is also the best swimming beach close to Disney for children as the waters are calm and clear.
Maximize your time here as there are a lot of water activities to choose from, including fishing, boating, and parasailing.
For those looking to party, this beach is also the best place to take a Clearwater Tiki Boat Tour. You'll enjoy spectacular views of the harbour and an open bar. There's nothing quite like sipping a classic Florida cocktail overlooking the water!
Check prices and availability of a Clearwater Tiki Tour on Viator.com.
Ready to see wildlife in a nature-friendly way? Rent a kayak and embark on an adventurous journey through the Caladesi Island mangrove forests. Guided tours are available and recommended!
On the south side of Clearwater Beach, you will find quiet island of Sand Key. This is the perfect place to go walking or biking.
Pro Tip: In high season traffic can be pretty hectic. Beat the traffic by taking a leisurely journey on the Clearwater Ferry!
This service offers a quick 15-minute trip from downtown Clearwater to the beautiful Clearwater Beach Marina and North Beach.
7. St. Pete Beach
St. Pete Beach, a barrier island located off the west coast of Florida, is a little less than a 2-hour drive from Disney World (approx 93 miles).
Spend your day surrounded by white sand and blue water for an unforgettable beach experience!
For more adventurous types, plenty of water sports are available including fishing, kayaking, and paddle boarding.
Foodie Tip: Always wanted to visit a brewery? This is your chance! Mastry's Brewing Co. offers a unique beach beer-tasting experience. There are several seasonal brews on tap including a bourbon barrel aged stout and a unique black lager brewed with Forbidden Rice.
There are also plenty of romantic things to do in St. Petersburg Take a sunset cruise, dine at a gourmet restaurant or enjoy the nightlife at a beach bar.
With its stunning beaches and convenient location to Tampa and St. Petersburg, it's no wonder it continues to be a popular beach from Disney World.
8. Pass-A-Grille Beach
In under 2 hours drive from Disney World (approx 95 miles), you can enjoy some time away from the Disney crowds in Pass-a-Grille Beach.
This peaceful beach town is located on the southernmost point of St. Pete Beach.
Pass-A-Grille is the perfect spot to take it easy and relax. Although there are no buildings on the beach (except for one restaurant), the town is home to the oldest houses in Pinellas County.
In fact, 8th Avenue is one of the most significant historic districts around the Gulf Coast.
Enjoy a stroll on the recently renovated Merry Pier or take a 10-minute boat ride to Shell Key Preserve (Google Map), a hidden gem where you can enjoy unspoiled nature, go bird-watching, and hunt for seashells!
Don't miss out on exploring Main Street. Although it may be small, the unique and creative shops make this spot an ideal place to search for some special mementos.
9. Anna Maria Island
A two-hour journey (110 miles) away from Disney World lies the picturesque Anna Maria Island, a stunning destination off Florida's western coast.
It's often voted prettiest destination in Florida!
With lots of sugar-white sand beaches to choose from, you can easily spend your days soaking up the sun and swimming in calm, crystal clear waters. It's also easy to combine with time on the mainland to explore a few Sarasota restaurants and the Ringling Museum of Art.
If you're looking for the perfect beach getaway with a more undeveloped beach feeling and plenty of seashells to find, Cortez Beach is your ideal destination!
Go to Coquina Beach if you like to have more amenities close by and visit the famous beach market.
When on the Island during turtle hatching season, check in with Anna Maria Island Turtle Watch & Shorebird Monitoring.
Here, you can learn all about the fascinating sea turtles and their life cycles while also helping to protect them.
With plenty of outdoor activities available, Anna Maria Island is a perfect day trip from Disney World!
10. Treasure Island Beach
Situated between St. Petersburg and Clearwater Beach, Treasure Island Beach is a prime spot for relaxation and exploration on Florida's Gulf Coast.
Escape to the shores of this 3-mile beach just 1.5 hours from Disney World (approx 96 miles)!
Here, visitors are treated to stunning views. The vista of turquoise sea and silky soft white sands stretch as far as your eyes can see.
Enjoy activities like parasailing and fishing cruises, and try to plan your visit around the annual sand sculpture competition.
The main street has a lot of shops, bars, and restaurants. While there are plenty of nightlife opportunities, it's quieter than nearby Clearwater Beach.
A main attraction for nature-lovers, the Treasure Island Beach Trail is a 0.78 miles long paved walk path that's ideal for strolling and biking.
Insider Tip: If you're at Treasure Island Beach on a Sunday afternoon, go to the Drum circle behind Sloppy Joe's. Bring your best beat-making tools, whether it be a drum or anything else you can shake and bang on. Don't hesitate to stand up fast and get down with the music!
About the Author – Wayne Kask
Wayne Kask is a sun destination expert who loves writing about the best attractions, restaurants, and resorts in Florida and the southeastern U.S. When he's not writing for his blog Always On The Shore, he's running outdoors, spending time with family, or planning his next trip.
FAQs
What is the nicest beach closest to Orlando?
While Cocoa Beach is the closest beach to Orlando (and attractions such as Disney World) during seaweed season, many Central Florida beaches receive influxes of smelly sargassum seaweed from the Atlantic and Caribbean. During sargassum season (roughly May to October), your best bet for the nicest beach close to Orlando is Clearwater on the Gulf Coast.
Which beaches have the clearest water near Disney World?
Generally the beaches on the Gulf Coast have clearer waters than those on the Atlantic.
Which is better Cocoa Beach or Daytona Beach?
It depends on what you're looking for. Cocoa Beach is better suited for families with small children while Daytona Beach is famous as a "party city" especially during Spring Break.
Other Places We Love in the USA
Save to Pinterest!