We may earn income from links in this post. Please read this Disclosure for details.
Have you ever wondered if they celebrate Day of the Dead in Cancun? The answer is yes!
Día de los Muertos is a time when family and friends come together throughout Mexico to remember their departed loved ones through food, gravesite vigils and ceremonial altars.
Day of the Dead is a pre-Hispanic tradition recognized as an Intangible Cultural Heritage of Humanity by UNESCO since 2008.
In Cancun, Day of the Dead takes place between October 31 and November 2nd in the hotel zone, el Centro (downtown) and nearby communities.
It's actually one of the best times to visit Cancun, Playa del Carmen and other communities in Quintana Roo.
While Michoacan, Oaxaca and Mexico City have traditionally been considered the best places to celebrate Day of the Dead in Mexico, there are special advantages to celebrating this important holiday in Cancun. You can also:
Enjoy a vacation on one of the world's most beautiful beaches,
Experience Día de los Muertos processions, theatrical productions, music, ceremonial food and other traditions in Cancun and at Xcaret Park and other venues,
Get good deals on off-season holiday flights to Cancun from many parts of the world,
Experience Hanal Pixán or "Food of the Souls" the Mayan Day of the Dead.
Enjoy perfect weather as the Caribbean hurricane and seaweed season are over.
You'll be amazed by the many things to do during Day of the Dead in Cancun and Riviera Maya.
Here are a few of my favourites:
1. Tour Day of the Dead Altars in Cancun
An important fact to note about Cancun is that it's actually home to around 725,000 full time residents. This means that in the days leading up to Dia de los Muertos, families, hotels and other businesses build altars or ofrendas commemorating family members who have passed away.
The Aztecs believed the fragrance of marigolds (cempasuchil in Nahuatl) could awaken the souls of the dead and guide them to earth. So you'll see marigolds used as pathways to guide spirits indoors and to the altars.
Other important elements of the altars include photos of the departed person, candles, copal incense, sugar skull candies, fresh fruit, pan de muerto (Day of the Dead bread) and mementos of the departed's favourite things such as toys or even bottles of tequila.
While you can see elaborate altars in hotel lobbies around Cancun, one of the best places to enjoy this Day of the Dead tradition is at Parque de las Palapas near the Chedraui in downtown Cancun.
Here, the family-friendly activities include altars, traditional food, face painting, live music and a Day of the Day parade from Avenues Chichén Itza and Tulum to the park.
Check the official Cancun Visitors Bureau for a schedule.
Important dates for Day of the Dead in 2022 are:
October 31: Halloween or Día de las Brujas or Noche de Halloween, an evening of trick or treating and face-painting.
November 1: 'All Saints Day' or Dia de los Inocentes, a day of remembrance dedicated to infants and children who have died.
November 2: 'All Souls Day' a day of remembrance dedicated to adults who have died.
Check prices and availability of a special Day of the Dead Tour in Cancun with Viator.com.
2. Shop for Day of the Dead Decorations in Cancun
A fun thing to do is shop for Day of the Dead decorations as souvenirs or to decorate your own home.
The best places to shop for Dia de los Muertos trinkets are Mercado 28, Mercado 23 and independent street stalls, flea markets and shops around downtown Cancun.
Another good bet is Ah Cacao cafe in La Isla Shopping Village for hot chocolate and quality sweets crafted of Mexican cacao.
Banners of papel picado, the intricate lacy cut-outs, adorn the doorways and shops throughout downtown, making it a colourful time to visit Cancun.
The best souvenirs include sugar skulls, skeleton and coffin-themed candy creations of all types, copal incense (if packaged), the sweet loaves of pan de muerto (Mexican Day of the Dead bread), Mayan chocolate and alebrijes, brightly painted wooden figurines.
Discover more about Day of the Dead souvenirs in our post on 10 Amazing Day of the Dead traditions in Mexico.
3. Sample Traditional Day of the Dead Cancun Food and Drink
One food you must try during Day of the Dead is the deliciously sweet pan de muerto, an anise and orange-scented egg bread shaped into a skull and crossbones form.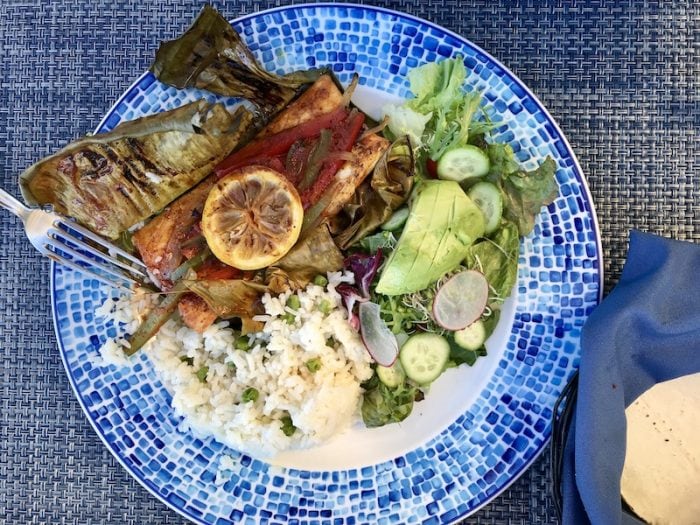 In addition to pan de muerto, other popular Dia de los Muertos foods in Cancun include:
chachacuas (savoury tamales)
pozole pork and hominy stew
lechon (roast pork)
tamalitos (small tamales)
Tikin Xic, a Yucatec Mayan dish of marinated fish wrapped in banana leaf.
atole, a hot corn and masa drink
cacao, hot chocolate
Hanal Pixán sweets
Small portions of these dishes and drinks are presented at ancestral gravesites as well as on altars within the home.
One of the best ways to understand and appreciate these food traditions is on a Day of the Dead walking tour of Cancun with a local guide.
4. Visit a Cemetery on Día de los Muertos in Cancun
In order to welcome the return of the souls of their ancestors, Mexican families clean and prepare gravesites in the week leading up to Dia de los Muertos.
They decorate the graves with candles, marigolds, sugar skull candies, photographs of the deceased and flowers.
Then, all-night vigils take place on Nov 1st and Nov 2nd within the cemeteries. The largest celebrations are for family members who passed away in the preceding year and those who are returning for the first time.
A top spot to celebrate Day of the Dead is the "BRIDGE TO PARADISE" Mexican Cemetery, a recreation of a traditional cemetery featuring Mayan and Mexican folk art motifs on 365 tombs at the Xcaret Park near Playa del Carmen.
The Xcaret cemetery was built in the shape of a spiral to represent the conch shell used by Mayans to communicate with the gods and features seven levels, symbolizing the days of the week and 52 steps which represent the week of the year.
Visiting this cemetery is a good option for people who aren't comfortable at real gravesites yet still want to see this important Day of the Dead tradition.
Purchase your admission tickets to Experiencias Xcaret Parques before you go.
For a more intimate experience, there are several cemeteries in Cancun and surrounding communities to visit.
5. Attend the Festival of Life and Death Traditions
In 2022, the 16th annual Festival of Life and Death Traditions festival will be taking place in Xcaret Park, Hotel Xcaret Mexico, Hotel Xcaret Arte and at the City Theater in Playa del Carmen from October 30 to Nov 2nd.
Presented by Grupo Xcaret, this special Dia de los Muertos program will feature a fantastic lineup of activities in Playa del Carmen including:
music concerts and performaces,
art exhibitions by Ignacio Nezahualcóyotl and Malena Díazfor,
special culinary experiences featuring Tlaxcala gastronomy,
three theatrical productions based on Mayan legends,
concerts such as Astrid Hadad's "Living by Dying" and Ernesto Anaya's "Skeletons, sounds, dead people and traditions"
a highlight will be a gala concert at the great Tlachco with the presentation of musical legends.
Purchase tickets in advance at the Grupo Xcaret official website.
Stay at
Hotel Xcaret Arte
and you'll enjoy all-inclusive food and drink as well as admission (and transportation) to all of the Xcaret ec0-adventure parks.
6. Participate in Hanal Pixán Traditions on Mayan Day of the Dead
One of the most unique things you can do in Cancun for Day of the Dead is participate in Hanal Pixán, the "Food of the Souls" celebration of the Maya indigenous people of the Yucatan.
Much like Dia de Los Muertos, Hanal Pixán is a tradition that celebrates the lives of deceased family and friends.
While it shares many of the same rituals such as decorative altars, ceremonial foods and cemetery vigils, it also features elements unique to the Maya culture.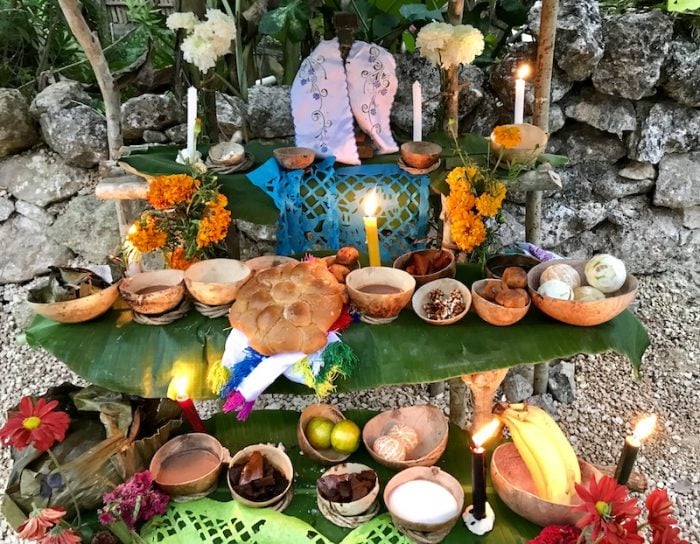 The best way to experience Hanal Pixán is with Alltournative, a tour operator specializing in sustainable tourism. Their focus is delivering travel experiences that respect the environment and local indigenous cultures.
Their Hanal Pixán experience includes return transportation to the Tres Reyes community, a guided tour of the altars and cemetery, participation in a Maya ceremony, a traditional dinner and more.
At Tres Reyes, your Hanal Pixán experience begins with an initiation by a shaman. A community member and translator will then escort you around the community, meeting local families, introducing you to the altars and explain the elements of the decorations.
You'll also witness a dance ceremony at the cemetery and sample Hanal Pixán sweets and drinks such as cacao.
After nightfall, you'll cross a suspension bridge to the Cenote de La Vida, an enormous partially-submerged underground pool. Descending into this subterranean cavern by candlelight down a steep dirt path through the jungle is definitely an unforgettable experience.
At the cenote, shamans conduct a traditional Hanal Pixán ceremony, invoking the spirits of the cardinal points of East, West, North and South through chanting, music and drumming.
It's a haunting and memorable experience to witness this sacred ceremony and listen to live music such as La Llorona (The Weeping Woman) and La Bruja (The Witch). The evening wraps up with a Maya dinner served by community members.
Note: The Secretary of Tourism often hosts a Hanal Pixan festival for Dia de Muertos in Playa del Carmen.
The 3-day event begins at 6pm with a procession of catrinas on October 31st on Quinta Avenida.
Celebration at 7pm in front of City Hall.
Mayan ball game and folkloric dance at the Panteon Municipal (Cemetery) on Nov. 1st and 2nd.
Mass at the Panteon Municipal (Cemetery) throughout the day on Nov. 2nd.
Altars, processions, music, readings and more in the evening of Nov 2nd at the Plaza Civica (City Hall)
7. Party at a Floating Fiesta on a Gondola at Xoximilco Cancun
If you're looking to party beyond the Cancun nightclubs, you can celebrate Day of the Dead while gliding in a trajinera (gondola) along 7.4 kilometres of Venetian-like canals at Xoximilco Cancun.
This attraction pays tribute to the legendary Xochimilco floating gardens of Mexico City with its festive colours, Day of the Dead folklore, traditional cuisine and tequila.
The original floating gardens of Xochimilco date back to the Aztec period, but this modern version of the canals is a fun way to celebrate Day of the Dead in Cancun at night.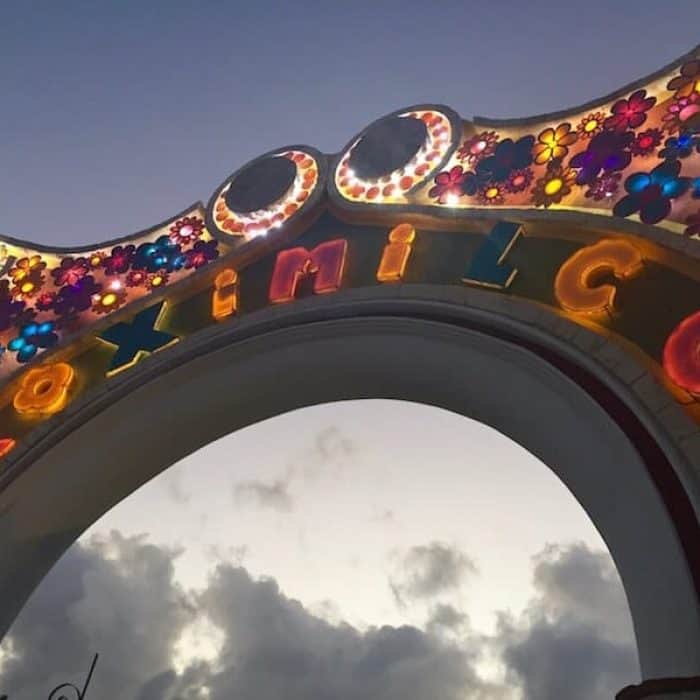 Learn more about mariachi music and print our playlist of the best Day of the Dead mariachi songs to request before you go.
Stay at
Hotel Xcaret Arte
and you'll enjoy all-inclusive food and drink as well as admission (and transportation) to Xoximilco Cancun and other Xcaret ec0-adventure parks.
8. Gawk at Real Skeletons in the Museo de Cancun
One of the best things to do in Cancun during Day of the Dead is to visit the Museo Maya de Cancun, officially known as Museo Maya de Cancún y Zona Arqueológica de San Miguelito, INAH.
Designed by Mexican architect Alberto Garcia Lascurain, this contemporary museum is filled with 3,500 valuable artifacts collected by the National Institute of Anthropology and History.
Some of the most fascinating exhibits include recreated tombs, mummified remains and real skeletons adorned with jade chest plates, precious jewellery, stone and textile treasures. You'll learn a lot about Maya burial rites and beliefs in the underworld.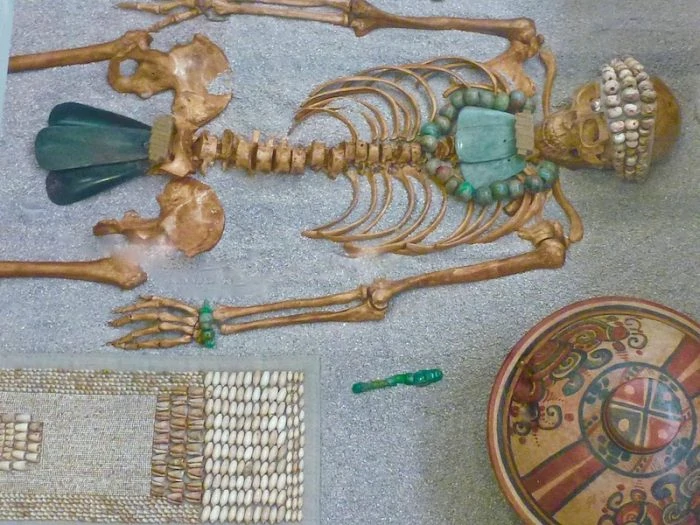 If you have only one day in Cancun, it's also worth visiting the adjacent San Miguelito Archeological Site. Top things to see include the Chaak Palace, the North Complex, South Complex and Dragon complex, a collection of ancient stone platforms, ceremonial sites and pyramids connected by meandering paths through botanical gardens.
The Museo de Cancun is located in the heart of the hotel zone on Boulevard Kukulcán. It's a good thing to do in Cancun if you're on a budget as the cost of admission is just 70 MXN pesos (around 3.50 USD).
Bring payment in pesos. USD and other currencies are not accepted. The Museo de Cancun is closed Mondays.
9. Best Hotels for Day of the Dead in Cancun and Riviera Maya
From October 30 to November 2, most of the luxury hotels in Cancun and Riviera Maya will celebrate Day of the Dead with special decorations, cuisine and altars.
However, these hotels and resorts go all out in their celebrations so should be at the top of your list of where to stay on Día de los Muertos.
1. Hotel Xcaret Arte in Playa del Carmen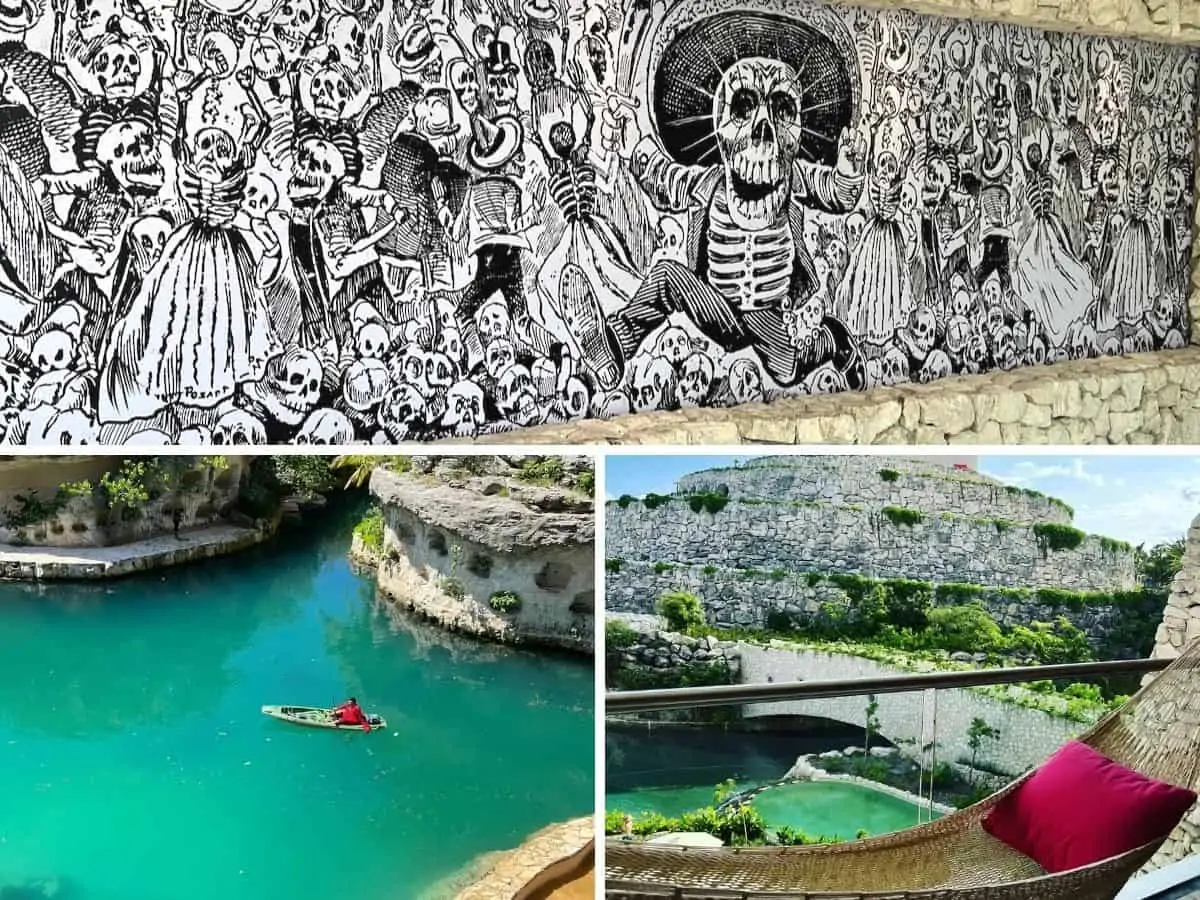 Opened in July 2021 by Grupo Xcaret — just in time for Day of the Dead 2021 –Hotel Xcaret Arte is designed exclusively for adults and features 900 suites, seven restaurants by acclaimed chefs, 10 bars and a spa with a hydrotherapy circuit.
In addition to all-inclusive dining, it offers hotel guests all-inclusive access and transportation to its popular eco-adventure parks and tours.
This means you can participate in the Mexican fiesta at Xoximilco, the underground rivers, cenotes and cultural attractions such as the cemetery at Xcaret, spectacular evening events and more all at no extra cost.
Set amid Caribbean coves and underground rivers, the luxury hotel is designed in five zones of "Casas" inspired by Mexican cultural traditions. (Credit: Michele Peterson)
These include textiles, dance, painting, pottery and cooking and are hubs where resort guests can take hands-on workshops and instruction.
Along with family-friendly Hotel Xcaret next door, Hotel Xcaret Arte is an ideal place to immerse yourself in the sights, sounds and flavours of Day of the Dead in Mexico.
Check rates and availability at Hotel Xcaret Arte in Playa del Carmen on Booking.com.
2. Grand Fiesta Americana Coral Beach Cancun
Set on a private beach in Cancun's Zona Hotelera, the Grand Fiesta Americana Coral Beach Cancun offers several ways for visitors to participate in this important Mexican celebration.
During their stay, guests can sample traditional Day of the Dead foods, witness the creation of altars and enjoy special decorations throughout the resort.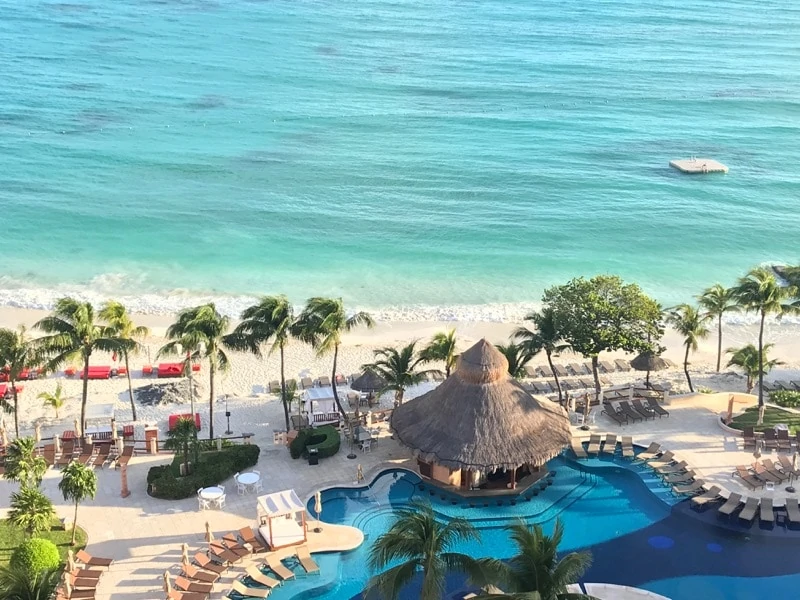 The Grand Fiesta Americana Coral Beach is one of our top hotels for couples in Cancun. Couples will enjoy the full-service spa complete with a Hydrotherapy Circuit featuring an aromatherapy steam room, multi-jet showers, ice room, polar pools and several Mayan-themed spa treatments.
But this hotel is great for kids too! If you're travelling with children, they'll love the KidZ Club where Day of the Dead face-painting is often offered.
For an evening of Mexican cuisine book the Grand Fiesta's La Joya restaurant where traditional mariachi players serenade at dinner along with a spectacular light and sound show. The high-tech show draws on Mexican Dia de los Muertos motifs, traditions and history for inspiration.
Upgrade to the Grand Club Unlimited Experience for VIP butler service, access to the exclusive Club Lounge as well as all-inclusive dining and drinks. The Grand Club Junior or Master Suite accommodation feature premium ocean front views.
Check prices and availability at Grand Fiesta Americana Coral Beach Cancun on Booking.com.
3. Hyatt Zilara Cancun – All-Inclusive, Adults-only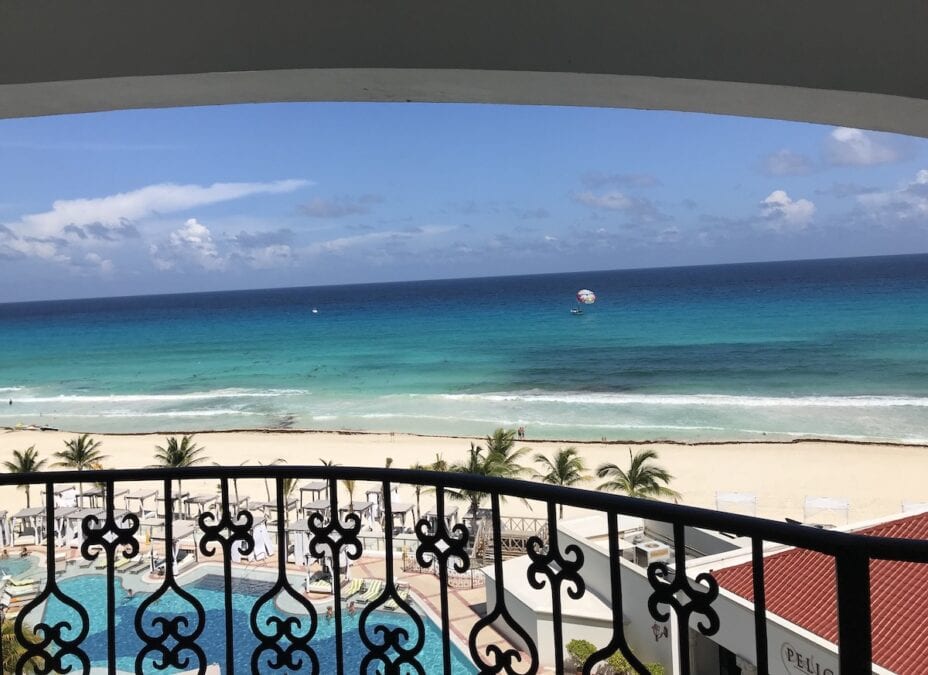 A great option for an all-inclusive hotel in Cancun on Day of the Dead is the Hyatt Zilara Cancun. Set on a wide stretch of beach in the hotel zone this all-inclusive resort is for adults-only and features spectacular evening shows with cultural themes as well as traditional cuisine.
Check prices and availability at Hyatt Zilara Cancun on Booking.com.
4. Andaz Mayakoba Resort Riviera Maya
If you're a guest at the Andaz Mayakoba Resort Riviera Maya during Day of Dead, you can take part in authentic and local Day of the Dead experiences hosted by the resort.
Among the highlights are a Pan de Muerto bar at breakfast and a special three-course dinner at signature fine dining restaurant Casa Amate with Casa Madero wine pairings, a welcome drink, special dessert and activities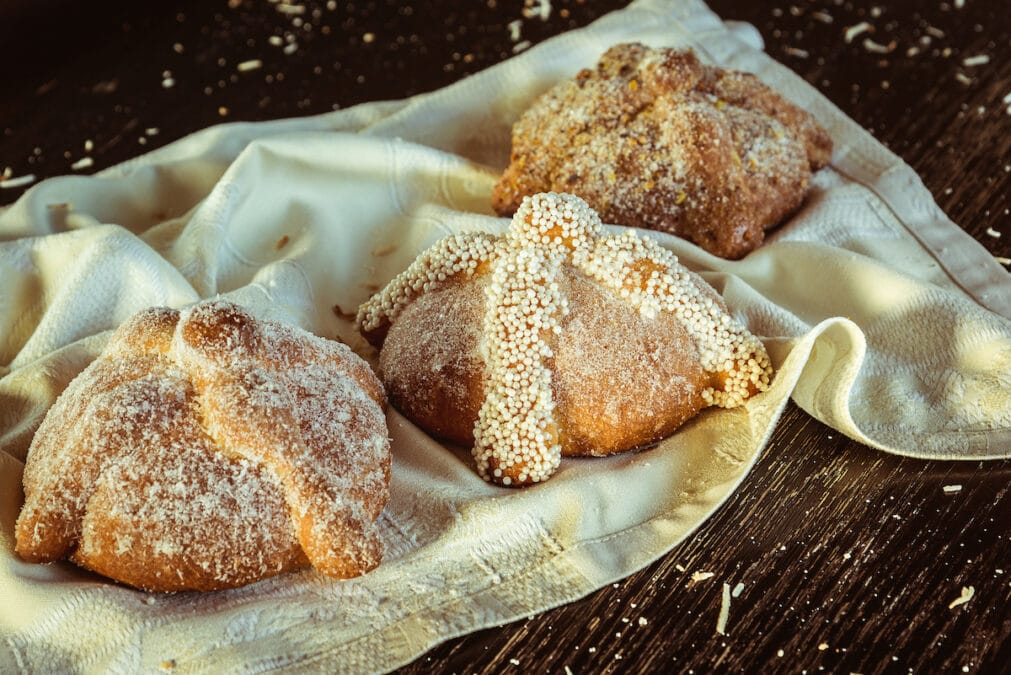 What exactly is Pan de Muerto? "Bread of the Dead" is a traditional sweet bread with orange blossom and anise scents.
It has a soft flaky brioche-like interior and the top is designed with pieces of dough in the shape of bones and skulls, often decorated with coloured sugars.
The Pan de Muerto prepared by Andaz Mayakoba's Executive Chef, Miguel Gomez, is one of the most popular along the Mayan Riviera!
Check prices and availability at Andaz Mayakoba Resort Riviera Maya on Booking.com.
Day of the Dead Cancun Facts and Travel Tips
Halloween in Mexico vs Day of the Dead in Mexico
Although one of the days overlap, Day of the Dead is very different from Halloween in Mexico. Halloween (Día de las Brujas or Noche de Halloween) is celebrated for children on October 31.
Although some elements of Halloween and Day of the Dead are the same (face-painting, masks and costumes), the main difference is that Halloween in Mexico is a commercial celebration featuring costumes and trick or treating. In Mexico, children also ask for pesos as well as calaveritas and dulces (sweets).
Day of the Dead is often a private family event and a deeply religious tradition with specific rites and rituals.
Learn about how to experience Day of the Dead traditions, celebrations and vigils at cemeteries in Oaxaca City, Oaxaca.
Halloween is followed by Day of the Dead (Día de los Muertos) celebrations on All Saints' Day ( November 1st) and All Soul's Day (November 2nd).
Dia de Los Muertos vs Dia de Muertos
Dia de Los Muertos and Dia de Muertos have the same meaning, although Dia de Los Muertos is more commonly used. How do you greet someone on Day of the Dead? You can say "Feliz Dia de Los Muertos."
Photography During Day of the Dead in Cancun
Avoid using flash photography as it can be intrusive at night. You should request permission to photograph people especially children. Taking photos of altars is generally acceptable.
Safety During Day of the Dead
Given that most of Dia de los Muertos activities take place at night, it's wise to follow certain safety precautions. This is especially important if you are headed to the Tres Reyes community where I almost fell into the cenote! Use caution walking outdoors where surfaces can be uneven, slippery and visibility is poor.
Follow these safety tips to avoid accidents:
Wear comfortable, closed-toe shoes like running shoes.
Wear insect repellent.
Bring water.
Carry a flashlight.
Bring small denominations of Mexican pesos in cash.
Bring a hat, sweater and rain gear such as a folding poncho.
Wear long-sleeved clothing and pants to avoid insect bites.
Save to Pinterest!
Dividing her time between Canada, Guatemala and Mexico (or the nearest tropical beach), Michele Peterson is the founder of A Taste for Travel. Her award-winning travel and food writing has appeared in Lonely Planet's cookbook Mexico: From the Source, National Geographic Traveler, Fodor's and 100+ other publications.
Read more about Michele Peterson.