We may earn income from links in this post. Please read this Disclosure for details.
Day of the Dead in Mexico is more than a one-day event. It's a week-long, or even month-long, cultural tradition!
The countdown begin in mid-October and continues through to November 2nd as communities across Mexico prepare to welcome the souls of the departed with special Day of the Dead festivals, traditions and displays.
From special symbolic food, music, graveside ceremonies and unique decorations, Day of the Dead or Dia de los Muertos is an extra special time to be in Mexico.
Here are the most amazing Day of the Dead traditional activities you'll see during Dia de Muertos in Mexico:
1. Day of the Dead Decorations – Marigold Flowers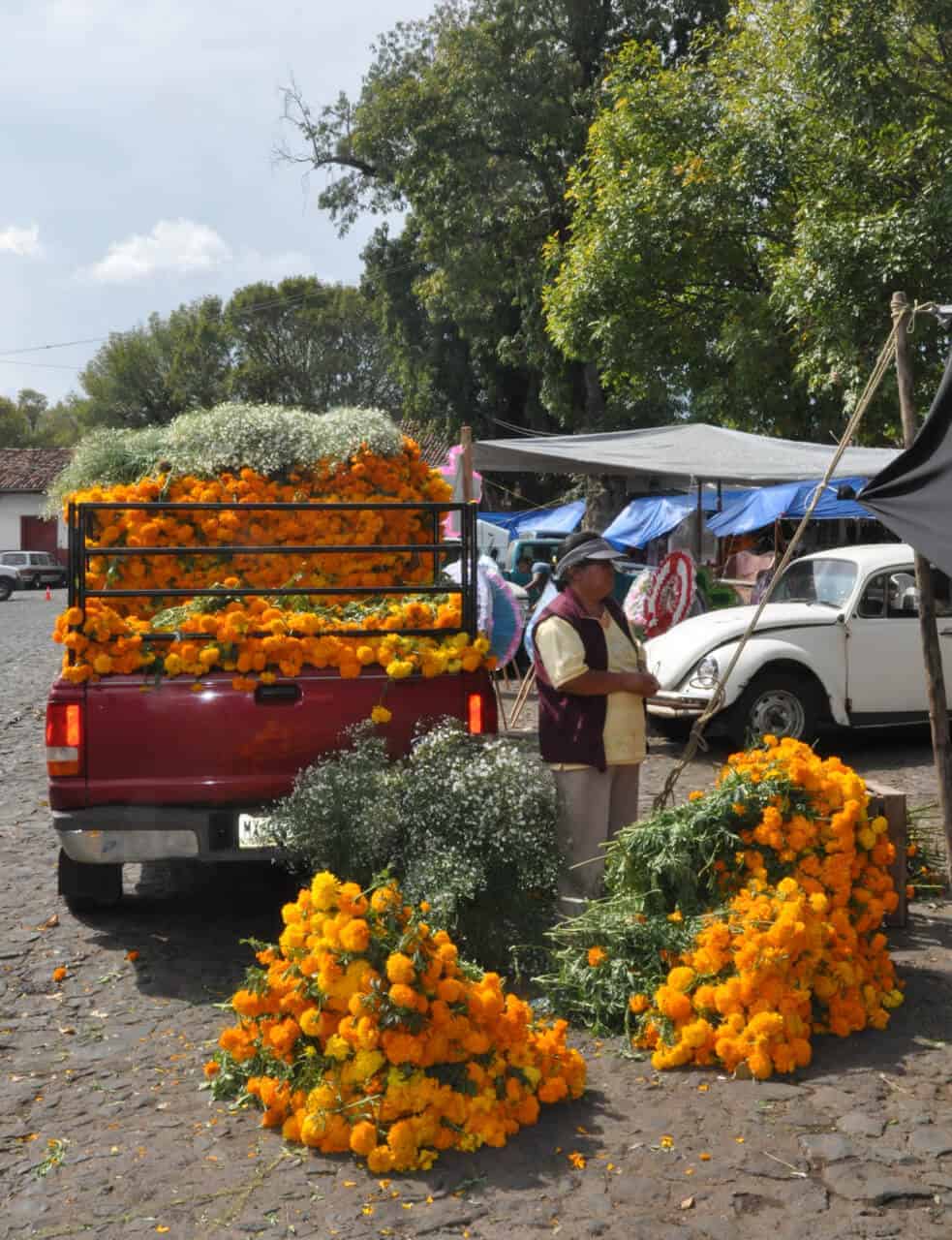 The Aztecs believed the fragrance of marigolds could awaken the souls of the dead and guide them to earth. For the Purepecha, marigolds represent celebration, life and joy and, when used in abundance, their scent purifies a space.
These beliefs have continued to modern times, so you can expect to see people carrying armloads of marigolds, cempasuchil in Nahuatl and tiringuini in Purepecha, to lay as pathways to their doorways to guide the spirits indoors or as part of home altars for purification.
2. Day of the Dead Sugar Skull Candies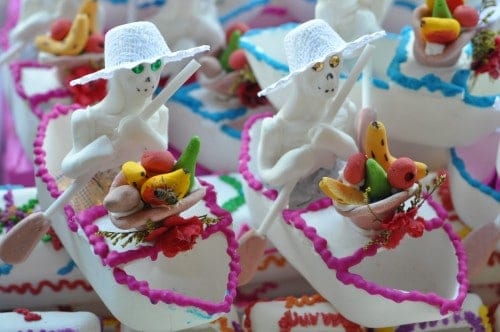 During Day of the Dead in Mexico you can browse elaborate displays of dulces for sale in market stands where you'll discover these sugary creations in the shapes of skulls, coffins and humorous figurines intended to appeal to the tastes of the departed.
I tried eating a few of these pretty treats but don't recommend you try it unless you want to break a tooth or are truly desperate for something sweet.
Day of the Dead is also the time to purchase Pan de Muerto, the sweet bread redolent with anise, or to place an order for tamales.
3. Construction of Day of the Dead Altars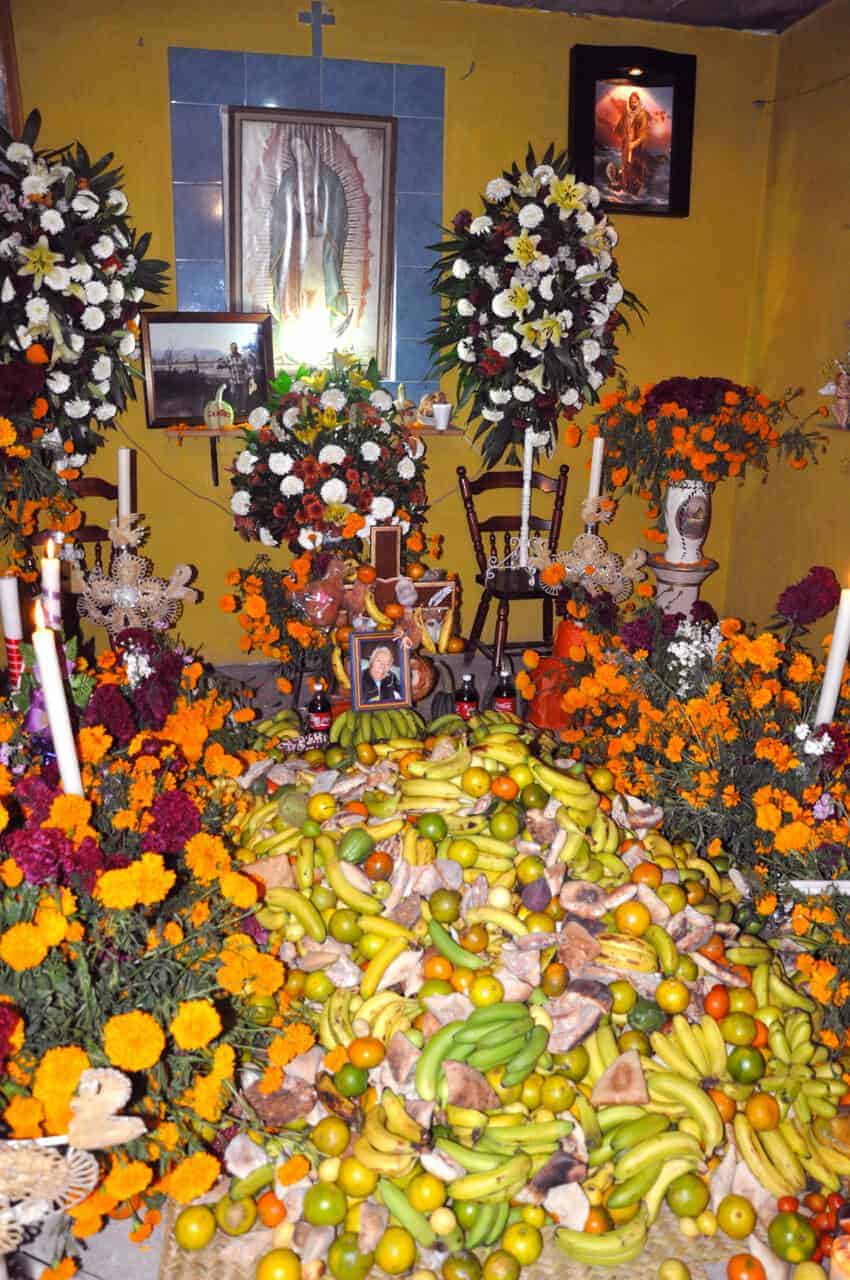 This ritual actually begins on October 15th on the Day of the Invitation of the Souls. This is when families visit the graves of their ancestors to clean the gravestones in preparation of building the altars.
Then during the days leading up to All Saints Day, families, hotels, restaurants and other businesses begin constructing altars or ofrendas commemorating family members.
You'll see spectacular constructions with photos of the departed, copal incense, marigolds, sugar candies, fruit, new clothing and momentos of the departed's favourite activities ( ie toys, a soccer ball or even a bottle of Johnny Walker).
Banners of papel picado, the intricate lacy cut-outs of flowers, skeletons or fruit, adorn doorways everywhere.
4. Day of the Dead Costumes – La Calavera Catrinas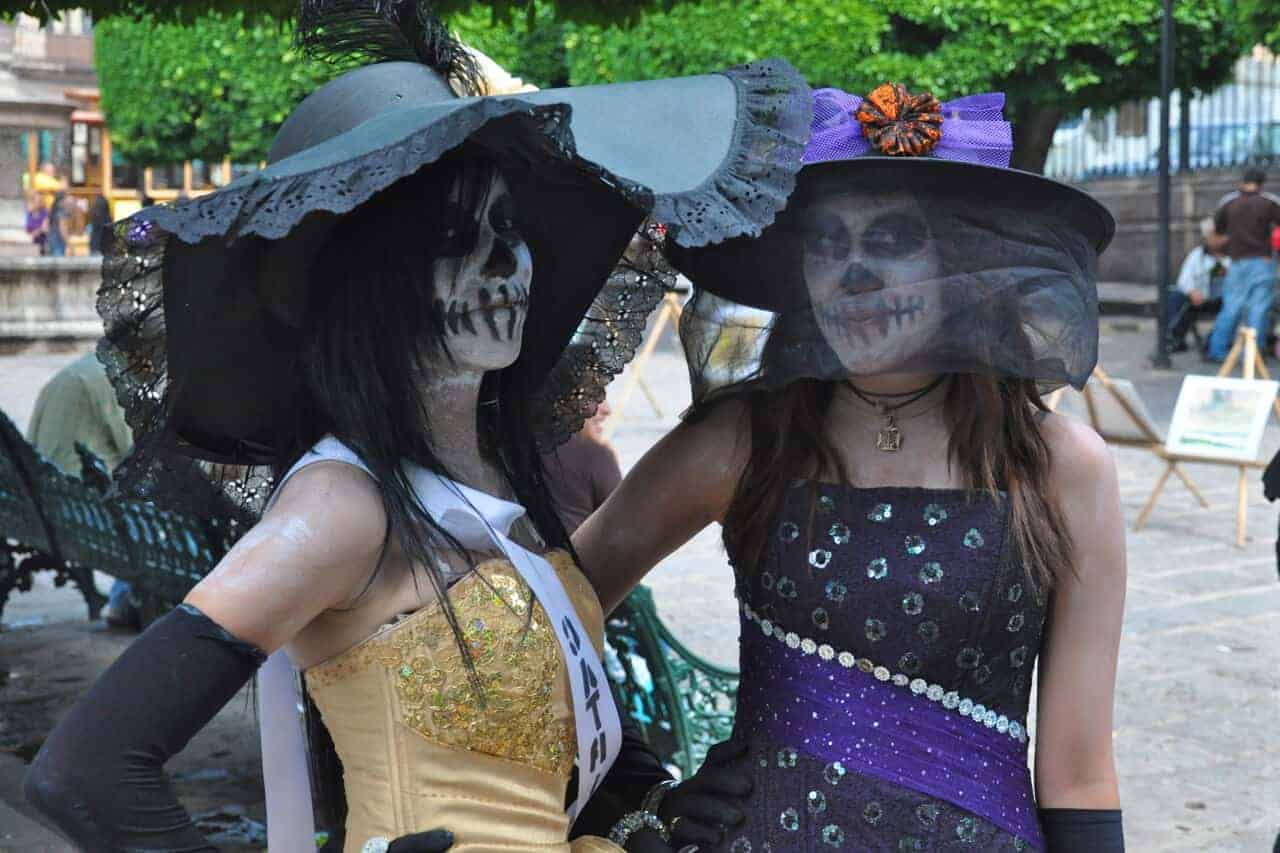 Expect to see the elegant figures of female skeletons in many different forms for Day of the Dead. She'll appear in costume, represented in coloured sawdust adorning a walkway, as a work of art in a clay statue in Patzcuaro and in shop displays throughout Mexico.
Originally created by Jose Guadalupe Posada to satirize people who abandoned their Mexican heritage and assumed the attire of European aristocracy, catrinas have grown to become a symbol for Dia de los Muertos itself.

5. Day of the Dead Processions, Parades and Exhibitions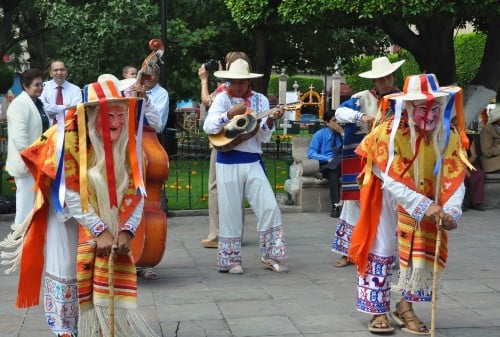 In the days leading up to November 2nd, do as the locals do and join in public celebrations, tour exhibitions of artwork or watch folk dance performances.
Top spots to experience Day of the Dead traditions in Michoacan include the Tianguis Artesenal at the Plaza Vasco de Quiroga in Patzcuaro, ritual tournaments featuring a flaming ball of fire in Santa Fe de La Laguna, Day of the Dead processions in Patzcuaro and cultural performances in Morelia's main plaza.
6. Day of the Dead Face Paint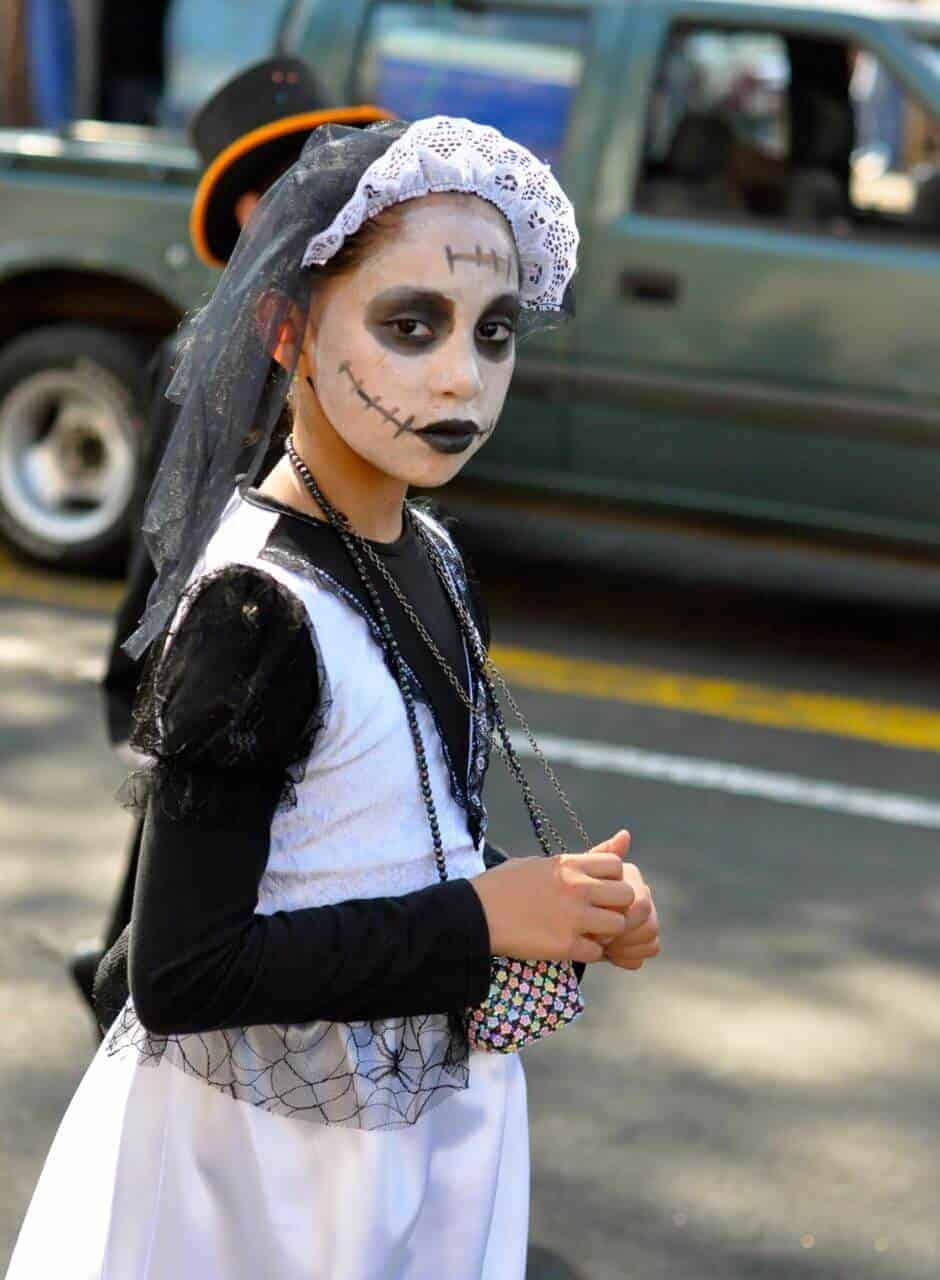 Face paint is an important ritual if you're participating in Day of the Dead festivities. They represent the power of transformation.
The most popular style is to create a Dia de los Muertos sugar-skull look which involves a white base and ghoulish black mouth paint.
But, other even more imaginative versions can be seen on the streets of Oaxaca City and Morelia in particular. There you might also see contemporary and pop culture references in Day of the Dead face paint.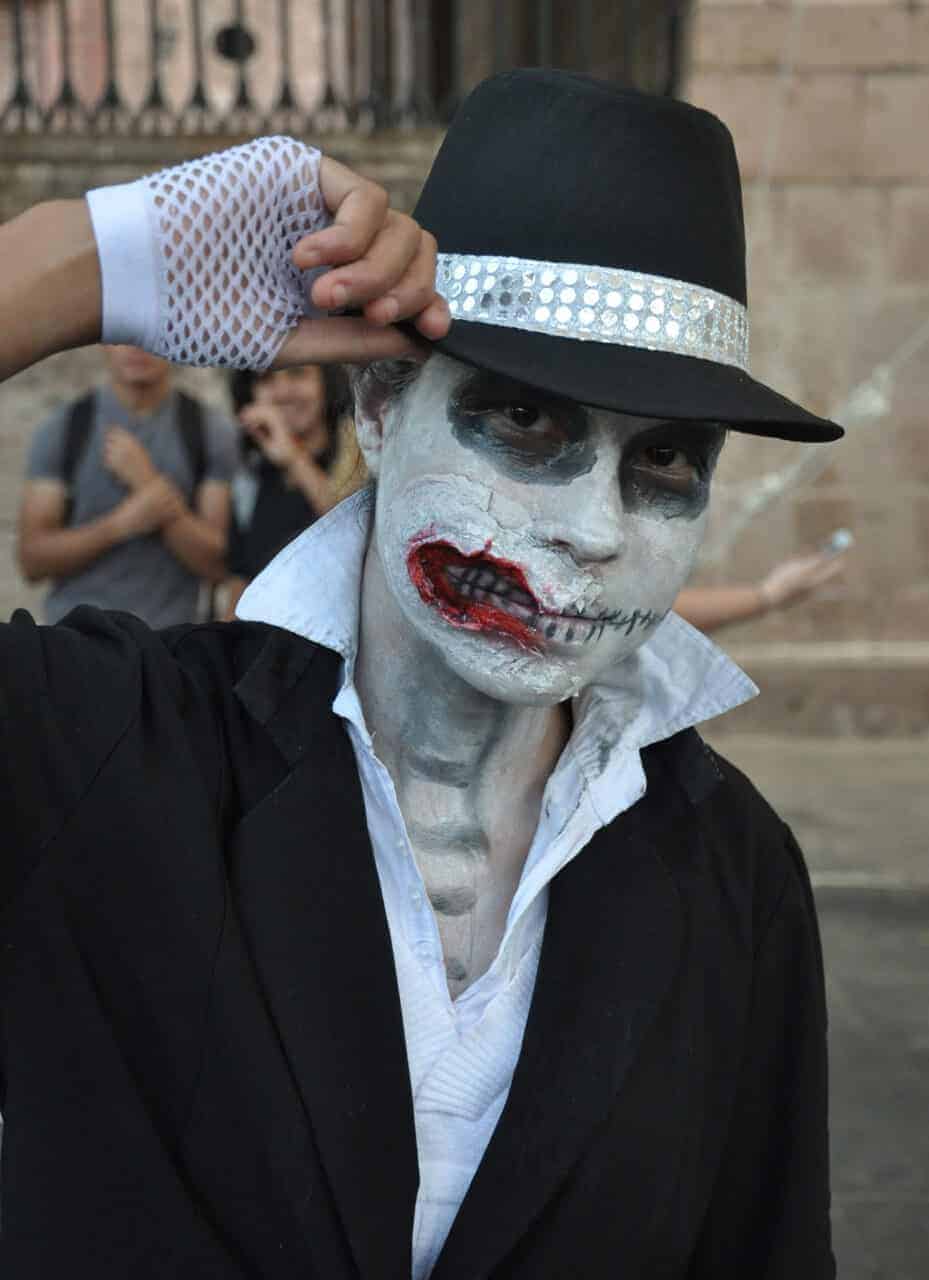 7. Day of the Dead Cemetery Vigils and Rituals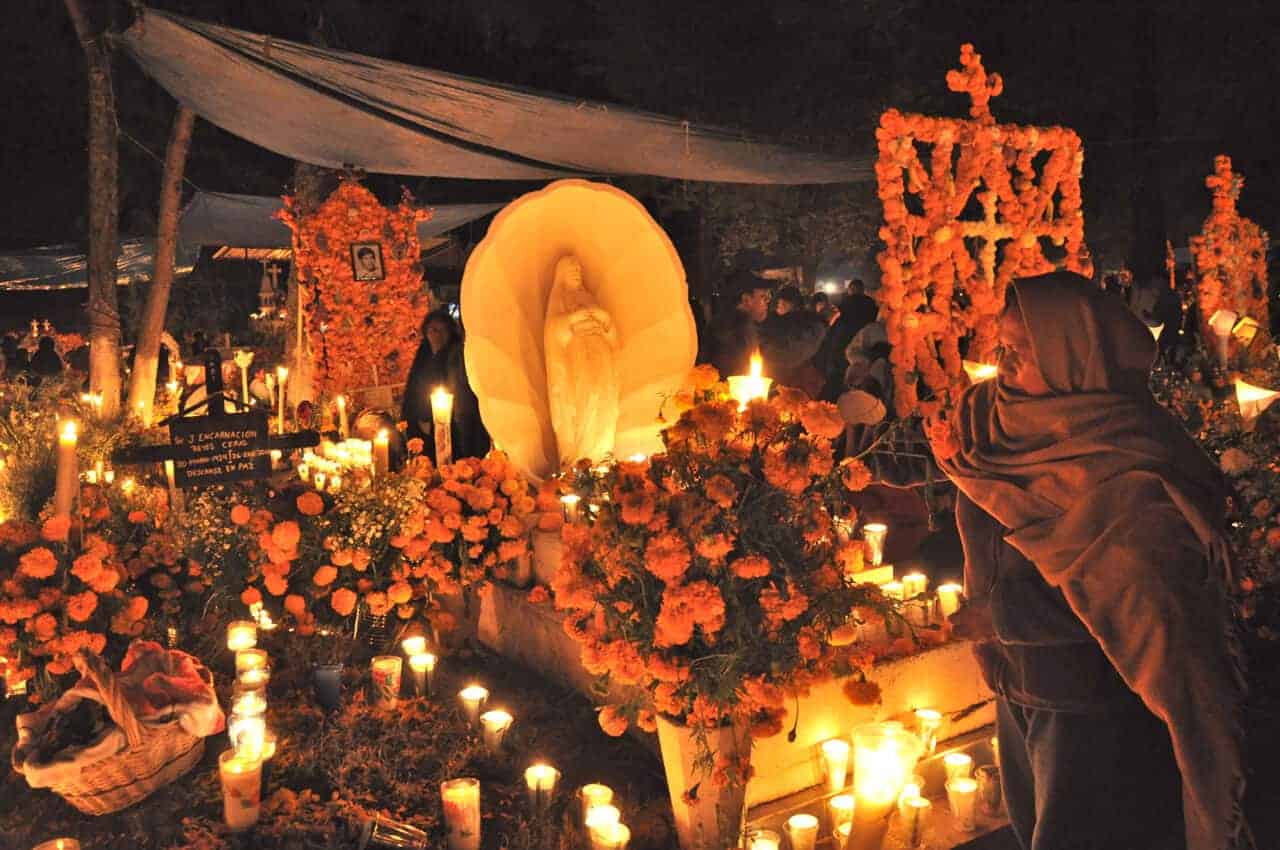 Families begin cleaning and preparing gravesites with candles, marigolds, sugar skull candies, photographs of the deceased and extravagant offerings for the all-night vigils that will take place on November 1 and 2nd.
The largest celebrations are for the deceased who passed in the preceding year and who are returning for the first time.
Vigils begin first for the souls of the angels (children and the unmarried who have passed) followed by elders.
In Michoacan, the cemetery in Tzintzuntzan and its associated night market is my top choice of the best cemetery to visit.
8. Traditional Day of the Dead Mariachi Music
Music is another key ingredient of Day of the Dead festivities. In Oaxaca City, it's possible to see mariachi bands, concerts with live rock bands and dramatic stage performances of contemporary and traditional dance.
I was fortunate to see Alejandra Robles, " La Morena" an amazing traditional singer who was born in Puerto Escondido perform "La Llorona" a song that tells the legend of a woman who drowned her children to be with her lover and now roams the world searching for them and crying for her loss.
If you take a boat tour of Xochimilco, the ancient canals and floating gardens in Mexico City, you'll visit riverbanks where her spirit is said to return on Dia de Muertos.
When it comes to traditional Day of the Dead mariachi music, the song La Llorona is undoubtedly the most popular song for Dia de los Muertos.
There are several versions of La Llorona including the version by Mariachi Juvenil de Tecalitlan & Lila Downs seen in the movies "Frida" but another of my favourites is the version of La LLorona by Mariachi LOS DORADOS.
Check out our complete list of the best mariachi songs for Day of the Dead and other special occasions.
9. Day of the Dead Food for Dia de Los Muertos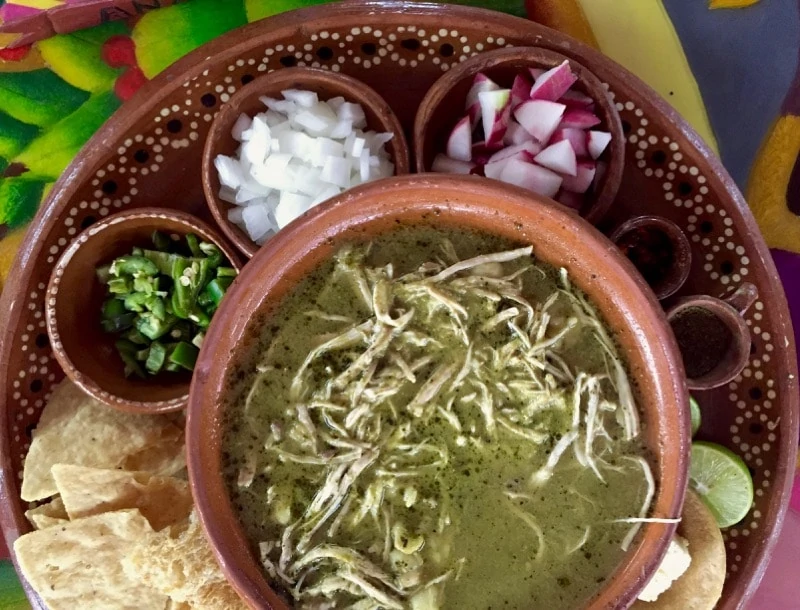 The most popular food to eat during Day of the Dead or Dia de los Muertos in Mexico is pan de muerto, an anise and orange-scented egg bread that is shaped into a skull and crossbones form.
In Oaxaca City, Mexico City and Pátzcuaro, in the days leading up to November 2nd, it's possible to purchase pan de muertos bread at the market and from vendors who have set up stalls around town.
It's delicious dunked into a steaming mug of hot Mexican chocolate.
In addition to pan de muerto, other popular Dia de los Muertos or Day of the Dead food to eat include pozole, a pork and hominy stew ideal for warming up with during chilly gravesite vigils. It also does double duty in terms of serving a crowd.
Regional variations of popular dishes for Day of the Day include moles and tamales accompanied by atole (a hot corn and masa drink).
Portions of each of these dishes would also be presented at the ancestral gravesite as well as on the altars within the home.
It's also quite common to see bottles of Johnnie Walker scotch, tequila or local mezcal on altars as well as around the gravestones at cemeteries.
10. Tapetes de Arena or Carpets of Sand
Another incredible Day of the Dead tradition in Mexico is the creation of tapetes de arena – or carpets made of sand.
These colourful temporary carpets are made of tinted sand or coloured sawdust, beads, glass or even organic material such as feathers, flowers and fruit.
They're laid on the ground as part of Día de Muertos celebrations and most typically seen in the state of Oaxaca.
While many of the design motifs are religious — with representations of Jesus, the Virgin Mary or saints — it's also possible to see contemporary versions featuring skulls and skeletons.
11. Pelota Purépecha (Fire Hockey) on Day of the Dead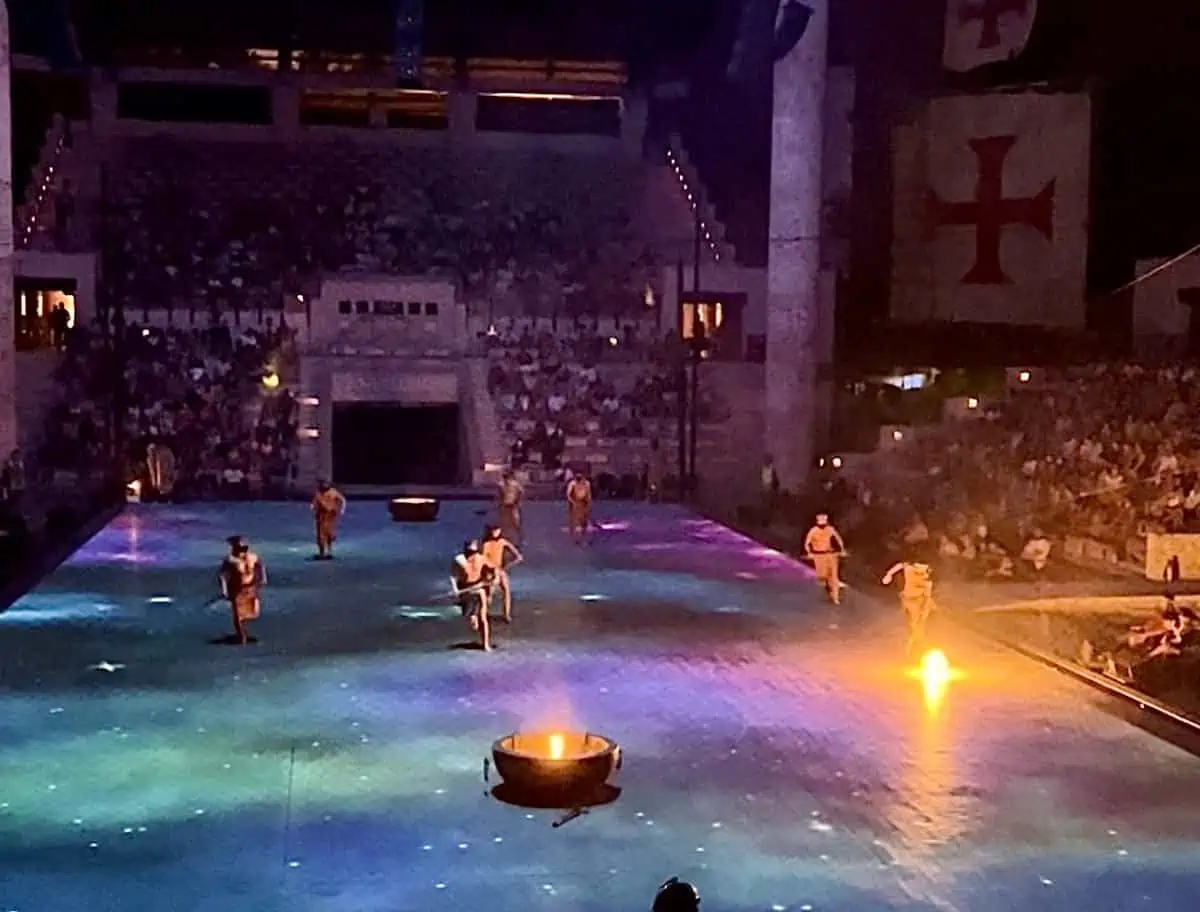 While many Day of the Dead traditions (such as face paint and ghoulish decorations) have become incorporated into popular culture commercially both within and beyond the border of Mexico, some of the most ancient traditions are at risk of disappearing.
The Pelota Purépecha (Purépecha ball) game, is a pre-Hispanic competitive sport that originated in northwestern Michoacan and features players battling in a manner akin to hockey to score with a wooden ball that's been dipped in flammable material and set on fire.
According to legend, the fiery ball represents the sun and, the players, with their wooden sticks, the battle between night and day.
The game's origins date to the Pre-Columbian era as depictions of the sport can be seen on the pyramid complex of Teotihuacan near Mexico City.
During Dia de los Muertos, Pelota Purépecha is played at night in the streets in towns such as Tzintzuntzan near Patzcuaro, Michoacan. It's a remarkable and exciting sight to see.
It's also possible to see adaptations of the ancient ball game at performances at Xcaret Park near Playa del Carmen. At all-inclusive Hotel Xcaret Arte and Hotel Xcaret admission to the show (and all of the parks) is included in the price of your stay.
12. Butterfly Nets of Pátzcuaro – A Unique Regional Tradition
In the Patzcuaro Lake Region of Michoacan, several unique Day of the Dead traditions and special events begin on November the 1st All Saints Day and November 2nd All Souls Day.
In addition to the games of fire hockey, dances and an illuminated display by the fishermen using their nets at night, there are live music, special dinners and open air bars set up in the towns surrounding Lake Patzcuaro.
Day of the Dead Tours and Mexico Travel Planner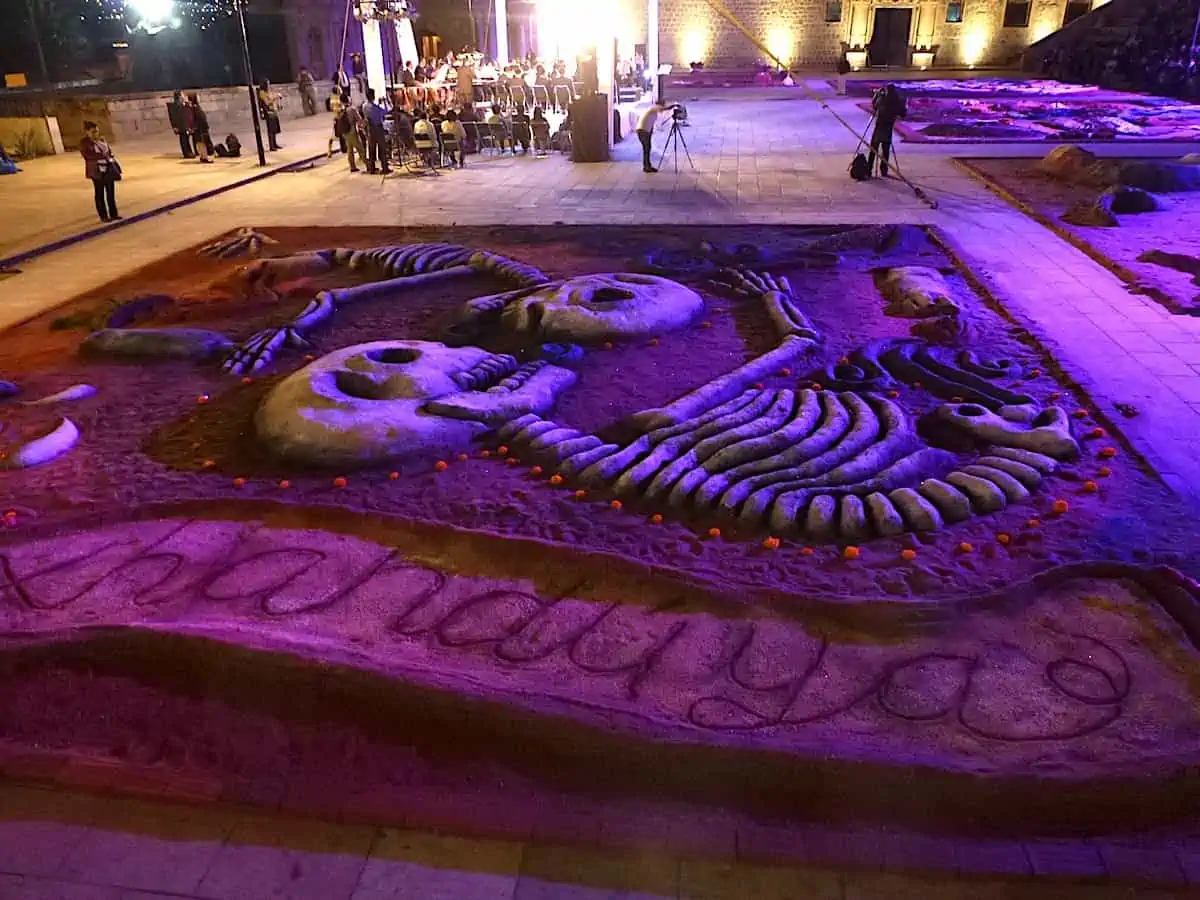 Oaxaca City: Expect all-night vigils, big parties and tours in Oaxaca City, one of the most spectacular destinations to experience authentic Day of the Dead traditions and activities. Read more at Cemetery Tripping in Oaxaca City.
Puerto Escondido: Local culture and tourism expert Gina Machorro often leads Day of the Dead traditions and experiences on November 2nd.
To participate, reserve in advance at the information booth in front of Hotel Rocamar on the Adoquin. Gina is generally at the booth between 10:00–2:00 and 4:00 to 6:00. There is a cost to participate.
Bringing cameras and taking photos is acceptable but the objective is to enjoy this cultural ritual and pay respect to the deceased. Pan de muerto and special chocolate will be available.
Get more details at Celebrating Day of the Dead in Puerto Escondido.
It's also possible to celebrate Day of the Dead in Cancun.
Morelia: In larger cities such as Morelia in Michoacan, you can purchase a Noche de Muertos ticket in advance from vendors and tour operators such as Casa Maya near the Cathedral and Plaza Morelia. Expect to pay around $50 USD.
The tours depart at 9 pm, visiting towns around Lake Patzcuaro and return at 4:30 am. Bring a small bag of fruit, coins or sweets so if you visit a family home you'll have something to contribute to the altar.
Dress warmly with a hat, gloves and jacket as you'll be out all night and the temperature is chilly in high altitudes. Also be sure to bring a big appetite as you'll be offered bowls of hearty pozole, the hominy stew, tamales and bread throughout the night.
Get more information at Michoacan Tourism Their office is located Av. Tata Vasco #80 Col Vasco de Quiroga, Morelia.
Save to Pinterest!
Dividing her time between Canada, Guatemala and Mexico (or the nearest tropical beach), Michele Peterson is the founder of A Taste for Travel. Her award-winning travel and food writing has appeared in Lonely Planet's cookbook Mexico: From the Source, National Geographic Traveler, Fodor's and 100+ other publications.
Read more about Michele Peterson.