We may earn income from links in this post. Please read this Disclosure for details.
Although Día de los Muertos festivities in Mexican cities such as Oaxaca City and Patzcuaro deservedly get lots of attention, it's possible to take part in authentic ceremonies for Day of the Dead in Puerto Escondido, Oaxaca and other beach destinations.
While the most important dates to keep in mind are November 1st for Día de los Inocentes and November 2nd for Día de los Muertos, Day of the Dead preparations begin as early as mid-October.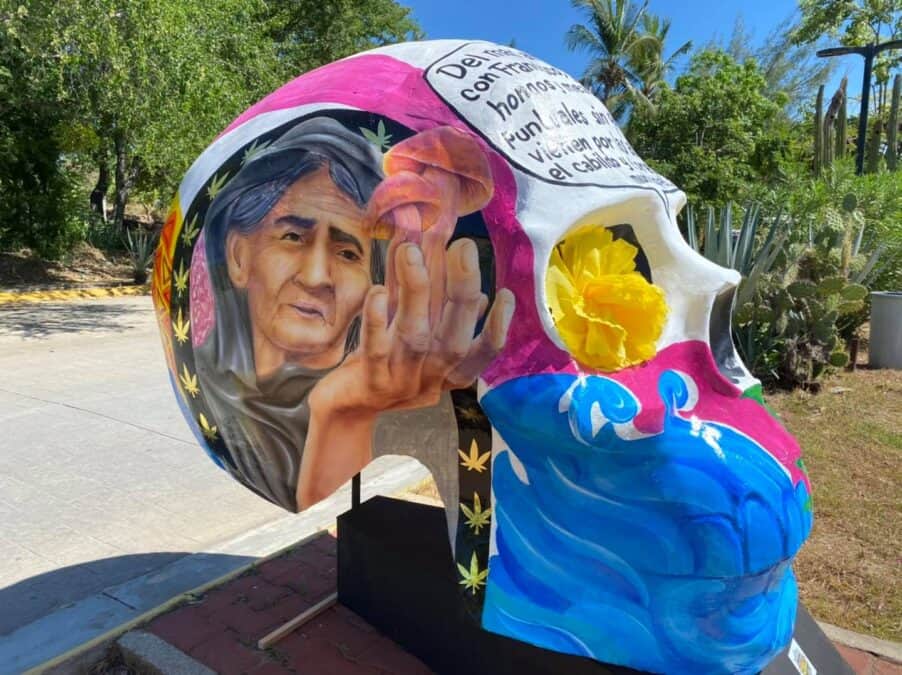 Here are some of the main Day of the Dead traditions in Puerto Escondido and suggestions on ways you can participate in this unique and memorable cultural tradition.
1. Day of the Dead Altars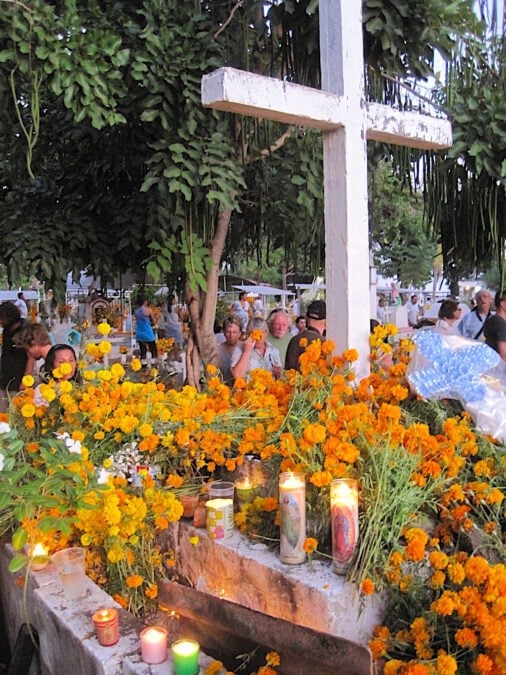 Although you won't see Day of the Dead recognized to the same extent in Puerto Escondido as in other places in Mexico, you will be able to notice many Día de Muertos elements around town.
One of the most colourful sights to see during the weeks leading up to Day of the Dead are baskets of cempasúchil flowers also known as the Mexican marigold or Aztec marigold or flor de muertos (flower of the dead).
In Puerto Escondido there's a whole street dedicated to the sale of flor de cempasúchil on Calle 9º Norte near Mercado Municipal Lic. Benito Juárez.
These brilliant orange flowers are an important component of the altars known as ofrendas built in private homes and cemeteries.
Another ritual actually begins on October 15th on the Day of the Invitation of the Souls. This is when families visit the graves of their ancestors to clean the gravestones in preparation of building the altars.
Much like in other beach destinations such as Cancun and Riviera Maya, many of the hotels, BnB's and apartments in Puerto Escondido will create altars in their lobby or on an outdoor terrace.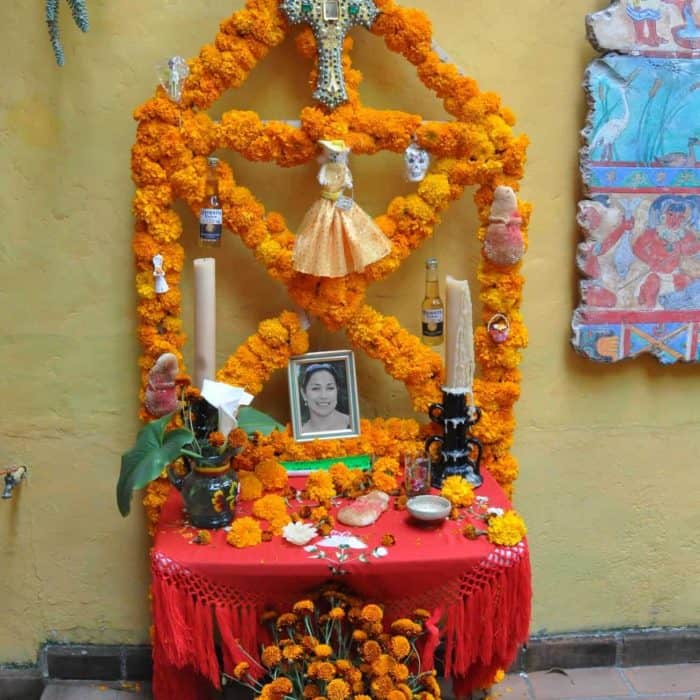 Decorated with marigolds, food, candles, skulls, photos of the deceased and other symbolic elements, these altars are constructed to help guide and welcome the spirits of departed loved ones back to the realm of the living on the noche de muertos or night of November 2nd.
Check out the Top 10 Amazing Traditions in Mexico on Day of the Dead to learn more about how to decorate a home altar and the symbolism behind elements such as flowers, food offerings, music, candles and construction of the altars.
In 2022, in Puerto Escondido, a Day of the Dead celebration will take place in the Jr. High School No. 86 on 9th North Street.
They will have a giant altar on display in front of the school in the late afternoon.
2. Shop for Sugar Skulls and Day of the Dead Decorations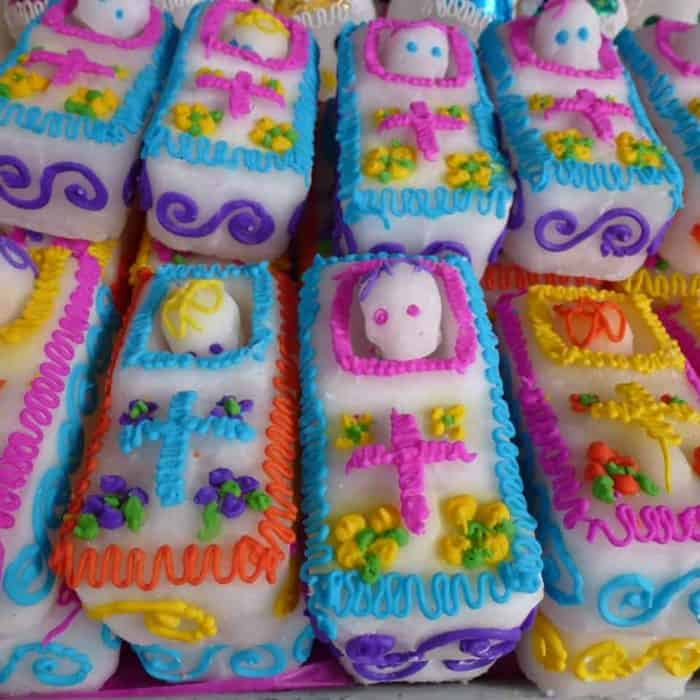 If you're planning to build your own altar or contribute to one at a friend's home, you can shop for calaveras. These popular sugar skull candies are made of marzipan and decorated in bright colours.
They're given as offerings to both the living and dead to show that someone is thinking of them.
The best place to find Day of the Dead sugar skulls is in the Benito Juarez or Zicatela markets as well as in the shops and stalls in the streets surrounding Benito Juarez market.
To experience a Puerto Escondido Food Market during Día de Muertos, sign up for the Made in Oaxaca walking food tour offered by Puerto Food Tours.
On this fascinating 3-hour tour, you'll meet vendors, see altars and sample traditional food on the 10 tasting stops.
3. Experience Traditional Día de Muertos Food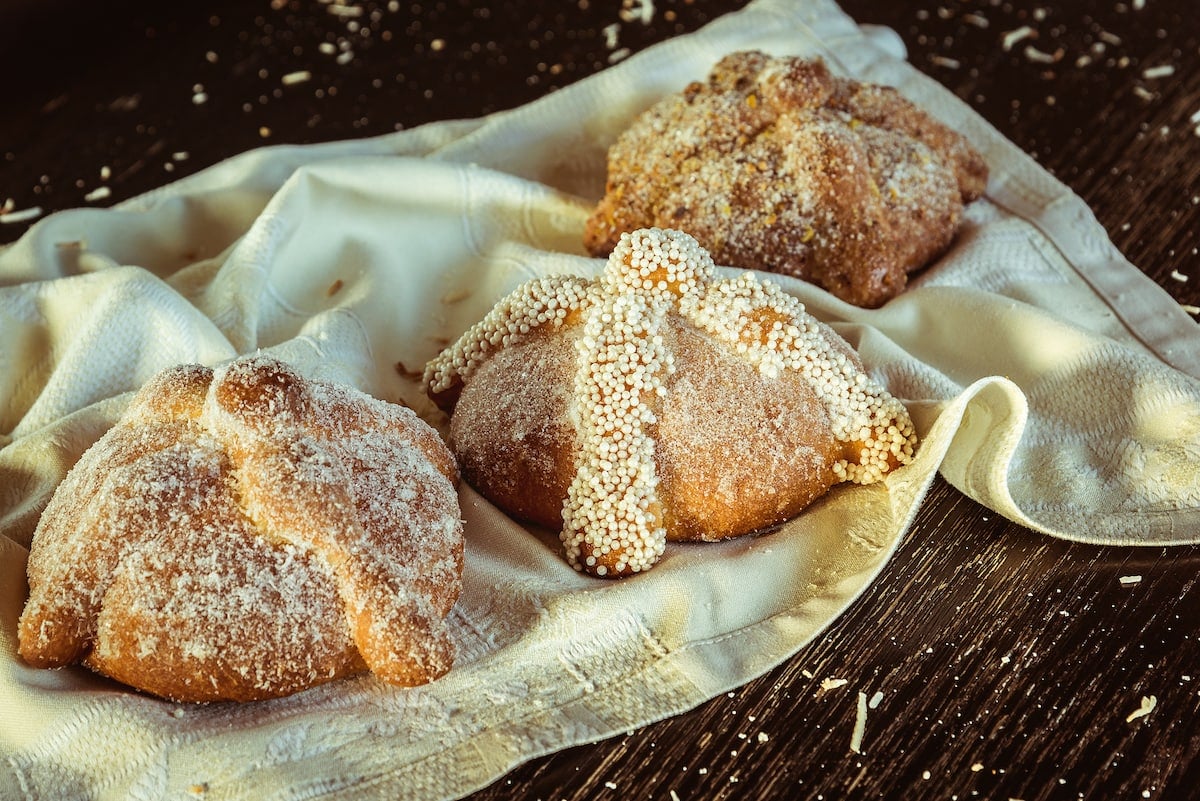 Beginning in mid to late October, you can find pan de muerto, an anise-scented sweet Day of the Dead bread available for sale. Look for it at stands set up in and around Mercado Benito Juárez and Parque Idilio.
As the dates of November 1st and 2nd approach, you'll also see this popular Day of the Dead bread available in supermarkets and from the bed of pick-up trucks.
Enjoy your pan de muerto with a steaming mug of hot Oaxacan chocolate, pulque (a fermented agave drink) or atole (a thick, warm beverage made of maize).
Other popular traditional foods for Day of the Dead include pozole, a pork and hominy stew that comes in regional variations of green, red and white.
One of the most popular restaurants in Puerto Escondido for pozole is Pozoleria Las Cazuelas (opens at 2:30 pm) on Calle Hidalgo beside Bananorte.
4. Decorate with Papel Picado Banners and Calaveras
Also keep a look out for papel picado (pierced paper banners created by cutting out decorative patterns of birds, flowers and geometric shapes) blowing in the breeze above the streets of Puerto Escondido.
This papel picado (most often made of plastic rather than paper) is regularly displayed within the pedestrian zone and night market on the Adoquin in Puerto Escondido.
But you'll see even more papel picado draped in shops and over food stalls around Day of the Dead.
Other Día de Muertos elements to look for include the Exposición de Calaveras or display of giant calaveras on the Rinconada.
Originally sponsored by the municipality of San Pedro Mixtepec and the hotel association in 2020, it was quite popular and returned in subsequent years. Let's hope it returns again in all of its former glory in 2022.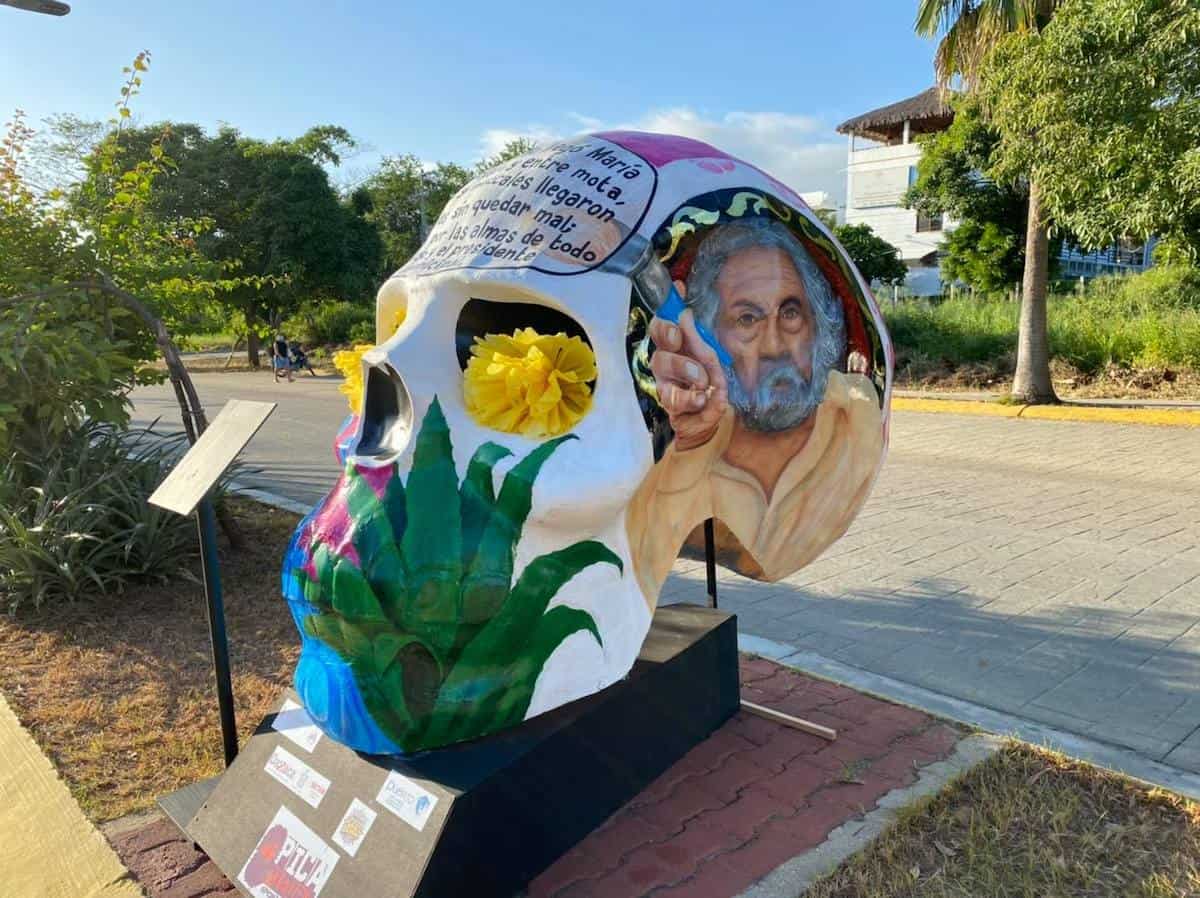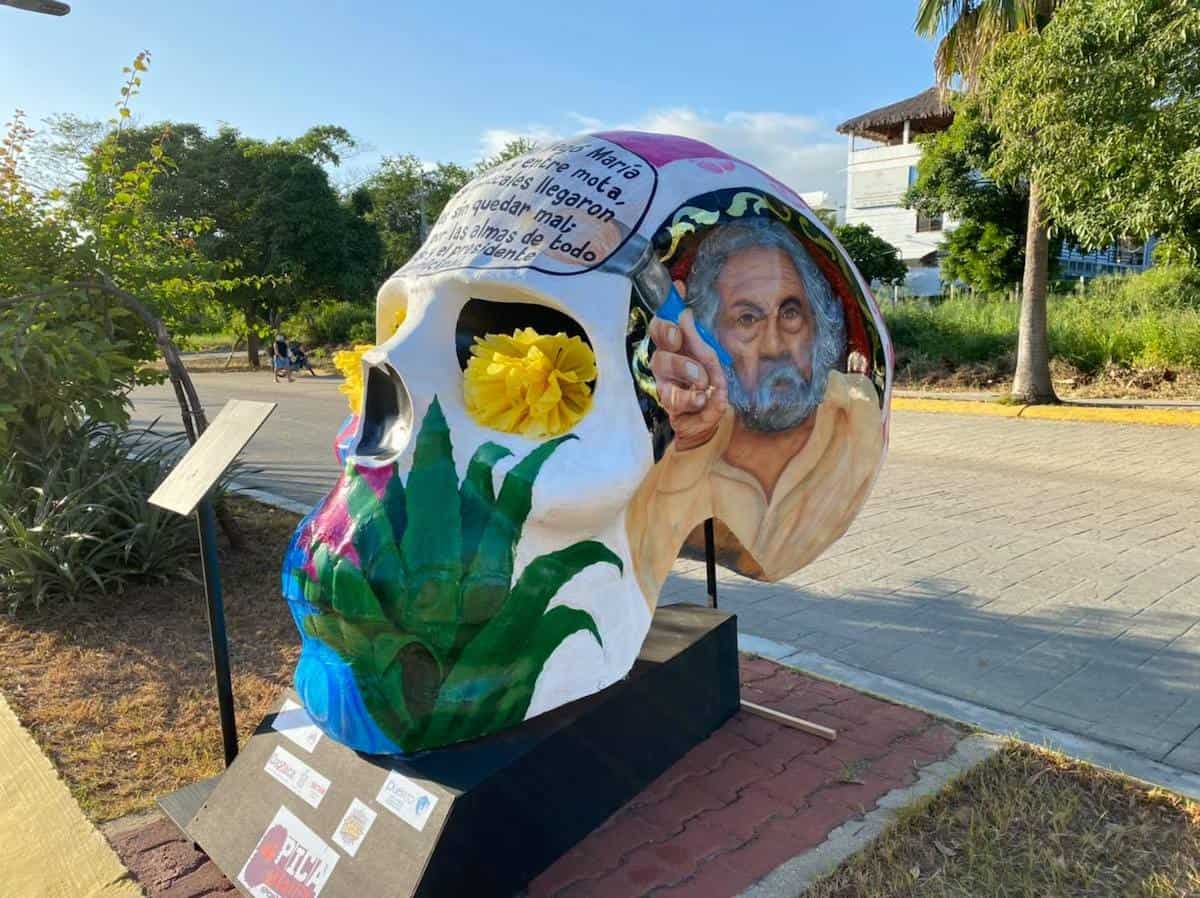 5. Day of the Dead Nightclub Partying
A modern way to celebrate Día de los Muertos is by hitting one of the nightclubs or beach clubs for a themed Day of the Dead party of music, food and dance.
To really get in the spirit, apply some skull face paint and dress like La Catrina, the iconic skeleton in a hat, created by artist José Guadalupe Posada in the early 1900s.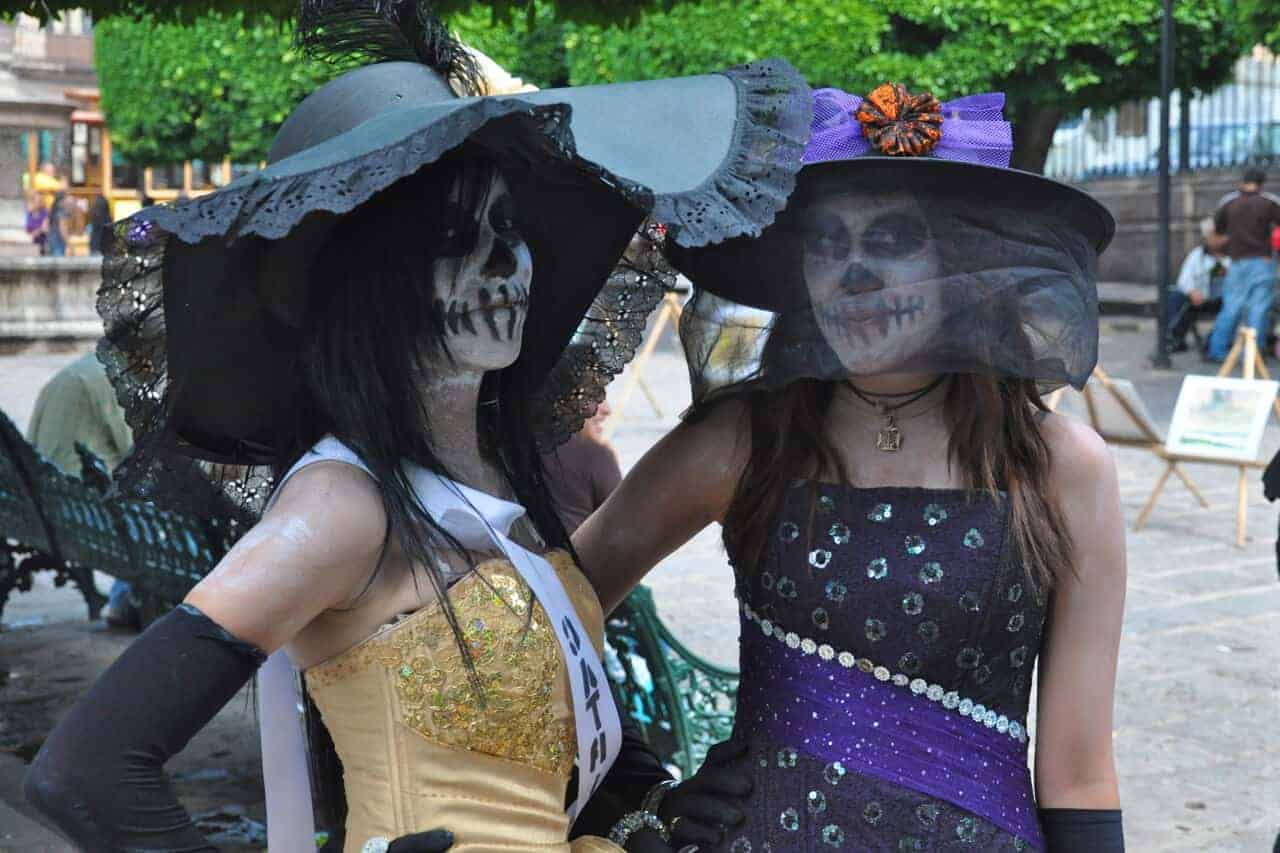 Most of the most popular nightclubs for themed events and parties are located around Zicatela Beach. Live music, DJs, dance parties, VIP events, Ladies Nights, you'll find it all in Puerto Escondido.
Top spots to celebrate Day of the Dead in Puerto Escondido include restaurants and clubs such as Casa Babylon, Barfly, Sativa Terraza, and Kabbalah in Puerto's party zone.
Check their respective Facebook pages for the most up to date information on events and hours.
6. Take a Private Gravesite Tour on Day of the Dead in Puerto Escondido
If you're in Puerto Escondido, it's an amazing experience to join culture-guru Gina Machorro on her PRIVATE guided Day of the Dead Tour.
Available for a maximum of 15 people, this Día de los Muertos walking tour also features ceremonies to remember the lives of Puerto Escondido residents who have passed away.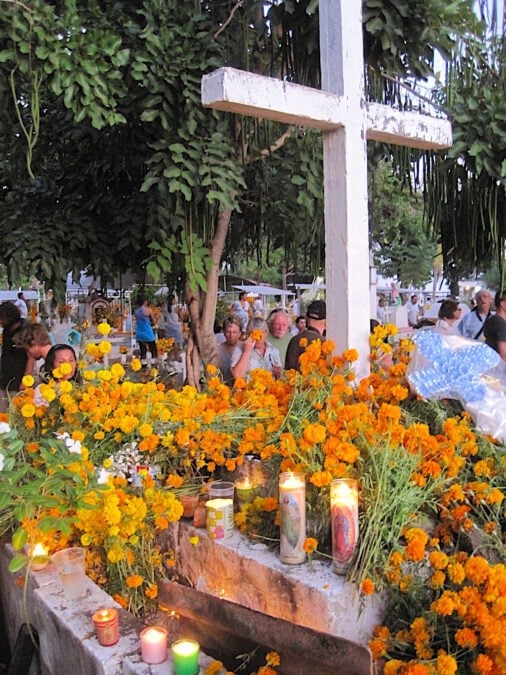 During the walking tour, Gina will explain the history and origins of Dia de Los Muertos.
She'll also talk about the symbolism of flowers such as marigolds and important annual rituals such as cleaning the gravestones to welcome the return of the spirits of the departed.
Cost for the Day of the Dead Tour in Puerto Escondido: 500 pesos (confirm pricing with Gina)
Dates: Two dates
How to Make a Reservation: Make a reservation in advance at the Tourist booth on the Adoquin.
Note: Wear comfortable shoes, bring water, masks and cash to purchase cempasuchil flowers and candles in the market. You'll enjoy pan de muerto and chocolate during the tour.
7. Tapete de Arena – Oaxacan Sand Painting
Another Day of the Day element to watch for is a tapete de arena. This is a rug created of coloured sand laid on the ground as part of Día de Muertos celebrations in Oaxaca and other regions of Mexico.
Such ritual works of art are also typical in Oaxacan funerary rites especially in towns such as Santa Cruz Xoxocotlán in the Central Valleys region. The tapetes may feature figures of Jesus, the Virgin Mary and other saints.
The tradition may be drawn from the Biblical reference in Ecclesiastes 3:20, "All go to one place. All are from the dust, and to dust all return" but they also signify another way to connect with ancestral spirits.
These temporary works of art can be created out of:
coloured sand,
sawdust,
crushed glass,
beads,
other organic materials such as flowers, fruit, seeds and feathers.
Day of the Dead tapetes are quite similar in construction and appearance to the sawdust alfombras laid on the streets of Antigua during Semana Santa in Guatemala.
Other Day of the Dead Activities in Puerto Escondido
That's not the end of the things to do in Puerto Escondido, Oaxaca, Mexico! Read our Puerto Escondido Travel Guide for more information on hotels, things to do, day trips and more in Puerto Escondido.
Or learn about the Giant Kite Festival for Day of the Dead in Guatemala.
Like this Post? You Might Also Enjoy:
Swimming in Puerto Escondido's Bioluminescent Lagoon
9 Tips for a Perfect Romantic Getaway in Puerto Escondido, Oaxaca City
Food and Drink to Try in Puerto Escondido
Dividing her time between Canada, Guatemala and Mexico (or the nearest tropical beach), Michele Peterson is the founder of A Taste for Travel. Her award-winning travel and food writing has appeared in Lonely Planet's cookbook Mexico: From the Source, National Geographic Traveler, Fodor's and 100+ other publications.
Read more about Michele Peterson.