We may earn income from links in this post. Please read this Disclosure for details.
Looking for a night tour of Puerto Escondido's bioluminescent lagoon? You should be!
A Phosphorescence Tour of Manialtepec Lagoon is one of the top things to do on a visit to Puerto Escondido as it's one of few places in the world where you can actually swim with incredible glow-in-the-dark bioluminescent plankton.
Here's what you need to know about experiencing the unique Manialtepec Lagoon bioluminescence natural phenomenon.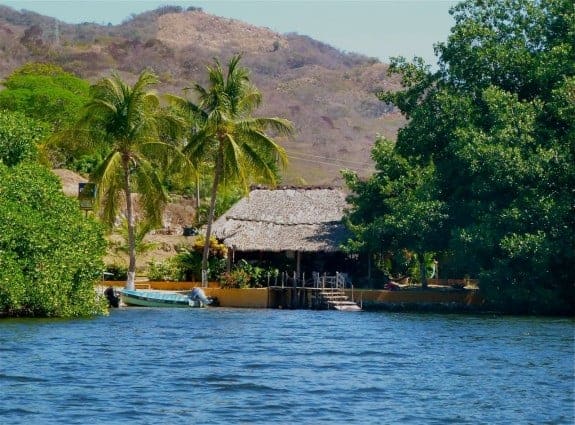 What is the Manialtepec Lagoon Bioluminescence?
On Mexico's Pacific Coast, five major lagoons, including Chacahua, line the Pacific Ocean from Acapulco to Puerto Escondido. They're home to Afro-Mexican communities and important to the biodiversity of the coastal eco-system.
Although each of the lagoons are unique in their own way, the Laguna de Manialtepec is extra special because it's home to a unique bioluminescent phenomenon. And at certain times of the year it's possible to swim with these glowing organisms during an eco-tour offered by local community members.
What is it like to swim with glowing plankton? Along with riding horseback to Atotonilco Hot Springs, swimming in bioluminescent water in a lagoon at night is definitely one of the top eco adventures in Puerto Escondido.
My own experience began while we floated quietly in a small boat in the middle of a lagoon under an ink-black night sky. Then, I heard a large splash. Someone in our group had jumped into the water.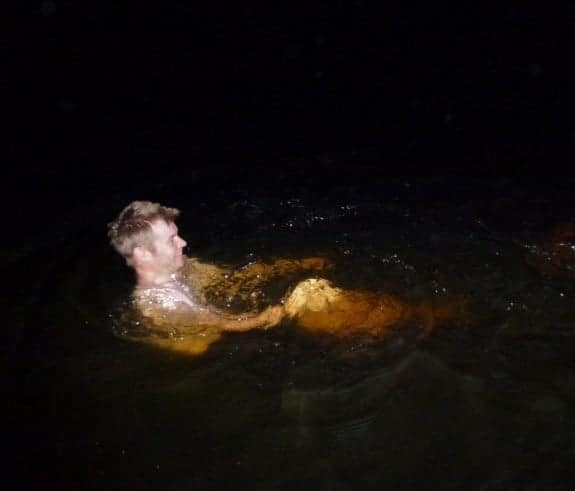 Soon everyone else followed!
We were participating in a Fosforescencia or Phosphorescence Excursion with Lalo Ecotours, a experience offered at special times of the year.
When the conditions are right, a unique alchemy of ocean currents and water temperature draw dinoflagellate plankton into Laguna Manialtepec or Manialtepec Lagoon, a deep lagoon located 20 minutes outside Puerto Escondido.
Much like fireflies of the north, the half-plant half-animal organisms glow with a white light creating an eerie shimmer to the water.
Local History of Bioluminescence in Puerto Escondido
"Ancients believed bathing in phosphorescence gave them special energy and made them more youthful," explained Ebarardo, our guide.
His family has lived at Las Negras on the lagoon for generations, one of 150 families who earn a living by fishing and now, by offering bioluminesence tours of the mangrove swamp.
If you're taking a tour of the mangrove, book directly with them or Gina Machorro at the Tourist Office and you'll help support local families.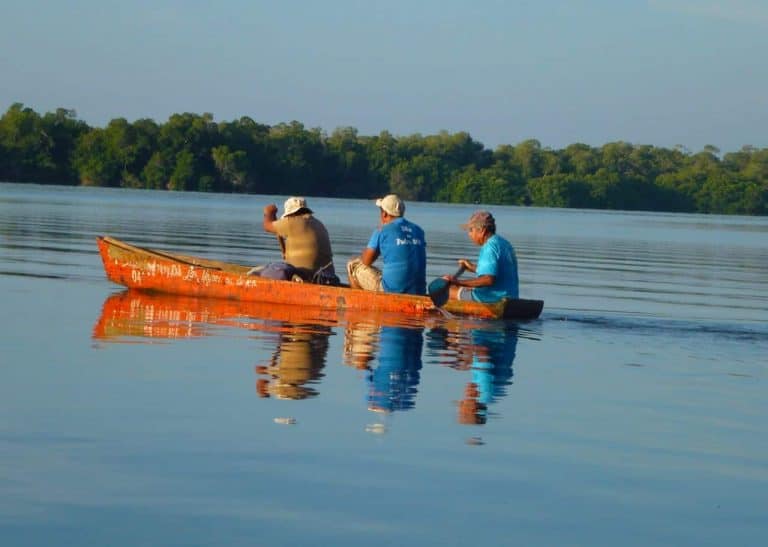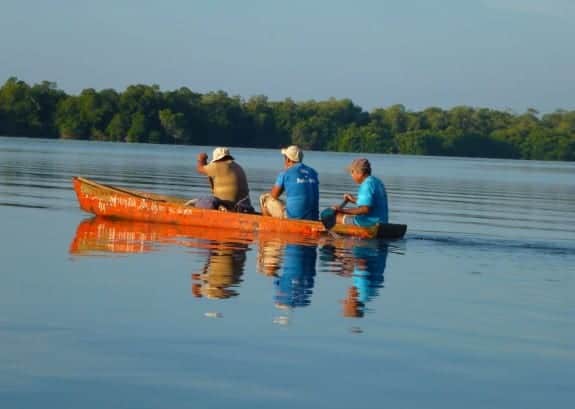 Is it safe to swim in Manialtepec lagoon? Well the first thing you need to consider is that crocodiles do live in this lagoon. Check out this report of a metre and a half long crocodile that was found roaming a neighbouring farm and was safely returned to the lagoon.
That crocodile is likely swimming around in the water somewhere! And crocodiles do attack people. If you're taking any tour of Manialtepec Lagoon, be sure to follow the advice of the local, government licensed guides about safety.
But if you're an intrepid adventurer and if seeing glowing bioluminescence on a Laguna de Manialtepec tour is on your bucket list then it could be one of the highlights of visiting Puerto Escondido.
On our tour we just jumped right in. Soon we were floating, making snow angels in the water, our arms glowing wings of shimmering white.
Surrounded by tendrils of black mangroves with the lagoon itself wafting a rather funky smell, this lagoon didn't bear any resemblance to The Blue Lagoon of Brooke Shield's 1980's movie fame.
We could see schools of tiny fish, glowing like radioactive Nemo's beneath the surface of the water. They scattered in all directions as the swimmers surfaced, their heads bathed in a sparkling sheath of white droplets.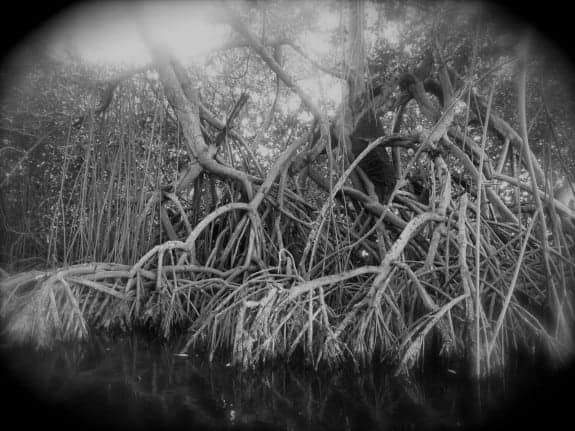 Bioluminescent Plankton Locations around the World
"There are lots of bioluminescent beaches (such as Auckland, New Zealand, Halong Bay in Vietnam and Golfo Dulce in Costa Rica to name a few ) but only two bioluminescent lagoons in the world," said Ebarardo. "One here in Oaxaca and another in Puerto Rico. The best viewing times are at the New Moon when the sky is at its darkest."
I dipped my hand in the water and droplets of sparkly stars poured from my hands.
"It's like swimming with stars, " said the woman in the water as she gazed up at the night sky which wrapped around us.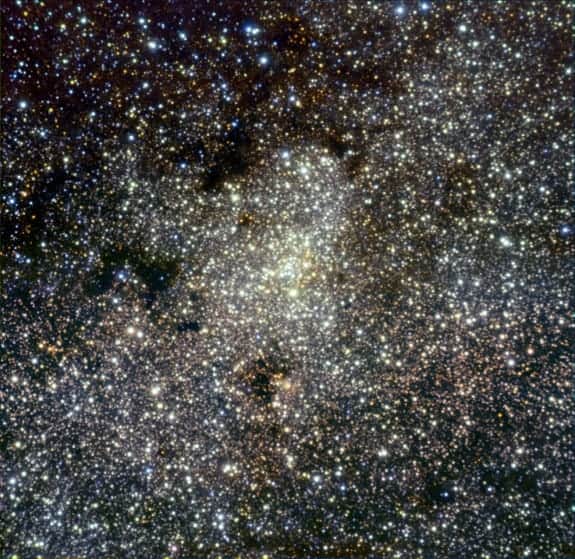 Above me was a dome of constellations, planets and the Milky Way, which to the ancients represented the birth canal of the Cosmic Mother and the starting point of all life. The path led to the Underworld and represented man's journey on earth.
The night sky was a sight I'd forgotten from my childhood growing up in Canada's north, far from city lights.
I scooped up a handful of water and realized I didn't have to drink from the Fountain of Youth, I could hold it in my hands.
Laguna Manialtepec Bioluminescence Travel Tips
Best Laguna de Manialtepec Phosphorescence Tour: The Lalo Ecotours 3 hour excursion costs $25 USD ( or 300 MXN pesos) per person ( minimum of 4 people) and includes pick-up at 8:00 pm and drop-off at your hotel in Puerto Escondido at 10:30 PM. It also includes a Oaxacan snack of pescadilla (tuna-stuffed empanadas), the boat tour of the lagoon and guide.
Lalo Ecotours: Visit their website at Lalo Ecotours. Contact them by phone at 954 588-9164 or 954 123-4005 or email at laloecotours@hotmail.com
Laguna Manialtepec Bioluminescence Reservations: You can also make a reservation at the Oaxaca Tourist Bureau information booth. Manned by multi-lingual Gina Machorro, the booth is a valuable source of maps, tour and excursion information as well as tour booking services.
What to Pack:
Wear a long-sleeved shirt and long sleeved pants to avoid insect bites.
Be sure to bring a bathing suit and towel if you plan to swim.
Insect repellent is also a must.
A flashlight is handy.
Save to Pinterest!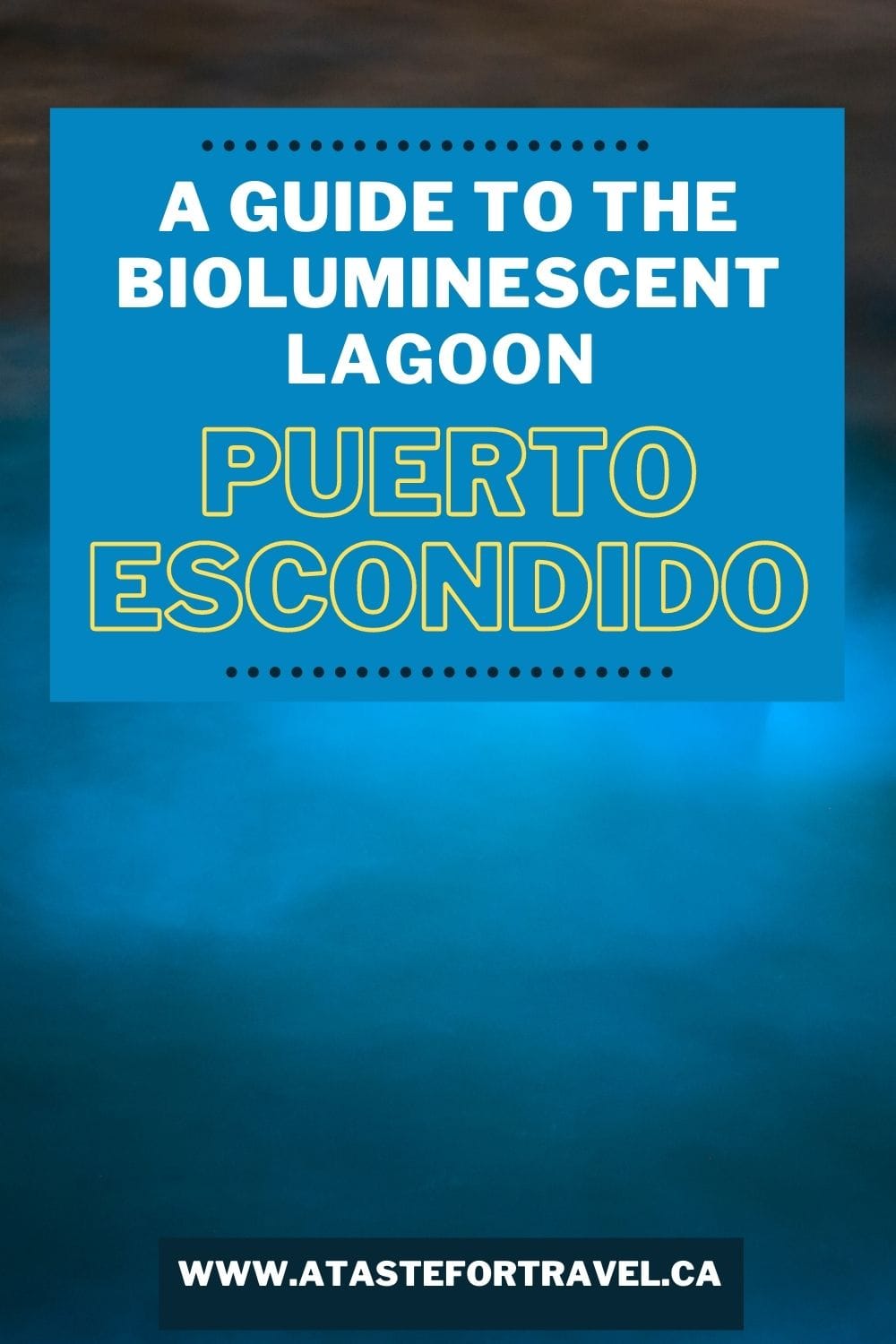 YOU MIGHT ALSO ENJOY
For more ideas on what to do in Puerto Escondido, check out these posts for ideas on adventure, excursions, restaurants and day trips:
Experience untouched Mexico on a day trip to Roca Blanca Beach
7 Awesome Natural Wonders in Puerto Escondido, Mexico
Weird but amazing foods to try in Puerto Escondido, Mexico
Beginners Guide to Puerto Escondido Beaches
How to Get from Huatulco to Puerto Escondido
Dividing her time between Canada, Guatemala and Mexico (or the nearest tropical beach), Michele Peterson is the founder of A Taste for Travel. Her award-winning travel and food writing has appeared in Lonely Planet's cookbook Mexico: From the Source, National Geographic Traveler, Fodor's and 100+ other publications.
View more posts by Michele Peterson Read more