Home » Destinations » Canada & United States » Ontario »

Agate Beach and Other Amazing Thunder Bay Adventures
Agate Beach and Other Amazing Thunder Bay Adventures
Wondering where in the world is Agate Beach? Wondering about a remote beach where the lake shore is lined with red agate stones? It's right here on Lake Superior in Ontario, Canada!
Read on to learn  about Agate Island Beach on Lake Superior and more other amazing things you can see and do around Thunder Bay.
Ontario is a Hub for Amethysts and Agates
"Would you like an amethyst?" asked Ian Macadam, my host, presenting a tray of sparkling stones as though they were after-dinner mints.  I was at Sunnyside Beach, on the shores of Lake Superior just outside Thunder Bay and had just enjoyed a glass of chardonnay,  smoked trout guacamole and some Thunder Oak gouda cheese so  I expected to see more culinary goodies rather than Ontario's provincial gemstone on a dish.
"If you place an amethyst under your pillow, you're guaranteed a good sleep," explained Lois Nuttall, co-owner of Lake Superior Visits and my guide to undiscovered Thunder Bay. She seemed to know everyone between Thunder Bay and Sault Ste Marie so I wasn't surprised to discover  she  knew a lot about amethysts.
Amethyst is the most highly valued stone in the quartz group of gemstones and has been revered for centuries. The ancient Greeks wore it as an amulet to encourage sobriety and it was a favourite of officials in the Catholic Church.  Abbess Hildegard von Bingen (1098-1179), was the first to record prescriptions for using gemstones' medicinal powers – amethyst being useful for treating insomnia, digestive disorders and addiction to alcohol.
"The  perfect after-dinner  gem, "  I thought, choosing a large, but not-too-greedy-sized stone from the tray.
Where to Find Amethysts in Thunder Bay
I later learned that Brazil, Madagascar, Zambia, Uruguay, India and Canada have the world's most important deposits of the amethyst. In fact, when Lois and I stopped at the Fish Shop on Highway 17,  owner Liisa Karkkainen, stepped outside to show me the rich vein of amethyst running through her rocky backyard.  She sells jewellery and rock specimens crafted from local amethyst in  shades from pale violet to deep eggplant purple in her carefully-curated gift shop.
Go Digging for Amethysts
Further along the highway (56  kilometres east of Thunder Bay) is Amethyst Mine Panorama,  the largest amethyst mine in North America. There, you can dig in the rock for your own amethyst and pay by the weight. But watch out. If you discover an amethyst as big as the experts say you might, you may never be able to fit it under your pillow.
 Discover Real Agate Stones on Agate Beach Lake Superior
As if amethysts aren't enough, you can head to Nipigon the launching point for exploring Agate Beach, located on Agate Island, a remote spot accessible only by boat. Here, the shoreline is lined with real agates. According to the reference book "A Kaleidoscope of Crystals", gem fans consider agates to be one of the world's most powerful stones when it comes to metaphysical properties.
It's believed that agates can stimulate a person's analytical capabilities, perceptiveness and precision. In ancient times agate was known for its cleansing abilities and was even placed in water vessels to dispel illness.
Agate Beach is one of the World's Most Unique Beaches
In fact, after visiting Agate Beach and exploring its shores dotted with smooth, red-hued agates –some with stripes and others with circular swirls –I thought Agate Beach was such as a unique place, I included it on my list of 7 Natural Wonder Beaches of the World for Travel & Escape channel.
Where exactly is Agate Beach? First, you need to know that you won't be driving a car or taking a bus there. This is a journey you need to take by boat, preferably one navigated by someone who knows the waters of Lake Superior. Otherwise you might find yourself lost among Owl Island, Paradise Island and Raven Island and miss Agate Island completely.
How to Get to Agate Beach Ontario
The wilderness resort of Bowman Island Lodge offers a guided tour that includes a stop at Agate Beach as well as other ancient beaches on islands that were stopping points for indigenous peoples and you can still see pukaskwa pits dug by prehistoric peoples to preserve and cache their foods. It's also a fine place to sample fresh-caught pickerel and lake trout.
Here's a Google map showing the location of Agate Island located south of Bowman Island:

Disclosure: A Taste for Travel participates in affiliate advertising programs. By providing handy links to our affiliates, we may earn a small commission. All opinions are our own and we only link to companies and products that we trust and believe in. Read more on our Disclosure Page. Thank you for supporting our website!
Travel Guide to Thunder Bay and Agate Beach
Amethyst Gift Centre is located at 400 E. Victoria Avenue, Thunder Bay, Ontario   1-807-622-6908
The Fish Shop is at 1960 Hwy 11/17 East at the intersection of Crystal Beach Road,  20 minutes east of Thunder Bay.
Bowman Island Lodge and Charters: This comfortable lodge is open from May to October and is situated within the Lake Superior Marine Conservation Area on the north shore of Lake Superior. It's accessible by boat ( or air) but they offer a water taxi pickup service from the marina in Nipigon. It's a scenic journey  through some of Canada's most beautiful wilderness.
Note: Do not plan to gather or collect agates on Agate Beach as I was advised it's not permitted to remove them from Agate Island.
We launched our adventures from the Valhalla Inn in Thunder Bay, conveniently located near the Thunder Bay International Airport. It also has a heated indoor swimming pool, sauna and hot tub.
Ontario Tourism: Visit the official website for Ontario Tourism for maps, advice on accommodation and other travel information.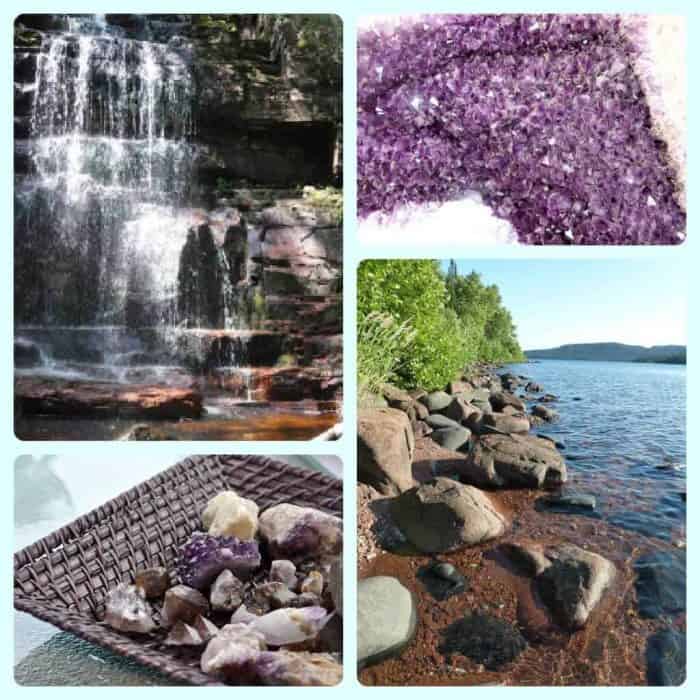 YOU MIGHT ALSO ENJOY 
For more about exploring the best food and outdoor adventure in Ontario, check out these posts:
Sleeping Giant Brewing: A Journey North to Thunder Bay 
21 Amazing Things to Do in the Kawartha Lakes This Summer 
Taking the Plunge at Le Scandinave Spa in Blue Mountain 
Exploring ice-wine in Niagara on the Lake, Ontario  
5 Things Everyone Should Do When Visiting Toronto 
Recipe: Old Flame Beer and Balsamic Beef Marinade
Top Luxury Resorts in Muskoka Ontario 
Updated: April 2017
Michele Peterson
Dividing her time between Toronto, Mexico and Guatemala (or the nearest tropical beach), Michele Peterson is an award-winning writer, blogger, editor and publisher who specializes in travel, cuisine and luxury lifestyles.