We may earn income from links in this post. Please read this Disclosure for details.
Summer in Toronto is an ideal time for a getaway in the middle of the city. Even though I've lived in Toronto for more than 20 years, taking a harbour boat cruise is still one of my favourite things to do in Toronto.
And with its fantastic views of the skyline, the beautiful Toronto islands and sparkling Lake Ontario, a harbour cruise offers the best brunch with a view in Toronto.
Here's what you need to know if you're thinking about booking this popular Toronto buffet brunch cruise.
Mariposa Cruises Fleet of Ships
Note that Mariposa Cruises is now owned by Entertainment Cruises, a US-based sightseeing company that also offers cruises and tours in Niagara Falls (Canada and the US), Europe and Australia.
This means your cruise experience could be different from our experience!
The ship we cruised on for our Sunday brunch was the Captain Matthew Flinders, the flagship of the Mariposa Cruises fleet.
We boarded the ship at the Toronto Harbourfront at 207 Queen's Quay West, which was really convenient and offered fantastic views of outdoor patios, soaring seabirds, water taxis and Toronto islands from along the boardwalk's waterfront promenade.
We were glad we arrived a bit early so we could take photos. Boarding began exactly at 11:30 am.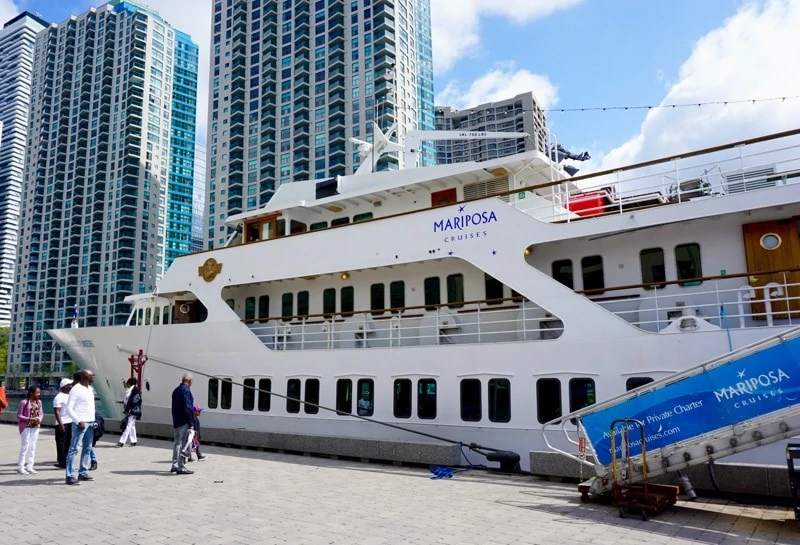 It's important to note that the specific Mariposa vessel is not confirmed until the brunch cruise date. All vessels are subject to change.
While the Captain Matthew Flinders offers an expansive interior space, each ship has its own special charms. They are all air-conditioned with plenty of outdoor and indoor areas for shade.
Mariposa Cruises also offers smaller vessels such as Showboat, which features a Paddlewheel Steamer design and Oriole, a replica of a Great Lakes Steamship.
These are great options for special events, Toronto harbour cruises, sightseeing cruises and brunch cruises.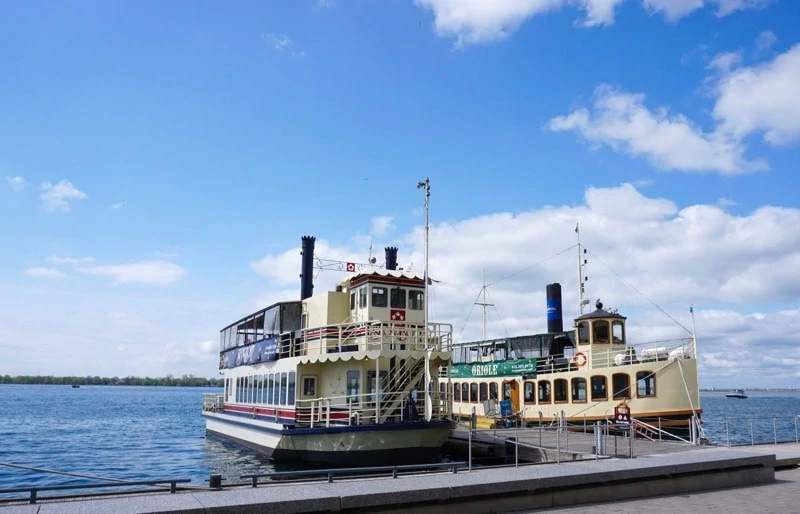 Other ships include the bright and spacious modern yachts, Klancy II and wrapping up a $500 million interior renovation, Northern Spirit, one of the two largest passenger ships in Toronto.
Background of Mariposa Cruises and Toronto City Cruises
Under the current ownership, the Hornblower City Cruises is one of the largest hospitality cruise operator in Toronto. Their public cruises include:
Harbour Brunch Cruise,
Toronto Harbour Lunch Cruise,
Toronto Harbour Lunch Cruise
Sights & Sip Cruise
These Toronto cruises are opportunities for visitors (and locals like us!) to experience Toronto's beautiful island archipelago, harbour and skyline.
They also offer private charters for weddings, corporate events and other celebrations as well as Holiday Cruises.
Related: For another fun way to celebrate the holidays in Toronto, check out our post on taking a culinary walking tour of Toronto.
Sunday Brunch Menu
Our Brunch Cruise set sail at 12 noon as planned, departing the dock so smoothly we barely noticed we were sailing, until we noticed the buildings disappearing from view.
We had reserved a table by the window ( at an extra cost) so had panoramic views of the skyline as we sailed into Toronto's inner harbour. The waiter took our orders for VQA Ontario wine from the fully-licensed cash bar.
I was interested in experiencing the new Weekend Brunch menu created by executive chef Andrew Capone formerly of The Drake, Thuet, Harbord Room and other top Toronto restaurants.
While the menu may be different during your cruise, our brunch menu featured:
appetizers (fresh fruit salads, a fresh daily salad, delicious smoked trout and salmon,
bakery items such as croissants),
main courses (a carvery table with AAA beef, self-serve scrambled eggs, bacon, sausages, ham, pancakes, French yogurt, cereals)
dessert buffet featuring a pastry station of chocolate and vanilla cannoli.
It's also possible to order pre-order Menu Enhancements such as shrimp cocktail and feta bruschetta. The shrimp cocktail features four jumbo shrimp with cocktail sauce costs an extra 18.90.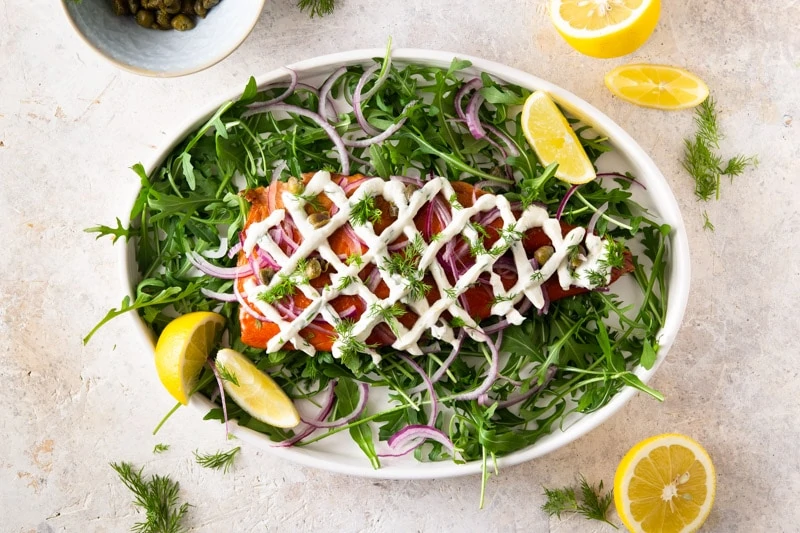 We really enjoyed the cuisine on this weekend brunch. While the selections are fewer than you might get at a weekend buffet brunch at a Toronto hotel, the quality of each of the dishes was very high.
The quinoa salad dotted with bright red peppers featured a refreshing vinaigrette while the smoked trout salad was packed with flavour.
A highlight of the breakfast pastries were the light, crisp and buttery golden croissants, the definition of a perfect croissant.
Another highlight of the buffet was the smoked trout platter featuring a fantastic horseradish cream sauce. We loved it so much we asked Executive Chef Andrew Capone to share the recipe and have posted it on A Taste for Travel for you to make at home.
Get the recipe here: Smoked Trout Platter with Horseradish Cream.
Sightseeing During the Toronto Brunch Cruise
While dining, we cruised through the Toronto inner harbour and into the Toronto island archipelago, a collection of 15 small islands across from downtown Toronto.
With glimpses of flocks of geese and cormorants soaring over the water of Lake Ontario, it felt as though we were cruising through cottage country.
Once we finished enjoying our brunch, there was still time remaining in the 2-hour cruise to go up on deck to enjoy the spectacular 360 degree views of the Toronto skyline and famous islands as we returned to the Toronto harbour.
It was a truly memorable day.
---
Toronto Harbour Brunch Cruise Prices
Adults: $93.03 CAD
Children (age 4- 12 years): $72.48 CAD
Children 3 and under: FREE!
Toronto Sightseeing Cruise vs a Brunch Cruise: How does a Brunch Cruise compare to a sightseeing cruise? The cost of a sightseeing cruise is $25 CAD and includes a 45 minute cruise.
The brunch cruise is a 2-hour cruise so you get an extra 1.25 hours of sightseeing plus a full brunch for $68 CAD extra per person.
It's also worth noting that while it's possible to find cheaper harbour cruises among other operators, some of those ships have no shade and are so crowded, you must remain seated for the entire duration of the cruise.
In my opinion, the Toronto Harbour Brunch Cruise is a much more upscale experience.
Visit the City Cruises Website to book.
Here are some handy travel tips on visiting Toronto and taking a scenic harbour cruise in Toronto:
1. Wear comfortable shoes, take a sweater or jacket and be sure to pack sunscreen and a hat for sun protection.
2. Take the TTC (subway, bus and streetcar network) or Uber to get to the Toronto Harbour. During special events, the harbour area can get very busy.
3. If you do decide to drive, there is a Green P Parking lot across the street from Harbourfront on Queen's Quay. Boarding takes place at 207 Queen's Quay West at the intersection of York Street and Queen's Quay West.
4. Pick up free maps, tourist booklets packed with information and get advice at the Tourism Toronto and Ontario Travel visitor information centres or online.
5. If you're travelling with seniors, children in strollers or persons with disabilities, note that if lake levels are high, the boarding ramps have a very steep incline. There may also be steep stairs on your ship.
6. Look into whether it makes sense to get a CityPASS during your visit to Toronto. One of the biggest advantages of a CityPass is that it allows you to bypass the lineups.
7. The closest hotels to Toronto Harbour are the Westin Harbour Castle and the Radisson Admiral Harbourfront – Radisson Blu Toronto.
Check prices and availability at the Westin Harbour Castle Toronto on Booking.com.
Check prices and availability at the Radisson Admiral Harbourfront – Radisson Blu Toronto on Booking.com
YOU MIGHT ALSO LIKE
Why Hockley Valley Resort Should Be Your Next Weekend Escape
21 Reasons to Visit Kawartha Lakes This Summer
Taking the Plunge at Le Scandinave Spa in Blue Mountain
Exploring ice-wine in Niagara on the Lake, Ontario
5 Things Everyone Should Do When Visiting Toronto
Top Luxury Resorts in Muskoka Ontario
Save to Pinterest!
Dividing her time between Canada, Guatemala and Mexico (or the nearest tropical beach), Michele Peterson is the founder of A Taste for Travel. Her award-winning travel and food writing has appeared in Lonely Planet's cookbook Mexico: From the Source, National Geographic Traveler, Fodor's and 100+ other publications.
Read more about Michele Peterson.