We may earn income from links in this post. Please read this Disclosure for details.
The ultimate make-ahead appetizer, this beautiful smoked trout recipe is perfect for holiday entertaining, a special occasion or a summer patio party.
Tasty, healthy and easy to make, a cold smoked trout platter works as a starter for any crowd and sets the stage for an afternoon or evening of food, friends and fun.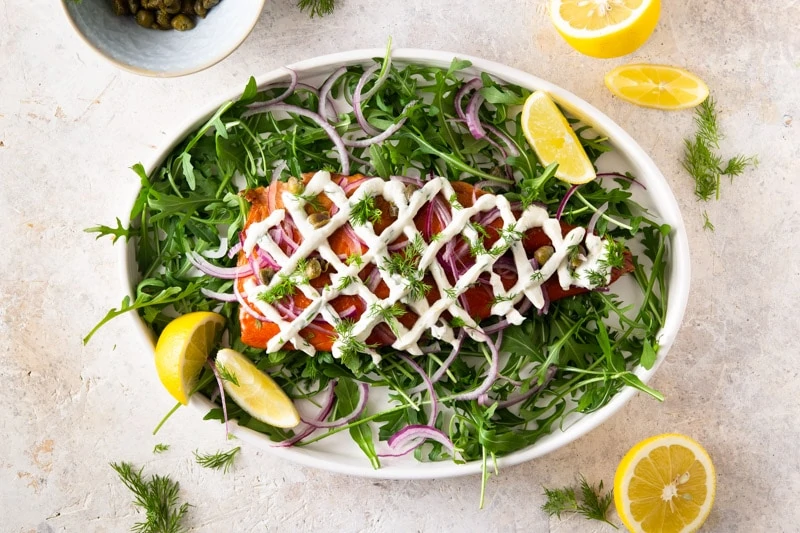 How to Serve Smoked Fish
There are many ways to enjoy smoked fish when entertaining! Many other appetizer ideas focus on fish dips and spreads like our recipe for Basque-style cream of sardine tapas.
But if you have a perfect piece of smoked trout, the best way to allow its flavours to shine is to serve it as the centerpiece of a smoked or tinned fish platter.
This recipe for cold smoked trout really showcases the fresh flavour of freshwater trout.
Why We Love This Make-Ahead Appetizer
This smoked trout recipe comes from Executive Chef Andrew Capon who served it as part of the Mariposa Cruises Sunday Brunch cruise of the Toronto Harbour.
It's become one of my favourite make-ahead appetizers and here's why:
One of the best features of this recipe is the creamy sauce served with the fish. It has an addicting hit of heat that really works well with the buttery flavour of the smoked trout. The secret ingredient to chef's creamy sauce is horseradish!
It's perfect for worry-free entertaining. Rather than putting something together at the last minute, you can make this smoked trout platter in advance and spend your time chatting with your guests instead of in the kitchen.
Low in carbs and high in protein, it'll make everyone at your festive gathering, tailgate or backyard party feel good about snacking.
This appetizer travels well to a pot-luck party. It can even be assembled ahead of time and placed flat on chilled ice-packs so it will arrive looking great and, best of all, food-safe.
Recipe for Make-Ahead Smoked Trout Appetizer Platter with Horseradish Sauce
Scroll down to the recipe card for the full method and precise ingredients.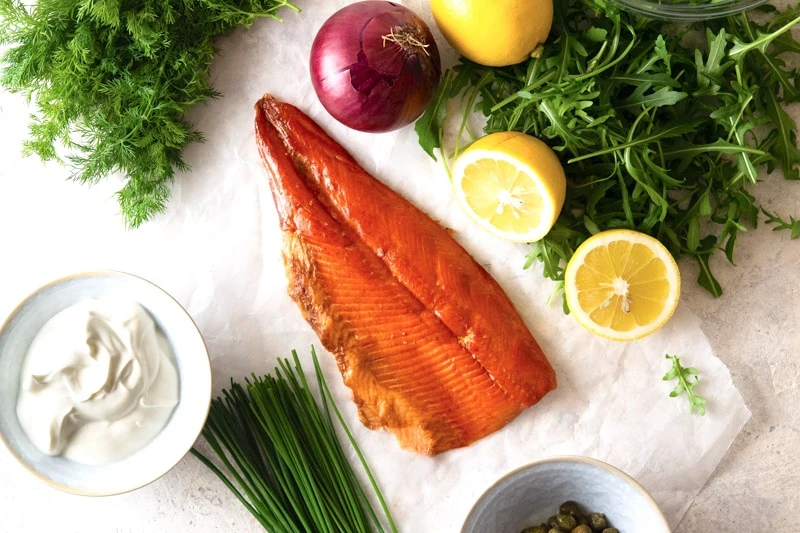 1. When preparing your trout platter try to choose a piece of trout that's large enough to fit the platter. You can always place two filets on a platter, side by side, but a single piece of trout will generally be the best thickness.
2. On a cutting board, carefully remove the skin from the bottom of the trout filet. Then, sprinkle the arugula (or other greens) on the platter and place the trout on top.
3. Then scatter your smoked fish platter accompaniments including capers, slivers of red onions and lemon wedges on and around the trout.
4. Next, prepare the horseradish cream sauce for the trout. This is the easiest sauce you'll ever make.
You simply blend together sour cream, horseradish chopped fresh chives and dill with lemon juice and lemon zest.
If you're using full fat sour cream rather than a low fat version, you might need to add a bit of water to the mixture.
About Horseradish: It's no surprise that I love horseradish. I've been known to drive 200 kilometres to get the best perogies in Toronto, But even if you're not a big horseradish fan, don't omit this ingredient. It really is the secret to success in this sauce.
When choosing a horseradish, be sure to purchase real grated horseradish root (such as Beaver Brand Extra Hot Horseradish available on Amazon) and not horseradish powder, wasabi horseradish or creamy horseradish spread.
5. Then, place your sour cream mixture in a reusable piping bag.
If you don't have one, you can use a freezer bag with a corner cut out on the diagonal. Another option is to use a squeeze bottle.
Pro Tip: The biggest challenge I had making this smoked trout recipe the first time I made it was using the piping bag. I hadn't cut the chives into small enough pieces so the tip on the piping bag kept getting plugged and I had to switch the tip midway through the process.
Very messy! I got chives, sour cream and dill stuck on my hands, table, apron and floor – well you get the idea.
So, be sure to select a large enough tip or chop the chives and dill very finely.
The original recipe called for fresh parsley in the sauce, but I've omitted it as the parsley always seemed jam up the piping bag. I didn't miss the parsley. If you really like chopped parsley, you can substitute it for the chives or dill but be sure to chop it very finely.
6. Once you've finished piping the cream sauce on the trout in a decorative pattern such as swirls or criss-crosses or whatever you're feeling creative to do, arrange a few wedges of fresh lemon on the platter.
Then cover with plastic wrap and store in the refrigerator until ready to serve.
Serve with crackers, crostini, rice crackers or slices of cucumber.
Top Tips for Making a Fish Platter Appetizer
Select a large whole filet of the best quality smoked fish you can afford.
If the sauce is too thick to pipe easily, add one tablespoon of warm water or enough to achieve a consistency that makes it easy to create a decorative pattern yet keeps it firm enough to hold a shape.
Other accompaniments to a fish platter can be halved cherry tomatoes, parsley, sprigs of chives, salmon mousse, raw oysters and smoked salmon.
Options When Choosing Fish for a Smoked Fish Platter
When choosing smoked fish for a fish platter, look for species of fish found in cold lakes or oceans. The high fat content insulates the meat and protects it from drying out.
Salmon, trout, whitefish and mackerel are the most readily available in North America. But of all the fish I've tried, there's nothing like smoked trout when it comes to flavour and texture.
Unlike salmon which can be limp, trout will keep its shape during the low, slow cooking process involved in hot smoking. Its delicate flavour absorbs the fragrant flavour of smoke nicely and its buttery taste holds up to a range of garnishes.
Trying to decide between hot-smoked vs cold-smoked fish? Note that fresh water fish must be hot smoked to kill parasites. Freezing and brining won't kill all of any parasites that might be in fish. Wild is preferable to farmed but isn't always available.
For a smoked fish platter, purchase a large filet rather than a whole trout. I usually purchase smoked trout from Linwood Acres Trout Farm in the Peterborough & Kawarthas region of Ontario.
You can also catch your own fish and smoke it in large batches so you have a supply of fish readily available when you need it.
Other sources for smoked fish in Ontario include fish mongers in St. Lawrence and Kensington Markets, Milbree-Viking deli in the Leaside area and at farmer's markets around the province, especially in Thunder Bay where there's a large Finnish population.
You Might Also Like These Seafood Appetizer Recipes:
Print
Smoked Trout Platter with Horseradish Cream Sauce
The ultimate make-ahead appetizer, this beautiful smoked trout platter is perfect for a patio party, entertaining or special occasion.
Ingredients
200

grams

smoked rainbow trout in a filet

25

grams

arugula

1/4

red onion

medium

1

tablespoon

capers

drained

2/3

cup

sour cream

light

1

tablespoon

white horseradish

1/4

cup

finely chopped fresh dill

1/4

cup

finely chopped fresh chives

2

tbsp

fresh lemon juice

1

grated lemon zest

salt and pepper to taste

1

lemon

for garnish
Instructions
Combine sour cream, horseradish, lemon juice, lemon zest, dill, chives, salt and pepper in a bowl

Slice red onion into half and then into thin slices

Spread arugula on a large oval platter

Remove skin from back of smoked trout and lay lengthwise on top of arugula

Spread capers and half of red onion slices on top of the smoked trout

Place sour cream mixture into piping bag or squeeze bottle and apply in a criss-cross decorative pattern over the trout.

Garnish with remaining red onion slices and wedges of lemon
Notes
Select a large whole filet of the best quality smoked fish you can afford.
If the sauce is too thick to pipe easily, add one tablespoon of warm water or enough to achieve a consistency that makes it easy to create a decorative pattern yet keeps it firm enough to hold a shape.
Other accompaniments to a fish platter can be halved cherry tomatoes, sprigs of fresh chives or parsley, salmon mousse, raw oysters or smoked salmon.
Nutrition
Calories:
101
kcal
|
Carbohydrates:
2
g
|
Protein:
8
g
|
Fat:
7
g
|
Saturated Fat:
3
g
|
Cholesterol:
49
mg
|
Sodium:
98
mg
|
Potassium:
224
mg
|
Fiber:
1
g
|
Sugar:
1
g
|
Vitamin A:
520
IU
|
Vitamin C:
7.7
mg
|
Calcium:
46
mg
|
Iron:
0.3
mg
Save to Pinterest!
More Holiday Recipes to Enjoy
Dividing her time between Canada, Guatemala and Mexico (or the nearest tropical beach), Michele Peterson is the founder of A Taste for Travel. Her award-winning travel and food writing has appeared in Lonely Planet's cookbook Mexico: From the Source, National Geographic Traveler, Fodor's and 100+ other publications.
Read more about Michele Peterson.