We may earn income from links in this post. Please read this Disclosure for details.
Whether you're visiting on a cruise or enroute to one of the other tropical islands in southern Japan, there are so many things to do in Naha, Okinawa it's easy to fall in love with this beautiful castle town.
Where is Naha? Naha is the capital of Okinawa-Honto, the main island in the Nansei-Shoto or Ryuku Island archipelago. It's located within this chain of Japanese islands stretching southwest from Kyushu to Taiwan.
Once at the crossroads of ancient maritime trading routes of Asia, the port of Naha is famous for being the heart of Ryuku Dynasty, a kingdom that ruled from the 15th to the 19th century.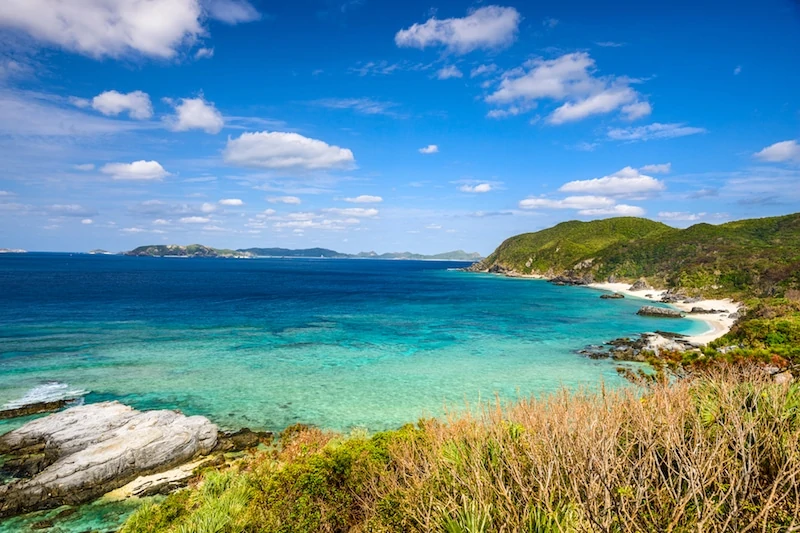 During my 14-day Taiwan & Japan cruise on Holland America's MS Volendam, Naha was one of my favourite ports.
Our itinerary featured ports of call in Hong Kong, Manila (Philippines), Kaohsiung and Keelung (Taiwan), Naha, Fukuoka, Nagasaki (Japan) and Shanghai (China).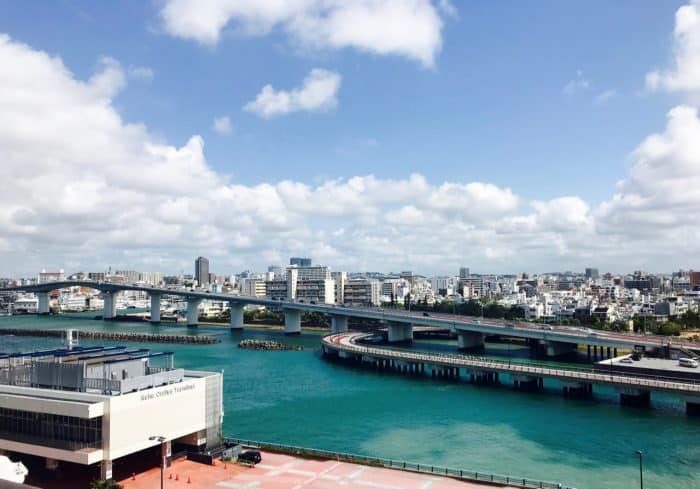 I'm happy to share the best things to do in Naha, its main attractions, points of interest and insider tips on how to make the most of your visit.
Because Okinawa is rather off the beaten path in Japan, knowing the best places to visit is especially important if you're visiting the island for the first time.
Note: If you want to visit the Okinawa Memorial Museum and other sites commemorating the 1945 Battle of Okinawa (one of the bloodiest battles of World War II), you need to travel 60 minutes south of Naha on a cruise port excursion, by bus or car.
1. Explore Shuri Castle, UNESCO World Heritage Site
One of the top things to do in Naha is visit Shuri Castle. Between 1429 and 1879, this impressive complex served as the palace of the Ryukyu kingdom.
Along with the Toungoo Empire of Burma, the Kingdom of Ayutthaya in Thailand, and Champa Kingdom and Dai Co Viet of Ninh Binh, Vietnam, the Ryuko Dynasty was an influential power in Asia during its heydey.
Its vast empire controlled a powerful maritime trade network stretching southwest from Kyushu to Taiwan.
Once a tributary of the Ming Dynasty of China, Okinawa was annexed by Japan in 1879. Almost completely destroyed during World War II, the rebuilt castle is now a UNESCO World Heritage Site.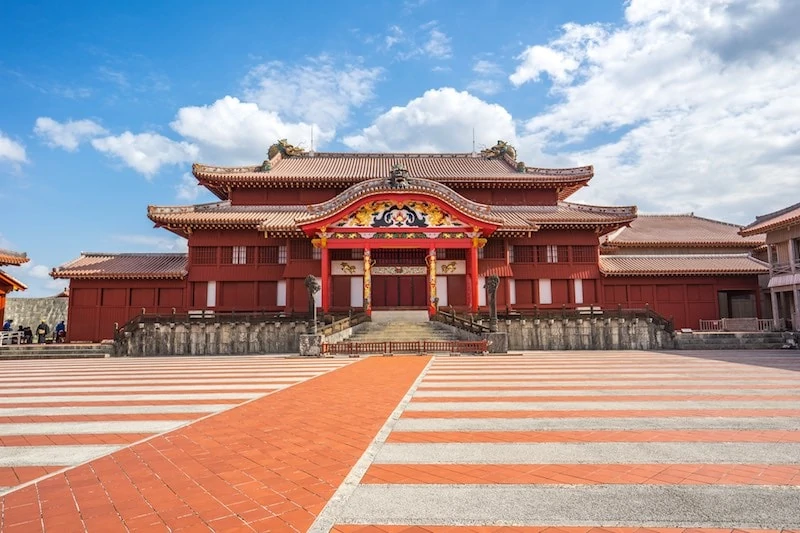 It's worth planning to spend a full afternoon here. The lavishly decorated main building, known as a Seiden, was the major venue for ceremonies and affairs of state.
Important Update: In October 2019, the main Seiden temple at Shuri Castle were destroyed by a devastating fire. Now, only portions of the castle are open to the public.
The massive, yet beautiful, concave gates of the castle were very effective for defensive purposes. Archers positioned above the gates could easily protect the fortified walls from raiding Japanese pirates.
Keiseimon Gate, located at the southeast corner of Shuri Castle was once the service entrance to the castle.
In modern times the neighbourhood behind it is home to Zuisen Distillery as well as several ancient Ryuku walking paths, sacred wells and shrines.
Check prices and availability of a Guided Sightseeing Tour of Naha on Viator.com.
2. Relax on Naminoue Beach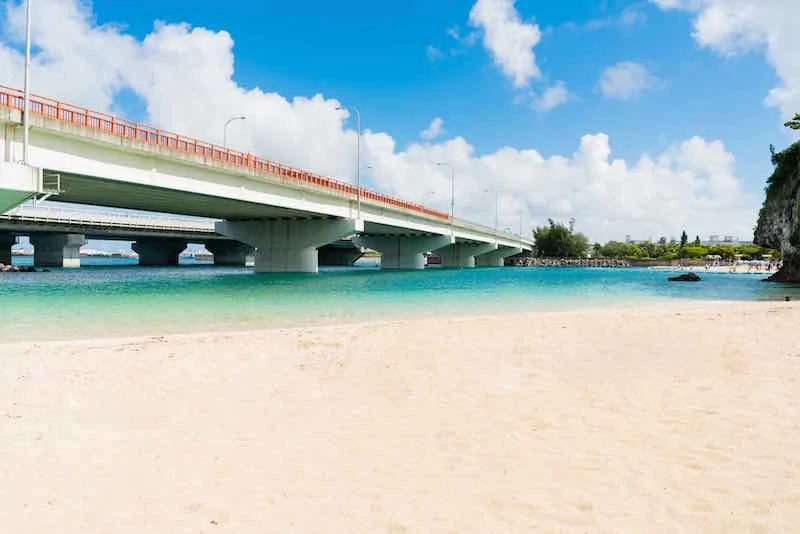 Its balmy tropical weather has earned Okinawa the moniker of being the "Hawaii" of Japan.
If you're looking for beach time, Okinawa is well worth adding to your travel itinerary for Japan.
If you don't have time to explore the beautiful beaches of the more than 150 tiny islands of the Ryuku archipelago, then Naminoue Beach in the heart of Naha is one of the top places to visit.
Although this urban beach is open year round, it's most enjoyable during the summer months. That's when the water is warmest and visitor facilities open. Beach chairs and umbrellas are available for rent.
Although the tropical atmosphere is dimmed somewhat by the highways criss-crossing the view, Naminoue Beach is within walking distance of Kokusai Street, the Naha Cruise Ship Terminal and just a 15 minute drive from the airport.
One of the main Naha Okinawa attractions, its crystal clear water gets top marks for cleanliness.
Be sure to visit Naminoue Shrine (below) while you're there. Where else can you combine a trip to the beach with a visit to a Shinto Shrine?
3. Visit the Historic Naminoue Shrine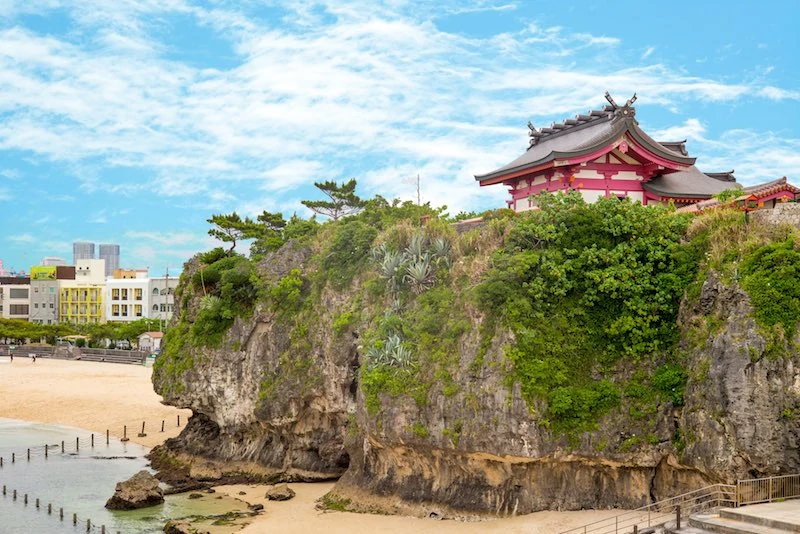 Perched on a clifftop by Memorial Park and Tsujiwakasa Ryokuchi Park, Naminoue Shrine is the most important Shinto shrine in Naha, which makes it a must see on Okinawa Island.
Originally constructed for the Ryukuyuan religion and dedicated to Nirai Kanai, a faraway paradise where all deities reside and all life originates, it faces the sea where, according to Okinawa creation mythology, utopia lies beyond the horizon.
Converted to a Shinto shrine in 1890, it consists of a main hall, a worship hall and several smaller shrines.
4. Go Shopping on Kokusai Dori Street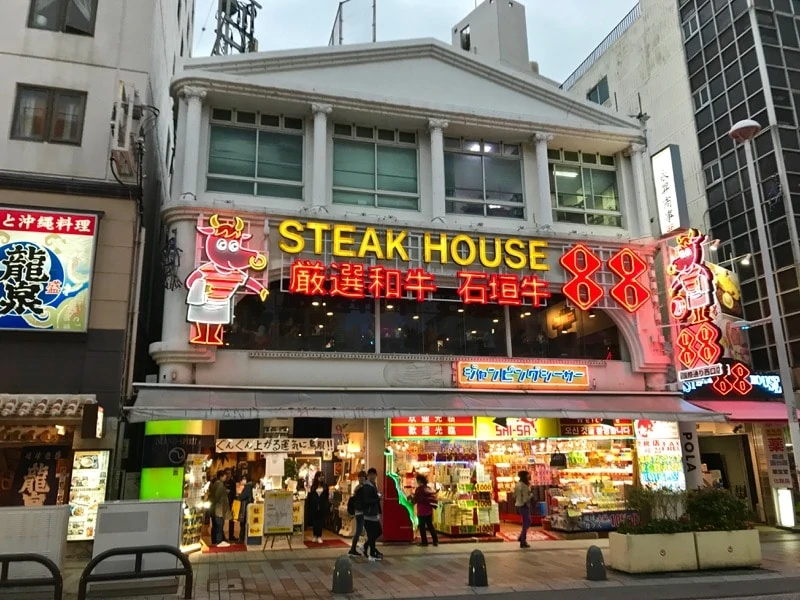 Wondering how far it is from Naha port to Kokusai Dori Street? It's an easy 20 minute walk from the Naha Cruise Terminal to the heart of Kokusai Dori Street. Best of all, it's almost impossible to get lost.
Just look for the giant Dragon Pillar Monuments as you leave the port terminal and walk straight ahead between them until you reach Kokusai Dori Street.
You'll also be in close proximity to the Naha Monorail station, the Kokusai Street Food Village, markets and the Pottery District.
One of the most unique ways to explore this lively area is by taking a fun Street Go-Cart Shopping Tour of Naha. On this popular and admittedly wacky tour, you dress as an anime character and follow your guide as you drive a go-cart through the streets of Naha.
Shopping finds include for Okinawa floral shirts (similar to Hawaiian shirts), T-shirts and a dizzying collection of souvenirs for all price ranges.
Check prices and availability of a Street Go-Cart Shopping Tour of Naha on Viator.com.
5. Sip Awamori on a Tour of Zuisen Distillery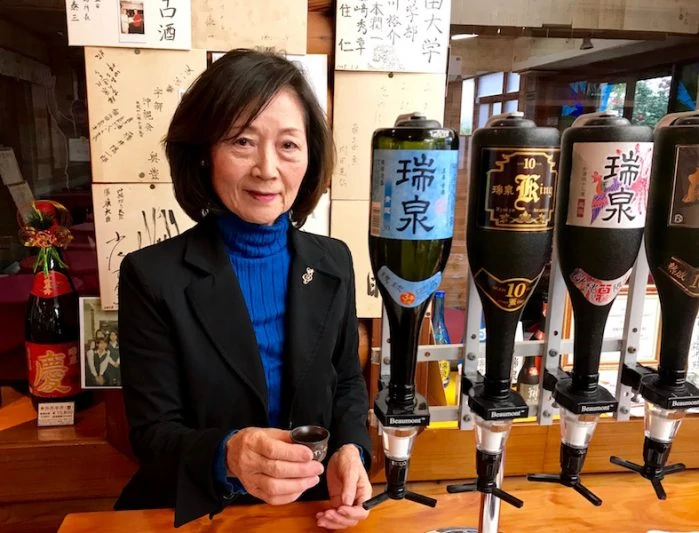 For culinary travellers, one of the top things to do in Naha is sample awamori, the distilled rice spirit known as island sake. Naha also happens to be home to Zuisen Distillery, a long established distiller that was one of the few distilleries granted permission to produce awamori kosu, an aged rice alcohol.
It was so prized that during the 15th century Ryukyu Dynasty only royalty were allowed to drink it.
Although dubbed "island sake" awamori is not actually a sake but is actually rice that's been fermented and then distilled, which means it's actually a rice spirit rather than a wine.
At Zuisen Distillery, you can take the free guided tour of the facility and learn how awamori is made. The main ingredients of awamori are Thai rice, which is steamed and a rare koji mould applied to produce citric acid. Water and yeast are then added to the koji rice. It's then fermented for two weeks until it reaches an alcohol content of 18%. Then it's distilled and aged.
Like whisky and brandy, awamori develops a smooth and fragrant flavour with aging. The longer it is aged the smoother and richer the flavour becomes. Kosu awamori is awamori that's been aged for a minimum of three years.
Zuisen's award-winning line of awamori products includes a ruby red umeshu ( plum liqueur), Zuisen Ocean Blue (featuring ocean water along with the koji mould), Zuisen Mature Kosu ( a blended awamori), King Crown ( 10 year old kosu) and Zuisen Omoro ( aged for 21 years).
Also for sale are also collectibles such as the Shisa Jin-muchi. This comes in a bottle shaped like a shisa, the Okinawan lion/dragon guardian placed on homes to protect against evil spirits.
6. Enjoy Naha Nightlife and Orion Beer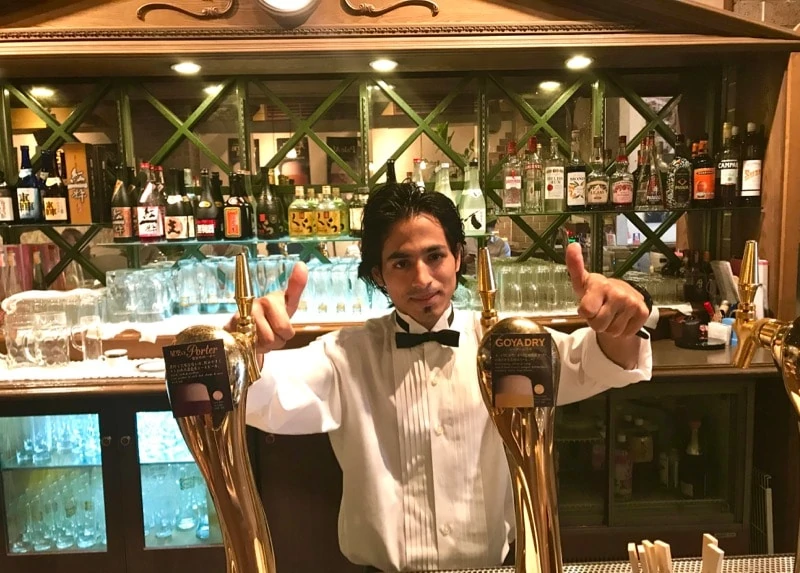 When it comes time to unwind, there are several bars and restaurants along Kokusai Dori Street worth taking a break in.
Top drinks to try in Naha include awamori, the distilled rice spirit and Orion beer, brewed on the island of Okinawa at Orion Happy Park in Nago, a one hour drive from Naha.
You can even take a tour of Orion brewery if you have the time.
Orion is the 5th largest brewery in Japan and the most popular beer in Okinawa. It was founded in 1957 when Okinawa was still under U.S. military occupation. Note its label has three stars representing both the emblem from the uniform of the US military commander and the stars of the southern constellation of Orion.
The logo lettering in red and blue symbolizes the warmth of the sun and the blue of the sea. An Orion Beer T-Shirt makes a great souvenir for beer lovers.
Orion produces several beers. There's Orion Draft, Southern Star, Orion Special, Mugi Shokunin malt beer, Orion Rich, Zero Life (no-alcohol) and Asahi Super Dry. They're created with pure mountain spring water, rice, beer malt from the Czech Republic and hops sourced from Germany's Hallertau Region and the U.S.
You can order Orion rice lager on tap at most bars. Its slightly fruity, light and crisp flavour is both refreshing and satisfying with a dry finish. It pairs nicely with sushi and seafood.
A good spot to begin your Naha evening is at Helios Pub, conveniently located on Kokusai-Dori Street (see map below). It's popular among locals for its wide selection of craft beers and extensive menu of Japanese and Okinawan snacks.
Another popular place to enjoy nightlife in Naha is at the DOJO Bar, situated between Miebashi Monorail Station and Makishi Station, close to Kokusai-dori.
This karate-themed hotspot offers craft and imported bottled and draft beer, ciders, a wide selection of sake and awamori, as well as classic cocktails featuring awamori and other liquors.
7. Enjoy the Unique Flavours of Okinawa Cuisine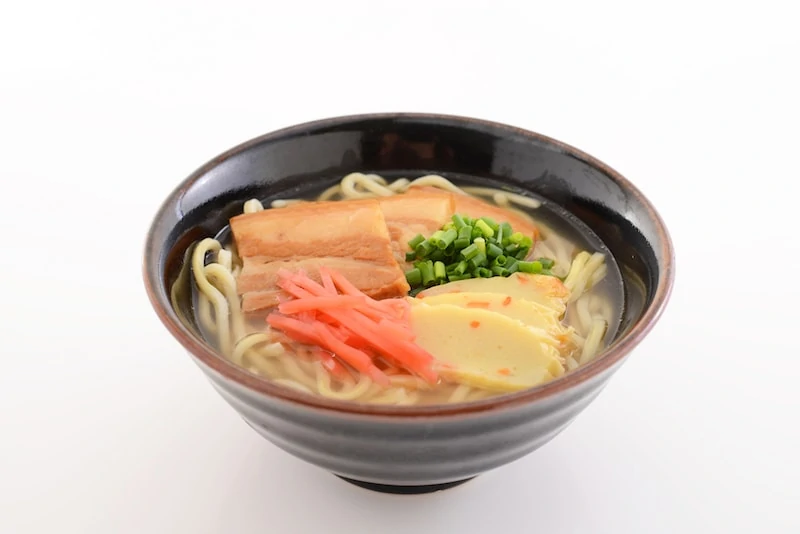 Due to its southern location and rich Ryukyu history, the cuisine throughout Okinawa is distinctly different from other regions of Japan. One of the top things to do in Naha is dive into exploring the unique flavours of Okinawa's most famous dishes.
Pork is ubiquitous in Naha and can be found in virtually every dish from goya champura ( a classic stir-fry), mimiga ( a dish featuring slivers of cartilaginous pig ears often served with bitter orange), sausages made of a special Okinawa breed of pig and ramen-style Okinawa noodle soup featuring yes… you guessed it…pork on rib bone along with thick wheat noodles resembling udon.
What is there to eat if you're vegetarian or don't want to eat pork? Fortunately, another top food in Naha is umi-budo seaweed, a briny string of bright green bubbles often served in bars as a snack.
Sata andagi (deep fried donuts) are a popular snack to eat in Naha. But if you're veggie check before eating chinsuko, a shortbread type cookie that's also popular but traditionally features lard.
It comes in a variety of flavours including purple yam, mango and chocolate and is often enjoyed with buku buku cha, Okinawan jasmine tea.
If you'd like to sample a variety of traditional Okinawan dishes at one time, head for the Kokusai Street Food Village, an open air food court with tiny stalls and restaurants. They specialize in the top foods to try in Okinawa.
Most of the stalls at the Kokusai Street Food Village offer menus with photos and English translations so you can get your fill of pigs ears (or avoid them) if you're feeling adventurous.
For a sweet treat dessert, be sure to try the famous Blue Seal ice-cream. This frozen treat is available in unique flavours such as Okinawa Sea Salt Cookie and Ryukyu Royal Milk Tea, made from locally sourced black tea leaves.
8. Ride the Naha MonoRail
I was woefully lost in the Shanghai metro but found the Okinawa Urban Monorail, known as Yui Rail, to be easy to use and navigate. It opened in 2003 and was the first rail line on Okinawa after World War II. It offers quite spectacular views along its entire small but sweet route.
Yui Rail features 15 stops and travels from Naha Airport Station to Shuri Station every 12 minutes. One-way and one-day tickets are available and can be purchased from the vending machines or ticket booth. A 1-day ticket is good for 24 hours.
This means you can use it to visit Shuri Castle, Kokusai Street (Makishi Station), the Tsuboya Pottery Museum and other Naha Okinawa attractions.
Ticket instructions on the vending machine are available in English, announcements are in English and there are elevators at the stations.
This makes the Naha monorail one of the world's easiest and most enjoyable transportation systems to use.
9. Visit Traditional Arts & Crafts Center and Pottery District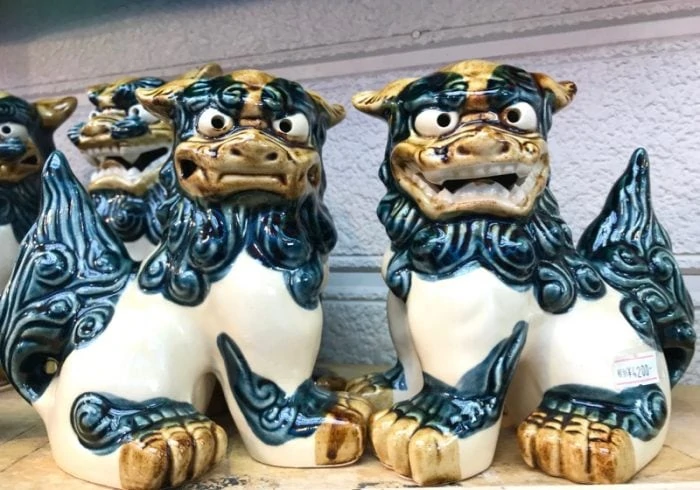 One of the main attractions of Okinawa is its incredible selection of quality handicrafts and arts items. Look for Tsuboya pottery, a rustic earthenware, shuri textiles once worn only by the nobility of the Ryuku Dynasty, plus fine lacquerware and hand-blown glass.
They're all beautifully crafted and highly collectible items.
Be sure to make a stop at the Naha City Traditional Arts and Crafts Center (near Makishi Station at the center of Kokosai Street).
At this major Naha attraction you can see master artisans at work, browse the fine exhibits of museum-quality treasures, try your hand at making a craft and shop for unique keepsakes.
The nearby Pottery District is home to several boutique workshops featuring modern interpretations of ancient designs and is well worth exploring.
Also make time for the Tsuboya Pottery Museum. Here, you can learn about the history of pottery and see a reproduction of a traditional Okinawan house. Inside are displays showing how Tsuboya-yaki was utilized in kitchen cookware and tableware.
10. Explore Makishi Public Market
Imagine a Japanese version of Istanbul's Grand Bazaar and give it a modern twist and you've got the Makishi Public Market.
This lively public market featuring everything from fresh fish, fruit and street food to wrist watches, health tonics, palm readers and beauty products.
The best way to experience it is to take a Market Tour and Okinawa Cooking Class. During this 3-hour foodie experience you'll shop for locally-produced ingredients in the historic Naha market. Then, you'll roll up your sleeves and prepare a traditional Okinawa lunch including an appetizer, main, soup, and dessert.
It's the perfect introduction to Okinawa cuisine.
Makishi Public Market has several sections so plan to spend some time browsing the stalls and soaking up the chaotic atmosphere.
Check prices and availability of a Market Tour and Okinawa Cooking Class on Viator.com.
11. Go Snorkelling at Kerama Islands National Park
Encounter sea turtles, tropical fish and other marine life during a Snorkelling Experience in the Kerama Islands of Okinawa.
The protected 22-island archipelago of of the Kerama Islands National Park is known for its marine biodiversityand diverse coral reefs. The crystal-clear waters provide excellent visibility for observing the underwater beauty of the area.
This full-day tour includes snorkelling stops at Tokashiki Island, Zamami Island and Aka Island as well as equipment. Pick-up and drop-off at your hotel makes this an especially easy day trip from Naha.
Check prices and availability of a Snorkelling Experience in the Kerama Islands on Viator.com.
Travel Planner for Things to Do in Naha, Okinawa
Currency: 1 USD = 111 JPY Yen (Check XE Currency Converter for current exchange rates)
Finding Your Way Around: Click here for our Google Map of the main points of interest, attractions and top things to do in Naha.
Okinawa Tourism: Get itineraries, details on Okinawan festivals and handy travel information at the official Visit Okinawa website.
Map of Okinawa: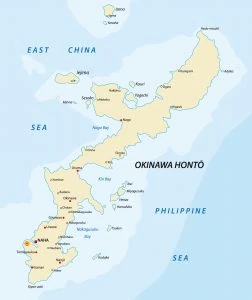 Kokusai Street Food Village
Zuisen Distillery: The Zuisen Distillery is a short walk from Shuri Monorail Station but with all the narrow, winding streets, is not the easiest place to find. You can always do what I did.
I took a taxi to the distillery and then took the Monorail back. There are helpful maps posted at every street corner. So it's easy to explore the neighbourhood once you're done the distillery tour. See below for instructions in Japanese to give to your taxi driver to get to Zuisen Distillery.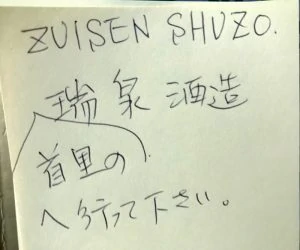 Holland America: Another top cruise for foodies is Holland America's 7-Day Cruise of Canada & New England.
Major Events: At the end of October, Shurijo Castle is home to the Shuri Castle Festival. This 3-day festival is one of the most important annual cultural events in Okinawa.
It features colourful processions with participants in traditional Ryukyu clothing, dance performances, awamori tastings and music.
Save to Pinterest!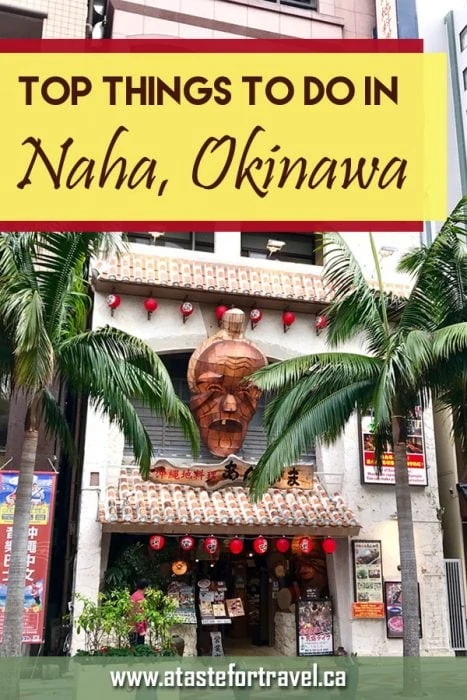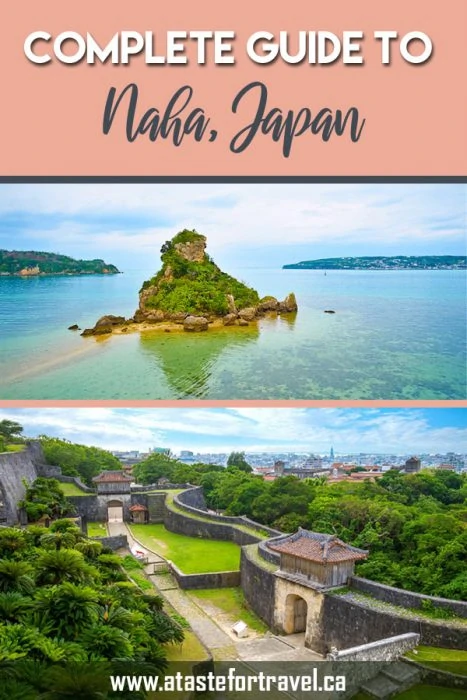 Dividing her time between Canada, Guatemala and Mexico (or the nearest tropical beach), Michele Peterson is the founder of A Taste for Travel. Her award-winning travel and food writing has appeared in Lonely Planet's cookbook Mexico: From the Source, National Geographic Traveler, Fodor's and 100+ other publications.
Read more about Michele Peterson.