We may earn income from links in this post. Please read this Disclosure for details.
Awamori, Okinawa's signature distilled spirit is enjoying a revival and there's no better place to sample "island sake" than in Naha, Japan
If you haven't yet tried awamori, you're missing out! This strong Japanese drink made of rice alcohol is a specialty of Okinawa, an island in the Nansei Shoto archipelago in southwestern Japan. Its array of styles and tastes is as rich as its history and versatility.
Here's why you should add awamori to your list of drinks to try in Japan.
My appreciation for awamori developed during a shore excursion in Naha. I was on Holland America's MS Volendam, a 1432 passenger luxury cruise ship registered in the Netherlands and our 14-day Taiwan & Japan itinerary featured ports of call in Hong Kong, Manila (Philippines), Kaohsiung and Keelung (Taiwan), Naha, Fukuoka, Nagasaki (Japan) and Shanghai (China).
While at other ports, I'd participated in escorted shore excursions–from the street markets in Hong Kong's New Territories to the thermal waters at Tienlai Hot Springs in Taiwan. In Okinawa, one of the top places to visit in Japan for food lovers, I opted for independent exploration.
I was keen to sample awamori, the legendary "island sake" of Okinawa at its historic and modern day source. If you're a fan of distilled spirits such as whisky, rum or gin, a tour of Zuisen Distillery is a great choice for an Okinawa tour as it's an opportunity to learn about one of Japan's most historic liquors.
What is Awamori?
Awamori is a distilled rice alcohol made of indica rice. It's also known as zanpa awamori or shima-zake (island sake) and is a unique alcohol that's indigenous to Japan's tropical Okinawa islands.
One of the oldest spirits in Japan, it was developed in the 15th century using rice from Thailand. Only 40 houses were granted licenses to make awamori and it soon became a highly revered trade commodity.
Awamori kosu — awamori aged for more than three years — was so prized that during the 15th century Ryukyu Dynasty, only royalty were allowed to drink it.
Learn more about Japanese cuisine and culture in the fascinating book Rice, Noodle, Fish: Deep Travels Through Japan's Food Culture, one of the best travel books for foodies.
Modern Brands and Popularity
Traditionally enjoyed solely in Okinawa, the spirit's versatility and artisanal craftsmanship is drawing new attention in other regions of Japan and internationally. If you're taking a tour of Japan that includes Tokyo, Kyoto or Osaka, be sure to look for awamori on restaurant menus and give it a try.
A shot of awamori or whisky is often served with bar snacks such as shiokara, a munchie made of fermented squid viscera that's one of the more unusual foods in Asia.
While aged or refined awamori is still most often enjoyed straight and enjoyed for its elegant aroma and smooth taste, it's becoming popular in contemporary cocktails within the bars and restaurants on Kokusai Dori Street, the heart of Naha's nightlife.
At least 36 awamori distilleries now operate within Okinawa. One of the most famous is Zuisen Distillery.
History of the Ryuku Dynasty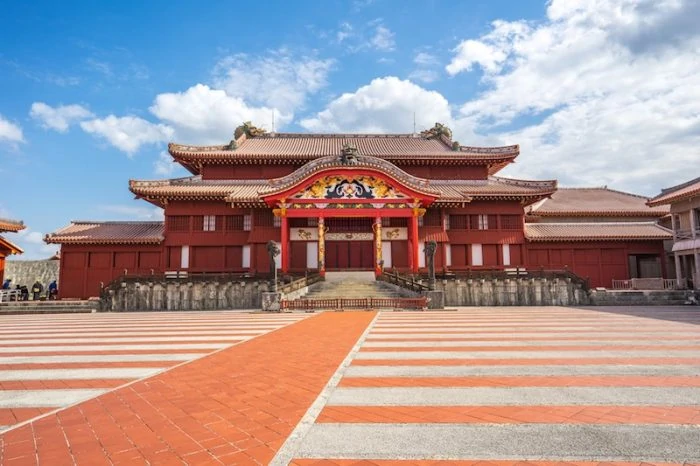 Based in Naha, Okinawa, Zuisen Distillery was one of the few distilleries granted permission to produce awamori kosu, the prized alcohol. It's considered one of the best brands of awamori so taking a tour of Zuisen Distillery is one of the top things to do in Naha.
Given the connection between awamori and royalty, it's no surprise that Zuisen Distillery is located near Shuri Castle.
Between 1429 and 1879, Shurijo Castle served as the palace of the Ryukyu kingdom, an empire with a powerful maritime trade network stretching southwest from Kyushu to Taiwan. Destroyed during World War II, the rebuilt castle is now a UNESCO World Heritage Site.
Strategic Location of Zuisen Distillery Near Shurijo Castle
Zuisen Distillery is located via a series of footpaths and narrow streets leading from impressive Keiseimon Gate (Akata Ujo), the former service entrance to the castle. Completed in 1546, during the reign of Kin Sho Sei, its unique concave shape made it possible for archers to defend with against intruders.
A trail leads from Shurijo Castle's service gate through the Shuri neighbourhood, a leafy residential area dotted with ancient cobblestone paths, once part of Ryukyuan-era military routes and laneways to gardens of high-ranking officials.
Shaded by 300-year old trees, the path winds past the tomb of a 15th century noble, a Shinto shrine for the worship of rain and a sacred well. Zuisen Distillery sources the water for the production of its awamori from this pure water source, which contributes to the high quality of its products.
Learn About its Production on a Tour of Zuisen Distillery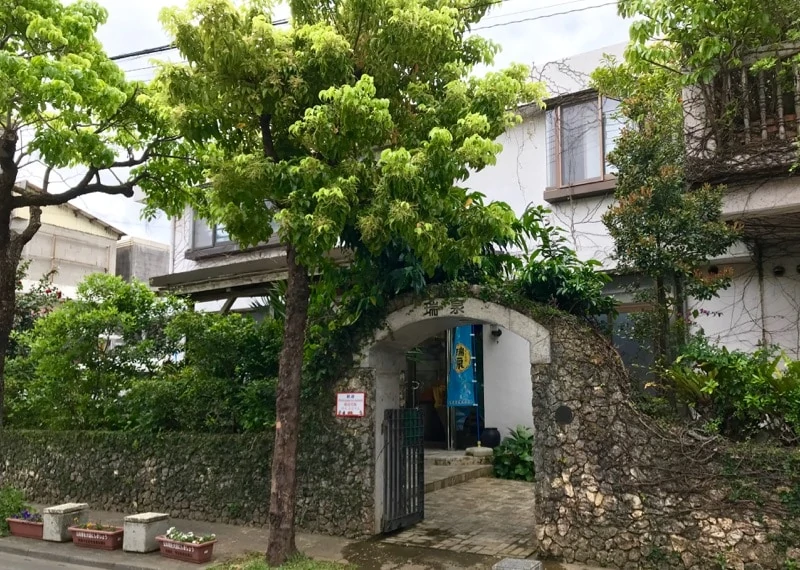 The entrance to Zuisen Distillery is hidden behind stone walls on a street lined with blooming sakura cherry trees. The gates feature a pair of Shisa lions, traditional Okinawan guardians against evil spirits.
Admission to Zuisen Distillery is free. The Zuisen Visitors Centre features a self-guided tour of the exhibits, a look into the production room holding the stainless steel distillation tanks, a documentary film (with English subtitles) explaining the history of awamori and a boutique with a range of products for sale.
The tasting experience takes place on the main floor of Zuisen Distillery.
Ingredients of Awamori
The key ingredients of awamori are Thai rice and black koji mould. The rice is washed, drained and steamed. Koji culture is applied to the steamed rice and left to develop.
Water and yeast are then added to make unrefined mash or moromi. The moromi ferments for a further two weeks until it achieves an alcohol content of 18% and is then transferred to stainless steel pot stills for distillation.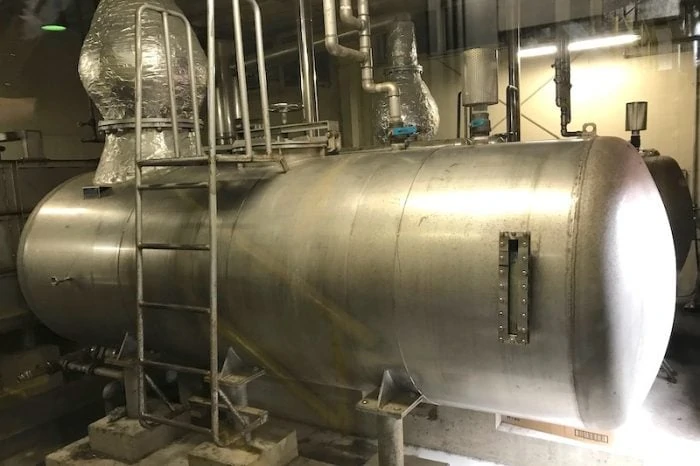 It's then transferred to clay pots to be aged in cool underground storerooms, producing a refined awamori known as kosu. The longer it's aged, the more aromatic and full-bodied it becomes.
Living koji spores are one of the key distinctions of awamori. Local koji became scarce during WWII and practically disappeared from use. In 1998, it was discovered that Dr. Kinichiro Sakaguchi of Tokyo University had a supply of the rare "zuisen" mould.
The zuisen mould was returned to Okinawa and after much trial and error the production of awamori was resumed. Following the revival of production, Zuisen Distillery has gone on to win several international awards including the Gold Medal in the 2004 Distilled Liquor Competition in Germany.
Awamori vs Sake
What is the difference between awamori and sake? Although often confused with sake and awamori is often called "island sake" the two alcoholic drinks are quite different.
While both are created using rice, awamori is created through distillation while sake is fermented. This results in a big difference in alcohol content. This means it's more like a whisky or a gin than sake.
There's also quite a bit of difference in alcohol content between sake and awamori. Sake generally contains 14-16% Alcohol by Volume (ABV) while awamori is 40% ABV.
There are also important differences in how these traditional Japanese drinks are served. Sake is most often served in small ceramic cups called sakazuki or choko, but may also be served in a wine glass.
On the other hand, the traditional way to drink awamori is in a chibuguwa, a tiny clay cup, never in a wine glass.
Both sake and awamori can be mixed into cocktails.
Awamori vs Shōchū
What's the difference between shōchū and awamori? Awamori is made from Thai rice and black koji mould, while shochu is made from rice as well as sweet potato (imo), barley (mugi) and other ingredients.
What Does Awamori Taste Like?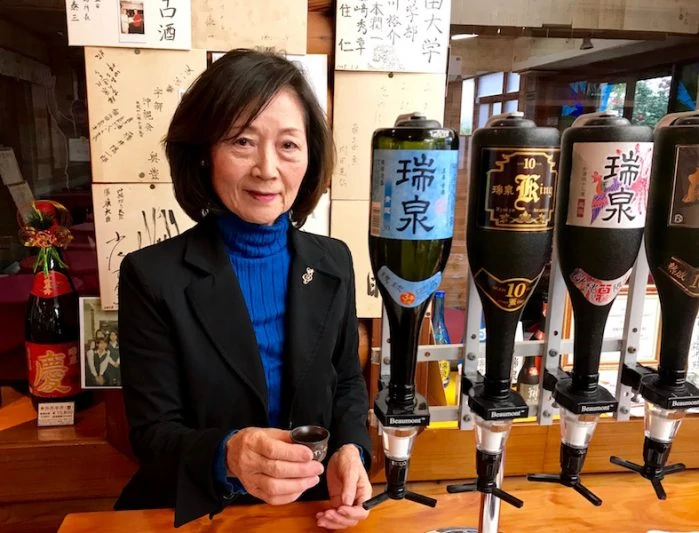 The traditional way to drink awamori is in a chibuguwa, a tiny clay cup used for serving. At Zuisen Distillery, tiny plastic cups are used for tasting.
To do a formal tasting, you begin by tasting unaged awamori and move up through to the aged kosu. Much like whisky, rum or other fine spirits, the taste of awamori varies depending on how long it's aged. It becomes more aromatic and full-bodied as it ages.
At Zuisen Distillery, my tutoured tasting was conducted by Ms. Saeko Sakumoto, Executive Chairperson of the Zuisen Distillery Co. who welcomed me and explained the history of awamori. She began the tasting with Seiryu, a sweet 3-year old kusu with a 30% ABV that was surprisingly mellow.
Next up, was King Crown, a 10-year old kusu offering more intense flavour and velvety smoothness. A splash of water brought out floral notes and fullness.
The Zuisen Boutique features a range of products including prized Zuisen Tsubo (43% ABV) sold in 18 litre earthenware vessels as well as new products such as Zuisen Ocean Blue, which incorporates deep pure ocean water into the fermentation process.
There are also several gift products such as bottles shaped as Fu-muchi and Jin-muchi, the traditional Okinawa guardian dragons.
How to Drink Awamori
The traditional way to drink awamori is in a chibuguwa, a tiny clay cup used for serving. However, there are other ways to drink awamori, according personal taste.
Neat: On its own with nothing else added.
On the Rocks: Mixed with ice.
Diluted with room temperature water or hot water (when the weather is cool)
Cocktail: Mixed with tea or fruit juice
Traditionally, Okinawans have considered awamori to be a healthy tonic. Its enzymes are believed to aid digestion and to help dissolve blood clots. Japan has the highest life expectancy in the world and Okinawa itself has more than 400 centarians, so many believe awamori is part of the Okinawan secret to living a long life!
Garlic or hot chiles pickled in awamori give a nutritious health boost to traditional Okinawan dishes and other foods. Awamori is also mixed with ripe Japanese plums and sugar to make plum liquor, a sweet and revitalizing traditional drink.
Increasingly, people are enjoying awamori in modern cocktails. While cruising through Japan on the MS Volendam, I had the opportunity to explore a range of modern cocktails — from a Lotus Blossom martini to a Samurai Mojito — during an Asian Mixology Class.
Check out the Lotus Blossom Cocktail recipe featuring awamori, sake and lychee and give Okinawa's famous spirit a try!
You Might Also Like
Zuisen Distillery Co.: Tours of Zuisen Distillery are available every 30 minutes from 9:30 to 16:30). It's a 10 minute walk from Yui-Rail Shuri Station. Check hours before you visit as it's closed on the 2nd and 4th Saturdays, Sundays and Japanese Holidays.
You must be 20 years of age or older to consume alcohol legally in Japan.
Drivers are prohibited from drinking any alcohol at all.
If you are taking a taxi to Zuisen Distillery and don't speak Japanese or get an English-speaking driver, you can use the instructions below: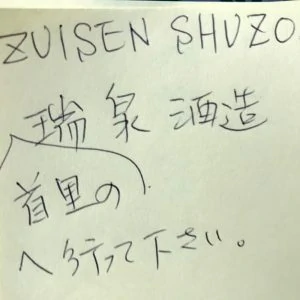 Save to Pinterest!
Dividing her time between Canada, Guatemala and Mexico (or the nearest tropical beach), Michele Peterson is the founder of A Taste for Travel. Her award-winning travel and food writing has appeared in Lonely Planet's cookbook Mexico: From the Source, National Geographic Traveler, Fodor's and 100+ other publications.
Read more about Michele Peterson.