We may earn income from links in this post. Please read this Disclosure for details.
If you spend any time in Mexico or Guatemala, you're going to need a list of the best mariachi songs to request.
These roving musicians are an essential ingredient for a fiesta, birthday party, romantic dinner, funeral or beach day on one of Mexico's beautiful beaches.
But mariachi music is more than just a collection of songs. It's such an important part of traditional Mexican music and Mexican culture that UNESCO has included it on its worldwide List of Intangible Cultural Heritage worth preserving.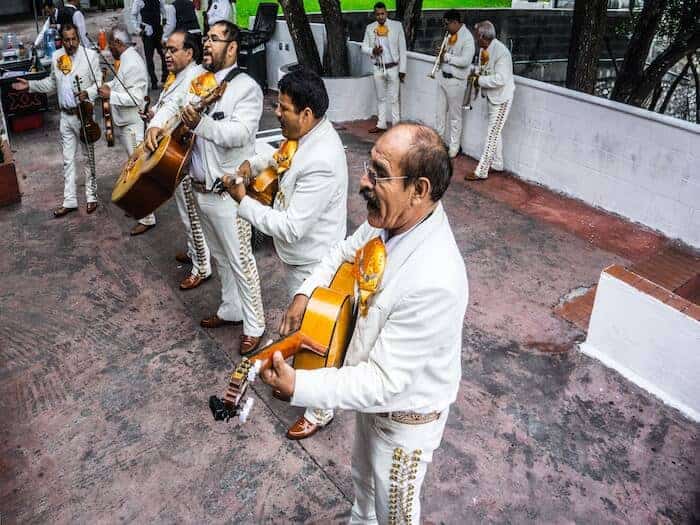 Listening to Famous Mariachi Songs in Guadalajara
The first time ever I heard a mariachi sing was at a dinner club in Guadalajara, the heart of the mariachi world in Mexico. I was seated in the front row of a wooden stage and every time the mariachi stomped his cowboy boot, vibrations would ripple across the stage down into my toes.
He sang of love, loss and betrayal and looked straight into my eyes. It didn't matter to me that he was portly, wore a shiny, sequinned shirt and big sombrero. By the end of the first set I was madly in love.
My swooning turned out to be the beginning of a bout of food poisoning and I spent the remainder of my 3-day stay in Guadalajara, on the floor at the Hotel San Francisco Plaza.
Although I left Guadalajara without seeing my mariachi again, the memory of his songs stayed with me.
Since then I've enjoyed mariachi music throughout Mexico from Plaza Garibaldi and the famous Xochimilco canals in Mexico City to Manzanillo Beach in Puerto Escondido.
While the musicians at the beach aren't officially mariachis because they're not wearing charro suits or with a full orchestra, it's still handy to have a list of the best mariachi band songs to request so you don't listen to endless rounds of Cielito Lindo.
Best Mariachi Songs to Request at Parties or the Beach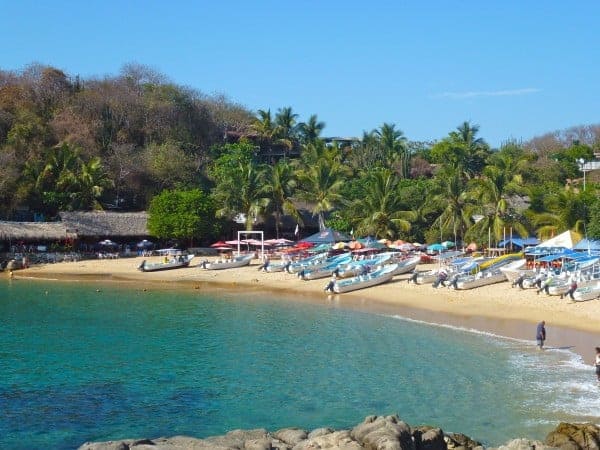 Knowing the titles of mariachi songs to request can help set the mood you want to create.
Do you want it upbeat to dance to or to set a romantic atmosphere for you and a loved one?
Do you want a happy mariachi song or one of the classic romantic mariachi songs?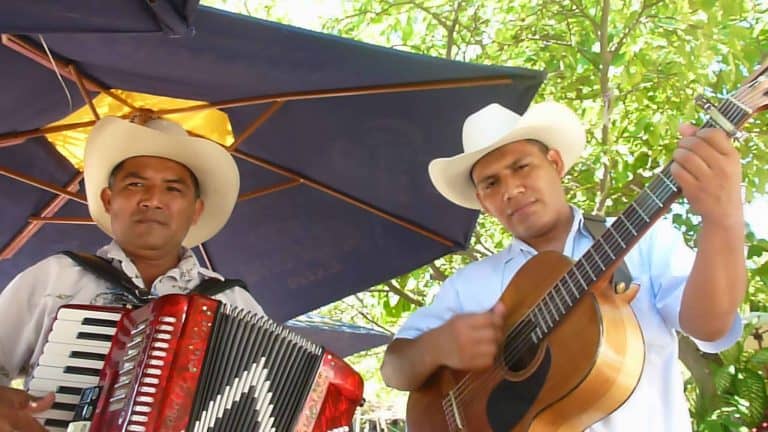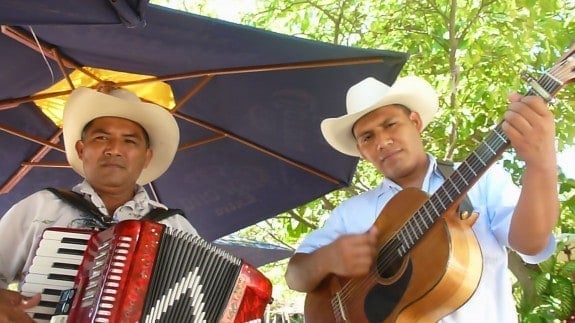 Given my husband is from Guatemala (and not everyone wants to listen to the song Soy de Zacapa), to create our playlist we appealed to our friends from Mexico and across Latin America for advice.
Together we came up with a playlist of canciones that are sad, political and wildly romantic. There are even a few cumbias perfect for dancing.
Here's a mariachi song list to request at a birthday party, a Cinco de Mayo party, Day of the Dead, a funeral or beach day and other special occasions.
These mariachi classics are also popular on Cinco de Mayo (May 5th) and on Mexico's Independence Day, a National Holiday that kicks off on the evening of September 15th and takes place on September 16th with traditional food, processions, dance and, of course, mariachi music.
This list of popular mariachi songs includes the titles of the top mariachi songs for dancing, fun mariachi songs, romantic songs and love ballads plus a few of the most famous mariachi songs.
List of the 31 Best Mariachi Songs to Request
Para Siempre
Urge: Vicente Fernandez
Mexico Lindo y Querido: An expression of Mexican pride, you'll wish you were born in Mexico after you listen to this popular mariachi song.
Maria Isabel
Mujeres Divinas: This ballad is guaranteed to make you sob. A good mariachi song for your father.
Mi Padre: Another great mariachi song to request for your father, it was made famous by Mariachi Vargas De Tecalitlán.
No Vale la Pena
La Media Vuelta
Sabor a Mi
Te regalo una rosa: Juan Luis Guerra is Dominican but many singers know this song.
Y Te Vas and El Amor: Very touching mariachi songs by Jose Luis Perales but also very sad.
El Son de la Negra: lively rhythm.
La Bamba: This huapango-style folk song from veracruz leaped to popularity thanks to Ritchie Valens and Mariachi Vargas De Tecalitlan. Mariachi bands often play this at weddings and parties as it's so beloved.
El Mariachi Loco: A lively song that's one of the best for dancing.
La Negra Tomasa: This cumbia has a good rhythm for dancing.
Malagueña (sad )
Si Nos Dejan
El Borracho: Fast-paced and great for dancing.
Las Mañanitas: A classic mariachi song for a birthday party.
Cielito Lindo: Deservedly famous .
Volver, Volver: This ranchera-style song was made famous by Vicente Fernandez (and Linda Ronstadt).
La Llorona: A traditional Day of the Dead mariachi song most often heard on Dia de Muertos. It tells the story of the ghost of a weeping woman who is cursed for drowning her children. The version by Lila Downs is especially haunting.
Siempre te amaré: A romantic mariachi song for a wedding.
Las Golondrinas (The Swallows): This is a sad and beautiful mariachi song for a funeral. It symbolizes saying goodbye to a person as their soul rises to heaven. It's also a good choice for New Year's Eve (to say goodbye to the old year) and for people starting a new chapter in life.
¡Viva México! and 15 de septiembre: Classics for Mexico's Independence Day on Sept 16th.
Amor Eterno: Juan Gabriel wrote this for his late mother. It's a touching song for a Mom's funeral or sentimental time.
Una Madre Entre Flores – A cheerful tribute song for Mom's birthday or Mother's Day.
The Most Upbeat and Happy Mariachi Song for Dancing? El Mariachi Loco ( The Crazy Mariachi).
El Rey: This popular mariachi song has been famously performed by Luis Miguel, Vicente Fernandez and others. With its choruses of "llorar llorrar" and "robar robar" it's a great sing-along song.
Guantanamera – a last resort.
Wondering about the best mariachi song for dancing?
Check out this video of El Mariachi Loco by the Oscar Flores band! It's guaranteed to make you want to get up and dance!
How Much to Pay a Mariachi Band?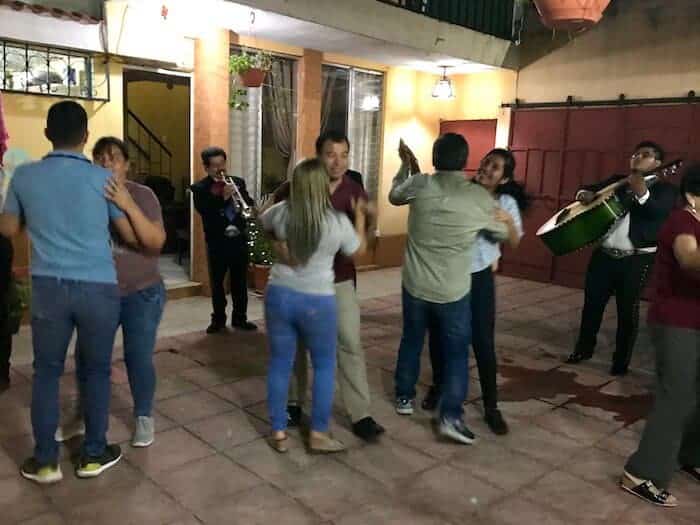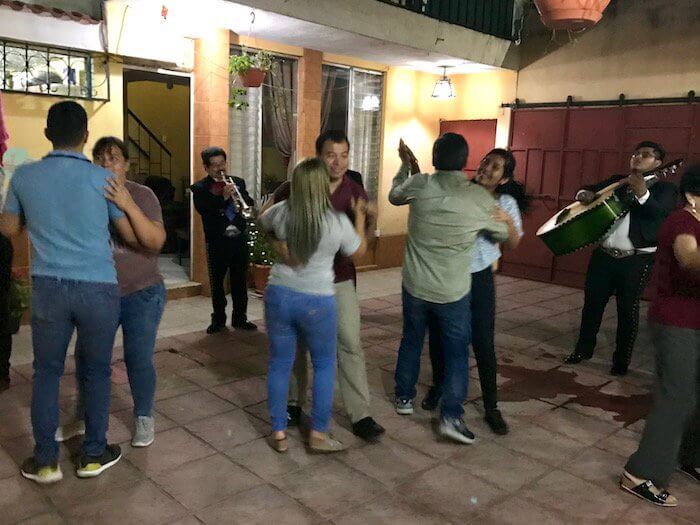 If you're wondering how much to pay a mariachi band, it depends where you are.
If you're at a beach in Mexico, we recently paid 100 pesos for three songs. In USD that works out to be around $5. It's definitely worth it when it comes to creating the perfect soundtrack for a day at the beach..
However, if you hire a mariachi band to come to your home for a party such as a milestone birthday celebration or party, it's quite a bit different than just requesting a song at the beach or in the heart of Mexico City.
You have to consider other factors besides just choosing the best mariachis songs for the evening.
Here's what you need to consider.
10 Tips for Hiring a Mariachi Band:
Determine how many musicians you want.
Decide on a budget. In Guatemala it's around 800 Quetzals ( $110 USD) for six musicians for an hour. In Canada, the cost is usually $300 CAD for a minimum of two hours ( including a break)
Decide what time you want them to arrive. Don't get them too early as you want to be sure all your guests have arrived before they start playing.
Arrange transportation such as a mini-van for the mariachis if they don't have their own.
Determine if cost is per song or by the hour. You can usually count on 12- 15 songs per hour.
Create sufficient space for the musicians to play and for a dance floor.
Appoint a person to welcome the mariachis, request the songs, identify the guest of honor and arrange for the comfort of the mariachis ( drinks, food, washroom facilities)
Have a list handy of the best mariachi songs to request
Expect to serve the mariachis dinner if the gig is for more than an hour.
Tipping isn't generally expected but is welcomed if they play extra songs.
Finally, at the end of your event, make a note of which songs were the most popular among your guests. The the best mariachi songs are the ones that get people up dancing or singing along.
Be sure add those songs to the playlist at your next event.
Do you have a favourite mariachi song? Let me know. I'd love to add it to our list of the best mariachi songs to request!
YOU MIGHT ALSO ENJOY
The Best Mexican Verde Salsa Recipe for Your Party
Easy Mango and Black Bean Salsa Recipe
10 Amazing Day of the Dead Traditions in Mexico
Travel Bloggers Share Their Ultimate List of the Most Romantic Hotels in Mexico
Save to Pinterest!
Dividing her time between Canada, Guatemala and Mexico (or the nearest tropical beach), Michele Peterson is the founder of A Taste for Travel. Her award-winning travel and food writing has appeared in Lonely Planet's cookbook Mexico: From the Source, National Geographic Traveler, Fodor's and 100+ other publications.
Read more about Michele Peterson.