We may earn income from links in this post. Please read this Disclosure for details.
Whether you're planning a honeymoon, a couples vacation or a short romantic getaway for two, you can't go wrong with any one of these choices for the most romantic hotels in Mexico.
Hand-picked by our team of independent travel experts, each of these select hotels and resorts — from Tulum to Puerto Vallarta — has a special romantic ingredient.
Whether it's the jaw-dropping views, ultra-private plunge pools or romantic dining, their distinctive and unique details make these hotels the best places in Mexico for couples.
1. Hotel Xcaret Arte in Playa del Carmen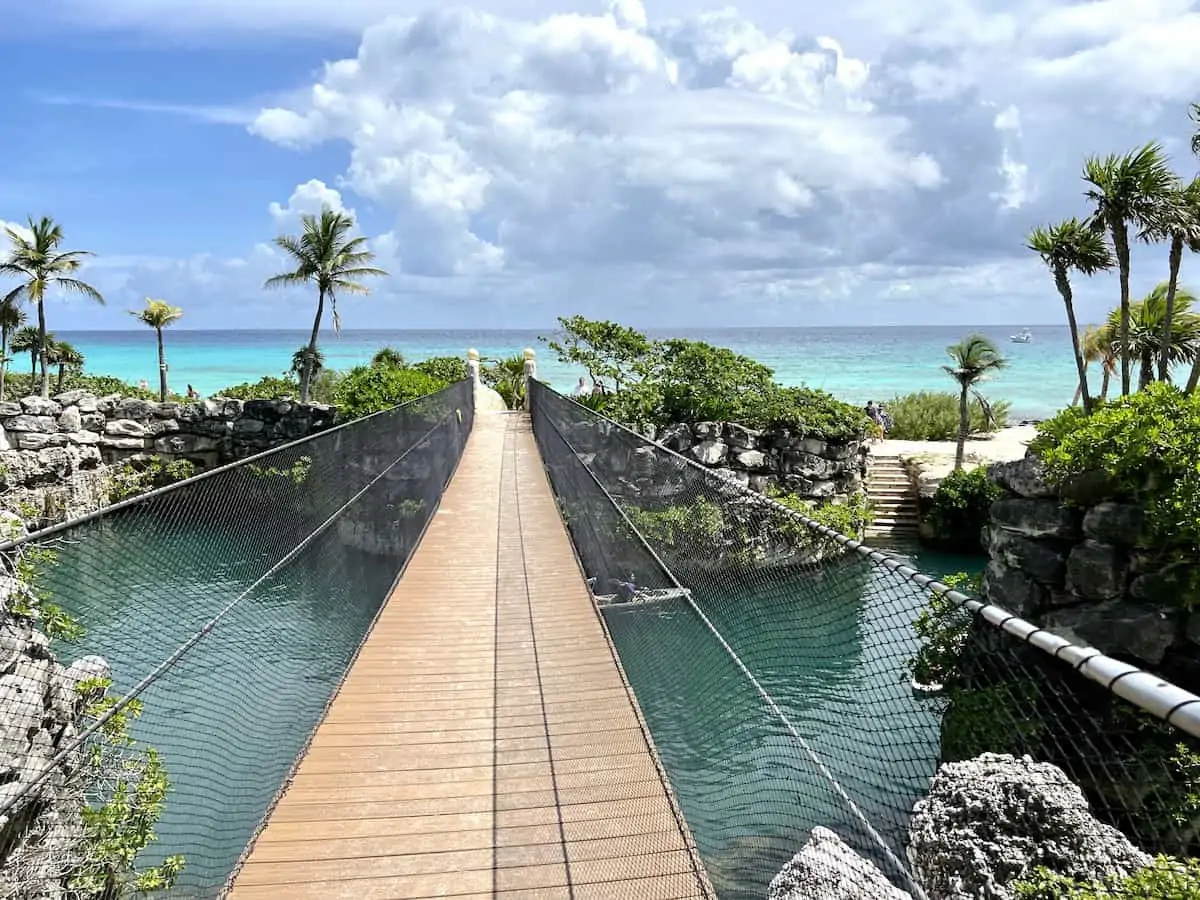 Drawing inspiration from Mexican heritage from pre-Colombian to contemporary times, Hotel Xcaret Arte celebrates cuisine, architectural design and creativity. This romantic hotel is ideal for active, foodie couples.
The second property in a hotel collection created by Grupo Xcaret, this adults-only resort features seven included restaurants, nine gastronomy experiences, 10 bars/cafes, a spa with indoor/outdoor hydrotherapy circuit and five themed buildings offering art-focused workshops.
In addition to all-inclusive access to the Xcaret Eco-Adventure parks, the food and drink at this romantic resort are also included.
The gourmet cuisine is under the creative direction of acclaimed chefs including Chef Paco Méndez (best known for Michelin-starred Hoja Santa in Barcelona), Chinese and Puebla cuisine by Chef Jonatan Gomez Luna, Mexican Mediterranean cuisine by Chef Franco Maddalozzo, regional Oaxacan cuisine by Chef Alejandro Ruiz and Yucatecan-Lebanese cuisine by Chef Roberto Solis.
Check rates and availability of Hotel Xcaret Arte on Booking.com.
🌟 Pro Tip: Given all the things to do at Xcaret, this is also a great spot for an all-inclusive girls getaway in Mexico.
2. Azucar, Tulum: A Secluded Romantic Hotel in Tulum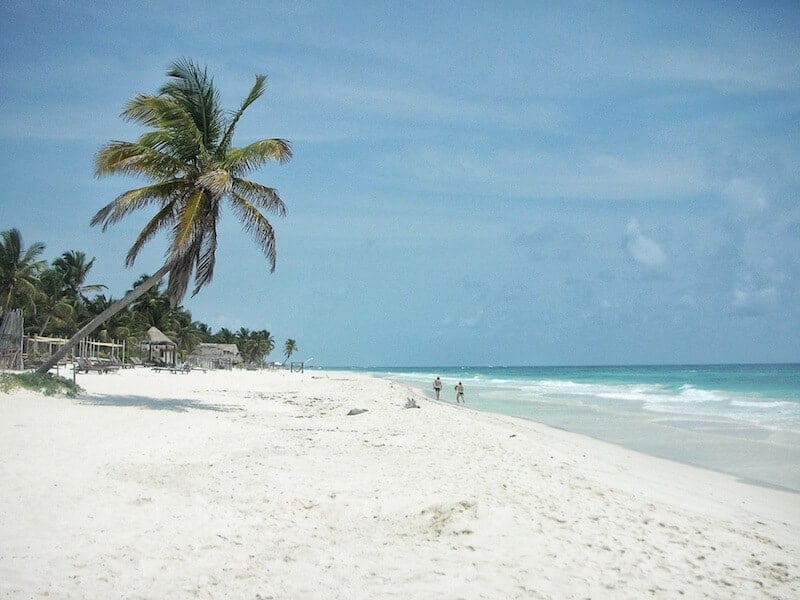 Couples looking for a secluded honeymoon in Tulum won't be disappointed with the Azucar Hotel, located in the Reserva Sian Kaan.
Although it's just a 15-minute drive away from Tulum's lively main hub, it's a world away in vibe.
It may very well be the most romantic hotel in Mexico. This distinction is not so much for what it offers, but for its secluded location.
Don't imagine a plush, luxury hotel with swimming pools, plunge pools, jacuzzi, spas and restaurants.
This is a much simpler place. It features beautiful wooden cabins with direct access to the beach. The beautifully decorated rooms have only the essential amenities, in line with the efforts to run in the most ecological way possible.
There are no air conditioners – just a vent and plenty of windows (with screens and mosquito nets) to let the cool breeze in at night.
🌟 Pro Tip: Are you a mosquito magnet? Get our 14 Easy Ways to Avoid Mosquito Bites in Cancun and Riviera Maya.
There's nothing better than falling asleep to complete, blissful silence, broken only by the sound of waves, to then wake up and throw on a swimsuit and go directly to the beach.
The beach, far from the crowds of Tulum, is nicely isolated. It comes with sun beds in front of the cabins, a couple of small local restaurants nearby and other equally isolated and hidden hotels nearby.
This area is so romantic, it's not uncommon to see weddings being celebrated right at the beach!
Romance verified by Claudia Tavani of My Adventures Across The World
Check rates and availability for Azucar Hotel Tulum on Booking.com.
3. Hotel Boutique 1850, Guanajuato City: A Romantic Historic Hotel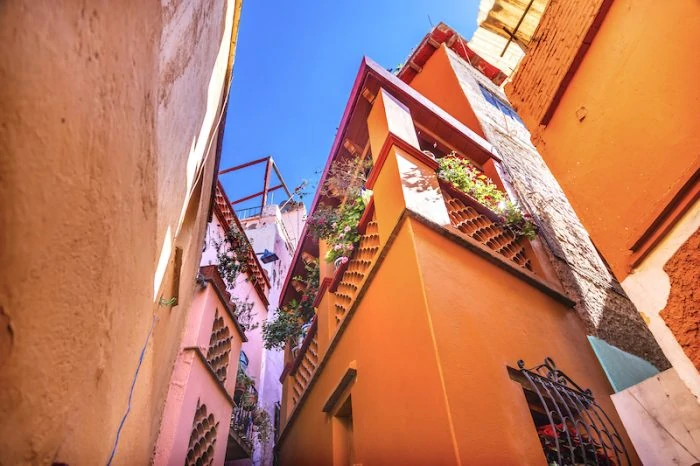 It's no surprise that there's a wealth of romantic hotels to choose from in Guanajuato City. This is after all, the home of El Callejon del Beso or the Alley of the Kiss, the heart of a tragic Mexican legend.
According to the tale, the two balconies between the two buildings were where two star-crossed lovers would meet to share a stolen kiss. Tragically, the maiden was killed and her young lover threw himself in despair onto the pavement below.
But today, modern couples take their turn standing on the third step beneath the balconies in the hope that they will be guaranteed 15 years of happiness.
In the heart of the narrow alleyways, winding streets and colourful restaurants and bars in the heart of colonial Guanajuato, is the stunning design hotel Hotel Boutique 1850, one of Mexico's most romantic boutique hotels.
In addition to its award-winning restaurant Casa Valadez, it's home to a full-service spa as well as a sky bar featuring some of the city's best views. It all adds up to everything you need for a romantic weekend getaway in Mexico.
Check rates and availability at Hotel Boutique 1850 on Booking.com.
4. Banyan Tree Mayakoba, Riviera Maya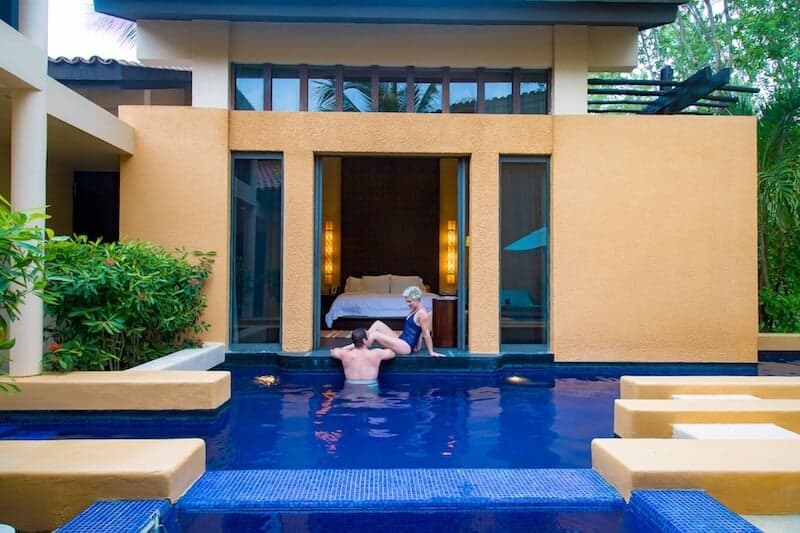 Pampering, seclusion and opulent surroundings are the three "must have" features for us when considering a luxury honeymoon or romantic getaway.
Add in amazing beach views, comfortable loungers, top notch food, large outdoor bathtub and private pool and it's easy to see why Banyan Tree Mayakoba raises the bar for romantic properties!
The property is set on a pristine stretch of beach in the Riviera Maya, one of the.best Mexican vacation spots for couples. The sugary white sand and rich turquoise water scream romance for your beach setting.
Each villa comes with two bicycles so you can have a romantic ride over to the beach or restaurants throughout the property. The service throughout is impeccable but our favourite was the beach staff as we indulged in the comfortable loungers. They offer full service bar and menu and keep your waters stocked during the hot summer sun.
There are several restaurants on-site. Many of them have outdoor patio or terrace options with romantic lighting for an amazing setting. There are also several options for secluded dining features with your significant other if you choose to indulge.
One of our favourite features in our villa was the large outdoor bathtub. For an added romantic feature, schedule a themed tub experience to include rose petals, champagne and candles.
The shining stars of this luxury property are the massive private pools included with each villa. Relax in the privacy of your own oasis in one of the largest private pools we have experienced.
Overall Banyan Tree Mayakoba set a new standard for us when seeking romantic properties for our couple's trip!
Romance verified by Brian and Amanda of Eat Work Travel
Check rates and availability at Banyan Tree Mayakoba on Booking.com
5. El Dorado Casitas Royale, Puerto Morelos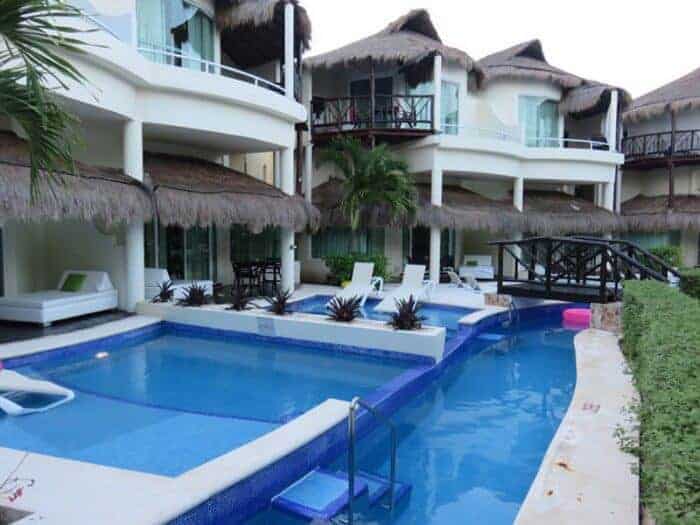 One of the most romantic all-inclusive resorts in Mexico is the El Dorado Casitas Royale in Puerto Morelos, about 20 minutes south of Cancun.
The Casitas Royale Resort was built with couples and romance in mind, and you can see that in every aspect of the rooms and surroundings.
Looking for a couples resort in Mexico with a private pool? Here, every rooms has a private pool. Some are swim-ups, but even the second-floor rooms have balcony pools. The rooms also have a private outdoor shower, and an in-room jacuzzi.
This all-inclusive resort is small and intimate compared to some of the large, all-inclusive resorts on the Mayan Riviera. The exclusivity creates a quiet, relaxing environment so you can enjoy your time together without distractions. It's one of the best choices for a honeymoon in Mexico.
You can spend your time in either of the two main pools, or lounge around on the really comfortable sun beds near the beach. The resort has beautiful grounds that include fun amenities like beach swings, hammocks and multiple swim-up bars. You can even have dinner on the beach.
Romance verified by Savored Journeys
Check rates and availability for El Dorado Casitas Royale by Karisma on Booking.com
6. El Pez Hotel, Tulum: Romantic Beach Hotel in Mexico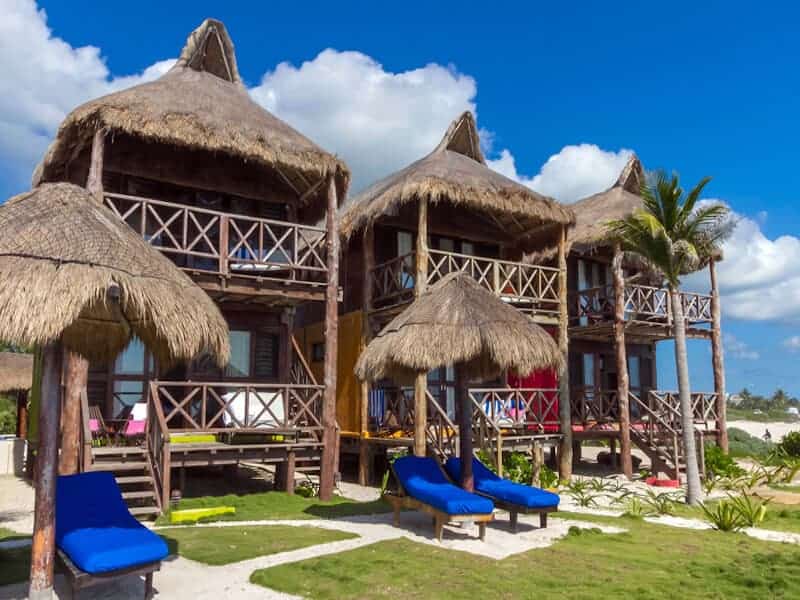 Here's another swoon-worthy romantic getaway in Tulum. While Tulum may have become a trendy celebrity hot spot in recent years, there are many things to do here even if you aren't a celebrity.
We discovered the El Pez Hotel and Restaurant right on the beach road and they were offering a romantic Sunday Brunch.
So we decided to splurge and have a first rate meal in a truly heavenly location. The private cabanas on the beach are gloriously romantic with their thatched roofs, and white sheer drapes moving gently in the breeze.
The rooms themselves are soft and plush with fans, lovely white crisp linens and beautiful amenities. The peace and quiet of the whole area is simply perfect.
The ambience at the hotel is serene, peaceful and incredibly romantic and discrete. Soft blue skies, turquoise water and explosions of colour provided by the bougainvillea alongside the rustic but lavish hotel grounds and rooms.
This would be the absolutely perfect place for a memorable honeymoon in Tulum or special occasion.
Romance verified by Faith at XYUandBEYOND
Check rates and availability for El Pez Hotel in Tulum on Booking.com
7. Hacienda de Cortes, Cuernavaca: A Historic Hotel for Couples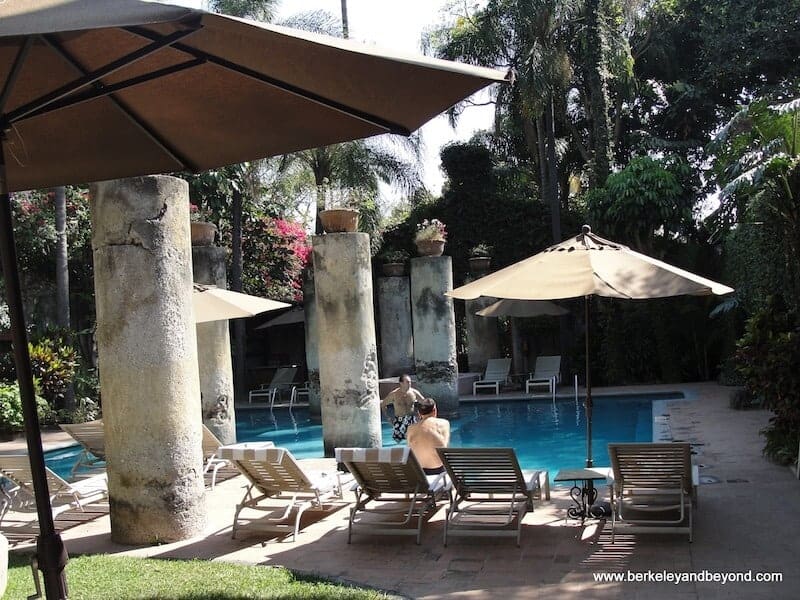 It doesn't get more romantic than Hacienda de Cortes in Cuernavaca, Mexico. In fact, my daughter held her wedding there because it is a popular town for weddings among Mexicans (her husband is from Mexico City).
This small, atmospheric hotel has lovely rooms featuring high ceilings, stone floors, and antique furnishings. Suites are super-special, with glass doors opening to a central courtyard and a large marble bathroom with whirlpool tub/shower combo.
The property was originally built 400-plus-years ago by conquistador Hernan Cortes for his lover on the ruins of what was originally a sugar mill, and it is one of the oldest post-conquest buildings in Mexico.
Though new, the swimming pool resembles a ruins itself, and gardens are extensive and inviting for long romantic strolls.
One of the best things for couples to do is dine in the stunning La Casona/The Old House restaurant, which is inside a hopelessly romantic ruin with a spectacular soaring skylight ceiling and crumbling walls that are overgrown with roots and vines.
I can still taste the Mexican hot chocolate and see the bright orange flesh of the fresh papaya at breakfast.
Romance verified by Carole Terwilliger Meyers
8. Hotel Escondido, Puerto Escondido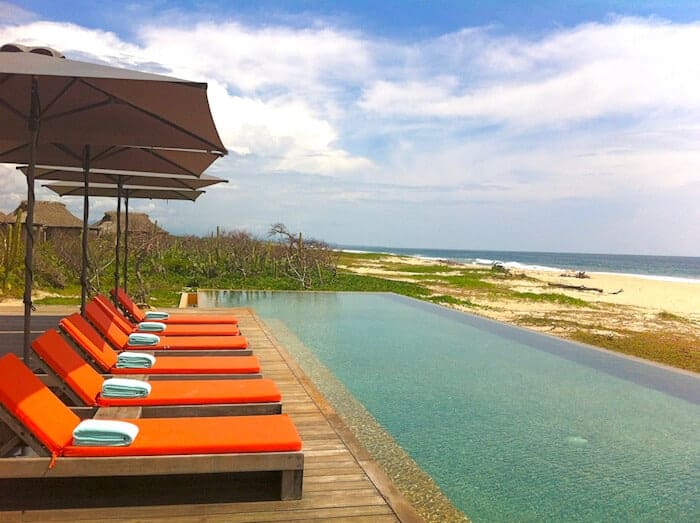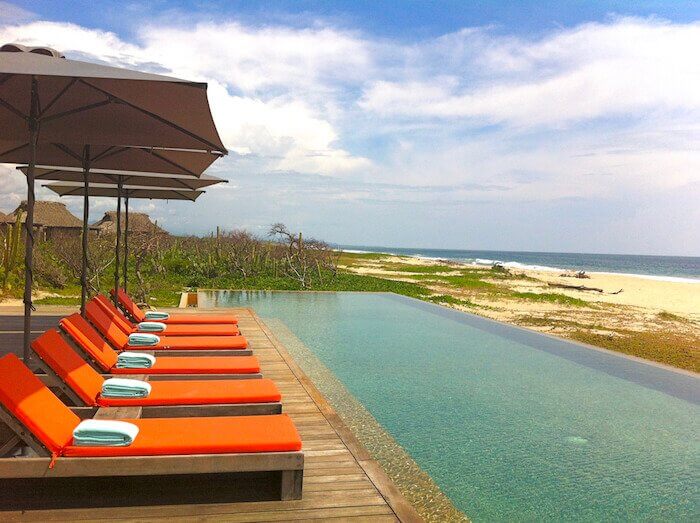 Honeymoon couples seeking seclusion, adventure and artistic flair will love adults-only Hotel Escondido, an eco-chic retreat created by style-maker Grupo Habita, known for its hip hotels in Mexico City.
Luxurious comforts such as private plunge pools, in-room spa treatments, gourmet Oaxacan cuisine and handcrafted décor create an atmosphere of pure romance.
There's no separation between beach club and the desert landscape so whether you recline on a lounger or float in the saltwater ribbon pool, you'll enjoy 360 views of sky, sea and sand.
Situated on a pristine stretch of beach an hour northwest of Puerto Escondido, the resort's palapa-topped bungalows are surrounded by dramatic tropical desert vegetation including rock gardens, towering organ pipe cactus and spiky agave.
One of the top hotels in Puerto Escondido, each bungalow hideaway is situated to enjoy ocean views and catch evening breezes from the Sierra Madre del Sur Mountains.
You'll also be close to Roca Blanca Beach, one of the best day trips from Puerto Escondido.
You'll be rubbing shoulders with the glitterati here as this hideaway attracts a mix of telenovela stars, fashion models and artists such as abstract painter Bosco Sodi, whose nearby studio retreat Casa Wabi was designed by Japanese celebrity architect Tadao Ando.
Check rates and availability of Hotel Escondido on Booking.com
9. Hotel Mirador Posada Barranca, Copper Canyon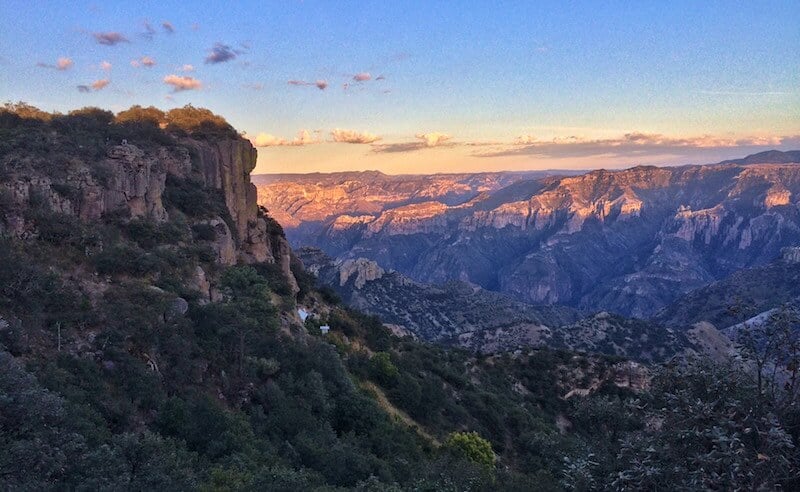 Spend a few nights perched on the edge of the Copper Canyon at Hotel Mirador Posada Barranca. Spring for a room with a balcony overhanging the canyon and you won't be disappointed.
You could enjoy an entire day just sitting on your balcony taking in the stunning views. And your evenings snuggled up in front of your own private fireplace.
In addition to the tranquility and the stunning landscapes, if you're looking for a bit of adventure near the hotel you can experience zip lining. It's one of the longest and fasted zip-lines in the world!
Or, relax on a leisurely cable car ride.
If you're up for more activities you can go hiking, mountain biking or ATVing. Helicopter tours are also an option if you can't get enough of those canyon views.
Getting to the hotel is probably the best part. To get there you'll want to take a ride on one of the most scenic train routes in the world, El Chepe.
Romance Verified by Alejandro Nuñez of Visit Copper Canyon
Check rates and availability at Hotel Mirador Posada Barranca on Booking.com
10. Las Brisas, Ixtapa: Best Resort with Ocean Views in Mexico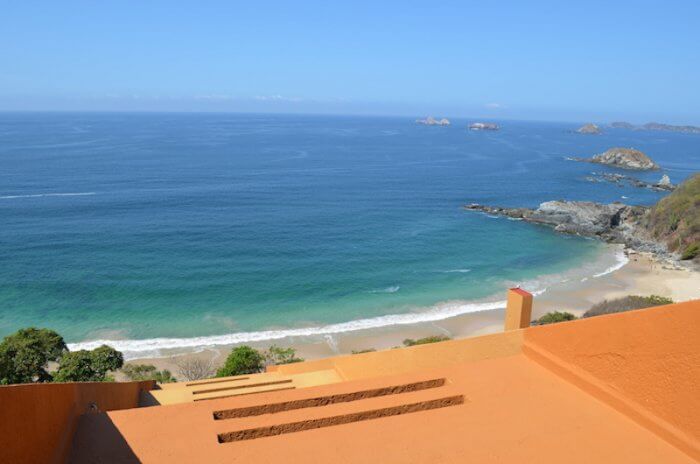 If you're looking for a couples resort in Mexico with ocean views, it doesn't get any better than Las Brisas in Ixtapa.
Not only does each room have incredible views of the Pacific Ocean and their famous bright orange sunsets, but they're also designed so that each balcony is completely private.
In addition, the hotel is designed by the world-famous Mexican architect Ricardo Legorreta and the result is truly stunning. The hotel blends perfectly into its environment with a nice burnt orange colour and low-rise construction built right into the mountainside.
And there's more. This ultra romantic hotel boasts massive open-air hallways where the breeze blows through perfectly, a gorgeous private beach, and an array of beautiful pools to relax by.
Surrounded by cactus and rolling waves with Pelicans diving into the sea to catch fish, this is a truly a special, unique, and romantic resort that's perfect for a honeymoon or a romantic getaway.
Whether you're a couple looking for a place to relax, a place to explore, or a place to get married in Mexico, Las Brisas and the area surrounding Ixtapa is the perfect place to make it happen.
Romance Verified by Matthew Bailey of Live Limitless
Check rates and availability of Las Brisas Ixtapa on Booking.com
11. Secrets Akumal Riviera Maya: A Top All-inclusive Luxury Hotel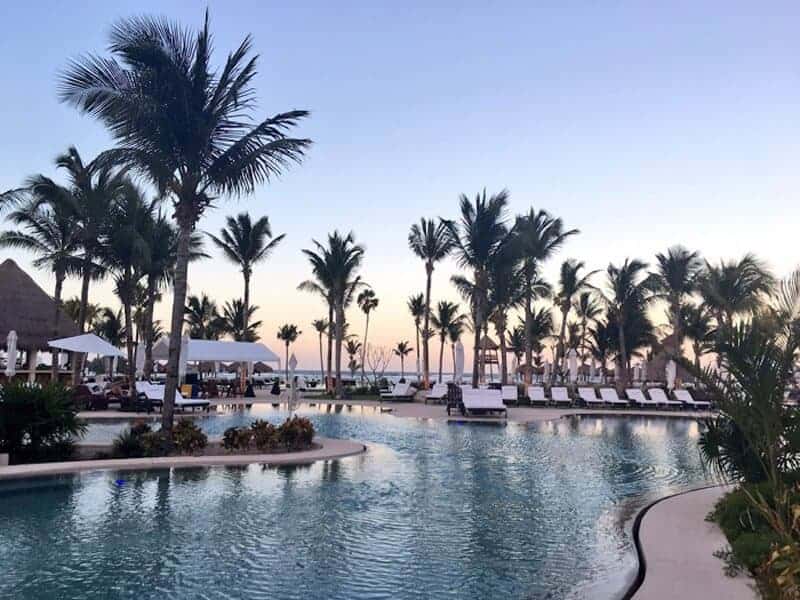 One of the premier honeymoon and wedding hotel brands in the world, Secrets has romance down to an art. Their all-inclusive luxury resorts consistently vault to the top of the list of of the most romantic hotels in Mexico.
This Secrets Akumal Riviera Maya destination is no different. An all-inclusive, adults only resort, the property is designed to offer the ultimate couple's getaway just like the picture-perfect commercials of newlyweds gazing lovingly into each other's eyes.
With a name that translates to "place of the turtle" in Mayan the white sand beach is one of the top in Mexico according to TripAdvisor and a prime snorkeling destination.
Your toughest decision will be whether to post up by the pool or beach, with every request delivered "with pleasure" by attentive staff.
For the foodies, the resort actually sponsors the hit reality cooking show Top Chef, so they take gourmet cuisine seriously with six different theme restaurants and unlimited top shelf liquor.
But if you never want to leave the room, the 24-hour room service and complimentary minibar can discretely be accessed via a privacy box at your door so you never have to get dressed or see the concierge staff.
Another incentive to stay in for the night? The oversized Jacuzzis and dual shower heads. Some rooms are even equipped with private swim-up pools.
There's really no reason to ever leave your romantic cocoon!
Romance verified by TheDownLo
Check rates and availability at Secrets Akumal Resort & Spa on Booking.com
12. Mi Amor Colibri Boutique Hotel: Best Adults-only Hotel in Tulum
This boutique-sized property combines a beautiful beachfront setting with a wealth of romantic room and property amenities.
From indulgent spa treatments, to fine dining (in-room and in the breezy outdoor spaces) to private plunge pools, Mi Amor Hotel & Spa deserves its accolades as the most romantic hotel in Tulum for many reasons.
It also happens to be adults-only so you can enjoy your complimentary welcome drink on a beach cabana without any noise or disruption.
Things to do on a honeymoon in Tulum include swimming in cenotes, exploring archeological ruins, participating in Mayan temazcal ceremonies and more.
Colibri Boutique Hotels also offers its own specially curated tours. You can be assured of quality and a sense of intimacy as you explore the region's fascinating mix of jungle and Caribbean Sea.
Check rates and availability at Mi Amor Colibri Adults-only Tulum on Booking.com
13. Villa Premiere Boutique Hotel, Puerto Vallarta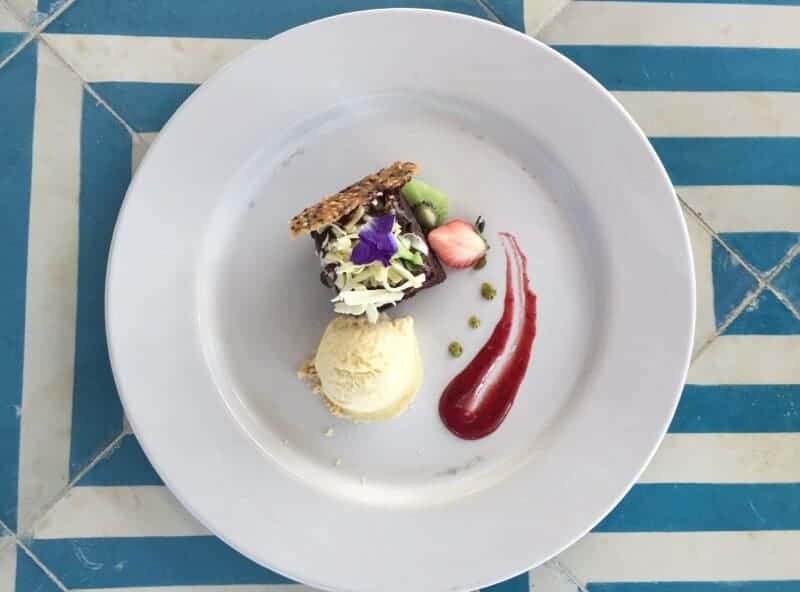 You know romance is on the agenda when the hotel includes the word "romantic" in its name. Located walking distance away from the historic city centre, Villa Premiere Boutique Hotel and Romantic Getaway features 80 beautifully appointed oceanfront suites facing the Bahia de Banderas.
It's the perfect location for an evening walk hand-in-hand along the beach, listen to mariachi music in the Zona Romantica or stroll the famous El Malecón boardwalk.
That's assuming you can pull yourself away from the candle-lit jacuzzi tub on your private balcony.
The stage is set for romance and relaxation in the lobby at check-in with a welcoming glass of champagne and a stress-relieving chair massage.
All-inclusive gourmet meals, 24-hour butler service, a scent menu for in-room aromatherapy, pillow menu and luxury bedding for comfort, and on-site spa completes the overture for romance in Puerto Vallarta.
Romance verified by Mary Chong of Calculated Traveller
Check rates and availability at Villa Premiere Boutique Hotel and Romantic Getaway on Booking.com
14. W Hotel Punta de Mita, Riviera Nayarit

W Hotel Punta de Mita is proof that a romantic getaway in Mexico can be unconventional, quirky and fun.
The decor of this oceanfront hotel features accessories created by Revolucion del Sueno, a contemporary design firm is based in Sayulita.
This sophisticated hotel has one of the most beautiful pool zones on the Pacific coast.
The bright punches of colour, artwork and Mexican motifs are inspired by the beadwork of the local Huichol people.
The references to history, politics and culture offer a brilliant backdrop to the blue sky and white surf of this pristine stretch of coastline north of Puerto Vallarta.
Check rates and availability at W Punta de Mita on Booking.com
15. Zocalo Central Hotel, Mexico City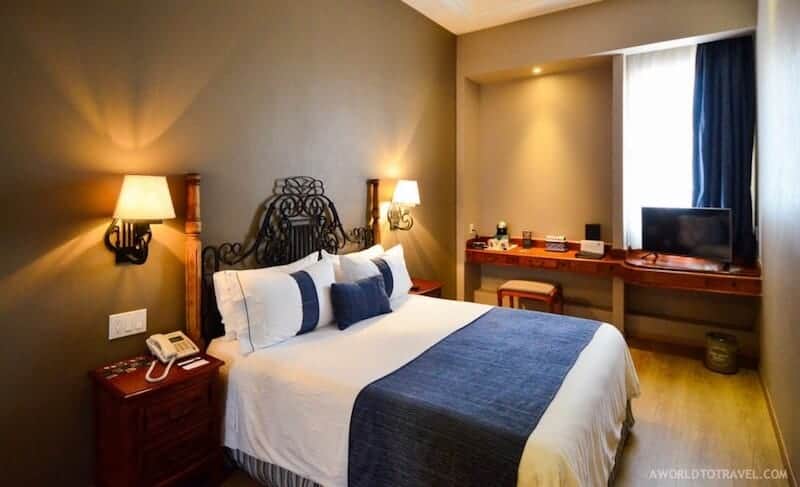 Nothing is handier than staying at Zocalo Central Hotel if spending a few days in Mexico City is in your plans.
In addition to its central location, it features unbeatable views over Mexico City's cathedral and main plaza from its Balcón del Zócalo restaurant. Thoughtful amenities like fresh apples and bottled water are on every floor.
With services like its Central Care, this hotel will make you feel as if you had your own butler for the duration of your stay.
A must for a quick romantic weekend getaway in Mexico City, this hotel is proof that a couples getaway can also be easy on the budget.
Romance Verified by A World to Travel
Check rates and availability at Hotel Zocolo Central on Booking.com
16. Rosewood San Miguel de Allende
While attending the San Miguel Writers Conference I stopped into the Rosewood hotel and fell in love with its decor and romantic vibe. It's definitely one of the most romantic hotels in Mexico.
Rising from the skyline of colonial villas and church spires of the historic centre, the Rosewood San Miguel de Allende offers 67 beautifully appointed suites and a selection of luxury residences.
The incredible city views from the rooftop lounge and salmon and tangerine colours used by the Design Team of KMD Architects are especially memorable.
They're best known for the W Hotel in Mexico City, the St. Regis Los Cabos and retail space in Nagoya, Japan.
Check rates and availability at the Rosewood San Miguel de Allende on Booking.com.
Other Super Romantic Hotels in Mexico
We ran out of space so we couldn't include every one of the romantic hotels in Mexico we love! But here are a few other hotels you need to check out.
One&Only Mandarina, Riviera Nayarit: This newly-opened hideaway in Lo de Marcos is an ultra-luxurious eco-inspired retreat offering couples absolute serenity in a lush, tropical setting.
Playa del Carmen, Mexico: Adult-only Reef 28 Resort in the heart of Playa del Carmen is an all-inclusive with a stellar culinary reputation. It features a rooftop infinity pool, spacious suites and a prime location within walking distance to Mamitas Beach, Quinta Avenida and Kool Beach Club.
Best of all, the romance-factor get an extra boost thanks to the onsite Hydrotherapy Circuit. Enjoy this indulgent and soothing experience for couples with or without a spa treatment.
Isla Holbox, Mexico: For a honeymoon in Mexico, Casa Sandra Boutique Hotel on Holbox is also one of the most romantic hotels in Mexico.
It offers fine cuisine, a romantic atmosphere and artistic inspiration set on a dreamy island.
More Romantic Travel Ideas
Save to Pinterest!

Dividing her time between Canada, Guatemala and Mexico (or the nearest tropical beach), Michele Peterson is the founder of A Taste for Travel. Her award-winning travel and food writing has appeared in Lonely Planet's cookbook Mexico: From the Source, National Geographic Traveler, Fodor's and 100+ other publications.
Read more about Michele Peterson.