We may earn income from links in this post. Please read this Disclosure for details.
If you're looking for a memorable adults-only, all-inclusive vacation in Cancun Riviera-Maya, Mexico, then Hotel Xcaret Arte should be at the top of your bucket list.
This luxury resort celebrates Mexican culture in every way – from gastronomy to activities to architecture – and it's well worth the hefty price tag.
Read on for my full review of Hotel Xcaret Arte to find out why.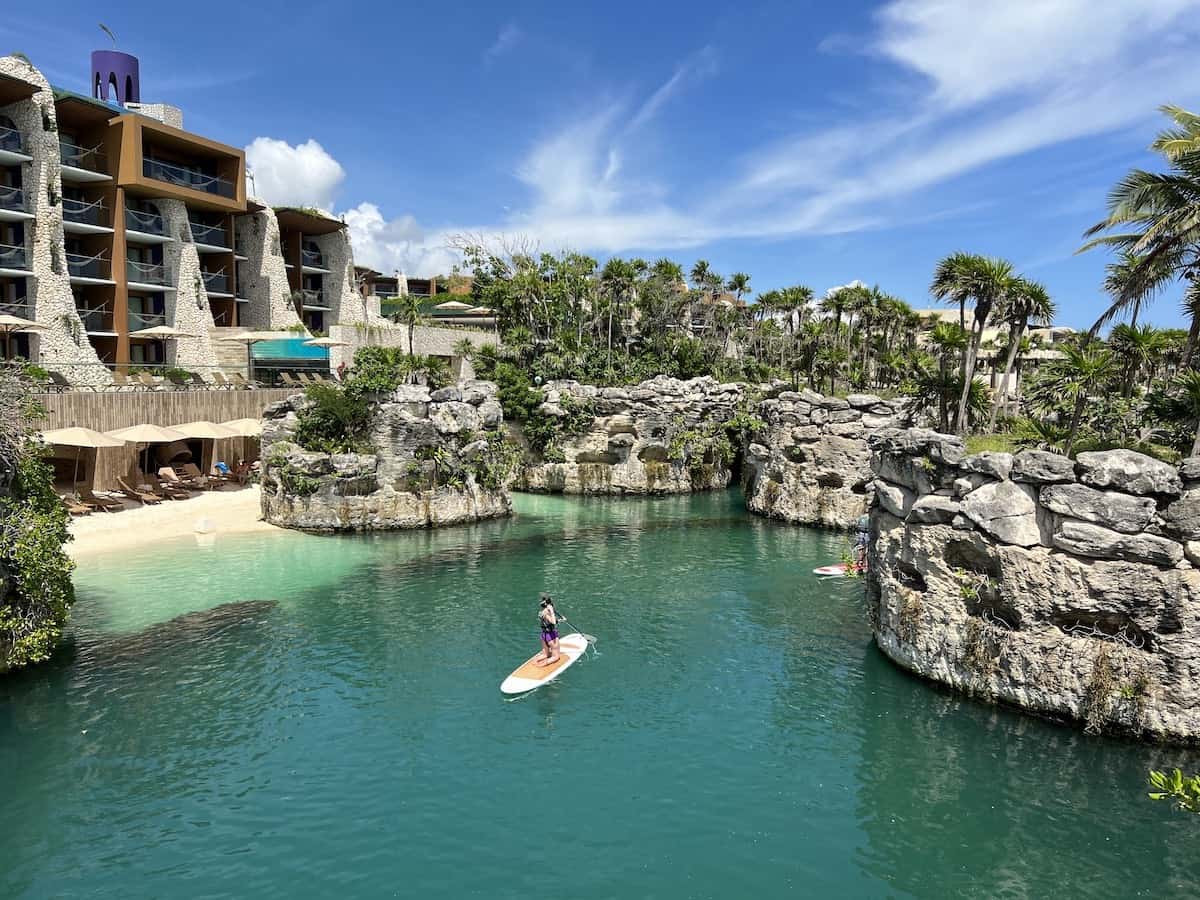 I stayed for four nights at Hotel Xcaret Arte while attending the 5 de 50 by Food and Travel Festival.
In between dining on cuisine prepared by giants in the world of gastronomy (such as Peruvian Chef Pía León named World's Best Female Chef 2021) I explored the resort from top to bottom.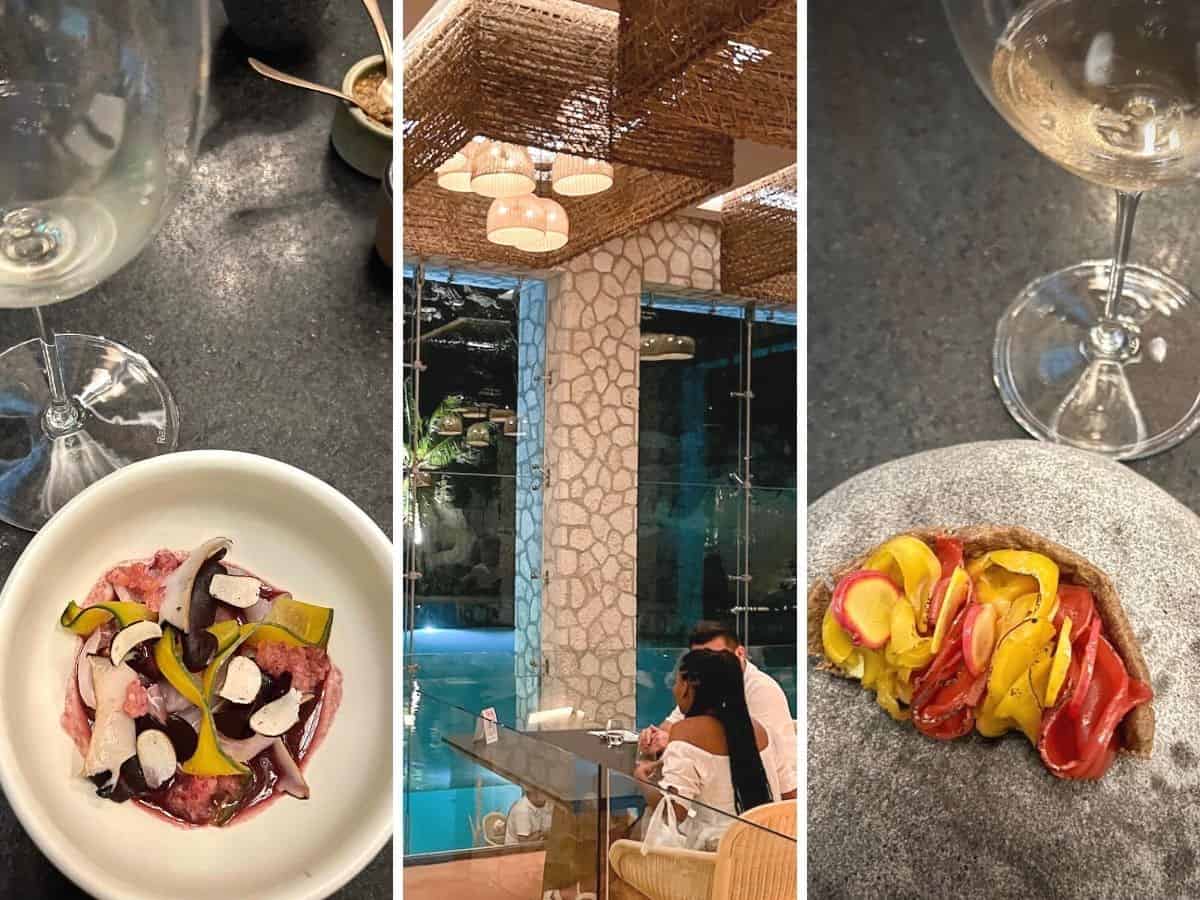 Food is definitely a highlight of a stay at this resort. From dishes like huevos motuleños (a speciality of the Yucatan) to chiles en nogada (from Puebla), dining at Hotel Arte is like taking a culinary romp across Mexico.
I encountered regional ingredients I hadn't seen since working on Lonely Planet's cookbook, Mexico: from the Source.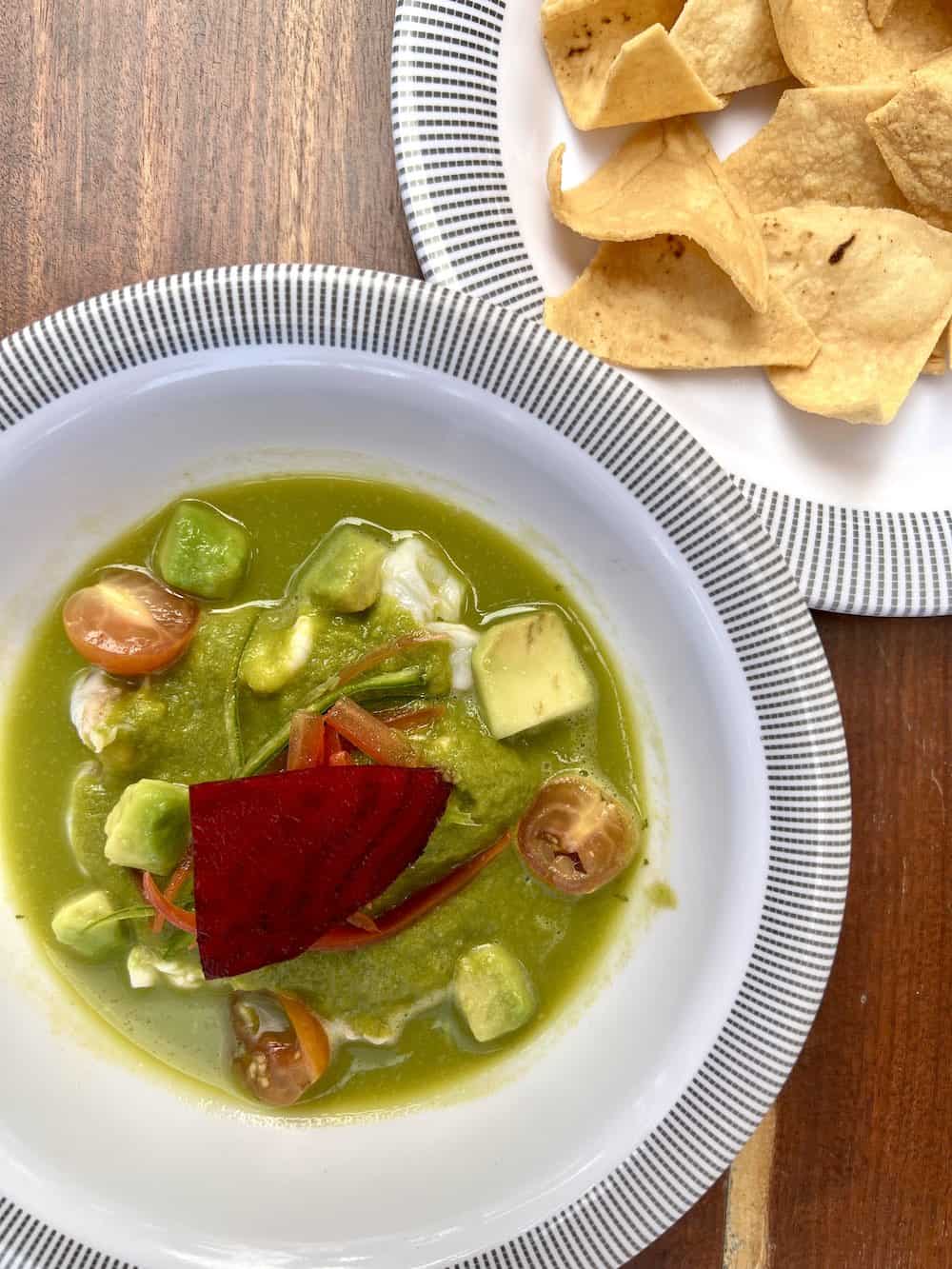 But Hotel Xcaret Arte Mexico offers plenty of inspiration beyond its cuisine.
In this Hotel Xcaret Arte review, I'll share my opinions and tips on what to expect and why you should put this new, all-inclusive resort on your bucket list.
Check rates and availability of Hotel Xcaret Arte in Playa del Carmen.
Dramatic Architecture
The second property in the hotel collection created by Grupo Xcaret, this 900-suite all-inclusive, luxury resort opened in July 2021 on Mexico's Caribbean coast south of Playa del Carmen and Cancun.
The hotel's contemporary design — composed of open-air spaces, Mexican artwork and suspension foot bridges set among jungle-clad emerald waterways — offers plenty of wow factor.
It's as architecturally stunning as Impression Isla Mujeres by Secrets, another new adult-only, all-inclusive luxury resort in the area. But Hotel Arte is located on the mainland rather than an island.
It serves as a launching pad into exhilarating experiences at the Grupo Xcaret Parks along the Cancun Riviera-Maya coast.
Your experience begins as soon as you step into the lobby.
Draped in a canopy of vines and leafy ferns suspended from the ceiling, it's a soaring space that feels carved out of natural stone.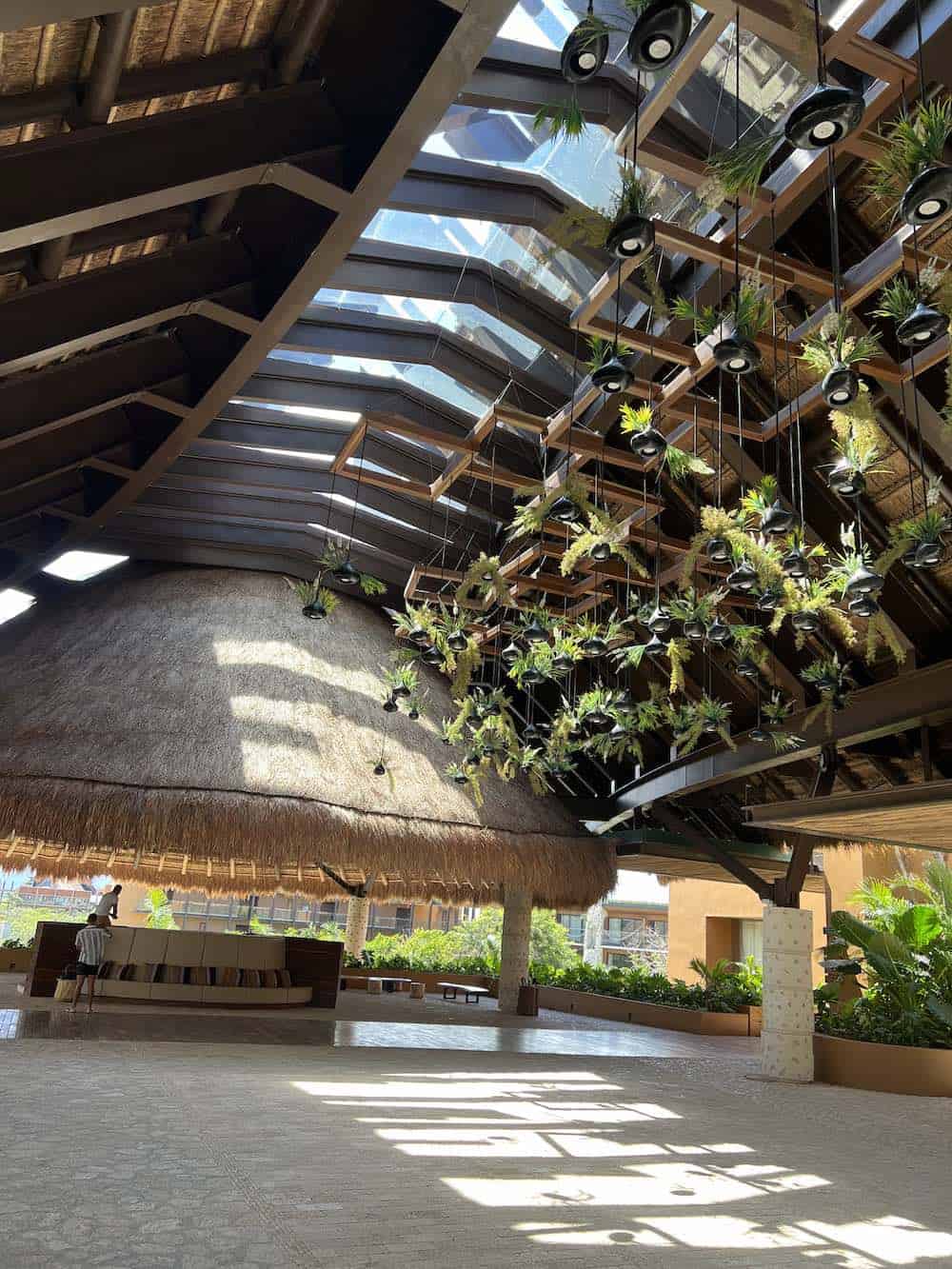 Open air walkways and suspension bridges connect the lobby to the guest rooms, swimming pools and public spaces. The airport shuttle arrives at the lobby.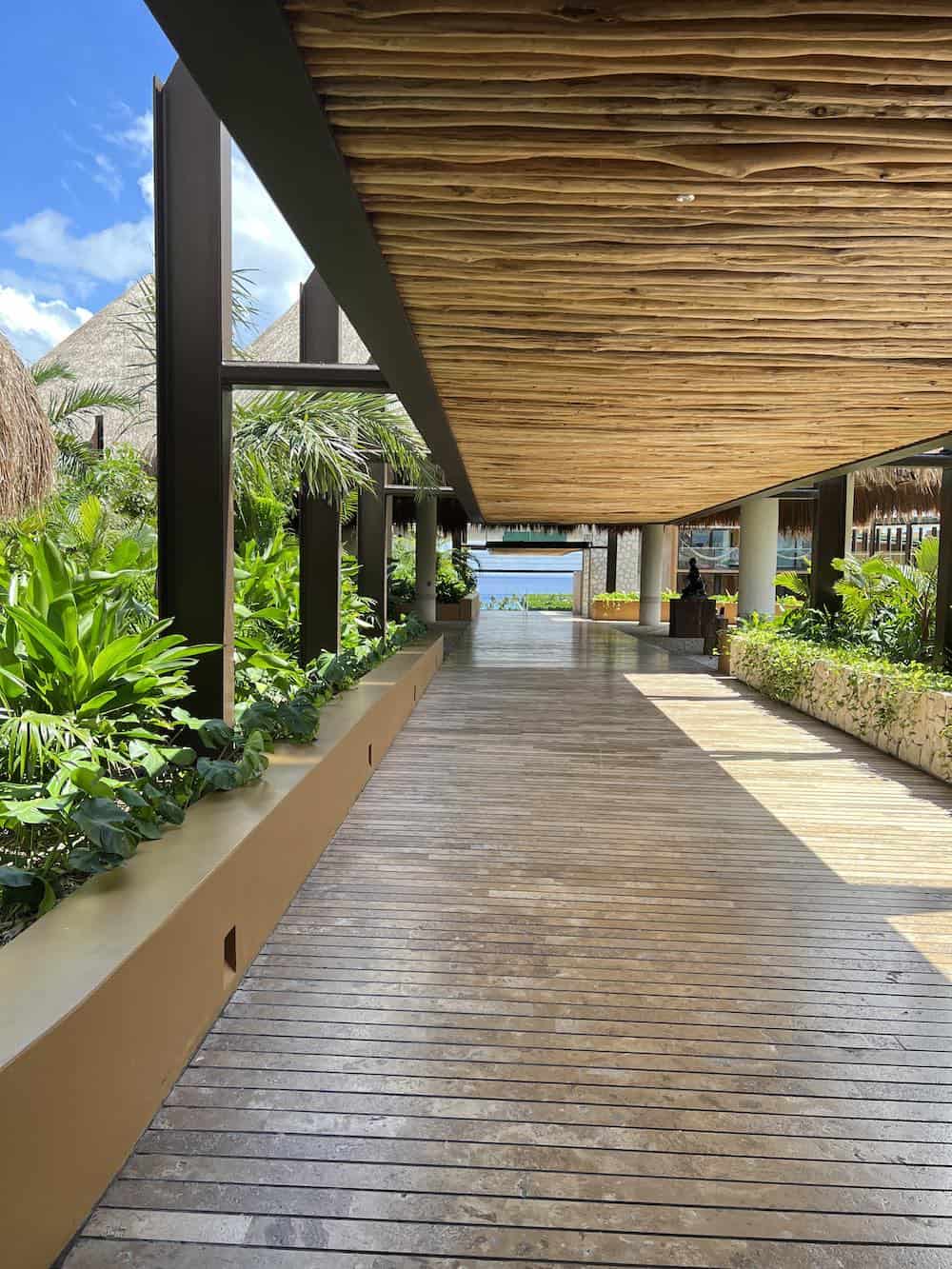 Hotel Xcaret Arte offers seven included restaurants, nine gastronomy experiences, 10 bars/cafes, a spa with indoor/outdoor hydrotherapy circuit and spiral pyramid with its own chapel.
Check in takes place within the themed buildings for the guest rooms:
Casa del Diseño (textiles),
Casa de la Música (dance instruction),
Casa de la Pirámide (pottery),
Casa de los Artistas (painting),
Casa de la Paz (vegan cooking/literature).
Resort Map
Request a hard copy or electronic PDF of the resort map when you check in. There's free wifi that works well throughout the property, but it's very helpful to have a hard copy of the map.
Hotel Xcaret Arte is organized in zones that are associated with each themed building. To access the beach and certain restaurants you may need to cross a suspension bridge, pathway or go up ( or down) a level.
So, for at least the first few days it's handy to have a map.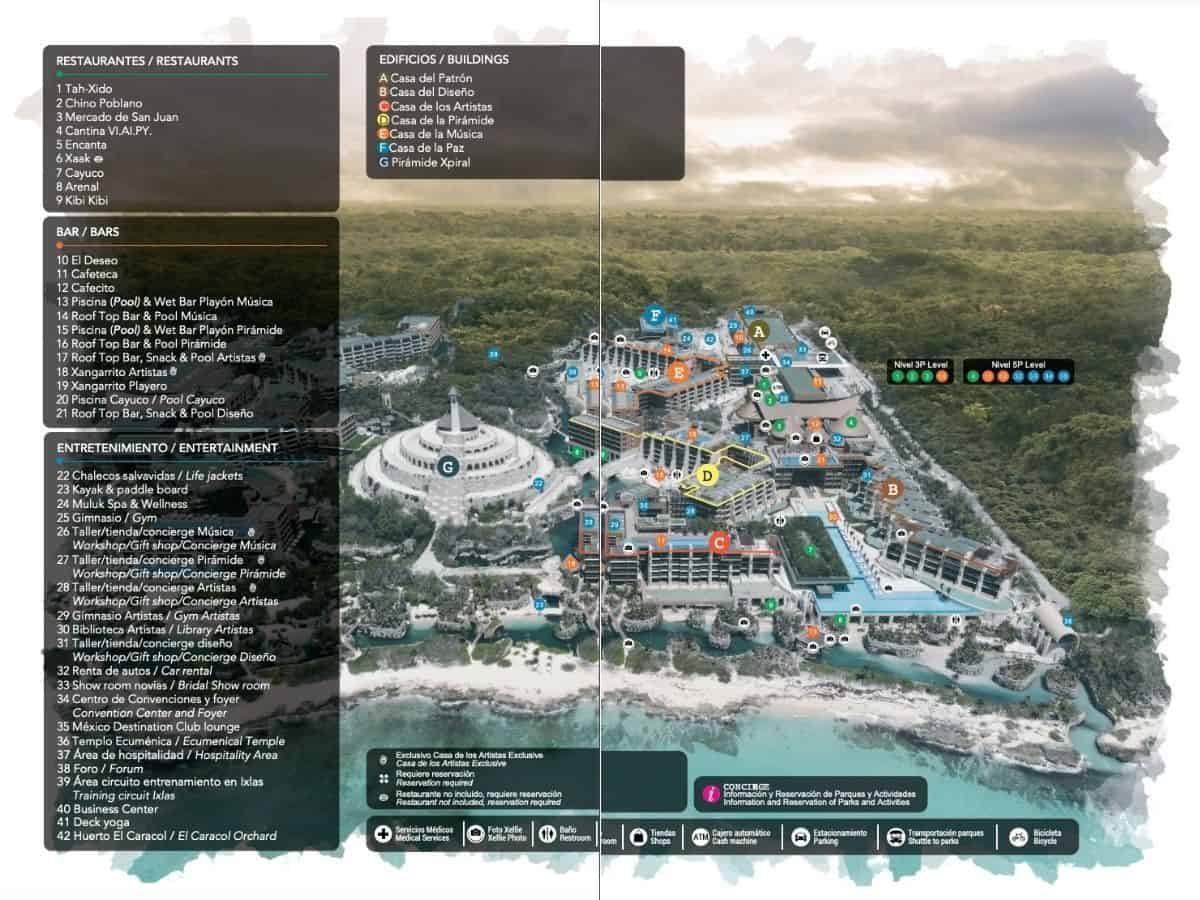 This resort map shows the casas or buildings and property amenities at Hotel Xcaret Arte. (Courtesy: Grupo Xcaret)
Keep your camera handy as you make your way to your guest room. The map helpfully points out the best vantage shots for the perfect 'gram.
The resort offers a photo package which lets you use your wristband to take a selfie using one of the camera stations.
Which Building Is the Best at Hotel Xcaret Arte?
Each of the five buildings at Hotel Arte has its own unique characteristics and appeal.
I stayed in the Casa de la Pirámide (Room 3444) and loved the central location and spectacular views of the river, the Caribbean and spiral pyramid topped by a chapel.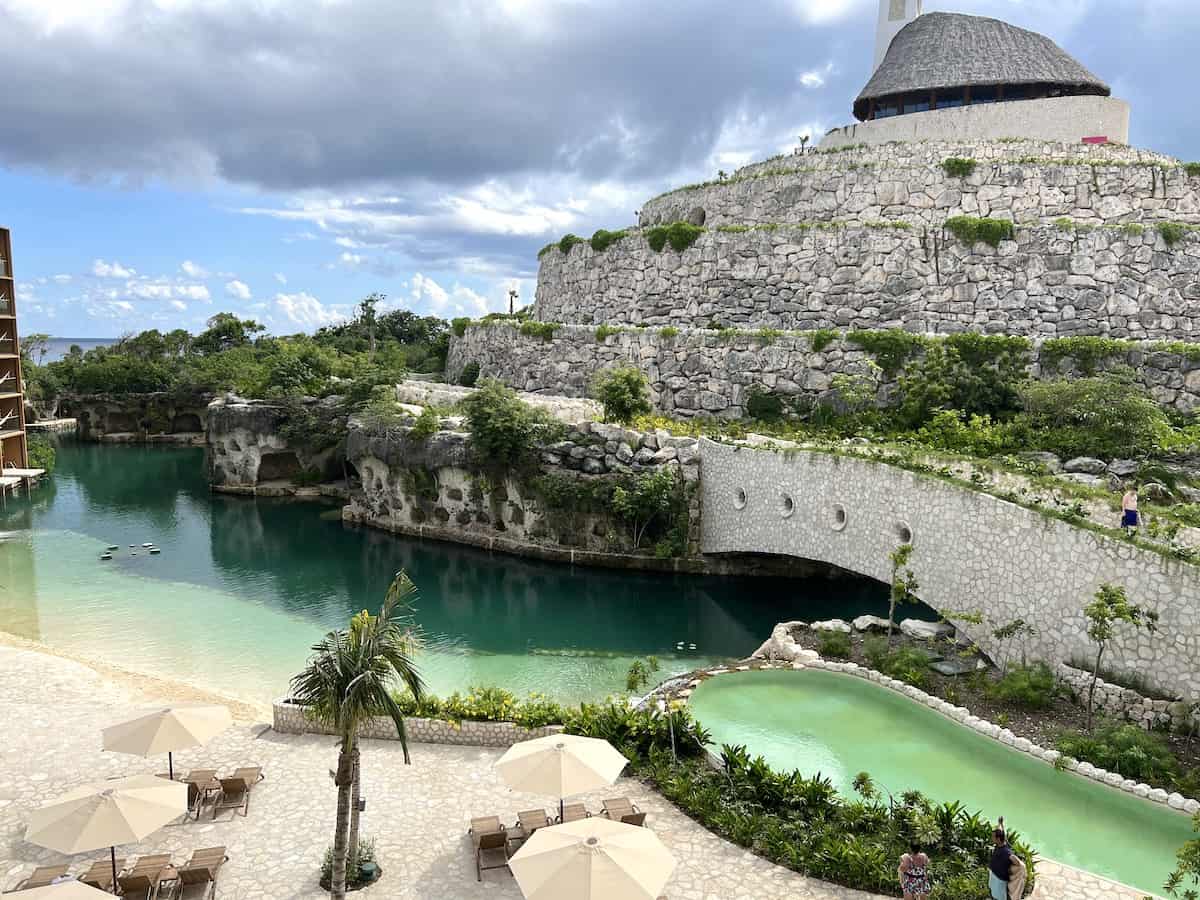 The rooftop pool at Casa de la Pirámide was blissfully free of crowds. I was often the only person floating in the sparkling clear waters. Comfy lounge chairs provided plenty of shade.
Another advantage of Casa de la Pirámide is proximity to the Pool Bar Playón Pirámide, a special swim-up bar featuring a curtain waterfall.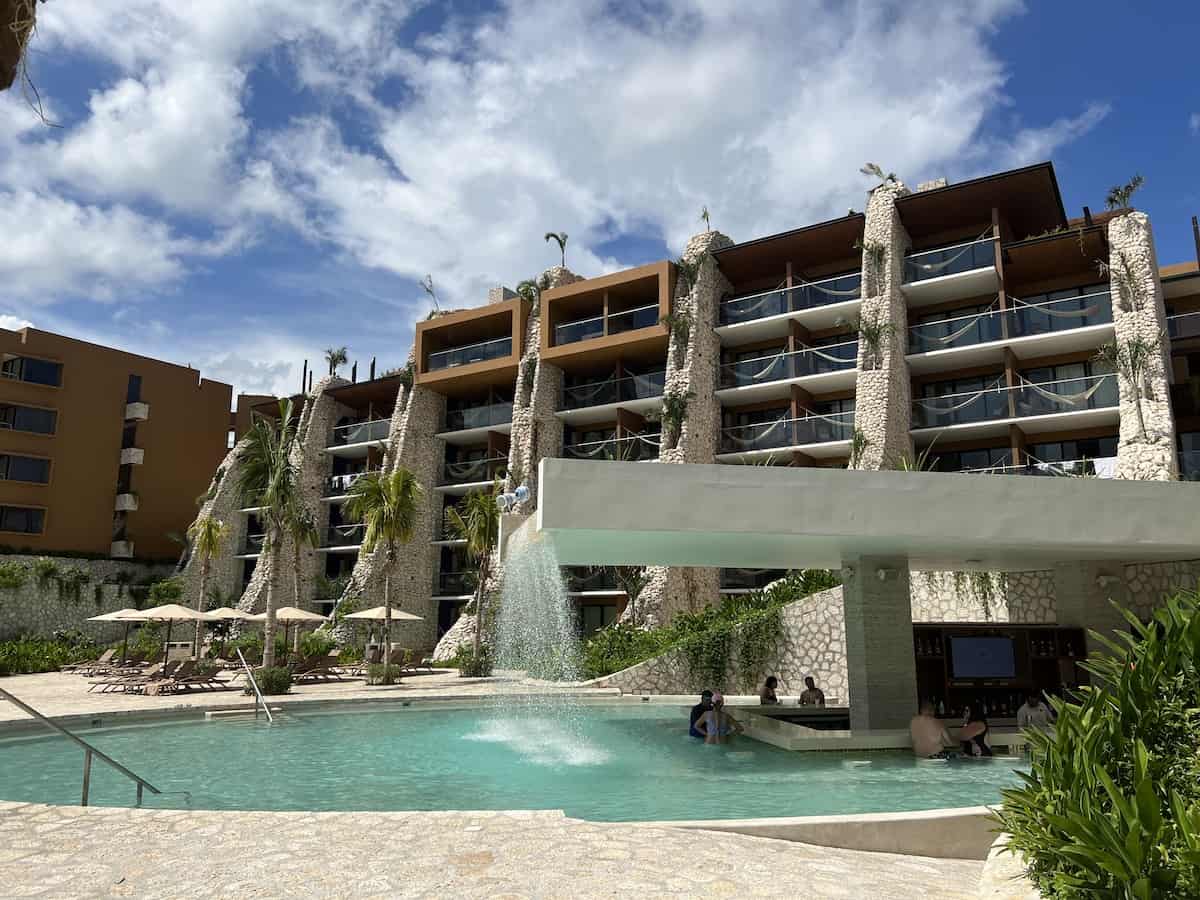 Another equally appealing building is the Casa de los Artistas, not only because of its expansive rooftop infinity pool but because of its onsite fitness center and exclusive dining options.
Foodies will appreciate that guests of Casa de los Artistas have access to Kibi-Kibi, which, in my opinion, is one of the best restaurants at Hotel Xcaret Arte.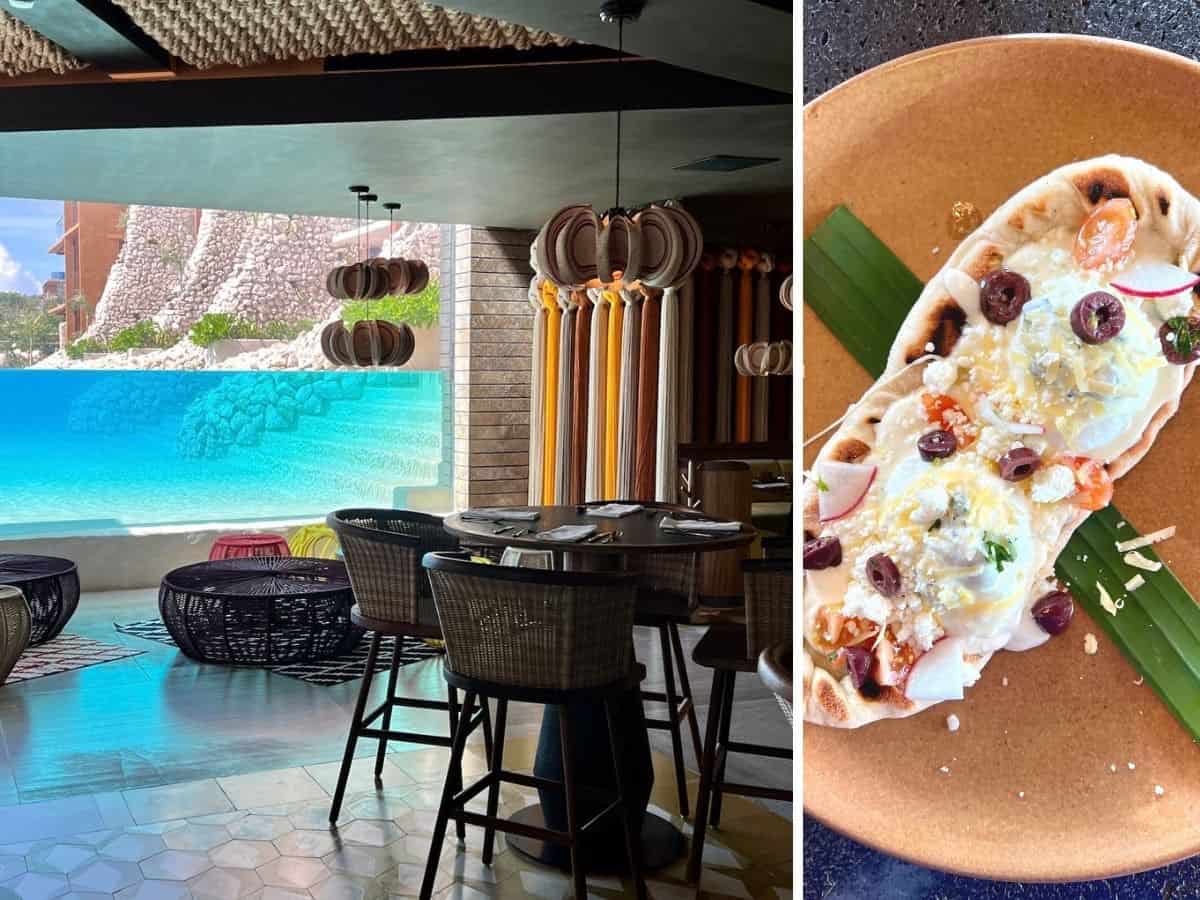 Spa addicts might want to opt for one of the river and spa suites where guests enjoy unlimited access to the hydrotherapy circuit at Muluk spa and steam room.
These suites are so close to the spa, guests could simply step off their terrace and float their way to wellness.
Another consideration when choosing a room is butler service. Xcaret butlers offer assistance via WhatsApp and in-person for making reservations, booking a pre-departure PCR or antigen test and general information.
Insider Tip: The buildings are connected at two different levels. The fifth floor walkways connect the reception and lobby areas while the third floor connects you to restaurants and dining options.
If you're on the fourth floor (as I was) you'll need to go up or down a level (by elevator or stairs) to get to the pools, restaurants, bars etc. Thanks to butlers Abdher and Emer for this time-saving tip!
Check rates, room categories and availability for Hotel Xcaret Arte on Booking.com
Room Amenities
Each guest suite is decorated in inviting earthy tones and natural textures which means indoor spaces feel seamlessly connected to the outdoors.
All suites offer impressive views of nature such as jungle, river, coves or the Caribbean Sea. They come equipped with a private terrace or balcony with hammocks to lounge in.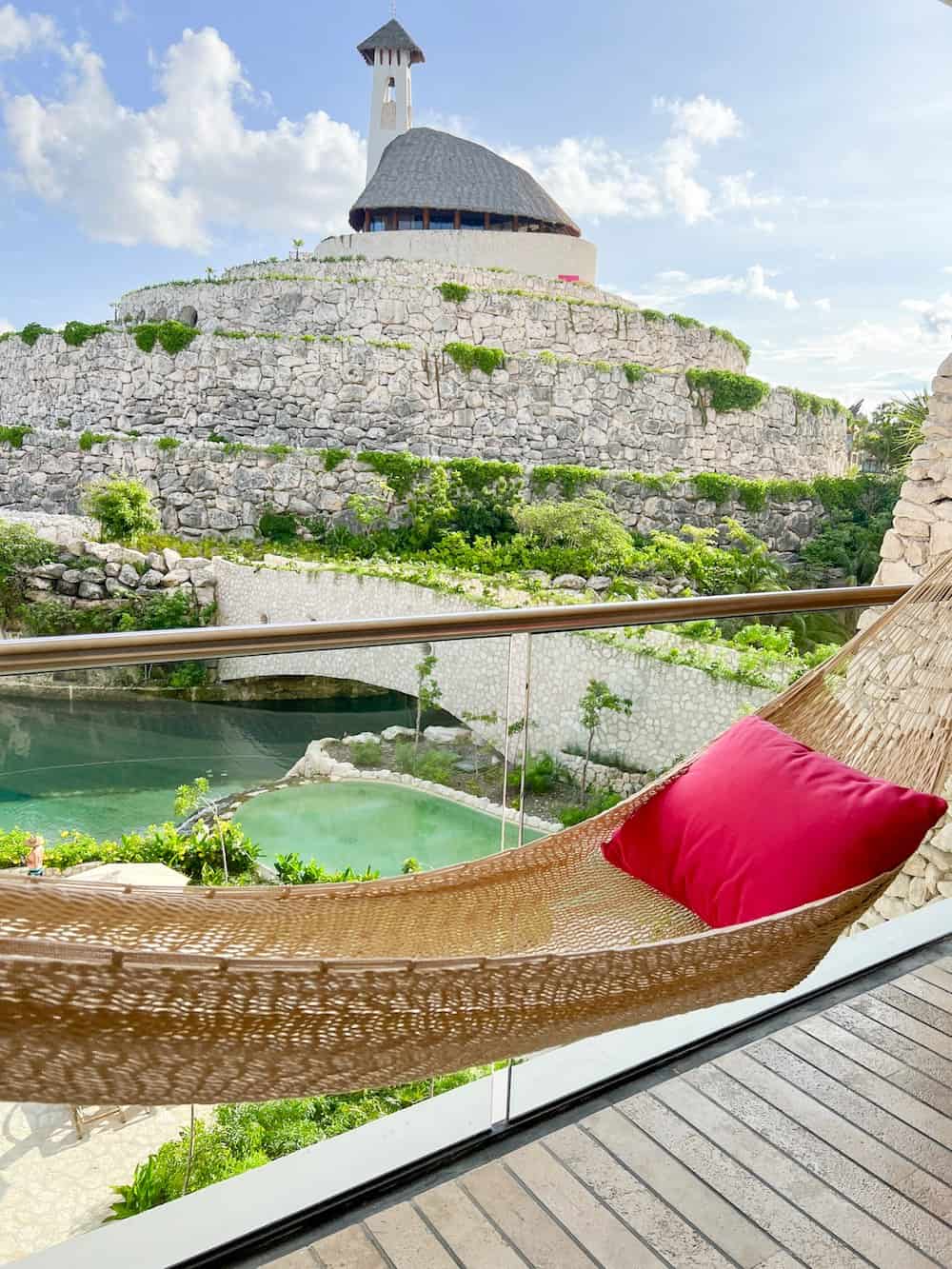 Some room categories also feature volcanic stone tubs on the terrace, steam showers, butler service, swim-up suites, oceanfront views and other dreamy options.
Presidential suites include kitchen and dining rooms, plunge pools and other perks. Custom Mexican art throughout is by local and national artists.
Room amenities include one king or two queen-size beds, jetted tubs, 24-hour room service, Nespresso coffee machines, turndown service, rain shower and daily refreshed minibar and snack basket.
Learn more about the room categories, size details, views and inclusions on the Hotel Xcaret Arte website.
What's the Difference Between Hotel Xcaret and Hotel Xcaret Arte
Although located next door to each other, the main difference between the two is that Hotel Arte is available exclusively for adults and young adults (ages 16+) only.
They each have 900 guest rooms as well as business centres, meeting rooms, a banquet room and full service spa.
When it comes to nightlife, there are more activities at Hotel Xcaret Arte. It's got a nightclub with live jazz music, a DJ and dancing.
Scroll down for more information on El Deseo Speakeasy nightclub.
Check rates and availability of Hotel Xcaret Arte in Playa del Carmen.
What Does the All-Inclusive Plan Include?
In addition to accommodation, food and drink (more on this below) and on-site activities, the hotel's concept includes access to Grupo Xcaret's theme parks (including roundtrip transportation).
This means you get all-inclusive access to Grupo Xcaret's adventure parks and tours including:
Xcaret – this theme park features 50 natural, cultural attractions and folkloric performances.
Xel-Há – snorkel among tropical fish, glide down waterslides and splash through a natural aquarium.
Xplor – go zip-lining, rafting and exploring underground rivers at this adventure park.
Xplor Fuego – go zip-lining, rafting and exploring underground rivers at night.
Xenses – this half-day park is a sensory journey through illusions and discovery.
Xoximilco – float on a gondola while enjoying a Mexican fiesta.
Xavage – get your adrenaline pumping while whitewater rafting and more.
Xenotes – float through a subterranean river.
Tours – marvel at the Mayan pyramids on a tour of the Cobá Archaeological Zone, Chichen-Itza and Tulum.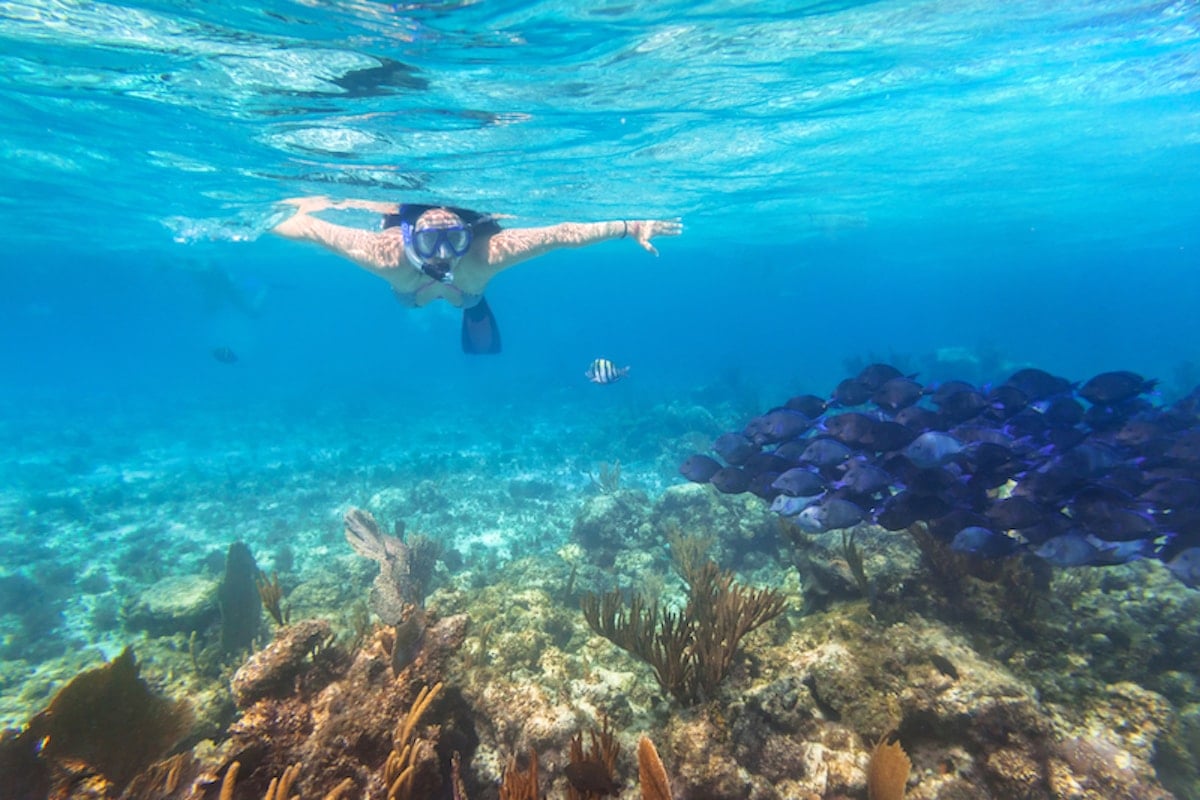 The all-inclusive package also includes food and drink when you're at the full-day parks.
If you were to pay separately for park admission, the costs would range in price from $149.99 USD ( Xavage) to to $62.99 USD (Xsenses) per person.
These costs as well as transportation are all included in the room rate with your hotel stay at Hotel Xcaret Arte.
Shuttles leave for Xcaret, Xplor, Xplor Fuego and Xenses every 30 minutes.
Property Amenities, Activities and Things to Do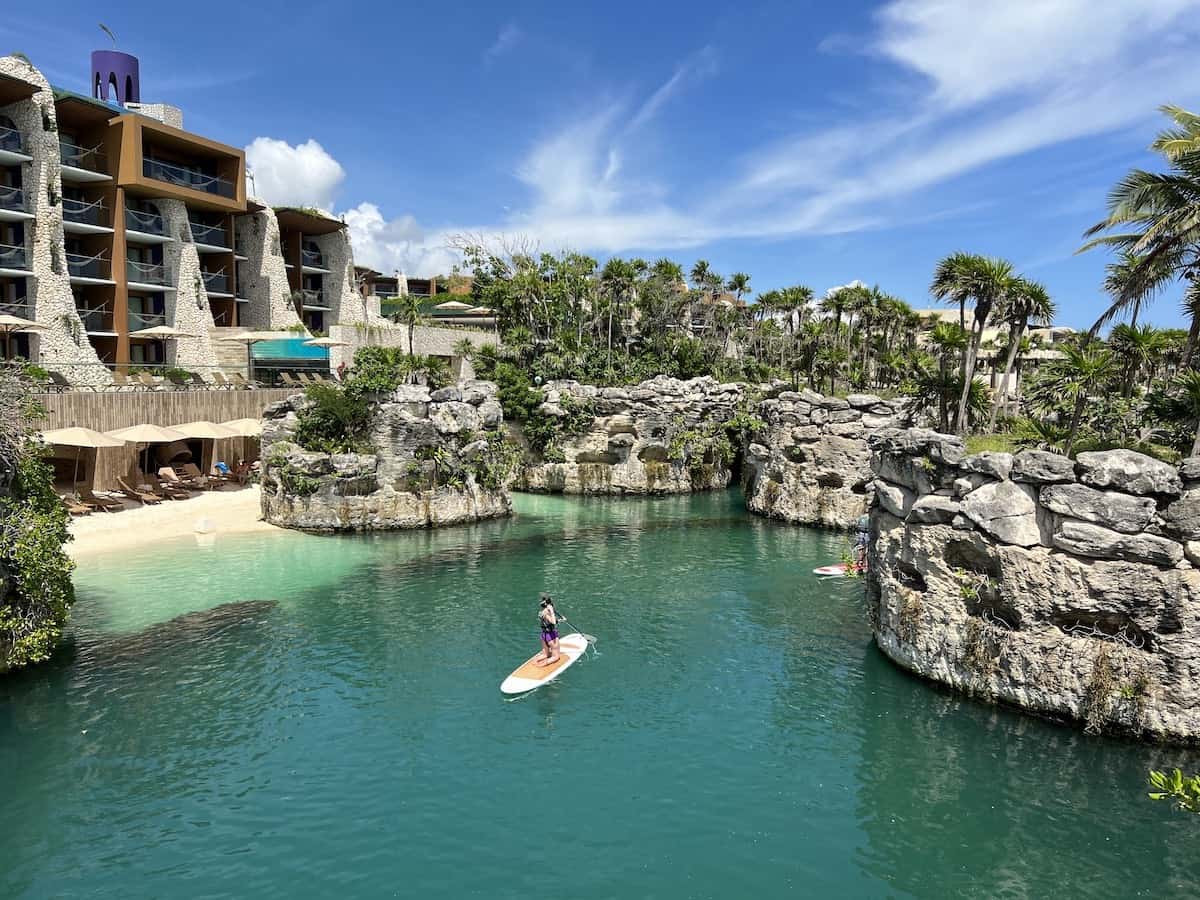 Although the all-inclusive fun concept centres around the excursions, you don't actually need to leave the property to get your adrenaline pumping.
A river draped in jungle foliage meanders its way through the resort. This means guests can swim, paddle board and kayak their way through channels, emerald cave pools and mysterious underground waterways.
There are also hands-on, art-focused workshops to keep you busy and inspired.
And, unlike other all-inclusive resorts where you might see members of the animation teams doing double duty on everything from pool aerobics to cooking classes, at Hotel Xcaret Arte, classes are conducted by experts in their respective fields.
Themes include Casa del Diseño (textiles), Casa de la Música (dance instruction), Casa de la Pirámide (pottery), Casa de los Artistas (painting) and Casa de la Paz (vegan cooking/literature).
Throughout the day, there's something going on almost everywhere. During. my visit, I caught a ballet vs contemporary dance-off, a violin concert, folkloric dance, mime performances and more.
In the evening, it was especially magical to hear mariachi music drifting through the jungle canopy as we walked past torch-lit reflecting pools.
The romantic atmosphere is just one of the reasons Hotel Xcaret Arte makes our list of the top all-inclusive resorts in Cancun Riviera-Maya for couples.
Swimming Pools and Xcaret Arte Beaches
Wondering if there's a beach at Hotel Xcaret Arte? Beach lovers will be happy to hear that the answer is yes!
There are actually several to choose from. Suspension bridges and pathways provide access to the Caribbean Sea across sand dunes and mangroves.
While the beach isn't long enough to go for hours-long walks, it's got soft white sand and clear water.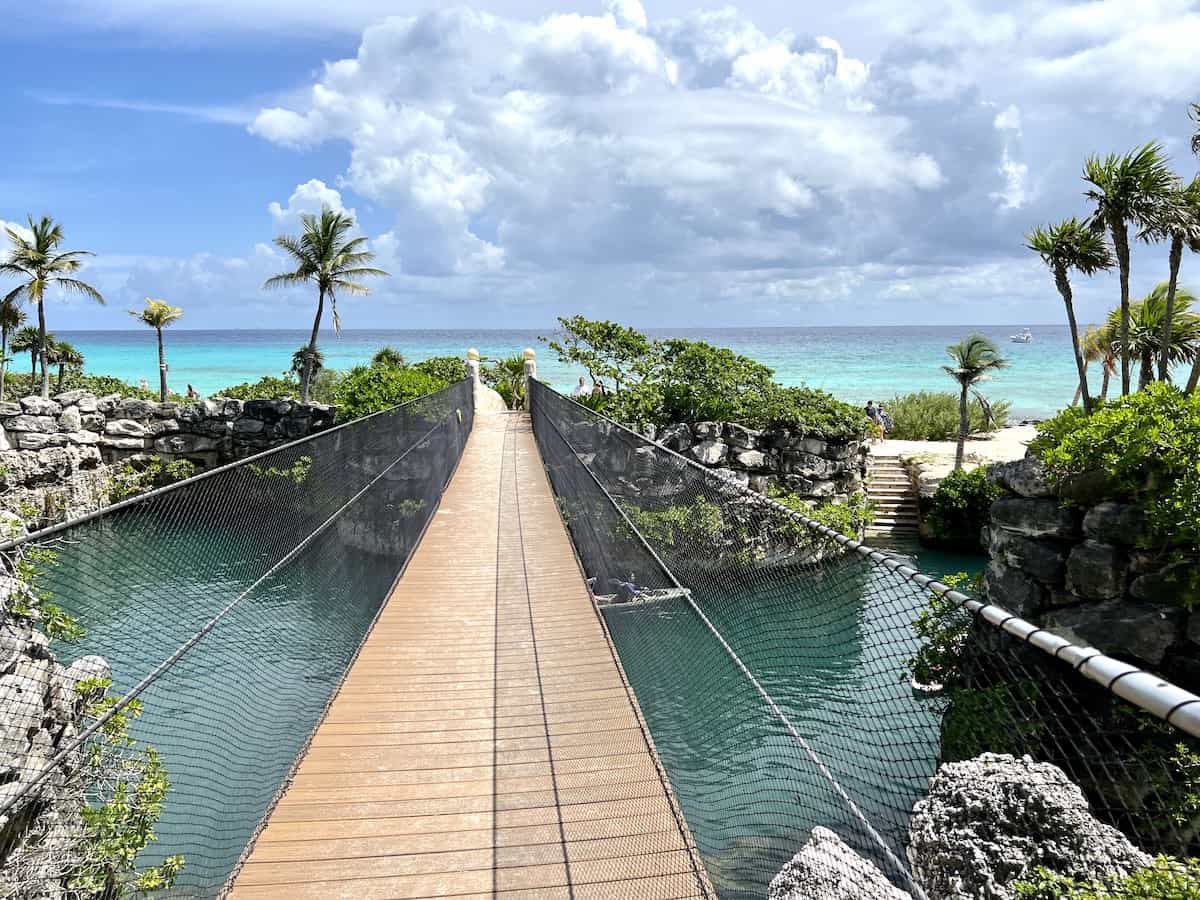 Suspension bridges, foot paths and platforms also lead from the resort's main swimming pool and Cayuco restaurant zone across the river, limestone rocks and outcroppings to the beach.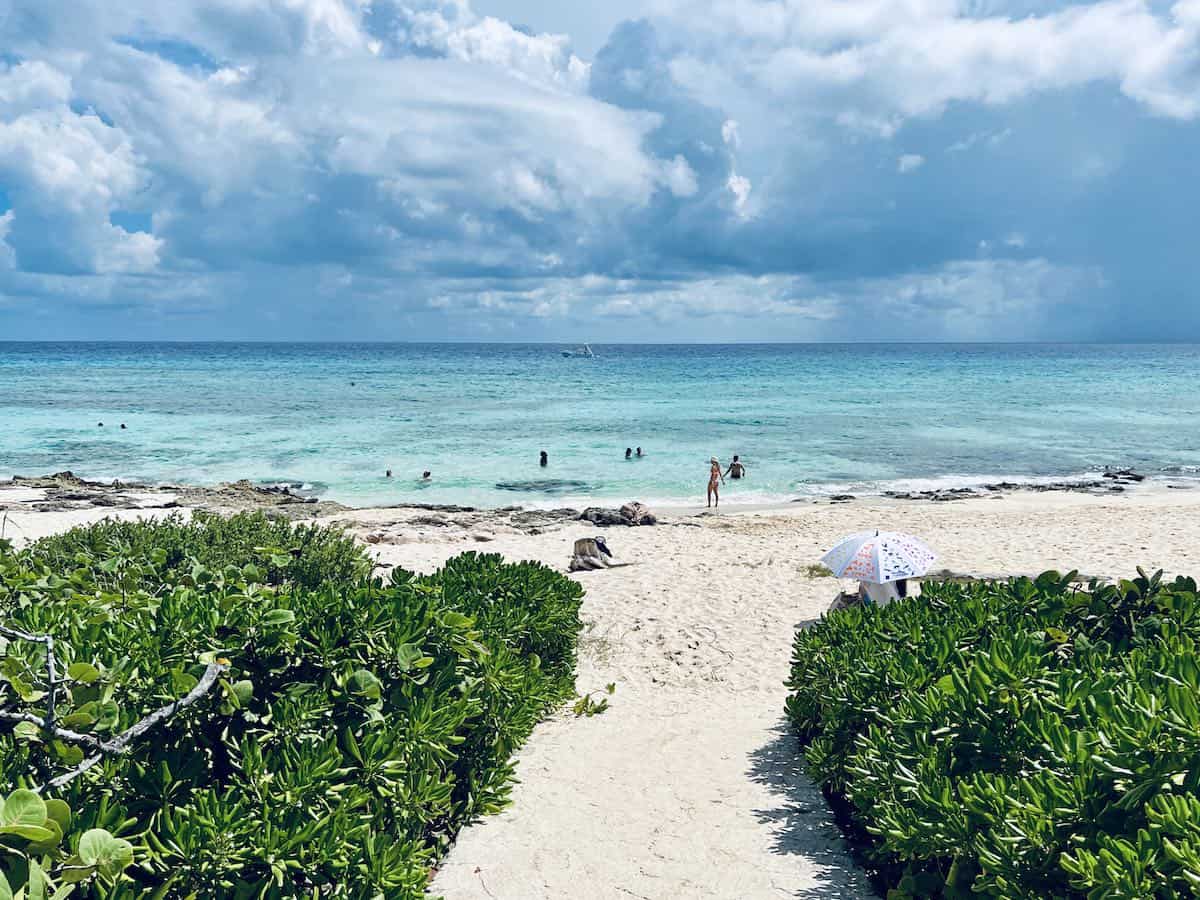 An added bonus — especially during sargussum seaweed season — is that there are man-made beaches on the coves, rivers and grottos within the resort.
These are incredibly romantic and private.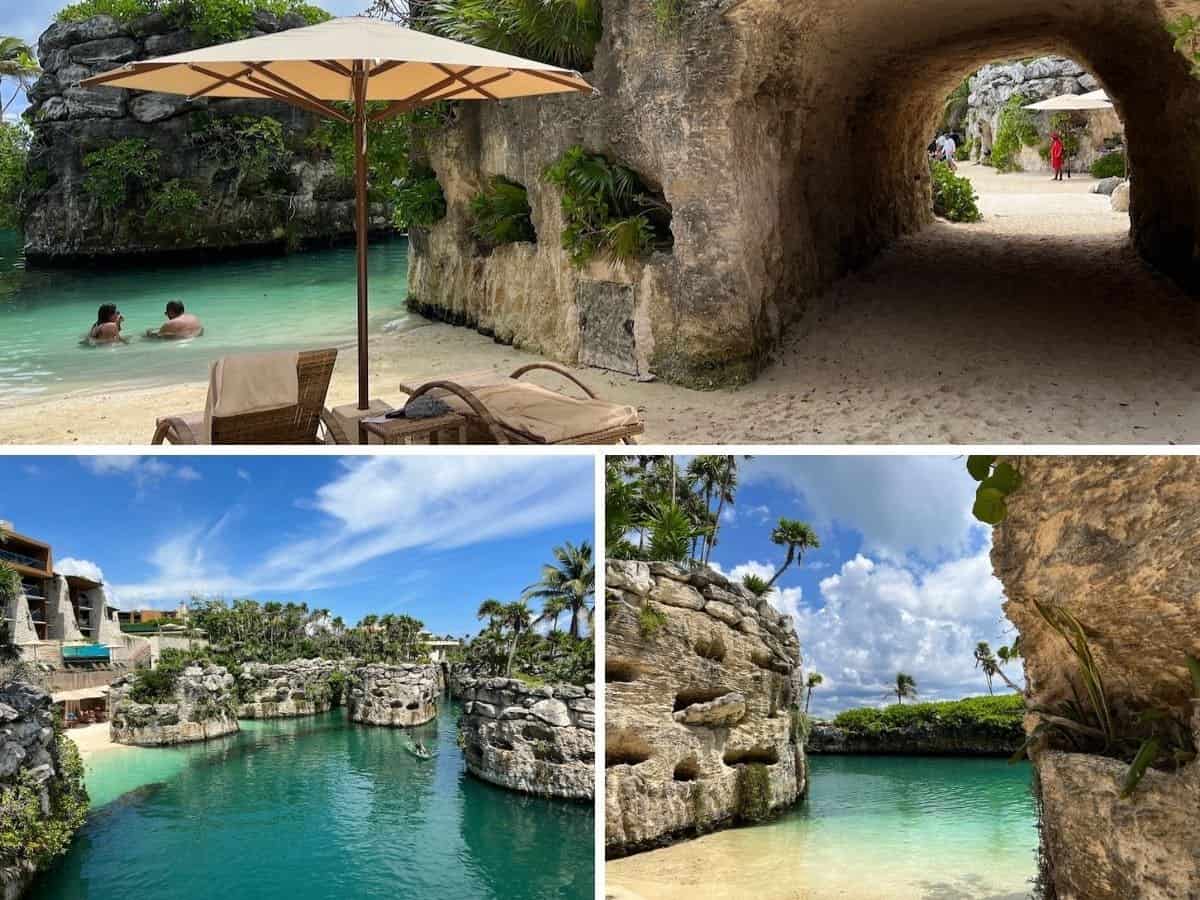 Beyond the beach zones, there are several other places to relax. A blissful array of infinity pools, glassed walled pools, rooftop pools and swim-up pool bars are dotted throughout the resort.
There didn't seem to be a problem getting a lounger. Although the resort wasn't at full occupancy so this might change.
Soak Up Wellness at Muluk Spa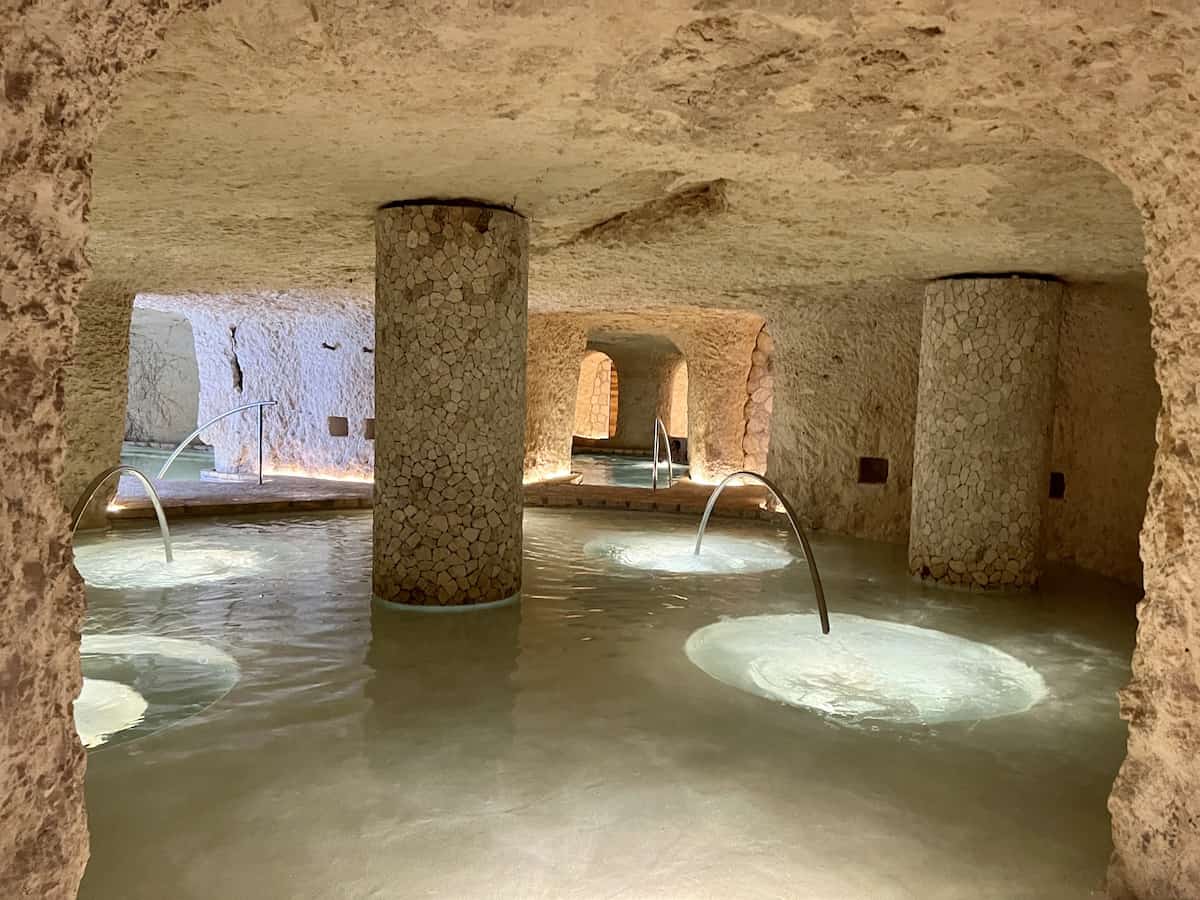 To unwind, the onsite Muluk Spa & Wellness offers a peaceful sanctuary. It features a hydrotherapy circuit of hot and cold plunge pools set among a natural rock grotto.
Many of the spa treatments (extra cost) draw upon Mayan traditions and feature local ingredients such as honey, cacao, cinnamon and clay.
Examples of pricing for spa treatments and therapies:
$155 USD for a mini-facial,
$195 USD for a 50 minute Swedish Massage,
$160 USD for a Copal Purification Body Wrap.
Access to the hydrotherapy circuit is $35 USD.
Browse the treatment and price list for more details on wellness options at Muluk.
Insider Tip: Book spa treatments well in advance as appointments fill up quickly.
Restaurants at Hotel Xcaret Arte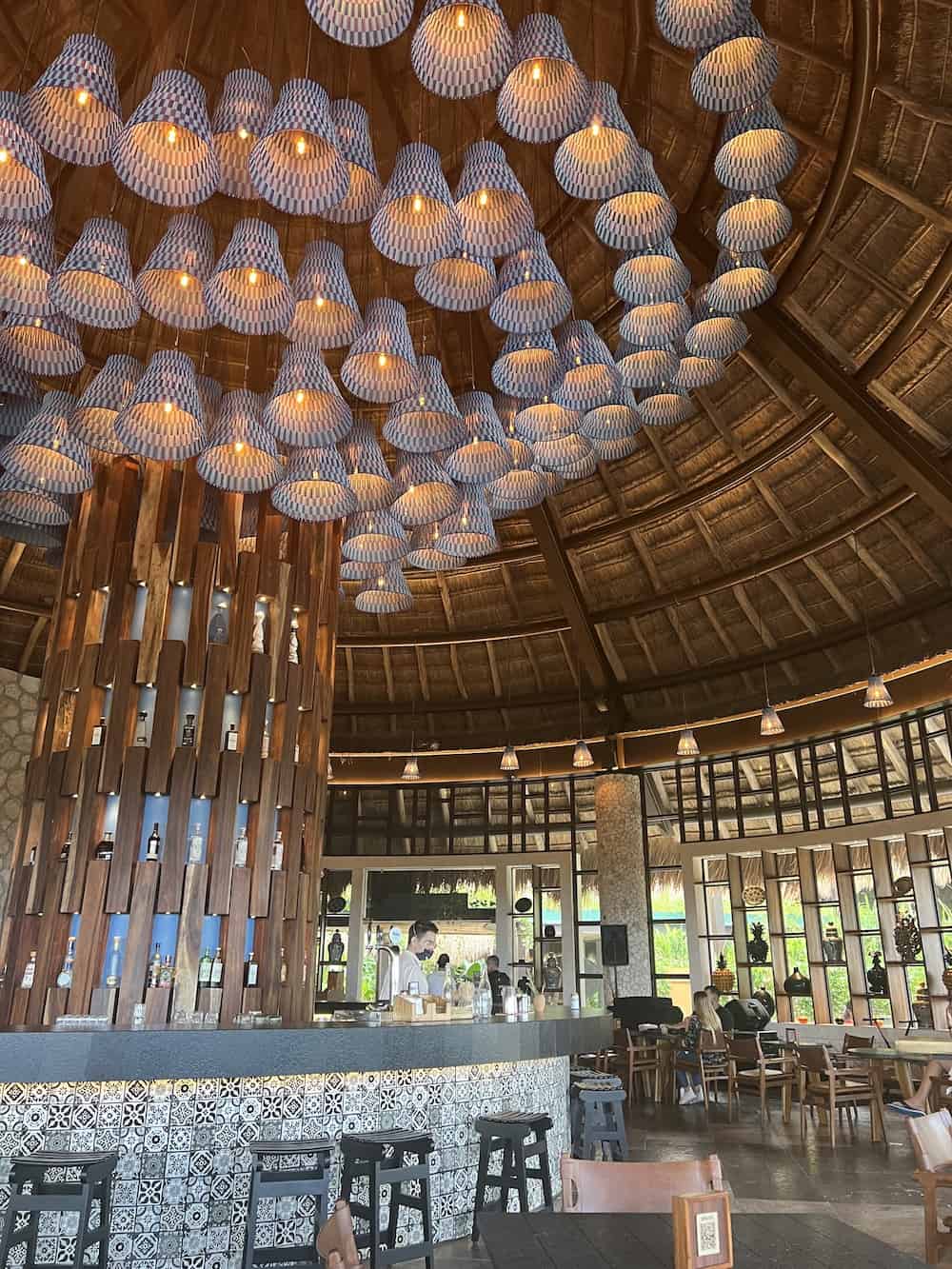 One of the most unique aspects of Hotel Xcaret Arte is its vast range of all-inclusive gastronomic experiences and dining concepts.
The resort features seven a la carte and buffet restaurants. There's also Xa'ak (extra cost) and Yucatecan-Lebanese cuisine at Kibi-Kibi by internationally famous Chef Roberto Solis. exclusively for Casa de los Artistas guests.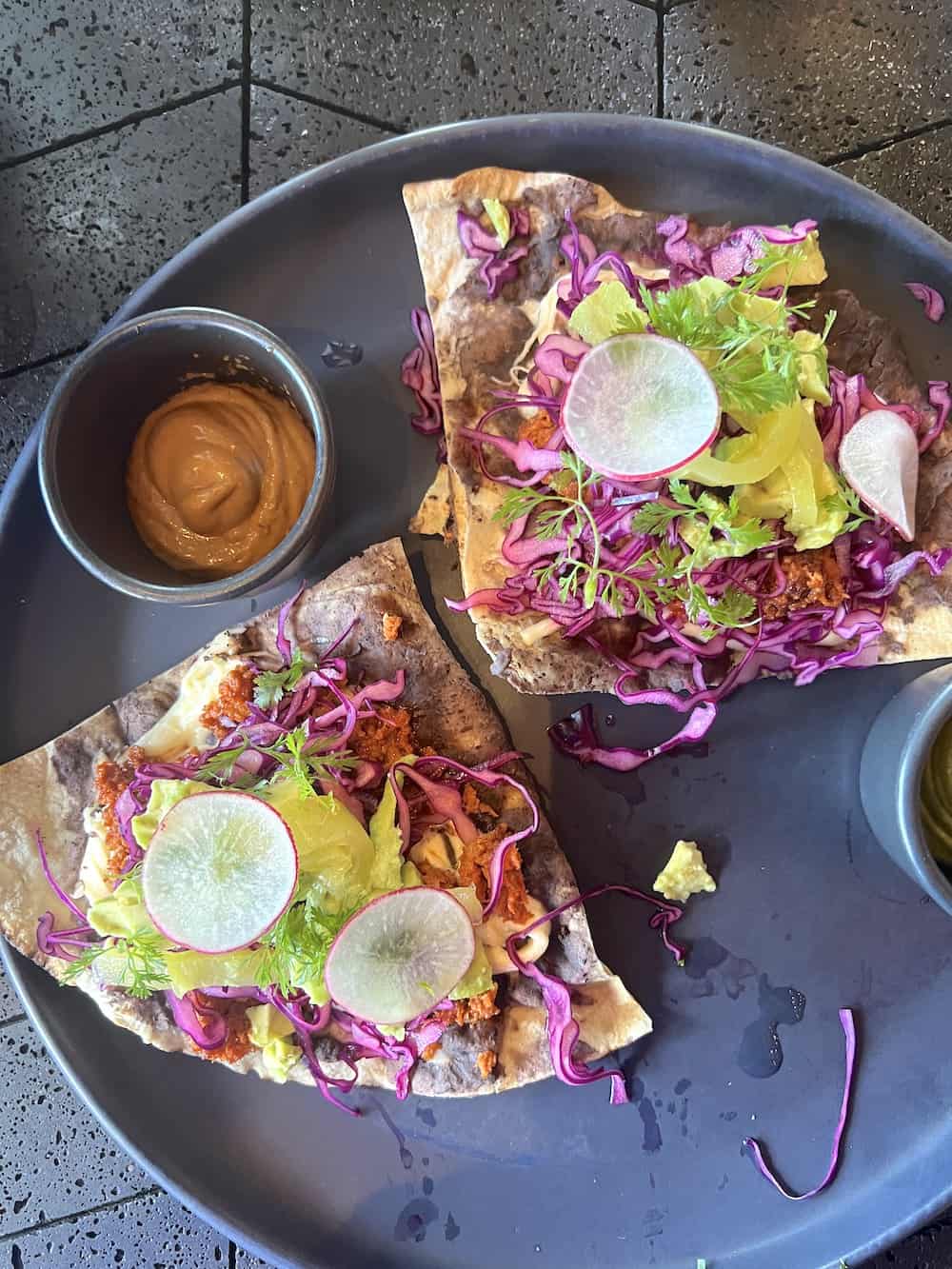 Under the creative direction of a group of acclaimed chefs, you can dive into Mexico's diverse food culture. It's a gastronomic journey through pre-Colombian to contemporary cuisine, ingredients and techniques.
This includes:
Exclusive Encanta by Chef Paco Méndez (best known for Michelin-starred Hoja Santa in Barcelona),
Flavours of Chinese and Puebla cuisine at Chino Poblano by Chef Jonatan Gomez Luna,
Mexican Mediterranean cuisine by Chef Franco Maddalozzo
Regional Oaxacan cuisine by Chef Alejandro Ruiz at Cantina VI.AI.PY.
At the Mercado de San Juan curated by Chef Juan Licerio you can enjoy classic Mexican dishes such as barbacoa (slow-roasted meat fragrant with chiles and spices), quesadillas stuffed with flor de calabeza ( zucchini flowers) and chilaquiles ( corn tortillas topped with shredded chicken, cheese and salsa).
Contemporary Japanese cuisine by Chef Luis Arzapalo.
Elevated traditional Mexican comfort food by Chef Orlando Trejo.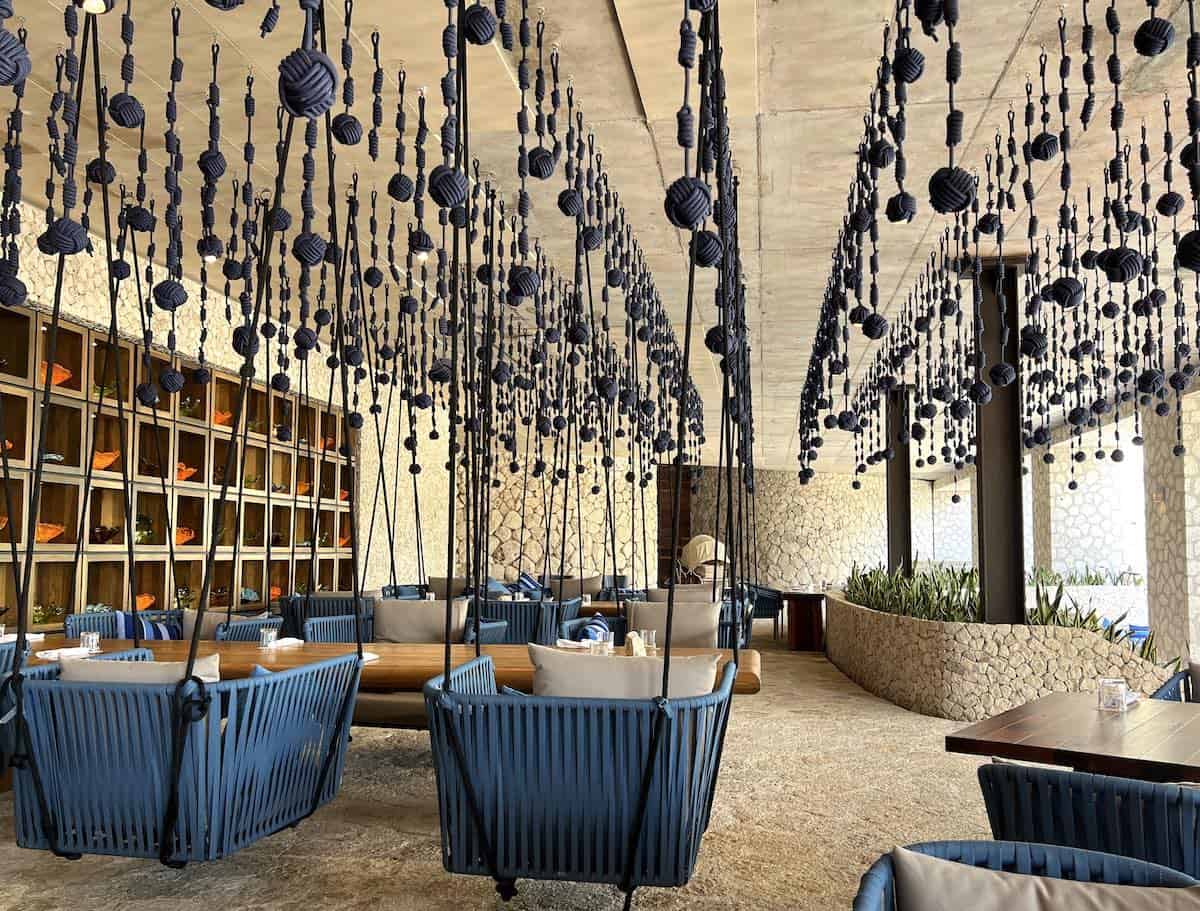 The wine lists and suggested pairings have been created by the talented sommelier Sandra Fernandez.
Vegans aren't left out of the culinary picture. There's a range of inventive plant-based options on every menu.
These dishes are created Chef Miguel Bautista. He heads up Planet Vegan Mexico and is a leader in Mexico's vegan food movement. Sample dishes include vegan tacos al pastor, tamales stuffed with flor de jamaica and even a dessert flan topped with white chocolate mousse.
And did I mention the 24-hour room service?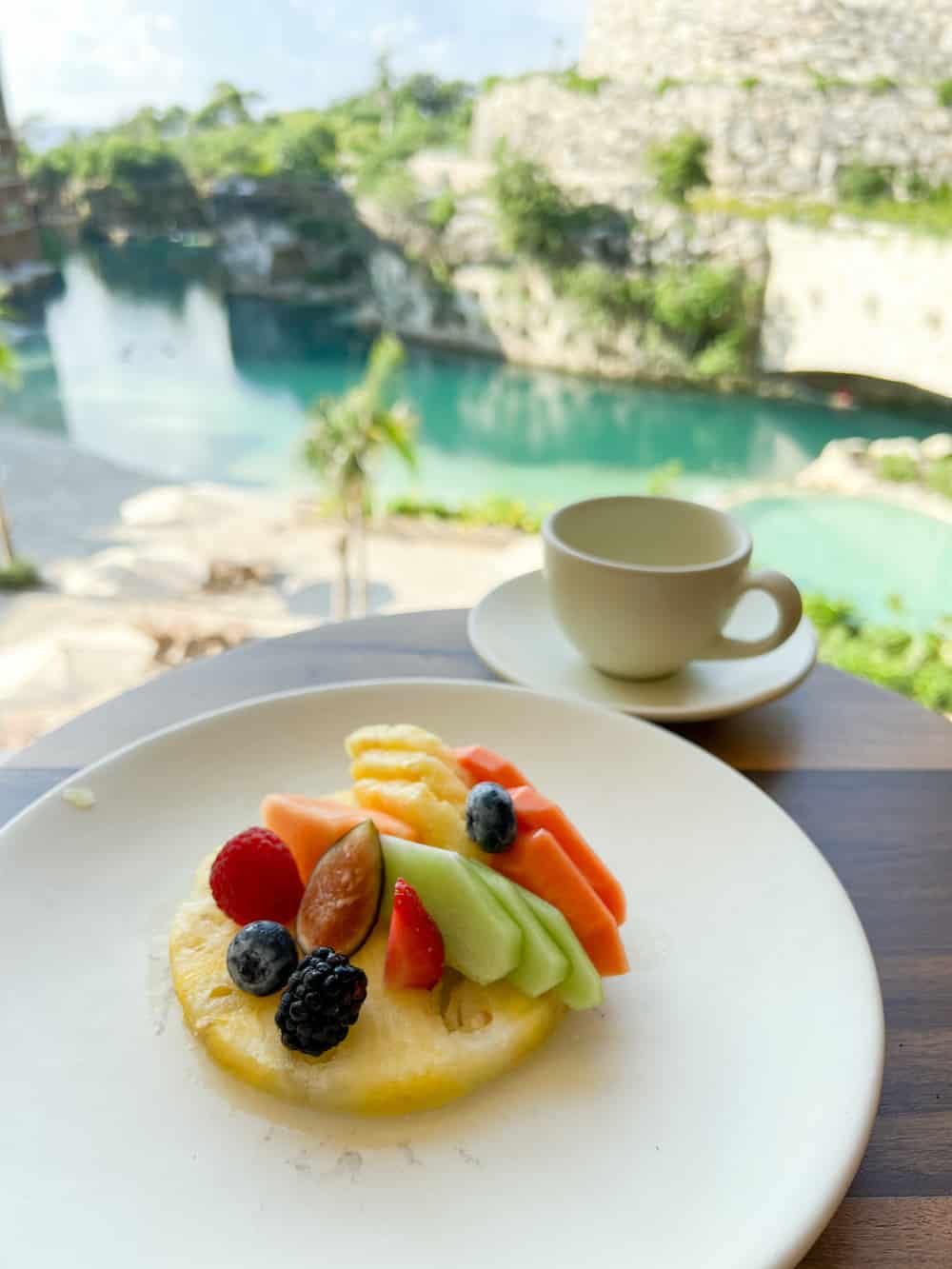 A note of caution about the culinary scene at Hotel Xcaret Arte. It may not appeal to people who prefer to eat plain, boring food, or exclusively American fast food.
While it's definitely possible to order hot dogs, burgers and pasta, this resort is best for those interested in exploring Mexican and international flavours.
Nightlife and Best Things to Do at Night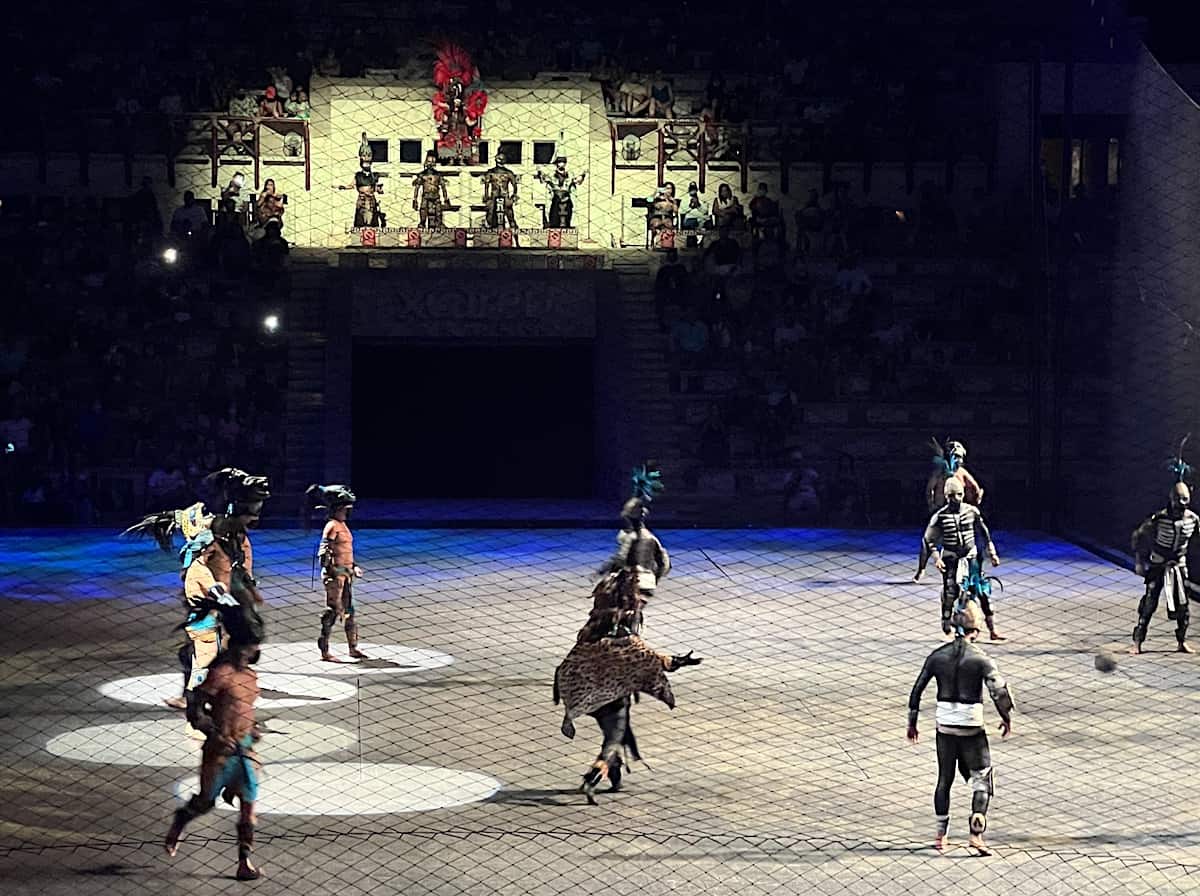 In addition to dining and live music happening on the resort, guests can attend the Xcaret Mexico Espectacular show offsite.
This extravaganza features 300 performers who portray key events from Mexico's history through re-enactments, music and dance. I loved the opportunity to witness the Dance of the Voladores, the ancient folkloric ritual of Veracruz.
Also worth doing is the floating fiesta of Xoximilco, a full evening of music, food and partying on gondolas. Round-trip transportation included.
Onsite, Hotel Xcaret Arte also features its own nightclub. Tucked away near the gym in the Casa del Patrón, the El Deseo Speakeasy nightclub draws on the theme of Prohibition era bars.
Evenings begin with a jazz trio followed by a the house band playing live music. DJs keeps the fun going until 3:00 a.m.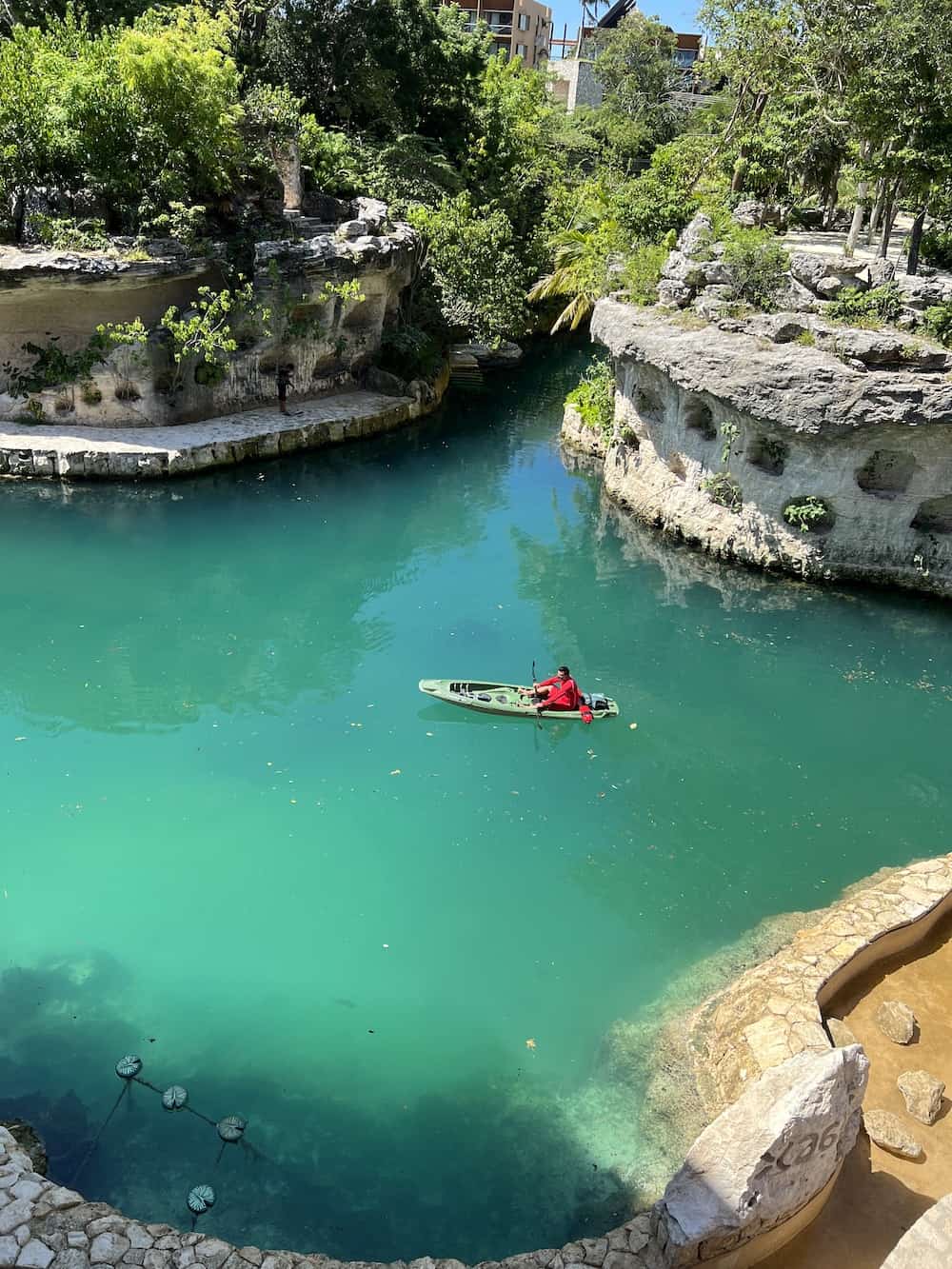 Summary: Hotel Xcaret Arte Review
In summary, whether you're paddling a kayak through an orchid-draped jungle, dining on regional specialties or weaving a work of art, you're sure to be impressed by Hotel Xcaret Arte.
It offers a magical mix of adventure, imagination and inspiration.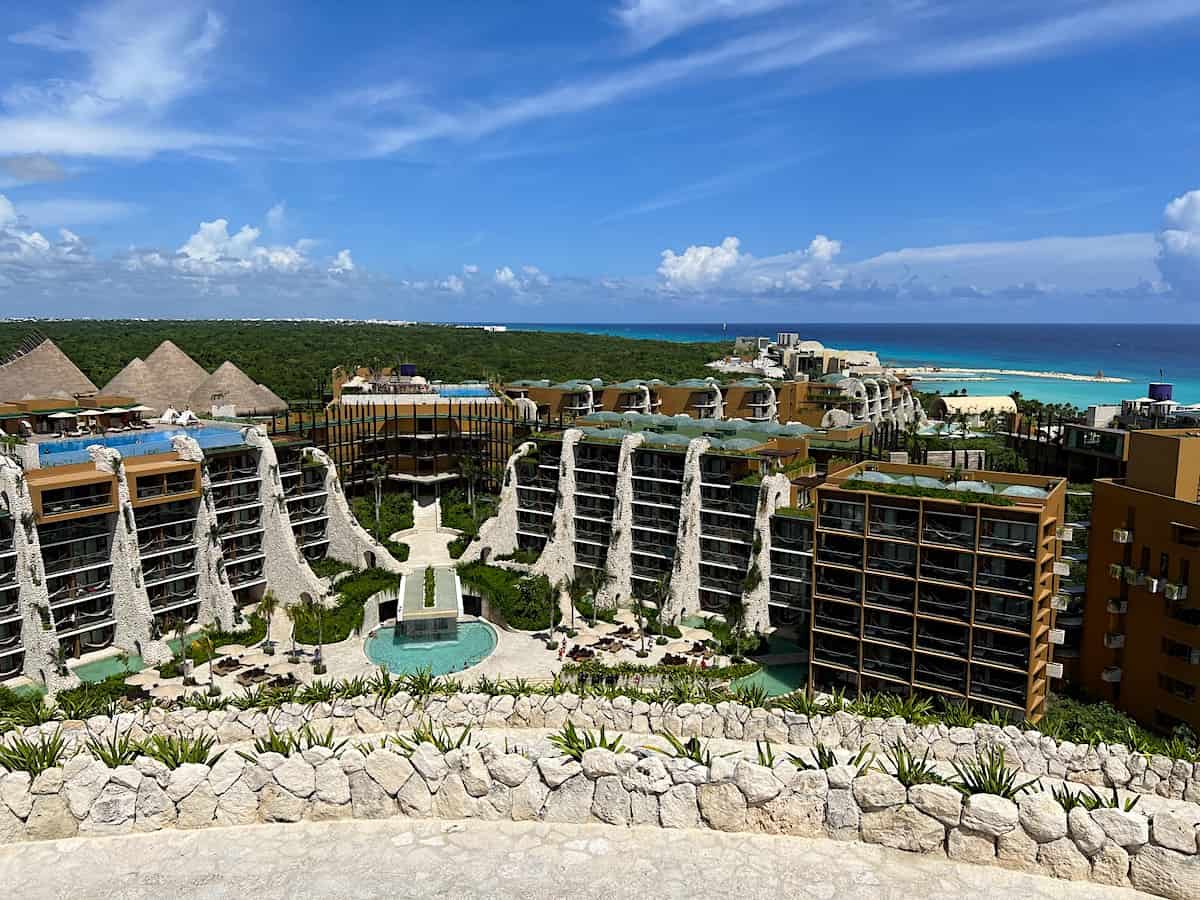 Covid Protocols: This was my first international trip since the start of the pandemic. I was very impressed with the Covid protocols and enforcement at Hotel Xcaret Arte.
In addition to the extensive sanitation procedures taking place behind the scene, the staff was vigilant about enforcement.
They wore masks, conducted temperature checks, contact tracing, medical screening and disinfection of tables consistently throughout the resort. Wait staff served guests at the buffet tables.
It's also possible to get antigen and PCR tests (extra fee) at Hotel Xcaret Arte. There were no line-ups and results were delivered quickly by email.
More information: Official Hotel Xcaret Arte website
Getting there: Shuttles to and from Cancun International Airport (CUN) depart every 30 minutes from 6:00 a.m. to 9:00 p.m. Then every 60 minutes from 9:00 p.m. to 6:00 a.m.
Discounts and Promo Codes: Members save up to 10% and earn points when booking with AAA and CAA.
Check rates and availability of Hotel Xcaret Arte on Booking.com.
You can also book directly on the Hotel Xcaret Arte website.
Canadian tour operators such as WestJet, Air Transat and Sunwing will likely soon be adding Hotel Xcaret Arte to their sun destination line-up. Currently, they list only Hotel Xcaret but this could change soon.
Save to Pinterest!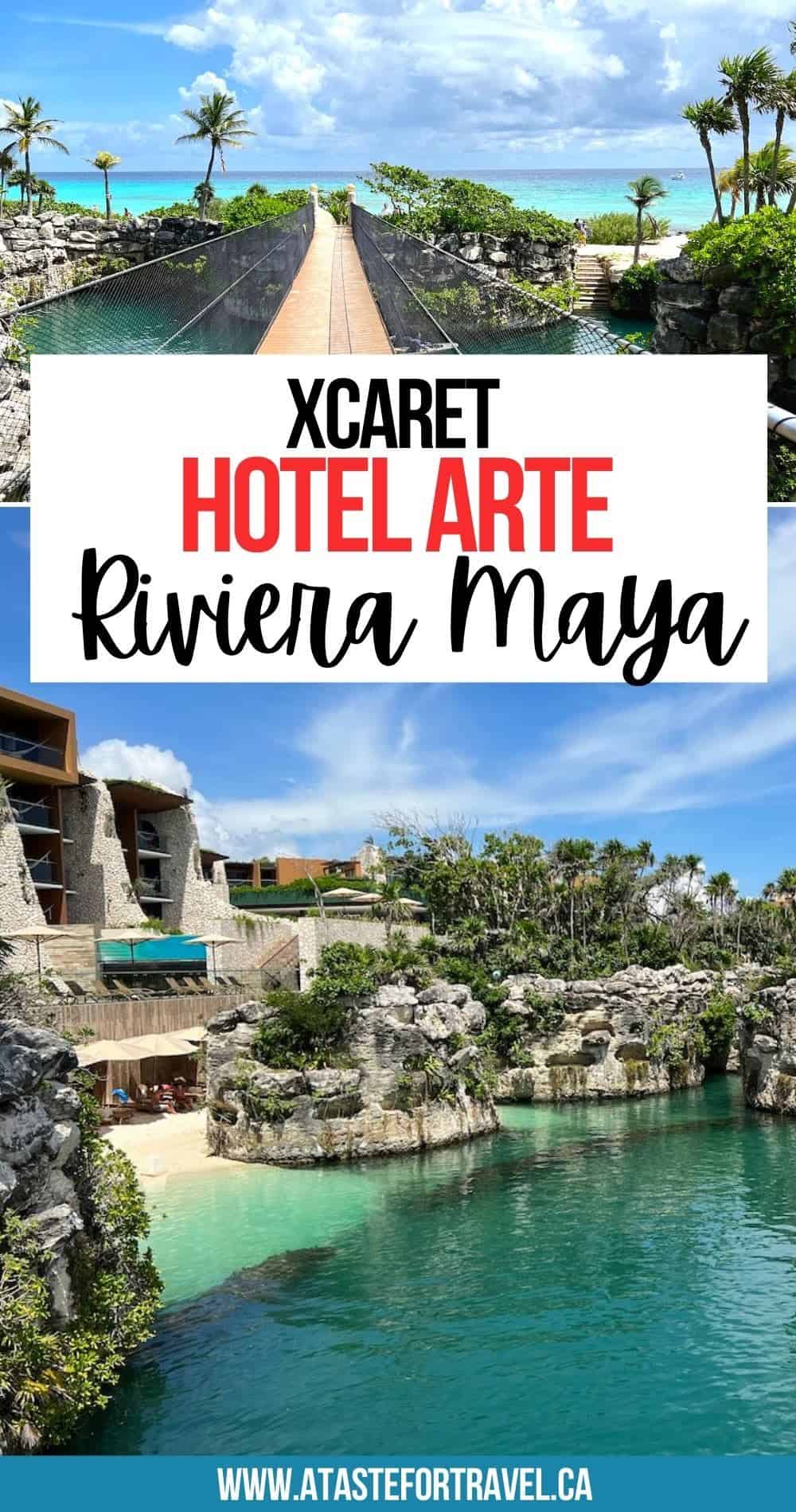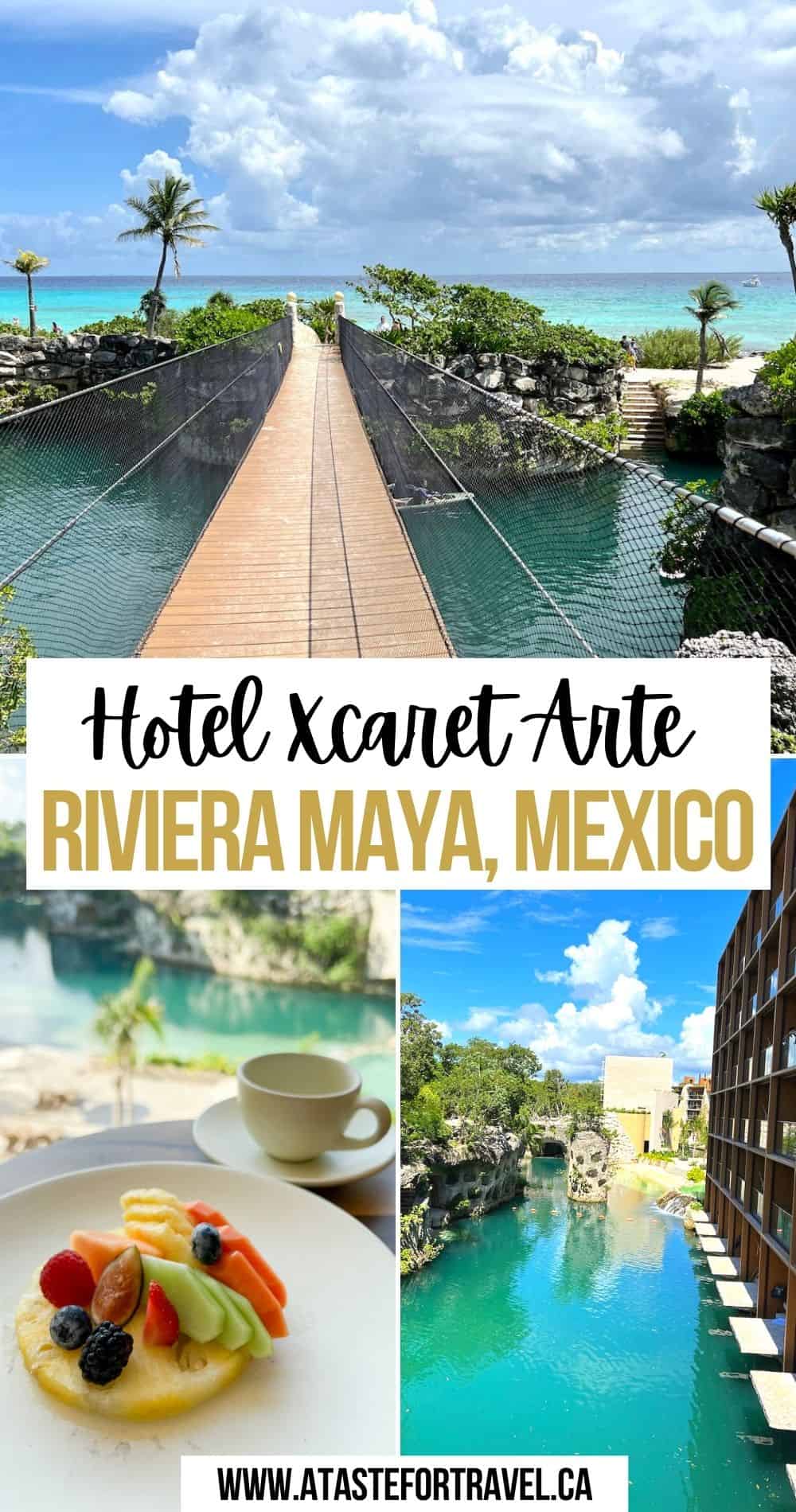 <
Dividing her time between Canada, Guatemala and Mexico (or the nearest tropical beach), Michele Peterson is the founder of A Taste for Travel. Her award-winning travel and food writing has appeared in Lonely Planet's cookbook Mexico: From the Source, National Geographic Traveler, Fodor's and 100+ other publications.
Read more about Michele Peterson.