We may earn income from links in this post. Please read this Disclosure for details.
Who doesn't love Sunday brunch? Problem is when you're on a Caribbean holiday for one week, Sunday might be your travel day on both ends which means you can't enjoy brunch as often as you'd like. But that's no longer the case in Aruba!
I've been visiting this Dutch Caribbean island and writing for magazines like Aruba Nights, Island Gourmet, and Fodor's guidebooks for over two decades. There's always something new happening!
On my most recent visit, I discovered a range of exciting new brunch spots island wide.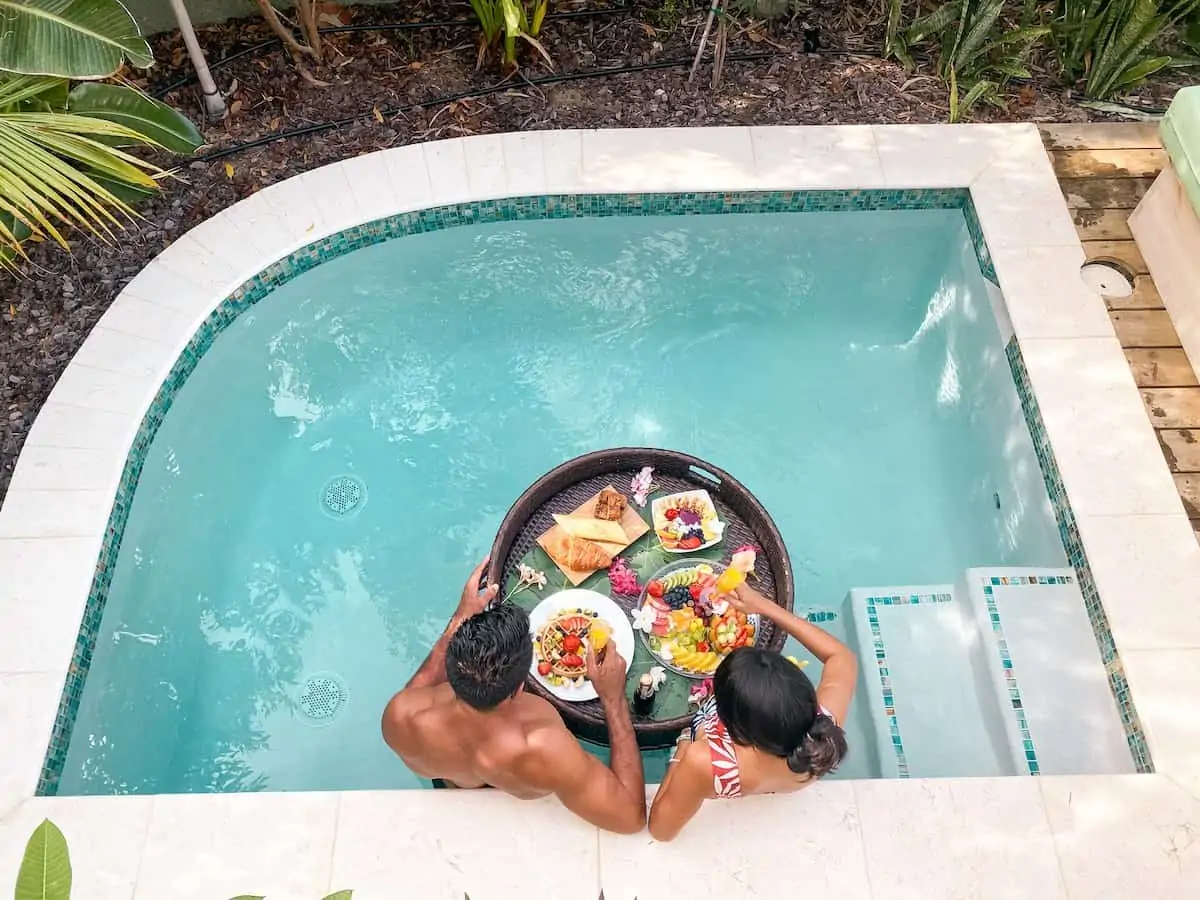 In addition to classic Sunday brunches, you can now enjoy night brunches, Saturday brunches, floating brunches, and even chef's table weekday brunches.
All day breakfast spots, and Dutch pancake houses also count. And plant-based brunch? You bet!
So, let's dig in to see what's on offer and my top picks for the best brunches in Aruba.
1. Windows on Aruba – Night Brunch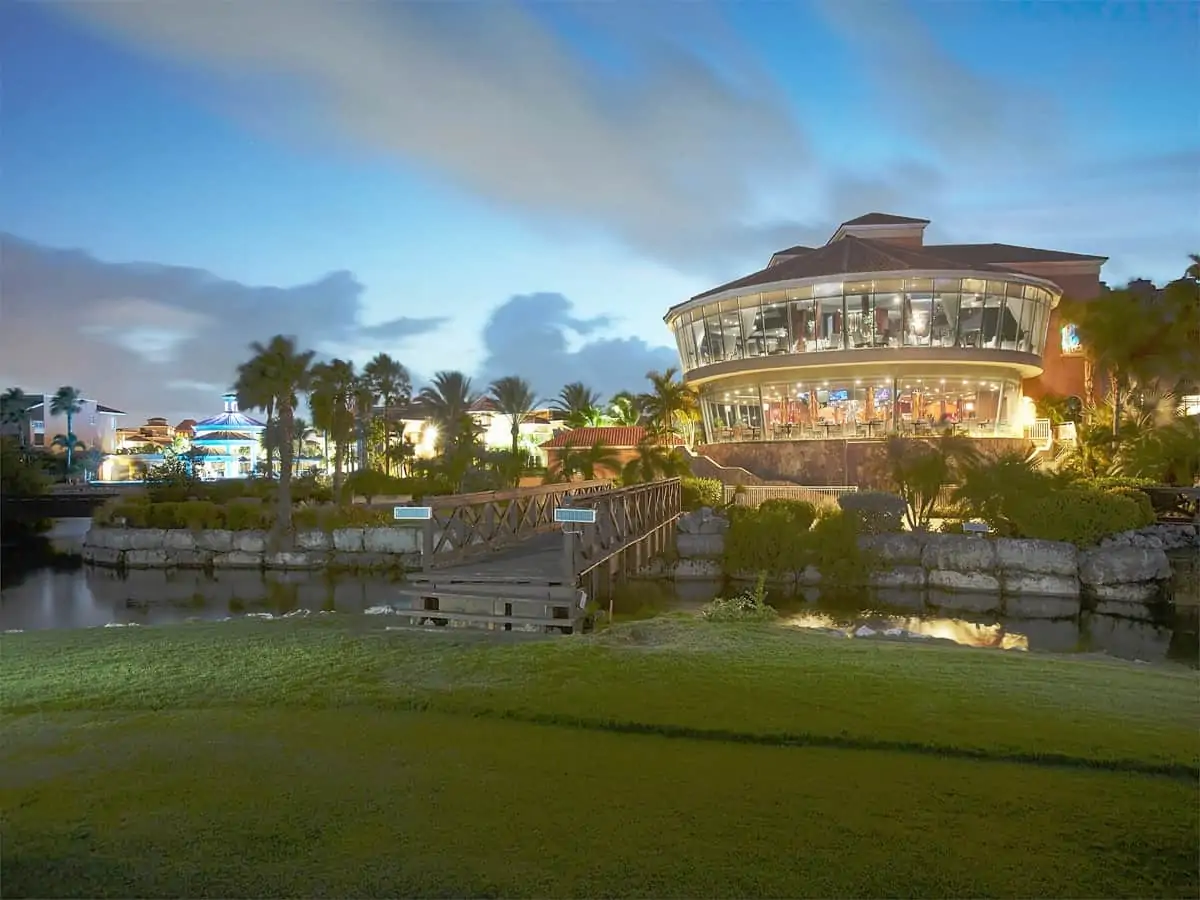 The signature glass-domed dining room overlooking the Divi Golf Village Resort has been a landmark Sunday brunch spot for years.
The all-you-can-eat, high end, a la carte options at Windows On Aruba include classic brunch dishes but also include unexpected surprises like lobster ravioli.
And there are also many hearty mains to choose from like beef stroganoff and miso sea bass. Endless mimosas and Bellinis are also on tap.
But now, they've added a late-night brunch option for those who can't make it Sundays. Night brunches are served the last Friday of every month from 6:30 to 9:30 p.m.
Insider Tip: Night brunches include a DJ and special signature cocktails to make it more celebratory.
2. Coral at Holiday Inn Aruba Resort – Sunday Brunch Buffet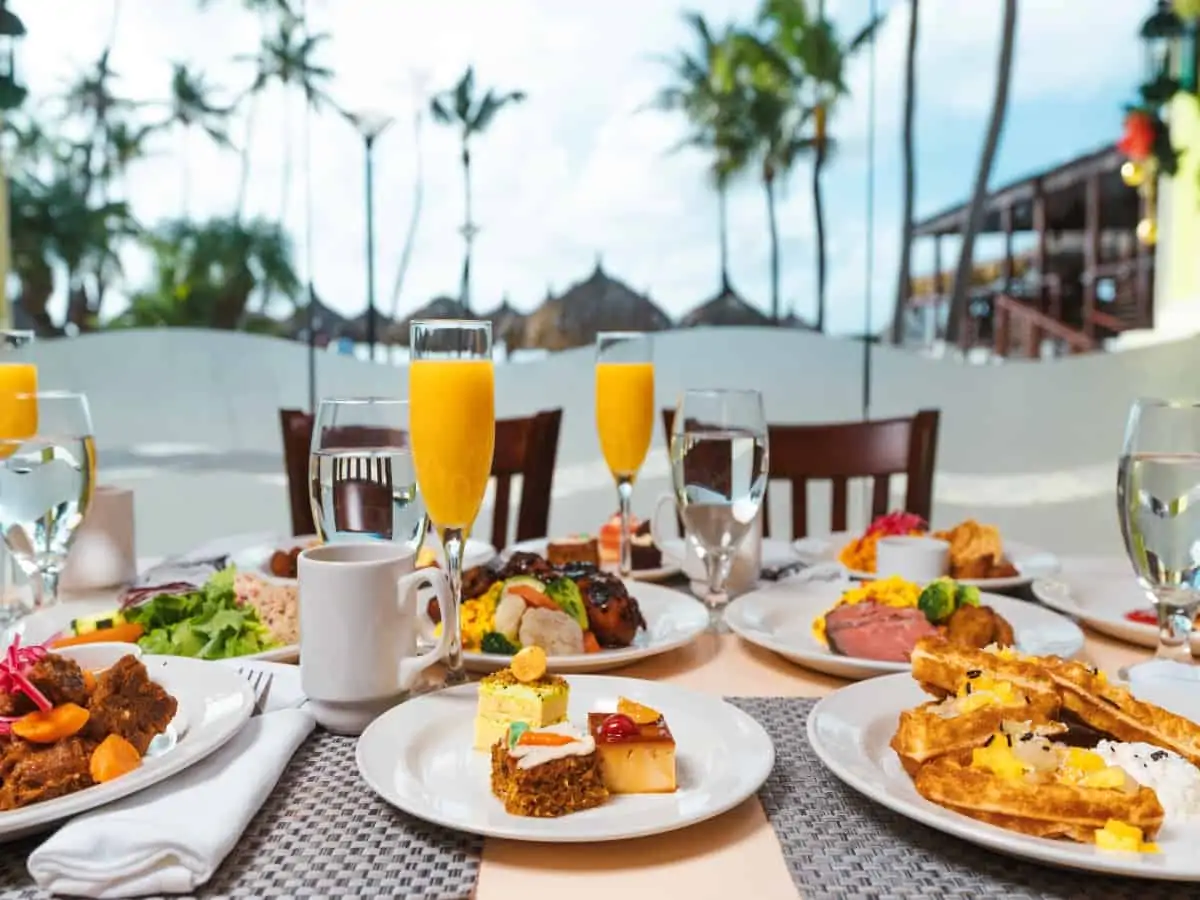 The main breakfast buffet of Holiday Inn Aruba Resort pulls out all the stops for its Sunday brunch buffet. It's open to non-guests and it's included in their new all-inclusive package.
Enjoy gorgeous views of Palm Beach from their glassed-in air-conditioned Coral Restaurant, and an all-you-can-eat feast. The buffet and the bottomless mimosas option are served from 11 a.m. to 2 p.m.
Insider's Tip: The buffet is half price for children, and kids under 5 years of age eat free.
Check rates and availability at Holiday Inn Beach Resort & Casino on Booking.com.
3. La Vista at Aruba Marriott Resort – Sunday Brunch Buffet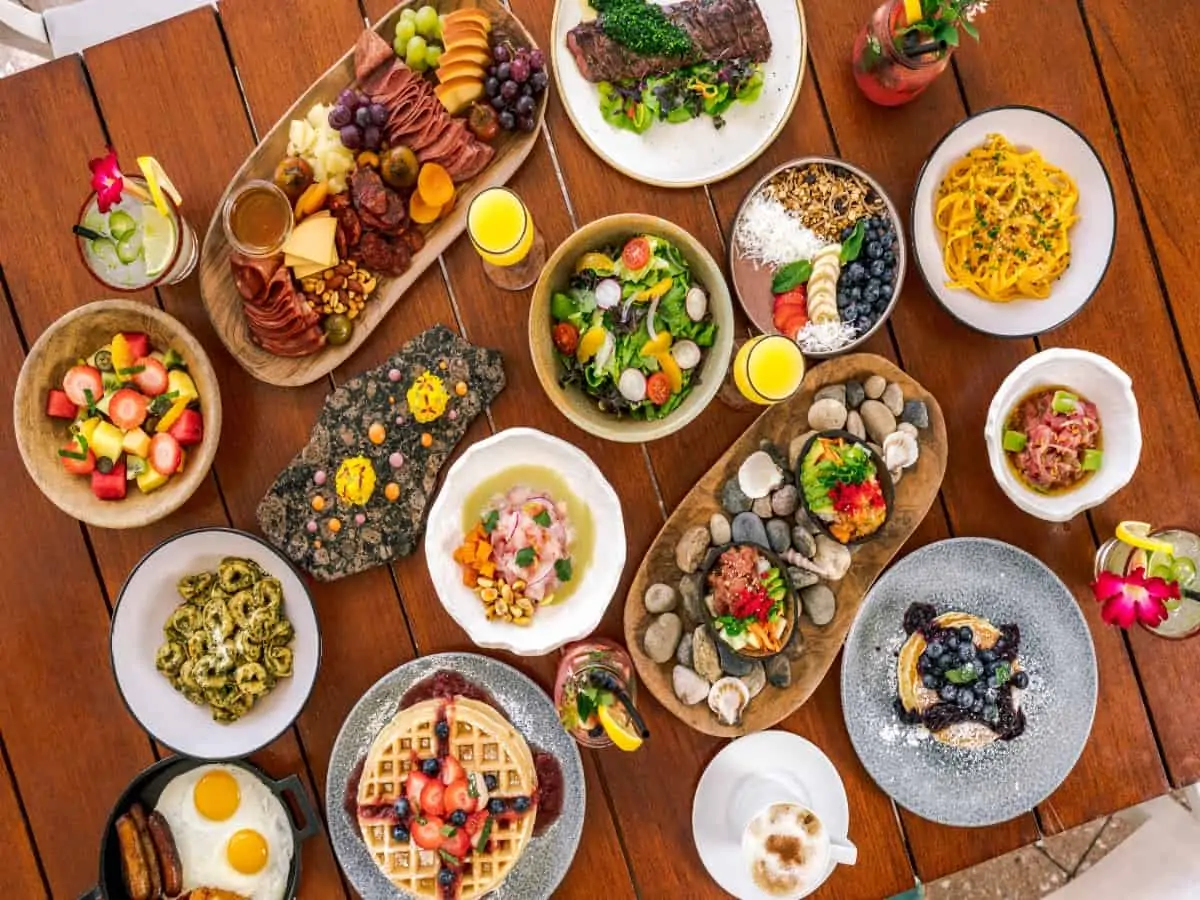 The ethereal indoor/outdoor breakfast emporium at the Aruba Marriott also hosts a bang-up Sunday brunch buffet with great sea views and a very eclectic choice of fare.
The classics are abundant like waffles, omelettes, pancakes, and fresh fruit smoothies. But they also have exciting new stations with poke bowls, nachos, a raw bar, ceviche and a meat carving spot. Their homemade gelato is a real treat.
They also offer many gluten-free options. Top it all off with unlimited mimosas. Brunch is served 10 a.m. to 2 p.m.
Insider's Tip: If you overindulge, you can work it all off with some paddle board yoga at Vela Sports Aruba right next door.
4. MooMba Beach Bar – Beach Bar Brunch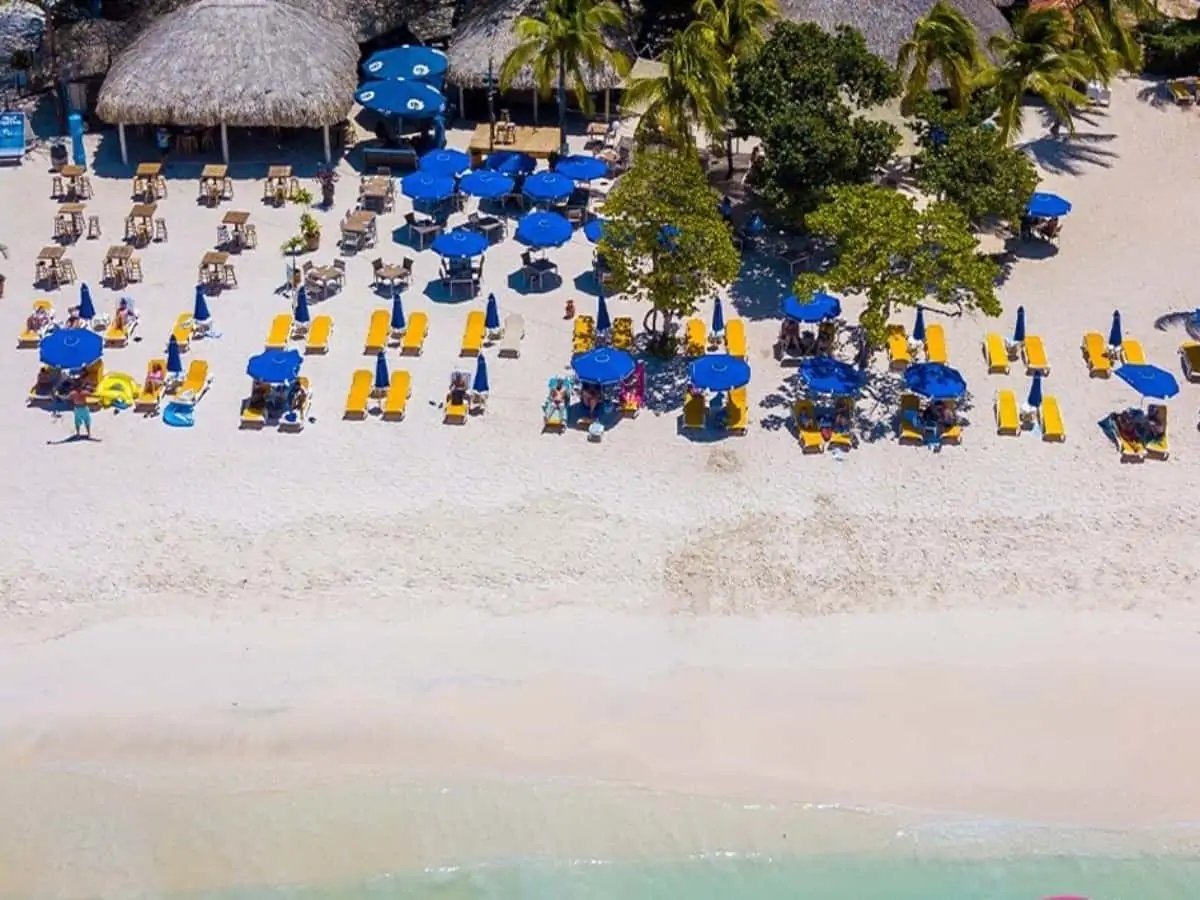 Most folks don't think of this place for breakfast or brunch as it's best known as a legendary beach bar with rollicking party hearty events.
But that's a shame, because during the early hours it's a gorgeous spot steps from the sea serving superb breakfasts at a good price.
And Sundays they have a massive unlimited breakfast and brunch buffet served from 8 a.m. to 3 p.m. with an unlimited mimosa option. Visit: Yummy Aruba.
Insider's Tip: Bring your bathing suit because you won't be able to resist taking a post brunch dip at their prime seafront location.
5. Twist of Flavors (TOF) – Early Bird Brunch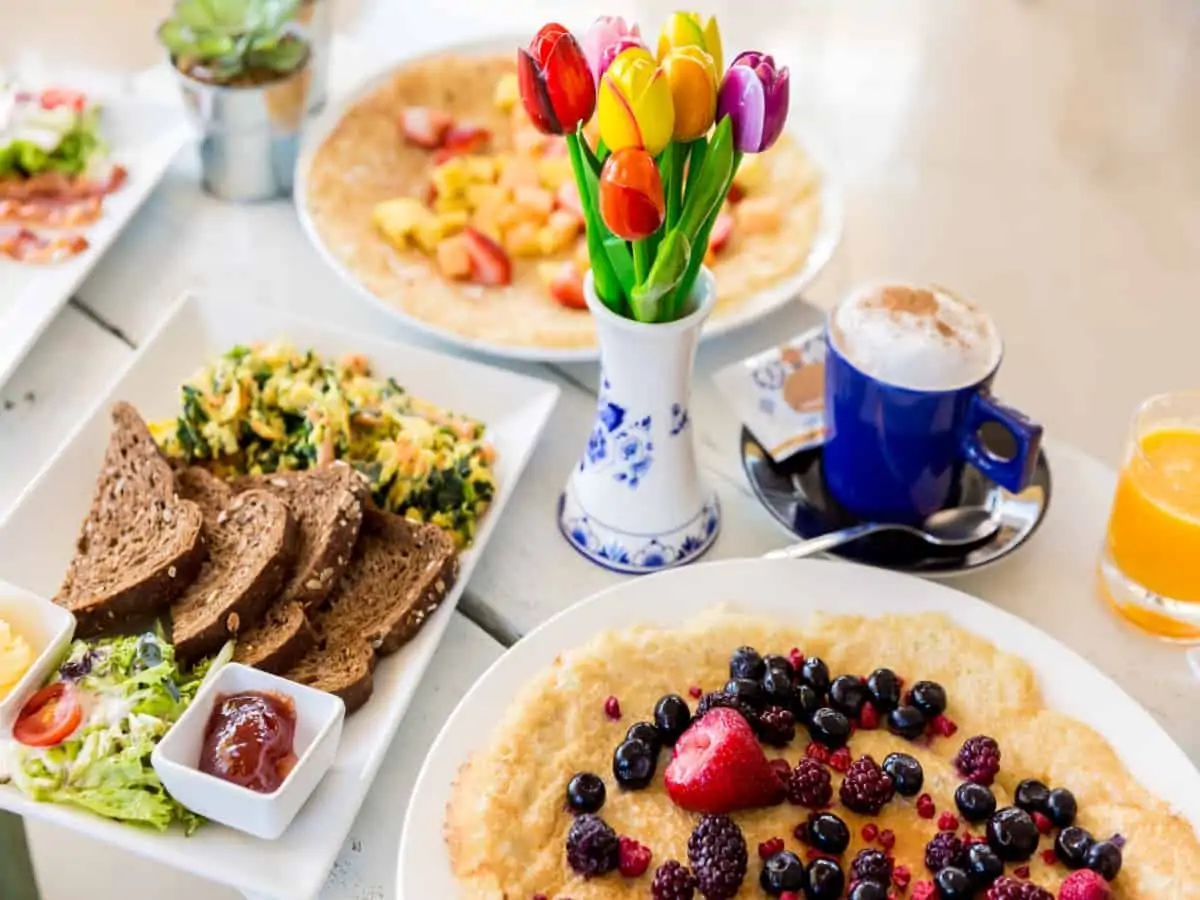 This fun and quirky spot in the Alhambra Mall specializes in offering a little bit of everything from all over, and they do it every well.
The breakfast menu at Twist of Flavors Aruba goes later than most, 8 a.m. to noon daily, so you can call that early brunch.
There are many egg dishes, but best bet is the Dutch breakfast countryside omelet. You'll also find Dutch style pancakes on the menu, including savoury ones, and they serve those all day long.
Insider's Tip: Check their blackboard on the way in to see all the fun special food and drink events they offer on different days of the week.
6. Senses Fine Dining – Luxury Gourmet Brunch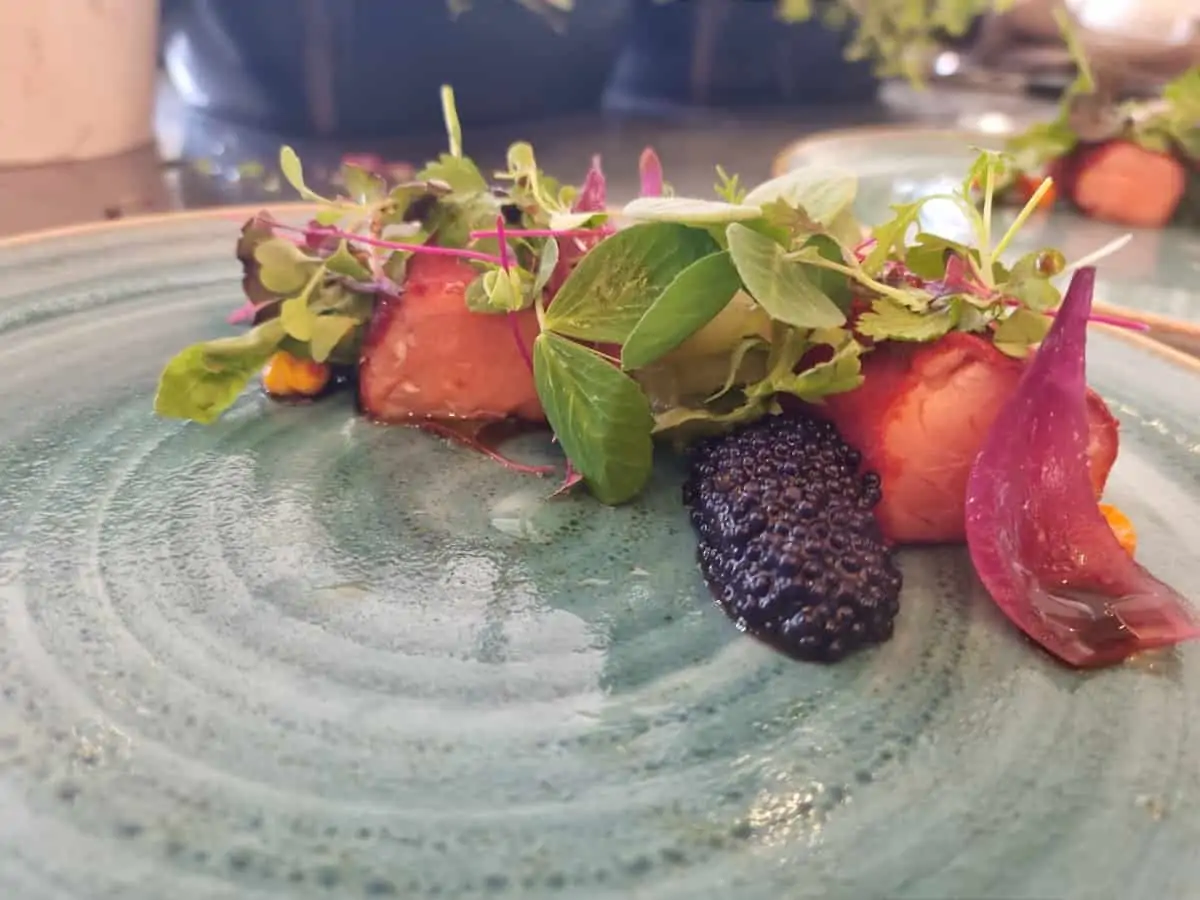 This intimate 16-seat open concept venue tucked away at Bucuti & Tara Beach Resort is independently run by the owners of Twist of Flavors and The Brownstone.
And now beyond their nightly chef's table experience, they offer a luxury gourmet brunch option starting at noon on Mondays and Fridays.
The rotating menu will always include four-courses and five wines, and watching the chef prepare it before your eyes is a stellar experience.
Check their website for pop-up surprise special occasion brunches, too. Reservations are mandatory. Visit: Senses Aruba.
Insider's Tip: Expect artistically plated creations like wild Norwegian salmon with caviar and sea buckthorn berries for starters.
7. Elements – Elegant Brunch on the Beach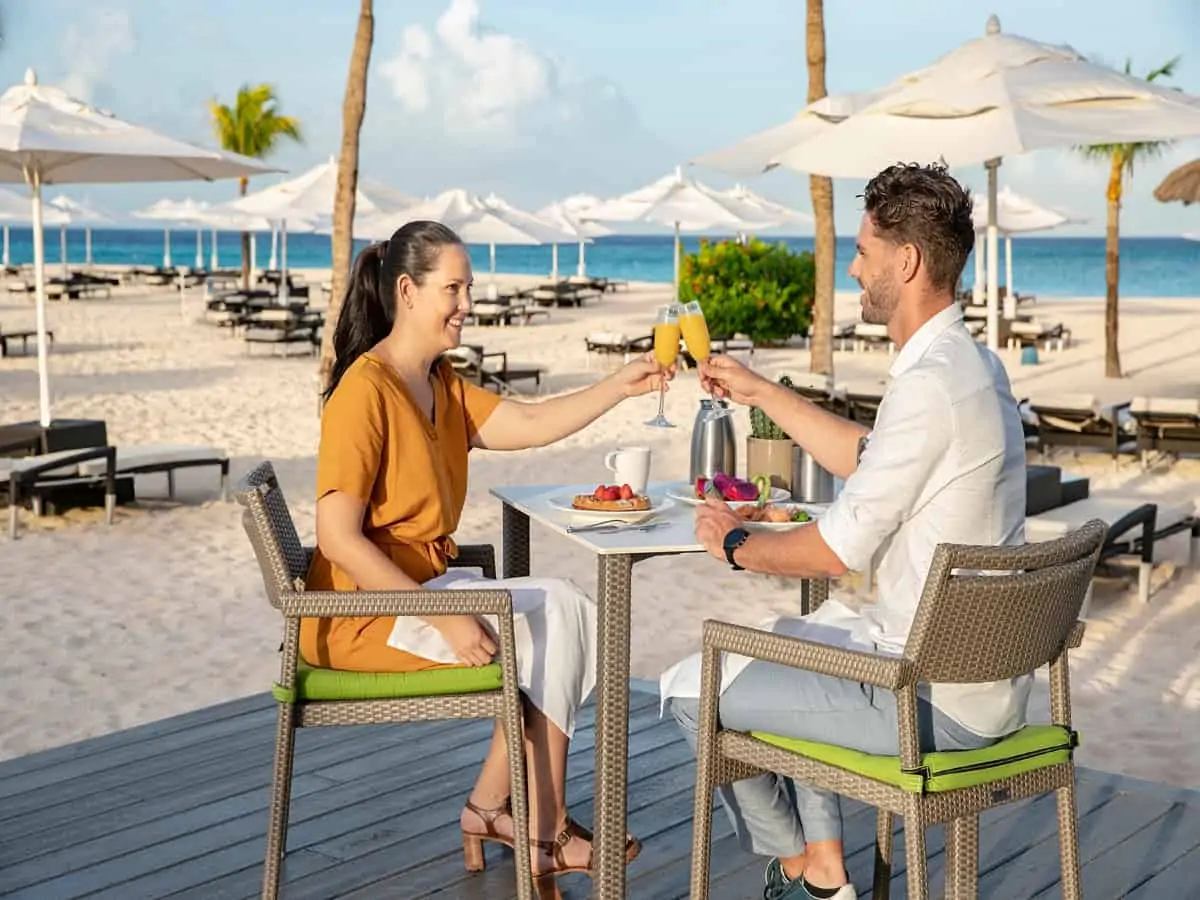 One of the most romantic restaurants for date night in Aruba, Bucuti & Tara Beach Resort's signature restaurant located on famous Eagle Beach also serves up an uber romantic seafront brunch feast.
Bring your appetite because the menu is comprehensive. Eggs Benedict, French crepes, fettuccine with salmon, beef tenderloin, grilled chicken and decadent deserts are all included in the set price for two.
You'll also enjoy champagne and OJ to make your own mimosas in elegant Bucuti glass flutes that are yours to keep. Served 11:30 a.m to 2:30 p.m. Sundays only. Reservations are mandatory for Brunch.
Insider's Tip: This is strictly an adults-only and cashless dining spot and resort.
Check room rates and availability at Bucuti & Tara Beach Resort on Booking.com.
8. Dushi Bagel & Burgers – Bottomless Mimosas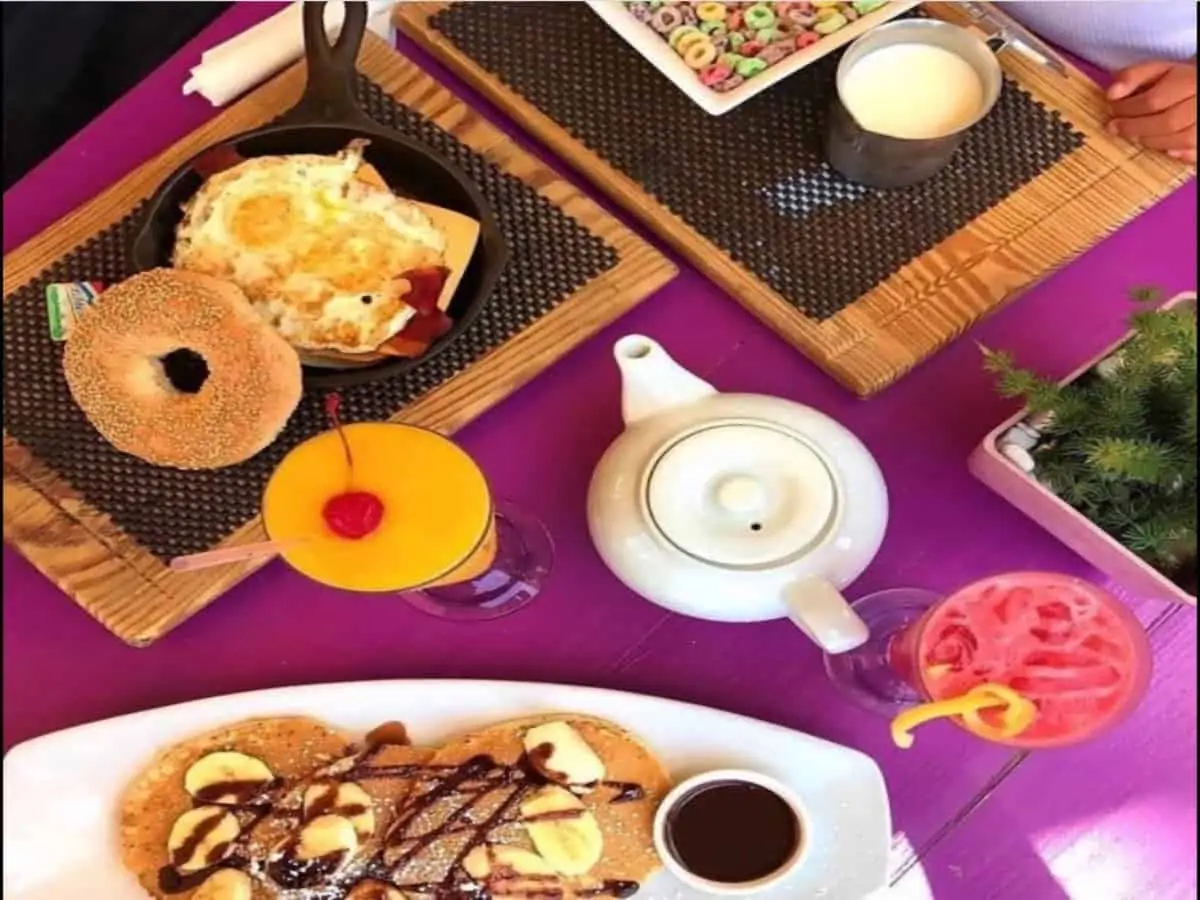 This legendary and lively Palm Beach spot has one of the largest varieties of breakfast options on the island. It's very impressive. And they embrace the brunch concept big time.
"We don't expect our customers to wait until Sunday for all-you-can-drink mimosas," the owner tells me, "We offer them every day of week from 8 a.m. to 12 p.m.!"
The comprehensive breakfast menu is served until noon, and they have the largest variety of New York style bagels in Aruba, too.
Insider's Tip: They also have an excellent stand-alone vegan menu including plant-based drinks and ginger boosters. They're a fantastic addition to Aruba's vegan food scene.
9. Craft – Coffee & Waffles Bar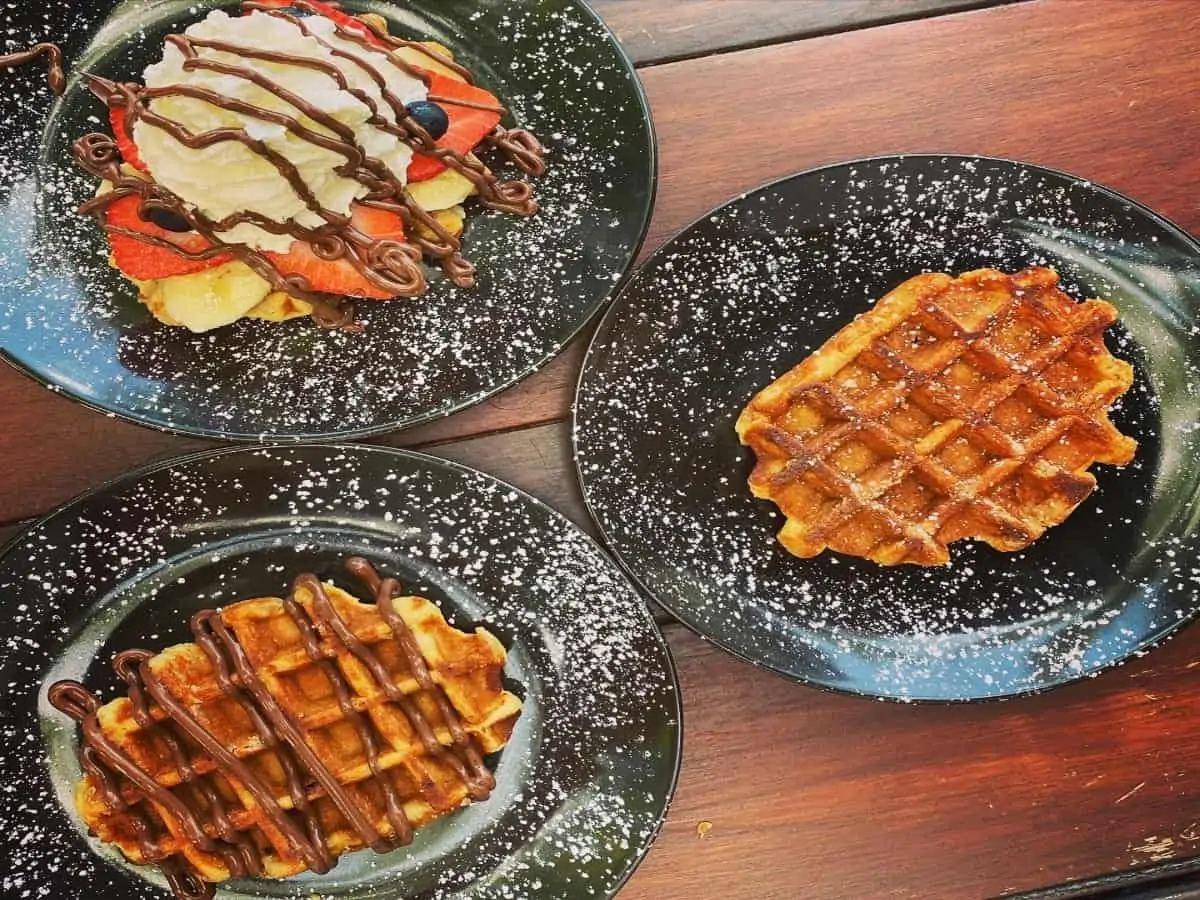 One of the top breakfast places in Aruba, this popular coffee and waffles bar located right on the sidewalk on the Palm Beach strip has breakfast fare all day.
At Craft Aruba, you'll find waffles, breakfast tacos, egg dishes, and even vegan choices like tofu scramble available until 4 p.m.
Then they have the "Sunday Brunch Club" from 11am-2pm with great music and bottomless mimosa and Bellini specials. Sometimes they do it on Saturday, too! Check their social networks for when on Craft Aruba.
Insider's Tip: They share the terrace space with their sister restaurant Lola Taqueria right next door. It turns into a lively Mexican fiesta spot at night.
10. Rotisserie La Braise – International Bunch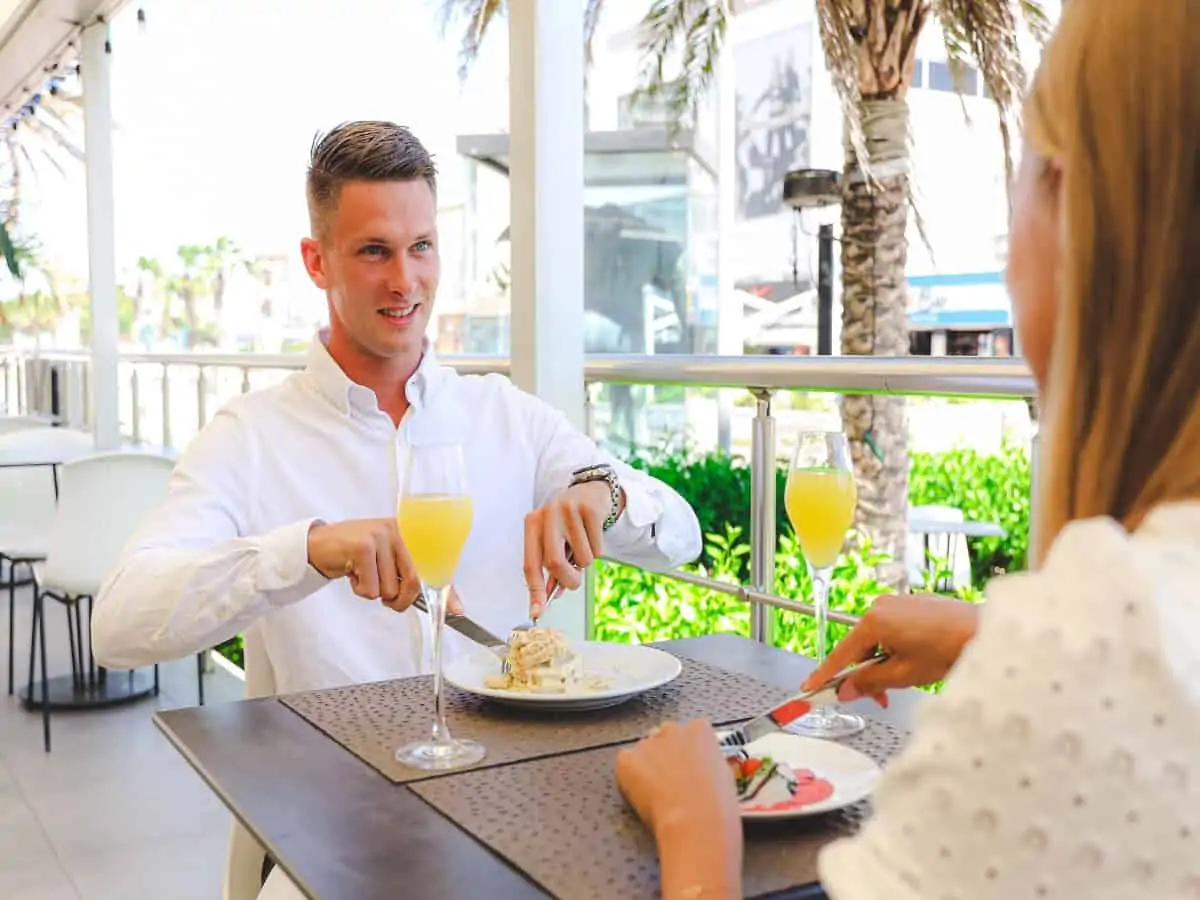 Located in the new Cove Mall on the Palm Beach strip, Rotisserie La Braise embraces many different concepts under the same roof. You'll find French, Italian and Greek with three different kitchens and three different chefs, side-by-side under their umbrella concept.
Their Sunday brunch embraces all. A set menu all-you-can-eat set-price affair includes dishes from coq au vin to calamari to linguine carbonara and classic brunch fare, too.
Bottomless mimosas are also included. Brunch served Sundays 11:30 a.m. to 2:30 p.m.
Insider's Tip: French foie gras is also available at a surcharge.
11. Octopus Private Island – Snorkel Brunch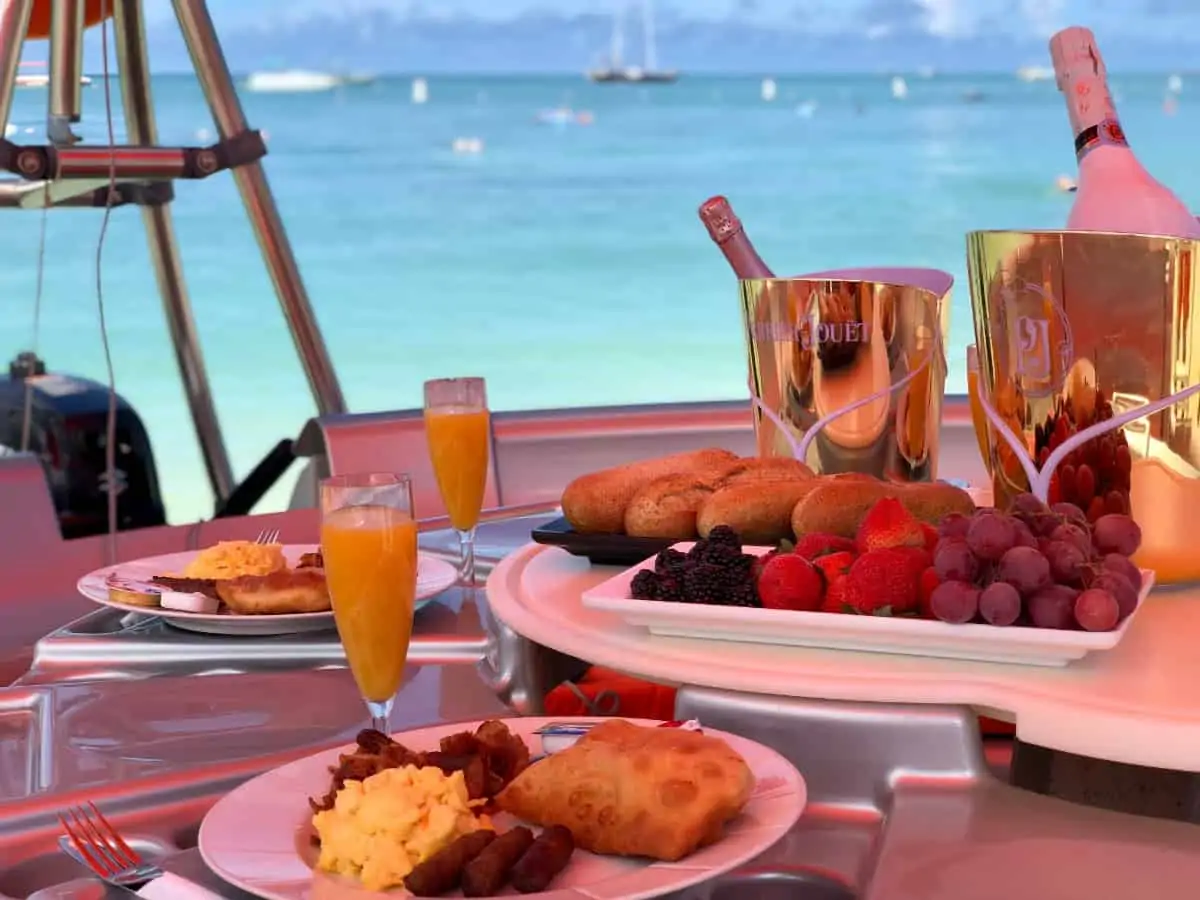 This brand-new Aruba brunch adventure starts with a speedboat ride off Palm Beach to a donut boat anchored at one of the best snorkel spots nearby. It can seat up to ten, but you can also rent it outright if you'd rather have it all to yourself.
The luxe brunch awaiting you at Octopus Aruba includes scrambled eggs, bacon, sausage, pastechies and more, plus mimosa making items. You can also tailor the menu to your preferences. Snorkel equipment and life jackets included.
Insider's Tip: They supply a portable Bluetooth speaker, but you must bring your own music.
12. Que Pasa Restaurant Art Gallery & Bar – Globally-Inspired Brunch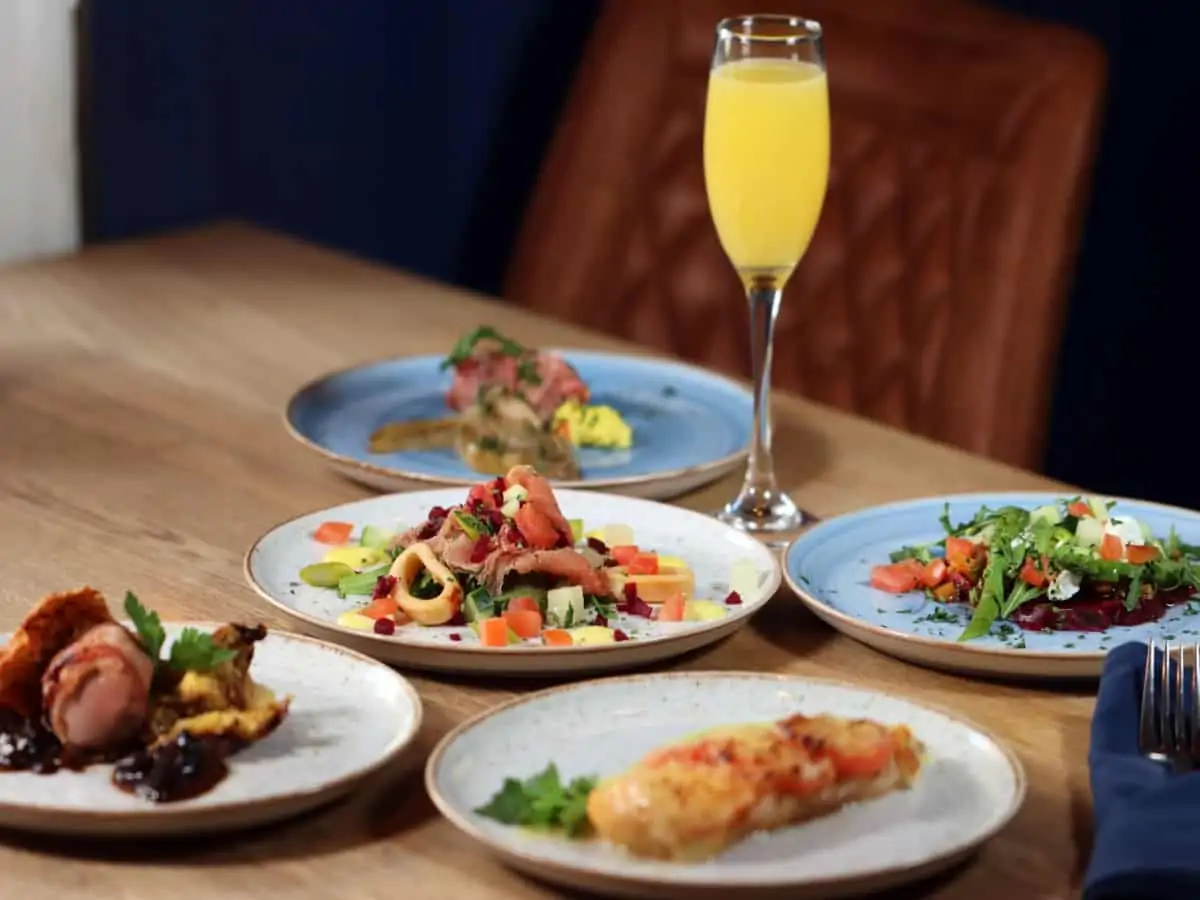 The name of this colourful, legendary dining emporium right in the heart of downtown might be Spanish, the menu is seriously international.
And their popular weekend brunches reflect that with a kaleidoscope of options far beyond traditional brunch fare.
For a reasonable set price, the all-you-can-eat a la carte offerings at Que Pasa Aruba include surprises like pumpkin risotto, pork tenderloin, escargots, lobster bisque, and even three kinds of sushi!
Add an endless mimosas option and top it off with a big surprise shareable dessert plate and you're seriously sated. Brunch is served 11 a.m. to 3 p.m. every Saturday and Sunday.
Insider's Tip: This brunch spot is also well known for showcasing local art.
13. Picnic Aruba – Outdoor Picnic Brunch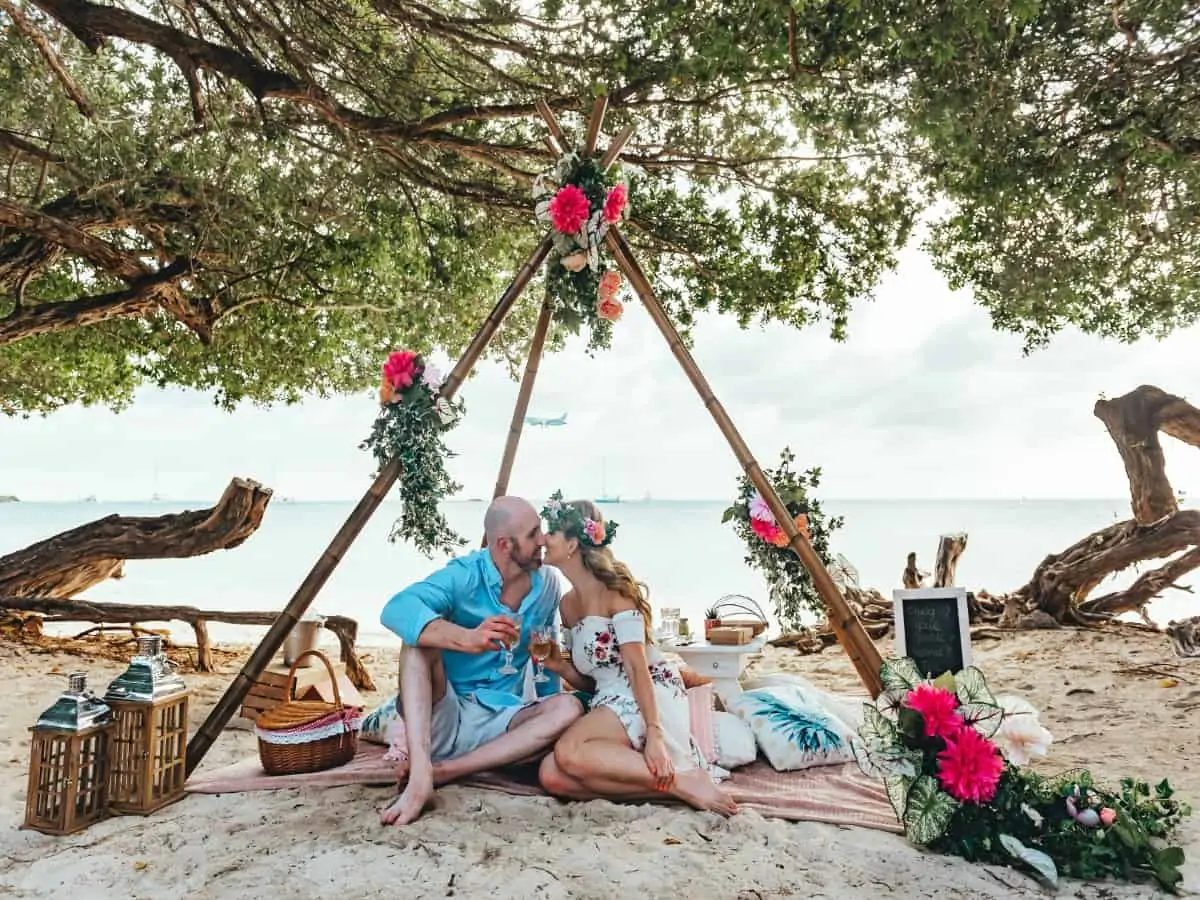 This is a new luxury pop-up picnic concept operation that has taken the island by storm. It's very popular for proposals and honeymoons, but it can also make for a fabulous romantic beach brunch!
Get some brunch captions for Instagram to share your beach picnic experience.
Picnic Aruba will take care of all the details. You simply show up and enjoy an awesome feast and a private moment in paradise. Choose from breakfast, gourmet, signature grazing, or even vegan menus.
Insider's Tip: They also do fabulous picnic-to-go baskets and will deliver to your hotel or resort.
14. Bits & Cheeses Deli by 297 – Brunch in a Historic Setting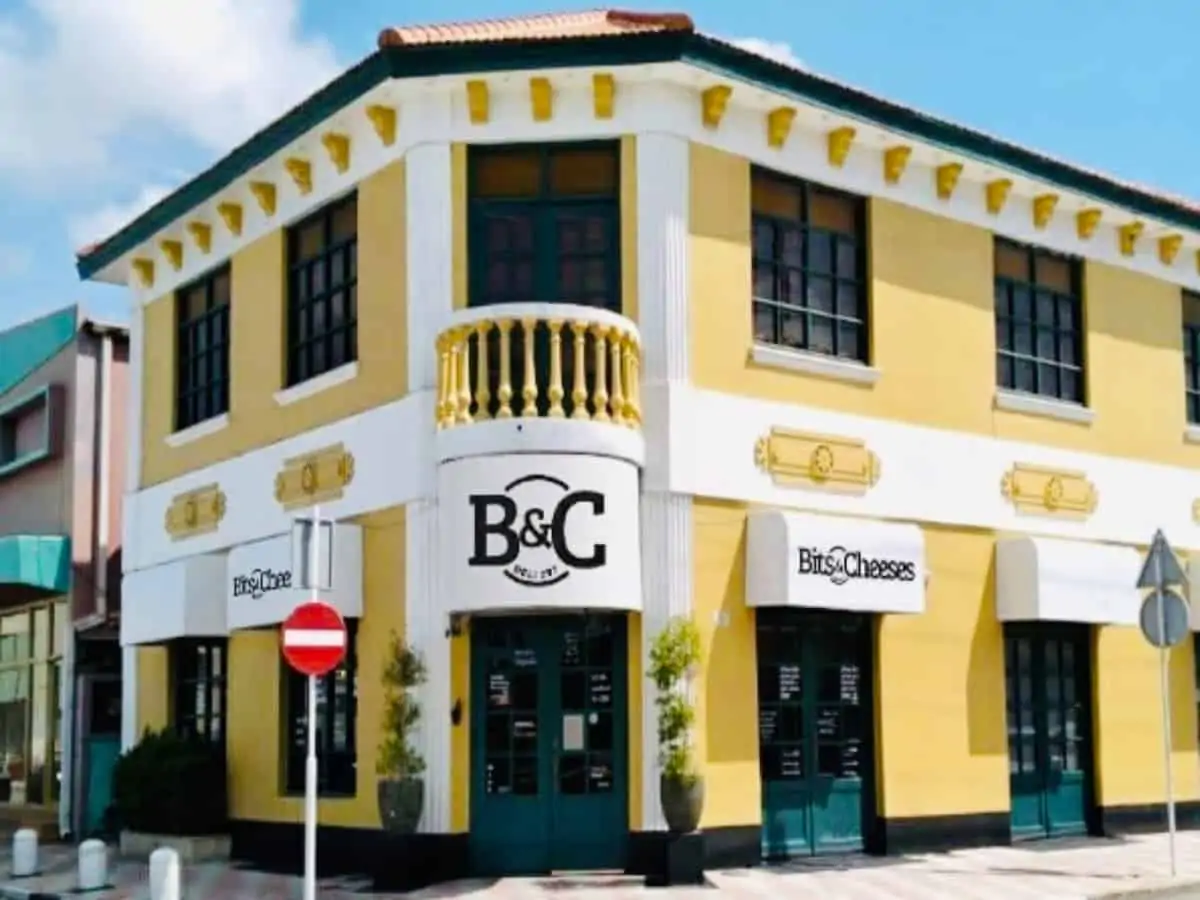 Having recently taken over a gorgeous heritage building in the backstreets of downtown Oranjestad, this local catering and retail company now offers indoor dining as well.
They specialize in a wide selection of gourmet cheeses, butters, charcuterie, and fine wines. They also have some great breakfast items that are served until 2 p.m.
One of the best places for brunch in Aruba, Bits & Cheeses are also planning to do some pop-up brunches, so check their social networking pages for updates.
Insider's Tip: They make great assorted boxes to go, also good for a picnic brunch if you want to choose your own spot.
15. Patio 15 – Night Brunch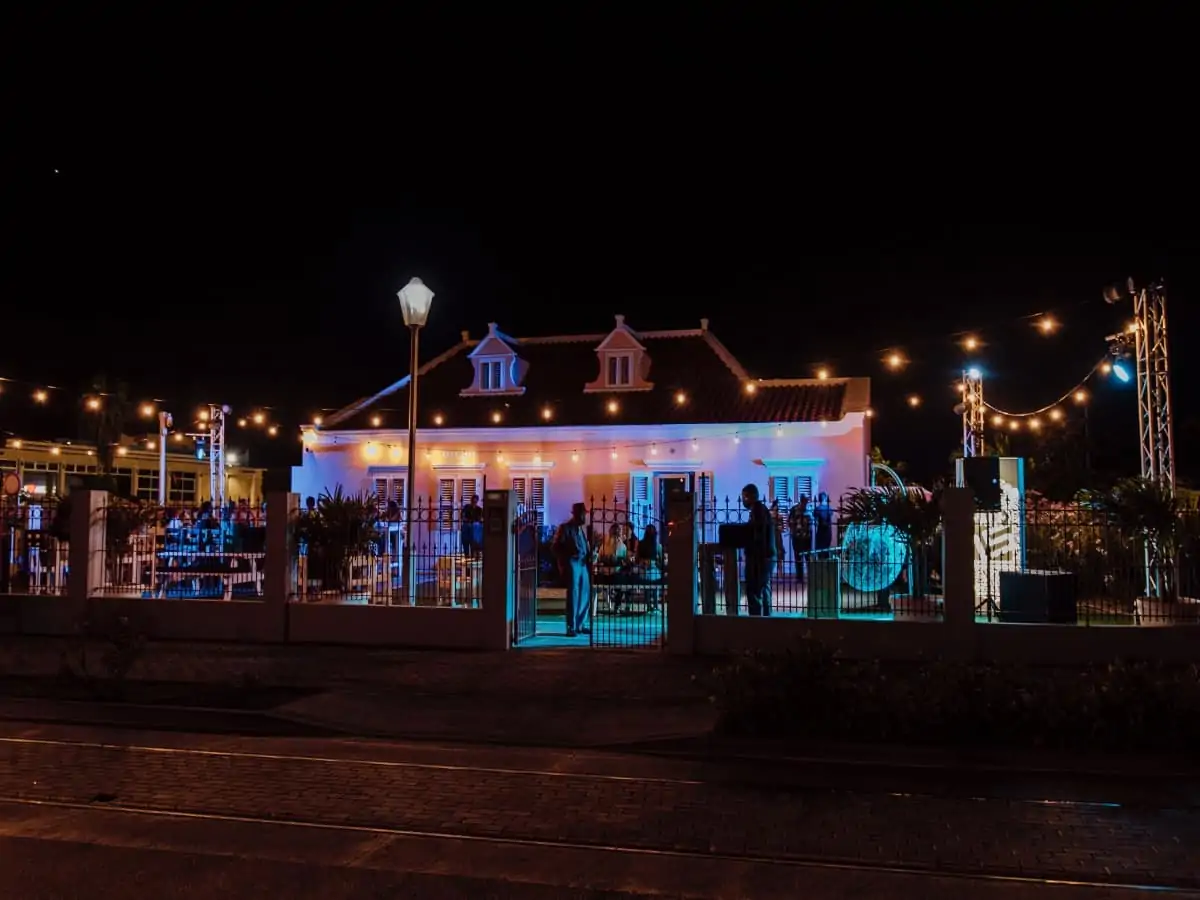 Another new spot that took over a gorgeous heritage house in the backstreets of downtown is Patio 15. Though designed as a trendy tapas and cocktail lounge with a massive outdoor dance floor for exciting musical events, they now do a night brunch, too!
The special menu is cool and quirky, an all-you-can-eat a la carte choice of 16 options. Think mini pancake stacks, French toast shots, spam sliders, deviled eggs, Nutella waffles and more.
An added bonus is that Patio 15 Aruba has special prices for bottomless mimosas and prosecco, too.
Night brunch is every second Saturday of the month from 7 to 9:30 p.m.
Insider's Tip: Their mixologists make crazy good cocktails!
16. The Dutch Pancake House – Best Dutch-Style Pancakes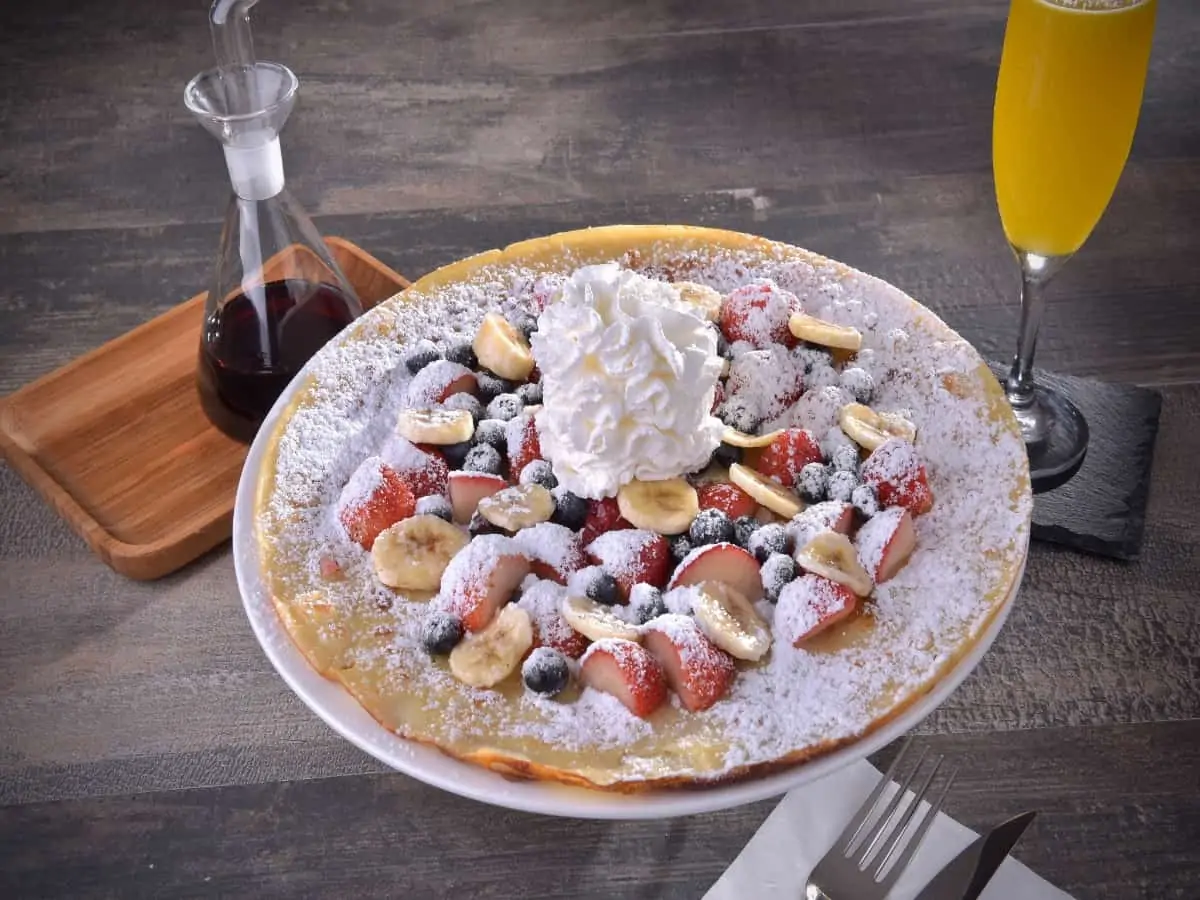 Pannenkoeken (Dutch style pancakes) are different than typical flapjacks. They are thin, almost like crepes, and stuffed or topped with a wide variety of ingredients. Including savoury items!
The best place to try a huge variety of them is at the original Dutch Pancake House in the Renaissance Marketplace.
Of course, pancakes make a great brunch any day of the week, but they also serve egg dishes. And kids will be over the moon with their wide variety of dessert pancakes.
Insider's Tip: For an extra dollar, they can make your pancakes gluten free and vegan on request.
Love pancakes? Check out our recipe for Arepas di Pampuna – Pumpkin Pancakes from Curaçao!
17. Bistro De Suikertuin – Brunch in a Garden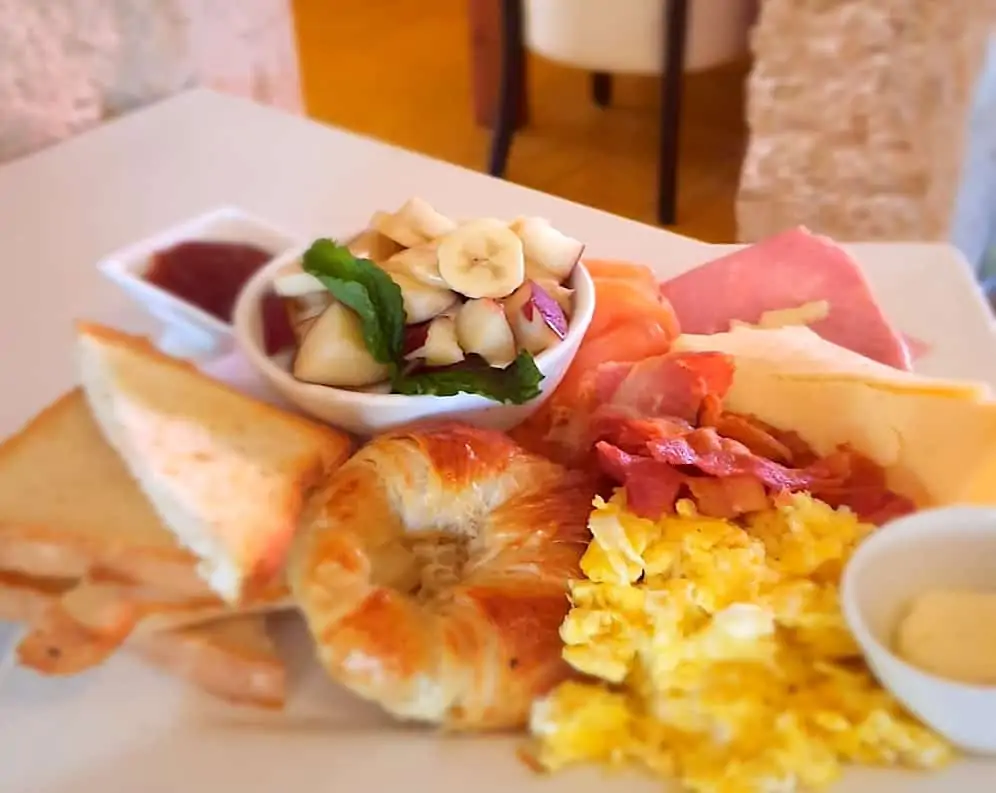 Housed in a delightful lemon-yellow heritage home downtown, Bistro De Suikertuin is a favourite spot for locals, and they do their brunches on Saturdays.
The name means sugar garden due to the abundance of sugar birds in their lovely courtyard.
Eat inside or outdoors on the patio and enjoy their set price all-you-can-eat a la carte menu of typical brunch fare that includes unlimited mimosas. Served from 11 a.m. to 2 p.m.
Insider's Tip: They also serve a fabulous Royal High Tea and Royal High Wine presentation here.
18. Aquarius at Renaissance Wind Creek Aruba Resort – Aruban Brunch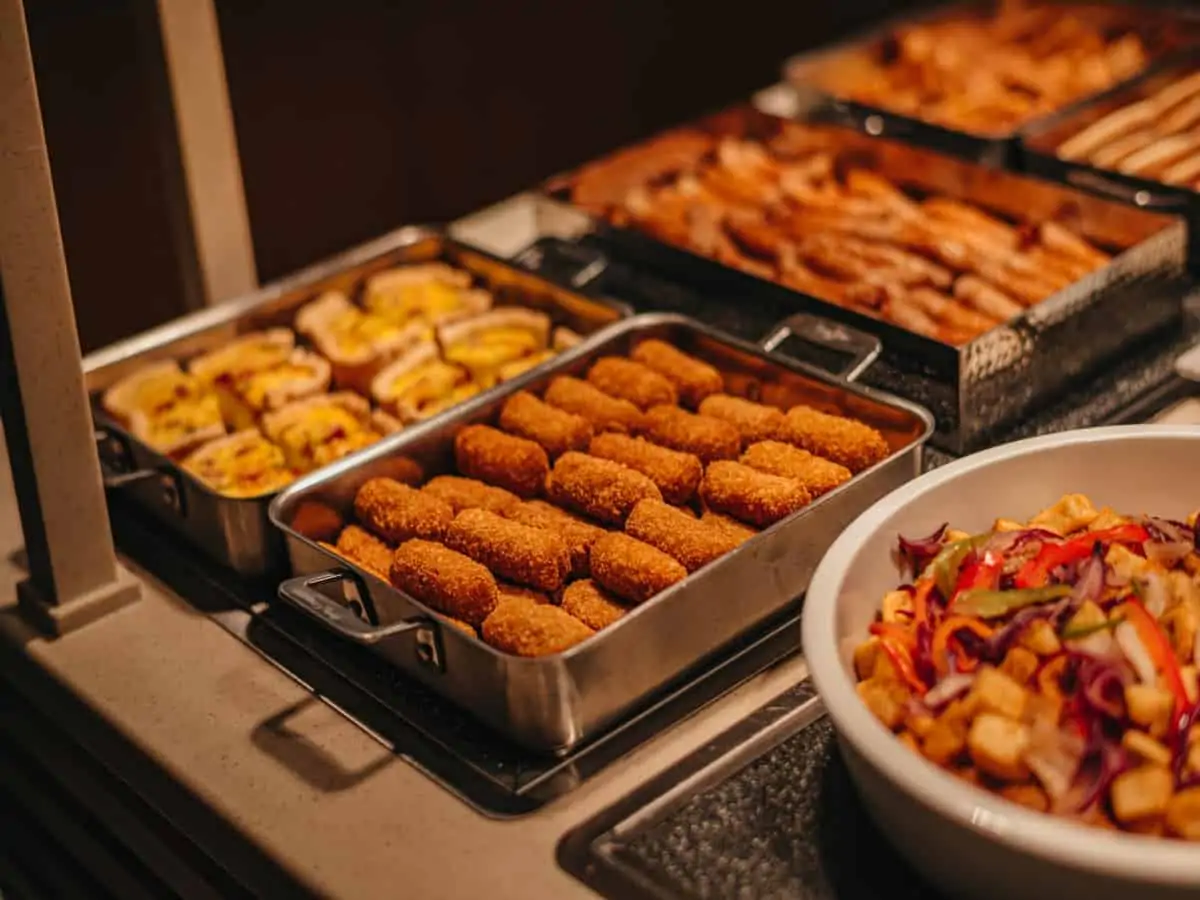 The Sunday brunch at Aquarius in the Renaissance Marina Hotel offers up authentic Aruban flavours where the chefs serve up traditional Caribbean fare, both a la carte and buffet style. Local favourites include pastechi, croquettes, and empanadas.
But there is also a large choice of brunch staples including a carving station, an omelet station, and there's also sushi, an ice cream bar, and more. Set price also includes bottomless bubbles and mimosas. Served from 12 p.m. to 3:30 p.m.
Insider's Tip: Children 5-12 years of age half price.
19. Boardwalk Boutique Hotel Aruba – Floating Brunch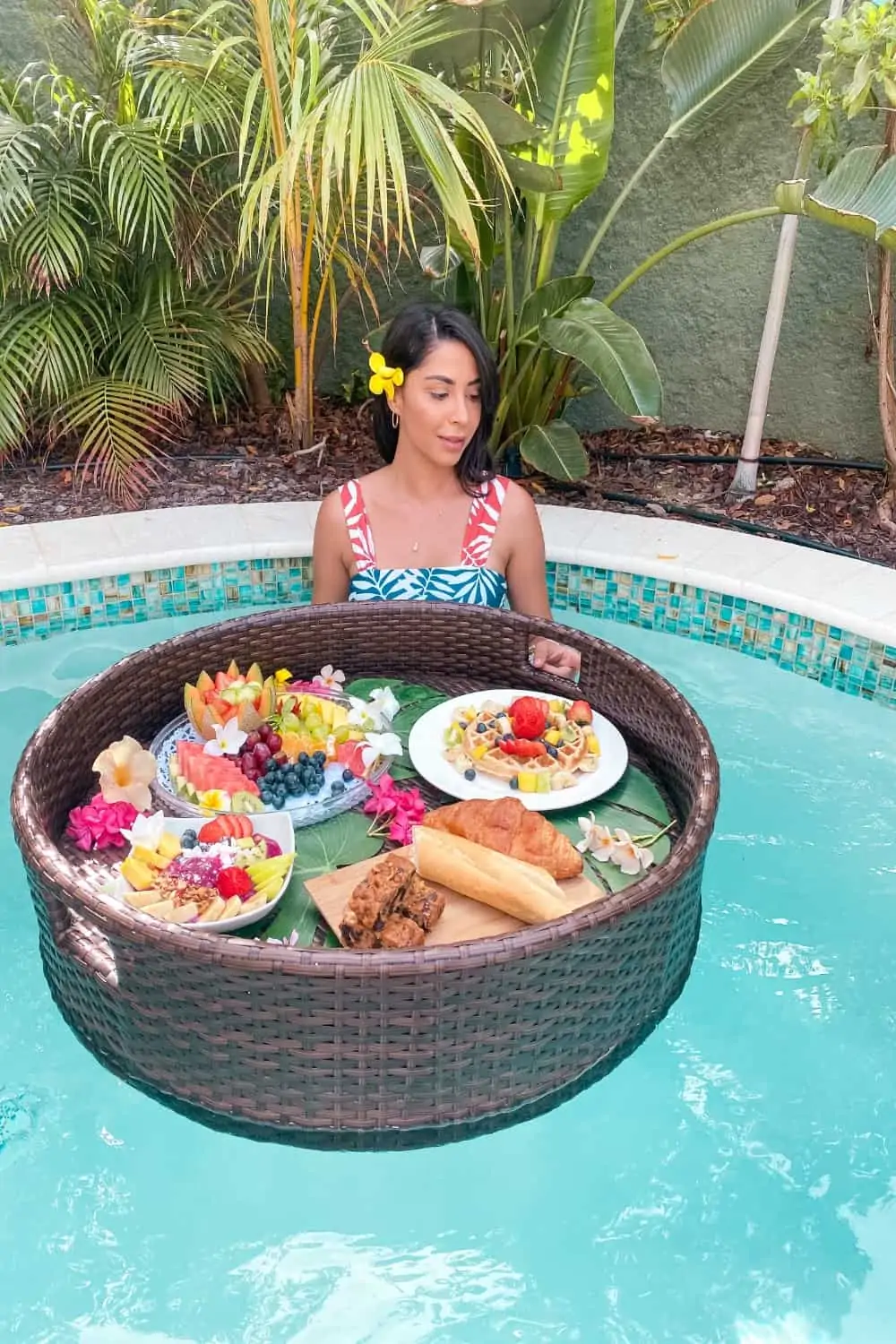 Though you must be a guest of the ONLY villa with a private plunge pool at the Boardwalk Boutique Hotel to enjoy this, add it to your bucket list.
This spectacular, exclusive floating breakfast experience can be served whenever you want it, so ideally, it can be a brunch.
At Boardwalk Boutique Hotel Aruba food is provided by their new on-site partner Eduardo's Beach Shack, famous island-wide for their delicious healthy fare.
Of course, the makings for mimosas are also included. Experienced at one of the best boutique hotels on Aruba, the floating breakfast is ideal for honeymooners.
Insider's Tip: Eduardo's is also famous for their awesome vegan specialities and delivers non-floating breakfast to all the casitas.
Check rates and availability at the Boardwalk Boutique Hotel Aruba on Booking.com.
20. Dessert Trucks, Pop-ups and Honorable Mentions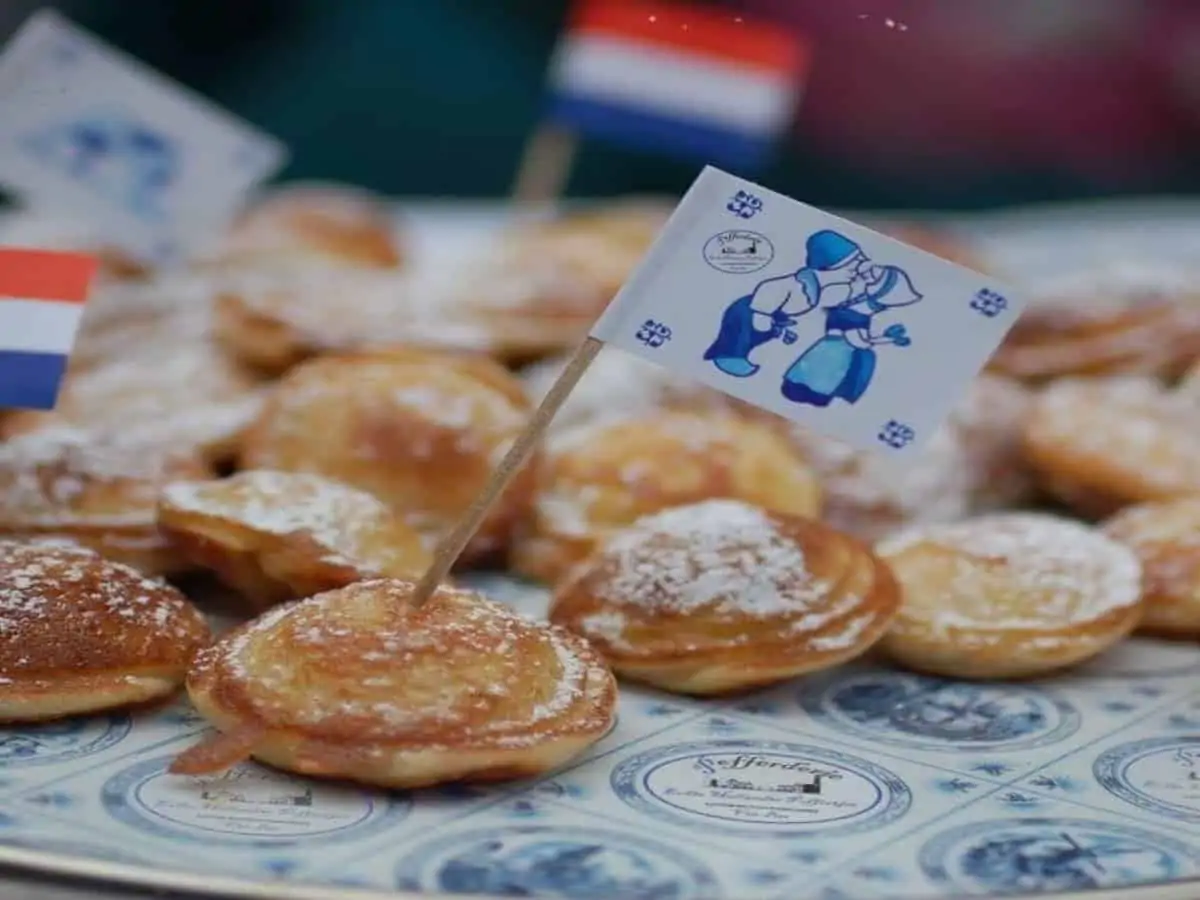 The Cove Mall has many brunchy choices including a French bakery and a Pancake Factory. And keep an eye on YOLO's social networks (also there) for pop- up events called YOBO (You Only Brunch Once).
Brand new Brutto Beach House in Noord is garnering buzz for their Sunday brunch showcasing modern fusion cuisine and it includes bottomless mimosas, Bellinis and prosecco.
And if you want a preview of the silver dollar style Dutch pancakes, sleuth out Poffertjes van Pofferdorie Aruba dessert truck on the Palm Beach strip. They serve late into the night.
Insider's Tip: Taste My Aruba downtown is moving to a new larger location soon and will serve what they call "Drunch" due to the proliferation of signature libations they intend to offer!
Happy brunching on One Happy Island! You might need to extend your vacation in order to sample all these fabulous Aruba brunch options.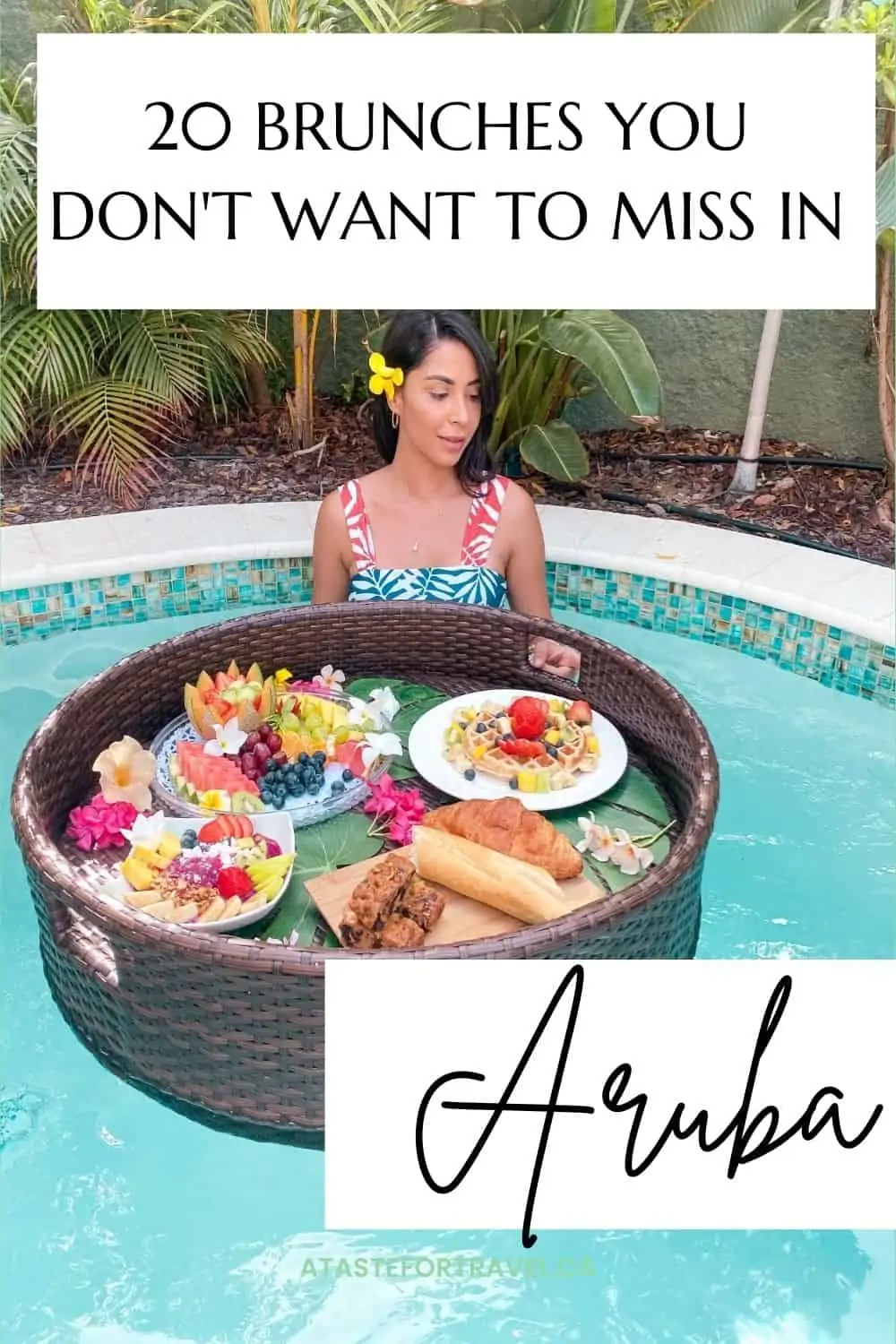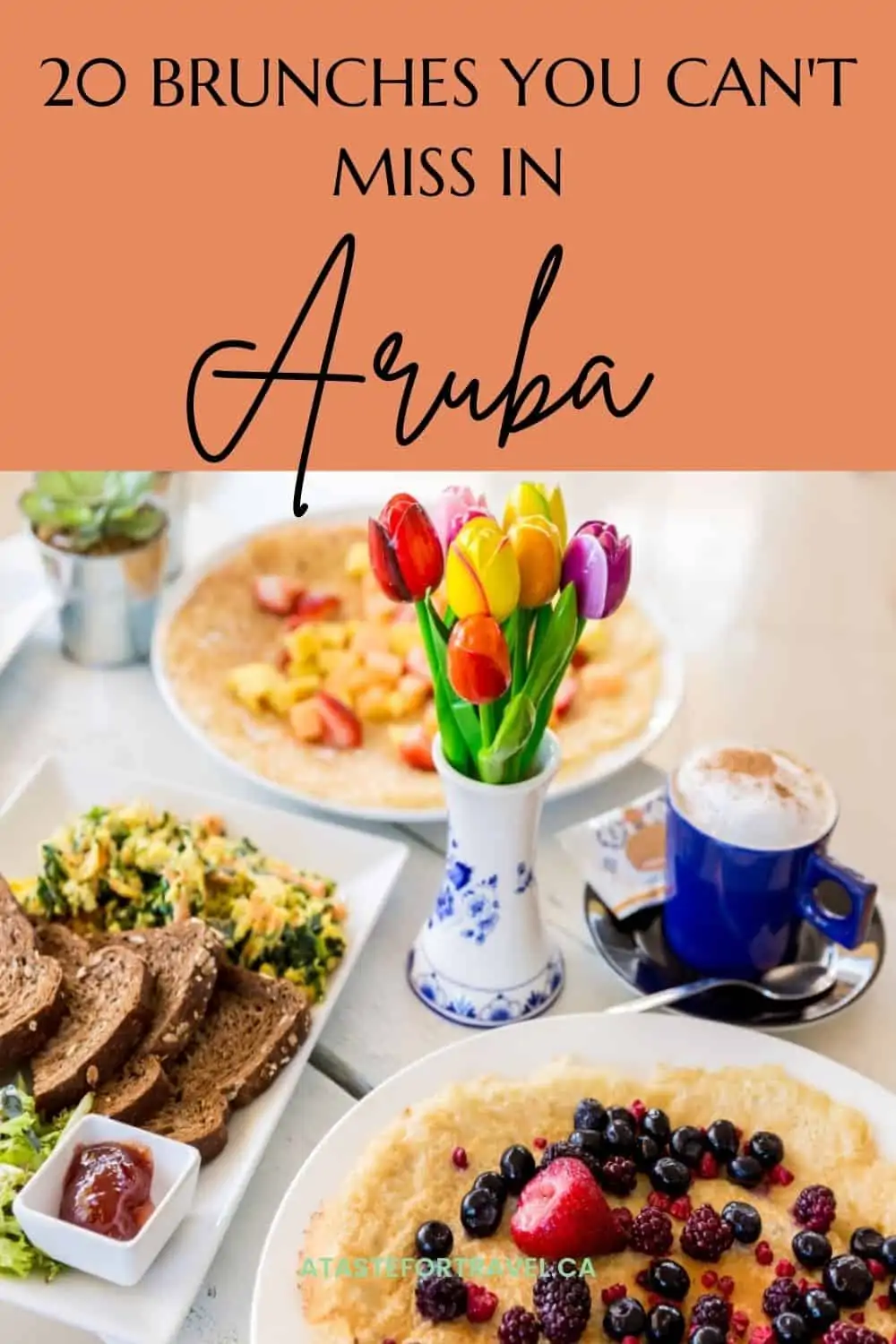 Aruba Tourism Authority
Get maps, travel advice on points of interest in Aruba and other valuable resources on the official tourism website. Check the official Aruba Tourism Authority site for details on attractions and sightseeing.
Aruba on a Budget
Visiting Aruba on a budget? Balance your so-worth-it dining splurges with our insider tips on how to experience Aruba to the fullest — from free concerts to sights you can enjoy for absolutely free – in our post on Best Free Things to Do in Aruba.
Sue Campbell is an award-winning Canadian travel writer specializing in the Caribbean and other tropical hot spots.
She's authored major guidebooks for Fodor's (Aruba, Bonaire, Curaçao, Saba) and countless magazine articles about the Dutch Caribbean for their on-island guides and websites.
Her work has appeared in Reader's Digest, USA Today 10Best, Forbes, Montreal Gazette, Globe & Mail, Toronto Star, National Geographic, Afar, Business Insider, Journey, Matador, Delta Sky Magazine, Costco Travel and many more. Follow her journeys on social here.
Learn more about Sue Campbell.