We may earn income from links in this post. Please read this Disclosure for details.
This Dutch Caribbean island has a wealth of large resorts, but if you're looking for a memorable stay, there are a few extraordinary boutique hotels in Aruba worth considering.
We've stayed in every one of these luxury hotels, villas and apartments and love how unique they are!
They've got stunning locations, personalized service, quality design and offer a truly authentic way to discover Aruba.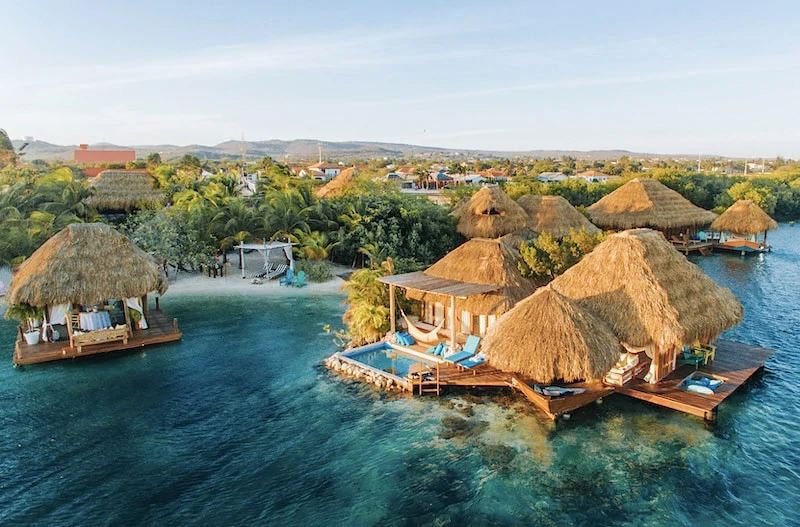 Here are our top picks for the best boutique hotels in Aruba, from luxury villas to dreamy cottages, upscale apartments, unique Airbnbs and glamorous resorts set on the beach.
They're ideal for independently minded travellers, couples and families looking for a taste of the real Aruba:
1. Aruba Ocean Villas – Overwater Bungalows in Aruba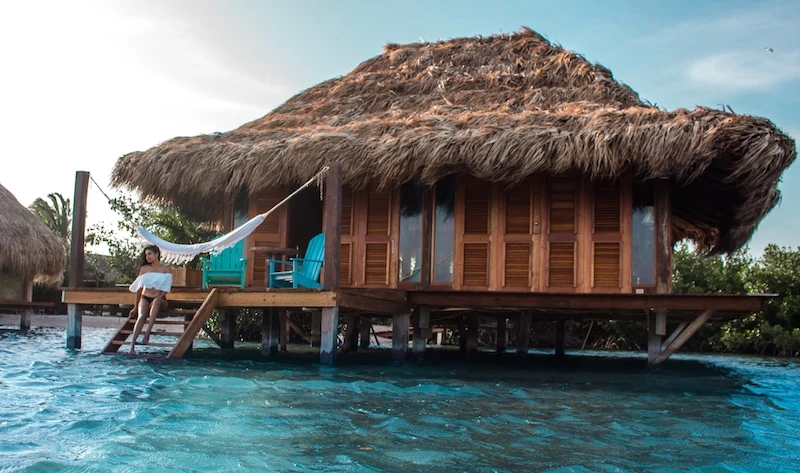 Each time I return to the South Pacific style oasis called Aruba Ocean Villas tucked away in a secret spot in Savaneta, I'm amazed by how beautiful it is. And it just keeps getting better and better.
During my first stay in the Jojoli overwater bungalow, I awoke each morning to the sound of birdsong and showered in an outdoor shower beneath a spout made of a conch shell.
Evenings, I relaxed in the big indoor soaking tub, in a hammock or on one of two decks featuring jaw-dropping views.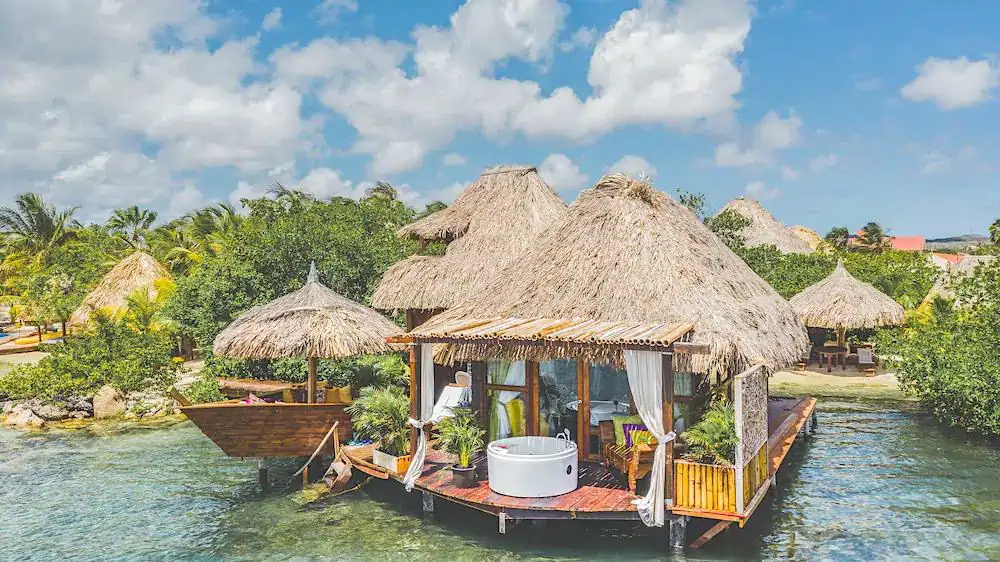 Today they have added a boat deck with an outside whirlpool to it, and a soothing outdoor spa just behind. They have also added a split-level tree house, more overwater bungalows they call penthouses – massive two-level emporiums with extras like peek-a-boo sea view floors inside, and personal sea dipping pools with private kayaks outside.
They must be seen to be believed!
There are also new bamboo beach cabins, and a sprawling mangrove canal and pool community being built behind it all that will be devoted to health and wellness holidays.
Awash in tropical blooms, original art and bespoke décor that artist/owner Osyth Henriquez has curated from her world travels – think hand-painted pianos, crystal chandeliers made from tree branches, Balinese mahogany canopied beds, and hammocks absolutely everywhere, it's awe inspiring at every turn.
Luxe amenities include butler service, ensuite dining, and one overwater palapa private dining spot (for resort guests only) or toes-in-the-sand dining at their Old Man and the Sea Restaurant on their private little beach ( breakfast also included there) with pre-dinner craft cocktails at their cute little Toteki tiki bar.
Be sure to try their rock lobster, it's locally caught.
Insider's Tip: Note that the restaurant is open to the public but there only 10 tables. Resort guests get first dibs, so reservations are mandatory, and the resort is strictly adults-only.
One of the best luxury boutique hotels in Aruba and one of the best places to stay for couples, this blissful hideaway is just begging to be discovered.
It's a wonderful spot for small destination weddings, as well.
Complimentary sea kayaks allow guests to explore the mangroves and outer islands. They also supply snorkel equipment if you want to explore under the waters.
Life is slow and easy here. In fact, it's easy to disappear into this hideaway for a week or two and leave the rest of the world behind.
Foodie Alert: A few steps next door is Zeerovers Aruba, a seafood restaurant you don't want to miss. Local fishermen bring their catch to the pier daily so not only is the seafood super fresh but you get to dine on the waterfront at budget prices.
2. Amsterdam Manor Beach Resort – Eagle Beach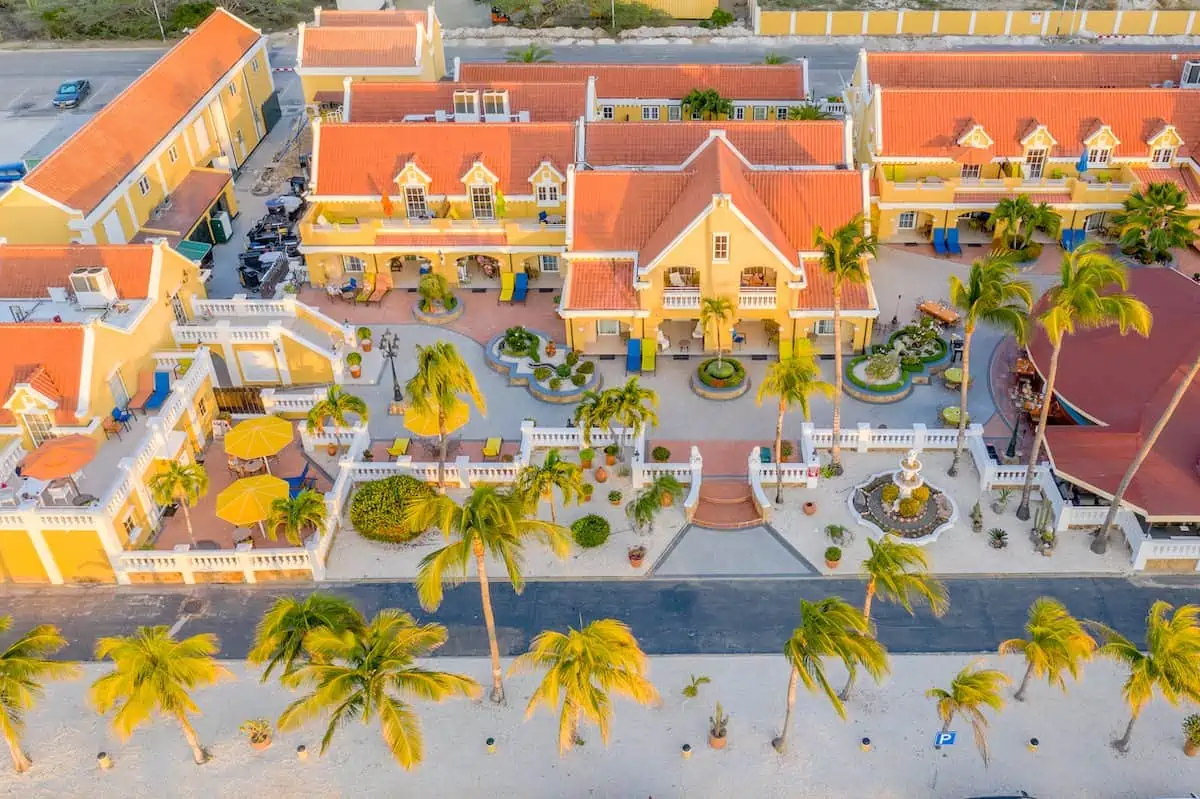 Though this Dutch colonial style landmark boutique low-rise hotel (72 rooms) emits a regal air with a coat of arms crest at the entrance, Amsterdam Manor Beach Resort is best known historically as a down-to-earth style stay favoured by Dutch families.
The fact that all rooms have kitchens and all you need to self-cater, plus it's a short walk to Super Food Plaza to stock up on supplies, makes it a draw for budget travellers.
Even though it has recently undergone a brilliant resort-wide refreshment from top to bottom, it still retains a welcoming community feel.
The interior of all their rooms sports a brand new fresh, contemporary look, splashes of Caribbean colours, updated bathrooms, new furniture, and modern appliances now grace all kitchens.
They have also updated their elevated pool bar Horizons Lounge with killer new cocktails and bites and a daily double Happy Hour. But they also offer room service, and their on-site dining is divine.
Now you can enjoy breakfast as well as lunch and sunset drinks and snacks at their newly expanded Passions Beach Bar.
It's located on a stellar strip of famed Eagle Beach right across the street and right beside the iconic twisted Fofoti trees you see in so much of Aruba's marketing.

Don't miss a spectacular splurge-worthy dinner with toes in the sand by tiki torch at their signature Eagle Beach oasis Passions on the Beach, it's one of Aruba's most romantic restaurants:
Amsterdam Manor is an AAA Three Diamond, pet-friendly boutique resort, and note they are totally cashless.
Check prices and availability of Amsterdam Manor Beach Resort on Booking.com.
3. Bucuti & Tara Beach Resort – Luxury on Eagle Beach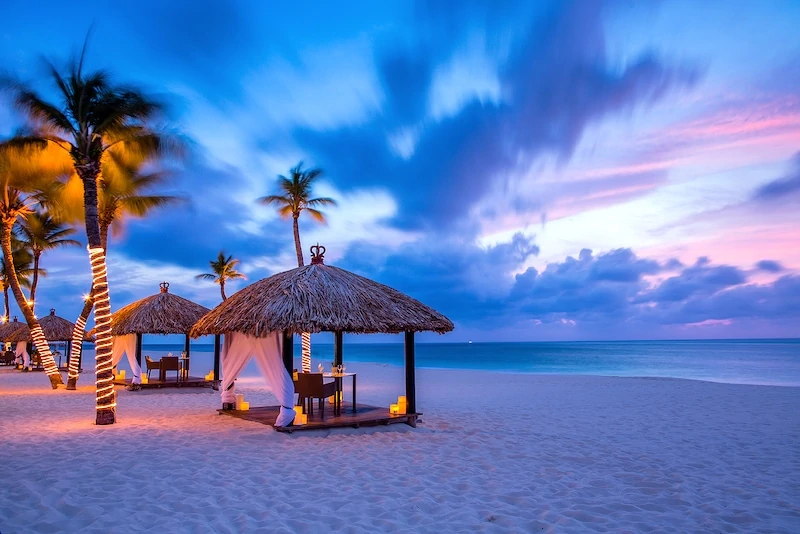 With 45 suites and 59 guest rooms, Bucuti & Tara Beach Resort is the largest of the luxury boutique hotels on our list.
But that doesn't mean it doesn't have loads of privacy and everything you need for an intimate stay. Guests even have their own personal concierge during their stay.
Located on Eagle Beach, this exclusive property is for adults 18+ and will appeal to couples on a honeymoon or romantic getaway.
Its private beach palapas are even on our list as one of the Top 10 Romantic Restaurants for Date Night in Aruba.
One of the top luxury hotels in Aruba, another advantage of Bucuti & Tara is that it's committed to sustainable, environmentally-friendly practices in all facets of its operation. It was the Caribbean's first and remains its only carbon-neutral hotel.
This eco-friendly philosophy also applies to its restaurants. There are loads of vegan and vegetarian options available.
You can feel good about a stay at this planet-friendly boutique resort.
Check prices and availability at Bucuti & Tara Beach Resort on Booking.com.
4. Boardwalk Boutique Hotel Aruba – Luxury Near Palm Beach
Tucked away in the Palm Beach area of Noord, Boardwalk Boutique Hotel is a collection of luxury cottages set in its own private Garden of Eden of coconut palm trees, ferns and tropical foliage surrounding two saltwater freeform swimming pools.
There's also a spa and gym on site, along with varied food and beverage options. If you're a guest in their private villa with plunge pool, you can enjoy a spectacular, floating breakfast experience.
This unique and memorable experience is on our list of Aruba's Top 20 Brunches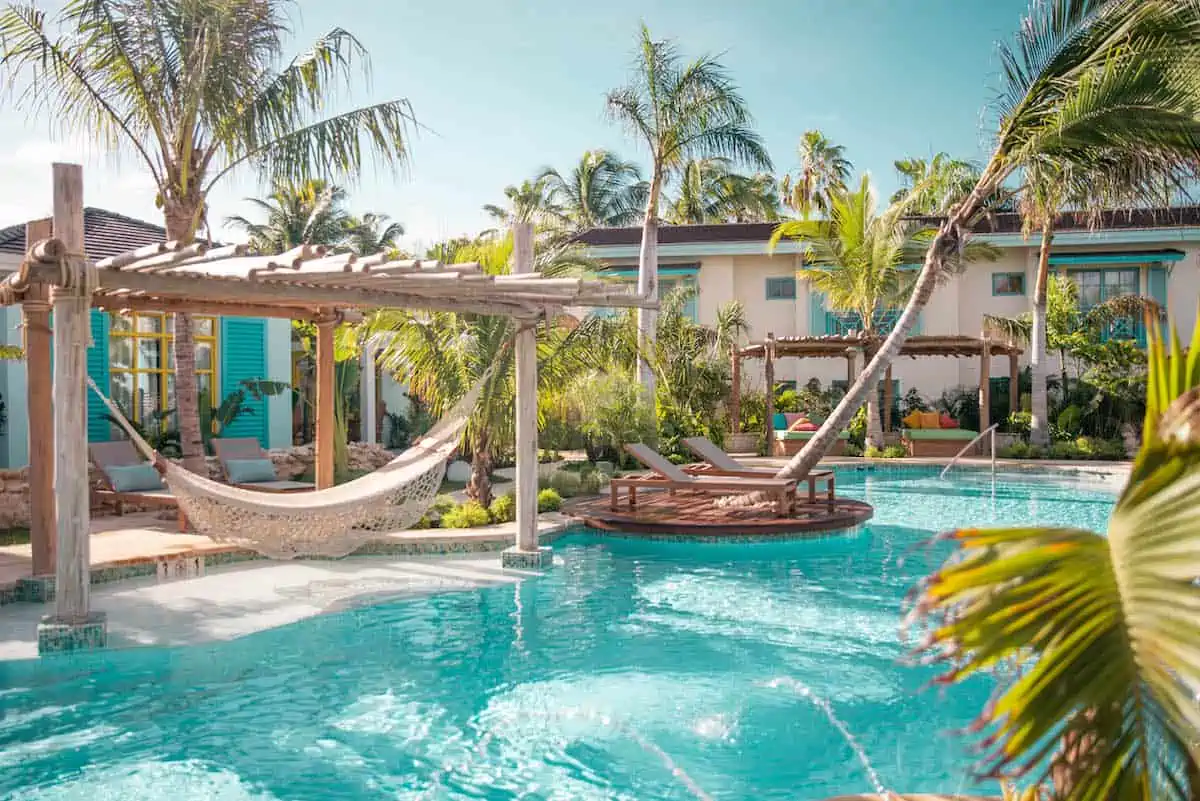 This low-rise boutique hotel is literally across the street from the Ritz-Carlton Aruba yet feels a world away from the glitzy casino scene. Plus it's eco-friendly!
While the Boardwalk Boutique Hotel Aruba is one of the best places to stay in Aruba for couples on a romantic getaway or honeymoon, it also suits families with children aged 12 and up, who crave the conveniences of home.
The 46 casitas range in size from studio to two-bedroom units. Free parking is available onsite.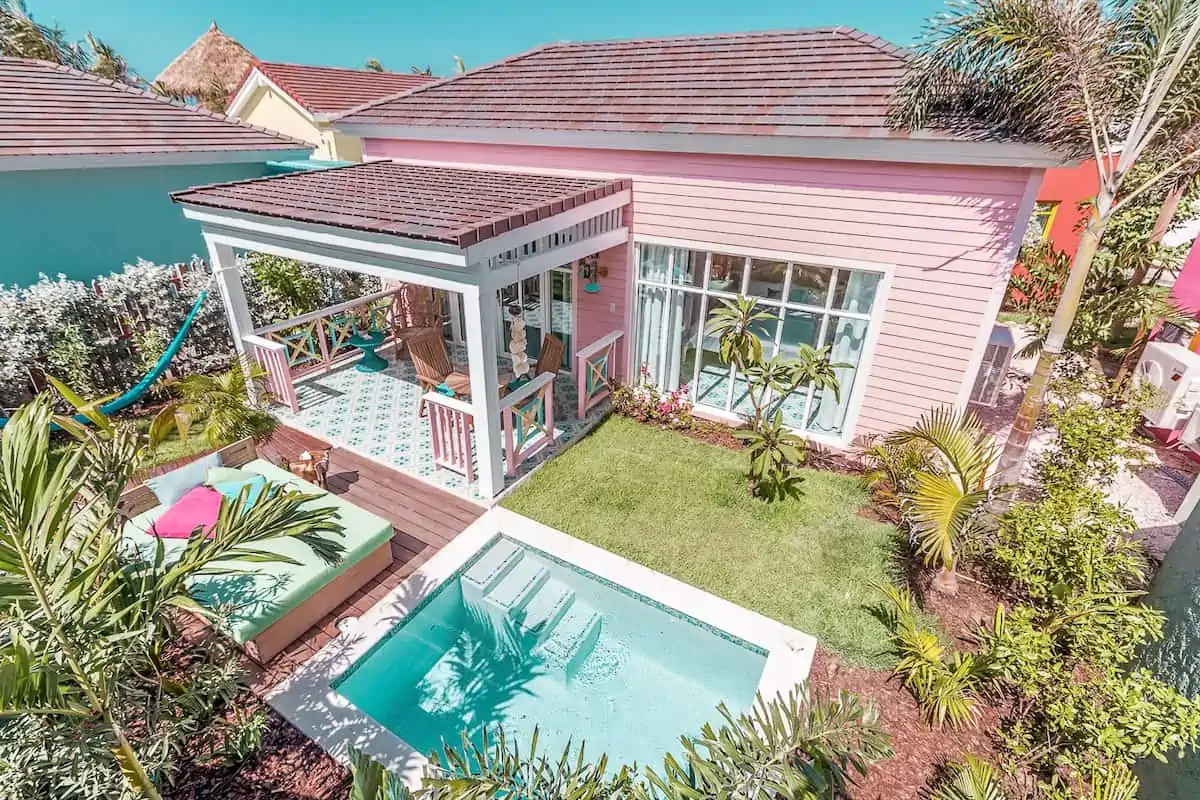 During our stay, we swooned over our spacious bedroom, full kitchen and living room combo and luxurious washroom with plush towels and in-room dispensers delivering premium Aruba Aloe shampoos, conditioners and lotions.
Everything was sparkling clean and modern. Best of all, there was a private terrace complete with barbecue grill and a hammock where we could laze away the day.
Although not located directly on the beach, guests have access to the gorgeous, dedicated Boardwalk Beach area on Palm Beach less than a five-minute walk across the street.
It's decked out with loungers, shade, towels and even an outdoor shower!
Servers riding Segways in the sand from Ritz Carlton's pool and beach grill next door serve Boardwalk guests lounge-side, too. They even offer discounts on their food and drink.
So much fun to watch!
Boardwalk guests also get special discounts at Vela Watersports on site, Aruba's premiere operator for watersport equipment rental and instruction.
Check prices and availability for Boardwalk Boutique Hotel Aruba on Booking.com.
5. Bubali Luxury Apartments – Aruba Boutique Apartments
Located within the quiet residential neighbourhood of Bubali, literally a few streets behind SuperFood Plaza (Aruba's largest full service modern grocery store) this collection of four boutique apartments is a rare find.
A superb location, an adults-only policy and plenty of luxurious touches make Bubali Luxury Apartments an ideal spot for extended stays and long stays.
To begin, the quality of construction and finishing in these apartments is exceptional. There are modern euro cabinets, stainless steel appliances, glass walk-in showers, flat screen TV, a spacious living/dining room area and high ceiling.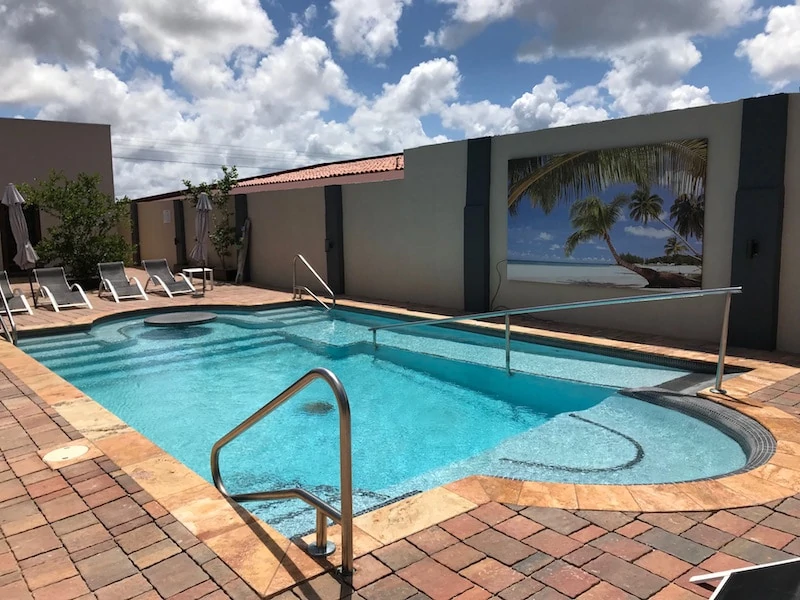 We stayed in a two-bedroom apartment and each bedroom featured spacious closets, a king-size bed and its own AC unit .
The outdoor space includes a private terrace with a dining table and lounge area overlooking the shared swimming pool. A BBQ and outdoor kitchen are also available for guest use.
Guests can spend idyllic days lounging on the pool deck or relaxing on a beach lounger with cooler and beach toys (supplied in each apartment) during a sun-filled day at nearby Eagle Beach, one of the world's top beaches. Free parking also adds to the savings.
Extra Special: Each apartment is completely wheelchair accessible. And the ingenious thing about the design of Bubali Luxury Apartments is that all of the design elements of the wheelchair accessible features are subtly incorporated into the contemporary decor of the property.
From extra wide doorways, bed lifts and an adjusted toilet, shower and washbasin, these apartments rival the standards of even the most accessible hotel properties in the Caribbean.
There are even two wheelchairs available to borrow plus a beach wheelchair. The swimming pool even has a special ramp for wheelchairs.
The entire property is so barrier-free and easy to get around. There's no low lighting, deep bathtubs or hazards to trip over. Seniors as well as people with mobility issues will appreciate the features of this low-rise, barrier-free property.
It's definitely one of the best apartments in Aruba.
Check prices and availability for Bubali Luxury Apartments on Booking.com.
6. OceanZ Boutique Hotel – Private Plunge Pools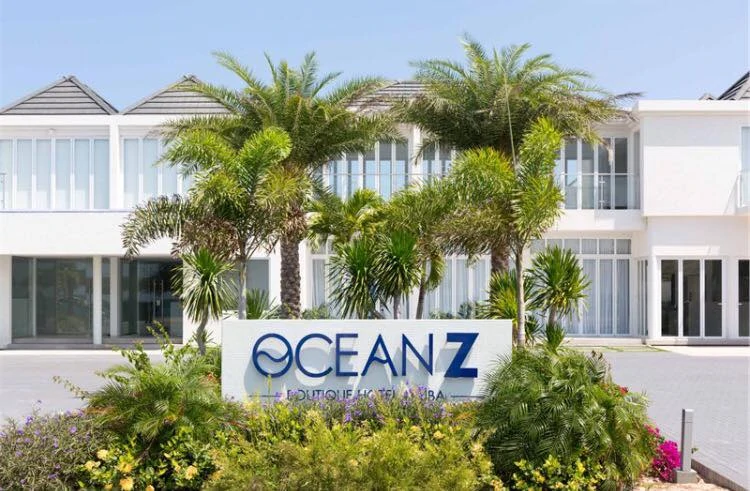 One of the best boutique hotels in Aruba, OceanZ Boutique Hotel is just minutes from high-rise hotel strip yet worlds away from the touristic frenzy.
Tucked in the lovely little residential neighborhood of Malmok, OceanZ offers 13 intimate rooms across the road from gorgeous sea cliffs above a snorkelling spot famous for its abundance of colorful tropical fish.
Created by well-known Venezuelan fashion designer Eva Zissu who has made Aruba her home for many years, OceanZ was envisioned as a spot where she could entertain in style and offer guests an intimate luxury Aruba experience.
Everything is personally curated from the modern white décor splashed with bright pink hibiscus blooms to the massive indoor/outdoor rain showers with a Zen motif.
The star suites are the master ocean front balcony abodes with their own plunge pool and whirlpools, but the smaller suites also hold an alluring appeal, all flanking the saltwater infinity pool.
A private chef, pool service, a stand-alone bar with signature cocktails and personalized menus all make you feel like you are her only guest. And though it's not on a swimmable beach, it offers stellar sunset views over the sea from the glassed-in dining room and outdoor dining nook.
For a beach day, this luxury boutique hotel will supply everything you need including transportation to and from two popular beaches nearby.
Check prices and availability for OceanZ Aruba Boutique Hotel on Booking.com.
7. Villa Royale Aruba – Posh Villa in Noord
Imagine a private mansion perched up in the hills overlooking the Noord region of Aruba that looks like something out of "Lifestyles of the Rich and Famous".
Then imagine yourself staying there for a fraction of what you would pay for a typical beachfront hotel on Aruba, if you share it with a group.
That's the reality of staying at this posh three-story villa that can accommodate up to 25 people. It's like having our own private luxury boutique hotel. And only a select few know about it!
I was lucky to stay there during a girls' getaway (with a group of travel writers and local friends) and we made the most of our luxury weekend in Aruba.
A catered dinner on the spacious outdoor deck, a dip in the huge pool by firepit light at the built-in pool bar and a soak in the big whirlpool, then lots of dancing and imbibing (they have an in-house wine cellar) it really was a night to remember.
There are eight spacious bedrooms in all, each with contemporary decor and private bathroom. Some even have a deck while another has a massage table and an exercise bike. One is almost a standalone apartment with its own private entrance.
The formal dining table seats 20 while the breezy outdoor dining area affords a stellar view of the large pool and Aruba's coastline. I had major kitchen-envy of Villa Royale Aruba's sleek Euro-cabinets, decked out shelving, countertops and gleaming appliances.
Extra Special: The price is right for this luxury villa in Aruba if you split it with a group ($2,000 USD a night and it sleeps 25 people).
It makes an ideal escape for a classy corporate retreat, a big family reunion or a girl's getaway such as a health and wellness retreat.
Concierge service for whatever your heart might desire is also available through Barbulet Concierge. You can arrange for a driver, private chef and more. You can also get a tray of Dutch tapas to go from Café 080 a popular bar in Noord.
Note: There is a minimum 5-night stay. Check prices on Villa Royale Aruba
8. Glamping in an Airstream RV – A Unique Place to Stay in Aruba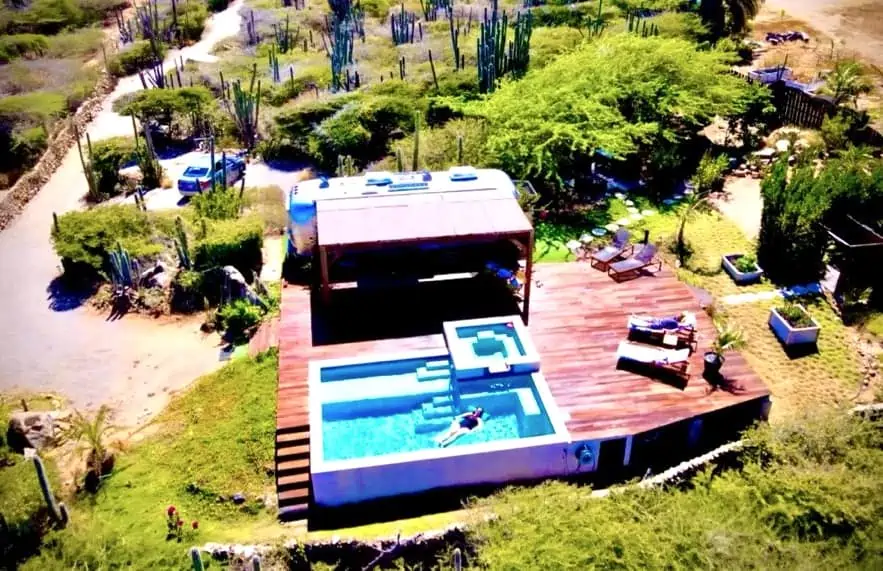 For another unique place to stay in Aruba, it's also worth checking out the new Airbnb listing for a glamping stay in a 30-foot Flying Cloud Airstream.
This 2-bedroom, luxury RV/camper is located on three secluded acres surrounded by cacti and ocean views. It features a private saltwater pool, outdoor Bali-style shower and an herb and spice garden.
Soak up the views and seclusion as you lounge or go exploring at this memorable place to stay in Aruba.

YOU MIGHT ALSO ENJOY:
Save on Pinterest!