We may earn income from affiliate advertising links in this post. Please read our Disclosure Statement for details.
This Dutch Caribbean island has a wealth of amazing large resorts, but if you're looking for a unique and memorable stay, there are a few extraordinary hideaways and luxury boutique hotels in Aruba worth considering.
Each of these properties are different from each other but are united by the fact they feature stunning locations, personalized service, quality design and a truly authentic way to discover Aruba.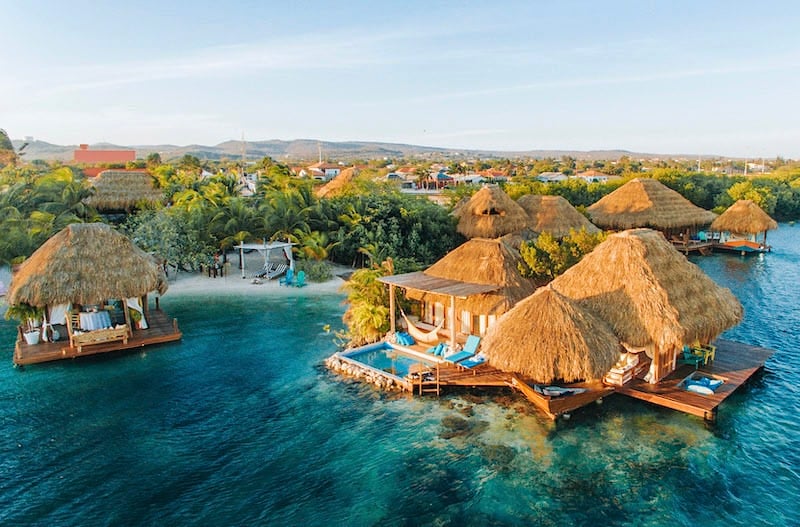 Here are our top picks for the best small hotels in Aruba, from luxury villas to dreamy cottages, hidden apartments and glamorous boutique hotels set on the beach.
These unique properties are ideal for independently minded travellers, couples and families looking for a taste for the real Aruba.
Once you check into one of these under-the-radar hideaways, you'll never want to leave your personal island paradise.
1. Boardwalk Small Hotel Aruba – A Unique Boutique Hotel in Aruba
Tucked away in the Palm Beach area of Noord, Boardwalk Small Hotel is a collection of luxury cottages set in its own private Garden of Eden of coconut palm trees, ferns and tropical foliage surrounding a saltwater freeform swimming pool.
This low-rise boutique hotel is literally across the street from the Ritz-Carlton Aruba yet feels a world away from the glitzy casino scene. Plus it's eco-friendly!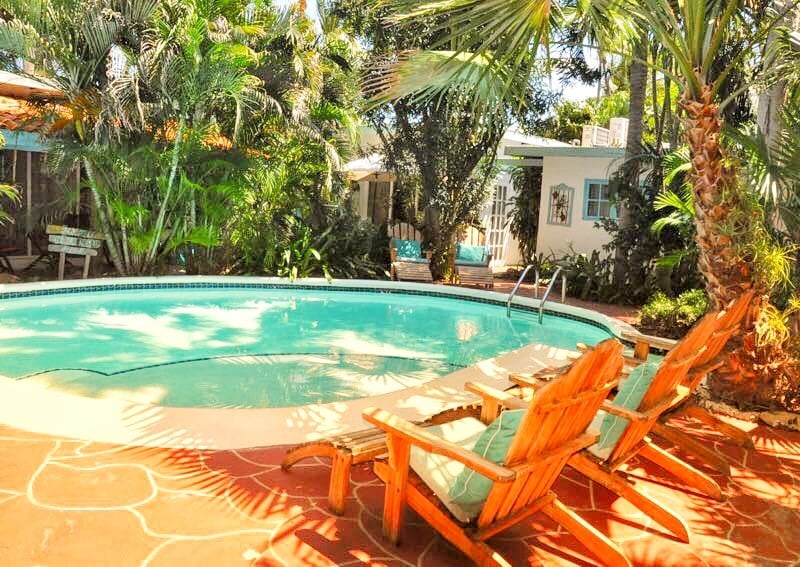 While the Boardwalk Small Hotel Aruba is one of the best places to stay in Aruba for couples on a romantic getaway or honeymoon, it also suits families with small children who crave the conveniences of home. The 14 casitas range in size from studio to two- bedroom units.
During our stay, we swooned over our cheery casita featuring a spacious bedroom, full kitchen and living room combo and luxurious washroom with plush towels and in-room dispensers delivering premium Aruba Aloe shampoos, conditioners and lotions.
Everything was sparkling clean and modern. Best of all, there was a private terrace complete with a hammock where we could laze away the day.
Although not located directly on the beach, guests at the Boardwalk Hotel have access to a gorgeous oasis of prime Palm Beach real estate between the Aruba Marriott and Stellaris Casino and the Ritz-Carlton across the street.
The Boardwalk Beach Club is decked out with loungers, shade palapas (and food service) plus everything you need for an ideal beach day – from towels, coolers, folding beach chairs, beach toys and snorkel gear. There's even an outdoor shower.
Extra Special: Be wary of opening the "Treasure Chest" box in your casita or you may never want to leave Aruba. The hotel is owned by local twin sisters who are determined to get you out to explore their island home from top to bottom, so they've curated the best experiences all in one spot for you. The tiny box is filled with so many enticing tips and suggestions you'll want to stay forever to try them all.
Check prices for Boardwalk Small Hotel Aruba.
2. Bubali Luxury Apartments – Aruba Boutique Apartments
Located within the quiet residential neighbourhood of Bubali, literally a few streets behind SuperFood Plaza (Aruba's largest full service modern grocery store) this collection of four boutique apartments is a rare find.
A superb location, an adults-only policy and plenty of luxurious touches make Bubali Luxury Apartments an ideal spot for extended stays and long stays.
To begin, the quality of construction and finishing in these apartments is exceptional. The modern euro cabinets, stainless steel appliances, glass walk-in showers, flat screen TV, spacious living/dining room areas and high ceilings really add to the upscale feel.
We stayed in a two-bedroom apartment and each bedroom featured spacious closets, a king-size bed and its own AC unit . The outdoor space includes a private terrace with a dining table and lounge area overlooking the shared swimming pool. A BBQ and outdoor kitchen are also available for guest use.
Guests can spend idyllic days lounging on the pool deck or relaxing on a beach lounger with cooler and beach toys (supplied in each apartment) during a sun-filled day at nearby Eagle Beach, one of the world's top beaches.
Extra Special: Each apartment is completely wheelchair accessible. And the ingenious thing about the design of Bubali Luxury Apartments is that all of the design elements of the wheelchair accessible features are subtly incorporated into the contemporary decor of the property.
From extra wide doorways, bed lifts and an adjusted toilet, shower and washbasin, these apartments rival the standards of even the most accessible hotel properties in the Caribbean. There are even two wheelchairs available to borrow plus a beach wheelchair. The swimming pool even has a special ramp for wheelchairs.
The entire property is so barrier-free and easy to get around (no low lighting, deep bathtubs or hazards to trip over) I found myself imagining bringing my parents to Aruba. Both of them are 87 years old and while not in wheelchairs, they would appreciate the senior-friendly features of this low-rise, barrier-free, well-lit property, definitely one of the best apartments in Aruba.
Check prices for Bubali Luxury Apartments.
3. Aruba Ocean Villas – Overwater Bungalows in Aruba
Each time I return to the South Pacific style oasis called Aruba Ocean Villas I'm amazed by how enchanting it is. And it just keeps getting better and better.
Far from the touristy beaches and tucked away in Savaneta on a private beach (where the renowned restaurant The Old Man and the Sea once stood), owner artist Oysth Henriques has been quietly creating Aruba's very first collection of Tahitian style overwater bungalows. A spa set on an island is also on her list of dreamy things to create.
One of the best luxury boutique hotels in Aruba and one of the best places to stay for couples, this blissful hideaway currently features three charming beach villas and three overwater bungalows.
All are big on natural wood with giant thatched palapa roofs and decorated uniquely with the owner's original art plus antiques and interesting items from her world travels.
At every turn there is something creative or surprising. For example, every villa features a crystal chandelier. The chandelier in "Dushi Sue Villa" is made from a native Divi-Divi tree branch.
Complimentary sea kayaks allow guests to explore the mangroves and outer islands. Bring your own snorkel equipment if you want to explore under the waters.
During my stay in the Jojoli overwater bungalow, I awoke each morning to the sound of birdsong and showered in an outdoor shower beneath a spout made of a conch shell. Evenings, I relaxed in the big indoor soaking tub, in a hammock or on one of two decks featuring jaw-dropping views.
With resident pelicans frolicking at my feet, it was like being in Aruba's version of cottage country but with the luxury touches of a boutique villa hotel.
Life is slow and easy here. In fact, it's easy to disappear into this secret hideaway for a week or two and leave the rest of the world behind.
Check prices for Aruba Ocean Villas
Foodie Alert: A few steps next door is Zeerovers Aruba, a seafood restaurant you don't want to miss. Local fishermen bring their catch to the pier daily so not only is the seafood super fresh but you get to dine on the waterfront at budget prices.
4. OceanZ Boutique Hotel – Private Plunge Pools
On my radar for my next visit to Aruba is a secret stay shared by travel writing colleague and Aruba expert Sue Campbell who had stayed there recently. One of the best boutique hotels in Aruba, OceanZ Boutique Hotel is just minutes from high-rise hotel strip yet worlds away from the touristic frenzy.
Tucked in the lovely little residential neighborhood of Malmok, OceanZ offers 13 intimate rooms across the road from gorgeous sea cliffs above a snorkelling spot famous for its abundance of colorful tropical fish.
Created by well-known Venezuelan fashion designer Eva Zissu who has made Aruba her home for many years, OceanZ was envisioned as a spot where she could entertain in style and offer guests an intimate luxury Aruba experience. Everything is personally curated from the modern white décor splashed with bright pink hibiscus blooms to the massive indoor/outdoor rain showers with a Zen motif.
The star suites are the master ocean front balcony abodes with their own plunge pool and whirlpools, but the smaller suites also hold an alluring appeal, all flanking the saltwater infinity pool.
A private chef, pool service, a stand-alone bar with signature cocktails and personalized menus all make you feel like you are her only guest. And though it's not on a swimmable beach, it offers stellar sunsets over the sea from the glassed-in dining room and outdoor dining nook.
If you crave a day of the white sand and aqua waves Aruba is so famous for, this luxury boutique hotel will supply everything you need including transportation to and from two popular beaches nearby.
Check prices for OceanZ Aruba Boutique Hotel
5. Villa Royale Aruba
Imagine a private mansion perched up in the hills overlooking the Noord region of Aruba that looks like something out of "Lifestyles of the Rich and Famous". Then imagine yourself staying there for a fraction of what you would pay for a typical beachfront hotel on Aruba, if you share it with a group. That's the reality of staying at this posh three-story villa that can accommodate up to 25 people. It's like having our own private luxury boutique hotel. And only a select few know about it!
I was lucky to stay there during a girls' getaway (with a group of travel writers and local friends) and we made the most of our luxury weekend in Aruba. A catered dinner on the spacious outdoor deck, a dip in the huge pool by firepit light at the built-in pool bar and a soak in the big whirlpool, then lots of dancing and imbibing (they have an in-house wine cellar) it really was a night to remember.
There are eight spacious bedrooms in all, each with contemporary decor and private bathroom. Some even have a deck while another has a massage table and an exercise bike. One is almost a standalone apartment with its own private entrance.
The formal dining table seats 20 while the breezy outdoor dining area affords a stellar view of the large pool and Aruba's coastline. I had major kitchen-envy of Villa Royale Aruba's sleek Euro-cabinets, decked out shelving, countertops and gleaming appliances.
Extra Special: The price is right for this luxury villa in Aruba if you split it with a group ($2,000 USD a night and it sleeps 25 people). It makes an ideal escape for a classy corporate retreat, a big family reunion or a girl's getaway such as a health and wellness retreat.
Concierge service for whatever your heart might desire is also available through Barbulet Concierge. You can arrange for a driver, private chef and more. It's a great way to do Aruba as a jetsetter!
Note: There is a minimum 5-night stay. Check prices on Villa Royale Aruba
---
Travel Guide for Best Small and Luxury Boutique Hotels in Aruba
Aruba Tourism Authority and New Entry Requirement: Get maps, travel advice and other valuable resources on the official tourism website. In accordance with guidelines of the World Health Organization (WHO), Aruba has introduced a policy requiring travellers from select countries to have proof of vaccine against yellow fever effective March 1, 2018.
Exceptions include people with certain medical conditions as well as those 60 years of age and older. Check the official Aruba Tourism Authority site for details.
San Nicolas: The new Art Walk is a must visit, plus Baby Beach is definitely worth a day trip for sand and aqua surf. Check out our post with a list of the Top Free Things to Do in Aruba Beyond the Beach.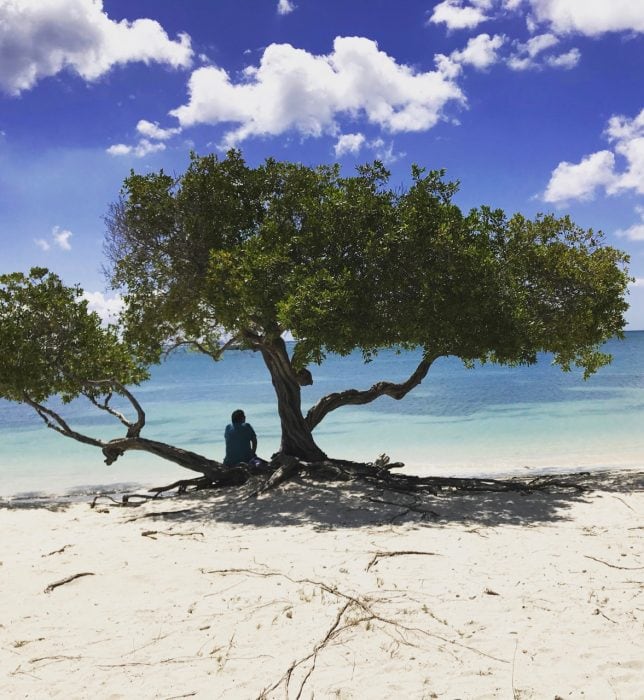 Green Bike Aruba: View cycling routes, locate bike rental kiosks, browse organized tours and get a gift card for a free 30 minute rental online. greenbikearuba.com
Cultural Event: The Bon bini Festival ("welcome" in the local Papiamento dialect) showcases Aruba's amazing steel drum musicians, dancers and artists every Tuesday at 6:30 pm at Fort Zoutman, admission is $5 (USD).
Soul Beach Music Festival: This annual weekend music and comedy event takes place each May and is considered one of the top five Caribbean festivals. www.soulbeach.net
Quinta Del Carmen Restaurant: www.quintadelcarmen.com
Mauchie's Smoothies: Make a healthy stop at Mauchie's Smoothies in Savaneta
First-Class Experience Aruba: Avoid queues at customs and immigration by booking the premium arrival and departure service at Aruba's Queen Beatrix International Airport. First Class Experience Aruba service includes personalized welcome (or departure), fast-track escort through immigration, luggage handling and access to the private Aruba Airport VIP lounge.
YOU MIGHT ALSO ENJOY:
Finding Vegan Heaven at Bucuti & Tara Beach Resort
Keshi Yena: Don't Leave Aruba Without Trying This Dish
10 Can't Miss Beach Bars in Aruba
Diving into Dutch Tapas on Aruba
Top 7 Things Every First-time Visitor Should Do on Bonaire
Renaissance Private Island: A Top Luxury Experience in Aruba
Save on Pinterest!
The Vegan Vacationista @VeganVacay enjoys the luxe life in Aruba