We may earn income from links in this post. Please read this Disclosure for details.
One of the top places to eat in Aruba if you're looking for Dutch snacks is Café 080 Aruba.
While Kroket, Bitterballen and Frikandel might sound like items in an IKEA catalogue, they're actually names of Dutch tapas, deep-fried snacks enjoyed at neighbourhood bars across Holland.
A world away from their Spanish equivalent, these treats are more fast food than gastronomic marvels. But they're fun, tasty – and a perfect introduction to Dutch culinary culture.
Along with traditional Aruba food, they're a must-try snack when visiting this Dutch Caribbean island as well as neighbouring Bonaire and Curaçao.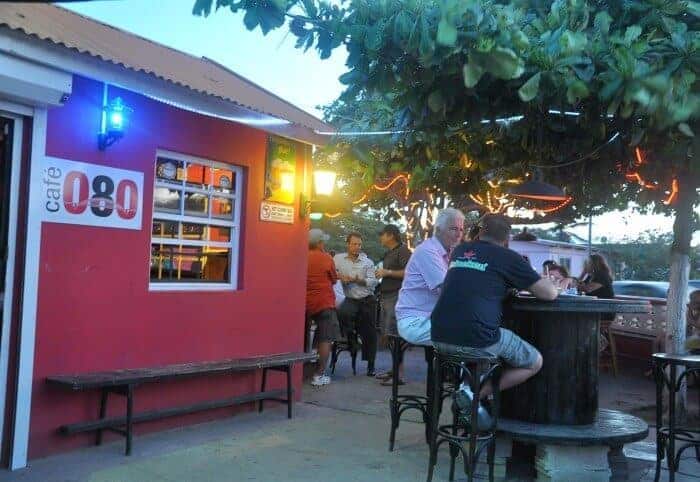 Where to Find Dutch Tapas on Aruba
You don't even have to go to Rotterdam to try them. If you're headed to the island of Aruba, you can find these treats at Café-Bar 080.
Named after an area code in Holland, this leafy watering hole in Aruba's residential Noord neighbourhood doesn't boast an ocean or a sunset view like our top beach bars in Aruba it does offer a nightly parade of Dutch tapas on its outdoor patio.
Grab an ice cold Balashi beer, skewer a cube of Edam cheese with a toothpick and you'll be ready to toast the Kukoo Kunuku party bus as it zooms past.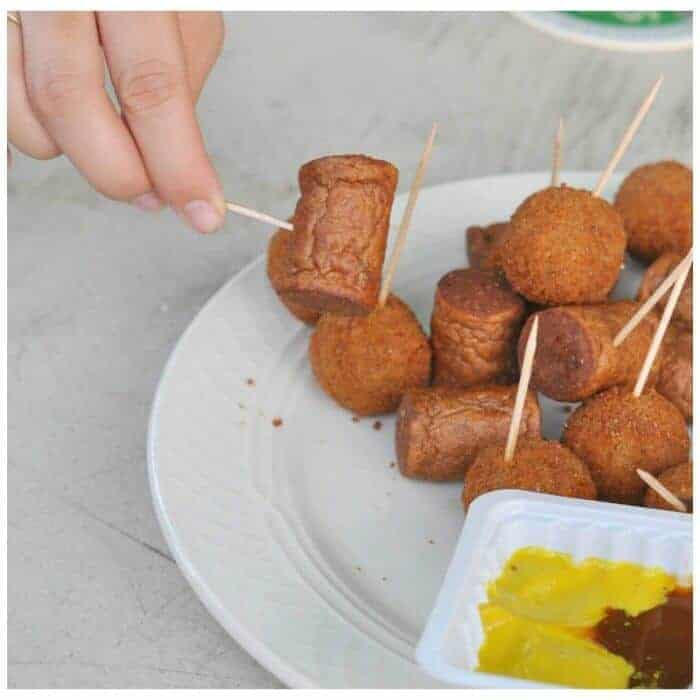 Popular Types of Dutch Tapas
Here's what to watch for on the snack menu at Cafe Bar 080. They're the most popular types of Dutch tapas in Aruba:
Bitterballen: These deep-fried breadcrumbed balls of beef stew have a toasty crunch just made to dip into creamy mayo sauce.
Tosti: Calling these tasty bites a ham and cheese sandwich doesn't do them justice. Watch them disappear.
Kroketten: Oblong-shaped croquettes topped with a fresh spring of parsley.
Frikandel: A skinless wiener that's been deep fried to crispy perfection. Dip them in curry ketchup. More please!
Vlammetjes: Best enjoyed with a spicy chile sauce, these crispy spring rolls are made for sharing.
Kipkorn: How about deep fried chicken served corn dog style?
Andijvie Stamppot: Like potato salad but 100 times better because it's not made with just potatoes but this Dutch creation includes endive, bacon and crème fraîche.
Gouda Cheese: One of the world's most popular cheeses, this sweet, firm yellow cow's milk cheese from the Netherlands is served cut into bite-sized cubes. Gouda cheese is one of the main ingredients in keshi yena, the national dish of Curacao.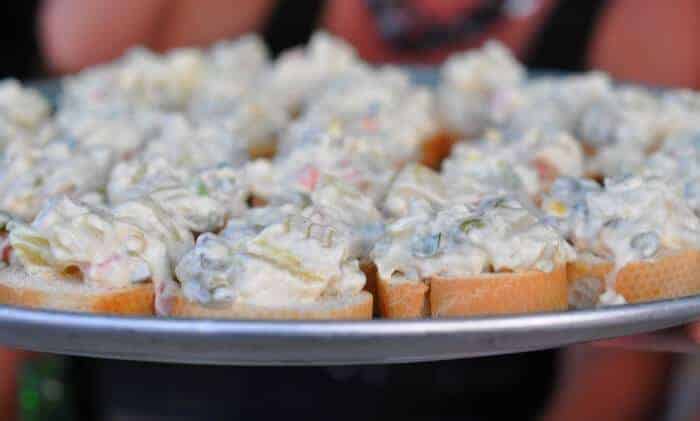 Cafe Bar 080 Aruba is the kind of spot you want to hit up with a crowd so you can swap, share and sample as many Dutch treats as you can.
Don't worry about cost. Prices are a bargain (for example, a kroket is just 3.75 AWG which is around $2 USD).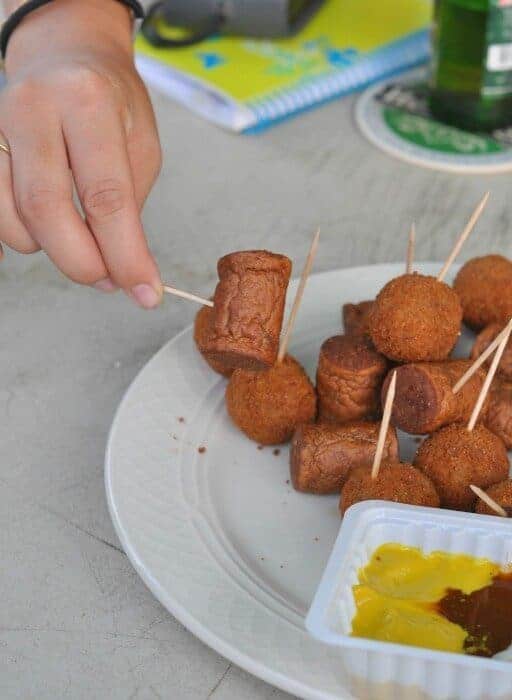 If Café 080 is packed indoors, there's plenty of room outdoors under the shade of a giant chestnut tree garlanded with sparkly white lights.
Stick around until 8:00 pm on weekends and you can party to House and Latin Mix DJ music.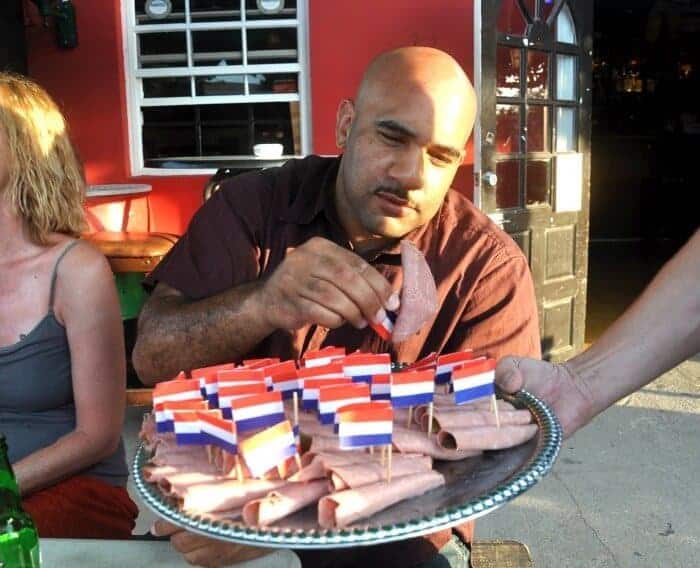 You can even get a takeout platter and create a Dutch tapas party to go.
Their takaway menu is an especially handy option for dinner or cocktail hour entertaining if you're staying in a villa in Noord or planning a picnic for a unique date night in Aruba.
Beach party anyone?
Final Thoughts on this Review of Café 080 Aruba
Website: Cafe 080
Email: info@cafe080.com
Address: Noord 90, Aruba (Google Map)
Phone: 297 586 29 37
Hours: Opens at 3:00 pm daily
Official Aruba Tourism Website: www.aruba.com
Where to Stay
My hotel choice was the Aruba Marriot Resort & Stellaris Casino on beautiful Palm Beach.
In addition to its prime location, cascading swimming pools and lush gardens, it offers the Adults-only Tradewinds Club with a private floor and lounge as well as its own swimming pool and bar.
Palm Beach is a long white sand beach with clear, calm waters perfect for swimming — the profusion of palm trees supply shade and that authentic "I'm on a tropical vacation" feel.
Another great place to stay is the Boardwalk Hotel, our favourite boutique hotel in Aruba.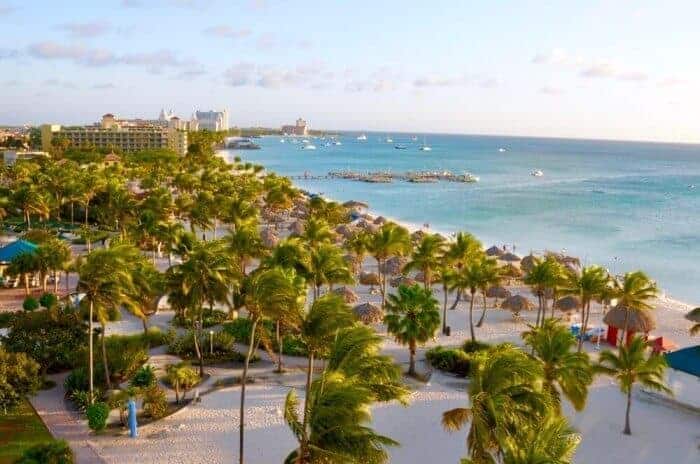 Other Restaurants Serving Dutch Food in Aruba
To continue your foray into authentic Dutch food in Aruba head to Café the Plaza, in the Renaissance Marketplace.
If you time your visit for Happy Hour, you'll have the opportunity to sample an assortment of Dutch tapas such as bitterballen (deep fried meatballs) served with hot mustard.
More Food and Drink in Aruba, Dutch Caribbean
Save to Pinterest!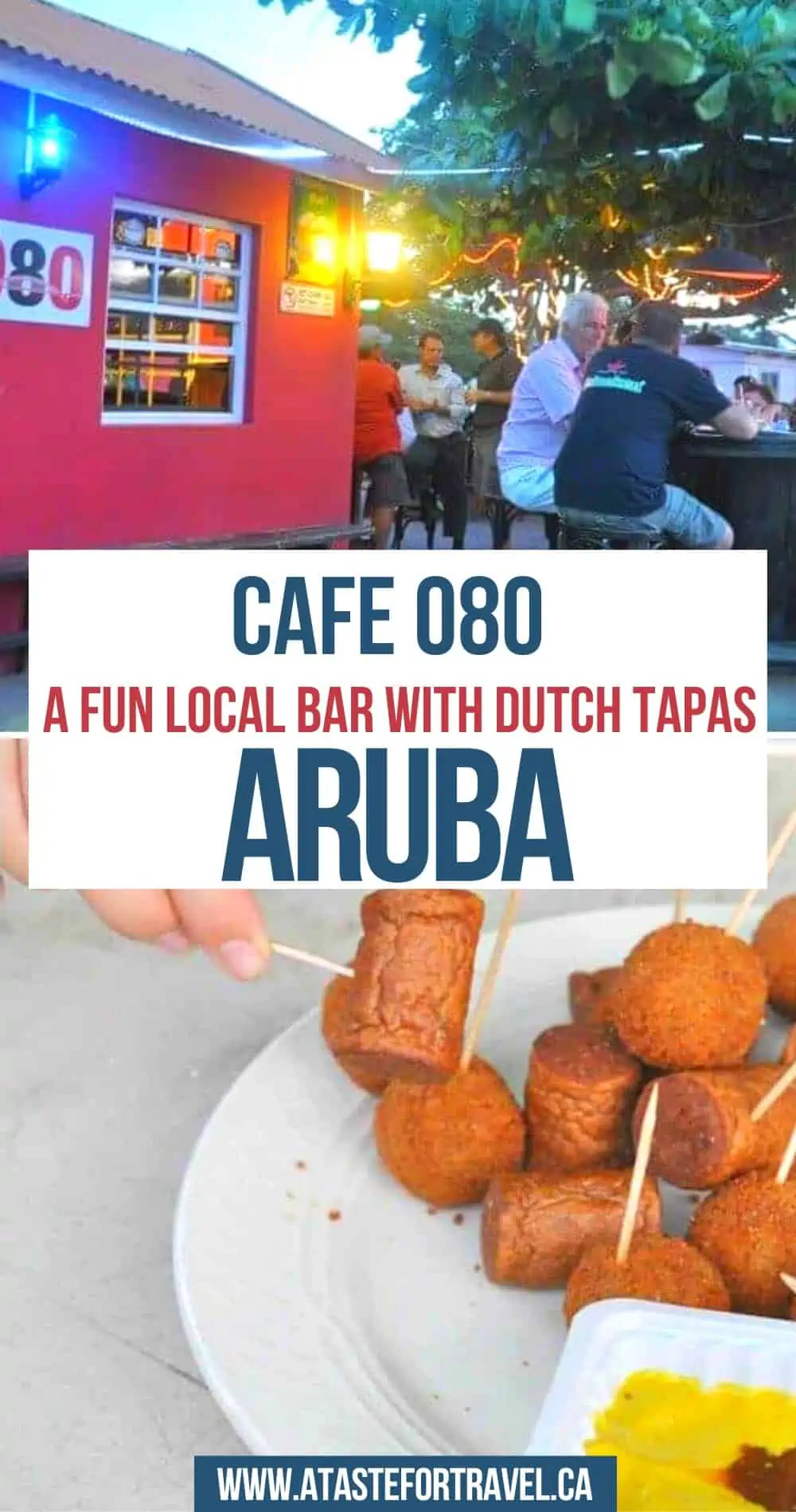 Dividing her time between Canada, Guatemala and Mexico (or the nearest tropical beach), Michele Peterson is the founder of A Taste for Travel. Her award-winning travel and food writing has appeared in Lonely Planet's cookbook Mexico: From the Source, National Geographic Traveler, Fodor's and 100+ other publications.
Read more about Michele Peterson.