We may earn income from links in this post. Please read this Disclosure for details.
This super-easy siboyo tempera recipe is sure to become your summer go-to when looking for a delicious accompaniment for grilled chicken, steak or seafood.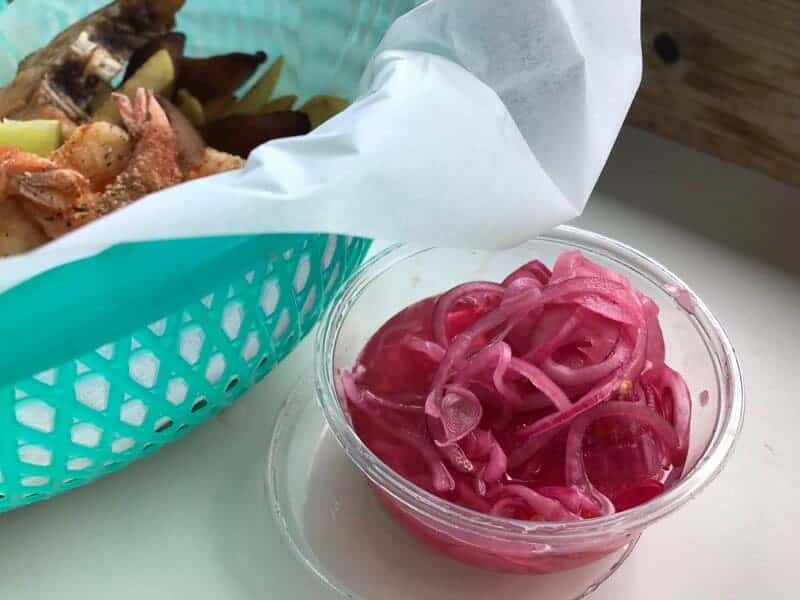 Siboyo Tempera is a Popular Side Dish or Condiment in Aruba
Made of slivered marinated onions and Madame Jeanette hot peppers (known as Madame Janette peppers in Aruba), this sauce is incredibly versatile and offers the perfect combination of heat and sweetness that works with every dish from breakfast to late night snacks.
And best of all, it stays fresh in the fridge for several days — assuming of course, it doesn't disappear in one day it's so good.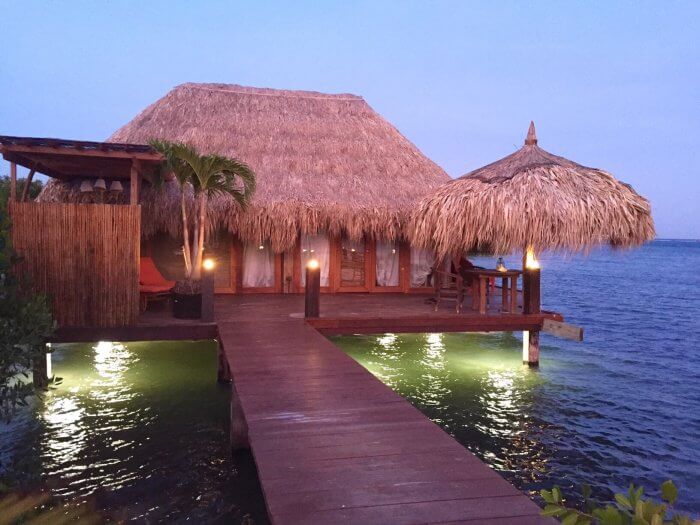 I first discovered this classic Aruban dish during a welcome dinner at the Old Man and the Sea Ocean Villas in the fishing village of Savaneta on the Caribbean island of Aruba.
It was a side dish tucked on the table without much fanfare beside our plates of keshi yena, a ground beef dish that's also a traditional dish on Aruba.
Although I was momentarily distracted by the stunning sunset shape-shifting over the blue Caribbean water, it didn't take long before I got to wondering what it was that the locals at our dinner table were spooning on their food with so much enthusiasm.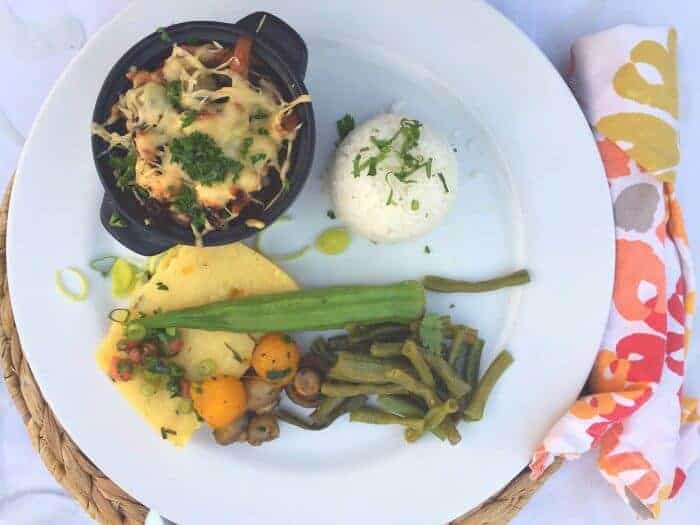 Siboyo Tempera – Onion Salsa Recipe from Aruba
Similar to escabeche, a dish popular in Latin America, siboyo tempera is made of marinated onions and hot peppers.
Fun Fact: Did you know that the cultivation of onions dates back more than 5,00 years and they're very high in good-for-you antioxidants? Learn more fun facts about onions and why you should eat more of them!
The beauty of this dish is that the onions are soaked in water which reduces their bite and the heat is delivered by the slivers of Madame Jeanette pepper rather than jalapenos.
For those of you who think cilantro tastes like soap, you'll be happy to hear that authentic siboyo tempera contains no cilantro.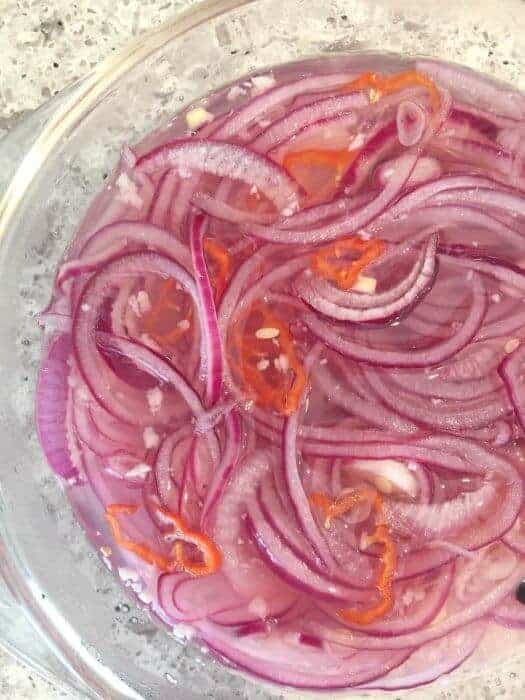 Hot Peppers are Key to Authentic Siboyo Tempera
The Madame Jeanette pepper hails from Suriname and is the key ingredient in many West Indian salsas. Given how close Aruba is to South America it makes perfect sense that this pepper is popular in Aruba. Despite her dainty-sounding name, Madame Jeanette is a fiery hot pepper.
On the Scoville Pepper Index it clocks in between 200,000 to 300,000 heat units which puts in on par with habanero. But rather than being simply scorching hot, Madame Jeanette has a sweetness that makes it especially delicious. Make sure you wear gloves when working with her.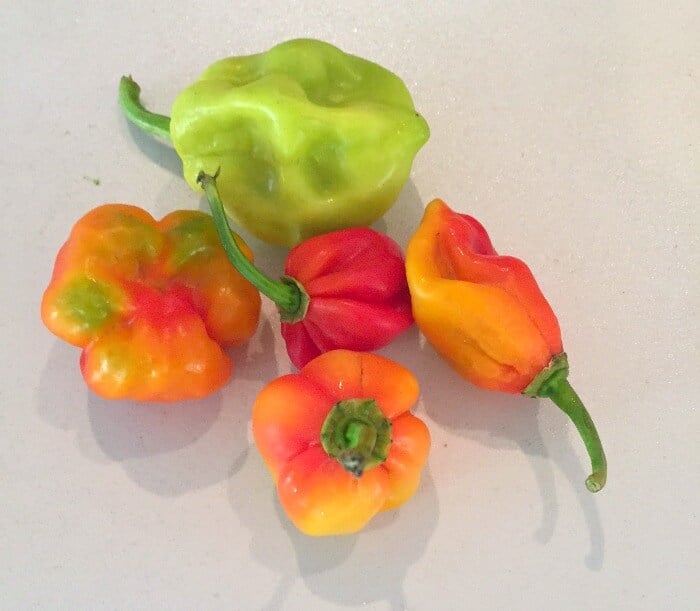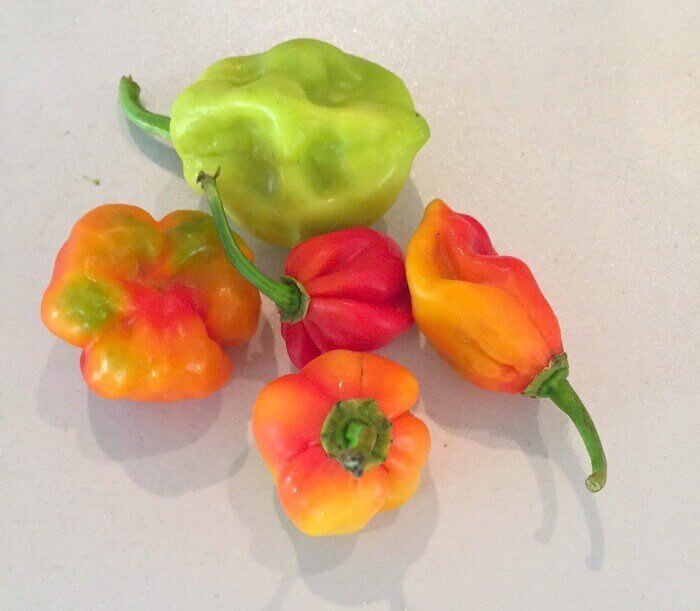 Where to Try Siboyo Tempera in Aruba
This particular siboyo tempera recipe comes from Chef Annelotte Ellis, a talented Aruban chef who has built a stellar reputation on her innovative use of local ingredients, passion for Aruban culinary traditions and culinary skills. If you have an opportunity to sample one of her dishes, you're in for the experience of a lifetime.
You can often find her creating something delicious at Aruba Ocean Villas or her new restaurant Delicious. You can also find siboyo tempera at Zeerovers, a popular seafood restaurant set right on the waterfront in Savaneta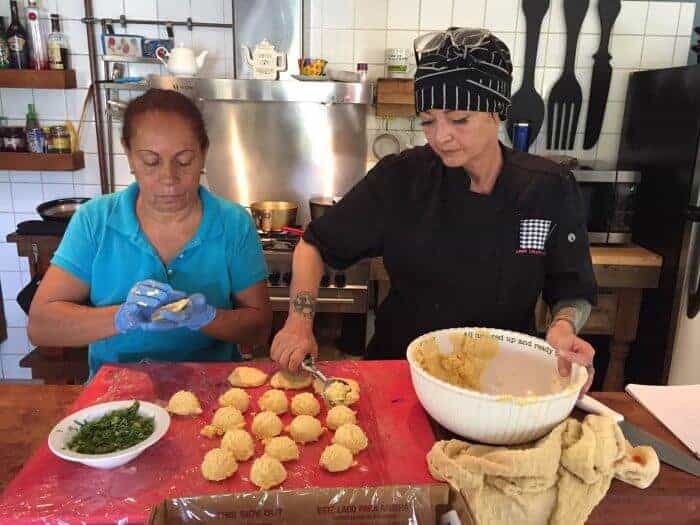 Try this recipe for siboyo tempera this summer!
Print
Siboyo Tempera Aruba Recipe
An Aruban marinated onion and hot pepper sauce ideal for topping fresh fish, chicken or grilled meats.
Ingredients
1 1/2

cup

water

5

tablespoon

white vinegar

1

tablespoon

sugar

or less to taste

2

large

red or white onion

1

Madame Jeanette hot pepper

or Scotch Bonnet

1

clove

garlic

1

teaspoon

salt and pepper to taste
Instructions
Peel and slice onions very thinly

Crush clove of garlic

Remove seeds and slice Madame Jeanette pepper crosswide ( wear gloves)

Mix water, vinegar and sugar in saucepan and heat to boiling, stirring to dissolve sugar

Remove water mixture from heat and pour into glass bowl

Add sliced onions, garlic and hot pepper to water

Cool in refrigerator
Notes
Always wear rubber gloves when handling hot peppers
Use red or white onions ( or a mixture of both) but not yellow onion as the flavour is too sharp
Yield 2 cups
Nutrition
Calories:
10
kcal
|
Carbohydrates:
2
g
|
Sodium:
293
mg
|
Potassium:
18
mg
|
Sugar:
1
g
|
Vitamin A:
55
IU
|
Vitamin C:
8.2
mg
|
Calcium:
1
mg
|
Iron:
0.1
mg
Travel Planner
Aruba Tourism Authority: Get maps, travel advice and other valuable resources on the official Aruba Tourism Authority website. www.aruba.com
Interested in more delicious recipes, travel tips and information about travel to Aruba? Check out these posts:
Beer and Balsamic Marinade for BBQ Steak
Renaissance Private Island: A Top Luxury Experience in Aruba
6 Girlfriend Getaways You'll Love
Finding Vegan Heaven at Bucuti & Tara Beach Resort
Diving into Dutch Tapas at Cafe 080 Restaurant Bar on Aruba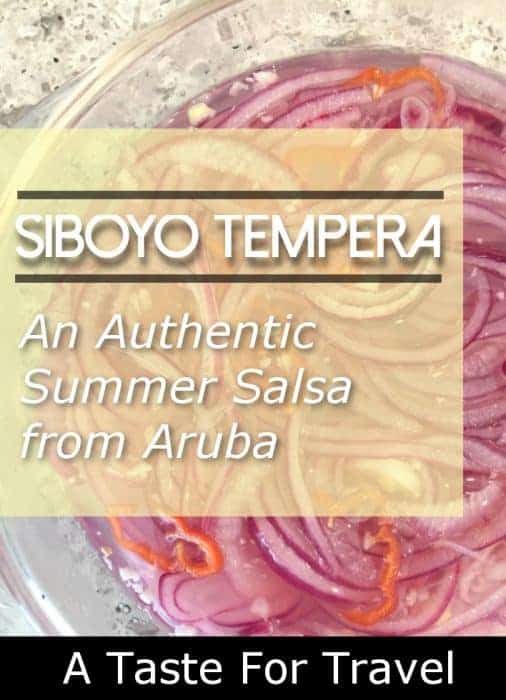 Dividing her time between Canada, Guatemala and Mexico (or the nearest tropical beach), Michele Peterson is the founder of A Taste for Travel. Her award-winning travel and food writing has appeared in Lonely Planet's cookbook Mexico: From the Source, National Geographic Traveler, Fodor's and 100+ other publications.
Read more about Michele Peterson.