We may earn income from links in this post. Please read this Disclosure for details.
Looking for the freshest seafood in Aruba? Zeerovers Aruba, in the town of Savaneta–formerly the country's capital–is more seafood shack than fine-dining. But that doesn't stop it from being one of the best seafood restaurants in Aruba. It's brimming with fresh seafood and authentic local flavour.
Although there are many options for upscale waterfront dining in Aruba, if you're looking for a casual restaurant to chill out with a few Balashi beers, then you've found your happy place at Zeerovers Restaurant. It's one of the most popular Savaneta Aruba restaurants.
Zeerover means "pirate" in Dutch and this fishing collective serves fresh fish caught right from local waters. It's where locals eat in Aruba and a top spot to eat in or take your seafood home to cook in your condo or villa kitchen.
Here's the scoop on what to expect from this fun and fresh fish restaurant in Aruba.
Zeerovers Aruba Location
Located past Queen Beatrix International Airport on a wharf in Savaneta, Zeerovers is easy to get to by car whether you're making a special trip for lunch or stopping on your way back from Baby Beach, San Nicolas or Rodger's Beach.
If you're going to Zeerovers Restaurant from Oranjestad, watch for the OP=OP store (the fascinating Dutch emporium filled with bargain household products) on the righthand side of Highway 1A and make a turn onto the side road.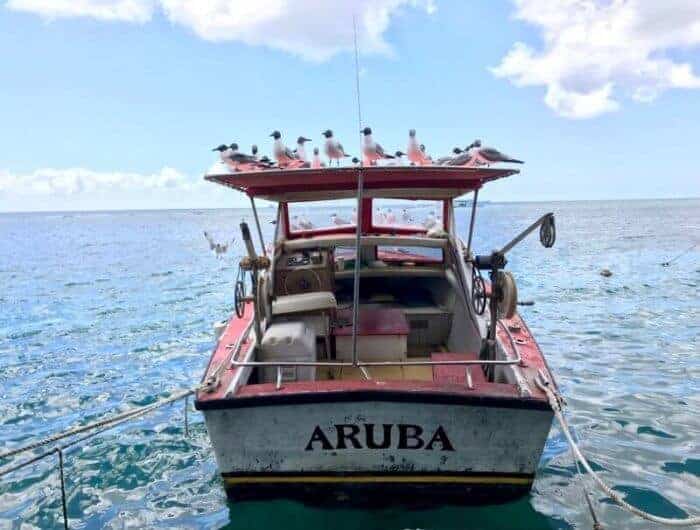 This street leads to a stretch of Savaneta that includes Flying Fishbone restaurant ( an upscale waterfront restaurant open in the evenings) and Aruba Ocean Villas, Aruba's only Tahitian-style overwater villas & beach villas (formerly known as Old Man & the Sea). Look for the pirate's head sign. Parking is on the street and spaces can be tough to find when it's busy so you may need to park a distance away and walk.
It's also possible to take public transportation in Aruba and while I haven't personally taken the bus to Zeerovers, Route 1 of Arubus travels from Oranjestad to San Nicolas, passing through Savaneta so might be an option worth looking into. Check the map in our Travel Guide below.
Zeerovers Aruba Menu
If it's your first time at Zeerovers, you might be a bit confused on how it works. No worries. On our first visit, I asked one of the waiters who told me to simply place our food order at the window before entering the seating area. The menu is posted in the wall in both Papiamento and English. The fish is "Catch of the Day" so could be red snapper, wahoo, kingfish or grouper – it just depends on what the fishermen have hauled in from the ocean that day. Fish and shrimp are ordered by the piece or by weight.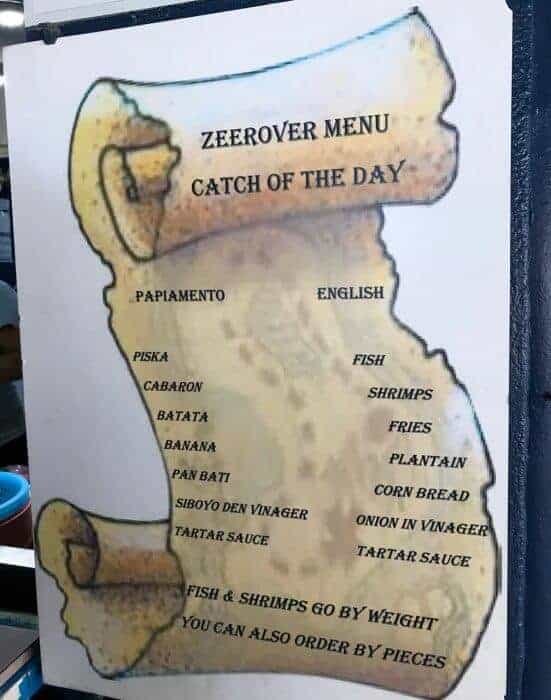 If it's your first time at Zeerovers, it might also be hard to decide how much to order. If you're a newbie like we were, the cashier will hold up a bag that shows how much you'll be getting. We ordered two pieces of fish (it was wahoo so quite thick) as well as enough "shrimp for two people" as we'd worked up an appetite swimming at Baby Beach.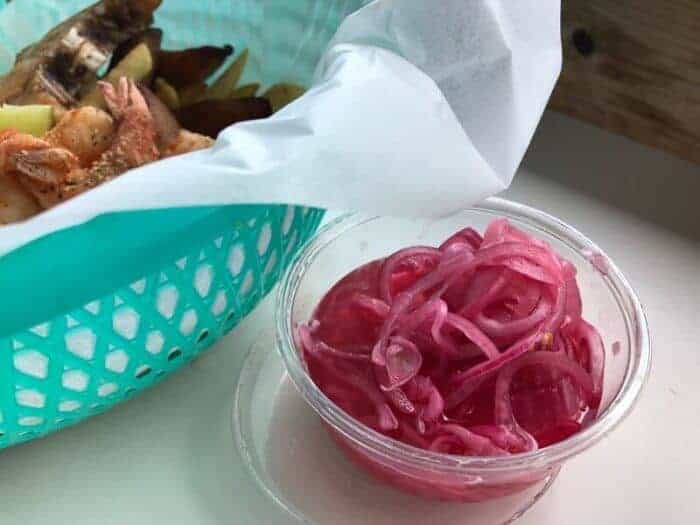 Although Zeerovers is known for as one of the best fish restaurants in Aruba, the side dishes are also an important part of dining at Zeerovers. Options include tartar sauce, fried plantain, French fries and pan bati ( their English translation calls it "corn bread" but it's actually more like a wedge of pancake).
Don't skip the side of siboyo de vinager, the delicious marinated red onion salsa, that's super popular in Aruba. Check out our Easy Recipe for Siboyo Tempera from Aruba and make a batch for yourself at home.
Zeerover Menu Prices
Unlike other seafood restaurants in Aruba where prices are shown by the dish or menu item, at Zeerovers, the price is by weight or by piece. This can make ordering worrisome if you're not sure if you have enough cash. Zeerovers accepts CASH only ( no credit or debit cards). Fortunately a lunch at Zeerovers is not expensive.
If you're looking for a posh spot for romantic evening dining, check out Flying Fishbone next door — it's on our list of the Top 10 Most Romantic Restaurants in Aruba — and you can actually dine at a table in the water!
Our order for two pieces of fish, enough shrimp for two people, as well as two sides of siboyo, one side of plantain, one side of fries ( huge), and two corn bread came to $36 USD. Also factor in some cash for a tip. There's a tip jar at the front counter to recognize the staff for their cheery service. I think I heard our cashier shout "sexy lady" when I dropped a few dollars in, so tips (and compliments ) are welcome.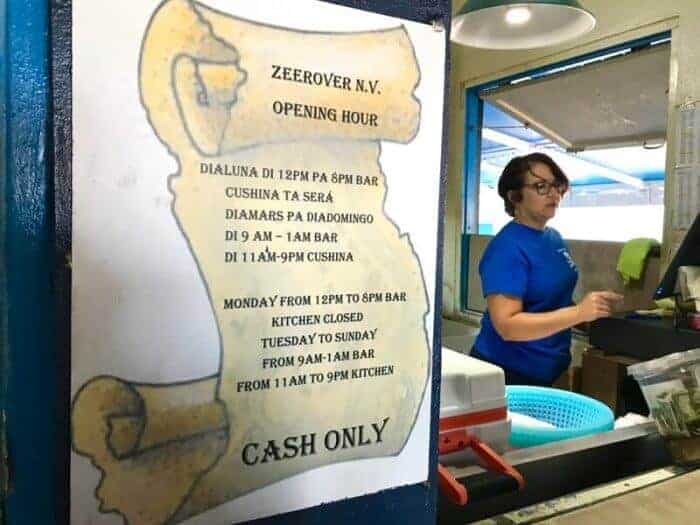 Once you place your order, you'll receive a wooden block with a number on it to place on your table. You then go to a side window and order your drinks such as beer, soft drinks or juice.
Then seat yourself at one of the tables on the pier or on the large terrace where there's plenty of shade. Every seat offers exceptional views. It doesn't get any more waterfront than this in Savaneta (unless you count Flying Fishbone where your feet are literally IN the water).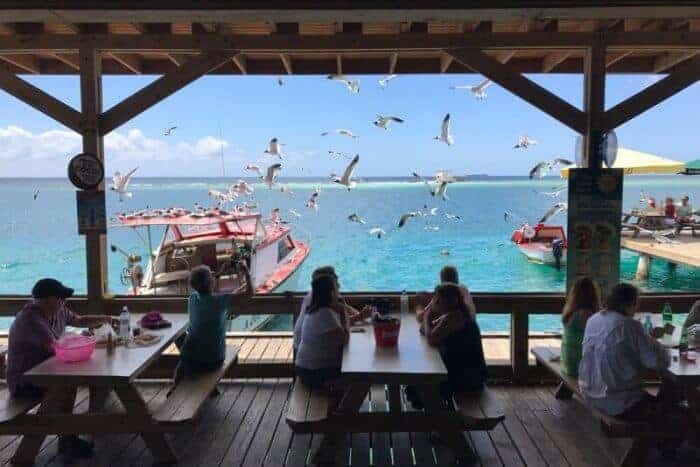 A waiter will bring your food order to your table along with a supply of condiments, plastic forks and napkins. Sip your drinks and watch the seagulls while you wait. If you have a bird phobia – don't throw those avians any food scraps or you'll quickly be surrounded by flapping wings.
Click on our Instagram post for a video of the bird-action while waterfront dining in Aruba:
Fresh fish is on the menu for lunch at Zeerovers Restaurant Aruba on the waterfront in Savaneta. These seagulls are front row and center for any scraps that head their way @arubatourism #freshfood #seafood #seaside #lovetheocean #caribbean #aruba #travelgram #travelstoke #eathappy #explore #yum #yummy #view #travel
Dining at Zeerovers Aruba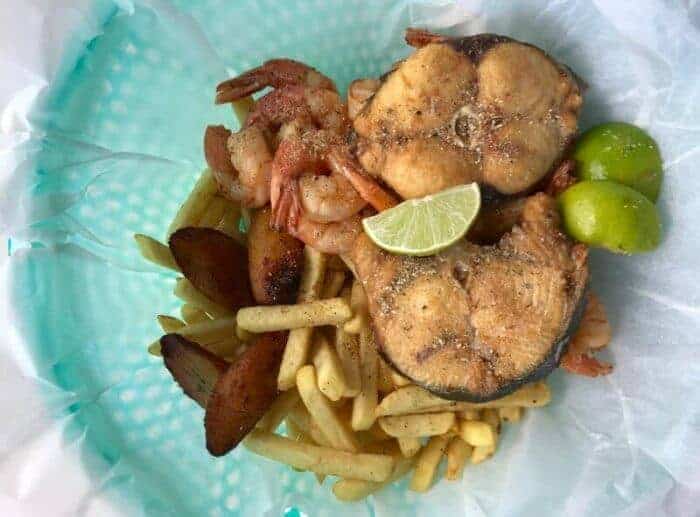 At Zeerovers, the fish changes depending on the catch of the day and can include popular fish to eat in Aruba such as barracuda, wahoo, whole red snapper (head and tail), kingfish and other species of fish you may not be familiar with. During our visit, the "catch of the day" was wahoo, a big game fish related to the king mackerel. It's got a finely-grained, firm consistency and sweet, slightly buttery flavour that makes it one of the best fish for eating.
At Zeerovers, all of the fish is flash deep-fried, a method that creates a light crust on the outside and moist flaky interior. The fish is not encased in a a heavy batter which means you can taste the freshness of the fish. It worked well for the wahoo which came accompanied with piping hot french fries sprinkled with sea salt and plantain caramelized to sweet perfection. The siboyo onions added a nice tart crunch to the combination. Overall, it was a fantastic lunchtime meal.
Zeerovers Aruba Reservations
Reservations aren't accepted at Zeerovers, so if you want to avoid long line-ups, try to time your visit for outside peak periods of lunch and dinner. Note that there are very long line-ups of locals (always a good sign that the food will be great) on Friday nights and on Sundays during the day. That having been said, we arrived on a Friday at noon and waited just 20 minutes to place our order. We also scored a table at the water's edge, so it's possible for even beginners to get lucky.
Have you been to Zeerovers Restaurant in Aruba? Did you like it? What kind of fish did you try? Share your thoughts in the comment box below!
Travel Guide
Costs: Cash Only. USD or Aruban florins. No Credit Cards or Debit Cards are Accepted.
Hours: Closed Mondays.
Savaneta: Read more about things to do: Savaneta Secrets in Aruba Nights Publications.
Public Transportation: Arubus operates a fleet of 42 buses along various routes, including several to Savaneta. Note that the special bus to Baby Beach bypasses Savaneta.
Aruba Tourism Authority and New Entry Requirement: Get maps, travel advice and other valuable resources on the official Aruba Tourism website. In accordance with guidelines of the World Health Organization (WHO), Aruba has introduced a policy requiring travellers from select countries to have proof of vaccine against yellow fever effective March 1, 2018. Exceptions include people with certain medical conditions as well as those 60 years of age and older or children under the age of 9 months.
Location of Zeerovers Aruba:
---
YOU MIGHT ALSO ENJOY:
Keshi Yena: Don't Leave Aruba Without Trying This Dish
Diving into Dutch Tapas on Aruba
Top 7 Things Every First-time Visitor Should Do on Bonaire
Renaissance Private Island: A Top Luxury Experience in Aruba
Disclosure: A Taste for Travel participates in affiliate advertising programs. By providing handy links to our affiliates, we may earn a small commission. All opinions are our own and we only link to companies and products that we trust and believe in. Read more on our Disclosure Page.
Dividing her time between Canada, Guatemala and Mexico (or the nearest tropical beach), Michele Peterson is the founder of A Taste for Travel. Her award-winning travel and food writing has appeared in Lonely Planet's cookbook Mexico: From the Source, National Geographic Traveler, Fodor's and 100+ other publications.
Read more about Michele Peterson.