We may earn income from links in this post. Please read this Disclosure for details.
Wondering where locals eat in Aruba? You might be surprised to learn that some of the best local restaurants in Aruba also happen to be located in downtown Oranjestad.
One of the best ways to find a great meal when looking at the many options among downtown Oranjestad restaurants is to go for Aruban food.
These eateries also happen to be the best option if you're on a budget and looking for cheap restaurants in Oranjestad, especially while shopping.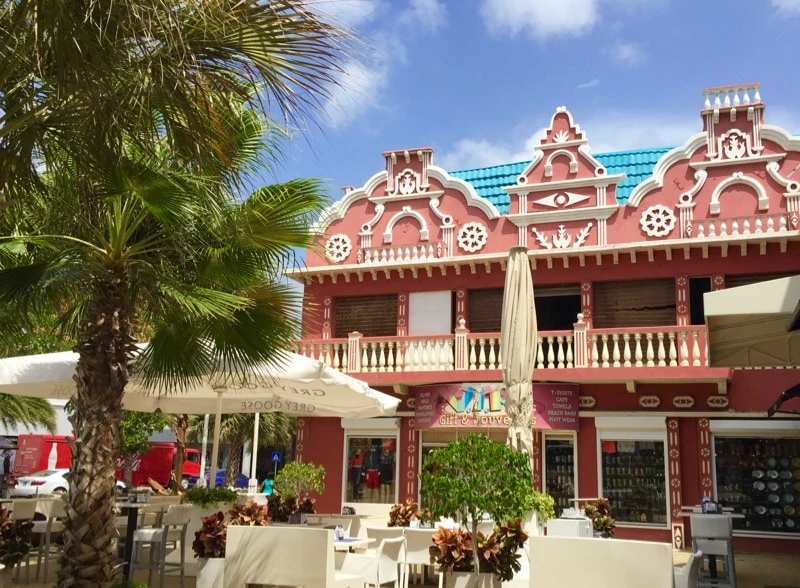 During my two decades of exploring Aruba and writing about it for magazines like Aruba Nights and Fodor's guidebooks, I've discovered lots of off-the beaten-path and untouristy places to eat on Aruba.
Here's my guide to the best restaurants in Oranjestad Aruba for local food!
1. Pastechi House Restaurant in Oranjestad Aruba
First on my list for good fast food on the go is always a pastechi! Pastechis are deep fried pastry pockets stuffed with myriad types of goodies- typically cheese, ham, beef, chicken or tuna and even chop suey, thanks to the Asian influence on the island.
Though you will see pastechis sold everywhere, the best place to try them is aptly named The Pastechi House in downtown Oranjestad on Main Street behind the Renaissance Mall.
Here's a video on how Aruba's favourite national snack–pastechi–are made:
:
2. "Cominda local" Daily Specials
Where do the locals eat in Aruba? Aruban food is often tethered to the sea, and stews (stobas) and soups (sopi) are popular traditional dishes in Aruba. Sides of local dishes (cominda local) typically consist of funchi (a cornmeal polenta) rice and beans, maybe a green vegetable and a flat bread called pan bati.
But Aruba's cuisine is also influenced by its proximity to Latin America, the Netherlands being a former Dutch Caribbean island and Indonesian specialties are also entrenched into the culture.
Formerly a Dutch colony, many Surinamese moved to Aruba. This confluence of influences results in some interesting combinations like dipping your fries in mayo and peanut sauce.
Once you've tried that combination, plain old ketchup will never do again!
But Arubans have also embraced North American and European food as well, and Asian take-out is also big. So, you will typically find international specialties alongside authentic local choices.
Hot sauce is de rigueur on just about everything, made from locally grown Madame Janette peppers and often mixed with papaya. You'll also often find the delicious marinated onion dish Siboyo Tempera as a popular side.
For casual restaurants in Oranjestad where you can eat local near the Renaissance Aruba hotel, exit the Renaissance Mall that opens up onto Main Street and Plaza Daniel Leo.
Look for the blue ceramic horse drinking from the fountain and you can't miss alfresco Gelatissimo Bistro. Although best known for their brick oven pizza and many flavours of gelato, they also have a local menu of daily specials. (Free wi-fi too!)
It might not always be obvious that a spot serves local dishes. For example, Gelatissimo is obviously an Italian eatery yet offers great local food.
So always check the blackboards and the daily specials for fresh fish and seafood, you might be surprised at the type of restaurant where you will find great local dishes.
Related: Check out our top picks for 20 Brunches You Don't Want to Miss in Aruba.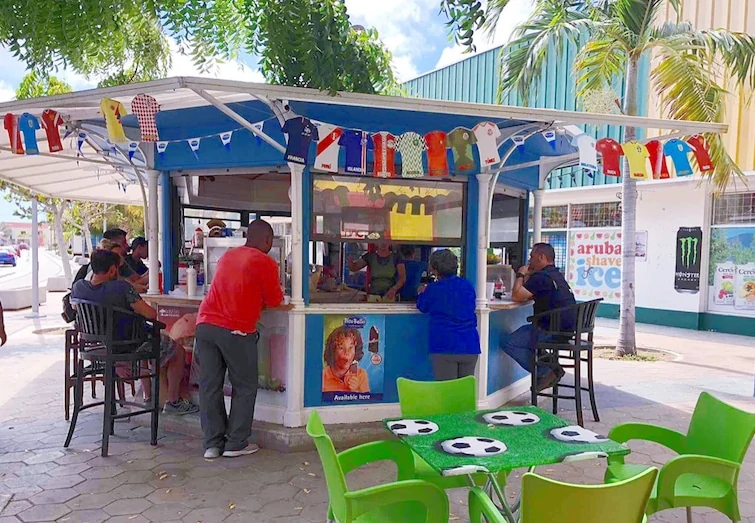 On the left side of the plaza, you'll find Lolita's restaurant right on the sidewalk of Havenstraat in front of Kong Hing.
This is a top spot for Caribbean soul food and you'll find an ever-evolving array of delicious Daily Lunch Specials such as Shrimp Fried Rice and Pumpkin Soup or Roti with Chicken Curry.
If you think Aruba is expensive to eat and want to keep to a budget then you'll love the prices at Lolita's. The cost for the Lunch Special is 10 Aruban florins ($5.50 USD) while a Croquette Sandwich will set you back just 6.50 AWD or $3.65 USD
While near Renaissance Mall, keep a lookout for the guys selling Pico Bello made-in-Aruba ice cream from their bike carts. If you miss them, Pico Bello ice cream is also available in supermarkets.
If you're interested in staying in the heart of the Downtown Oranjestad food scene, check prices at Renaissance Aruba Resort and Casino. The Renaissance Marina Hotel is on the marina while its sister hotel is oceanside and connected via shuttle.
All hotel guests get access to the Renaissance Aruba's exclusive island, where you can relax in a private VIP cabana at Flamingo Beach.
3. Taste My Aruba and Farmer's Market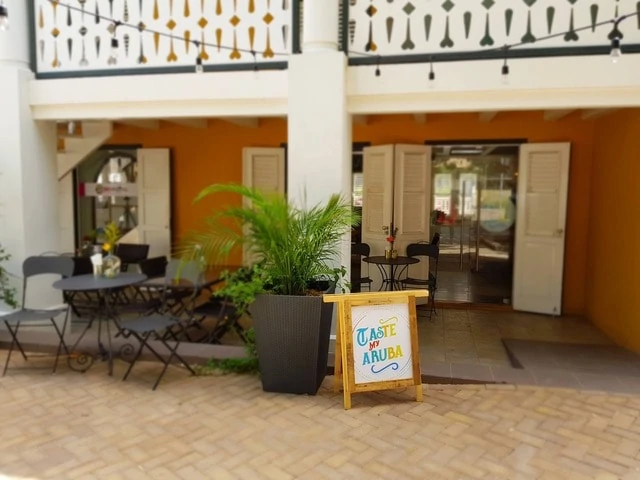 On the other side of the square, you can't miss the bright yellow building that houses Cosecha. It's a restored 100-year-old mansion with a carefully curated collection of quality locally made arts and crafts.
It also houses a new little cafe called Taste My Aruba where you'll enjoy all kinds of local delights like mini-ayacas the island's favourite Christmas holiday snack.
Taste My Aruba Cafe partners with Cosecha to host a Local Art and Farmer's Market under the stars every second month on the last Friday of the month. Check their Facebook Page for details on dates and times.
4. Aruba Experience Café & Patisserie
Tucked away a block or so behind the square is the newly-opened Aruba Experience Café & Patisserie ( John G Emanstraat 37 ).
It's worth seeking out for their fresh healthy frescas (water flavored with fruit) and batidos (smoothies), decadent desserts, local and international wraps, and salads. Sip a sangria or a cowboy coffee during Happy Hour between 5-7 pm Thursdays and Fridays.
5. Take the Trolley to Coffee Break and Djispie's Place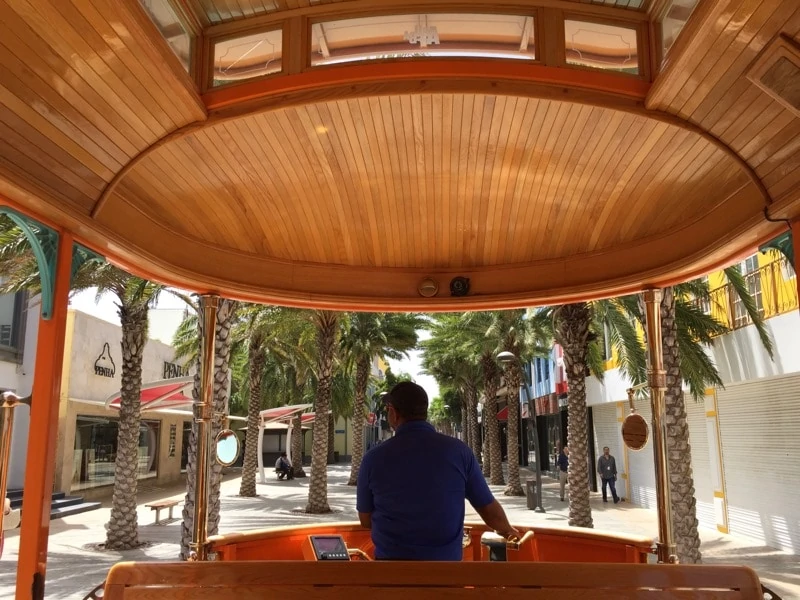 I won't lie. It can be VERY hot when you're exploring Oranjestad, confusing and even daunting, for first-timers to sort out the maze of nooks and crannies without English signage.
And some absolutely unpronounceable Dutch street names make it tough to ask for directions. ("Do you know where Bilderdijk Stratt is?") And that's a shame, because there are so many undiscovered hideaways around the backstreets.
So, seek out some tasty local food by taking the free trolley! To discover Coffee Break and its attached neighbour Djispie's Place, simply get off at the last stop of the trolley (plaza Nicky Habibe) before it loops back and take a left around the corner. You'll see Coffee Break's little terrace.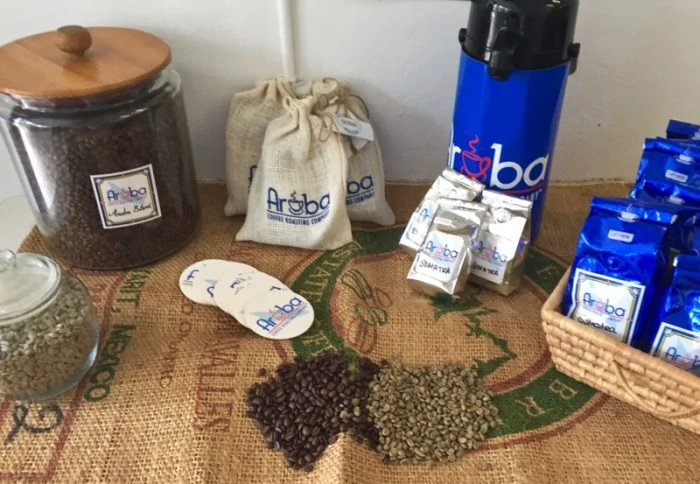 Coffee Break is the only place to make roasted-in-Aruba coffee and it's even possible to tour the roasting facility onsite (be sure to ask for a tour if the owner is there). Special coffee blends are also available by the bag for purchase.
You don't want to miss the special Aruba blend – it has shaved bits of coconut in it. Their snacks and local eats to-go are also authentic Aruban food You'll find locals grabbing a keshi yena single portion for their lunch and lining up to get their breakfast pastechis next door.
Every Friday night at 7pm the street out front morphs into a live folkloric music party attracting throngs of locals and visitors to come and dance.
Learn more about the popular Aruba national dish Keshi Yena and get an easy recipe to try at home.
6. Indoor Cunucu Restaurant in Oranjestad
Another new cafe to seek out in the neighborhood just off the trolley line right behind Maggy's Perfume is Indoor Cunucu (cunucu means countryside) for authentic Aruban food and treats.
Dare you try mondongo? (It's tripe soup!) And their bolos (cakes) are authentically local too and come in flavours like cashew nut and pistachio.
7. Aruba Downtown Walking Tours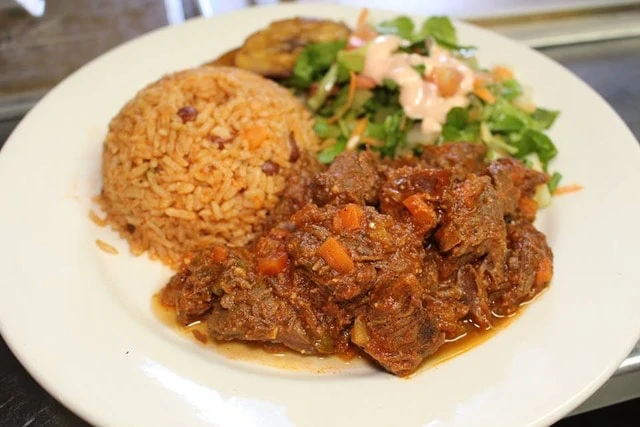 Another great way to get to know downtown and find a little foodie fun is to take one of the new Downtown Aruba Walking Tours.
Though founder Mark Benson Denz says the Aruba Daytime Historic Cultural Walking Tour is about 80% history and 20% food you will get to watch a cooking demonstration of pan bati at famed local hangout Coco Plum during the journey.
It's an ideal spot to go back to for lunch or dinner.
8. Fusion of The World Food Walking Tour in Oranjestad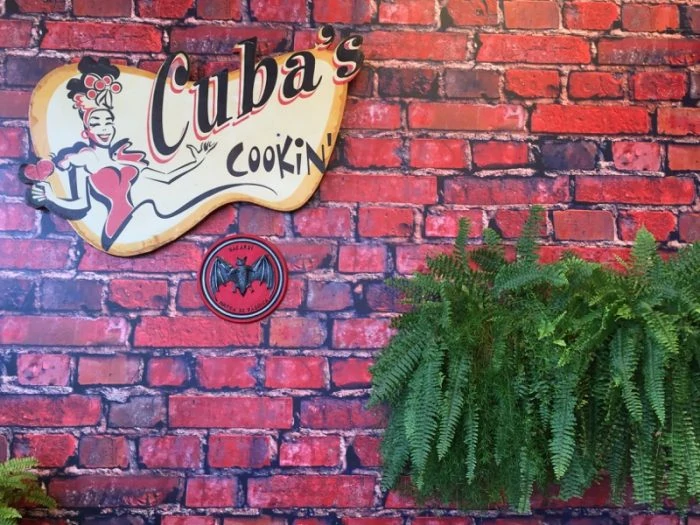 Since Mark was receiving so much interest in local eats on his Aruba Daytime Historic Cultural Walking Tour, he decided to create a new night tour revolving around the downtown Oranjestad dining scene.
It's called the Fusion of the World Food Tour and includes stops at five different spots for drinks and snacks. Each restaurant has some sort of historical tie in to the island of Aruba. I highly recommend this. Foodie walking tours are a wonderful way to find places you would like to go back and have a full meal at downtown.
You'll enjoy Dutch snacks and local beer at Café The Plaza and great old Havana eats at Cuba's Cookin' ( Cuba had strong ties to Aruba back in the day). Both are located in the lively Renaissance Marketplace along the marina in Oranjestad.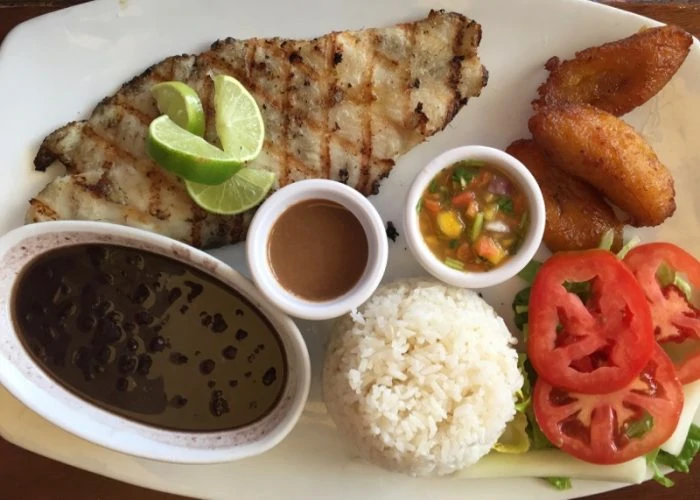 On the food tour you will also enjoy seafood from The Old Fisherman and seaside snacks at The West Deck . It's one of the top beach bars in Aruba!
You'll finish up with dessert at Aruba's oldest house (250 years-old) where the tiny Aruba Italy In The World is now located directly across the street from Fort Zoutman.
9. Food Trucks in Oranjestad Aruba
Sometimes, the best place to eat if you're looking for fast eats and street food comes from the island's many food trucks. If you're looking for a cheap meal, one of Aruba's food truck is a great option.
There's always one at Plaza Tourismo along the new linear park just outside of downtown. You can also find a few at The Local Market in front of the cruise ship terminal.
Mark your calendar for the annual Food Truck Festival in April in downtown Oranjestad where you can sample all the best local food on wheels. October is Eat Local Food Month on Aruba with all kinds of culinary events downtown as well.
10. Zeerovers for Seafood
Where do the locals eat when it comes to seafood fresh off the boat? They head to Zeerovers on the waterfront in Savaneta, a short drive outside town. Although not located in Oranjestad, it's well worth making a trip to this local favourite.
Check out our full review of everything you need to know about Zeerovers Aruba: A Seafood Restaurant You Don't Want to Miss.
As they say on One Happy Island: Bon Probecho!
Guide to Best Local Restaurants in Aruba Downtown Oranjestad
Streetcar Trolley in Oranjestad: Stay cool and save money while exploring Oranjestad. Aruba's electric eco-friendly trams are free to ride and begin at the cruise ship terminal. They operate about every half hour and loop into the back streets and main street and then along the marina. You can hop on and off as you please.
In addition to being a handy (and shaded) way to explore the best local restaurants in Aruba, you can do some sightseeing along the way. Highlights include Fort Zoutman, the Protestant Church and more.
Aruba Tourism Authority: Get maps, travel advice and other valuable resources on the official tourism website. Check the official Aruba Tourism Authority site for details.
Do you have a favourite place to eat in downtown Oranjestad or a must-try dish? Share your tips in the comments below! We'd love to hear from you!
YOU MIGHT ALSO ENJOY:
Keshi Yena: Don't Leave Aruba Without Trying This Dish
Easy Siboyo Tempera Recipe from Aruba
Diving into Dutch Tapas on Aruba
Top 7 Things Every First-time Visitor Should Do on Bonaire
Renaissance Private Island: A Top Luxury Experience in Aruba
---
Save on Pinterest!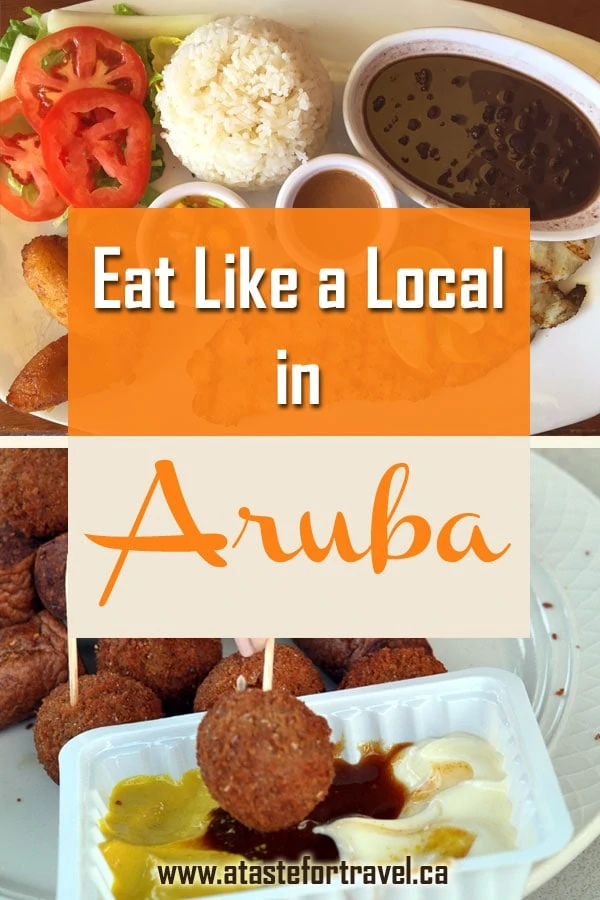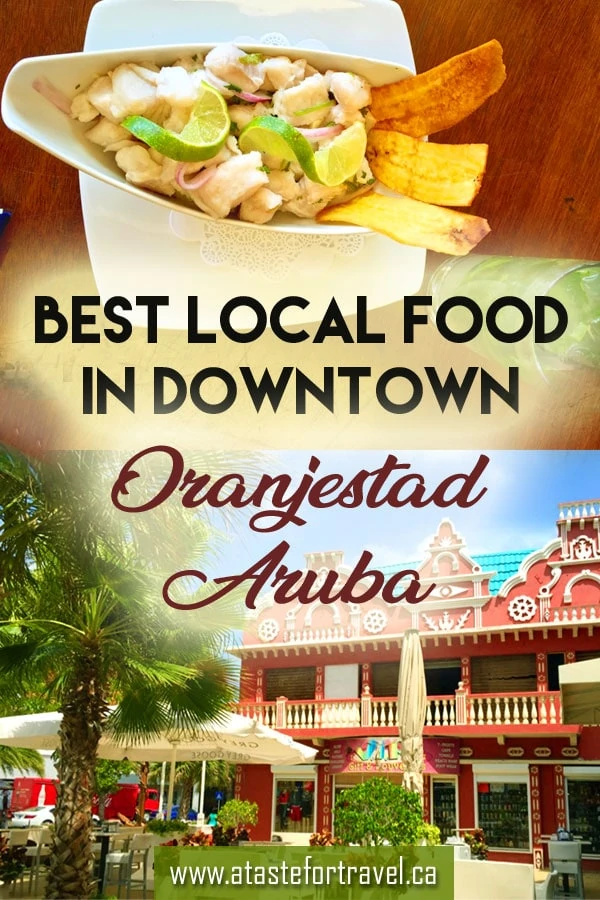 Sue Campbell is an award-winning Canadian travel writer specializing in the Caribbean and other tropical hot spots.
She's authored major guidebooks for Fodor's (Aruba, Bonaire, Curaçao, Saba) and countless magazine articles about the Dutch Caribbean for their on-island guides and websites.
Her work has appeared in Reader's Digest, USA Today 10Best, Forbes, Montreal Gazette, Globe & Mail, Toronto Star, National Geographic, Afar, Business Insider, Journey, Matador, Delta Sky Magazine, Costco Travel and many more. Follow her journeys on social here.
Learn more about Sue Campbell.